Find out everything you need to know about backpacking Hanoi on a budget while in Vietnam. I will be giving you all the information you need to know such as costs, getting around, accommodation, what to do and so much more!
---
Hanoi is a huge bustling city, and in all honesty, it can feel a little overwhelming. Whether this is your first stop in Vietnam or your last, there isn't another city like it. From the motorbikes which seem to be driving around at all hours, the people constantly approaching you as you walk down the street, and all the small alleys and hole-in-the-wall buildings make things hard to find. Honestly, when it comes to backpacking Hanoi you are best to do some research in advance.
In this backpacking Hanoi travel guide, I will let you in on all the top things to do, where to sleep, eat, and more!
There are plenty of incredible things to do here and absolutely delicious foodie spots to discover. I am quite the foodie myself, and Vietnam was a dream destination. Though Hanoi was certainly a highlight. Whether you love eating local favorites or want a taste of home, this city has something for everyone. Whether you want to partake in activities, do some multi-day trips, or just explore on foot. You could spend weeks here discovering Hanoi.
So let's get into everything you need to know about backpacking Hanoi so you can have the best trip. This includes finding out budgets, where to stay, top spots to eat, staying safe, things to do, and more!
---
Backpacking Hanoi On A Budget: All You Need To Know
---
How Many Days To Spend Backpacking Hanoi
It's hard to know how long you will actually want to spend in Hanoi. Of course, you will want to stay for a few days to explore the highlights of the city. Though it is also likely you will use Hanoi as a base to take some overnight trips. A lot of accommodation providers will even allow you to store your bags while you venture off to places like Sapa and Ha Long Bay. Though I will always recommend staying at least one night between in case there are delays on the road, which can be a common occurrence in Southeast Asia.
In saying all that, you will want to spend at least 3 days backpacking Hanoi. No doubt your first day will simply be spent getting your bearings of the city. It can be a little overwhelming at first so you will just want to spend your first day exploring. The next couple of days can be spent partaking in some activities and checking out a couple of sights. Just remember to tack on a few nights as well for multi-day trips to other spots.
---
Cost Per Day To Travel Hanoi
I love traveling on a budget and Vietnam's cost of travel is so low it is my paradise. Honestly, it is one of the cheapest spots in Southeast Asia. This includes city living in Hanoi where you can find cheap accommodation, food, and activities.
Speaking of accommodation you can find super affordable hostels here starting from a few dollars. Now you probably would assume these would be metal bunk-filled dorm rooms with no air conditioning, but this is completely wrong. Rather than are wooden bunks with privacy screens in some of the best hostels in town. Hanoi has some of the best accommodation choices when considering price and quality.
There are also plenty of cheap food choices to keep keep your budget low. Try eating local with Banh Mi's and delicious bowls of pho.
Overall I would budget approximately $22.00 per day for backpacking Hanoi to stay on the safe side. This will allow you a warm and comfortable bed to rest in, indulge in some awesome activities, grab a couple of beers and eat some delicious meals.
---
Where To Stay In Hanoi
Hanoi is a huge city so you will be spoilt for choice when deciding where exactly to stay. There are countless luxury 5-star resorts, locally run guesthouses, and modern hostels. No matter your budget or the type of traveler you are there is something to fit all needs.
The area of Hoan Kiem, or The Old Quarter, is the best part of Hanoi for travelers to stay in. It is full of culture with temples, old gates, small alleys, and traditional shops, making it the picture-perfect spot. It's an obvious choice why many choose to stay here. Everything is within relatively close walking distance with plenty of affordable eateries, backpacker hostels, and luxury hotels.
On my most recent visit, I stayed at a hostel in the Old Quarter. You can check out my review of Chien Hostel for more information, though unfortunately, it has now shut down. Nevertheless, there is still plenty of affordable, but lux, hostel options in the Old Quarter of Hanoi. One of these is Hanoi City Backpackers Hostel. Here you can find dorm beds starting from $5.00, and with a privacy curtain, personal lights, sockets, and more this is real value for money!
Here are my top picks for the backpacking Hanoi travel guide:
A modern and upscale hostel. From $5.00 per night in the heart of the city.

BOOK NOW

A favorite with travelers. A hostel with all the amenities, from $4.50 per night.

BOOK NOW

Beautiful private rooms for $9.00 per night and in a great location.

BOOK NOW

A walk from the city attractions, starting from $18.00 per night.

BOOK NOW
Getting Around Hanoi
---
Getting From Noi Bai Airport To The Old Quarter
There are quite a few options you can take when figuring out how to travel from the Noi Bai International Airport to the Old Quarter when backpacking Hanoi. They are also a surprisingly long distance apart as Hanoi is a crazy huge place. Depending on your transport method of choice it could take anywhere from 30 minutes to a full hour to travel the distance.
Even though Vietnam is a relatively cheap place, in all countries transport to and from the airports seem to have an extra mark up. Therefore expect your first day to put a bit of a dent in your wallet. Also if you are getting a Visa on arrival into the country this whole process can take quite a bit of time.
Luckily there are both private and public transportation options available which creates plenty of choices!
---
Prepaid Taxi
Taking a prepaid taxi is one of the most options when figuring out how to travel from the airport to the Old Quarter. This is also one I highly recommend, especially if this is your first stop in Vietnam because a lot of things in Hanoi can feel quite daunting at first. The constant traffic mixed with all the noise can quickly feel overwhelming.
You can book a prepaid taxi via your accommodation before arriving in Hanoi. They will make sure the taxi driver is waiting at the airport holding up a sign with your name on it. Since you also have a predetermined rate you don't need to stress about being scammed.
When I was in Hanoi I paid $20.00 for my taxi from Noi Bai International Airport to The Old Quarter. We also arrived in the country in peak traffic and it took us over an hour to travel the distance in gridlock. Though it was interesting watching day turn to night and all the city lights turning on.
---
Taxi
You will find taking a regular taxi will be slightly cheaper than a prepaid taxi. This is simply because you are paying a convenience fee for a prepaid taxi and for someone to stand around holding up your name.
It will be super easy to find a taxi. Simply exit the airport terminal and there will be a line of taxis waiting out the front. Your typical 4 seater car will cost somewhere between $14.00 – $18.00 depending on traffic.
Organize a fixed price for the journey and do not pay for the meter. The three taxi companies operating out of the airport are Noi Bai Taxi, Viet Thanh Taxi, and Dai Nam Taxi.
---
Bus
The cheapest way to travel from Noi Bai Airport to the Old Quarter in Hanoi is by public bus. You will find 3 different buses operating this route that you can choose from:
Number 86: This is the newest, and most highly recommended bus. It will take you directly to the Old Quarter and finishes at the Hanoi Central Railway Station. There is plenty of room on board for luggage. The journey will take around 1 hour and cost $1.30 per person.
Number 7: This bus runs from the airport to Kim Ma bus station, on the western side of the Old Quarter. This is a long journey at an hour and a half and costs $0.40.
Number 17: This is a similar bus to the above, though instead finishes at Long Bien bus station. It takes an hour and a half and costs $0.40 as well.
Alternatively, you could also take a shuttle bus from Noi Bai Airport to the Old Quarter. Vietnam Airlines, Vietjet Air, and Jetstar offer shuttle buses departing from terminals 1 and 2. They will drop you off in the old quarter, though only depart once full so you may find yourself waiting for people. The fare varies between companies, but expect to pay around $1.30 per person. The journey takes between 40 to 60 minutes.
---
Traveling Within Hanoi
The Old Quarter in Hanoi is super walkable. You can easily make your way through small alleys, motorbike-filled roads, to fantastic hotels, and delicious foodie experiences all on foot. Though if you are wanting to head out of the Old Quarter you will need some sort of transport to take you around.
I highly recommend downloading the offline map of Hanoi on the Maps.Me app for your cell phone. It'll be super helpful in navigating your way around if you do not have data.  This is one thing I always make sure I have before arriving at a new destination.
---
Walking
Hanoi is a relatively flat city and is pretty easy to walk around. Though for exploring further afield this is not a reasonable mode of transport, especially when there are plenty other affordable choices available.
My main note will be to remember to walk on the footpaths and be careful crossing the road. Well, to be honest, crossing the road anywhere in Vietnam, but especially Hanoi can seem quite daunting at first. Though you just need to remember to look straight ahead and just keep walking. Do not try to dodge the motorbikes, instead, you need to trust that they will avoid you.
You will also find some restaurants spread onto the footpath or sometimes it'll be blocked. It is okay to walk on the side of the road in this case. Just make sure you are aware of your surroundings.
---
Grab
This is my personal favorite way to travel around Hanoi. Download the Grab app on your phone and then you are all good to go. It provides the cost before you book which is a great tool to use to keep you on budget. Because you also enter your location before the journey starts by dropping a pin, there are no communication issues and ending up in the wrong place. The drivers are always super friendly, with a nice and clean car as well as having air conditioning blasting.
Grab is available all around Vietnam and Southeast Asia as well. If you are traveling around different countries this is a must-have app! It will also keep you safe from falling for local taxi scams.
---
Hiring A Motorbike
Now hiring a motorbike is a popular thing to do in Vietnam, though not so much in Hanoi. The traffic here is insane, like seriously. Unless you have a lot of experience riding a motorbike in Vietnam (like you purchased one in the South and drove it to Hanoi) I do not recommend hiring a motorbike in Hanoi.
There are much safer places to hire one during your travels in Vietnam. Also grab is such a cheap way to travel around Hanoi there really is no need for a motorbike.
---
Things To Do While Backpacking Hanoi
Hanoi is a crazy and bustling city that never seems to sleep. There is so much to do here to keep you entertained. Whether you enjoy a spot of shopping, experiencing a different religion, or want to get close to a moving train, Hanoi has something for everyone.
---
Wander The Old Quarter
The Old Quarter in Hanoi is a crazy busy place. Think small alleys, stores spilling out the side of buildings, and motorbikes speeding down the street. Honestly, it can all be a bit overwhelming at first. Though it makes for the perfect introduction to backpacking Hanoi.
There is nothing better to do here than simply get lost. Stop at that store selling those cute trinkets, grab a banh mi from that food cart and follow your nose to that delicious smelling hotpot from around the corner.
There is so much to discover here. If you are staying in a hostel it is likely they will offer a free walking tour of the city. They will likely take you to some popular spots and around a couple of markets.
---
St Josephs Cathedral
I was lucky enough to stay in a hostel next to St Joseph's Cathedral during my time backpacking Hanoi. Though on the downside we were woken up relatively early each morning by the bells ringing.
Nevertheless, this is a beautiful Cathedral and well worth checking out when you are in Hanoi. If you are there on a Sunday pop inside during the service and watch. We managed to do this and it was a beautiful way to check out the Cathedral. Just remember to be respectful and stay quiet down the back, as to not interrupt.
---
Hoan Kiem Lake & Ngoc Son Temple
Hoan Kiem Lake is such a happening place in Hanoi and it is only a short stroll from The Old Quarter. This is the perfect spot to come and people watch as the world passes by.
In the middle of Hoan Kiem Lake is Ngoc Son Temple. It is very picturesque, even looking at it from a distance from across the lake you can appreciate the beauty.
---
Train Street
One of the most popular attractions in Hanoi is Train Street. This is simply a narrow bit of train track which weaves between buildings in the busy city. Though the presence of quaint cafes in close proximity to the moving train has created a phenomenon and quite the Instagram hot spot.
Many train street cafes actually closed in 2019. Though quite a few reopened quietly in the year 2020.
---
Multi-Day Trips From Hanoi
Hanoi is an excellent base to locate yourself while doing plenty of day trips to other parts of the country. All of these you can simply do as day trips. Though to do these locations justice I highly recommend spending more time as otherwise, you will find yourself spending a good chunk of your day on the road. I will get into exactly how long is recommended in each below.
---
Sapa
Think of bright green rice terraces, mountainous landscapes, and witnessing life in rural Vietnam. Sapa is absolutely gorgeous and honestly quite different from other popular towns and cities along the tourist trail in Vietnam. Whether you want to check out some incredible waterfalls, witness the amazing rice terraces, make friends with the local animals or even hike Fansipan Mountain known as the roof of Indochina. I recommend spending 3 days in Sapa.
---
Ninh Binh
I haven't had the luxury of visiting Ninh Binh yet, but it is certainly on my Vietnam bucketlist. This gorgeous place is a few hours south of Hanoi and is a popular spot with nature lovers. The landscapes are known are being incredible with huge lime karst mountains plunging up out of the ground. This is a much more relaxed spot, which provides the perfect escape for 3 days while you are backpacking Hanoi.
---
Ha Long Bay
One of the most popular things to do when in Hanoi is taking a tour of Ha Long Bay. This amazing UNESCO World Heritage Site is no doubt one of the top experiences to do when in Vietnam and leaves visitors breathless.  Though the problem is, there are so many options to explore Ha Long Bay. They range in price from the horribly cheap 'I am not sure how this boat is floating' type to the luxury junk boat cruise with a six-course dinner included. Though you will want to at least do an overnight trip to Ha Long Bay.
---
Where To Eat In Hanoi
From delicious roadside cheap eats to eateries specializing in a taste of home, Hanoi has a huge variety of restaurant and cafe options. These are my top picks for your backpacking Hanoi travel guide.
---
Western Food To Eat While Backpacking Hanoi
There are plenty of delicious and affordable places where to can get a taste of home in Hanoi. It is a mecca for western food which is why it is probably such a popular hangout for digital nomads. There are so many options available and something which caters to everyone. Whether you are a meat-eater or vegan.
One of my personal favorite spots for a bite to eat in the old quarter is S&L Diner. This is as authentic as you can get American diner in the heart of the city. They cook up delicious and flavorsome meals. Whether you are looking for breakfast, lunch, or dinner, this spot will hit the right spot. Having a lot of imported ingredients, prices are a little bit more pricey. Though it is so worth it!
Hanoi is a melting pot of cultures and the restaurants available really reflect this. Whether you are looking for something healthy, Italian, Indian, or a steakhouse there will be the perfect one not too far away from where you are staying.
---
Local Dishes To Eat While Backpacking
There are a few dishes you've probably already heard about that you need to try when in Hanoi. These include Pho, Banh Mi, and Egg Coffee. Those three items are probably what a lot of travelers think about when they imagine local dishes in Vietnam. Though there is so much more to offer as well.
In Vietnam, it is common you will find locally run restaurants that specialize in a few delicious dishes, rather than having a huge menu. This allows them to become the best at what they make.
Pho Xao: Pho is known as rice noodles served in soup, but you can also enjoy it as pho xao, which is stir-fried with onions, beef slices, and assorted greens. The flat pho noodles are usually crisp on the outside with a smooth glutinous texture, and most restaurants sometimes add fried eggs and chili sauce. Check out Thin in the Hai Ba Trung District, where you can try pho xao for only VND 50,000 / $2.20.
Banh Goi: This is finely-chopped glass noodles, wood ear mushrooms, minced pork, and steamed quail eggs, seasoned within a rice-flour pastry, and then deep-fried.  It is served with a sweet-sour dipping sauce made with garlic, chili, sugar, lime juice, and fish sauce.
Bun Thang: Make sure to try this which is rice vermicelli with chicken, egg, and pork. The broth is made with 20 ingredients, including dried shrimp, squid, shrimp paste, spring onion, coriander, ginger, mushroom, beet, fish sauce, sugar candy, and vinegar. Try it at Bun Thang Ba Duc as you can enjoy a generous bowl of bun thang for about VND 30,000.
Vietnam has an abundance of delicious food and luckily too many options to try while you are there. Though a cooking class is definitely a good way to try a few of the dishes and pick up some new culinary skills.
---
Safety While Backpacking Hanoi
Hanoi is a relatively safe place to explore with the exception of the many scams you will find in Asian countries. Actually, scams are basically the main thing to be aware of. I have never seen as many in my travels as I did spending 3 days in Hanoi.
Basically don't stop on the street if a local person starts to talk to you. I know this is a broad statement. Though the number of travelers I have seen scammed just because they stopped and reciprocated conversion is crazy. Whether they take your shoes to be cleaned and demand ridiculous prices to get back, you took a photo carrying fruit or simply purchased some donuts. It's exhausting but you need to second guess people's intentions in Hanoi.
Don't use your phone near the roadside. A common occurrence in Vietnam is that someone will drive by with a motorbike and snatch it from your hands. If you need to use your phone to check your locate face in towards a building.
When booking tours it can be safer to book online or through your hotel. This is simply because even though you may think you have stumbled on their offices in Hanoi, there is a chance you have not. Even though the company name and logo are on the door it doesn't actually mean you are at that company. Instead, someone is pretending to be them, because of their good reputation, and sending travelers on crappy cheaper tours.
Don't drink the water out of the tap. Circle K (which happens to be around every corner) has plenty of cheap water bottles.
Lastly when it comes to crossing the road. be careful. Just remember you need to remember to look straight ahead and keep walking. Do not try to dodge the motorbikes, instead, you need to trust that they will avoid you.
---
Where To After Backpacking Hanoi
When your adventures backpacking Hanoi have come to an end then you will need to travel onwards. From up here in northern Vietnam, you could either travel further up or back down the country. With Hanoi having an international airport as well the options are truly endless.
North: Heading north could lead you up to the beautiful town of Sapa famous for trekking the rice terraces. You could also do the Ha Giang Loop by yourself or even on a tour. Of course of cannot forget the famous Ha Long Bay, which is a must for anyone visiting Vietnam.
South:  Alternatively, you can go down South. Honestly, I recommend taking the train down Vietnam hitting up some of the highlights including seeing Phu Quoc, Imperial City of Hue, Hoi An, snorkel In Nha Trang, see the sand dunes in Mui Ne and the tunnels in Ho Chi Minh. Vietnam is a huge country and there are so many things to do here!
---
Any Questions? Let me know in the comments!
---
LIKE IT? PIN IT!

---
Want more Vietnam Inspiration? Check out….
---
Disclaimer: This post contains affiliate links. So, if you click on it and purchase something, I get a small percentage at no extra cost to you. As always all opinions are my own and your support is much appreciated.

Related Posts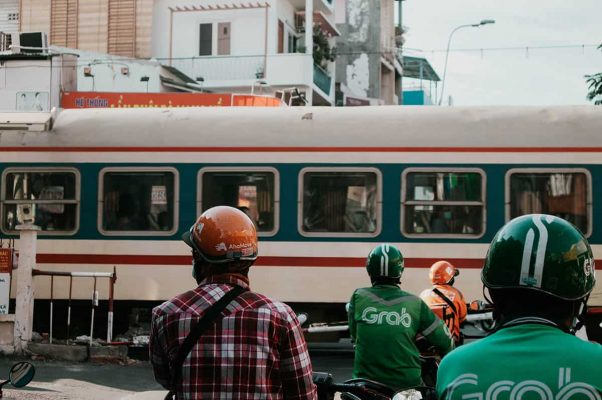 If you are like me and traveling Vietnam from North to South then you may [...]
Find out how to travel from Hoi An to Nha Trang while in Vietnam. This [...]
1 Comment
Exploring An Under Water  World With Vietnam Snorkeling… Nha Trang no doubt is a tourist [...]
2 Comments