Find out all about taking a Vietnam sleeper bus. Let's talk about whether it is worth it, how to book, tips to survive, and what to expect on your sleeper bus in Vietnam!
---
If you are planning to travel around Vietnam, I presume you have thought about traveling by bus. However what I found unusual in Vietnam was the style of the buses which was the norm over there.
Now I know you are probably thinking, well how crazy can a bus even get, and I assure you pretty dam crazy. I seriously haven't seen anything like these before.
Though I have to presume they are popular in other areas of the world as well. I mean Vietnam can't be the only country with these odd-looking interiors.
Your typical bus interior is just two seats on each side and one long row in the back. These can get pretty cramped, especially as you are stuck sitting upright for longer journeys. This also makes for quite an uncomfortable sleep as you constantly try to support your neck and stretch out your limbs.
In contrast, many types of sleeper buses in Vietnam are quite different from this. Expect fully reclining, nearly lying flatbeds that look quite comfortable. You will be provided with fleecy blankets provided, well-cushioned seats, and sometimes a toilet on board.
So let's get into everything you need to know about taking a Vietnam sleeper bus. This includes what to expect, how comfortable it is, booking a sleeper bus in Vietnam, and more.
---
Booking a Vietnam Sleeper Bus: What You Need To Know Before You Sleeper Bus In Vietnam Journey
Table of Contents
---
🚗 How I Book Cheap Transport In Vietnam: Baolau & 12.Go Asia
---
How To Book A Vietnam Sleeper Bus
It is super easy to book the sleeper bus in Vietnam. Whether you wish to do it online or once or arrive in person at a travel agency or through your accommodation.
Personally, I recommend booking it online via Baolau or 12.Go Asia where you can read reviews rather than going through your accommodation or a travel agency. This is simply because they are likely to book you on the wrong one to get a commission with the company they work with.
Anyway by booking with Baolau or 12.Go Asia you can see what other travelers have said about the journey with particular companies. Then you can just book your ticket through their website and they will email you a copy. It's super easy!
I have also had an excellent experience with Giant Ibis during my travels in Southeast Asia. They don't offer any transport domestically in Vietnam, though you can travel with them from Ho Chi Minh City to Phnom Penh, and then all around Cambodia.
---
Costs Of A Sleeper Bus In Vietnam
Depending on which company you decide to book with will affect the price you pay for your sleeper bus in Vietnam. Though it is certainly one of the cheaper modes of transport you can take to travel around the country. You can find 8-hour-long journeys for as little as $12.00.
Though let me say there is quite a difference when it comes to companies who run sleeper bus journeys in Vietnam. Obviously, some will be better than others, but you can expect to pay for quality.
For example, The Sinh Tourist is a popular company and caters to tourists rather than locals. As a result, their offerings are catered more to an international market. Be aware there are plenty of fake websites and fake stores pretending to be this company.
Their lay flat seats were even comfortable, being slightly longer for us tall foreigners. You do pay a premium to book with them, but be aware they only have a set route within Vietnam that doesn't cover all destinations, such as Hanoi to Sapa.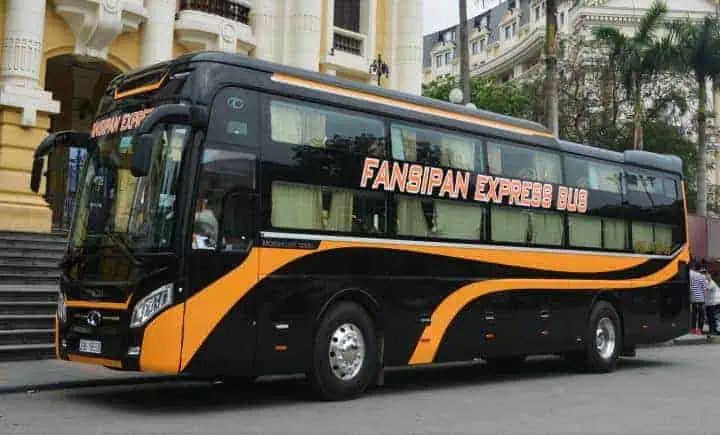 ---
Best Seats On The Bus
So honestly one of the craziest parts of the sleeper buses in Vietnam is the seats. It's a unique design that some travelers have fallen in love with and others have not. Though be aware of where you sit/lay on the sleeper bus will make a massive difference. Though more on that later.
Typically there are 3 rows of seats on sleeper buses in Vietnam and each bunk has two beds, a lower and an upper bed. On average you can expect there to be around 36 or so passengers on board for a full journey.
Each bed has an enclosed area where your feet lie as well as a handrail to assist with getting you in and out as well as keeping you in place so you don't fall out.
Generally, the favorite bunks are the bottom links in the center row. Though, let's get into the differences:
Central Row: In the center row you will have the benefits of the center of gravity. Therefore there will be less movement around some of those crazy corners. Also, you won't have air conditioning blasting out onto you like in the side rows. Obviously, the one downside is that you miss out on the window views.
Bottom Bunk: The main benefit of booking a bottom bunk is that you will get a lot more privacy. The people walking around the bus head are at eye level of the top bunks. Therefore it also makes you less of a target for theft.
Top Bunk: This is around shoulder-level height on the bus so you are a fair distance off the ground. Though don't worry there is a step ladder up the side to help you get on. You will also have the best view of the beautiful landscapes around Vietnam. Just be aware you will feel the corners more up top. Many agents typically book tourists onto the top bunks as they are considered the feel desirable.
A couple of other things to consider are not booking near the bathroom if there is one on board as well as not above the engine.
---
Size Requirements
So I know many ethnicities from Southeast Asia are known for having quite a small stature, but in all honesty, Vietnamese people are incredibly small. As a result, the sleeper bus seats were made for someone that size.
This became quickly apparent as I, a Western person who enjoys the occasional McDonald's, tried to get comfortable in one of those seats.
I am a fairly tall person being 5″10 or 180cm and when I try to even use the regular bus seats my legs are bent at the most uncomfortable angle. This of course involves the fantastic digging into the plastic trays that any tall person knows about.
Oh and don't even think about changing the seat into an upright position. This is because this pushes you forward and therefore your legs in already limited space. It's nearly impossible to fit your legs in with your set upright.
As someone of likes to write on buses and be awake this quickly became a problem as I was stuck staring up with my phone held above my head.
If you are 5″8 then you could likely comfortably sit in a sleeper bus. Though if you are taller than this I would seriously consider other options. That is unless you are on a super strict budget where the money comes before physical health.
---
🚗 How I Book Cheap Transport In Vietnam: Baolau & 12.Go Asia
---
Bathroom Stops
Usually, you will find your sleep bus in Vietnam will stop at least once during the journey. Though depending on the exact distance there may be 2 or 3 stops. Usually, these are spaced 2.5 hours to 3 hours apart.
The stop may be for just 10 minutes or perhaps 30 minutes to stretch your legs and grab some food. Just make sure you know which bus is yours and what time you are due back.
Be aware the toilet situations in Vietnam are likely a lot different than what you are used to and unfortunately, you can't choose where you stop so you just have to take what is given. If you are lucky you will stop somewhere with actual toilet cubicles with flushing toilets and sinks.
Locations with such bathrooms are typically large service buildings with a canteen area. This is where you can buy hot food and snacks to keep you fueled.
If you are not so lucky you can find the toilets are a lot more local style and can be quite a shock if you are not expecting it. Think joined squat toilets with no cubicles. Yup, out in the wide open sharing with other women. This can be quite daunting, especially if you haven't yet mastered the squatty potty techniques.
Side note, remember to bring your toilet paper in with you as often the bathrooms will not have any.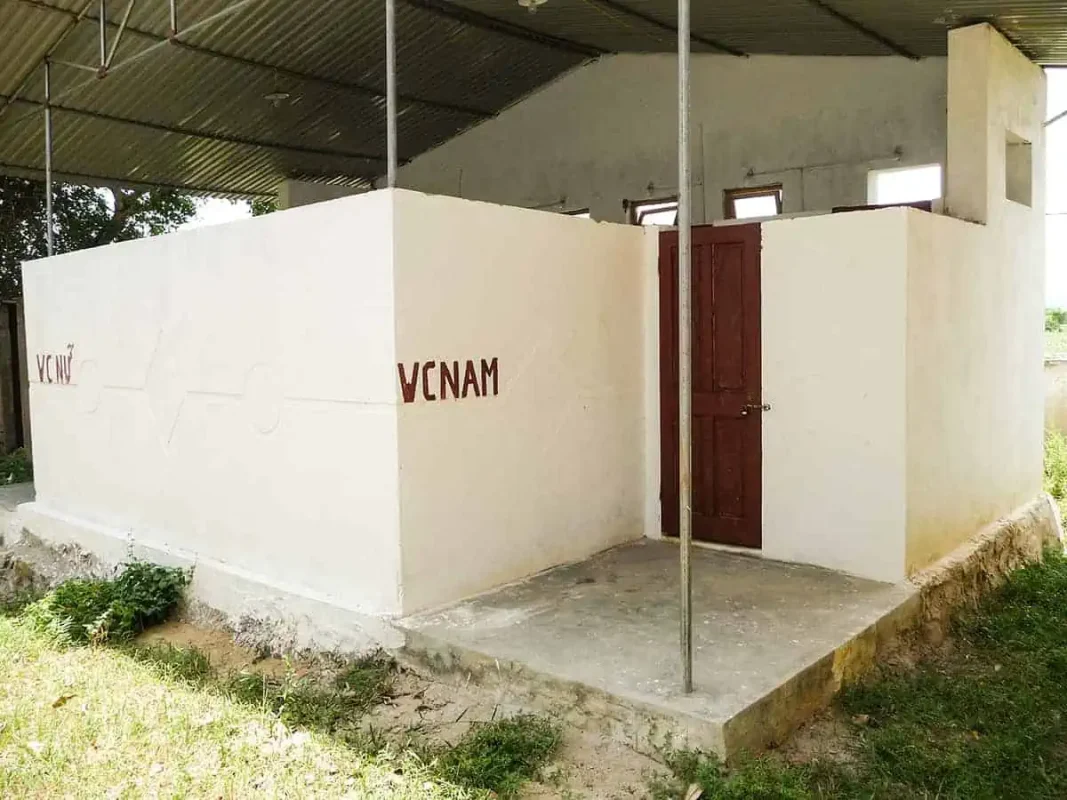 ---
Constant Stopping
Now not all buses do this, but many will spend the majority of the journey picking up and dropping off locals on the side of the road. This means a lot of starting and stopping, braking, and accelerating. Ultimately preventing you from getting any sleep.
Now I know this isn't the ideal situation for many people, including myself, which honestly wasn't something I expected when I jumped on the bus. But by the third stop in a few kilometers, it was apparent this was the norm.
Also don't think that just because the bus is full doesn't mean it is actually full. The locals here don't mind lying down in the middle of the aisles. Get ready for one cramped journey.
Obviously, this doesn't happen in all bus companies, but it does with a lot of cheaper ones as they try to maximize profits. I booked a journey through the hostel I was staying at in Hanoi and being a popular hostel I presumed I would be booking a tourist bus. This was untrue.
---
Bugs On Sleeper Buses In Vietnam
Honestly, the bugs were so unexpected, though this is what swore me off the sleeper buses. We had booked a bus from Sapa to Hanoi through our accommodation. They booked it through the agency Camel Travel and wow was it the worst transportation service I have ever used!
The major downside was the number of bugs on the bus. Like I freak out when I see bugs generally. If the bug is far away it is no problem, but when it is at a distance it could probably jump on me, well that's when the issues start.
Luckily, or unluckily, for me, the bugs on this bus were everywhere. Like crawling on all the passengers. To say it was the longest 6 hours of my life would be an understatement.
I wouldn't *hopefully* take this section too seriously though as I am hoping I just got super unlucky. There are so many companies you can book with. So honestly if I were to do this again I would book online with a company like Baolau or 12.Go Asia so I can read reviews.
---
Driving Skills
Now I don't know whether to be impressed or terrified about the driving skills of the Vietnamese bus drivers. But it is something you truly need to see with your own eyes. I mean the driving in Southeast Asia, in general, is pretty incredible and skillful.
Watching these drivers navigate these huge Vietnam sleeper buses around tight corners and through traffic is quite a sight to see.
Who knows how they learn to drive or who gives them licenses, but they all drive in a crazy manner. There is no 'correct' side of the road to drive on, as long as there are no oncoming obstacles, it's a free-for-all.
The honking, swerving, sudden accelerating, and quick braking are all persistent throughout the entire journey.
As much of a roller coaster journey, as I am making this sound unfortunately it is not all rainbows. The track record of the Vietnam sleeper bus drivers is a very depressing situation. There is a ridiculous amount of deaths every year while taking sleeper buses.
However, be aware that the majority of these accidents happen at night. So if you do decide to take a sleeper bus in Vietnam you are best to do so during daylight hours.
---
🚗 How I Book Cheap Transport In Vietnam: Baolau & 12.Go Asia
---
Do's And Don'ts Of The Vietnam Sleeper Bus
Yes, there are rules you should follow when booking a sleeper bus in Vietnam. This will ensure you respect the culture and have an excellent journey.
A lot of things we normally do in Western cultures aren't acceptable in others. So read on to find out the dos and don'ts of taking a Vietnam sleeper bus.
---
Vietnam Sleeper Bus Do's
Dress comfortably when traveling. I mean you don't want to get into the bottom sleeper bunk wearing tight skinny jeans.
The air conditioning can be super cold on the bus. Though this is pretty normal when traveling all around Southeast Asia, not just Vietnam. Bring along that one hoodie or jacket you packed because trust me you will need it.
Talking about clothing, bring with you thick socks. This is because you will need to take your shoes off from boarding and put them into a plastic bag. There will also be a lot of back and forth as put them back on for bathroom stops etc.
Take all your essentials on board with just a day pack. Your main bag will be underneath the bus so you will need your everyday items and valuables close. Be aware there can sometimes be minimal storage for this bag so you will want it to sit on top of the foot compartment for easy access. Keep this bag as safe as possible because petty theft is relatively common in Vietnam. This is especially the case if you are sleeping.
Bring with you plenty of snacks, earplugs, an eyemask, water, toilet paper, and hand sanitizer. You will want these kept in your day bag for emergencies.
Make sure you have some sort of entertainment. This will make your journey a lot less painful. Ensure devices are fully charged and if you have a power bank bring that along as well. If you are really onto it download some episodes of your favorite Netflix show. Just anything to kill time.
---
Vietnam Sleeper Bus Don't's
Not to sound like your mother, but don't leave valuables lying around. As I said above petty theft is a common occurrence throughout Vietnam and if you are unaware or sleeping you quickly become the perfect victim.
Research your journey and how long it will take. The bus will stop for the bathroom and snacks every couple of hours. However, you will want enough food and water on board the bus to keep you going. I always found food vendors in Vietnam happy to package items for takeaway.
The name sleeper bus doesn't necessarily mean you need to take it at night. Plenty of sleeper buses in Vietnam operate during the daytime which is also a lot safer. Bonus, the daytime trips are generally a bit cheaper as well!
Traveling by bus isn't necessarily the cheapest way to travel around Vietnam. I recommend checking out prices for flights as there can be some super cheap deals especially if you book far enough in advance.
Don't give in to those pushy taxi drivers when you arrive at your next destination. Research in advance how much a taxi should cost and even walk slightly away from the bus station where you are more likely to get a cheaper rate.
Lastly, don't take a sleeper bus in Vietnam if you have a tight schedule. They are known to run late, early, or break down. This is Vietnam, relax and just go with the flow.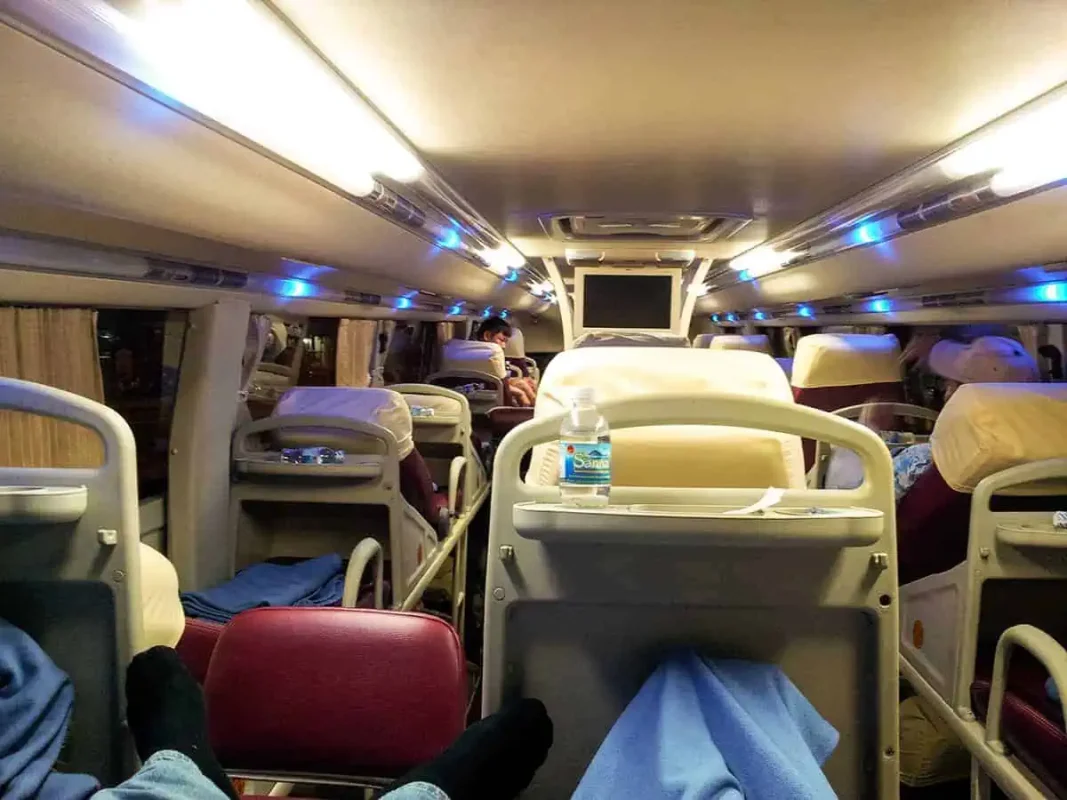 ---
FAQs About Sleeper Buses In Vietnam
Do Sleeper Buses In Vietnam Have Toilets?
Most of the time you will find sleeper buses in Vietnam don't have toilets onboard. This means the driver will stop at public bathrooms every few hours, even in the middle of the night.
How Often Do Sleeper Buses Stop In Vietnam?
You will find sleeper buses stopping every few hours in Vietnam. The majority of the time this will be at a service station set up for buses with plenty of food options and public bathrooms. Typically the driver will stop for 20 minutes.
---
🚗 How I Book Cheap Transport In Vietnam: Baolau & 12.Go Asia
---
Should I Book A Sleeper Bus In Vietnam
Honestly, I wouldn't go and book a bus straight away as I would in many other countries. If I am determined to book a sleeper bus in Vietnam then I would do research in advance.
You can find most of the companies reviewed on websites like Tripadvisor or you can book through a third-party booking website where users have left reviews.
I have used Baolau or 12.Go Asia both over Southeast Asia and Vietnam. They only work with the best transport operators and there are reviews as well as photos on both booking engines so you can read real reviews left by travelers.
---
Any Questions? Let me know in the comments!
---
LIKE IT? PIN IT!
---
Want more Vietnam Inspiration? Check out….
---
Disclaimer: This post contains affiliate links. So, if you click on it and purchase something, I get a small percentage at no extra cost to you. As always all opinions are my own and your support is much appreciated.
Related Posts
Find out how to travel from Hoi An to Nha Trang while in Vietnam. This [...]
1 Comment
Find out all you need to know about backpacking Nha Trang and my Nha Trang [...]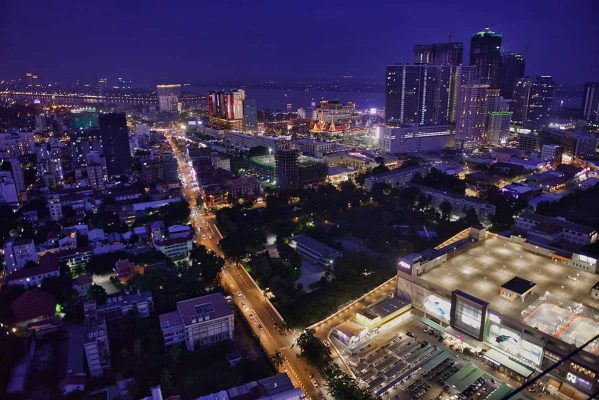 Find out the best, and most cost-effective way to travel from Ho Chi Minh City [...]