Come and check out my favorite 2 days in Mui Ne itinerary to see the best of what this seaside town has to offer. Take your adventures in Vietnam to the next level by finding out the best things to do, restaurants, where to stay, and more for your two days backpacking Mui Ne!
---
Located on the Southeast coast of Vietnam is the small seaside town of Mui Ne. Though contrary to its size, this place has well and truly earned its place on the banana pancake backpacking trail around Southeast Asia and Vietnam. Known for its incredible landscapes there is not anywhere else like it in this country. That's why backpacking Mui Ne is a must and you should spend at least 2 days in Mui Ne to make the most out of your time there.
Think huge sand dunes with impressive views over the ocean, small village vibes, affordable accommodation, and food as well as nearby beaches to visit. There is certainly an assortment of things to do here in Mui Ne. Though in all honesty, I think 2 days in Mui Ne is the perfect amount of time to spend exploring this town. Personally, I stayed here for 4 days and it was way too long. Though we thought it would be a cute little beach town and our accommodation was just over the road from the beach, we thought it was perfect. Unfortunately, things didn't turn out like this,
Nevertheless, that is why I decided to write my ultimate Mui Ne itinerary so you can learn from my mistakes and have an amazing time exploring this place. Find out everything you need to know such as where to stay, eat, and what to do. Ultimately allowing you to have an incredible, stress-free time while backpacking Mui Ne.
---
2 Days In Mui Ne Itinerary: All You Need To Know About Backpacking Mui Ne
---
How Many Days To Spend In Mui Ne
Mui Ne was actually one of the few places that I definitely spent too long while backpacking around Vietnam. Yes, it is still worth visiting, though you do not need to spend as long here as you would in other places in Vietnam. Overall I would try to spend 3 nights in each location so I can get a good vibe for the place and explore some of the best things there. Though in Mui Ne you only need 1 night or 2 nights at most.
I know this may not seem like long, but I found so many backpackers here were also doing this. You can easily do a morning tour of the best sites and spend the rest of the time relaxing. Perhaps you would like to spend longer here if you can afford a nice beachfront resort, though unfortunately, my backpackers did not cut the mustard. Nevertheless, there was a good party vibe and it was just $5.00 per night.
I have left the first-day itinerary relatively open, and not doing the absolute best things to do here. This is simply because you can arrive at whatever time from your previous destination and don't have to rush about arriving in the morning. We will do the best things to do in Mui Ne on our second day of the adventures before departing in the afternoon.
---
Day 1 Of 2 Days In Mui Ne Itinerary
Welcome to Mui Ne! On our first day in Mui Ne itinerary, we will take things a bit slower as we explore what exactly the town has to offer. Enjoy spending some time on the beach, why not try out some new skills, or explore some of the history here.
---
Morning: Po Shanu Cham Towers
Depending on what time you arrive in Mui Ne you can head to the Po Shanu Cham Towers on your first morning. Perhaps you arrived via night bus or got in yesterday afternoon. Nevertheless, before we start exploring it is time to grab some breakfast to fuel you for the day.
The Brunch Bar Mui Ne is a great breakfast spot with super affordable prices. They opened not long before covid hit so didn't really get a chance to cement themselves on the map. Though it is still well worth checking out! I mean you can't go wrong when a delicious eggs benedict costs $2.60!
Now you are ready to explore prepare yourself for the Po Shanu Cham Towers. Though they aren't in the main touristy area of Mui Ne, and instead like all the popular things to do around here are slightly out of town between Mui Ne and Phan Thiet. To visit I recommend booking a taxi which will cost you between $10.00 to $15.00 each way. Though to prevent getting ripped off use Grab in Vietnam, it's basically the Uber of Southeast Asia. The journey will take you about 15 minutes and then you will arrive. Alternatively, you can hire a bicycle, but it will no doubt be a hot ride.
Like a lot of towers of the Cham religion here in Vietnam, the Po Shanu Cham Towers are located on top of a hill. Similar to My Son in Hoi An, they are from the time of the Champa empire. They were built in the 8th century and are built from the bright red bricks you often see temples in Vietnam made out of.
The grounds are not too large. Though this is an excellent place to relax, feel the breeze on your face, and learn a bit about the history here. After about an hour of exploring you like likely be ready to head off.
Entry Fee:
10,000 VND / $0.44
View this post on Instagram
---
Afternoon: Ta Cu Mountain Or Beach Chilling
Now for the afternoon, I will give you the choice of 2 different activities that you can do during the backpacking Mui Ne itinerary.
This is simply because visiting Ta Cu Mountain can be a bit pricey, and you will be spending a bit of time in vehicles, which isn't fun if you have taken a 5-hour bus from Ho Chi Minh or Nha Trang to Mui Ne that same day. Though I will explain how it can be done a bit more on a budget, anyways the beach is a fun and relaxing alternative.
Though before you get exploring time to grab a delicious lunch!
If you are a vege like me why not head to El Cafe Vegetarian/Vegan Food. This is the best vegan and vegetarian-friendly spot in Mui Ne and is well worth visiting if you have these dietary requirements like me. They serve a huge variety of cuisines so no matter what you are craving you will be able to find it here.
Alternatively, you can grab a delicious meal at Sindbad Mui Ne. This was one of our go-to spots as we were actually staying next door, though it is one of the highest-rated restaurants in Mui Ne. it is locally run and prices are super affordable for the backpacker crowd.
---
Ta Cu Mountain
First off you will need to actually get to Ta Cu Mountain from Mui Ne. You can either take a taxi, which will cost you around $40.00 for the 40-minute journey, otherwise public transport is the other option. To use public transport you will want to catch the bus going to Thuan Nam City, and then jump off at the large shopping mall. Next up you will want to catch bus number 1 or 4 heading to Ta Cu mountain. You will know when you arrived thanks to the impressive shiny gates at the entrance.
Here at Ta Cu Mountain, you can see Buddhist statues, pagodas, and a huge reclining Buddha, which is actually the biggest one in Vietnam. Though you will need to get from the gate to the top of the mountain. If you are not on too much of a budget you can take the cable car for some impressive views. Though this will cost you 160,000 VND / $7.00 roundtrip.
If you are keen to save your money you can hike up, but remember to bring plenty of water. It is a pretty steep climb, though you do not have to be crazy fit to complete it, standard fitness will be fine. Just be careful on the way down depending on the weather, as if it has rained recently it can be a bit muddy and slippery.
Entry Fee:
20,000 VND / $0.88
Location:
Tà Cú Mountain, Thuận Nam, Hàm Thuận Nam District, Bình Thuận Province, Vietnam
View this post on Instagram
---
Beach Chilling
Now for more of a budget-friendly activity why not hit the beach while you are backpacking Mui Ne!? Now what I will say is check the tides. High tide in Mui Ne basically comes right up to the buildings on that side of the road. Surprisingly the buildings and the beach are super close together to come resorts have created an artificial beach separated from the tides with a retaining wall. These should be fine no matter the tides.
If you are staying in a beachfront hotel or backpackers go you! You have already avoided my first mistake in Mui Ne! I presumed the beach would be easy to access like most places in the world. Though unfortunately the buildings on the beachside are so built up and commercialized there aren't really any public spaces.
So from here, you will either need to taxi a little bit out (just ask the driver and they will be able to take you somewhere appropriate), otherwise do a sneaky into a resort/beach club/ restaurant. Most of the time they are more than happy if you buy a drink or some food anyway.
---
Evening: Sunset On The Beach
In the evening I highly recommend grabbing yourself a delicious cocktail and watching the beautiful sunset. There are numerous beachfront restaurants and bars along the main strip in Mui Ne so I highly recommend just going for a walk and seeing what tickles your fancy.
If you are super keen there are a heap of restaurants where you can pick your own fresh seafood out of a tank and the chefs will cook it up on a BBQ. Though warning you now, the assortment of animals on display to eat was certainly a surprise.
Though don't stay out too late as we have a sunrise tour tomorrow on our last day of the 2 days in Mui Ne itinerary.
---
Day 2 Of 2 Days In Mui Ne Itinerary
It is an early start on our second day of the backpacking Mui Ne Itinerary, though trust me it is worth it. Today we will do a sunrise tour to the best attractions in town. Yes, we will be visiting the white sand dunes, the red sand dunes, the fishing village, and finally fairy springs.
---
Morning: Sunrise Tour
Now I will let you know everything you need to know about booking a sunrise tour and why this is the best way to see the sights around Mui Ne. Walking down the street you will see all the hotels, travel agencies, and even restaurants, advertising this tour. Sure it is an early wake-up time with your pick up somewhere between 4.30am and 5.30am, but trust me it is worth it.
That early start allows you to see the sunrise over the impressive white sand dunes. Plus this tour only costs 160,000 VND / $7.00 so it is a super affordable way to see the best Mui Ne has to offer. For this price, we shared a jeep with other people staying at our accommodation. Though if you are wanting a bit more freedom you can book a private jeep tour, which is still pretty affordable starting from $20.00 for the entire jeep!
Just remember if you get quite a motion sick if you haven't eaten, make sure to pack something the night before. There will be a small number of options available at each stop, but unfortunately, pringles are not the best breakfast.
---
White Sand Dunes
The first stop on your tour will be the White Sand Dunes to watch the sunrise. This will no doubt be one of your highlights here as it was mine. You can either pay a jeep to take you out or hire an ATV. Though for both these options prepare to get stuck, as we saw this numerous times. Your best bet will be hiring an ATV with the most horsepower, just prepare to pay more.
Instead, if you are on a budget like I happened to be you can simply walk out to the dunes from the car park. It is a nice stroll and since it is the morning the heat of the day hasn't started yet. The white sand dunes are large enough you can find your own little private spot to watch the sunrise and get away from the rest of the crowds.
---
The Fishing Village
Surprisingly enough the fishing village was also a highlight for me on the sunrise tour. I mean sure it doesn't sound fun or interesting, and in all honesty, it was quite smelly, but I thought it was awesome seeing the fisherman pull in their catch. You can also see all the brightly colored fishing boats bobbing around in the water.
---
Red Sand Dunes
The third stop of the day is the famous red sand dunes. These are a lot more touristy than the white sand dunes simply because they back right onto the road, literally. This means you can often find large tour buses here, whereas in the white sand dunes you need a 4WD vehicle to access without getting stuck.
Though trust me it is still worth visiting! Here you are able to hire a sandboard and fly down the dunes. Just make sure to agree on a price beforehand, this is how some people make a living.
---
Fairy Stream
The last spot on the tour and of our 2 days in Mui Ne itinerary is the popular Fairy Stream. This is actually a really nice walk upstream to a waterfall. Though my favorite part was the colors. It was so incredible seeing these bright orange sand cliffs contrast against the green lush jungle.
Depending on the time of year you visit will affect how much water is in the stream and what the waterfall is like at the end. I visited in the dry season where the water was ankle deep and the waterfall was just a trickle.
---
Afternoon: Leaving Mui Ne
After the sunrise tour, you can either head back to your accommodation and get a couple more hours of sleep or grab yourself a delicious breakfast. I Cafe Mui Ne is an excellent spot to come for a quick bite. Here you are able to get a full English breakfast for just a few dollars. The perfect way to fuel yourself after a busy morning of exploring.
That afternoon I recommend packing up and heading to your next destination. From Mui Ne there are a few spots that I recommend traveling to next:
North: If you are traveling North from Mui Ne, you could take the bus to Nha Trang and then up to Hoi An. Continuing north again you have Hue with the Imperial City and then Hanoi right up the top of the country. Hanoi is the perfect hub, where you could venture to Thailand or Laos via the international airport, or if you are wanting to stay domestic, then hit up Sapa or Ha Long Bay. You could also head to Ninh Binh which is between Hanoi and Hue. I haven't personally been yet, but I have heard great things, and it's on my bucketlist!!
South:  Alternatively, you can head down South towards some other Vietnam highlights the tunnels in Ho Chi Minh. Vietnam is a huge country and there are so many things to do here!
---
Travel Tips For Your 2 Days In Mui Ne Itinerary
Now you have read my 2 days in Mui Ne itinerary I will let you know my top travel tips to take your backpacking Mui Ne adventures to the next level!
---
Other Things To Do In Mui Ne
Apart from those things listed above, there are still even more  things to do in Mui Ne:
Kite Surfing: There are numerous opportunities to go kite surfing in Mui Ne and you will see stores advertising it as you walk alongside the main strip. It is a little more on the pricey side, though compared to doing this is somewhere like Europe, prices here are a bargain, and are some of the cheapest in the world!
Ke Ga Lighthouse: Ke Ga Lighthouse is actually the oldest one in Southeast Asia, having been built in 1897. You can find it South of Mui Ne and there is an excellent viewpoint from the rocks on the shoreline. Though you can also take a boat from the harbor to the island, unfortunately, you are no longer able to go inside the lighthouse itself.
---
How To Get To Mui Ne
Depending on which direction you are traveling around Vietnam will affect what way you are coming to Mui Ne. Though it is likely you will either be traveling from the North or South. Personally, I was traveling from north to south and made my way from Nha Trang to Mui Ne and for this guide, I will speak from experience so in this direction.
Tickets for all journeys can be purchased on Baolau or 12.Go Asia
Bus: The trip from Nha Trang to Mui Ne takes 5 hours.
Plane: It is currently not possible to fly.
Private Transfer: Private transfers are your quickest way and take 3 hours. Though prepare to open your wallet as it is pricey.
Train: From Nha Trang to Mui Ne, it takes 4 and a half hours on the train. Though the closest station is in the town of Binh Thuan, you will need to take a taxi for the remainder of the journey. This will cost at least 500,000 VND / $22.00.
| | | | |
| --- | --- | --- | --- |
| | Time | Cost | Highlight |
| Train | 4 hours 30 minutes + Taxi | from $7 | Comfortable journey |
| Private Transfer | 3 hours | from $75 | Super comfortable journey |
| Bus | 5 hours | from $7 | The cheapest way to travel |
| Tourist Bus | 5 hours | from $12 | More comfortable than the regular bus |
| Airport | N/A | N/A | An airport is currently being built outside of Mui Ne |
---
Where To Stay In Mui Ne?
There is a wide assortment of places to stay in Mui Ne. Whether you are looking for an affordable hostel, beachside resort, or friendly guesthouse. There is a huge selection to be found.
We stayed in a hostel during our stay called Mui Ne Village Backpackers. The rooms were certainly basic, but they did have everything we needed for a few night's stay. It was also a bit of a party hostel which usually isn't my scene. There is a nice pool, but it was often overrun with drunk people playing volleyball. Though unfortunately, it is not operating anymore. Nevertheless, there are still plenty of other hostels available.
Another option I would recommend instead is called EVA HUT Mui Ne Beach Hostel. With prices starting from $6.00 for a dorm room this beachfront backpackers hotspot is the perfect place to stay in Mui Ne. This place is smack bang right on the beach, which was definitely something we were lacking during our stay. Depending on your exact location on the main strip through town it can be quite difficult to access the beach due to all the buildings and no alleyways.
Find the best hotels in the area
The ultimate backpackers paradise in Mui Ne. Dorm rooms starting at $6.00.

BOOK NOW

Live in luxury for less with prices from $19.00 per night for a double room.

BOOK NOW

Topical private rooms starting at $50.00 per night including breakfast.

BOOK NOW

Extravagant rooms starting at $42.00 per night including a delicious breakfast.

BOOK NOW
---
Staying Safe While Backpacking Mui Ne
Mui Ne is a relatively safe city to visit in Vietnam. Of course, it does have the exception of the many scams you will find in a lot of tourist towns and cities in Southeast Asia. This mainly revolves around robberies and pickpocketing. In Vietnam motorbike snatch and grab is super common as well. Someone may see that your handbag, backpack, camera, or phone is not secure, so they will drive by on their motorbike and grab it.
One of the most commonly read scams in Mui Ne was actually people being pulled over by rouge police and demanding they get paid off to avoid filing a police report. These policemen will often hang out on the roads to and from the sand dunes and just pull over every single tourist that drives past. As you can imagine they do make quite a bit of bank from this and it is a scam that has been operating for years. This was the main reason we decided against hiring a motorbike in Mui Ne as it simply wasn't worth the stress (even though there are plenty of rental shops around).
 Don't drink the water out of the tap. Many hotels and hostels will have water refill stations or minimarts sell bottles super cheap as well.
The main thing to remember is to just use your common sense. This should keep you out of dangerous situations. I wasn't scammed or taken advantage of once in Vietnam. Though I put this down to doing my research in advance and becoming familiar with common scams.
---
Any Questions? Let me know in the comments!
---
LIKE IT? PIN IT!
---
Want more Vietnam Inspiration? Check out….
---
Disclaimer: This post contains affiliate links. So, if you click on it and purchase something, I get a small percentage at no extra cost to you. As always all opinions are my own and your support is much appreciated.
Photo credit: "
Thien Mu Pagoda, Hue
" (CC BY 2.0) by Tim Moffatt. 
Related Posts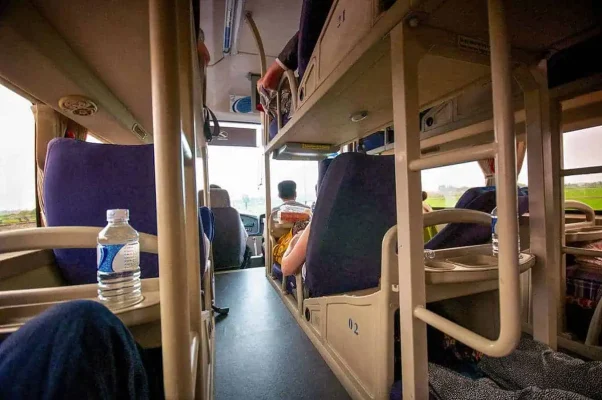 Find out all about taking a Vietnam sleeper bus. Let's talk about whether it is [...]
7 Comments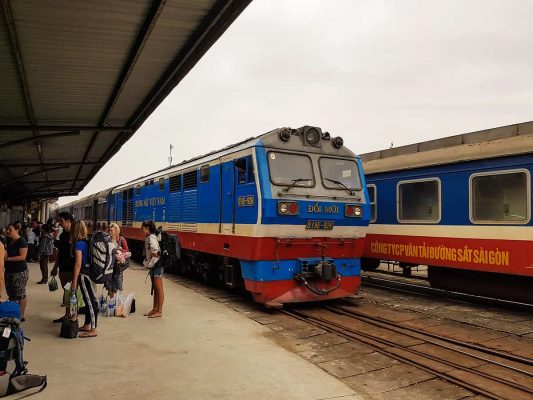 Traveling from Hanoi to Hue is a common route for most travelers in Vietnam. Hue [...]
Learn how exactly to travel from Da Nang to Hoi An. From the bus, taxis, [...]
2 Comments