Find out the best 2 days in Hue itinerary to ensure you have the ultimate time while exploring Vietnam. Let's talk about the best things to do, restaurants, where to stay, and more for your two days backpacking Hue!
---
Backpacking Hue is a must while you are exploring the brilliant country of Vietnam. This place is a bustling city full of history and incredible architecture. Even if you aren't much of a history buff (I know I am not), you will still be in awe spending 2 days in Hue.
Imagine a city equal amounts quaint and bustling, a beautiful river running along the middle, and an impressive citadel smack bang right in the middle. This is Hue and it is such a unique place. Honestly, it is quite different from the other towns along the Vietnam backpacking trail and that is why it is a must-visit. It may not have too much in terms of incredible nature. Though to gain a better understanding and appreciation of the history and culture of Vietnam I highly recommend a visit to Hue.
Honestly, you do not need too long to explore Hue. This is why I have recommended spending two days here. Though I have heard of people just spending the day here. Where they have arrived early morning on the overnight train from Hanoi and then taken a late-night train out. This has given them a decent chunk of the day to explore the main thing to do here which is the Hue Citadel or the Imperial City Of Hue. Personally, I think a much better option is to just spend one night in Hue. You can still arrive on the early train and take a later one out of the city. This would just give you a decent chunk of time to do the best things here in Hue.
So let's get into the exact 2 days in Hue itinerary. Find out everything you need to know such as where to stay, eat, and what to do. Ultimately allowing you to have an incredible, stress-free time while backpacking Hue.
---
Backpacking Hue Itinerary: 2 Days In Hue Exploring The City
---
Day 1 Of 2 Days In Hue Itinerary
For your first day in our 2 days in Sapa itinerary expect to check out some of the incredible nature this town has to offer and which makes it unique.
---
Morning: River Views & Imperial City Of Hue
Whether you have arrived in Hue straight off the overnight train or perhaps you have had a comfortable night's sleep in a hotel room, it is now time to start exploring. Though, before we get too ahead of ourselves, let stop at Nook Eatery for a delicious breakfast. This is the place to be if you want value for money. They have a delicious assortment of local and western favorites to fuel you up. Oh and while you are there definitely try one of their coconut coffees!
From Nook Eatery cross one of the bridges across the Perfume River and make your way into Hue Citadel for our first-day backpacking Hue. You will quickly notice your surroundings quickly change from a fast-paced city full of motorbikes to a calm and serene area with manicured gardens.
Visiting Hue Citadel, or The Imperial City of Hue is no doubt the number one thing to do here, and for good reason. It was built in 1362 and in 1993 was recognized as a UNESCO World Heritage Site. Between these two periods of time, the walls of the city have witnessed a lot of history. It even served as the capital of Vietnam from 1802 to 1945 during the reign of the Nguyen dynasty.
Purchase your entry ticket for $6.60 / 150,00 VND and enter inside to explore the beautiful grounds and buildings. The Chinese-inspired architecture makes it quite unique to other buildings you will find in Vietnam and Southeast Asia. Just be prepared to be walking around for a long time. The grounds are massive! Personally, we spent 3 hours exploring Hue Citadel. Though in all honesty that felt a bit rushed and we would have stayed longer if it wasn't so hot.
Though that is why you are best off visiting when it opens in the morning to avoid the unbearable heat, especially considering there are not actually that many shady spots within the Imperial City. Also, bring water and food with you. We went to purchase bottled water within the city walls at one of the little cafes and it was ridiculously overpriced, about $4.00 for a small bottle!
---
Afternoon: Thien Mu Pagoda
Before we continue with exploring the best on offer on our Hue itinerary, it is time for lunch. I recommend stopping in at the COZY Restaurant and Cafe. Here you will find an assortment of affordable Vietnamese and popular dishes from other Southeast Asian countries. They are also vegetarian-friendly, which is a big tick for me!
After your second taste of Hue, it is time to continue our adventure. To get to Thien Mu Pagoda I recommend either hiring a motorbike from in town, or you can just simply take a Grab taxi (Southeast Asia's version of Uber). It is super affordable, you don't need to worry about getting scammed, and won't have trouble navigating language barriers as the driver will take you to your desired pinned location. Super easy!
Thien Mu Pagoda is best known for how high it is. Reaching seven stories, climbing up the stairs you will be treated to incredible views across the river over the pagoda gardens.
---
Evening: A Taste Of Italy
For dinner make your way to Coco Club Restaurant Brasserie Cafe for a delicious Italian feast. No this isn't the average cheap pizza you find yourself drunkenly munching on in the middle of the night. This is fresh wood-fired pizzas made this imported ingredients from the motherland. They are even vegetarian and gluten-free friendly!
Enjoy a chill night with the laidback lifestyle of Hue. Grab a beer alongside the Perfume River and watch an incredible Vietnamese sunset.
---
Day 2 Of 2 Days In Hue Itinerary
On our second day of the 2 days in Hue itinerary, we will take a short break from temples and historic buildings by visiting an abandoned waterpark. It's a lot more exciting than it sounds. Next up it's back to explore some more historic sites. I mean that's why you came to Hue right?
---
Morning: The Abandoned Waterpark at Ho Thuy Thien Lake
Another excellent choice for a breakfast hotspot on your backpacking Hue itinerary is Cafe on Thu Wheels. They have an extensive menu and recommend in the Lonely Planet guide making it a top choice for travelers. With signed walls, this place has some character and has certainly seen some things. Whether you are craving pancakes, muesli, or eggs. Cafe on Thu Wheels will be able to hook you up.
It will be best to get yourself some wheels to explore The Abandoned Waterpark. Apart from being a reasonable distance away from the city of Hue, the park itself is pretty spread out, and to see it all you will need a motorbike to get around.
Bring along some extra cash as you will need to bribe a security guard to enter the premises. If they deny you there are some secret paths you can take which will lead you inside the grounds, so don't be disheartened. This activity isn't for everyone. Though if you are looking for a bit of adventure and to do something thrill-seeking this is the one. There are also some excellent photo opportunities once you are in the waterpark. Including climbing up and into the decrepit dragon's mouth. There are even rumors that crocodiles live in the pools surrounding the buildings.
View this post on Instagram
---
Afternoon: The Royal Temple of Tu Duc & Tu Hieu Pagoda
After visiting the Abandoned Waterpark and on your way to The Royal Temple of Tu Duc there is a small area of restaurants near Làng Hành Hương Hotel. A top choice here in Eco Restaurant for a delicious lunch. No doubt you will need the energy boost after spending the morning exploring the crazy waterpark and driving along overgrown paths.
Make your way to The Royal Temple of Tu Duc next. This is a beautiful temple site with a lot of Chinese-inspired architecture. This is also where you will find the tomb of Tu Duc who was the Emperor between 1847 and 1883. Though he was actually never buried here as there was worry about grave robbers. His final place of rest is so secret, that the 200 people who did bury him were all beheaded afterward to keep the secret. The entry fee is $4.10 / 100,000 VND.
As you are making your way back to the city center of Hue, stop in at Tu Hieu Pagoda. This is actually a free pagoda to visit and is home to approximately 70 monks. It's a much more understated pagoda though provides a good contrast to Tu Duc Temple.
---
Evening: Dine With Locals
One of my favorite restaurant experiences in Hue was at Com Chay Duong Sinh Lien Hoa. This is an excellent cheap eat option and was so much more than just a restaurant. The building was absolutely gorgeous with a pond out the front and cute bamboo tables. There were only a couple of foreigners while we visited, but it was packed full of locals. That is when you know it is good.
The prices are super affordable, though the menu translations are known for not being the best. Just don't overthink it. Simply order an assortment of dishes and enjoy yourself. I highly recommend the fried jackfruit!
---
Travel Tips For Your 2 Days In Hue Itinerary
So now you have your backpacking Hue itinerary sorted, let's get into my top travel tips for your 2 days in Hue. This will allow you to have an amazing time with the best weather, staying in comfortable accommodation, and knowing how to keep safe.
---
When To Travel Hue
As with most places in Southeast Asia, Hue has a wet season and a dry season. Depending on when you visit can seriously affect how your trip goes and honestly what you can do/see. Ultimately the best time to visit Hue is between January and April. The weather is good, but the temperatures are not too hot yet.
September To December: This is the wet season in Hue. During this time the temperature won't be so hot, though you could be in for quite a bit of rain. This is also the typhoon season so the train can last from hours to days and shut down essential services if flooding begins.
January to August: This is the dry season as well as the high season. During these times temperatures can be anywhere from 30 degrees celsius to 40 degrees celsius.
---
How To Get To Hue
Depending on which direction you are traveling Vietnam can affect how you can get to Hue. Though it is likely you will either be traveling from the North or South of the city. Transport routes are great and you will have multiple different options for how to get there. Though, for the case of this guide, I will speak about the way I traveled, which is from Hanoi to Hue.
There is a variety of transport options you can take to get there so I will give you a brief overview of them all. Though for more detail I recommend checking out my Hanoi to Hue travel guide.
Tickets for all journeys can be purchased on Baolau or 12.Go Asia
Bus: The trip from Hanoi to Hue takes approximately 12 to 13 hours.
Plane: It takes approximately 1 hour to travel from Hanoi to Hue on a plane.
Train: from Hanoi to Hue takes 14 hours to complete your journey. Even though this is the longest choice it certainly is the most comfortable if you happen to book a soft sleeper so it isn't all bad!
| | | | |
| --- | --- | --- | --- |
| | Time | Cost | Highlight |
| Train | 14 hours | from $40 | Comfortable journey |
| Luxury Train | 14 hours | from $60 | Super comfortable journey |
| Bus | 12 hours | from $13 | The cheapest way to travel |
| Tourist Bus | 13 hours | from $14 | More comfortable than the regular bus |
| Plane | 1 hour | from $35 | The fastest way to travel |
---
Where To Stay While Backpacking Hue?
When choosing where to stay in Hue you will be absolutely spoilt for choice. No matter your budget or the type of traveler you are there is something to fit all needs. Whether you want an affordable hostel, welcoming guesthouse, or luxury hotel
A social hostel with a great vibe, and breakfast, it is well worth $5.00 per night.

BOOK NOW

A great and comfortable spot, from $6.00 per night including breakfast.

BOOK NOW

Beautiful private rooms from $15.00 per night and in the heart of the city.

BOOK NOW

Affordable rooms starting from $18.00 per night with breakfast.

BOOK NOW
---
Staying Safe While Backpacking Hue
Hue is a relatively safe place to explore with the exception of the many scams you will find in Asian countries. This mainly revolves around robberies and pickpocketing. In Vietnam motorbike snatch and grab is super common as well. Someone may see that your handbag, backpack, camera, or phone is not secure, so they will drive by on their motorbike and grab it. While in Hue there did seem to be quite a lot of people offering us drugs while we would be walking along the street.
 Don't drink the water out of the tap. Many hotels and hostels will have water refill stations or minimarts sell bottles super cheap as well.
The main thing to remember is to just use your common sense. This should keep you out of dangerous situations. I wasn't scammed or taken advantage of once in Vietnam. Though I put this down to doing my research in advance and becoming familiar with common scams.
---
Where To After Your 3 Days In Hue Itinerary?
North: If you are traveling North from Hue, you could take an overnight journey to Hanoi. Hanoi to the perfect hub, where you could venture to Thailand or Laos via the international airport, or if you are wanting to stay domestic, then hit up Sapa or Ha Long Bay. You could also head to Ninh Binh which is between Hanoi and Hue. I haven't personally been yet, but I have heard great things, and it's on my bucketlist!!
South:  Alternatively, you can end back down South towards some other Vietnam highlights including Hoi An, snorkel In Nha Trang, see the sand dunes in Mui Ne, and the tunnels in Ho Chi Minh. Vietnam is a huge country and there are so many things to do here!
---
Any Questions? Let me know in the comments!
---
LIKE IT? PIN IT!
---
Want more Vietnam Inspiration? Check out….
---
Disclaimer: This post contains affiliate links. So, if you click on it and purchase something, I get a small percentage at no extra cost to you. As always all opinions are my own and your support is much appreciated.
Photo credit: "Thien Mu Pagoda, Hue" (CC BY 2.0) by Tim Moffatt. 
Related Posts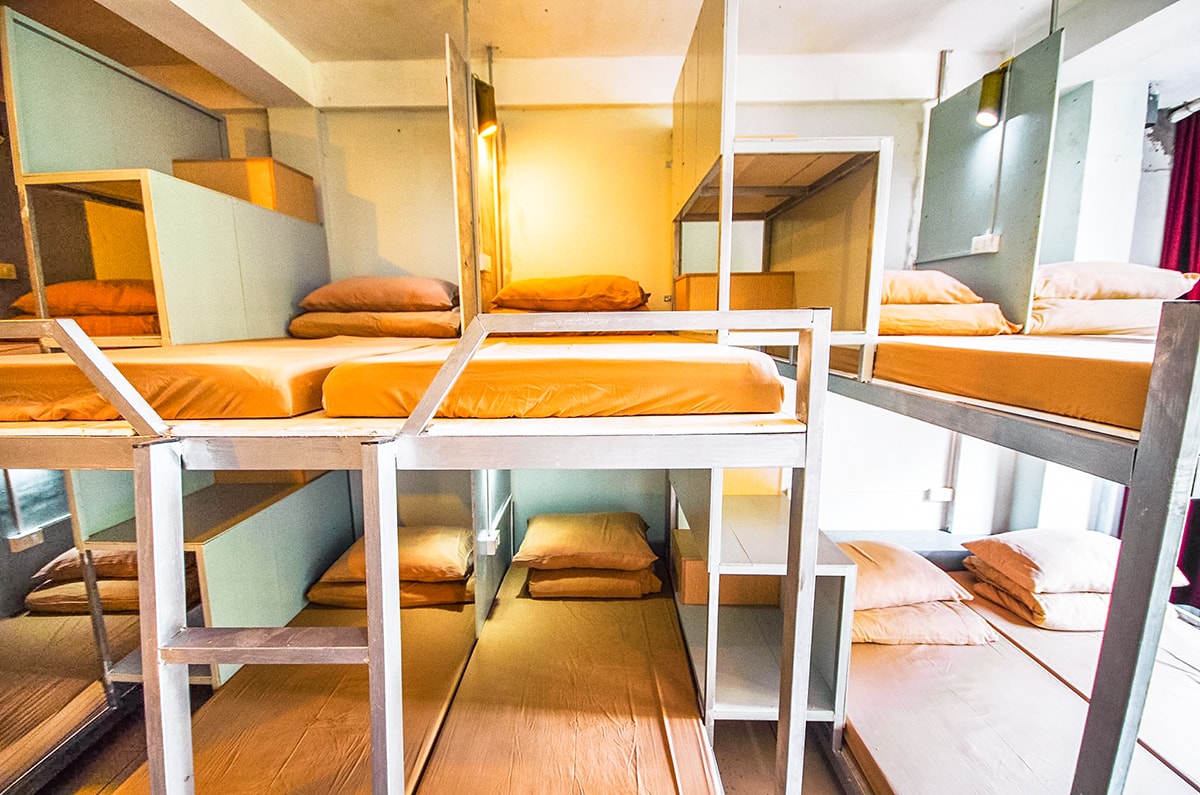 Share Tweet Pin The Ultimate Hostel in Hanoi's Old Quarter, Chien Hostel Tucked among the [...]
38 Comments
Come find out the ideal 3 weeks in Vietnam itinerary for the ultimate adventure. Let's [...]
2 Comments
A Morning At Thanh Ha Pottery Village In Hoi An, Vietnam When in Hoi An [...]
1 Comment