Find out all you need to know about backpacking Nha Trang and my Nha Trang itinerary. Check out the best things to do, restaurants, where to stay, and more for your 3 days in Nha Trang while exploring Vietnam!
---
One of the best beach destinations in Vietnam is the coastal city of Nha Trang. Located along the South China Sea (or Vietnam Sea depending on who you ask) it is a mixture of a modern metropolis full of skyscrapers and laid-back living on a relaxing beach. Ultimately this provides travelers with the perfect playground. You can spend your days beachside, then in the evening hit up rooftop bars and party the evening away for the perfect backpacking Nha Trang adventure.
My 3 days in Nha Trang itinerary will highlight some of the best things to do here and let you know my favorite travel tips.
I personally backpacked Nha Trang in the middle of my Vietnam adventures as I made my way from North to South. Honestly, a lot of people say Nha Trang is a place you either love or hate. Lucky for us, we fell in love. I mean how could you not when the beach was a couple of minutes' walk from your hostel and delicious food seemed to be around every corner?
Though Nha Trang is actually a popular destination for Russians looking for a holiday in the sun. As a result, a lot of the city does dedicate itself to catering to this market. You will find restaurant menus in Vietnamese and Russian, and then it may have English as a third option. Though we still managed to find plenty of affordable eatery options with English menus.
This Nha Trang itinerary will include where to stay, where to eat, and what to do. Basically, it's all you need to know to have an incredible time backpacking Nha Trang in 3 days! In the end, my hope is you will also love this crazy city, just as I did!
---
My 3 Days In Nha Trang Itinerary: Backpacking Nha Trang
---
How Many Days To Spend In Nha Trang
Before we get into the exact Nha Trang itinerary for an amazing time, I will let you know how many days you should be spending backpacking Nha Trang. Though remember that not everyone loves this crazy place. Honestly, it is quite different from the rest of Vietnam, so if you are expecting quite an authentic city you are wrong. To be straight up, it is missing quite a lot of substances. Though there are still some awesome things to do here which is why I recommend a visit.
In all honesty, I could spend quite a bit of time here in Nha Trang simply enjoying the beach and working on my tan. It'd be a great spot to hunker down as a digital nomad to write content, though honestly don't expect to be overall inspired. We actually extended our stay there an extra couple of days, because we enjoyed it that much.
Though for the purpose of this guide, and visiting on a holiday I would recommend spending 3 days in Nha Trang. This will allow you to enjoy the sun, visit some tourist spots, and appreciate the best this city has to offer.
Nha Trang is generally on most travelers' itineraries, whether you are traveling from North to South or vice versa. This is simply because it creates a great stopping point on a long journey to your next destination which will likely be either Da Lat or Mui Ne. Though keep in mind that the ride from Hoi An or Da Nang to Nha Trang is quite long in itself, so when you arrive you will no doubt need a good sleep and relaxation.
Enjoy your time checking out the incredible beaches, doing a spot of snorkeling, hanging at a theme park, and eating some delicious local meals on the streetside. It may not be the top place you visit in Vietnam, but you will not doubt make some excellent memories and have a great time.
Follow this itinerary and you will have a great time during your 3 days in Nha Trang, just like I did! I will help you find what to do, a comfy, as well as affordable place to sleep, and some delicious meals you won't be forgetting anytime soon.
---
Day 1 Of Your 3 Days In Nha Trang Itinerary
On the first day of your 3 days in Nha Trang Itinerary, we will take things a bit slower. This is simply because you likely had a long journey to get here! We will enjoy some beach time in the sunshine, check out a popular temple, and shop at the evening night market.
---
Morning- Chill At The Beach
The perfect introduction to exploring Nha Trang is checking out the beach. Though before we get into that you will need some food to fuel you for the day. For a delicious breakfast head to Alpaca Cafe. They have a good breakfast menu in a quaint cafe with cute decor. It's a beautiful Instagram-worthy spot with great food.
Next up make your way to the beach in Nha Trang. It's incredible how such a beautiful beach is located right in a city. Though it provides an excellent spot to cool off and simply relax. The beach itself stretches 6 kilometers along the coast side, providing plenty of areas to swim.
The most popular area is Tran Phu Beach nearby a lot of guesthouses and resorts. Be aware little beach bars are located quite some way along the shoreline and each one sets up their own chairs. Some of these locations charge just for use of the chairs and others have a minimum spend that you need to do at their little beach shack, either that is on drinks or snacks up to you.  Either way, it is a pretty affordable option costing a few dollars per person.
During our time we paid for a couple of chairs for 35,000 VND / $1.54 each. This also meant to be in more of a private area where the workers would look after our stuff while we went for a swim.
---
Afternoon- Po Nagar Cham Towers
An awesome spot to grab lunch after a morning of enjoying the beach is Rainforest. This huge building is a cafe and restaurant decked out to look like you are in the middle of a rainforest. The decor is lush and the food is delicious. It is slightly on the pricey side though.
After lunch make your way to Po Nagar Cham Towers. This place is one of the most popular sights of Nha Trang and is still an active site for worship by Cham, Vietnamese Buddhists, and Chinese people. The Cham people are an important part of the Vietnamese culture as one of the ethnic minorities in the country.
This is no doubt the most popular temple to visit when backpacking Nha Trang. It is located just 2 kilometers out of the city center so is very accessible. I recommend taking a Grab taxi to make your way there. If you are not sure what this is keep reading the transport portion to find out more.
Cost: 22,000 VND / $1.00.
Address: 2 Tháng 4, Vĩnh Phước, Nha Trang, Khanh Hoa Province
---
Evening – Night Market
The perfect way to wind down is by visiting the Night Market in Nha Trang. It is located in the center of the city and is separated into four separate parts:
Walking street and night market – 46 Tran Phu Street
Nha Trang market – Tue Tinh street, Tran Quang Khai Street
Yasaka 9 market – Tran Phu Street
Tropicana shopping – Hai Yen hotel
You will find that the walking street and night market at 46 Tran Phu Street is certainly the most popular of the lot. Here you can play tourist and do a spot of shopping for some cute souvenirs.
This is also a great place to grab some street food for dinner. You will find an assortment of options available. Though being in the coastal city of Nha Trang, this place is known for its seafood. If you are a bit more adventurous than I was then why not try Bun Cha Sua, which is a soup with a broth of jellyfish, rice vermicelli, and freshly steamed sailfish? If that takes doesn't tickle your fancy why not try a different version called Bun Cha Ca with a broth of pork bones instead?
---
Day 2 Of Your 3 Days In Nha Trang Itinerary
On the second day of our 3 days in Nha Trang itinerary, we will head out of the city and into the ocean! Get ready to discover a whole new underwater world in some of Vietnam's best snorkeling spots along the coast.
---
Morning & Afternoon- Snorkeling Tour
Welcome to the day 2 backpacking Nha Trang. Though before your snorkeling in Nha Trang tour kicks off you still have time to grab breakfast so don't worry. if you are keen to check out a new spot I recommend going to Cim's Brunch Club. This hidden spot is the perfect place to eat before starting your day. They specialize in everything breakfast, sweet or savory, so it will no doubt hit the spot.
Next up time to go snorkeling. It is likely the company you book with will pick you up at your accommodation since the harbor is located a short drive out of the city.  Personally, I booked this snorkeling tour in Nha Trang and couldn't fault our experience, it was awesome.
Luckily for ocean lovers like me, Nha Trang has over 12,00 hectares of a marine reserve. This coral-filled area is known as Hon Mun Marine Protected Area and is where you will visit. It is the perfect place for both diving and snorkeling as the water is not too deep. Ultimately making it ideal for people of all expertise.
Most tours will run from 9 am or 10 am until about 3 pm or 4 pm so it is a rather full-day activity. They will also feed you lunch onboard which is included in the price. I paid 350,000 VND / $15.40 for the experience.
Once you are finished snorkeling I recommend heading back to your accommodation for a rest and to wash all that salt out of your hair. It's time for a little rest before we continue with tonight's adventures.
---
Evening- Rooftop Bar
Once you are feeling a little bit less sea logged it is time to hit one of the best bars in Nha Trang, Altitude Rooftop Bar. This is the time when you pull that one nice outfit out of the bottom of your backpack.
Once you arrive at the bar you will be blown away by the impressive view overlooking the sea and city. Whether you want to be there for sunset and watch the sky change to gorgeous shades of pink, or at night when all the lights are turned on around the city. Either way, it is an awesome experience and the perfect way to end a busy day backpacking Nha Trang.
The menu features beers, wines, cocktails, non-alcoholic options, and some bar snacks as well. For more of an extensive dinner, you can splash out at the onsite restaurant in the Sheraton called Feast, or head down the street to one of the many locally-owned eateries.
Located: Floor 28 of the Sheraton Hotel, Nha Trang
View this post on Instagram
---
Day 3 Of Your 3 Days In Nha Trang Itinerary
On day 3, the final and last day of our 3 days in Nha Trang itinerary, let your inner child out as you check out Vinpearl. The onsite amusement park there will give you a full day of fun and excitement as you try out the various rides.
---
Morning & Afternoon- Vinpearl
The last day in Nha Trang will be spent at the crazy Vinpearl at VinWonders, an amusement park. No doubt you would have seen this place from the beaches in Nha Trang. The Hollywood-like sign does make it quite hard to miss. So now is your time to check it out!
Here you can find shows, rides, a zoo, an aquarium, gardens, and even a large water park area, all under VinWonders. You will definitely need a full day to explore it all!
Though to get to Vinpearl is an adventure in itself in all honesty. First off you'll need to head directly to the cable car station by taxi. You can search Cáp treo VinWonders on Google Maps to bring up the exact location. The cable car ride is 12 minutes and has a distance of 3,320 meters. This is the perfect option for taking in some incredible views over the city and the harbor.
The tickets for VinWonders and the cable car return trip cost 880,000 VND / $38 USD for adults. It is more of a pricey activity to do in Nha Trang. Though it is certainly worth it for a day of fun out in the sun. You can purchase tickets online or at the cable car station.
---
Add To Your Nha Trang Itinerary?
If you are looking for more things to do in Nha Trang just head on for a few extra ideas:
Ba Ho and Fairy Spring Waterfalls: Why not head away from the city and take a visit to some incredible waterfalls? Ba Ho is made up of a series of three falls and is located around an hour outside of Nha Trang. Though it is well worth making the journey. Fairy Spring Waterfalls also is a great trip. Here you will find a large spring that fills a pool at the base of the falls.
Thap Ba Hot Springs and Mud Baths: Nha Trang is also known for its mud baths. Though I didn't visit any simply because coming from a geothermal region of New Zealand I am pretty used to this so I chose not to spend my money on it. Nevertheless, this is a super popular activity with travelers in Nha Trang and perhaps is something you would be keen to check out. Thap Ba Hot Springs and Mud Baths are one of the most popular places for this experience. The mud is said to have healing properties thanks to its high mineral content and people usually slather their skin with the mud and then lie down in the bath and let it work its magic.
Visit the Buddha: One of the main landmarks of Nha Trang is the large Buddha which sits on one of the hills overlooking the city. You can find it on the summit of a hill behind the Long Son Pagoda. It is sitting on a pretty lotus blossom and measures an impressive 14 meters in height. Also at the base, you will find some statues of Thich Quang Duc and six other monks who set fire to themselves in protest in 1963.
CHECK OUT MORE ACTIVITIES:
---
When To Travel Nha Trang
As with most places in Southeast Asia and Vietnam, Nha Trang has a wet season and a dry season. Depending on when you visit can seriously affect how your trip goes and honestly what you can do/see. Plus whether or not you will be spending your time swimming in the ocean or locked indoors. Ultimately the best time to visit Hoi An is between February and April. The weather is good, but the temperatures are not too hot yet.
October to December: This is the wet season in Nha Trang. During this time the temperature won't be so hot, though you could be in for quite a bit of rain. This is also the typhoon season so the train can last from hours to days and shut down essential services if flooding begins, including transport links.
January to July: This is the dry season as well as the high season. During these times temperatures can be anywhere from 30 degrees Celsius to 40 degrees Celsius. Make sure you put on that sunblock before hitting the beach!
July to September: This is sort of the shoulder season. The weather won't be perfect, but it won't be bad either. It may be a little bit chilly or windy to enjoy the beach. Though the temperatures will be great for exploring.
---
Cost Per Day For Backpacking Nha Trang
Nha Trang is a super touristy town, not so much with backpackers, but more with Russians looking for a sunny escape. It is a bit more pricey than some other small towns in Vietnam. Nevertheless, there are things you can do to keep your budget on the affordable side.
This includes staying at a hostel, eating local, and partaking in the cheaper tours. The most expensive thing I did in Nha Trang was the snorkeling tour simply because it was something I was interested in doing. I paid 350,000 VND / $15.40 for the experience. Though in all honesty, this is a very good price to pay for a half-day tour including lunch.
Overall I would budget approximately $26.00 per day for backpacking Nha Trang to stay on the safe side. This will allow you a decent bed to sleep in, a few beers, and a couple of activities during your stay.
---
Where To Stay In Nha Trang?
There are heaps of options for where to stay in Nha Trang. Whether that is a hotel in the city, a cheap guesthouse, a beach resort, or a seaside hostel a little bit further out of town, there is something here for everyone.
We actually stayed at two different places while we were in Nha Trang. This was simply because we decided to extend our stay and there were quite a few affordable guesthouses in the area so it cost us the same price as a hostel to book a private room. Staying in a guesthouse is a super budget-friendly way of traveling around Vietnam. I haven't had a bad stay in a guesthouse so far. They contain everything you will need. Though you may just find that the bed is a bit harder than what you are used to or you have to carry your luggage up 6 flights of stairs.
The first few days of our stay in Nha Trang we stayed at a hostel called Tabalo Hostel. It was a super modern spot and very aesthetic looking for an affordable hostel. The bathrooms were great and always super clean and the beds were comfortable with a sturdy wooden design, much better than those flimsy metal bunk beds.
The only downside was there was a power cut, and since the rooms are operated via electronic keycard we presumed we couldn't get in. This was wrong, as actually during a power cut the locking systems are automatically stopped. Though my concern was this meant some random could easily access your room, providing the opportunity for theft. Luckily the powercut only lasted an hour and nothing bad happened.
Traveling as a couple we decided to then stay an extra night in Nha Trang in a private room. We managed to find a cheap spot for $10.00 per night ($5.00 each!) at Forget Me Not Hotel. This was everything you could want for such an affordable price. Nothing flashy, but it was perfect for a one-night stay.
Nha Trang also has an incredible amount of quite nice fancy beachside resorts. Unfortunately, this wasn't in my budget, and if you're reading this backpacking guide it's unlikely to be in yours. Nevertheless, you can find 3 to 4-star resorts for just $20.00 per night. For such a small step up in price you get a lot more including a pool to relax in.
Here are my top picks for the backpacking Nha Trang guide:
---
Getting To Nha Trang From Hoi An
No doubt you will find yourself exploring Hoi An at some part of your Vietnam adventures. This is a super cute and quaint touristy town, which is one of my must-visit places in Vietnam. Though once, you have taken those cute Instagram pics it's time to continue your adventures through this incredible country.
Though it is quite the journey to travel from Hoi An to Nha Trang and can take quite a bit of time. So much so that a lot of people do this as an overnight journey. Luckily there are plenty of options for how to travel.
You can either book your tickets in advance using 12.Go Asia or when you arrive in Hoi An. There are numerous travel agencies there where you can book and even the majority of accommodation providers will happily book it.
This table is an overview of your transport options. Though I also have a full guide on how to travel from Hoi An to Nha Trang with more detailed information.
| | | | |
| --- | --- | --- | --- |
| | Time | Cost | Highlight |
| Train | 14 hours | from $40 | Comfortable journey |
| Luxury Train | 14 hours | from $60 | Super comfortable journey |
| Bus | 12 hours | from $13 | The cheapest way to travel |
| Tourist Bus | 13 hours | from $14 | More comfortable than the regular bus |
| Plane | 1 hour | from $35 | The fastest way to travel |
---
Traveling Around Nha Trang
Nha Trang is a relatively easy place to travel around and most things are within a small distance. Nevertheless, you will need some way to get around if you are wanting to visit places such as Po Nagar Cham Towers which are located a bit further away from the city. Luckily the landscape is relatively flat so you don't need to worry about navigating large hills.
I highly recommend downloading the offline map of Nha Trang on the Maps.Me app for your cell phone. It'll be super helpful in navigating your way around if you do not have data.  This is one thing I always make sure I have before arriving at a new destination. 
Walking: You could simply rely on just walking to get around Nha Trang, especially if you plan on just keeping within the city. I personally didn't take any transport during my time in Nha Trang, instead, I walked everywhere, even if it was for 40 minutes or an hour.
Grab: This is my personal favorite way to travel short distances in Vietnam. Download the Grab app on your phone and then you are all good to go. It provides the cost before you book which is a great tool to use to keep you on budget. Because you also enter your location before the journey starts by dropping a pin, there are no communication issues, and ending up in the wrong place. The drivers are always super friendly, with a nice and clean car as well as having air conditioning blasting.
Hiring A Motorbike: Now hiring a motorbike is a popular thing to do in Vietnam. This isn't a popular bustling city so it is a relatively easy place to drive when compared with somewhere like Hanoi. Though most places in Nha Trang and super close together and it is easy enough to walk or take a taxi.
---
Where To Eat & Drink In Nha Trang
Nha Trang is a bustling city with some great restaurant and cafe options. Though depending on where you go you may find that they are aimed at pleasing more Russian holidaymakers, including with no menus in English. So you don't make the same mistakes I did, such as sitting down somewhere before releasing you can't actually order anything, I will let you know my top picks for this backpacking Nha Trang itinerary.
---
Cheap Eats In Hoi An
There are some delicious and super affordable cheap eats in Nha Trang. For the most part, you will find these in small locally-run eateries. There are numerous locally run restaurants that specialize in Vietnamese cuisine. You will know which ones to eat at by the number of patrons sittings in there also eating. Basically, if locals won't eat there neither should you, and if they are eating there then it is a place you should definitely try.
Cafe Culture: A top-rated cheap eat, Cafe Culture makes delicious affordable food. Try out their pizzas, burgers, or breakfast favorites such as the eggs benedict.
Tuk Tuk Thai Restaurant: Make sure to come here if you have been craving some delicious Thai food. Whether that is mango sticky rice, pad Thai or your favorite Thai curry you will find it here on their menu.
Ciao Vietnam: Now choose whether to listen to me or not on this one. Reviews online are not that great. Though we ate here a couple of times during our stay and had no complaints at all. It was a good choice for a super cheap stir-fry dish and there are plenty of vegetarian options on the menu.
View this post on Instagram
---
Western Food In Hoi An
Being a holiday marker hotspot there are numerous choices available for Western food in Nha Trang. Though of course, these meals tend to be quite a bit more expensive than if you were to eat local. This is because a lot of the ingredients are harder to come by and generally cost more as it is imported from overseas. It may not be the best on your Vietnam budget, but it may just help with that little bit of homesickness.
I personally ate at a few different western spots and these are my top picks for backpacking Nha Trang:
Da Fernando Restaurant: This was our one splash-out in Nha Trang and it is a delicious Italian joint. We walked past here numerous times over our stay and it was always packed so we decided to try it on our last night. The wood-fired pizzas were delicious and it was a great change from our typical dollar stir fry meals.
LIVIN Barbeque: For a good hearty meal definitely hit up LIVIN Barbeque in Nha Trang. This BBQ joint serves up American favorites that you could only dream of. Think pulled pork, beef brisket, ribs, basically any meat-lover dream.
Yashoda Indian Restaurant: Technically not Western, but still different from your Vietnamese food is Yashoda Indian Restaurant. This is a great spot for a deliciously rich and creamy curry. Seriously I have to try out an Indian restaurant in each city I travel to, and this one is not to be missed. They are also happy to accommodate any dietary requirements, such as being vegan.
---
Safety In Nha Trang
Nha Trang is a pretty safe place to explore with the exception of the many scams you will find in Asian countries. This mainly revolves around your basic robberies and pickpocketing. In Vietnam motorbike snatch and grab is super common as well. Someone may see that your handbag, backpack, camera, or phone is not secure, so they will drive by on their motorbike and grab it.
A common scam throughout Vietnam is the motorbike scams. Usually, this involves blaming travelers for scratches and other marks on the motorbike and making them pay for this. To avoid this happening make sure you hire through a recommended and highly-rated company. You can also document the state of the bike via video prior to taking it so you can always refer back to that if you get blamed.
Don't drink the water out of the tap. Many hotels and hostels will have water refill stations or minimarts that sell bottles super cheap as well.
The main thing to remember is to just use your common sense. This should keep you out of dangerous situations. I wasn't scammed or taken advantage of once in Vietnam. Though I put this down to doing my research in advance and becoming familiar with common scams.
---
Where To After Nha Trang?
After your backpacking Nha Trang itinerary has come to an end you have a couple of different options for where you could go:
North: If you are traveling North from Nha Trang, you could travel to Da Nang or Hoi An via overnight train. Da Nang is the perfect hub, where you could venture to Thailand or Laos via the international airport, or if you are wanting to stay domestic, then hit up Hanoi, Sapa, or Ha Long Bay. You could also head to Ninh Binh which is between Hanoi and Hue. From here you could travel to Hue via the Hai Van Pass, then take the overnight train to Hanoi. I haven't personally been yet, but I have heard great things, and it's on my bucketlist!!
South:  Alternatively, you can end back down South towards some other Vietnam highlights including the sand dunes in Mui Ne, and the tunnels in Ho Chi Minh. Vietnam is a huge country and there are so many things to do here!
---
Any Questions? Let me know in the comments!
---
LIKE IT? PIN IT!
---
Want more Vietnam Inspiration? Check out….
---
Disclaimer: This post contains affiliate links. So, if you click on it and purchase something, I get a small percentage at no extra cost to you. As always all opinions are my own and your support is much appreciated.
Photo credit: ""Nha Trang" (CC BY 2.0) by Alexander Zykov. ""Nha Trang" (CC BY 2.0) by Alexander Zykov. 
Related Posts
Learn how exactly to travel from Da Nang to Hoi An. From the bus, taxis, [...]
2 Comments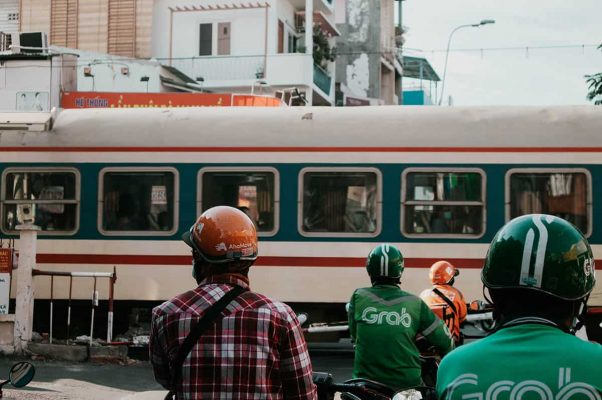 If you are like me and traveling Vietnam from North to South then you may [...]
If you are exploring the length of Vietnam it is likely you will need to [...]
1 Comment