If you are like me and traveling Vietnam from North to South then you may find the last part of your journey is from Mui Ne to Ho Chi Minh City. Though unfortunately, Mui Ne isn't one of the main transport hubs in Vietnam, so your options are limited for direct journeys. Nevertheless, I am here to explain all options for you, whether that is a plane, bus or train,  I will let you know how to book, prices, and more!
---
One of the main cities and a major transport hub for Vietnam is Ho Chi Minh City or Saigon. No doubt you will find yourself passing through at some point during your travels, and perhaps if you are traveling North to South like I was you may need to figure out how exactly to travel from Mui Ne to Ho Chi Minh City.
Ho Chi Minh is a well-established backpacker hangout on the banana pancake trail, though I will let you know where exactly I recommend staying here below, it's a huge place with plenty of options that can get a bit overwhelming. Though while here there are numerous things to do and delicious places and dishes to try out. You will also find it easy to travel overland to Cambodia, the international airport here has numerous routes available.
Luckily the journey between Mui Ne to Ho Chi Minh isn't too long, so you don't need to worry about having to take any overnight buses or sleeper trains. Though options are limited for traveling out of Mui Ne, so we didn't book anything until a couple of days prior to this journey to see what other travelers could recommend. We knew there is basically only one affordable direct option for traveling from Mui Ne to Ho Chi Minh. Luckily everything ran super smooth and was super comfortable.
Though before I get into my experience I will let you know all options when it comes to traveling from Mui Ne to Ho Chi Minh City. This includes whether to bus, plane, minivan, taxi, or train, prices, how to book tickets, departure times, and more!
| | | | |
| --- | --- | --- | --- |
| | Time | Cost | Highlight |
| Train | 4 hours + Taxi | from $7 | Comfortable journey |
| Private Transfer | 3 hours | from $75 | Super comfortable journey |
| Bus | 5 hours | from $7 | The cheapest way to travel |
| Tourist Bus | 5 hours | from $12 | More comfortable than the regular bus |
| Airport | N/A | N/A | An airport is currently being built outside of Mui Ne |
---
How To Get From Mui Ne To Ho Chi Minh City: All Transport Options Explained
---
Mui Ne To Ho Chi Minh City Distance
The distance from Mui Ne to Ho Chi Minh city is approximately 225 kilometers. You will find if you travel by road the start of this route is along the coast before heading inland to the bustling city. Though if you decide to take the train you will that it travels inland a lot faster. Though this is simply because there is not a train station in Mui Ne so you will need to head to the nearest town called Phan Thiet to take the train the rest of the distance.
The deciding factor which will sway you whether to take a bus, private transfer, plane, or train will depend on your budget and how long you have to complete the journey.
---
Mui Ne to Ho Chi Minh City Travel Time
Depending on the type of transport you decide to book from Mui Ne to Ho Chi Minh City will affect how long it takes to travel.
Bus: The bus journey from Mui Ne to Ho Chi Minh City takes 5 hours
Private Transfer: It takes approximately 3 and 20 minutes to travel from Mui Ne to Ho Chi Minh City via private transfer. Certainly, a fast option if you are short on time!
Train: The train ride will take around 5 and a half hours from Mui Ne to Ho Chi Minh City. Well, this also includes the transport time to get to Phan Thiet where the train departs from. This is just a short distance taking between 20 to 30 minutes.
---
Private Transfer From Mui Ne To Ho Chi Minh City
If you are a bit short on time, the quickest option to travel from Mui Ne to Ho Chi Minh City is by private transport. The total travel time is only 3 hours and 20 minutes and they will drop you off at your accommodation. Ho Chi Minh City is a crazy huge place with numerous districts!
Apart from being a speedy option, the driver will usually be more than happy to stop along the way for photos and will be flexible to leave at any time. This means if you perhaps have a flight out of Ho Chi Minh City you can make sure you get there in time.
Though unfortunately taking a private transfer is a pretty pricey option and will eat into your daily travel budget in Vietnam. Though for some people, budget is not a restraint, and if this happens to be you I am extremely jealous.
The cost of a private transfer is generally $100.00 to $140.00 depending on the size of the vehicle. Though if you are traveling with a large group then you can hire a larger van and split the costs.
---
Bus From Mui Ne To Ho Chi Minh City
You can quite easily take a bus from Nha Trang to Mui Ne. This is actually what I did as for me it was a comfortable and affordable option. Also, it is quite awkward to take a train to/from Mui Ne as the station isn't close. Though if you are wanting to take the train I will also explain this below.
I actually had a really bad experience with buses in Vietnam which you can read about in my sleeper buses in Vietnam post. Though after discovering a good company with actual offices, and that cater to travelers, I was happy to take buses again. Plus the journey from Mui Ne to Ho Chi Minh City is relatively short at only 5 hours, and compared to how many overnight journeys you can easily find yourself doing in the country, this is a breeze.
My preferred company for all bus travel in Vietnam is The Sinh Tourist.
---
Bus vs Tourist Bus
Now when you are traveling in Vietnam you will come to learn there are two different types of buses, the regular bus, and the tourist bus. The standard regular bus is more to Vietnamese standards, which is fine if you know that is what you are booking and are prepared for it. Though if not, you may be in for a surprise.
Anyway, I found your typical Vietnamese buses to just simply be a bit painful. They stop anywhere and everywhere to pick up and drop off passengers. And no I am not talking about bus stops, I am talking about every 30 seconds on the side of the road. The lay-flat seats were not tall enough for us westerners, it was far from clean, and if I was to spend more than a few hours in there my sanity would be questioned. The reason I ended up on such buses is that I let my accommodation book them. That means they just did whichever earned them the most commission.
As I mentioned above I only use The Sinh Tourist when I am booking a bus journey in Vietnam, and that is why. Be aware there are plenty of fake websites and fake stores pretending to be this company. Their lay flat seats were even more comfortable being slightly longer for us tall foreigners. Though you do pay a bit extra booking them compared with other options.
---
Sleeper vs Seater Bus
Now before we actually get into the details of traveling from Mui Ne to Ho Chi Minh via bus, you need to know there are two different types of buses in Vietnam. The first is your standard bus that you are no doubt quite familiar with. They have just your standard seats. Now the second is called a sleeper bus, and it can be quite an interesting experience on one of these.
Once you enter the bus you will notice there are two aisles you can walk down rather than just one. This separates the three rows on sleeper seats that are stacked two tall. At first thought, you may think "yay legroom" or "yay I can lay down on this long journey". Though in all honesty, they are not comfortable for anybody over 165cm. At the back of the buses is a huge lay flat area, where they chuck the tall people.
Though, luckily there are some reputable companies who have altered their seats/beds slightly to make them more comfortable for the tourists. For these buses, if you are 180cm or less you should be comfortably fit. My favorite company to book with, and the one I booked this route through is the Sinh Tourist. It was day and night to my previous bus experiences in Vietnam.
---
Bus Schedule From Mui Ne To Ho Chi Minh City
Here is the bus schedule departing from Mui Ne and arriving in Ho Chi Minh City. Of course, there are more companies than just these I have listed. Though this is just a selection of the most popular and recommended.
Bus
Departure Times
Length
Price
The Sinh Tourist
07:30 – 13:00 & 13:00 – 18:30
5.5h
from $8.00
Futa Bus
every hour
6h
from $8.50
Hanh Cafe
00:30 – 05:30 , 01:00 – 06:00 , 07:00 – 12:00 ,

08:00 – 13:00 , 09:30 – 14:30 , 11:00 – 16:00 ,

13:00 – 17:30 , 13:30 – 18:00 , 14:30 – 19:30 &

16:30 – 21:30

5h
from $6.50
As you can see all companies cost about a similar amount and depart rather regularly. Though personally, I enjoy The Sinh Tourist. They are mid-range when it comes to prices and the sleeper-style seats are made to fit Western tourists who are a bit taller than the typical Vietnamese local. We enjoyed than so much that they were the only company we booked the rest of our Vietnam travels with, including crossing the border from Ho Chi Minh City to Phnom Penh in Cambodia.
---
How To Book Tickets
Luckily booking transport in Vietnam is super easy, including the route from Mui Ne to Ho Chi Minh City. Personally, to save hassles, I like to book it online via Baolau or 12.Go Asia. This is simply so I can read reviews and check out other travelers' experiences. The other option is heading to a nearby travel agency or through your hotel once you are in Mui Ne. Though they will just book you on whatever is available and what they make a decent commission on. So not necessarily always the best or most comfortable journey.
Anyway by booking with Baolau or 12.Go Asia you can see what other travelers have said about certain routes with particular companies. Then you can just book your ticket through their website and they will email you a copy. It's super easy!
---
Where Does The Bus Drop You Off
Depending on the bus company you decide to book with it is likely they will drop you off somewhere different, such as their office, rather than at the bus station. If you choose the right company and research in advance, this could pay off for you as some drop you off right in the bang center of town. From there it will be just a short walk if you have booked in the main tourist area.
Though of course if you are staying further afield taxis are seemingly everywhere, or it is easy enough to order one via Grab.
Hanh Cafe: The Hanh Cafe Office In Ho Chi Minh City (273 Phạm Ngũ Lão)
The Sinh Tourist: The Sinh Tourist Office In Ho Chi Minh City (248 Đề Thám)
---
My Experience Taking The Bus From Mui Ne To Ho Chi Minh City
It was an easy decision for me to take the bus from Mui Ne to Ho Chi Minh City. It was the most affordable option, as well as the pickup and drop-off points nearby to my accommodation. Of course, I booked through the Sinh Tourist. Their office in Mui Ne was a short, and thankfully cheap, taxi ride from my hostel. Then my next hostel in Ho Chi Minh was an easy enough walk to my little guesthouse. We only booked our tickets a couple of days in advance, though the journey was fully sold out so I wouldn't leave it until the last minute.
We took the early 7 am bus to Ho Chi Minh City, so after a quick breakfast at the hostel, we caught a taxi to the Mui Ne Sinh Tourist Office. It is super easy to find along the main road and after checking in with the staff we were ushered onboard. It was a super quick process and soon enough we were on the road, past the sand dunes, and out of Mui Ne.
I managed to sleep the majority of the journey. Though we did make one toilet/ snack stop, which lasted about 20 minutes. Luckily enough the 5-hour journey flew by and soon enough we were arriving at the bustling place which is Ho Chi Minh City. The bus station is right in the heart of the city, in the middle of the backpacker area. This was perfect for us!
---
Limobus From Mui Ne To Ho Chi Minh City
Now for a more unique experience and way to travel you can take a limo bus from Mui Ne to Ho Chi Minh City. This is the next step up from your sleeper buses in Vietnam with lazy-boy-like chairs. This is the way to travel in style and comfort.
The top choices for this journey include G5Car, ADT Limousine and 3S Limo. With G5SCar and ADT Limousine, you will be picked up from your hotel in Mui Ne and transported in style. 3S Limo, unfortunately, doesn't offer this pickup service, though you will have personal touchscreen televisions onboard and super comfortable seats.
LimoBus
Departure Times
Length
Price
G5Car
09:30 – 14:30 & 13:30 – 18:30
5h
from $14.00
ADT Limousine
08:00 – 12:00, 10:00 – 14:00 , 14:00 – 18:00 ,

16:00 – 20:00 & 18:30 – 22:30

4h
from $14.00
3S Limo
13:00 – 18:00
5h
from $18.50
As you can see this is certainly pricier than the regular bus. Though the fact that this journey is so much more comfortable may make it worth it to a lot of people. Also, let's be honest, being less than $7.00 more than the regular bus is not much and I know if I were to do it again I would definitely book an upgraded experience in the Limobus.
---
Fly From Mui Ne To Ho Chi Minh City
Unfortunately at this time, you are not able to fly from Mui Ne to Ho Chi Minh City. There may be an airport in Ho Chi Minh City called Tan Son Nhat International Airport (SGN), though there is not one just yet in Mui Ne. Don't be too disappointed as it is in the works! The nearby town of Phan Thiet is getting an airport said to be completed at the end of 2022.
Though you can always travel by bus to Da Lat, spend a few days there, and then catch a flight to Ho Chi Minh City. Da Lat is a quaint mountainous town that is a popular honeymoon spot for locals. It is the perfect place to hide from the heat and is on many travelers' itineraries. Unfortunately, I haven't had the opportunity to visit just yet.
---
Train From Mui Ne To Ho Chi Minh City
Taking the train was definitely one of my favorite ways to travel in Vietnam. It's an authentic way to discover the country while doing so in comfort. For the most part, the train follows the main road in the country. Though it is generally a lot more comfortable than taking the bus.
Unfortunately, taking the train from Mui Ne to Ho Chi Minh City isn't as easy as it is elsewhere in the country. This is simply because there is not a station in Mui Ne. Instead, you will need to take a taxi to the next nearest one which is about 20 kilometers away.
---
Train Schedule
Below you will find the train schedule from Mui Ne to Ho Chi Minh City. Though be aware there isn't actually a train station in Mui Ne. The nearest one is called Binh Thuan Train Station, also known as Muong Man Station. To get here you will need to take a taxi from Mui Ne, or you can taxi to Phan Thiet and take a train from there to Binh Thuan Train Station. Though I will get into the details of this further down below.
Please be aware in the following table the price for the Vietnam Railways trains is starting at the cheapest point, aka for the seats. The luxury trains are always for the soft sleeper beds as that is all they offer.
| | | | |
| --- | --- | --- | --- |
| Train | Departure Time | Length | Price |
| SPT1 | 13:34 | 4h 1m | from $7.00 |
| SE7  | 12:55 | 3h 35m | from $5.50 |
| SE5 | 15:19 | 3h 36m | from $5.00 |
---
How To Book Tickets From Mui Ne To Ho Chi Minh City
Luckily these days its super easy to buy train tickets in Vietnam and Vietnam Railways even accepts e-tickets. This is a super bonus as it prevents the common stress of freaking out wondering where you can print that ticket you just purchased online. Doing this last-minute stress panic is something that is way too familiar to me.
Though before we get too into that you will need to decide what type of ticket you would like to purchase. All of the trains operated by Vietnam Railways offer a variety of cabin choices so you can pick the perfect option for you:
SPT1: This train has a mixture of air-conditioned soft seats and also various sleeper berths.
SE5: Onboard you will find air-conditioned 4 berth soft sleepers, air-conditioned 6 berth hard sleepers, air-conditioned soft seats, air-conditioned hard seats, and ordinary seats.
SE7: Onboard you can find air-conditioned soft sleepers, air-conditioned hard sleepers, and air-conditioned soft seats.
---
Buy Tickets Online
You can purchase tickets online. It is a bit confusing as some websites still say you need to print out to ticket and swap it with a proper one at the train station. Though no one wants to do this! I ended up booking with Baolau. Their website said I didn't need to print off my ticket and instead just show my ticket on my phone to the attendant on the train. This is what I did during my Vietnam travels and didn't have any issues.
---
Buy Tickets From Vietnam Railways
You can book tickets direct on Vietnam Railways. You often can't find the cheaper hard/soft seater tickets available on third-party websites as they are not a popular choice for travelers. So, if you are on a budget you can book direct with Vietnam Railways. You will find the tickets are slightly cheaper when you purchase direct.
---
What Berth To Book
As the journey between Mui Ne and Ho Chi Minh is quite short at 3 and a half hours you may find yourself wanting to book one of the cheaper options on the train. Though I won't judge if you want to book a sleeper for a short journey. This is what I did from Hue to Da Nang and it was only a 3-hour journey, I just appreciate the privacy!
Hard Sleeper Or Soft Sleeper: The majority of travelers will choose a soft sleeper when taking long journeys in Vietnam. The only difference between the hard sleeper and soft sleeper berths is the number of people you will be sharing with. A hard sleeper sleeps 6 people whereas a soft sleeper sleeps, 4 people. So contrary to the name you won't be sleeping on a hard surface.
Lower or Upper Berth: The appeal of the lower berth is simply that it is a lot easier to get into. There is no climbing an awkward ladder, trying not to fall off while the train moves. The lower ones are also generally slightly bigger. Though the upper berth is a lot more private!
Hard Seat Or Soft Seat: The seats are the cheapest you will find, with a hard seat being one of the cheapest options available. This is good for shorter journeys.
Top tip: If you book your train via Baolau you can pick in advance whether you want a lower or upper berth.
---
Mui Ne To Binh Thuan Train Station
Unfortunately, there are no buses from Mui Ne to Binh Thuan Train Station. This means your best option will be to take a taxi. This will cost at least 500,000 VND / $22.00. Though personally I recommend booking a Grab taxi for the best rates and to avoid needing to negotiate with the driver. Though it is a 20-kilometer ride so be prepared to pay a bit for it.
---
FAQ's About Traveling From Mui Ne To Ho Chi Minh City
How many days to spend in Ho Chi Minh City? In all honesty, you could easily spend a week or more exploring all that Ho Chi Minh City has to offer. The city is split into districts, with the majority of backpackers and travelers choosing to stay in district 1. Personally, I stayed in Ho Chi Minh for 4 nights. This was about the perfect length of time for us as we were able to check out a lot of the highlights.
How far in advance do I need to book tickets? It is recommended you book tickets in advance to ensure you can travel with a reputable, clean and safe company. You should try for at least a week in advance to be safe. Though if you are not worried about this then you can probably just book the day before.
Booking through Baolau or 12.Go Asia is perfect for over those busy periods as you can book when you haven't even arrived in the country yet! This means you can relax knowing all the planning is taken care of.
This advice isn't valid during the high season between November to January, on weekends, and especially on the Vietnamese New Year (Tet). During these times you will want to book at least 4 weeks in advance and expect a very full bus, train, or flight.
---
Where To Stay In Ho Chi Minh City?
There is a wide assortment of places to stay in Ho Chi Minh City. Whether you are looking for an affordable hostel, beachside resort, or friendly guesthouse. There is an assortment of selections to be found.
As I said before Ho Chi Minh is a huge city split into districts. The majority of backpackers and travelers decide to stay in district 1. This is well set up for tourists with plenty of restaurants, activities, accommodations, and transport links.
During our stay in Ho Chi Minh City, we decided to stay on quite a budget and book a small little hostel about a 15-minute walk out of the party center. The hostel was run by a lovely gentleman, but it was more rooms in his house he had converted to dorm rooms, and the majority of travelers were long-term, just sticking to themselves. For that reason, I am not going to recommend it.
Nevertheless, there are still plenty of affordable hostel and hotel options available in the city.
A backpacker's favorite in this city. Dorm rooms start at $10.00.

BOOK NOW

Live in luxury for less with prices from $30.00 per night for a double room.

BOOK NOW

Excellent value for money with modern dorm rooms starting from $8.00 per night.

BOOK NOW

A quaint little guesthouse in the perfect location. Rooms start from just $24.00 per night.

BOOK NOW
---
Things To Do In Ho Chi Minh City
This bustling city is packed full of things to do, much more than I could ever mention in one section. Nevertheless here are some of the best things to do in Ho Chi Minh City:
Cu Chi Tunnels: No visit to Ho Chi Minh City would be complete without a visit to the Cu Chi Tunnels. The series of underground tunnels played an important part in the War and was an impressive feat of both architecture and engineering. At its peak, there were over 250km worth of tunnels stretching along the countryside, some even leading from Saigon right to the Cambodian border.
War Remnants Museum: No visit to Ho Chi Minh is complete without a visit to the War Remnants Museum. Unfortunately, Vietnam has quite a full-on past, and it is important when you travel somewhere new that you learn about it to gain a greater understanding of the people and their history.
Reunification Palace: This is one of the most significant places to visit while you are in the city. It is the former presidential palace for Southern Vietnam, where Saigon fell to the north in what marked the end of the war. You can actually see the tank that crashed into the gate on display.
Ben Thanh Market: Make sure you check out Ben Thanh Market as well. It is a short and quick grab ride if you are not within walking distance. Here you can find fresh produce, delicious food, and plenty of souvenirs. Make sure to try not some favorite local dishes such as pho and bun cha.
Free Walking Tour: One of my favorite ways to explore a new city is by taking a free walking tour. This is especially so if the city is as overwhelming and crazy as Ho Chi Minh City.
---
LIKE IT? PIN IT!
---
Want more Vietnam Inspiration? Check out….
---
Disclaimer: This post contains affiliate links. So, if you click on it and purchase something, I get a small percentage at no extra cost to you. As always all opinions are my own and your support is much appreciated.
Related Posts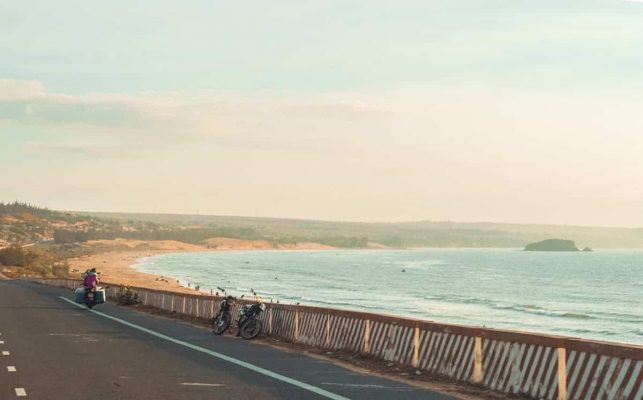 If you are traveling the entirety of Vietnam you will no doubt find yourself needing [...]
Find out all you need to know about backpacking Nha Trang and my Nha Trang [...]
A Morning At Thanh Ha Pottery Village In Hoi An, Vietnam When in Hoi An [...]
1 Comment