Come find out all you need to know about backpacking Hoi An to have the ultimate time. Find out the best things to do, restaurants, where to stay, and more for your 3 days in Hoi An itinerary while exploring Vietnam!
---
One of the top tourist destinations in Vietnam is no doubt Hoi An. This place is equal parts quaint and beautiful, especially in the ancient town. Prepare yourself for lanterns lighting the night sky, delicious food, and some incredible photo opportunities as you explore this incredible town.
There are so many things to do here in Hoi An you will be spoilt for choice. Whether you enjoy laying by the beach, exploring the jungle, or love hitting the shops, there is something here for everyone.
My 3 days in Hoi An itinerary will highlight some of these best things to do here and let you know my favorite travel tips so you can have the ultimate visit.
I backpacked Hoi An in the middle of my Vietnam adventures as I made my way overland from North to South. We found this township quite unlike anything we had come across in this country so far. Honestly, it was extremely touristic, though nevertheless very beautiful. We stayed a short walk from the ancient town meaning we could be among the action when desired, but could also enjoy a bit of peace and quiet. During our stay, we also traveled around by motorbike and bicycle to check out the best attractions on offer.
This Hoi An itinerary will include where to stay, where to eat, and what to do. Basically, it's all you need to know to have an incredible time backpacking Hoi An in 3 days!
---
Backpacking Hoi An: My 3 Days In Hoi An Itinerary
---
How Many Days To Spend In Hoi An
Before you find out my exact Hoi An itinerary and check out my favorite backpacking Hoi An travel tips we need to something out first. That is, how many days do you want to spend in Hoi An out of your entire Vietnam itinerary.
To be honest, I could spend weeks here in Hoi An. It is unlike other Vietnamese cities where it isn't overly busy and has quite a relaxed pace to it. No doubt it is one of the most beautiful places in Vietnam and is well worth a visit. Honestly, I am not surprised that so many digital nomads decide to call this place home. There is everything you could want such as affordable accommodation, fast internet and plenty of cheap eats around.
Though, for the purpose of this guide, and visiting Hoi An as a holiday destination I recommend spending a minimum of 3 days in Hoi An. This will allow you to explore the various landscapes, ap[preicate the ancient town and check out the best things to do here. It'll give you some downtime and relaxation from the other bustling Vietnamese cities you have no doubt visited.
Hoi An is a stand-out in everyone's trips to Vietnam. No doubt you will fall in love with the instagrammable locations, cheap food, and wanderlust stays. When you have access to a beautiful room, delicious food, and transport to get around, that is all you really need in life.
Spending 3 days in Hoi An will also allow you to get out of the main city center and check out some of those attractions which are located a little bit further away. No matter when you visit there also seems to always be some sort of festival going on as well where the whole town will be lit up and you can make wishes on candles in the river.
---
Day 1 Of Your 3 Days In Hoi An Itinerary
On the first day of the 3 days in Hoi An itinerary we will discover the best of the ancient town. This includes taking a cooking class in the morning, shopping at the Hoi An ancient town, and enjoying dinner alongside the river, as well as a visit to the night markets.
---
Morning- Cooking Class
The perfect introduction to a new city is by taking a cooking class. This is also a famous activity to do here in Hoi An and is an excellent way to learn some of those delicious Vietnamese dishes. Up to you whether you would like to have breakfast before heading out on your cooking class. Though be aware you will be eating quite a bit, so best to leave some room!
You can check out Get Your Guide for an excellent cooking class that is very popular with travelers. Highlights include exploring the markets in Hoi An to pick up ingredients, cruising down the Thu Bon River, exploring the coconut palm forest by the crazy-looking bamboo basket boats, and tasting some delicious local dishes.
The cooking class itself is set out in a rural landscape. Appreciate the quietness in nature as you prepare your ingredients for the day. You will learn how to cook Vietnamese food, such as spring rolls, papaya salad, and pork in clay pots as you prepare your own lunch. They are also happy to substitute ingredients based on personal preferences or dietary requirements, such as being vegetarian or vegan. I also took a vegetarian cooking class in Chiang Mai which I highly recommend if you're traveling that way!
---
Afternoon- Shopping In The Ancient Town
Next, with a full belly from your morning cooking class make your way to the Ancient town for a bit of exploration and shopping. This ancient town is what makes Hoi An so special. It managed to survive the Vietnam War mostly unscathed and is said to have been settled for at least 2000 years. Ultimately means there is plenty of old-school charm, and oozing in beauty, resulting in its UNESCO World Heritage status.
There is an entry fee to the ancient town of 120,000 VND / $5 USD per person. This money goes towards keeping the city clean and maintenance. Technically, the ticket is mandatory for entry to the Old Town, and you will find various ticket booths down alleyways. However, it isn't always enforced. Though for our visit they did make us line up as it was quiet. Though you could probably sneak past if the ticket attendants were busy with a large group.
---
The Old House Of Tan Ky
One of the best things to do in Hoi An is to appreciate some of the beauty in the old houses that line the streets. Some of these historic residences have been opened up allowing travelers a look inside. It also gives you a chance you learn about Hoi An's history through finding out about the families who used to call these places home.
One of the most popular houses is the Old House Of Tan Ky. It belongs to the descendants of a wealthy family of local merchants. It was built back in the 18th century. You will notice a mix of Japanese, Chinese, and traditional Vietnamese architecture throughout the house.
Another historic house in Hoi An Ancient Town in the Old House Of Phung Hung. A highlight here is the colorful entrance hall and the beautiful balcony area.
---
Japanese Covered Bridge
One of the most iconic landmarks in Hoi An is no doubt the Japanese Covered Bridge along the river running through the Ancient Town. This structure dating back to the 16th century has been incredibly well preserved over the years. This is certainly one of the most popular Instagram hot spots in the city, so it is unlikely you will have it to yourself during your visit.
---
Fujian Assembly Hall
The last popular sight you should check out while exploring Hoi An's ancient town is the Fujian Assembly Hall. This was originally a pagoda built by the Vietnamese in the 17th century. It was then sold to Hoi An's Fujian-born community as a meeting place to socialize. There are a lot of beautiful things to check out on the grounds. Though photographers flock to appreciate the beautiful pink and green gate.
---
Tailor-Made Clothing
Also, while you are exploring Hoi An's Ancient town you should consider whether you want to get any tailor-made clothing. Now, I know this isn't for everyone. Though, this is one of the cheapest places in the world to get handmade clothing.
Once you're in the city you will notice the wide variety of clothing stores. This is one of the most popular things to do here, so you will be spoilt for choice. Though, understandably, it may be a little overwhelming. Well, a popular choice is Kimmy's Custom Tailor which is located just outside of the old town. They are well known for their professional service and quality materials.  You can check out their reviews if you aren't 100% sure.
Be aware that no matter which company you decide to go with the process can take a while. You will need to be measured up, a design made, and materials chose. Overall, it could take anywhere from 30 minutes to 2 hours.
---
Evening – Dinner Alongside The River & Night Markets
For the perfect evening in Hoi An, you cannot go further than spending it in the Ancient town. There are numerous bars and restaurants set up alongside the river. This is the perfect place to come for sunset views, while the township is plunged into darkness and all the lanterns are lit up.
Hong Phuc 2 is a popular eatery you can check out for dinner. Here you will find an assortment of dishes from local favorites, to delicious wood-fired pizzas. This is the perfect spot to relax and people-watch while you take in the beautiful views.
After dinner, head over to the river and watch the town light up. Whether you want to go for a boat ride or make a wish on a candle, this is your opportunity to do it. If it is still quiet enough in the evening you will get inundated with free beer or a 2 for 1 offer by all the quiet bars. You can also check out the night markets, though be aware the prices here are not the cheapest due to the popularity. Nevertheless, how can you say no to those impressive laterns.
---
Day 2 Of Your 3 Days In Hoi An Itinerary
On the second day of our 3 days in Hoi An itinerary we will head out of the city and explore more in nature. It'll be an early morning rise with a tour to My Son Sanctuary before spending the afternoon enjoying the beach.
---
Morning- My Son Sanctuary
Located in a rainforest-like setting, is the amazing complex of the My Son Sanctuary. It will transport you from the busy Vietnam city life to a Jurassic park setting rich in history. The grounds are a UNESCO world heritage site and it is marketed as the Angkor Wat of Vietnam.
Booking a tour is probably the most popular option and is surprisingly affordable. Though, you will have the restraint of being with a large group. I recommend booking a sunrise tour of My Son Sanctuary. This allows you to beat the crowds, and the heat, while having the grounds for your tour group.
When I visited My Son I decided to do it with a tour I booked through the hostel I was staying at in Hoi An. As it was a sunrise tour I certainly would not have wanted to drive there myself, especially in the dark, and my budget certainly did not stretch far enough to afford a taxi.
In all honesty, if you are a bit of a history buff I recommend taking a reputable tour as the guide will have a lot of knowledge, as ours did. You can still walk around staring at the amazing structure. Though, when you gain important information about relevant attributes you certainly gain a wider understanding and a greater appreciation for the complex.
If you decide to book a sunrise tour it is likely they will provide something small to nibble on for brunch. Though you will want a decent meal once you arrive back in Hoi An. For this I recommend you head to Rosies Cafe. This was one of my favorite cafes during my visit, and with beautiful decor as well as a delicious menu you won't want to leave.
Book A Tour:
---
Afternoon- Bicycle To The Beach
Hire a bicycle in the afternoon so we can make our way to the coast. Many hotels and hostels in Hoi An include the use of a bicycle with your stay. Though if this isn't the chase with your accommodation there is an assortment of places you can hire from in the ancient town. If possible I would also recommend hiring an e-bike. Even though there are no big hills, it can get super hot riding under the sun. The e-bike will be able to help you along to your destination.
Once your ride is sorted make your way to An Bang Beach. This is an easy straight cycle 4 kilometers from the ancient town. Seriously it is near impossible to get lost, and if you do, just follow all the other bikes.
At An Bang beach, you can hire a sun lounger and umbrella, or just grab a spot on the sand. Depending on the time of year, the weather could be perfect for a swim. There are also street food vendors here if you are getting a little peckish.
You will want to head back into town before it starts to get dark as there are minimal street lights, and your bike is unlikely to have a light as well.
---
Evening- Eat Local
For dinner enjoy dinner by trying some delicious Vietnamese dishes and one famous in Hoi An. It is called Cao Lau and Mr Ty who runs Ty Cao Lau has been specializing in making this dish for over 20 years. It is located in a small alley just off Phan Chu Trinh Street.
Enjoy eating alongside the locals as you embrace the street food culture here in Vietnam. Find yourself a small plastic chair and table while you watch the world go past.
No doubt you will want an early night tonight after getting up early for the My Son Sanctuary sunrise tour. So tuck yourself into bed, or perhaps go grab a beer. We have one more day of exploring tomorrow in this backpacking Hoi An itinerary.
---
Day 3 Of Your 3 Days In Hoi An Itinerary
On day 3, the final and last day of our 3 days in Hoi An itinerary, you will feel the freedom of the road as we hire a motorbike. Enjoy going at your own pace and exploring as we explore some more highlights in this spectacular city.
---
Motorbike Tour
The first step of our day will be hiring a motorbike. I was lucky in Hoi An as my accommodation actually rented out motorbikes which made things super easy. Though if you are not lucky enough to be able to do this you will need to hire one from a rental shop in town.
I always get anxious when hiring a motorbike, I mean we have all heard of the scams right! That's why I always make sure to do research on the company I am looking at prior to hiring. One of the most reputable companies in Hoi An is Motorbike Rental Hoi An. A deposit will need to be paid as security, though they are affordable amounts and vary depending on the type of bike hire. Rates start at around $6.50 per day.
Hoi An is an easy place to learn how to ride a motorbike if you haven't driven one before. Best to head to a back street for a bit of practice before jumping on the main road. Traffic here is nowhere near anything like Hanoi or Ho Chi Minh city. Instead, it is a lot more chilled out and relaxed.
I highly recommend downloading the maps.me app on your mobile phone. You will be able to get an offline version of the app so you do not need data in case you don't have a local sim card.
---
Tra Que Vegetable Village
Located outside of the popular tourist destination of Hoi An city center and in the countryside is Tra Que Vegetable Village. It is a unique scene here in Hoi An, and a lot of Vietnam, as it is a working vegetable farm where tourists are encouraged to come and check it out.
I highly recommend you take a few hours to escape the center and explore a bit more of the countryside. Full of lush green fields, roaming water buffalos, and locals hard at work making a living. It is the perfect contrast to the bustling Vietnamese streets which lay a few hundred meters away.
With a growing area of up to 40 hectares and over 41 different types of produce growing in the Tra Que Vegetable Village, there is plenty here to see and do. Chill out and watch the farmers go about their daily tasks. Raking, sowing, watering, and picking the vegetables.
Just be aware that there are 'no motorbike' signs in the area. This is completely understandable as they are trying to keep the peace. Just simply park up your motorbike and walk around.
---
Thanh Ha Pottery Village
Dating back to the 15th Century Thanh Ha Pottery Village is rich in history and has contributed to the creation of many amazing sites in Vietnam throughout the years.
Back in the day the Nguyen Dynasty actually invited those from the Thanh Ha Pottery Village to create some decorative features for the Imperial City of Hue. This was an important moment for the people of Thanh Ha as this is when they gained great recognition for the work they were doing and truly fortified their place within Vietnamese History. The cups, jars, bowls, and pots crafted here are exported all over the world.
There is an entry fee into Thanh Ha Pottery Village of $1.30 / 30000 VND. This amount includes a little souvenir which you will receive from one of the houses, but I will leave what you get a surprise!
The Terracotta Park also located within Thanh Ha Pottery Village has an additional entry fee of $2.20 / 50000 VND.
---
An Bang South
For a bit more of a quiet beach, head to An Bang South. As the name suggests it is just a bit further south than An Bang. Though because of that extra distance, a lot fewer of travelers come here as it is pretty far to reach on a bicycle.
This is another excellent beach you can chill out on for the afternoon. Hire a sun lounger and an umbrella and sit back as you listen to the waves slowly crash onto the shore.
Even though it is not as busy you will still find plenty to do around the area. There are some great beachfront bars and restaurants as well as a few street food stalls to keep that stomach satisfied.
---
Marble Mountain
If you are willing to head further away from Hoi An you can visit Marble Mountain in Da Nang. Marble Mountain, also known as Thuy Son, is one of five marble and limestone mountains that rise out of the ground in central Vietnam. Each one is named after one of the five elements of the ancient Chinese philosophy: metal (Kim), water (Thuy), wood (Moc), fire (Hoa), and earth (Tho).
On top, you will find colorful Buddhist temples, marble statues, caves, and tunnels that draw in both foreign and domestic tourists.
There is an entry fee of 40,000 VND / $2 USD, regardless of how you get to the top. The options are walking or taking an elevator for a small additional fee of 15,000 VND / $0.65 USD in each direction.
---
Add To Your Hoi An Itinerary?
If you are looking for more things to do in Hoi An just head on for a few extra ideas:
Hoi An Central Market: This is an excellent place to purchase some souvenirs while you are in the town. Here you will find a huge mixture of products here including silk pieces, lanterns, and other textiles, as well as local food and aromatic spices.
Cam Kim Island: Cam Kin Island is about 30 minutes away from Hoi An. It is easy enough to catch a local ferry here from D Bach Dang. Here you will see numerous artisan woodcarvers who are known for having carved some of the most famous public buildings in Hoi An. Personally, I thought it was a little bit touristy. Though if it is something you are interested in checking out, why not do it.
---
When To Travel Hoi An
As with most places in Southeast Asia and Vietnam, Hoi An has a wet season and a dry season. Depending on when you visit can seriously affect how your trip goes and honestly what you can do/see. Ultimately the best time to visit Hoi An is between May and August. The weather is good, but the temperatures are not too hot yet.
September To December: This is the wet season in Hoi An. During this time the temperature won't be so hot, though you could be in for quite a bit of rain. This is also the typhoon season so the train can last from hours to days and shut down essential services if flooding begins.
January to April: This is sort of the shoulder season. The weather won't be perfect, but it won't be bad either. It may be a little bit chilly or windy to enjoy the beach. Though the temperatures will be great for exploring by bicycle.
May to August: This is the dry season as well as the high season. During these times temperatures can be anywhere from 30 degrees celsius to 40 degrees celsius.
---
Cost Per Day For Backpacking Hoi An
Being such a touristic town, unfortunately backpacking Hoi An is one of the more expensive places to visit while in Vietnam. Nevertheless, there are things you can do to keep your budget on the affordable side.
This includes staying at a hostel, eating local, and partaking in the cheaper tours. The most expensive thing I did in Hoi An was visited My Son Sanctuary. The tour and entry fee came to approximately $20.00. Though in all honesty, this is a very good price to pay for a half-day tour.
Overall I would budget approximately $30.00 per day for backpacking Hoi An to stay on the safe side. This will allow you a decent bed to sleep in, a few beers, and a scooter or bicycle hire so you can travel around.
---
Where To Stay In Hoi An?
You are honestly spoilt for choice when deciding where to stay in Hoi An. Whether you want a beachside hotel, city homestay or hostel set in the countryside there is something here for everyone.
The homestay we spent 3 days in Hoi An staying at is still operating and is called Little Leo. This was such a friendly and welcoming hostel/ homestay. It was the perfect choice for 2 travelers on a budget. We paid $7.00 for a 4-bed dorm room which also included a delicious breakfast and free bicycle hire. The lady who ran it was super helpful and they offered super cheap tours which was a bonus.
Extra bonus eas that they hired scooters. I personally would much rather hire scooters from my accommodation rather than a rental shop on the side of the road. This is because this isn't the accommodation's only form of income and they rely on online reviews for future booking so it's less likely you will be ripped off.
Hoi An also has an incredible amount of quite nice fancy beachside resorts. Unfortunately, this wasn't in my budget, and if you're reading this backpacking guide it's unlikely to be in yours. Nevertheless, you can find 3 to 4-star resorts for just $20.00 per night. For such a small step up in price you get a lot more including a pool to relax in.
Here are my top picks for the backpacking Hoi An travel guide:
---
Getting To Hoi An From Da Nang
Da Nang bus the main bus station, train station, and airport to access Hoi An. Luckily it is super easy to travel from Da Nang to Hoi An thanks to it being a super touristy town resulting in numerous transport options available. No matter what time of day or night you arrive there will always be some sort of option available. Whether that is a taxi, a private transfer, or bus there is something for all budgets.
You can either book your tickets in advance using 12.Go Asia or when you arrive in Da Nang There are numerous travel agencies in Da Nang where you can book if you would like to wait and even the majority of accommodation provides will happily book it in.
This table is an overview of your transport options. Though you can check out my full guide on traveling from Da Nang to Hoi An for a more detailed breakdown.
| | | | |
| --- | --- | --- | --- |
| | Time | Cost | Highlight |
| Taxi | 45 minutes | from $13 | Fast and comfortable journey |
| Private Transfer | 45 minutes | from $25 | Prebooked and reliable transport |
| Public Bus | 1 hour 30 minutes | from $1.30 | Cheap journey |
| Hoi An Express Bus | 1 hour 30 minutes | from $8.40 | Airport transport |
| Sinh Tourist Bus | 1 hour 30 minutes | from $10.80 | Travelers favorite choice |
---
Traveling Around Hoi An
Hoi An is a beautiful place and if you are wanting to see the best on offer you will need some way to get around. Luckily the landscape is relatively flat so you don't need to worry about navigating large hills.
I highly recommend downloading the offline map of Hoi An on the Maps.Me app for your cell phone. It'll be super helpful in navigating your way around if you do not have data.  This is one thing I always make sure I have before arriving at a new destination. 
Walking: You could simply rely on just walking to get around Hoi An, but don't expect to be able to check out the beach. Though if you are there just to enjoy the ancient town then this could be the perfect option for you.
Bicycle: Having a bicycle is the perfect way to explore Hoi An. This will allow you to explore further afield and appreciate some of those hidden gems this city has to offer.
Motorbike: A motorbike is a great alternative if you are looking for something a bit speedier than a bicycle. There are plenty of places to hire one and Hoi An has much more of a relaxed pace so there isn't much traffic. This is a great place to learn how to ride or simply brush up on your skills.
---
Where To Eat & Drink In Hoi An
There are so many incredible places to eat in Hoi An that are worth visiting. Whether you want to try some amazing local dishes, or would prefer a taste of home. These are my top picks for this backpacking Hoi An guide:
---
Cheap Eats In Hoi An
There are some delicious and super affordable cheap eats in Hoi An. For the most part, you will find these in small locally-run eateries.
First of all, we have to give a shout-out to Nhan's Kitchen. This is one of the best cheap eats in Hoi An and is a highly recommended visit. Here you will find packed tables and an excellent atmosphere. Their menu is a mix of western and Vietnamese dishes, each of which they do a great job with. Make sure to try the fried spring rolls!
Another excellent cheap eat I tried out while in Hoi An was Restaurant & Cafe Tuan. Here you know you will get a delicious meal and friendly service. They have some great noodle and rice dishes. Make sure to try the fried tofu with peanut sauce, it was my favorite!
For a delicious local cheap eat make sure to try out Banh Mi Phuong. They have been specializing in making the best banh mi for more than 30 years. With a special sauce made of smoked pork juice, they have truly set themselves apart from the competition. This place was actually recommended by the late Anthony Bourdain. There will be ques, no matter what time of day you visit, but it is worth the wait.
---
Western Food In Hoi An
There are so many choices when it comes to Western Food in Hoi An. Thanks to being such as expat destination there are a lot of foreigners living here. This has resulted in a lot of demand for this type of food and even a few people venturing out and opening their own establishments.
As with many places around Vietnam, Western food is a whole lot more expensive than eating local meals. This is because a lot of the ingredients are harder to come by and generally cost more as it is imported from overseas. It may not be the best on your Vietnam budget, but it may just help with that little bit of homesickness.
I personally ate at a few different western spots and these are my top picks in Hoi An:
Jims Burgers: This delicious spot is the perfect choice for anyone craving a burger. My partner is a bit of a burger connoisseur, so we happened by here multiple times during our 3 days in Hoi An.
Weavers: For those craving a good English breakfast or even a Yorkshire pudding, Weavers is your place to come. They specialize in serving British cuisine to the masses. Make sure to come here for a Sunday roast as well!
Art Space: Make sure to check out Art Space for their delicious wood-fired pizzas. They have the good trusty favorite flavors, as well as gluten-free and vegan options. The restaurant space is also insanely beautiful.
---
Safety In Hoi An
Hoi An is a pretty safe place to explore with the exception of the many scams you will find in Asian countries. This mainly revolves around your basic robberies and pickpocketing. In Vietnam motorbike snatch and grab is super common as well. Someone may see that your handbag, backpack, camera, or phone is not secure, so they will drive by on their motorbike and grab it.
 Don't drink the water out of the tap. Many hotels and hostels will have water refill stations or minimarts sell bottles super cheap as well.
As mentioned a bit above a common scam throughout Vietnam are motorbike scams. Usually, this involves blaming travelers for scratches and other marks on the motorbike and making them pay for this. To avoid this happening make sure you hire through a recommended and highly rated company. You can also document the state of the bike via video prior to taking it so you can always refer back to that if you get blamed.
The main thing to remember is to just use your common sense. This should keep you out of dangerous situations. I wasn't scammed or taken advantage of once in Vietnam. Though I put this down to doing my research in advance and becoming familiar with common scams.
---
Where To After Hoi An?
After your backpacking Hoi An itinerary has come to an end you have a couple of different options of where you could go:
North: If you are traveling North from Hoi An, you could travel to Da Nang. From here you could travel to Hue via the Hai Van Pass, then take the overnight train to Hanoi. Hanoi to the perfect hub, where you could venture to Thailand or Laos via the international airport, or if you are wanting to stay domestic, then hit up Sapa or Ha Long Bay. You could also head to Ninh Binh which is between Hanoi and Hue. I haven't personally been yet, but I have heard great things, and it's on my bucketlist!!
South:  Alternatively, you can end back down South towards some other Vietnam highlights including snorkeling in Nha Trang, see the sand dunes in Mui Ne, and the tunnels in Ho Chi Minh. Vietnam is a huge country and there are so many things to do here!
---
Any Questions? Let me know in the comments!
---
LIKE IT? PIN IT!
---
Want more Vietnam Inspiration? Check out….
---
Disclaimer: This post contains affiliate links. So, if you click on it and purchase something, I get a small percentage at no extra cost to you. As always all opinions are my own and your support is much appreciated.
Related Posts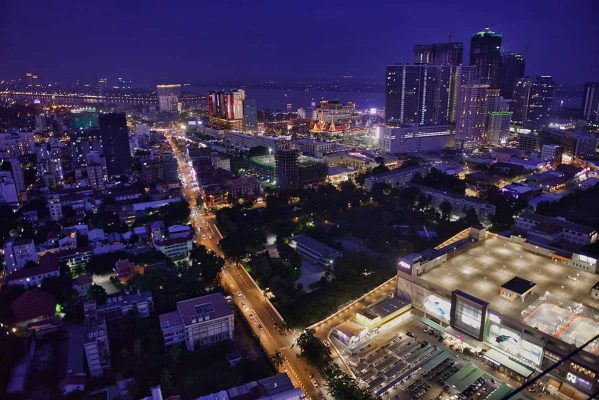 Find out the best, and most cost-effective way to travel from Ho Chi Minh City [...]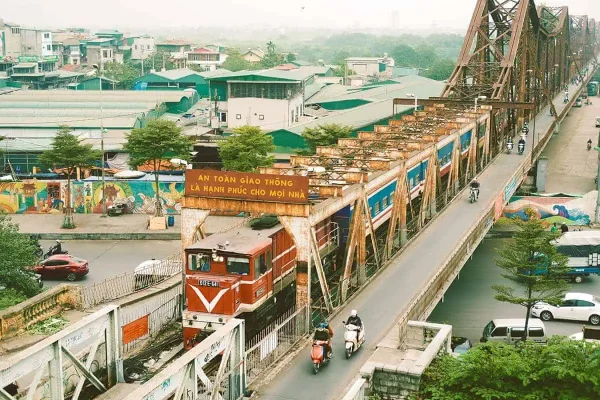 Find out all about taking a Vietnam sleeper train. Let's talk about whether it is [...]
17 Comments
Exploring An Under Water  World With Vietnam Snorkeling… Nha Trang no doubt is a tourist [...]
2 Comments