Find out the ideal 3 days in Sapa itinerary to ensure you have the ultimate time in Northern Vietnam. Let's talk about the best things to do, restaurants, where to stay, and more for your three days backpacking Sapa!
---
Backpacking Sapa is a must when you are in Northern Vietnam. This spot is absolutely incredible with beautiful nature and friendly locals which will result in a busy 3 days in Sapa itinerary.
Think of bright green rice terraces, mountainous landscapes, and witnessing life in rural Vietnam. This place is absolutely gorgeous and honestly quite different from other popular towns and cities along the tourist trail in Vietnam. Whether you want to check out some incredible waterfalls, witness the amazing rice terraces, make friends with the local animals, or even hike Fansipan Mountain known as the roof of Indochina.
It could be easy to spend a week backpacking Sapa, perhaps even longer exploring all the landscapes surrounding the main township. Though for the purpose of this guide, we will just be doing 3 days in Sapa itinerary. This is simply because the majority of travelers are limited to 30 days in the country thanks to visa limitations and Vietnam is a huge country you need time to explore it all. Throughout the majority of my travels in Vietnam, I found having 3 days in each location was a great way to experience the best of that place and find out what makes it special.
So let's get into the details of this 3 days in Sapa itinerary. From where to stay, where to eat, and what to do. I have included everything you could ever want to know and need to know while backpacking Sapa. That way you can really get into that relaxed Northern Vietnam vibe and have a stress-free time here.
---
Backpacking Sapa Itinerary: 3 Days In Sapa For The Ultimate Time
---
Day 1 Of 3 Days In Sapa Itinerary
For your first day in our 3 days in Sapa itinerary expect to check out some of the incredible nature this town has to offer and what makes it unique.
---
Morning: Mount Fansipan
First up it's an adventure up the highest mountain in Indochina. Though before we do that, you'll need to fuel yourself with some breakfast. Head to Good Morning View Restaurant for a cheap meal to start the day. They offer a variety of breakfast options including eggs and pancakes. Though you can even get spring rolls this time of the morning if your heart so desires. Just make sure to try one of their delicious Vietnamese coffees.
After a delicious meal, it is time to start your backpacking Sapa adventure with our 3 days in Sapa itinerary. Mount Fansipan is often referred to as the roof of Indochina. This is because it is not just the highest peak in Vietnam at over 10,000 feet, but also in the whole Indo-Chinese Peninsula which includes Laos and Cambodia! Therefore it is a must on the backpacking Sapa itinerary.
How To Get To Fansipan: Before figuring out how to get to the top of Mount Fansipan you'll need to get to the base. It is located about a 30-minute drive from the township of Sapa. The easiest way to get there will be by Taxi or Grab. You should estimate spending around $20.00 for the round trip. Though alternatively, you could also book a group tour to visit.
Though a cheaper way to do it is by buying a ticket at Sun Plaza in Sapa. For $30.00 this gives you return transport in a tram and the cable car up the mountain.
Once at the base, you then have two different options to get to the top, either hike or take the cable car. Though whichever you choose be sure to wear decent shoes as even taking the cable car you will need to climb up over 600 steps to reach the top. You will also want to bring along some warm clothes as the weather can be quite harsh at the peak.
Hike: How if you perhaps aren't wanting to do everything in this itinerary and are just using it for inspiration then you may find yourself being keen to hike to the top. Be aware this is a full-day adventure that'll take you around 10 hours just to arrive at the peak!
Cable Car: For those short on time or simply just not keen to inflict that kind of pain on themselves, taking the cable car is an excellent way to reach the peak of Mount Fansipan. The journey will only take you 20 minutes, much quicker than the 10-hour hike. Each cable car can hold up to 35 passengers, though try to get a window seat for the best views! Also, it only operates between the hours of 7:30 am and 5:30 pm so make sure to plan your visit accordingly.
---
Afternoon- Waterfalls
After exploring the incredible Fansipan Mountain stop in at Silver Waterfall and Love Waterfall on your journey back to Sapa. This is on the way to the town of Sapa so it is the perfect excuse to stop.
Love Waterfall should be your first stop. This is a short 15 to 20-minute hike away from the main road. Though it is a peaceful walk underneath a beautiful forest. The entry fee is $3.00 / 70,000VND and it is definitely worth it.
A few kilometer's drive away is also Silver Waterfall. This can be seen from the roadside. Though I definitely recommend hiking up the stairs to the top for the best view. 
---
Evening – Sapa Night Market
Time for an early dinner as you haven't really had a chance to stop and simply relax. Head back to Sapa town and grab a bite to eat at Anise Sapa Restaurant. They have the most incredible hot pots here. A sure way to build your energy back up after a busy day of exploring!
Next head to the Sapa Night Market. This is only held on Fridays, Saturdays, and Sundays. So be aware you may need to switch this Sapa itinerary around depending on which days you plan to visit. It runs from 4:00 pm to 10:00 pm and is located on N1 Street in the middle of town so is super accessible.
This is the perfect place to partake in a little bit of souvenir shopping or perhaps go for a second dinner. Buying here is a great way to support the economy and the minority tribes here in Sapa as this is where they sell a lot of their goods.
---
Day 2 Of 3 Days In Sapa Itinerary
On our second day of 3 days in Sapa itinerary, we will head more out into the countryside and stay at a homestay. There is so much more to see than what is in the main town so make sure you venture further while backpacking Sapa.
---
Morning & Afternoon- Trek Towards Ta Van
After a delicious breakfast at Le Gecko Cafe. Make sure to fuel up as you'll need the energy for today's adventures as we will be doing some serious trekking to the small community of Ta Van. Here you can find loads of Homestays where you can experience local life and appreciate countryside living. Trekking in Sapa is one of the best things to do here.
If you perhaps don't feel like trekking but still want to experience some beautiful sights then you can actually still take a taxi the majority of the way. This will cost you around $20.00. Though be prepared for a bumpy journey as the roads are not the best.
You can decide whether you want a guided trek to Ta Van or not. I recommend talking to your accommodation and asking whether you can leave your luggage there for the night. That way you will only need to trek with a day pack. Remember if it has recently been raining then be prepared to walk the main road or just get muddy. We decided to walk the main road. Though if the weather is good you will want to trek in the valley among the rice fields.
Whether you decide to do a guided or unguided trek is completely your choice. Though since you are backpacking Sapa I will assume you want to do it unguided and on a budget. Therefore I recommend you download the Maps.Me app and the Sapa map offline. This points out the trekking routes you can take and highlights along the way.
---
Evening- Home Stay In Ta Van
You will want to book your homestay in Ta Van in advance. There are so many places to choose from and the easiest way to book your Homestay is through Booking.com. This is what I used to book my homestay making it a hassle-free experience. You will just need to go through the listings and choose one of the homestay options or look at the map view and choose something, not in the main town.
I stayed in a homestay slightly outside of Ta Van, though it only took about a 15-minute walk to be in the town. Unfortunately, it is no longer available. Though, a lot of homestays are quite similar in terms of facilities and inclusions.
Make sure you contact your host in advance if you require a trekking guide. They will be able to recommend one or may even do it themselves. I also recommend asking if they do a family-style dinner and partake in that. They generally cost a few dollars and you will get to experience a local-style dinner and share stories over a meal. Seriously some of the best food I had in Vietnam was during my homestay.
You don't necessarily need to stay in Ta Van. There are plenty of other homestays dotted around the countryside in Sapa. Though Ta Van is a small little village with quite a lot going on. There are a couple of delicious restaurants here and shops in case you require anything.
---
Day 3 Of 3 Days In Sapa Itinerary
On our last day of 3 days in Sapa itinerary, we will be experiencing a bit more of local life. Explore the township of Ta Van or simply the peacefulness of life at your homestay, the culture at Cat Cat Village, and then top it all off with a well-deserved massage.
---
Morning- Explore Ta Van / Head Back To Sapa
Spend your morning exploring Ta Van village and heading back to the main town for Lunch. You can choose to either walk there or taxi. Though be aware it is quite uphill, whereas the way to Ta Van was downhill. A taxi will only cost you $20.00 so can work out quite affordable if you have people to share it with.
If you are wanting to visit Cat Cat Village in the afternoon then I would recommend taking a taxi. Though be aware it is quite touristy so perhaps you would rather enjoy a peaceful walk back to Sapa town than visit Cat Cat Village and that is okay as well.
---
Afternoon- Cat Cat Village
Before heading out to Cat Cat Village be sure to grab lunch from one of the delicious restaurants in town. There is plenty to choose from and you deserve a hearty meal. Therefore if you are craving pizza or pasta just get it!
Cat Cat Village is a popular spot for tourists to visit while in Sapa. It is super accessible being located in the Muong Hoa Valley, just 3 kilometers from Sapa Town. It is a super easy walk to get here and the pathway is well-maintained. The entry fee is $1.10 / 25,000 VND.
This place is home to the ethnic H'Mong and Dzao people and here they come together to demonstrate their handicrafts and skills to those interested. These skills include cultivating rice and corn as well as weaving fabric and creating handicrafts. You will be able to enjoy not only the stunning scenery and villages but meet beautiful people as they show you their way of life.
Be aware that you just spent the evening at a very authentic homestay experience and have spent the past 24 hours appreciating the beauty of the countryside as well as the villages there. You may find Cat Cat Village a bit touristy compared to what you have already seen. Though I am just letting you know this so you can set your expectations accordingly. I personally think it is still worth visiting, but just make sure you know what to expect.
---
Evening – Massage
For the final evening of your 3 days in Sapa itinerary, I highly recommend getting yourself a massage. For just a few dollars you can find yourself relaxing and getting a back or foot massage. There are so many massage parlors located around Sapa town you won't have trouble finding one close to your hotel. Go on have a massage, after all that trekking in Sapa you deserve to relax and be pampered!
---
Add To Your Sapa Itinerary?
If you happen to be staying longer than 3 days in Sapa then there are other things to add to your Sapa itinerary:
O Quy Ho Pass: This is one of the incredible passes in Vietnam's northwestern region. At O Quy Ho Pass you can discover beautiful countryside as you travel over and around mountains.
Y Ty: A few hour's drive away from Sapa is Y Ty. This is a much more authentic place when it comes to experiencing the culture in Northern Vietnam. Here you can find a few homestays who will be more than happy to sell you a bed. Located at over 2000 meters above sea level the temperature here is cooler year-round. This is where the minority Ha Ni people live and they cultivate many medicinal plants.
Ha Giang Loop: If you have some extra time and want to explore further up North, why not try the Ha Giang Loop? This is an epic road through the roads in Northern Vietnam. Another alternative is Ha Long Bay. This famous site is a must and one of the best things to do in Vietnam. Because we are in the far north of the country, there are not many other things to do here.
---
Travel Tips For Your 3 Days In Sapa Itinerary
So you have your backpacking Sapa itinerary sorted, now let's get into my top travel tips for your 3 days in Sapa. This will allow you to have a stress-free time with the best weather, stay in the best accommodation, and know how to keep safe.
---
When To Travel Sapa
Depending on when you visit Sapa can seriously affect how your trip goes and honestly what you can do/see. I, unfortunately, didn't do this research prior to visiting when I did during the month of February. As a result, there was a constant fog, the temperature was below zero degrees Celsius and we had to buy more warm clothes as soon as we arrived in Sapa town. Nevertheless, we made the most out of a bad situation. Though read on to find out when exactly you should travel to Sapa.
December To February: This is the coldest part of the year and also the time I visited. Be aware many homestays don't have heaters so make sure to bring warm clothes. It can even get so cold that it can snow in Sapa! It isn't super wet, though there is a constant fog around so things can feel quite moist.
March To April: This is a beautiful time to travel to Sapa. This is when the rice fields are the greenest and many flowers are in bloom. This is one of the most popular times to be backpacking Sapa.
May To August: This is the wet season when it is known to rain. Though this is just for a few hours each day, so bring a rain jacket and some old shoes for trekking.
September To November: During these months is when the rice harvest happens. As a result, you may not get those bright green rice fields that Sapa is so famous for. Though you will get a unique experience as you see the landscapes constantly being worked around you.
---
How To Get To Sapa
The gateway to Sapa is Hanoi so no doubt this will be your starting point. There is a variety of transport options you can take to get there so I will give you a brief overview of them all. Though for more detail I recommend checking out my Hanoi to Sapa travel guide.
Tickets for all journeys can be purchased on Baolau or 12.Go Asia
Train: The train is a great and super comfortable way to travel. Though the main thing to be aware of is that the train arrives in Loa Cai, not Sapa. This means you will need to take another form of transport for the last 1 hour.
Bus: If you are on more of a budget then you may find yourself leaning towards taking a bus from Hanoi to Sapa. This total journey takes around 6 hours which honestly isn't too painful. I find anything over 8 hours really makes you question your life choices. Plus it is a direct journey so there is no need to stop in Lao Cai like the train.
Taxi: If you have a bit more money to spend why not book a private taxi from Hanoi to Sapa? No doubt this will be the fastest and most comfortable journey you could take. It may even take you less than 5 hours if you don't do any stops!
Mini Van: Taking the minivan is another great way to travel from Hanoi to Sapa. This is slightly a more expensive option than the bus, but some of these minivans are fancy AF. Like they are known as limousine vans. Think plush, lazy-boy-style seats.
| | | | |
| --- | --- | --- | --- |
| | Time | Cost | Highlight |
| Train | 8 hours | from $23 | Comfortable journey |
| Luxury Train | 8 hours | from $30 | Super comfortable journey |
| Bus | 6 hours | from $10 | The cheapest way to travel |
| Tourist Bus | 6 hours | from $15 | More comfortable than the regular bus |
| Taxi | 5 hours | from $200 | The fastest way to travel |
| Mini Van | 5 hours | from $20 | A fast and relatively affordable way to travel |
---
Where To Stay While Backpacking Sapa?
When choosing where to stay in Sapa you will be absolutely spoilt for choice. No matter your budget or the type of traveler you are there is something to fit all your needs. Though most people a mixture of a hotel in the main town and a homestay among the rice terraces.
Sapa town is absolutely full of affordable and more luxurious hotel options. From comfortable guesthouses to sparkling brand-new hotels, it all comes down to your budget and what you are willing to spend. The township is nice and compact making it easy to travel everywhere on foot.
I also recommend while you are in Sapa to do a homestay experience. This is where you will live alongside a local family. You can eat what they eat, see the incredible countryside and explore to your heart's content. They seem to be cheaper than the hotels in the main town, though they will be a lot more basic. Our homestay had limited electricity which meant evenings cuddled up around the fire while eating warm sugarcane.
A modern and clean hotel. From $20.00 per night including a great breakfast.

BOOK NOW

A favorite with travelers. A homestay with all the amenities, from $5.00 per night.

BOOK NOW

Sapa Clay House Mountain Retreat

Beautiful private rooms from $82.00 per night and in an incredible location with a pool.

BOOK NOW

A super modern and luxurious hotel, starting from $40.00 per night with an amazing pool.

BOOK NOW
---
Staying Safe While Backpacking Sapa
Sapa is a relatively safe place to explore with the exception of the many scams you will find in Asian countries. This mainly revolves around robberies and pickpocketing. Some of the children in their traditional clothes may be thieves looking for an opportunity. One of the children may try to keep you occupied, while another will pickpocket you. In Vietnam motorbike snatch and grab is super common as well. Someone may see that your handbag, backpack, camera, or phone is not secure, so they will drive by on their motorbike and grab it.
 Don't drink the water out of the tap. Many hotels and hostels will have water refill stations or minimarts that sell bottles super cheap as well.
The main thing to remember is to just use your common sense. This should keep you out of dangerous situations. I wasn't scammed or taken advantage of once in Vietnam. Though I put this down to doing my research in advance and becoming familiar with common scams.
---
Where To After Your 3 Days In Sapa Itinerary?
North: Apart from the Ha Giang Loop there isn't too much else North of Sapa. If you have your own motorbike then you may want to explore the North. Though I wouldn't recommend it if you are traveling solo and want to meet other people.
South:  Alternatively, you can end back down South towards and past Hanoi. Honestly, I recommend taking the train down Vietnam and hitting up some of the highlights including seeing Phu Quoc, Imperial City of Hue, Hoi An, snorkeling In Nha Trang, seeing the sand dunes in Mui Ne, and the tunnels in Ho Chi Minh. Vietnam is a huge country and there are so many things to do here!
---
Any Questions? Let me know in the comments!
---
LIKE IT? PIN IT!
---
Want more Vietnam Inspiration? Check out….
---
Disclaimer: This post contains affiliate links. So, if you click on it and purchase something, I get a small percentage at no extra cost to you. As always all opinions are my own and your support is much appreciated.
Photo credit: "Vietnam-Sapa-Cat Cat Village-P1070359" (CC BY 2.0) by mmmngai.rogers. "Sapa Love Waterfall" (CC BY 2.0) by Guerette . "Sapa Silver Waterfall" (CC BY 2.0) by Gueretto . 
Related Posts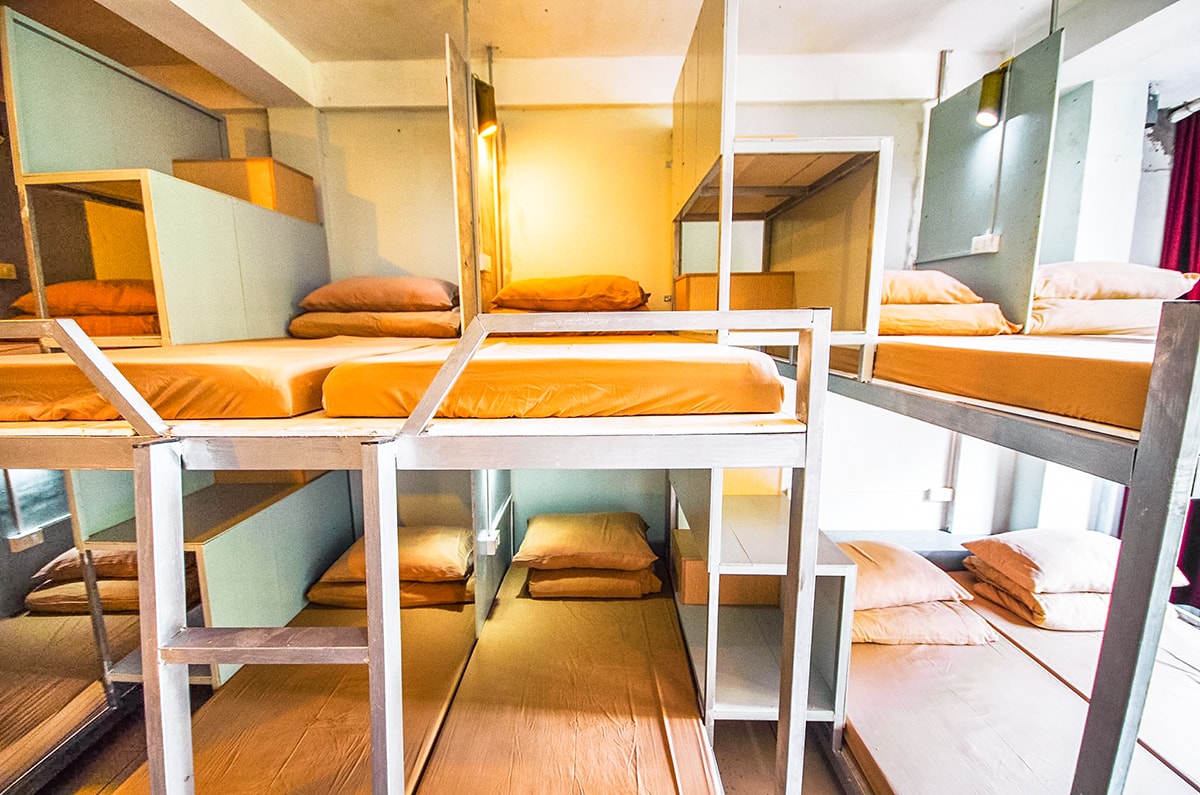 The Ultimate Hostel in Hanoi's Old Quarter, Chien Hostel Tucked among the chaotic streets of [...]
38 Comments
Exploring An Under Water  World With Vietnam Snorkeling… Nha Trang no doubt is a tourist [...]
2 Comments
Come check out all you need to know about backpacking Ho Chi Minh City on [...]
1 Comment