Come check out all you need to know about backpacking Ho Chi Minh City on a budget while you are traveling around Vietnam. I will let you know everything there is such as prices, transport in the city, where to stay, the best things to do and so much more!
---
Ho Chi Minh City is a huge bustling place. In all honesty, it can feel a little overwhelming when you first touch down. I mean there is this huge sprawling city laid out in front of you, with motorbikes and loud noises everywhere. It is likely Ho Chi Minh City will either be your first stop in Vietnam or your last, so you will be either well accustomed to the sensory overload which is Vietnam or not. Honestly, when it comes to backpacking Ho Chi Minh City you are best to do some research in advance.
In this backpacking Ho Chi Minh City travel guide, I will let you in on all the top things to do, where to sleep, eat, and more!
If I am being honest Ho Chi Minh City wasn't my favorite stop in Vietnam, I was still glad that I visited. There is a lot of history to explore in this city as well as numerous other things to do. Also, you need to dedicate some of your time to checking out the delicious foodie spots. It is well worth spending a few nights here, and since it is such a huge place with so much on offer there is something for everyone. Whether you want to discover Vietnam's history, eat some delicious street food, or venture on a multi-day trip.
So let's get into everything you need to know about backpacking Ho Chi Minh City so you can have the best trip. This includes finding out budgets, where to stay, top spots to eat, staying safe, things to do, and more!
---
All You Need To Know About Backpacking Ho Chi Minh City On A Budget
---
Ho Chi Minh City Or Saigon?
You will kind of hear Ho Chi Minh City and Saigon used interchangeably to describe this bustling city in the south of Vietnam. Though which one is actually correct? Well the city was actually formerly known as Saigon. Though it was then renamed Ho Chi Minh City after the former president and national hero.
Some people still refer to it as Saigon because 1. its easier to say and 2. they did not support the work of Ho Chi Minh. Technically these days it is called Ho Chi Minh City. But people in Vietnam, and most places around the world will still understand what you are talking about if you say Saigon.
---
How Many Days To Spend Backpacking Ho Chi Minh City
Honestly, it's quite hard to know how long you should actually spend backpacking Ho Chi Minh City. A lot of backpackers decide to stay at least a few nights. This will allow you to dedicate a couple of days to check out some of the activities surrounding Vietnam's history, such as museum visits, as well as another day to explore the city itself.
In my opinion, I would recommend spending 4 days in Ho Chi Minh City. I know this may seem like a lot, but there is actually quite a lot to do here and to discover. It can be a little overwhelming at first so you will just want to spend your first day exploring. The next couple of days can be spent partaking in some activities and checking out a couple of sights.
---
Cost Per Day To Travel Ho Chi Minh City
I love traveling on a budget and Vietnam's cost of travel is so low it is perfect for backpackers. Honestly, it is one of the cheapest spots in Southeast Asia. This also includes Ho Chi Minh City where you can find modern accommodation, plenty of activities, awesome transport, and excellent foodie spots.
To keep your budget low try to eat cheap. There are plenty of affordable food choices to keep keep your budget low. Try eating local with Banh Mi's and delicious bowls of pho.
Accommodation is also surprisingly affordable. You can find hostels here starting from $5.00, though if you are wanting somewhere nice and with a good social atmosphere, you will want to budget about $8.00 per night. For this price, you will be able to find modern sturdy bunk beds in an air-conditioned dorm room. Some even come with privacy curtains or screening, which in my opinion is a must for the modern-day backpacker!
Overall I would budget approximately $21.00 per day for backpacking Ho Chi Minh City. Even though this is more than I spent during my stay, we should've splurged and booked a decent hostel. This will allow you an air-conditioned room with a comfortable bed to rest in, indulge in some awesome activities, grab a couple of beers and eat some delicious meals.
---
Where To Stay In Ho Chi Minh City
There is a wide assortment of places to stay in Ho Chi Minh City. Whether you are looking for an affordable hostel, beachside resort, or friendly guesthouse. There is an assortment of selections to be found.
Ho Chi Minh is a huge city split into districts. The majority of backpackers and travelers decide to stay in district 1. This is well set up for tourists with plenty of restaurants, activities, accommodations, and transport links. Nearby is the famous Ben Thanh Market, and the popular nightlife spot of Bui Vien Street.
During our stay in Ho Chi Minh City, we decided to stay on quite a budget and book a small little hostel about a 15-minute walk out of the party center. The hostel was run by a lovely gentleman, but it was more rooms in his house he had converted to dorm rooms, and the majority of travelers were long-term, just sticking to themselves. It also featured those horrible old-school metal bunk beds you had as a child. Lastly, it was 35 degrees celsius plus every day and we only had fans. For those reasons, I am not going to recommend it.
Nevertheless, there are still plenty of affordable hostel and hotel options available in the city. Here are my top picks for this backpacking Ho Chi Minh City travel guide:
A backpacker's favorite in this city. Dorm rooms start at $10.00.

BOOK NOW

Live in luxury for less with prices from $30.00 per night for a double room.

BOOK NOW

Excellent value for money with modern dorm rooms starting from $8.00 per night.

BOOK NOW

A quaint little guesthouse in the perfect location. Rooms start from just $24.00 per night.

BOOK NOW
---
Getting Around Ho Chi Minh City
Ho Chi Minh City is a pretty large place. No doubt you will need to take some sort of transport to get around. Whether you need to get to the market, airport, bus station, train station, or just to your favorite restaurant.
---
Getting From Tan Son Nhat International Airport To District One
There are quite a few options you can take when figuring out how to travel from Tan Son Nhat International Airport to District 1 when backpacking Ho Chi Minh City. It is actually the largest airport in Vietnam, so as you can imagine a lot of people travel this route, both arriving and exiting the country. Luckily the distance between the airport and the city is just 7 kilometers.
This short distance also means your travel times are relatively short. I mean there is nothing better than getting off an 8-hour flight than being able to quickly get to your accommodation and check-in. Though I will be honest the visa on arrival process in Vietnam always takes quite a choice.
Even though Vietnam is a relatively cheap place, in all countries transport to and from the airports seem to have an extra mark up. Therefore expect your first day to put a bit of a dent in your wallet.
Luckily there are both private and public transportation options available creating plenty of choices!
---
Taxi
The quickest and easiest way to get from Ho Chi Minh airport to the city is no doubt by taking a taxi into district 1. The main thing to remember here is to either negotiate on a fixed rate or get the driver to turn on the center. Depending on traffic, which can get quite bad, you can expect the drive to take anywhere from 15 to 40 minutes in length, even though there is only a 7-kilometer distance.
Expect to pay between 120,000 VND – 140,000 VND / $5.00 – $6.00. As you can see this is a super affordable option and one which many travelers choose to utilize.
---
Grab
Another option you have for traveling to and from the airport to Ho Chi Minh City in district 1 is by taking the ever-popular Grab cars. This is an app commonly used in Vietnam and a variety of countries around Southeast Asia. It is super similar to Uber making it easy to use.
The travel time will be the same as if taking a taxi. Though what makes it more appealing is that it is actually cheaper than taking a regular taxi. On the grab app, you can expect to pay between 90,000 VND – 100,000 / $4.00 – $5.00.
---
Bus
Another excellent option is taking the bus from Ho Chi Minh Airport to district one. This is especially so if you are traveling alone, and don't have anyone to split a taxi fare with and have minimal luggage. You will find 3 different buses servicing this route:
Bus 49: This bus operates every 30 minutes and takes between 30 to 40 minutes to arrive in District 1. The price is 40,000 VND / $2.00
Bus 109: This is the yellow bus and is the most popular option when it comes to taking the bus from the airport into the city. Onboard you can enjoy the air conditioning, and it operates every 20 minutes. The fare is just 20,000 VND / $1.00.
Bus 152: This is the cheapest option costing just 6000 VND / $0.30 and taking an hour. If you are staying in district 1 like the majority of backpackers do then the best stop to get off at is Nguyễn Kim.
---
Traveling Within Ho Chi Minh City
If you are in District One then you are staying in a super walkable area. Nearby you will be able to find everything you may need such as restaurants, cafes, circle k's, travel agencies, and more. Though no don't at some stage you will want to explore further afield. Perhaps to check out some of the many attractions this city has to offer. Though more on that below.
If you are wanting you ahead out to another district then you will need some sort of transport to take you around. I highly recommend downloading the offline map of Ho Chi Minh City on the Maps.Me app for your cell phone. It'll be super helpful in navigating your way around if you do not have data.  This is one thing I always make sure I have before arriving at a new destination.
---
Walking
Ho Chi Minh City is a relatively flat city and is pretty easy to walk around. Though for exploring further afield this is not a reasonable mode of transport, especially when there are plenty of other affordable choices available.
My main note will be to remember to walk on the footpaths and be careful crossing the road. With all the motorbikes around it can feel a bit daunting. Though you just need to remember to look straight ahead and just keep walking. Do not try to dodge the motorbikes, instead, you need to trust that they will avoid you.
You will also find some restaurants spread onto the footpath or sometimes it'll be blocked. It is okay to walk on the side of the road in this case. Just make sure you are aware of your surroundings.
---
Grab
This is my personal favorite way to travel around many cities in Southeast Asia, including Ho Chi Minh. Download the Grab app on your phone and then you are all good to go. It provides the cost before you book which is a great tool to use to keep you on budget. Because you also enter your location before the journey starts by dropping a pin, there are no communication issues and ending up in the wrong place. The drivers are always super friendly, with a nice and clean car as well as having air conditioning blasting.
Grab is available all around Vietnam and Southeast Asia as well. If you are traveling around different countries this is a must-have app! It will also keep you safe from falling for local taxi scams.
---
Hiring A Motorbike
Now hiring a motorbike is a popular thing to do in Vietnam, though not so much in larger cities such as Hanoi and Ho Chi Minh. The traffic here is insane, like seriously. Unless you have a lot of experience riding a motorbike in Vietnam I do not recommend hiring a motorbike here,
There are much safer places to hire one during your travels in Vietnam. Personally, I hired one in Hoi An and had such a fantastic time. Also grab is such a cheap way to travel around Ho Chi Minh City there really is no need for a motorbike.
---
Things To Do While Backpacking Ho Chi Minh City
There is a heap of things to do in Ho Chi Minh City to keep all types of travelers entertained. Whether you enjoy a spot of shopping, experiencing a different religion, or want to discover the history of the country, Saigon has something for everyone.
---
Reunification Palace
This is one of the places you need to visit in Ho Chi Minh City if you are interested in discovering the history of Vietnam. This is one of the most significant places to visit while you are in the city. It is the former presidential palace for Southern Vietnam, where Saigon fell to the north in what marked the end of the war. You can actually see the tank that crashed into the gate on display.
You can see the palace from the outside for free. Though if you would like to go inside there is an admission fee of 40,000 VND / $1.70.
---
War Remnants Museum
No visit to Ho Chi Minh is complete without a visit to the War Remnants Museum. Unfortunately, Vietnam has quite a full-on past, and it is important when you travel somewhere new that you learn about it to gain a greater understanding of the people and their history. The museum is dedicated to the terrible Vietnam War, here you can come and learn all about it and what people had to suffer through.
The admission cost is 40,000 VND / $1.70 and you do need to set aside about 2 to 3 hours to see everything.
---
Notre Dame Cathedral
Surprisingly enough all around Vietnam, you can find colonial buildings from when the French were in charge. One of these is the Notre Dame Cathedral and it has become a popular attraction here in Ho Chi Minh City.
Oftentimes you can find new brides taking photos in front you the church, and there are plenty of nice little coffee shops nearby.
---
Central Post Office
The Central Post Office is located right next to Notre Dame Cathedral, so you may as well visit while you are nearby. It is free of charge to enter and you can even send a postcard back home from here.
---
Bitexco Tower and Skydeck
If you are looking for an amazing view overlooking Ho Chi Minh City then you need to check out the Bitexco Tower. This is one of the tallest buildings in Vietnam! Make sure to visit the 49th floor where you can find the sky deck with a 360-degree view.
The entry fee is a little more pricey compared to other things to do on this list at 200,000 VND/ $8.90, but still incredibly affordable.
---
The City Hall
The City Hall is a super impressive and beautiful building that is a popular landmark in Saigon. If you head here in the evening there always seems to be something going on and people chilling together. You can often find delicious snack-like street food here as well!
---
Cu Chi Tunnels
No visit to Ho Chi Minh City would be complete without a visit to the Cu Chi Tunnels. The series of underground tunnels played an important part in the War and was an impressive feat of both architecture and engineering. At its peak, there were over 250km worth of tunnels stretching along the countryside, some even leading from Saigon right to the Cambodian border.
It is super easy to book a Cu Chi Tunnel tour once in Ho Chi Minh City or in advance online. I booked mine through a local travel agency and paid just $6.00 which was crazy good value for money.
---
Nightlife At Bui Vien Street
Welcome to Ho Chi Minh City's version of Khao San Road in Bangkok, Bui Vien Street. This is the part of district one that never seems to sleep. So, if you are a party person this is the place to be. Enjoy a nice cold beer, strong spirits, delicious cocktails, and of course, incredible food.
---
Ben Thanh Market
It may be a bit touristy but no visit to Ho Chi Minh City is complete without checking out Ben Thanh Market. This is the perfect place to pick up some souvenirs, try out some local food, and simply watch the locals go about their day.
Just be aware that prices here are sometimes quite exaggerated and you should therefore haggle before your purchase.
---
Do A Free Student Lead Tour
I actually tried out a free student lead tour during my time in Ho Chi Minh City and it was no doubt one of the best things we did in the city. We heard about it from other travelers who constantly raved about their experience, so we knew we had to give it a go.
We actually did a motorbike food and city tour where we paid for petrol and the food, though there are so many types of these tours available. It was awesome getting to hang out with the students for a few hours, learn about their experiences in Vietnam, and their culture. They took us to some of their favorite spots around the city and some delicious places to eat.
Also, make sure you tip at the end of the tour.
---
Multi-Day Trips From Ho Chi Minh City
Unfortunately, there are not too many multi-day trips from Ho Chi Minh City like you do find in Hanoi. Though a popular thing to do while backpacking Ho Chi Minh City is visiting the famous Mekong Delta. The day trips can often be a bit full on, and you can just be dragged from one souvenir store to another. Instead, it is recommended you do a 2-night trip there so you can truly experience the best it has to offer.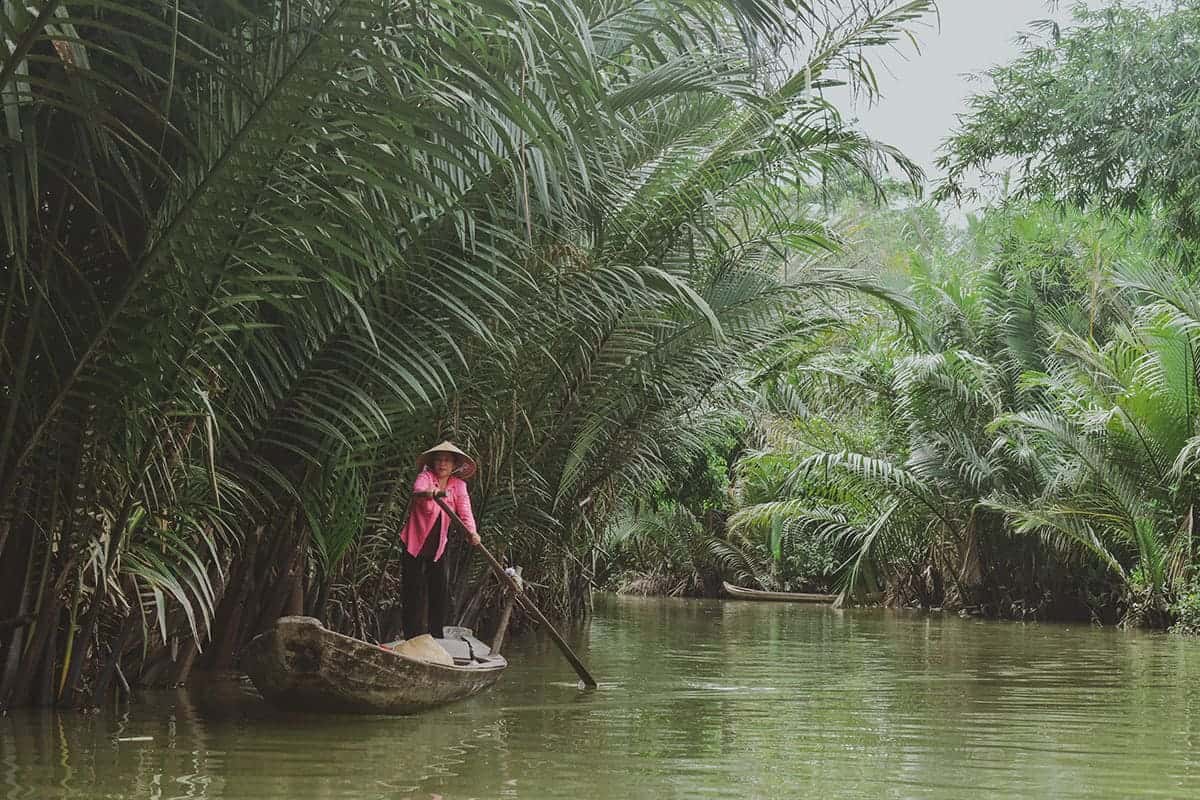 ---
Where To Eat In Ho Chi Minh City
From delicious roadside cheap eats to eateries specializing in a taste of home, Saigon has a huge variety of restaurant and cafe options. These are my top picks for your backpacking Ho Chi Minh City travel guide.
---
Western Food To Eat While Backpacking Ho Chi Minh City
There are plenty of delicious and affordable places where to can get a taste of home in Ho Chi Minh. It is a mecca for western food which is why it is probably such a popular hangout for digital nomads. There are so many options available and something which caters to everyone. Whether you are a meat-eater or vegan.
Ho Chi Minh City is a melting pot of cultures and the restaurants available really reflect this. Whether you are looking for something healthy, Italian, Indian, or a steakhouse there will be the perfect one not too far away from where you are staying.
---
Local Spots To Try While Backpacking Ho Chi Minh City
If you are in Vietnam you have to try some of the delicious local foods. Vietnam is known as a foodie destination, and depending on who you ask, has some of the most delicious local dishes. Here are the top restaurants to try local food in District One of Ho Chi Minh City:
Mountain Retreat: This place can get quite busy so it does pay to book in advance, especially on the weekend. Make sure to try banh xeo (savory sizzling pancake) and goi cuon (fresh spring rolls).
Bep Me In: This cute little spot is very close to Ben Thanh markets, so make sure to visit after a spot of shopping. Street good is the specialty here. So grab a few sharing dishes and dig in.
Bun Cha 145: This is a super popular spot, and for good reason, the food here is delicious! If you don't speak Vietnamese they will give you a checklist with English translations. So you can just tick what you want to order with options for extra noodles and vegetables too.
Vietnam has an abundance of delicious food and luckily too many options to try while you are there. Though a cooking class is definitely a good way to try a few of the dishes and pick up some new culinary skills.
---
Safety While Backpacking Ho Chi Minh City
Ho Chi Minh City is a relatively safe place to explore with the exception of the many scams you will find in Asian countries. Actually, scams are basically the main thing to be aware of.
The main thing I will say is to be careful of snatch thieves. Basically, this is someone who will drive past you on a motorbike and snatch your phone/wallet/handbag away. Since they are on a motorbike and you are on foot there is no way you can catch them. I have many friends that traveled to Vietnam and were victims of these snatch thieves while backpacking Ho Chi Minh City. Whether you are looking at your phone for directions, opening up your wallet to pay for a cold drink, or simply walking down the road with your bag over your shoulder, be extra careful and pay attention to your surroundings.
Don't use your phone near the roadside. A common occurrence in Vietnam is that someone will drive by with a motorbike and snatch it from your hands. If you need to use your phone to check your locate face in towards a building.
When booking tours it can be safer to book online or through your hotel. This is simply because even though you may think you have stumbled on their offices, there is a chance you have not. Even though the company name and logo are on the door it doesn't actually mean you are at that company. Instead, someone is pretending to be them, because of their good reputation, and sending travelers on crappy cheaper tours.
Don't drink the water out of the tap. Circle K (which happens to be around every corner) has plenty of cheap water bottles.
Lastly when it comes to crossing the road. be careful. Just remember you need to remember to look straight ahead and keep walking. Do not try to dodge the motorbikes, instead, you need to trust that they will avoid you.
---
Where To After Backpacking Ho Chi Minh City
Once your backpacking Ho Chi Minh City adventures have come to an end, it's time to head to wherever is next. From here in southern Vietnam, you could travel up the country eventually ending in Hanoi. With Ho Chi Minh City having an international airport as well the options are truly endless.
North: Heading north you could travel up the country bypassing Mui Ne, Nha Trang, Hoi An, Da Nang, Hue, Ninh Binh, Hanoi, and more. There is so much to see in Vietnam, and I highly recommend spending some time backpacking the entire country.
International:  Since Ho Chi Minh City has an international airport you have so many options as to where to head next. If you are planning on traveling all of Southeast Asia, then you could do what I did and catch the bus from Ho Chi Minh City to Phnom Phen. Alternatively, there are flight connections to Thailand, Laos, and further afield.
---
Any Questions? Let me know in the comments!
---
LIKE IT? PIN IT!

---
Want more Vietnam Inspiration? Check out….
---
Disclaimer: This post contains affiliate links. So, if you click on it and purchase something, I get a small percentage at no extra cost to you. As always all opinions are my own and your support is much appreciated.

Related Posts
Get ready for your backpacking Vietnam adventure by finding out all you need to know [...]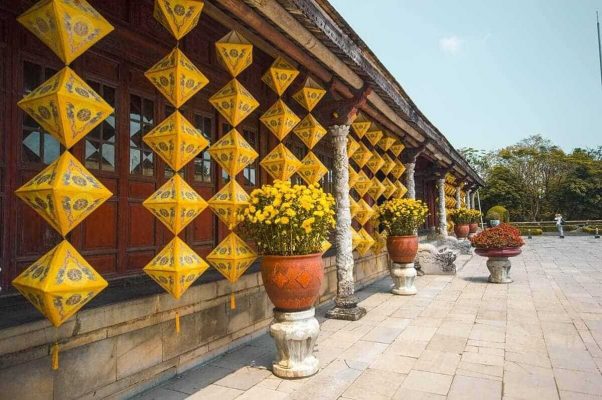 Find out the best 2 days in Hue itinerary to ensure you have the ultimate [...]
Exploring My Son Sanctuary In Hoi An, Vietnam Located in a rain forest like setting, [...]
41 Comments