Find out about visiting Tra Que Vegetable Village located in Hoi An, Vietnam. Learn about how to get there, what it actually is, my experience, and more in this Tra Que Village guide!
---
During your visit to the beautiful city of Hoi An, I highly recommend you take a few hours to escape the center and explore a bit more of the countryside. Full of lush green fields, roaming water buffalos, and locals hard at work making a living, it is a stark contrast to what you might be used to back at home. It is the perfect contrast to the bustling Vietnamese streets which lay a few hundred meters away.
If you do decide to do so, I highly recommend it be Tra Que Village. With intense lush green colors and a more of a rural setting, the Tra Que Vegetable Village in Hoi An is a must-visit when in this amazing city. The livelihood of around 150 farmers and 400 owners call this place home and create the highest quality vegetables produced in Hoi An. This makes for a truly unique experience and there is surprisingly quite a lot you can do there as well.
In this guide, I will let you know everything you need to about visiting Tra Que Vegetable Village in Hoi An. This includes how to get there, what to do, taking a cooking class, where to stay, and more!
---
Tra Que Vegetable Village: Everything You Need To Know Before Visiting
---
How I Book Cheap Transport In Vietnam: 12.Go Asia
---
---
How To Get To Tra Que Village
Located only a few kilometers north of Hoi An us Tra Que Village. That means there is no excuse to get there as you will be so close. It is located between De Vong River and Tra Que Algae Pond. It is super easy to get to and just off the main road. If you are heading to An Bang beach from Hoi An you will be passing right by it!
---
Rent A Bicycle
This is such a bike-friendly city so you will have no problem getting around this way. Many guesthouses will actually include free bicycle hire so you may as well make the most of it during your stay.
Keep to the side of the roads and out of the way of traffic. Tra Que Village is certainly within cycling distance from the main town of Hoi An so you won't get too puffed. Also, it is a great way to explore and enjoy a peaceful life in the countryside.
We thoroughly enjoyed exploring Hoi An by bicycle. You don't need to be super fit. Though best to bring along some water as temperatures can get quite hot.
---
Hire A Motorbike
Hoi An is a super easy place to learn to ride a motorbike, well compared to the rest of Vietnam. This is actually how I learned myself. The roads around here are relatively easy, just follow the traffic flow and the drivers never seemed overly crazy.
I highly recommend downloading the maps.me app on your mobile phone. You will be able to get an offline version of the app so you do not need data incase you don't have a local sim card. Just be aware that there are 'no motorbike' signs in the area. This is completely understandable as they are trying to keep the peace. Just simply park up your motorbike and walk around.
---
Use Grab
Grab is basically the Southeast Asian version of Uber, so if you aren't using it for taxi's yet I highly recommend you start! This saves the hassle of battering with taxi drivers under the hot sun.
If you are going to use the Grab phone app to order a driver to take you to Tra Que Vegetable Village I highly recommend ensuring it is a motorbike rather than a car. This is because some of the streets around here are thin and a car might not fit, meaning you will have to walk some of the way. If you are traveling with multiple people you might just deal with this short walk. Once you a finished you can order another Grab to take you to your next destination.
---
About Tra Que Vegetable Village
Located outside of the popular tourist destination of Hoi An city center and in the countryside is Tra Que Vegetable Village. It is a unique scene here in Hoi An, and a lot of Vietnam, as it is a working vegetable farm where tourists are encouraged to come and check it out. Workers may not be able to answer your questions as they likely won't speak English. That's why it is important to understand what makes this place special and the history behind it before you head out for a visit.
What sets Tra Que Vegetable Village apart from its counterparts is the absence of any chemicals or harsh fertilizers used in the growing process. This means less harmful, fresher, and cleaner produce to your table, ensuring you will only be consuming food the best of quality. The absence of chemicals is not just growing in popularity in Western communities, but Asian communities as well. People all around the world are becoming more environmentally conscious and understanding the effects that fertilizers and pesticides can have.
This usual use of chemicals is now replaced with an organic, naturally grown, option. Now the farmers use a special type of algae found in the nearby lagoon in Tra Que. Each morning the locals head to the lagoon and harvest the algae to assist with the growing of vegetables. This is truly one of the unique factors which make this Vegetable Village so special and really unlike anything else out there.
The last important part that makes Tra Que Vegetable Village what it is, is the soil in which the vegetables are grown.  This rich soil assists with the growth of high-quality produce. Ultimately this results in the 8 tons of vegetables sold solely from this village each year thanks to the premium yields produced by the hard-working farmers.
---
Where To Stay Near The Tra Que Vegetable Village
There are some great accommodation options extremely close to the Tra Que Vegetable Village. Sure you won't be in the main touristy part of Hoi An, but it'll allow you some peace and quiet while you get back in touch with nature.
A lot of the hotels here are incredible value for money. So if you are on a budget this may be the perfect spot to stay in Hoi An. You will also get to appreciate some incredible views over Tra Que Vegetable Village.
A picturesque hotel which beautiful modern rooms starting from $20.00 per night.

BOOK NOW

Hoi An Osaka Riverside Villa & Spa

A great hotel and spa with a pool. Rooms starting from $15.00 per night.

BOOK NOW

Enjoy hippie living at this homestay. Rooms starting from $25.00. Oh, and they have an incredible pool!

BOOK NOW

Incredible balcony rooms with pool views starting from $50.00 per night.

BOOK NOW
---
What To Do At The Tra Que Vegetable Village
With a growing area of up to 40 hectares and over 41 different types of produce growing in the Tra Que Vegetable Village, there is plenty here to see and do. Chill out and watch the farmers go about their daily tasks. Raking, sowing, watering and picking the vegetables.
You can easily take a tour to learn more about the processes with Tra Que Vegetable Village. Even try out the farming techniques. While I was in Hoi An I was going to visit with Hoi An Free Tours. The tour they run to the village is not free, though you do get a real hands-on experience, which for me would have been worth the money.
Alternatively, you can just simply ride your bicycle or walk around the pathways. There are plenty of opportunities to people watch and you will for sure be impressed by the immense producing grounds and the techniques they used. I know I was and I am from the agriculture-based country of New Zealand. Just remember to bring your camera!
I have read mixed reports on whether or not there is an entry fee to visit Tra Que Vegetable Village. I personally did not pay during my visit and I did not see any 'ticket booths'. Though, I have read reports online stating that there is a $0.90 / 20000 VND entry fee.
BOOK YOUR TOUR:
---
Tra Que Village Cooking Classes
There are plenty of local cooking classes in the area which showcases the amazing produce grown at the Tra Que Vegetable Village. If you are interested in the Vietnamese culture and food I highly recommend taking one of the cooking classes. This is actually one of the more popular activities among all types of travelers. There is nothing better than learn some new cooking skills in a tranquil setting and being able to eat your delicious creations afterward.
BOOK YOUR COOKING CLASS:
---
How I Book Cheap Transport In Vietnam: 12.Go Asia
---
LIKE IT? PIN IT!
---
Want more Vietnam Inspiration? Check out….
---
Disclaimer:  This post contains affiliate links. So, if you click on it and purchase something, I get a small percentage at no extra cost to you. As always all opinions are my own and your support is much appreciated.
Related Posts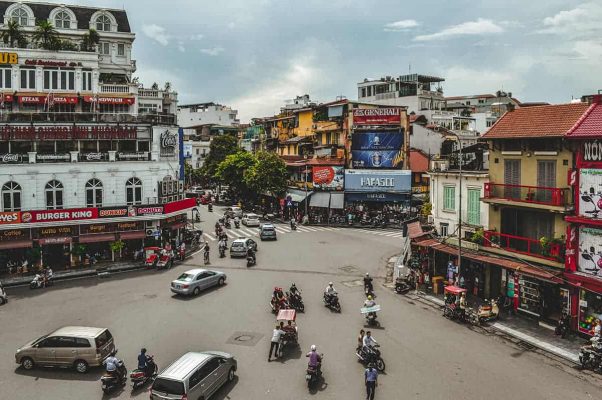 Find out everything you need to know about backpacking Hanoi on a budget while in [...]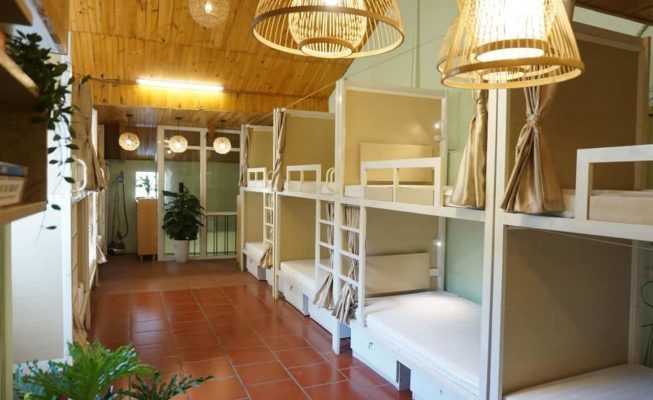 Come check out the best hostels in Hanoi for the perfect stay in Vietnam. I [...]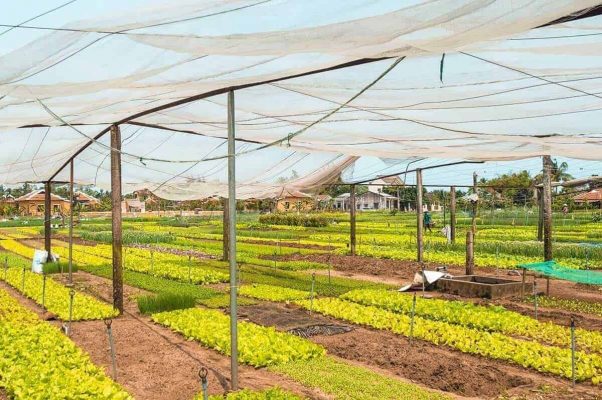 Find out about visiting Tra Que Vegetable Village located in Hoi An, Vietnam. Learn about [...]
1 Comment