Find out about spending a day exploring the Imperial City of Hue in Vietnam. Learn about how to get there, the history, important information, my experience, and more in this Hue Imperial City guide!
---
Visiting the Imperial City of Hue when in Vietnam will no doubt be a highlight of your trip. With amazing architecture, an impressive history, and the most stunning grounds you will certainly be in awe.
The Imperial City of Hue is the biggest draw for tourists coming to this area. We made the surprisingly comfortable overnight train journey from Hanoi just for this reason! The city of Hue itself is full of culture and history and the Imperial City just adds to this even more. It is easy enough to spend a whole day exploring. Though under the hot Vietnamese sun you probably wouldn't want to. So let's get into everything you need to know for your visit, that way you know what to expect and can have an enjoyable experience.
---
Visiting The Imperial City Of Hue (The Citadel): All You Need To Know
---
How I Book Cheap Transport In Vietnam: 12.Go Asia
---
The History Of The Imperial City Of Hue
The Imperial was built in 1362 and in 1993 was recognized as a UNESCO World Heritage Site. Between these two periods of time, the walls of the city have witnessed a lot of history. It even served as the capital of Vietnam from 1802 to 1945 during the reign of the Nguyen dynasty.
In the 19th century, Gia Long was the first emperor of the Nguyen dynasty. He made this dynasty with questionable tactics of blood and attacking those other emperors and rulers in the region. The goal was to take over their land and unite them all into one single empire, which he was ultimately successful at.
This dynasty would be the last in Vietnam and would rule for 143 years. The city of Hue would be the capital and there was a reason they choose Hue as their base. Supposedly the river and mountains that surround Hue looked like snakes and lions, well at least it did according to the geomancers. It would be the perfect location to recreate a version of the Forbidden City of Beijing.
With that become the process of building the enormous complex envisioned. A 10-kilometer moat was dug on the outside with each 2 kilometers long and 6-meter high wall enclosing the square fortress we call the Imperial City of Hue.
On the inside was everything you would expect of a country's capital. From offices, palaces to residences and gardens. Though, the most important part was built in the middle, The Purple Forbidden City. This is where the emperor and those closest to him would live and work.
---
How I Book Cheap Transport In Vietnam: 12.Go Asia
---
---
Imperial City Of Hue Entry Fee/ Ticket Costs
The entry ticket to visit the Imperial City Of Hue costs $6.60 / 150,000 VND.
These tickets are purchased in the main building which acts as the entry point to access the inside of the citadel (pictured above). It is well worth the price, though if you have a little bit more money in your budget I would recommend hiring a guide to teach you about the amazing history.
SCAM ALERT! I have read numerous reports about the ticket sellers here exchanging notes and claiming you did not give them enough money and demanding more. An example is you pay 300,000VND, part of this is a 100,000VND note. They will quickly swap your 100,000VND note for a 10,000VND note under the table and say you did not pay the correct amount. The best way to prevent this happening is to look like you are recording (to put off the scam artist as you would have captured this on camera) and counting out the money as you hand it to them. This personally did not happen to me, though just something to be aware of.
---
The Imperial City Of Hue Opening Hours
The opening hours for the Imperial City of Hue are from 8:00am-5:30pm Friday to Wednesday.
On Thursdays, the Imperial City of Hue opens at 8:00am and closes at 10:00pm. This allows visitors to experience the Imperial City of Hue by night and be able to see the grounds in a whole new way.
---
How To Get To The Imperial City, Hue
The Imperial City Hue is located at Thành phố, Huế, Thua Thien Hue, Vietnam. Likely you will be saying at the opposite side of the bridge to where the Imperial City is. This is because the majority of accommodation, restaurants and new buildings are on the other side of the river.
By Grab: If you haven't yet downloaded the Grab app on your mobile phone I highly recommend you get it. This is basically the Uber of Southeast Asia and is super helpful for getting you from point A to point B. There's no more haggling to get a decent fare, begging drivers to turn the meter on, or confusion over where exactly to drop you off. Depending on whether you are traveling with a group or solo you can either order a motorbike for one person or instead, a car for a group of people.
By Walking: This was the option I choose to get to the Imperial City and was certainly an easy way to do it. We decided to visit in the early morning simply because it would be cooler than at midday. It was a few kilometers from our guesthouse we stayed at, though the beautiful river views made time fly. If you are unsure how to get there I highly recommend downloading the Maps.Me app on your phone. On it, you will be able to use an offline map of the area to navigate there even if you do not have a local sim card.
---
What To Wear At The Imperial City
I was honestly not sure what to wear when I was visiting the Imperial City of Hue. Coming from Thailand where I was used to covering up when visiting religious and important buildings, I thought it would be necessary to cover up the shoulders and knees. Though, this proved irrelevant as people were wearing shorts and singlets everywhere with no worries.
So, you do not have to be like me, covered completely up and walking around in the Vietnamese heat.
I also recommend bringing a bottle of water with you as it will get quite hot exploring the citadel. We only found one building on the inside to buy extremely overpriced drinks and food.
---
What To Expect Inside The Imperial City Of Hue
These days the Imperial City of Hue is no longer what it was. Throughout time the buildings have suffered much damage and some of the grounds have become overgrown. The Forbidden City was never properly maintained and had issues with frequent termite infestations as well as typhoon damage.
Though, during the American War is when the Imperial City suffered the majority of the damage which has left it how it stands today. When the American forces entered Vietnam in 1968 they ordered the city be retaken, due to the communist takeover techniques implemented by the Nguyen dynasty to originally gain control of the land.
As a result, the Imperial City in Hue was badly bombed. Now only 20 of the 148 buildings which once stood on the grounds are still intact. Nevertheless, the restoration and reconstruction of the Imperial City of Hue is an ongoing task nowadays thanks to being recognized as a UNESCO World Heritage Site.
---
My Experience Visiting The Imperial City
I actually loved visiting the Imperial City in Hue. It was completely different from anything I had seen in South East Asia thanks to the Chinese-inspired architecture. Just be prepared to be walking around for a long time. The grounds are massive! We spent about three hours walking around and definitely could have spent longer if it was not so hot.
I recommend visiting when it opens in the morning to avoid the unbearable heat, especially considering there are not actually that many shady spots within the Imperial City. Also, bring water and food with you. We went to purchase bottled water within the city walls at one of the little cafes and it was ridiculously overpriced, about $4.00 for a small bottle!
---
DIY or Group Tour?
My partner and I did a DIY self-tour of the Imperial City. This is oftentimes how we do travel to keep our budget low, but still, experience the highlights within a city. Though, this obviously has its limitations as you are not able to learn about the history, which there is a lot of here.
From the first look, the tours around the Imperial City may seem pricey. Though, they do include a lot, making the most out of your time in Hue. For example, this Hue City Group Tour includes lunch, a visit to the imperial city, a dragon boat ride, the popular Thien Mu Pagoda, and the tomb of King  Khai Dinh. The tour starts at $50.00 and includes all entry fees. This is great value for money for traveling in Hue and allows you to see the best sights in the city (something we were not able to do due to the vast distances between them).
If you do not plan to visit Hue but are kind of regretting it now, don't worry as there are day trips there from the popular tourist town Hoi An. For only $4.00 more the Hue Imperial City Tour From Hoi An And Da Nang include all of the above, plus return transfers on the beautiful Hai Van Pass.
BOOK YOUR TOUR:
---
What To Bring
The Imperial City of Hue is closed in, so you won't be able to exit and then easily come back in to continue exploring. This place is also huge so expect to spend a good few hours exploring.
Camera: Make sure to bring your camera. This place is super beautiful and you will want to be snapping lots of photos!
Food & Water: Now I spent 3 hours exploring, and that was doing it fast with minimal reading of the information available. If you want to do this place justice then make sure to bring along some food and water so you can have a little picnic during your visit. There is a cafe on site but everything is ridiculously overpriced.
Sunblock: Yes, definitely bring sunblock. The sun in Vietnam is a scorcher. Though there are quite a few buildings in the Imperial City of can hide out in. The distances between these buildings can be a decent walk. No doubt you will want to be exploring the beautiful gardens as well.
---
Hue Travel Tips
Get ready for your trip to the Imperial City of Hue by checking out my top travel tips. This will allow you to have a fun and stress-free time exploring the city.
---
Where To Stay While In Hue?
When choosing where to stay in Hue you will be absolutely spoilt for choice. No matter your budget or the type of traveler you are there is something to fit all needs. Whether you want an affordable hostel, welcoming guesthouse, or luxury hotel
A social hostel with a great vibe, and breakfast, it is well worth $5.00 per night.

BOOK NOW

A great and comfortable spot, from $6.00 per night including breakfast.

BOOK NOW

Beautiful private rooms from $15.00 per night and in the heart of the city.

BOOK NOW

Affordable rooms starting from $18.00 per night with breakfast.

BOOK NOW
---
When To Travel Hue
As with most places in Southeast Asia, Hue has a wet season and a dry season. Depending on when you visit can seriously affect how your trip goes and honestly what you can do/see. Ultimately the best time to visit Hue is between January and April. The weather is good, but the temperatures are not too hot yet.
September To December is the wet season in Hue. During this time the temperature won't be so hot, though you could be in for quite a bit of rain. This is also the typhoon season so the train can last from hours to days and shut down essential services if flooding begins.
January to August is the dry season as well as the high season. During these times temperatures can be anywhere from 30 degrees celsius to 40 degrees celsius.
---
How To Get To Hue
Depending on which direction you are traveling Vietnam can affect how you can get to Hue. Though it is likely you will either be traveling from the North or South of the city. Transport routes are great and you will have multiple different options for how to get there. Though for more detail I recommend checking out my Hanoi to Hue travel guide.
Tickets for all journeys can be purchased on Baolau or 12.Go Asia
Train: from Hanoi to Hue takes 14 hours to complete your journey. Even though this is the longest choice it certainly is the most comfortable if you happen to book a soft sleeper so it isn't all bad!
Bus: The trip from Hanoi to Hue takes approximately 12 to 13 hours.
Plane: It takes approximately 1 hour to travel from Hanoi to Hue on a plane.
| | | | |
| --- | --- | --- | --- |
| | Time | Cost | Highlight |
| Train | 14 hours | from $40 | Comfortable journey |
| Luxury Train | 14 hours | from $60 | Super comfortable journey |
| Bus | 12 hours | from $13 | The cheapest way to travel |
| Tourist Bus | 13 hours | from $14 | More comfortable than the regular bus |
| Plane | 1 hour | from $35 | The fastest way to travel |
---
Staying Safe While In Hue
The main thing to remember is to just use your common sense. This should keep you out of dangerous situations. I wasn't scammed or taken advantage of once in Vietnam. Though I put this down to doing my research in advance and becoming familiar with common scams.
Hue is a relatively safe place to explore with the exception of the many scams you will find in Asian countries. This mainly revolves around robberies and pickpocketing. In Vietnam motorbike snatch and grab is super common as well. Someone may see that your handbag, backpack, camera, or phone is not secure, so they will drive by on their motorbike and grab it. While in Sapa there did seem to be quite a lot of people offering us drugs while we would be walking along the street.
 Don't drink the water out of the tap. Many hotels and hostels will have water refill stations or minimarts sell bottles super cheap as well.
---
Where To After Your 3 Days In Hue Itinerary?
North: If you are traveling North from Hue, you could take an overnight journey to Hanoi. Hanoi to the perfect hub, where you could venture to Thailand or Laos via the international airport, or if you are wanting to stay domestic, then hit up Sapa or Ha Long Bay. You could also head to Ninh Binh which is between Hanoi and Hue. I haven't personally been yet, but I have heard great things, and it's on my bucketlist!!
South:  Alternatively, you can end back down South towards some other Vietnam highlights including Hoi An, snorkel In Nha Trang, see the sand dunes in Mui Ne, and the tunnels in Ho Chi Minh. Vietnam is a huge country and there are so many things to do here!
---
How I Book Cheap Transport In Vietnam:12.Go Asia
---
LIKE IT? PIN IT!
---
Want more Vietnam Inspiration? Check out….
---
Disclaimer:  This post contains affiliate links. So, if you click on it and purchase something, I get a small percentage at no extra cost to you. As always all opinions are my own and your support is much appreciated.
Related Posts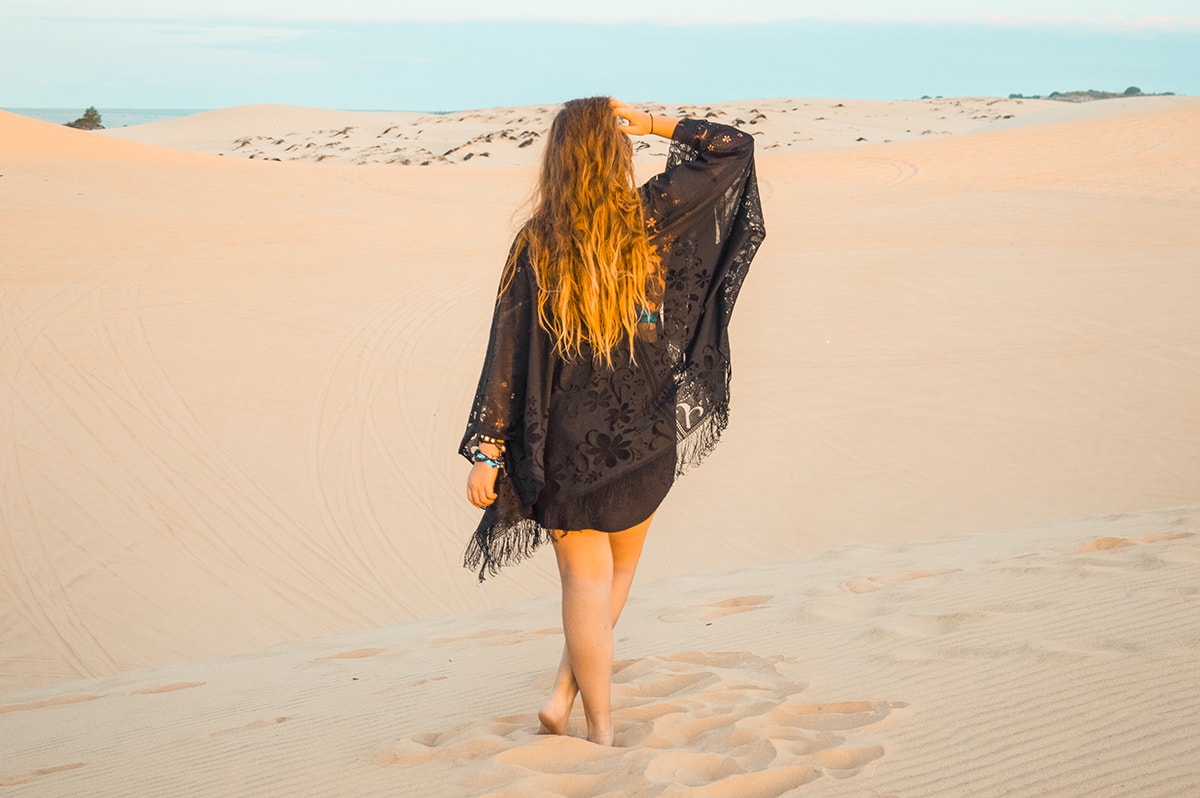 The Ultimate List Of The Best Things To Do In Mui Ne The reason I [...]
59 Comments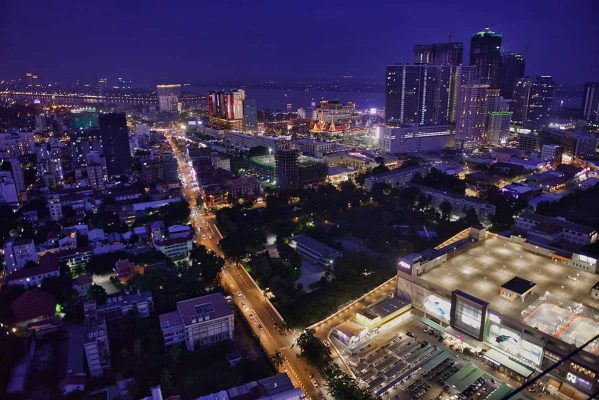 Find out the best, and most cost-effective way to travel from Ho Chi Minh City [...]
Come check out all you need to know about backpacking Ho Chi Minh City on [...]
1 Comment