If you are traveling the entirety of Vietnam you will no doubt find yourself needing to get from Nha Trang to Mui Ne at some stage. Though unfortunately, this isn't a main transport route like the rest of Vietnam and your options will have decreased for direct journeys. Nevertheless, I am here to explain all options for you, whether that is a plane, bus or train,  I will let you know how to book, prices, and more!
---
Mui Ne is a cute little seaside town on the coast of Vietnam. There isn't a heap of things to do here, but there is enough to keep you entertained for a couple of days. Think sand dunes, fishing villages, and interesting landscapes, it is worth  Though if you are traveling from North to South like I was you will find yourself needing to figure out how to travel from Nha Trang to Mui Ne.
Luckily the journey itself isn't too long and actually quite scenic. We hadn't booked anything prior to arriving in Nha Trang and simply decided to wait and see how we felt. We knew there would basically only be one direct option between Nha Trang to Mui Ne. Though for a more comfortable journey we wouldn't mind having to transfer between transport.
In the end, we decided to take a bus. Though this time we wanted to avoid a repeat of our horrible bus journey from Hanoi to Sapa so made sure to research to find a reputable company in advance prior to booking. Unfortunately taking a train involves getting off at Phan Thiet and taking some sort of other transport the final 20 or so kilometers.
I will let you know everything you need to know about traveling from Nha Trang to Mui Ne such as whether to bus, plane, minivan, taxi, or train, prices, how to book tickets, departure times, and more!
| | | | |
| --- | --- | --- | --- |
| | Time | Cost | Highlight |
| Train | 4 hours 30 minutes + Taxi | from $7 | Comfortable journey |
| Private Transfer | 3 hours | from $75 | Super comfortable journey |
| Bus | 5 hours | from $7 | The cheapest way to travel |
| Tourist Bus | 5 hours | from $12 | More comfortable than the regular bus |
| Airport | N/A | N/A | An airport is currently being built outside of Mui Ne |
---
How To Get From Nha Trang To Mui Ne: All Transport Options Explained
---
Nha Trang To Mui Ne Distance
The distance from Nha Trang to Mui Ne is approximately 220 kilometers. You will find yourself backtracking a little bit if you happen to decide to go the train route. Though this is simply because there is not a train station in Mui Ne so you need to stop in the nearest town called Phan Thiet and then catch another form of transport back north slightly up the coast.
The deciding factor which will sway you whether to take a bus, private transfer or train will depend on your budget.
---
Nha Trang To Mui Ne Travel Time
Bus: The bus journey from Nha Trang to Mui Ne takes 5 hours
Private Transfer: It takes approximately 3 and a half hours to travel from Nha Trang To Mui Ne via private transfer.
Train: The train ride will take around 4 and a half hours from Nha Trang to Mui Ne. Though you will also need to account to travel to Mui Ne from the Phan Thiet train station. This takes between twenty to thirty minutes.
---
Fly From Nha Trang To Mui Ne
Unfortunately at this time, you are not able to fly from Nha Trang to Mui Ne. There may be an airport in Nha Trang called Cam Ranh Airport (CXR), though there is not one just yet in Mui Ne. Don't be too disappointed as it is in the works! The nearby town of Phan Thiet is getting an airport said to be completed at the end of 2022.
Though you can always fly from Nha Trang to Da Lat, spend a few days there, and then catch a bus to Mui Ne. Da Lat is a quaint mountainous town that is a popular honeymoon spot to locals. It is the perfect place to hide from the heat and is on many travelers' itineraries. Unfortunately, I haven't had the opportunity to visit just yet.
---
Train From Nha Trang To Mui Ne
I absolutely love taking the train in Vietnam. For me this is an authentic way to discover the country and while doing so in comfort. For the most part, the train follows the main road in the country. Though it is generally a lot more comfortable.
Unfortunately, taking the train from Nha Trang to Mui Ne isn't as easy as it is elsewhere in the country. This is simply because there is not a station in Mui Ne.
---
Train Schedule
Below you will find the train schedule from Nha Trang to Mui Ne. Though be aware there isn't actually a train station in Mui Ne. The nearest one is called Binh Thuan Train Station, also known as Muong Man Station. From here you can then take a taxi the rest of the distance to Mui Ne, or take another train closer to Phan Thiet, and then a taxi the remainder of the distance. Though I will get into the details of this further down below.
Please be aware in the following table the price for the Vietnam Railways trains is starting at the cheapest point, aka for the seats. The luxury trains are always for the soft sleeper beds as that is all they offer.
| | | | |
| --- | --- | --- | --- |
| Train | Departure Time | Length | Price |
| SE7  | 08:31 | 4h 20m | from $5.00 |
| SE5  | 10:51 | 4h 25m | from $5.00 |
---
How To Book Tickets From Nha Trang To Mui Ne
Nowadays it is a lot easier to buy tickets and Vietnam Railways accepts e-tickets. This is a super bonus as it prevents the common stress of freaking out wondering where you can print that ticket you just purchased online.
Though before we get too into that you will need to decide what type of ticket you would like to purchase. All of the trains operated by Vietnam Railways offer a variety of cabin choices so you can pick the perfect option for you:
SE5: Onboard you will find air-conditioned 4 berth soft sleepers, air-conditioned 6 berth hard sleepers, air-conditioned soft seats, air-conditioned hard seats, and ordinary seats.
SE7: Onboard you can find air-conditioned soft sleepers, air-conditioned hard sleepers, and air-conditioned soft seats.
---
Buy Tickets From Vietnam Railways
You can book tickets direct on Vietnam Railways. You often can't find the cheaper hard/soft seater tickets available on third-party websites as they are not a popular choice for travelers. So, if you are on a budget you can book direct with Vietnam Railways. You will find the tickets are slightly cheaper when you purchase direct.
---
Buy Tickets Online
You can purchase tickets online. It is a bit confusing as some websites still say you need to print out to ticket and swap it with a proper one at the train station. Though no one wants to do this! I ended up booking with Baolau. Their website said I didn't need to print off my ticket and instead just show my ticket on my phone to the attendant on the train. This is what I did and didn't have any issues with.
---
What Berth To Book
As the journey between Nha Trang and Mui Ne is only 5 hours you may find yourself wanting to book one of the cheaper options on the train.
Hard Seat Or Soft Seat: The seats are the cheapest you will find, with a hard seat being one of the cheapest options available. This is good for shorter journeys.
Lower or Upper Berth: The appeal of the lower berth is simply that it is a lot easier to get into. There is no climbing an awkward ladder, trying not to fall off while the train moves. The lower ones are also generally slightly bigger. Though the upper berth is a lot more private!
Hard Sleeper Or Soft Sleeper: The majority of travelers will choose a soft sleeper when taking long journeys in Vietnam. The only difference between the hard sleeper and soft sleeper berths is the number of people you will be sharing with. A hard sleeper sleeps 6 people whereas a soft sleeper sleeps, 4 people. So contrary to the name you won't be sleeping on a hard surface.
Top tip: If you book your train via Baolau you can pick in advance whether you want a lower or upper berth.
---
Binh Thuan Train Station To Mui Ne
Unfortunately, there are no buses from Binh Thuan Train Station to Mui Ne. This means your best option will be to take a taxi the remainder of the journey. This will cost at least 500,000 VND / $22.00. Though personally I recommend booking a Grab taxi for the best rates and to avoid needing to negotiate with the driver.
---
Private Transfer From Nha Trang To Mui Ne
If you have a bit more money to splurge you may want to book a private transfer from Nha Trang to Mui Ne. This no doubt is the fastest way to travel, the traveler will also be happy to pull over to take photos along the way. Though it will take a big chunk out of your backpacking Vietnam budget. Another bonus is that you will be able to leave at whatever time you like. Perfect if you are traveling on a tight schedule.
The cost of a private transfer is generally $75.00 to $120.00 depending on the size of the vehicle. Though if you are traveling with a large group then you can hire a larger van and split the costs.
---
Bus From Nha Trang To Mui Ne
Another good option to travel from Nha Trang to Mui Ne is by taking the bus. I usually avoided taking the bus the majority of the way in Vietnam. Though the train schedule timing wasn't appropriate for my plans and taking a private transfer was going to be way too expensive. I mean I am a backpacker I definitely don't have a budget for that!
Luckily the bus journey only takes 5 hours so is pretty main free from those sleeper buses in Vietnam. I made some decisions to make sure I booked with a reputable company and researched reviews. Overall made for a pretty smooth journey, thankfully with no bugs involved.  let me just say you pick your bus company carefully. Reputable companies on the Nha Trang to Mui Ne route include The Sinh Tourist and Hey Travel.
---
Bus vs Tourist Bus
Now let's get into the difference between the type of buses available, either a regular bus or a tourist bus. Your general regular bus is more to Vietnamese standards, which is fine if you know that is what you are booking. Though if not, you may be in for a sleepless surprise.
Anyway, I found your typical Vietnamese buses to just simply be a bit painful. The lay-flat seats were not tall enough for us westerners, it was far from clean, and if I was to spend more than a few hours in there my sanity would be questioned. The reason I ended up on such buses is that I let my accommodation book them. That means they just did whichever earned them a little bit of commission.
From there onwards we used The Sinh Tourist. Be aware there are plenty of fake websites and fake stores pretending to be this company. Luckily we didn't have a single issue with them. Their lay flat seats were even more comfortable being slightly longer for us tall foreigners. You do pay a premium to book with them.
---
Sleeper vs Seater Bus
First off, before we get into my bus journey from Nha Trang to Mui Ne, you need to know the difference between taking a sleep or seater bus in Vietnam. No doubt you've seen those crazy photos of the sleeper buses with three rows of chairs stacked two tall. Though in all honesty, they are not comfortable for anybody over 165cm. At the back of the buses is a huge lay flat area, where they chuck the tall people.
Though, luckily there are some reputable companies who have altered their seats/beds slightly to make it more comfortable for the tourists who are their main customers. For these tourist buses, if you are 180cm or less you should be to comfortably fit. My favorite company to book with, and the one I booked this route through is the Sinh Tourist. It was day and night to my previous bus experiences in Vietnam.
---
Bus Schedule From Nha Trang To Mui Ne
Below you will find the bus schedule departing in Nha Trang and arriving in Mui Ne. Just so you know there are more companies than those listed, and this is just a selection of the most popular.
| | | | |
| --- | --- | --- | --- |
| Bus | Departure Times | Length | Price |
| Hanh Cafe | 08:00 – 13:00 20:30 – 01:30 | 5h | from $7.00 |
| 3S Limo Luxury Bus | 07:00 – 12:00 | 5h | from $16.00 |
| The Sinh Tourist | 07:15 – 12:15 20:00 – 02:00 | 5h | from $12.00 |
| Tam Hanh Travel | 07:30 – 12:30 19:30 – 01:00 | 5h 5h 30m | from $8.00 |
As you can see all companies are about a similar amount. Though 35 Limo Luxury Bus is a lot fancier with lazy boy style seats and a ridiculously comfortable journey. Though personally, I enjoy The Sinh Tourist. They are mid-range when it comes to prices and the sleeper-style seats are made to fit Western tourists who are a bit taller than the typical Vietnamese local. We enjoyed than so much that they were the only company we booked the rest of our Vietnam travels with, including crossing the border from Ho Chi Minh City to Phnom Penh in Cambodia.
---
How To Book Tickets
It is crazy easy to book your bus tickets from Nha Trang to Mui Ne. Personally, to save hassles, I like to book it online via Baolau or 12.Go Asia. This is simply so you can read reviews and check out other travelers experiences. Your other option is heading to a nearby travel agency or through your hotel. Though they will just book you on whatever is available and what they make a decent commission on. So not necessarily always the best or most comfortable journey.
Anyway by booking with Baolau or 12.Go Asia you can see what other travelers have said about certain routes with particular companies. Then you can just book your ticket through their website and they will email you a copy. It's super easy!
---
Where Does The Bus Drop You Off
The majority of bus companies will all drop you off somewhere different, depending on who you book with, rather than at a bus station. If you plan it right this could be smack bang in the middle of town. Just be aware that depending on where your accommodation is located you may need to take a taxi or walk the rest of the distance.
Hanh Cafe: The Hanh Cafe Office In Mui Ne (117 Nguyen Dinh Chieu)
The Sinh Tourist: The Sinh Tourist Office In Mui Ne (144  Nguyen Dinh Chieu St)
---
My Experience Taking The Bus From Nha Trang To Mui Ne
As I said above I decided to take The Sinh Tourist bus on my journey from Nha Trang to Mui Ne. This is simply because of numerous bad bus rides from booking random companies through a travel agency or the accommodation we were staying at. We booked our tickets a couple of days in advance and had to head to the Sinh Tourist office slightly earlier than the departure time to check-in for the journey.
It was early morning so after a quick breakfast at our hostel, we headed for the 10-minute work to The Sinh Tourist office which is located right in the middle of the city. This was perfect for us as we didn't have to pay for a taxi to get there. On arrival, we confirmed our details with a worker behind the desk in the cool air-conditioned office before taking a seat on the street side with about 15 other travelers.
Soon enough a large bus pulls up alongside the footpath and we all climb on board. On our tickets are certain seat numbers that we had to sit in. At first glance, I didn't know what to feel about this considering my bad experience in the past. This time around I would also be sitting on the top story, meaning I would need to keep my luggage handy as well rather than spreading out on the ground as I could do at the bottom.
We take our shoes off on entering and jump on board. I make my way down the aisle and climb up the small plastic ladder, using the beds on both sides of the aisle to push myself up. Now it is time to get comfortable for the next 5 hours. I prop my day bag on top of my little foot box and the window. As long as there aren't any speedy sharp corners it'll be okay. Also stretching out I am amazed that I actually fit inside the little foot box and can actually lay flat! Hallelujah!
I quickly manage to doze off enjoying the air conditioning blasting and beautiful coastal views out the window. We do stop somewhere briefly for lunch and a bathroom break. Though we brought snacks on board with us so we're not too bothered about getting food.
Soon enough it is obvious we are getting close to Mui Ne. The sea starts peaking over again on the horizon and massive sand dunes seem to be everywhere and we drive forward closer to the coastal town. Soon enough we are pulling over outside the Sinh Tourist office in Mui Ne. I manage to get a taxi ride to our hostel. It is only a short distance away, though carrying our luggage in the hot sun is not fun. Luckily a taxi driver pulls over and is happy to take us by the meter which totals 20,000 VND / $0.88 for the entire trip!
---
FAQ's About Traveling Nha Trang To Mui Ne
How many days to spend in Mui Ne? In all honesty, you do not need to spend a long time in Mui Ne to see the top sights. A lot of tour agencies do a sunrise trip to the top spots meaning you can smash them out all in half a day. I meet quite a few travelers who were only planning to spend 1 night in Mui Ne as a result. We ended up staying 3 nights in Mui Ne which was way too long in my opinion.
How far in advance do I need to book tickets? It is recommended you book tickets in advance to ensure you can travel with a reputable, clean and safe company. You should try for at least a week in advance to be safe. Though if you are not worried about this then you can probably just book the day before.
Booking through Baolau or 12.Go Asia is perfect for over those busy periods as you can book when you haven't even arrived in the country yet! This means you can relax knowing all the planning is taken care of.
This advice isn't valid during the high season between November to January, weekends, and especially on the Vietnamese New Year (Tet). During these times you will want to book at least 4 weeks in advance and expect a very full bus, train, or flight.
---
Where To Stay In Mui Ne?
There is an assortment of places to stay in Mui Ne. Whether you are looking for an affordable hostel, beachside resort, or friendly guesthouse. There is an assortment of selections to be found.
We stayed in a hostel during our stay. Though unfortunately, it is not operating anymore. Nevertheless, there are still plenty of other hostels available. Another option I would recommend instead is called EVA HUT Mui Ne Beach Hostel. With prices starting from $6.00 for a dorm room this beachfront backpackers hotspot is the perfect place to stay in Mui Ne.
The ultimate backpackers paradise in Mui Ne. Dorm rooms starting at $6.00.

BOOK NOW

Live in luxury for less with prices from $19.00 per night for a double room.

BOOK NOW

Topical private rooms starting at $50.00 per night including breakfast.

BOOK NOW

Extravagant rooms starting at $42.00 per night including a delicious breakfast.

BOOK NOW
---
Things To Do In Mui Ne
This beach lovers paradise is a great spot for backpackers looking to chill out for a few days. Here are some of the best things to do in Mui Ne:
Kite Surfing: There are numerous opportunities to go kite surfing in Mui Ne and you will see stores advertising it as you walk alongside the main strip. It is a little more on the pricey side, though compared to doing this is somewhere like Europe, prices here are a bargain.
Fairy Stream: The gorgeous fairy stream is a must when in Mui Ne. Wander down through the ankle-deep water surrounded by deep orange sand and lush green jungle. Be in awe of the remarkable cliff formations.
White Sand Dunes:  My favorite place in Mui Ne is definitely the White Sand Dunes. It is the perfect place to watch the sunrise over the ocean. These sand dunes here are a lot larger than the red sand dunes, giving you more opportunities to get away from the crowds and snap that perfect Instagram pic!
The Fishing Village: Block your nose for this one, because trust me, you will regret it if you don't, but I surprisingly loved visiting the fishing village in Mui Ne. It is an amazing insight into the daily life of locals who live in the area.
Red Sand Dunes: The red sand dunes are a must-do in Mui Ne. They are a lot more touristy than the white sand dunes, though this is because they are super accessible. You can literally step onto it off the main road and there is heaps of parking for large tour buses.
---
LIKE IT? PIN IT!
---
Want more Vietnam Inspiration? Check out….
---
Disclaimer: This post contains affiliate links. So, if you click on it and purchase something, I get a small percentage at no extra cost to you. As always all opinions are my own and your support is much appreciated.
Related Posts
Find out what trekking in Sapa Vietnam is like and my experience hiking in February. [...]
9 Comments
Come find out the ideal 3 weeks in Vietnam itinerary for the ultimate adventure. Let's [...]
3 Comments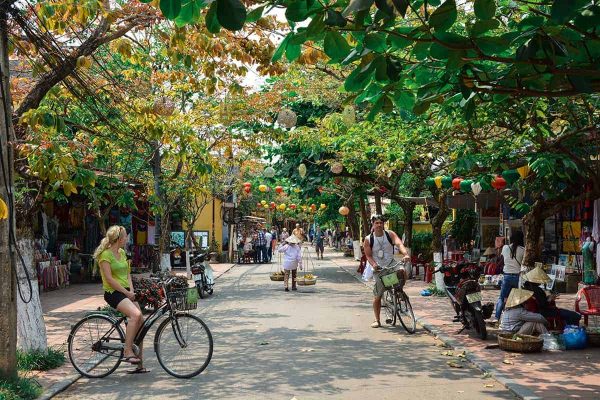 Come find out all you need to know about backpacking Hoi An to have the [...]