If you are exploring the length of Vietnam it is likely you will need to travel from Hue to Da Nang at some stage. Da Nang is a big city in the middle of the country, and also the gateway to the tourist hot spot of Hoi An. Whether you want to get there by plane, bus or train I will let you know how to book, prices, and more!
---
If you happen to be traveling from North to South down the entirety of Vietnam then it is likely you will find yourself in Hue at some point. Hue is home to the Imperial City, which used to be the capital of the country during the Nguyen Dynasty from 1802 to 1945. Traveling south from here, your next stop is likely to be Da Nang. This is an impressive city located on the beach and a stone's through away from Hoi An. Therefore it is likely you will be wondering how exactly to travel from Hue to Da Nang at some point in your travels.
The popular Hai Van Pass is actually located on the trip from Hue to Da Nang. This is an incredible stretch of road which has been made famous by Top Gear when it was dubbed one of the best coastal roads in the world. So even if you aren't a car person you will still be impressed by the incredible scenery and landscapes along the way. As a result many companies actually offer specialist transport from Hue to Da Nang so you can appreciate the beauty of the Hai Van Pass.
Ultimately this means there is a ridiculous amount of transport options to take you from Hue to Da Nang. So let's get into figuring out all of the transport options to figure out costs, time, and what is going to be best for you!
| | | | |
| --- | --- | --- | --- |
| | Time | Cost | Highlight |
| Train | 3 hours | from $9 | Comfortable journey |
| Luxury Train | 3 hours | from $27 | Super comfortable journey |
| Bus | 3 hours | from $5 | The cheapest way to travel |
| Motorbike | 4 hours | from $14 | Freedom to make stops |
| Tour | 8 hours | from $50 | Good way to make friends |
| Plane | 4 hours | from $100 | The fastest way to travel |
---
How To Get From Hue To Da Nang: All Transport Options Explained
---
Hue To Da Nang Distance
Whether you choose to travel from Hue to Da Nang via bus, motorbike or train the distance between the cities is approximately the same. All up it is around 100 kilometers along the coast of Vietnam. Though you do have the option whether you do or don't travel the Hai Van Pass. Not doing this and sticking to the main highway will cut about 10 kilometers off the total distance.
The main thing which will sway you to towards one of the options of either bus, train or motorbike will consist of budget, length of time and comfort factor.
---
Hue To Da Nang Travel Time
Bus: The trip from Hue to Da Nang takes approximately 3 and 1/2 hours
Taxi/ Motorbike: It will take you approximately 2 and 1/2 hours to taxi. Though if you are going over the Hai Van Pass you may want to pull over for photos.
Train: from Hue to Da Nang takes 3 hours to complete your journey. Even though this is the longest choice it certainly is the most comfortable if you happen to book a soft sleeper so it isn't all bad!
---
What Is The Hai Van Pass
As I said above the Hai Van Pass is not only a famous piece of road in Vietnam but worldwide. I mean who wouldn't want to check out what has been called the best coastal road in the world.
To be a bit more exact it is a 20-kilometer journey that joins the Da Nang to Lang Co which is located in the province of Hue. It is 500 meters above sea level making it the highest pass in all of Vietnam. As you can imagine there are some epic views of mountains rising over the South China sea. You will also be able to see beautiful sandy beaches and steep cliffs.
It is no way an easy drive to make in a vehicle and would not be recommended for a first-time motorbike rider. Though there are options galore if you are not comfortable driving your own motorbike. The roads are quite curvy with even some sharp hairpin turns thrown in there.
---
Bus From Hue To Da Nang
Our first option is taking the bus from Hue to Da Nang. This is the perfect choice if you are on a tighter budget or perhaps are not a fan of train travel. This journey will take around between 3 to 3 and a half hours in total depending on how the traffic is. As it is only a short period of time it is honestly a lot more bearable. I couldn't stand doing the long journey in sleeper buses in Vietnam. Though for just a few hours makes it a whole lot more realistic option.
Just take it from someone who has done a lot of sleeper buses in Vietnam, choose your bus company carefully. I have unfortunately taken a couple of really bad companies such as from Hanoi to Sapa, where I let my accommodation book my transport, rather than doing my own research.
---
Bus vs Tourist Bus
Now, before we get into the details of taking the bus from Hue to Da Nang, we need to talk about the difference between the type of buses available. These are either a regular bus or a tourist bus. Your general regular bus is more to Vietnamese standards, which is fine if you know that is what you are booking. Though in all honesty in shorter journeys, such as this one, it doesn't really matter as much.
You may find the typical Vietnamese buses to just simply be a bit painful. The lay-flat seats were not tall enough for us westerners, they can be far from clean, and the constant stopping and starting picking up and dropping off passengers on the side of the road. All of this combined is certainly enough to make you question your sanity.
In Vietnam, I try to book my journeys with The Sinh Tourist. Be aware there are plenty of fake websites and fake stores pretending to be this company, especially in Hanoi. Though it is easy enough to book tickets online via their website. Their lay flat seats were even more comfortable being slightly longer for us tall foreigners. You do pay a premium to book with them.
---
Sleeper vs Seater Bus
Now the unique thing about taking a bus in Vietnam is the impressive sleeper-style buses. These buses are honestly not like any I have seen elsewhere with three rows of chairs stacked two tall. Though you probably won't be too bothered about them since this is such a short journey.
Just be aware that if you are tall, eg above 180cm, you may find yourself awkwardly contorting your body to fit your feet into those little boxes. Honestly, if you are less than 165cm you should be fine in the typical sleeper style bus, though any taller and it will be one uncomfortable journey.
At the back of the buses is a huge lay flat area. Basically, imagine your large row on the back of the bus is converted into a huge bed. This is where they chucked the tall people on my sleeper bus journeys.
---
Bus Schedule From Hue To Da Nang
Below you will find the bus schedule departing Hue and arriving in Da Nang. There will be so many companies you can choose from and this list is just a selection of the best on offer.
Bus
Departure Times
Length
Price
Hue Tourist
08:00- 11:10

15:00- 16:20

3h 10m

3h 20m

from $8.00
The Sinh Tourist
09:15- 12:30

14:30- 17:45

3h 15m
from $7.00
Hanh Cafe
09:00- 12:00

14:30- 17:30

3h
from $5.00
Hoi An Express
08:00- 11:30
3h 30m
from $10.80
As you can see there are quite a few options, and apart from the company name, the majority are quite similar. They all are around the same price, though keep in mind just because a bus company is more expensive doesn't necessarily mean the service will be good. My number one point when booking a bus company is to make sure you read reviews so you know what to expect!
---
How To Book Tickets
It is super easy to book bus tickets in Vietnam, including on the route from Hue to Da Nang. Personally, I recommend booking it online via Baolau or 12.Go Asia. This is simply so you can read reviews rather than going through your accommodation or a travel agency. I had a bad experience doing the latter and would hate for you to do the same!
Anyway by booking with Baolau or 12.Go Asia you can see what other travelers have said about the journey with particular companies. Then you can just book your ticket through their website and they will email you a copy. It's super easy!
---
Where Does The Bus Drop You Off
You will find that depending on which company you book your ticket from Hue to Da Nang with will affect where you are dropped off. The majority of companies will stop in the city center. Just be aware that depending on where your accommodation is located you may need to take a taxi or walk the rest of the distance.
The Sinh Tourist: Da Nang bus stop: 16, 3 Thang 2, Thuan Phuoc, Hai Chau, Đà Nẵng
Hanh Cafe: Da Nang bus stop: 1133 Ngô Quyền, Sơn Trà, Đà Nẵng
---
Tour From Hue To Da Nang
Another popular way to travel from Hue to Da Nang is to do it by a Jeep tour. This is the perfect top gear moment where you will ride in an army-style Jeep over the Hai Van Pass.
Depending on which tour you decide to book you will also get a chance you check out some other spots of interest along the way. This could include Marble Mountain, Lang Co Bay, Tam Giang Lagoon, visiting some local villages, and more. There are so many incredible views you will no doubt stop in to appreciate, and explore.
Prices for these generally start at $70.00 online, though you can find cheaper if you choose to book a bus tour instead of a Jeep. Also if you decide to wait until you are in Hue you will be able to find cheaper options through local travel agencies or at your hostel.
Hai Van Pass Tours:
---
Train From Hue To Da Nang
I personally loved taking the train around Vietnam. It is way more comfortable than being squished into the Vietnamese sleeper buses and they have always been a reliable option for me.
You can also still get some epic views out the side of the train. Though unfortunately, you may not have the easiest time taking photos as the windows won't open in the air-conditioned carriages. Also, a lot of the time the windows can be quite dirty which certainly doesn't make for a beautiful photo.
The journey between Hue to Da Nang is relatively short though only being a few hours so is it even worth taking the train?
---
What Is The Regular Train Like
Before we get too into learning about taking the train from Hue to Da Nang you need to know there are two different types of trains you can book. These two options are either the regular train or a luxury train.
The regular train is operated by Vietnam Railways. This is where you will find the majority of more affordable tickets. They have the option of hard or soft sleeper berths, as well as hard or soft seats. Currently, they operate this journey multiple times per day, with the SE3, SE19, SE1, SE7, SE5, and SE9 trains. Though they all depart at a different time so make sure to research which will be best for you.
I have used the standard trains operated by Vietnam Railways throughout the country and honestly have not had any issues. Though I certainly have heard of some horror stories *bugs*. Fortunately, I have been lucky enough to avoid this on my train travels in Vietnam.
On longer journeys, you are best to book the 4-berth soft sleeper cabin over a 6-berth hard sleeper. This is simply because the 4-berths are a lot more comfortable with more headroom, privacy, and thicker mattresses. Though since the route from Hue to Da Nang is relatively short being just a few hours you may actually want to book a seat.
---
What Is The Luxury Train Like
In contrast, the luxury train is a lot nicer than the regular train. There are a few options you have when booking a luxury train from Hue to Da Nang. These are either Livitrans, Lotus Trains, or Viollet Express. The main difference between a luxury train and the regular ones are the amenities and facilities you are provided with onboard.
These trains are not actually their own individual trains. They actually operate on the Vietnam Railways Trains. Though what they have done is decked out a few of the carriages on board and increase the amenities you are provided for a more comfortable journey.
You will find that your cabin is a lot nicer onboard with proper pillows, snacks, and free Wifi. At larger train stations you will have access to a lounge with your luxury train ticket. Though unfortunately, the station in Hue does not offer this.
Of course, it costs a little more than the regular train. Though the exact price difference depends on the operator you decide to book with.
---
Train Schedule From Hue To Da Nang
The below is the train schedule that departs in Hue and arrives in Da Nang. The routes are quite affordable, though be aware it is priced from, which means this is the price for seats. Obviously, the sleeper berths cost more.
| | | | |
| --- | --- | --- | --- |
| Train | Departure Time | Length | Price |
| SE3 (Vietnam Railways) | 09:37 | 2h 47m | from $11.00 |
| SE19 (Vietnam Railways) | 09:31 | 2h 49m | from $9.00 |
| SE1 (Vietnam Railways) | 10:59 | 2h 27m | from $12.00 |
| SE7 (Vietnam Railways) | 20:40 | 2h 47m | from $11.00 |
| SE5 (Vietnam Railways) | 06:06 | 2h 57m | from $11.00 |
| Livitrans | 09:37 | 2h 47m | from $30.00 |
| Violette Train | 09:31 | 2h 49m | from $33.00 |
| Lotus Train | 22:20 | 12h 27m | from $27.00 |
---
How To Book Tickets From Hue To Da Nang
It is super easy to buy your tickets for the train nowadays. Whether you decide to buy them in person or purchase online, Vietnam Railways accepts both types. I love using e-tickets as it prevents the common stress of freaking out wondering where you can print that ticket you just purchased online.
Though before I tell you how to buy tickets, you need to decide what type of ticket to purchase. All of the trains operated by Vietnam Railways offer a variety of cabin choices so you can pick the perfect option for you:
SE5: Onboard you will find air-conditioned 4 berth soft sleepers, air-conditioned 6 berth hard sleepers, air-conditioned soft seats, air-conditioned hard seats, and ordinary seats.
SE7: This train only runs at busy times such as Tet. Onboard you can find air-conditioned soft sleepers, air-conditioned hard sleepers, and air-conditioned soft seats.
SE1, and SE3: These are the best trains with air-conditioned 4 berth soft sleepers, air-conditioned 6 berth hard sleepers, and air-conditioned soft seats. SE3 was refurbished in 2015 and SE1 was refurbished in 2016. You will also find these trains offer privately run luxury sleeper beds by companies such as Livitrans and Violette.
SE19: Onboard you will find air-conditioned soft sleepers, air-conditioned hard sleepers, air-conditioned soft seats, air-conditioned hard seats, and ordinary hard seats.
---
Buy Tickets From Vietnam Railways
Another option is buying your tickets directly at Vietnam Railways. You often can't find the cheaper hard/soft seater tickets available on third-party websites as they are not a popular choice for travelers. So, if you are on a budget you can book direct with Vietnam Railways. You will find the tickets are slightly cheaper when you purchase direct.
---
Buy Tickets Online
You can purchase tickets online. It is a bit confusing as some websites still say you need to print out to ticket and swap it with a proper one at the train station. Though no one wants to do this! I ended up booking with Baolau. Their website said I didn't need to print off my ticket and instead just show my ticket on my phone to the attendant on the train. This is what I did and didn't have any issues with.
---
What Berth To Book
There is a variety of seating or berths you can book on the trains. Be aware that even though you may book the same class twice it doesn't necessarily mean they will be the same. Quite a few trains have been refurbished in recent years making them a lot more comfortable.
Hard Sleeper Or Soft Sleeper: The majority of traveling will choose a soft sleeper when taking long journeys in Vietnam. This is definitely the most comfortable way to travel. Also, it is the safest with a smaller amount of people around you. The only difference between the hard sleeper and soft sleeper berths is the number of people you will be sharing with. A hard sleeper sleeps 6 people whereas a soft sleeper sleeps, 4 people. So contrary to the name you won't be sleeping on a hard surface. You will just have less headroom if you are wanting to sit upright.
Lower or Upper Berth: The appeal of the lower berth is simply that it is a lot easier to get into. There is no climbing an awkward ladder, trying not to fall off while the train moves. The lower ones are also generally slightly bigger as they are permanent fixtures. The upper berth is a lot more private! Just be aware you may also have the air conditioning blowing straight onto you so bring an extra jacket on board to keep warm!
Hard Seat Or Soft Seat: The seats are the cheapest you will find, with a hard seat being one of the cheapest options available. This is good for shorter journeys, though I would think twice before booking one for the long journey such as between Hanoi and Hue.
Top tip: If you book your train via Baolau you can pick in advance whether you want a lower or upper berth.
---
My Experience Taking The Train From Hue To Da Nang
For our second train journey in Vietnam, we would be traveling from Hue to Da Nang. It is an easy 2 and a half hour or so train journey, and supposedly with some epic views along the way. Our train would depart at 10.59am and arrive at 1.37pm. This is the SE1 train, one which was recently refurbished so we were excited to have a look inside.
We decided to book a soft sleeper for the journey. Tickets were not that expensive and we quite enjoyed the privacy of only having to share a berth with a couple of other people.
The train station in Hue was only a 15-minute walk away from our accommodation. So under the heat of the morning sun, we made our way there with backpacks on our backs. Soon enough we found our way and sat in the main area with other travelers, both foreign and domestic, as we waited for the train to arrive.
The doors opened when the train was nearby, indicating we could now go and wait by the tracks. On the ground were markings where you expect the different carriages to arrive. We walked down past the food vendors to where our berth was meant to arrive. Shortly afterward the train pulls in and we wait for people to get out before entering the carriage and finding our cabin.
Now this train travels from Hanoi to Ho Chi Minh, right down the length of the country. This means the cabins and only cleaned at the start and end. Between this is a continuously rolling of passengers, so when hopping on halfway it is common that you may find your bed has already been slept in. Luckily, we were not too worried about this as it was only a couple of hour's journey, so we didn't plan to sleep.
Soon enough the train begins making its way down the track again. Unfortunately, I notice the windows are quite dirty. So much for the epic coastal views, I have planned to photograph along the way. The first couple of hours or so is quite uneventful as we make our way past small towns and through cities.
Once we make it to the ocean cliffs are when the views truly do get epic. It is a bit of an overcast and cloudy day, but I imagine when the sun is shinning the beaches would be glistening and the water would be beautifully blue.
From here it isn't too long until we arrive in the city of Da Nang. Though this isn't my final stop of the day. Instead, I would need to then travel from Da Nang to Hoi An. A beautiful, and very touristic town, which is famous for its old quarter.
---
Hue Train Station
The train station in Hue is within walking distance of the main town. It is located on Bui Thi Xuan street, only about 1 km from the city center. For us, it took maybe another 20 minutes to walk from our accommodation past all the busy streets and the hospital.
The train station here is pretty small. Though I guess that just means you cannot get lost. There will also be plenty of taxis waiting around if you are needing a ride and if you are not needing one you will get plenty of offers anyway.
---
Da Nang Train Station
Da Nang Train Station is again, smack bang in the middle of the city. It is a pretty small train station as well, meaning it is near impossible to get lost. There will also be plenty of taxis waiting around if you are needing a ride and if you are not needing one you will get plenty of offers anyway.
You will find it along Hai Phong street, nestled deep within the city life of Da Nang. There are plenty of accommodation options nearby the train station which means if you are taking an early or late trip you won't be far away. We stayed in a cute little hostel which was about a 10-minute walk away.
---
Fly From Hue To Da Nang
If you don't want to travel overland, then you could look at taking a flight from Hue To Da Nang. Unfortunately, you will find there are no direct flights from Hue Airport to Da Nang Airport.
This means you will need to take two separate flights from Hue To Da Nang. These will be to either Hanoi or Ho Chi Minh, where you will then take need to take another flight to Da Nang. Luckily Vietnam has plenty of budget airlines. Seriously flights can be found for as little as $30.00. There are also around 7 flights daily from Hue to Hanoi and then from Hanoi to Da Nang, so you will be spoilt for choice.
Just remember you generally need to book flights further out to get a good price. This means less flexibility in your travels as you will through your entire itinerary off if you spend a few extra days somewhere. Vietjet Air is the cheapest and most suitable airline operating this route.
Depending on how long your wait is between flights you may find it a quicker, and a lot more affordable option, to take the train or bus.
Flights can be booked at 12.Go Asia or over on Skyscanner.
---
Motorbike From Hue To Da Nang
Renting a motorbike is another great choice for traveling from Hue to Da Nang. This will allow you to check out the Hai Van Pass at your own pace. There are plenty of places to rent a motorbike from in Hue so you will have no problem finding a shop. Just make sure to do your research and use a well-rated company. You can expect the rental to cost around $10.00 per day.
Ideally, you will want to find a company that has stores in both locations so you don't need to worry about bringing the motorbike back, as that will essentially defeat the whole purpose. Though this is a common thing to do in Hue and Da Nang so you shouldn't have any issues.
Just be aware there are certain requirements to legally ride a motorbike in Vietnam. This means that if you are pulled over by the police and you do not provide the correct documents they will no doubt ask you for a decent bribe. Also, it is very likely your travel insurance won't cover you since you aren't legally allowed to ride there. This means if you get in an accident or damage the motorbike, they won't payout.
So what exactly do you need to legally ride a motorbike in Vietnam? This is an International Drivers Permit with a motorbike endorsement. In saying this 99% of travelers riding in Vietnam do not have this and instead just bribe officials if they are pulled over.
View this post on Instagram
---
FAQ's About Traveling Hue To Da Nang
How many days to spend in Da Nang? Depending on what you plan to do in Da Nang will affect how long your want to spend there. Personally, I would stay 2 full days in the main city of Da Nang, but then do another 4 or so days in the nearby city of Hoi An.
How far in advance do I need to book tickets? It is recommended you book tickets in advance to ensure you can travel with a reputable, clean and safe company. You should try for at least a week in advance to be safe. Though if you are not worried about this then you can probably just book the day before.
Booking through Baolau or 12.Go Asia is perfect for over those busy periods as you can book when you haven't even arrived in the country yet! This means you can relax knowing all the planning is taken care of.
This advice isn't valid during the high season between November to January, weekends, and especially on the Vietnamese New Year (Tet). During these times you will want to book at least 4 weeks in advance and expect a very full bus, train, or flight.
---
Where To Stay In Da Nang?
You will have plenty of choices when deciding where to stay. Whether you are a digital nomad and looking to live in Da Nang for a while or simply visiting on a holiday, whatever your budget or the type of traveler you are there is something to fit all needs. Whether you want an affordable hostel, welcoming guesthouse, or luxury hotel.
A stylish Boutique hotel stay. Prices start from $15.00 per night including breakfast.

BOOK NOW

Enjoy rooftop pool views and beachside living in a hotel with all the amenities. Starting from $70.00 per night.

BOOK NOW

A beautiful dorm bed will be your own private oasis with curtains. Starting from $5.00 per night.

BOOK NOW

In the heart of the city with excellent rooftop views. Prices start at $7.00 per night for a dorm bed.

BOOK NOW
---
Things To Do In Da Nang
Da Nang is a bustling city with plenty of attractions, as well as being the gateway to the popular tourist stay of Hoi An. There are so many things to do here that will keep you busy throughout your stay.
Hoi An: Hoi An is an absolutely beautiful area and is very popular with locals or tourists alike. From the UNESCO city to the beach and laid-back country life, it seems to have it all!
My Son Sanctuary: Located in a rainforest-like setting, the amazing complex of the My Son Sanctuary is certainly a highlight. It will transport you from the busy Vietnam city life to a Jurassic park setting rich in history. The grounds are a UNESCO world heritage site and it is marketed as the Angkor Wat of Vietnam.
Marble Mountain: The Marble Mountains is actually the name for five separate hills made of limestone and that is also mixed with smooth marble. They sit some 9 kilometers outside of Da Nang and are known for their Buddhist pagodas and shrines which are dedicated to various local gods. You can walk up using a long set of steps cut into the mountainside and take in all the best views over the countryside.
Ba Na Hills: At the summit of the Ba Na Hills you will find spectacular views that stretch as far as the sea. You can take a cable car to the top if you are feeling lazy as well. There is also the Ba Na Hill Fantasy Park which has a range of entertainment zones as well as a wax museum that has models of famous celebrities.
Dragon Bridge Show: The main attraction in the center of Da Nang is undoubtedly the large Dragon Bridge which stretches over an ominous 666 meters and has the claim to fame of being the longest bridge of its kind in the country. Every Saturday and Sunday at 9 pm you can walk down to the waterfront and watch a show which lights up the bridge and the dragon even spits out fire and water from its mouth.
Beach Day: There are plenty of incredible beaches in Da Nang that you need to check out during your stay. One of the most beautiful beaches in Vietnam is called My Khe Beach. It stretches 20 miles along the eastern coastline of Da Nang and is the perfect place to relax and have a beach day. Right alongside the city of Da Nang you can find Pham Van Dong Beach. With white sand and blue lapping waves, it has become a popular filming location in Vietnam.
---
LIKE IT? PIN IT!
---
Want more Vietnam Inspiration? Check out….
---
Disclaimer: This post contains affiliate links. So, if you click on it and purchase something, I get a small percentage at no extra cost to you. As always all opinions are my own and your support is much appreciated.
Related Posts
Share Tweet Pin Come and check out my favorite 2 days in Mui Ne itinerary [...]
4 Comments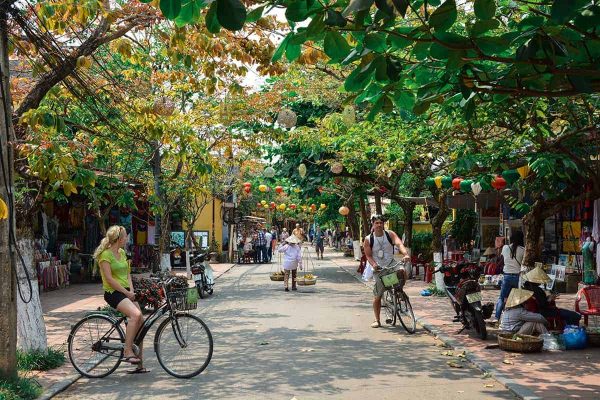 Come find out all you need to know about backpacking Hoi An to have the [...]
Exploring My Son Sanctuary In Hoi An, Vietnam Located in a rain forest like setting, [...]
41 Comments