Come check out crystal clear waters by exploring the best beaches in Nha Trang. Beach hopping the coast is a must while in this city during your Vietnam travels.
I will let you know my favorite beaches, the best snorkeling beaches in Nha Trang, how to get there, where to stay, and more, with this guide, you'll be sorted!
---
Ready to go beach hopping in some of the most incredible swimming spots there are in Vietnam? Perfect. Get yourself ready for white sand, sunny days, and lapping waves.
The beaches in Nha Trang are next level and some of the best in Vietnam. If you happen to be in the city it is well worth planning a day to do a bit of beach hopping.
Though as anywhere there are certainly best places to swim and hang out than others. Whether you are looking to beat the crowds with your own secluded paradise or simply want to enjoy your holiday hanging at a beachside bar. There are all these and more other options when it comes to beaches in Nha Trang.
During my Nha Trang itinerary, we were lucky enough to have perfect weather, ideal for exploring the coastal surroundings. When even managed to head out to some of the islands off the coast to check out the best snorkeling in Nha Trang.
Taxis or Grab are cheap enough or perhaps you want to hire a motorbike to get around. There are numerous options that make traveling to these beaches super accessible. There are also some great spots a short walk away from the city center!
Get ready for blue seas, white sand, and gorgeous views as I list the best beaches in Nha Trang that you need to see on your visit!
---
The 8 Best Beaches In Nha Trang You Need To Visit
---
1. Nha Trang Beach
No doubt one of the most popular beaches in Nha Trang is Nha Trang Beach. This is right in the city center making it super accessible to those staying central by just being a short walk away.
Nha Trang Beach stretches out 6 kilometers and runs alongside the city center. Some parts are next door to the roadside and others are separated by large park spaces (though this part is known as Tran Phu Beach).
Being one of the most popular beaches in Nha Trang you can find plenty of things to do and eat here. Whether you want to grab yourself a sunchair for the day for just a couple of dollars, enjoy a beer under the hot sun, or dip your toes in the water.
For those more adventurous you can even go flyboarding, parasailing, windsurfing, and canoeing!
Be aware as this beach is directly looking out to sea it can be quite wavy on the shoreline. This is fine for strong swimmers, though be careful if you are traveling with young kids as they could easily get knocked over.
Also, this isn't a great beach to snorkel at due to the strong waves kicking up the sand and making visibility poor. Though it still is an awesome spot to refresh and splash about.
Distance From Nha Trang City Centre: 0km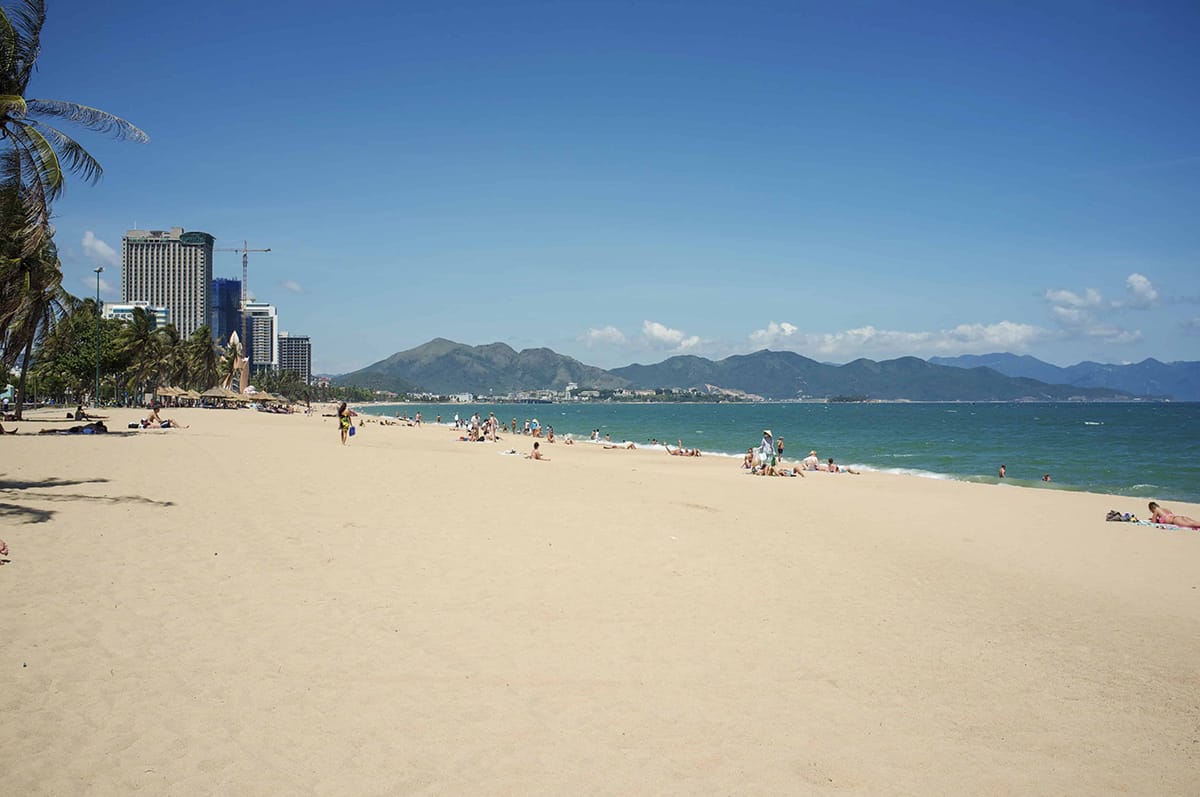 ---
2. Tran Phu Beach
As stated above Tran Phu Beach is a smaller section of Nha Trang Beach. This means it is also super accessible if you are staying within the city center.
Tran Phu Beach backs onto Tran Phu Park creating a nice separation from the city center when you are frolicking around in your swimmers, as some parts of Nha Trang Beach back directly onto the roadside.
In the park, there are plenty of spots to relax in grassy areas and pick up some street food or fresh fruit.
Here you can also find plenty of vendors with sunchairs that you can hire out for just a couple of dollars. This is what we did and was a great way to spend a couple of hours during the middle of the day. A lot of these vendors will also have a little beach bar where you can buy drinks and snacks as well.
Again I would not recommend snorkeling at this beach due to poor visibility. Though I will let you know about some great snorkeling spots further down.
Distance From Nha Trang City Centre: 0km
---
3. Hon Chong Beach
Another popular spot just outside of the city center of Nha Trang is called Hon Chong Beach. It is about a 5-minute drive from the popular Po Nagar Cham Towers, so you can easily visit here afterward.
This is a pristine beach that does not have the huge amount of crowds you find closer to the city center. There is a small selection of coffee shops and seafood restaurants nearby, though it is not as busy as the main city center.
One of the most popular things to do here is to check out the stacked rocks on the right-hand side of the beach. These rocks have created a small peninsula out to sea and an excellent viewpoint.
From here you can look back towards the city center skyscrapers standing high over the sandy beach. Be aware that you may need to pay a guard a small amount of money to pass him and climb onto the rocks.
Most people seem to report paying 22,000 VND / $1.00, though being unofficial, there is no set rate.
From these rocks, you are also able to see Hon Do, also known as Red Island, which has a Buddhist temple on a hilltop, as well as Hon Rua, or Tortoise Island.
Distance From Nha Trang City Centre: 5km
---
4. Bai Dai Beach
Bai Dai Beach makes an excellent day trip and is one of the best beaches in Nha Trang. This is well known as one of the best beautiful beaches in the region. Think calm lapping waves, perfect white sand, and a palm tree shoreline.
There is a really nice relaxed and serene atmosphere on Bai Dai Beach. It has become pretty popular over the years thanks to the backpackers who enjoy visiting for a day trip creating a hippy-like vibe.
Here you can entertain yourself by swimming, playing volleyball or soccer or simply just relaxing on the beach. There are also plenty of spots to eat and drink nearby so you won't be going hungry!
There are plenty of hotels around if you are interested in staying nearby. If you can afford it I certainly do recommend doing so for at least one night. Though if you are a budget backpacker looking for an affordable beachside stay read on.
Distance From Nha Trang City Centre: 30km
---
5. Bai Tru Beach
Bai Tru Beach is located on Hon Tre Island in Vinh Nguyen Ward. This is no doubt one of the most beautiful beaches in Nha Trang, and bonus it is on a beautiful island. The swimming conditions are usually perfect here as it does not face out to sea like the beaches on the mainland.
Instead, the waves are minimal and there is barely any wind. The perfect conditions for a beach day and the best weather are generally found between February to May.
This is the ideal spot to have a break from all the hustle and bustle of the city. Here you can swim, snorkel, sunbathe, go fishing, and hike the beaches around the island.
The entry fee to Bai Tru Beach is quite pricey being 1,100,000 VND / $48.00, and no that is not a typo. Though this includes speedboat or cable transfer, access to Vinpearl amusement park, pools, and a buffet beach.
I highly recommend if you plan on visiting and forking out for the entry fee that you head over in the morning and spend your entire day on Hon Tre Island exploring all it, and what Vinpearl has to offer.
Entry Fee: 1,100,000 VND / $48.00
Distance From Nha Trang City Centre: 13km
View this post on Instagram
---
6. Doc Let Beach
Another excellent beach in Nha Trang is called Doc Let. Unfortunately, it is not super close to the city center, so you will need to take some sort of transport in order to get there.
If you are on a budget then you can take the public bus to Doc Let via Ninh Hoa, or simply just take a taxi for about $40.00. Though for the best rates I recommend booking a Grab taxi.
It is certainly worth making the trip out here to Doc Let Beach. Here you will find a serene and calm beach with minimal waves so it is a super safe place to swim if you have young children. It is also relatively shallow here making it the perfect spot to simply relax.
There are lots of things to do here on the beach such as windsurfing, parachuting, or water skiing. This is also a fabulous spot to go snorkeling in Nha Trang. The quiet lagoon means it has not been damaged by hoards of tourists and the reef life here is abundant.
Distance From Nha Trang City Centre: 40km
---
7. Hon Tam Beach
The beaches around Hon Tam Island are well worth visiting while checking out the best beaches in Nha Trang. This place has been voted as one of the most beautiful bays in the world and won plenty of awards.
Here you will find beautiful beaches and beautiful wilderness. You will be able to partake in activities such as volleyball, flyboarding, water moto, free mini-golf, pearl diving, underwater walking, or scuba diving.
Though you will need to stay in a hotel on Hon Tam Beach to access this incredible place. I recommend checking out MerPerle Hon Tam Resort for affordable prices in absolute paradise.
Distance From Nha Trang City Centre: 7km via boat
---
8. Snorkeling Tour At Hon Mun Marine Protected Area
Lastly, not so much one of the best beaches, but one of the best snorkeling in Nha Trang can be found within Hon Mun Marine Protected Area. I went on a snorkeling tour during my stay and it was one of the best things I did in the city.
The Hon Mun Marine Protected Area stretches out over 12,00 hectares of an official marine reserve. This means people are not able to fish here and underwater life is protected from any construction.
It is the perfect place for both diving and snorkeling in Nha Trang as the water is not too deep meaning it is a great place for people of all expertise.
We were lucky enough to visit three different snorkeling spots. At the first site the boat anchored about 15 meters from the steep cliffside and there was excellent visibility.
The second snorkeling site we visited was quite choppy and the water here was fairly deep as well so with less than okay visibility and a difficult current to swim against.
The last snorkeling site for the day is in the most shallow waters. Here the current glides you between the rocks that the coral calls home. It's the perfect opportunity to get up and close to the many sea creatures.
Distance From Nha Trang City Centre: 7km via boat
---
What To Pack When Visiting The Best Beaches In Nah Trang
There are some things it's best to take along with you while checking out the best beaches in Nha Trang to make the most out of your experience:
Camera: Of course, you can't forget the camera. You will want this when you are visiting these picturesque spots.
Go Pro: For sure bring along your Go Pro if you have one. The underwater world here is pretty damn good.
Towel: Bring along your towel! Even bring two! You'll be in and out of the water all day and it's likely your towel won't completely dry properly between swims.
Money: You will no doubt either need a little bit of money for the taxi journey to the beach or to hire a beach chair while you are there.
Sunblock: Let's avoid looking like a lobster and bring a reef-safe sunblock along with you!
Sunglasses: It'll definitely be worth bringing sunglasses along with you. The sun shining off the sea can be super bright so protect your eyes by bringing along a pair of sunglasses.
---
Where To Stay In Nha Trang?
There are heaps of options for where to stay in Nha Trang. Whether that is a hotel in the city, a cheap guesthouse, a beach resort, or a seaside hostel a little bit further out of town, there is something here for everyone.
We actually stayed at two different places while we were in Nha Trang. This was simply because we decided to extend our stay and there were quite a few affordable guesthouses in the area so it cost us the same price as a hostel to book a private room.
The first few days of our stay in Nha Trang we stayed at a hostel called Tabalo Hostel. We then managed to find a cheap spot for $10.00 per night ($5.00 each!) at Forget Me Not Hotel. This was everything you could want for such an affordable price.
Nha Trang also has an incredible amount of quite nice fancy beachside resorts. Unfortunately, this wasn't in my budget, and if you're reading this backpacking guide it's unlikely to be in yours.
Find the best hotels in the area
---
Other Things To Do While In Nha Trang
Even if you are not keen to go beach hopping there is still an assortment of fun and exciting things to do here in this bustling seaside city.
Po Nagar Cham Towers: The Po Nagar Cham Towers is one of the most popular sights of Nha Trang and is still an active site for worship by Cham, Vietnamese Buddhists, and Chinese people. The Cham people are an important part of the Vietnamese culture as one of the ethnic minorities in the country.
Night Market: You will find that the walking street and night market at 46 Tran Phu Street is certainly the most popular of the lot. Here you can play tourist and do a spot of shopping for some cute souvenirs.
Rooftop Bar: Make sure to check out one of the best bars in Nha Trang, Altitude Rooftop Bar. When you arrive at the bar you will be blown away by the impressive view overlooking the sea and city.
Vinpearl: Why not visit the crazy Vinpearl at VinWonders, an amusement park. No doubt you would have seen this place from the beaches in Nha Trang. The Hollywood-like sign does make it quite hard to miss. Enjoy your time with shows, rides, a zoo, an aquarium, gardens, and even a large water park area.
Ba Ho and Fairy Spring Waterfalls: Ba Ho is made up of a series of three falls and is located around an hour outside of Nha Trang. Though it is well worth making the journey. Fairy Spring Waterfalls also is a great trip. Here you will find a large spring that fills a pool at the base of the falls.
Thap Ba Hot Springs and Mud Baths: Nha Trang is also known for its mud baths and Thap Ba Hot Springs and Mud Baths are one of the most popular places for this experience. The mud is said to have healing properties thanks to its high mineral content and people usually slather their skin with the mud and then lie down in the bath and let it work its magic.
Visit the Buddha: One of the main landmarks of Nha Trang is the large Buddha which sits on one of the hills overlooking the city. You can find it on the summit of a hill behind the Long Son Pagoda.
CHECK OUT MORE ACTIVITIES:
---
LIKE IT? PIN IT!
---
Want more Vietnam Inspiration?
Check out….
---
Disclaimer: This post contains affiliate links. So, if you click on it and purchase something, I get a small percentage at no extra cost to you. As always all opinions are my own and your support is much appreciated.
Photo credit: "Hon Chong Beach" (CC BY 2.0) by Le Ngoc Long . "Bai Dai Beach" (CC BY 2.0) by Mulaohu . "Doc Let Beach" (CC BY 2.0) by Ben . "Nha Trang" & "Nha Trang" (CC BY 2.0) by Aleksandr Zykov .
Related Posts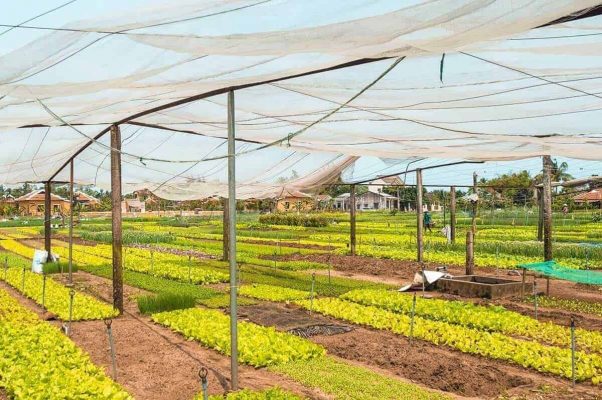 Find out about visiting Tra Que Vegetable Village located in Hoi An, Vietnam. Learn about [...]
1 Comment
Top Things To Do In Hoi An & Attractions In Hoi An Hoi An is [...]
32 Comments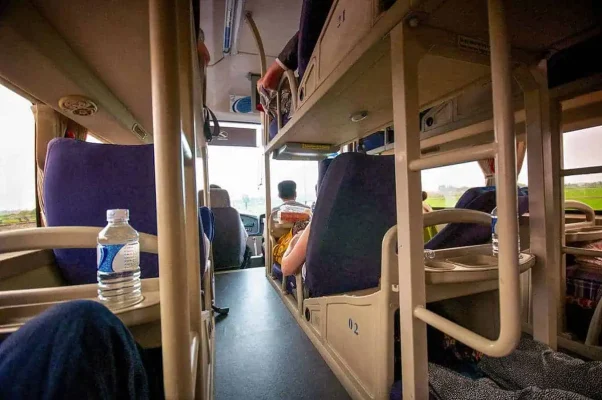 Find out all about taking a Vietnam sleeper bus. Let's talk about whether it is [...]
7 Comments