Traveling from Hanoi to Hue is a common route for most travelers in Vietnam. Hue is home to the impressive Imperial City which is a popular UNESCO World Heritage Site I highly recommend checking out while you are exploring this amazing country. Whether you want to get there by plane, bus or train I will let you know how to book, prices, and more!
---
No doubt you will find yourself in Hanoi at some point during your trip to Vietnam. This is the main tourist hub with an international airport providing the perfect arrival or departure point into the country. Traveling south many people find themselves going on an overnight journey from Hanoi to Hue. Hue is quite different from the bustling city of Hanoi. Though no doubt the main drawcard is the Imperial City of Hue.
Hue was the city I visited after heading out of Hanoi. I saw many itineraries listed as a must-see and I quickly found out why. Hanoi allowed for an easy and simple starting point to travel thanks to its great connections. Luckily it is super easy to get around Vietnam and Hanoi will connect you with not just the rest of Vietnam, but the majority of Asia as well. This international hub commonly finds its way onto many backpacker itineraries thanks to cheap flights. Whether you are wanting to travel to Northern or Southern Vietnam, Laos, Cambodia, Malaysia, or Thailand it will only be a short flight away.
Though getting from Hanoi to Hue can, unfortunately, take quite a bit of time. This is simply due to them being a considerable distance apart. Luckily there are plenty of options for how to travel. Though how do you know which one is best and the most economical on the wallet?
I will let you know everything you need to know about traveling from Hanoi to Hue such as whether to bus, plane, minivan, taxi, or train, prices, how to book tickets, departure times, and more!
| | | | |
| --- | --- | --- | --- |
| | Time | Cost | Highlight |
| Train | 14 hours | from $40 | Comfortable journey |
| Luxury Train | 14 hours | from $60 | Super comfortable journey |
| Bus | 12 hours | from $13 | The cheapest way to travel |
| Tourist Bus | 13 hours | from $14 | More comfortable than the regular bus |
| Plane | 1 hour | from $35 | The fastest way to travel |
---
How To Get From Hanoi To Hue: All Transport Options Explained
---
Hanoi To Hue Distance
Whether you decide to travel to Hue via road or rail, the distance will be around the same. The two options follow a similar route down to Hue being around 700 kilometers between Hanoi and Hue. You will find though that the road typically hugs the coastline whereas the train heads a bit further inland during the journey.  On the plane, the journey covers around 600 kilometers.
The main thing which will sway you to towards one of the options of either bus, train or plane will consist of budget, length of time and comfort factor.
---
Hanoi To Hue Travel Time
Bus: The trip from Hanoi to Hue takes approximately 12 to 13 hours.
Plane: It takes approximately 1 hour to travel from Hanoi to Hue on a plane.
Train: from Hanoi to Hue takes 14 hours to complete your journey. Even though this is the longest choice it certainly is the most comfortable if you happen to book a soft sleeper so it isn't all bad!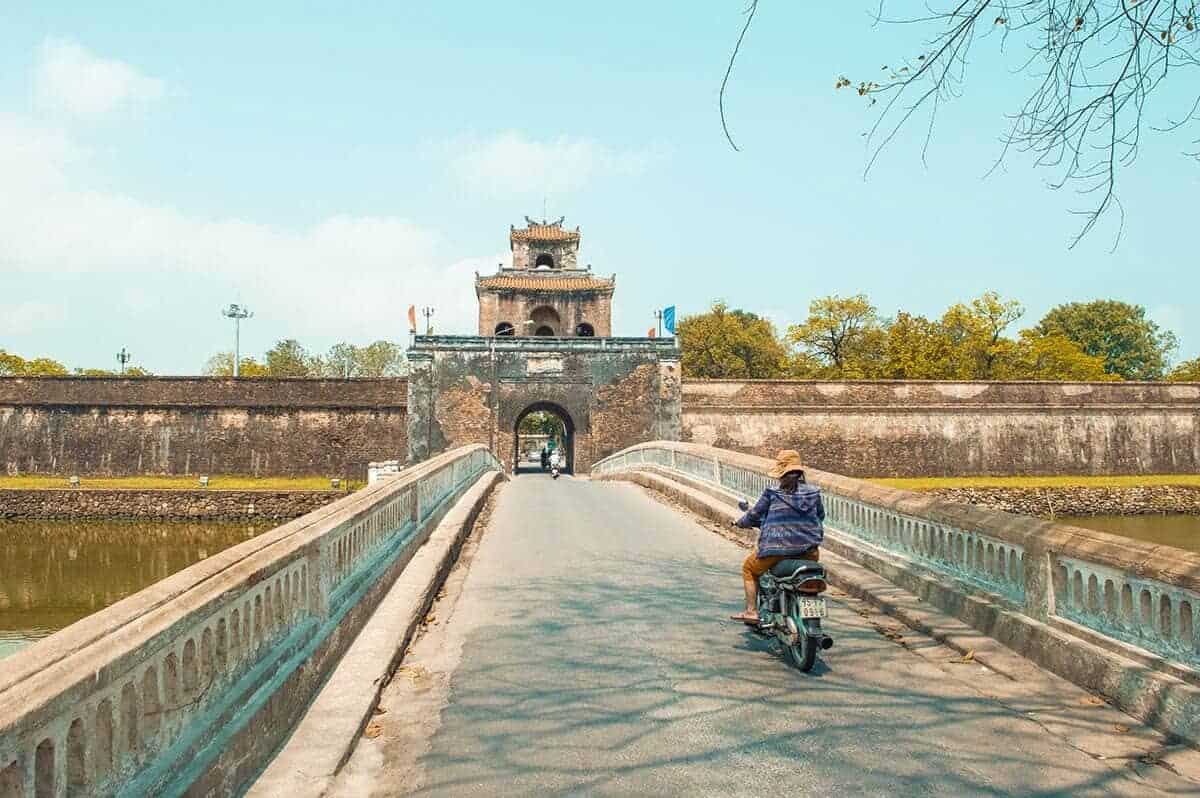 ---
Train From Hanoi To Hue
Taking the train is my absolute favorite way to see Vietnam. There always seems to be incredible countryside or coastal views out the window. I have actually taken the train completely from North to South.
Though being at night is it worth taking the train from Hanoi to Hue? Especially when there are cheaper options that will actually have views?
---
What Is The Regular Train Like
Now before we get too involved in learning about taking the train from Hanoi to Hue you need to know there are two different types of trains you can book. This is either the regular train or a luxury train.
The regular train is operated by Vietnam Railways. This is where you will find the majority of more affordable tickets. They have the option of hard or soft sleeper berths, as well as hard or soft seats. Currently, they operate this journey multiple times per day, with the SE3, SE19, SE1, SE7, SE5, and SE9 trains. Though they all depart at a different time so make sure to research which will be best for you.
If you decide to book the regular train I highly recommend booking a 4-berth soft sleeper cabin over a 6-berth hard sleeper. This is simply because the 4-berths are a lot more comfortable with more headroom, privacy, and thicker mattresses.
I have used the standard trains operated by Vietnam Railways throughout the country and honestly have not had any issues. Though I certainly have heard of some horror stories *bugs*. Fortunately, I have been lucky enough to avoid this on my train travels in Vietnam.
---
What Is The Luxury Train Like
In contrast, the luxury train is a lot nicer than the regular train. There are a few options you have when booking a luxury train from Hanoi to Hue. These are either Livitrans, Lotus Trains, or Viollet Express. It is still an overnight journey. Though the main difference here is the amenities and facilities you are provided with onboard.
These trains are not actually their own individual trains. They actually operate on the Vietnam Railways Trains. Though what they have done is decked out a few of the carriages on board and increased the amenities you are provided.
You will find that your cabin is a lot nicer onboard with proper pillows, snacks, and free Wifi. You will also have access to the lounge at the train station for a more peaceful spot to relax and wait until boarding is ready. Of course, it costs a little more than the regular train, though the exact price difference depends on the operator you decide to book with.
---
Train Schedule From Hanoi To Hue
Below is the train schedule departing Hanoi and arriving in Hue. As you can see it really isn't too much more expensive for some of the luxury trains. Though in exchange you get a lot more amenities to make your overall journey a lot more comfortable.
Please be aware in the following table the price for the Vietnam Railways trains is starting at the cheapest point, aka for the seats. The luxury trains are always for the soft sleeper beds as that is all they offer.
| | | | |
| --- | --- | --- | --- |
| Train | Departure Time | Length | Price |
| SE3 (Vietnam Railways) | 19:25 | 13h | from $21.00 |
| SE19 (Vietnam Railways) | 20:00 | 13h 34m | from $19.00 |
| SE1 (Vietnam Railways) | 22:20 | 12h 27m | from $21.00 |
| SE7 (Vietnam Railways) | 06:00 | 13h 51m | from $20.00 |
| SE5 (Vietnam Railways) | 08:50 | 13h 33m | from $18.00 |
| SE9 (Vietnam Railways) | 14:25 | 14h 14m | from $17.00 |
| Livitrans | 19:25 | 13hr | from $65.00 |
| Violette Train | 19:25 | 13h | from $68.00 |
| Lotus Train | 22:20 | 12h 27m | from $54.00 |
---
How To Book Tickets From Hanoi To Hue
Nowadays it is a lot easier to buy tickets for the trains. Vietnam Railways accepts e-tickets as well, which prevents the common stress of freaking out wondering where you can print that ticket you just purchased online.
Though before we get too into that you will need to decide what type of ticket you would like to purchase. All of the trains operated by Vietnam Railways offer a variety of cabin choices so you can pick the perfect option for you:
SE1, and SE3: These are the best trains with air-conditioned 4 berth soft sleepers, air-conditioned 6 berth hard sleepers, and air-conditioned soft seats. SE3 was refurbished in 2015 and SE1 was refurbished in 2016. You will also find these trains offer privately run luxury sleeper beds by companies such as Livitrans and Violette.
SE5, and SE9: Onboard you will find air-conditioned 4 berth soft sleepers, air-conditioned 6 berth hard sleepers, air-conditioned soft seats, air-conditioned hard seats, and ordinary seats.
SE7: This train only runs at busy times such as Tet. Onboard you can find air-conditioned soft sleepers, air-conditioned hard sleepers, and air-conditioned soft seats.
SE19: Onboard you will find air-conditioned soft sleepers, air-conditioned hard sleepers, air-conditioned soft seats, air-conditioned hard seats, and ordinary hard seats.
---
Buy Tickets Online
You can purchase tickets online. It is a bit confusing as some websites still say you need to print out to ticket and swap it with a proper one at the train station. Though no one wants to do this! I ended up booking with Baolau. Their website said I didn't need to print off my ticket and instead just show my ticket on my phone to the attendant on the train. This is what I did and didn't have any issues with.
---
Buy Tickets From Vietnam Railways
Another option is buying your tickets directly at Vietnam Railways. You often can't find the cheaper hard/soft seater tickets available on third-party websites as they are not a popular choice for travelers. So, if you are on a budget you can book direct with Vietnam Railways. You will find the tickets are slightly cheaper when you purchase direct.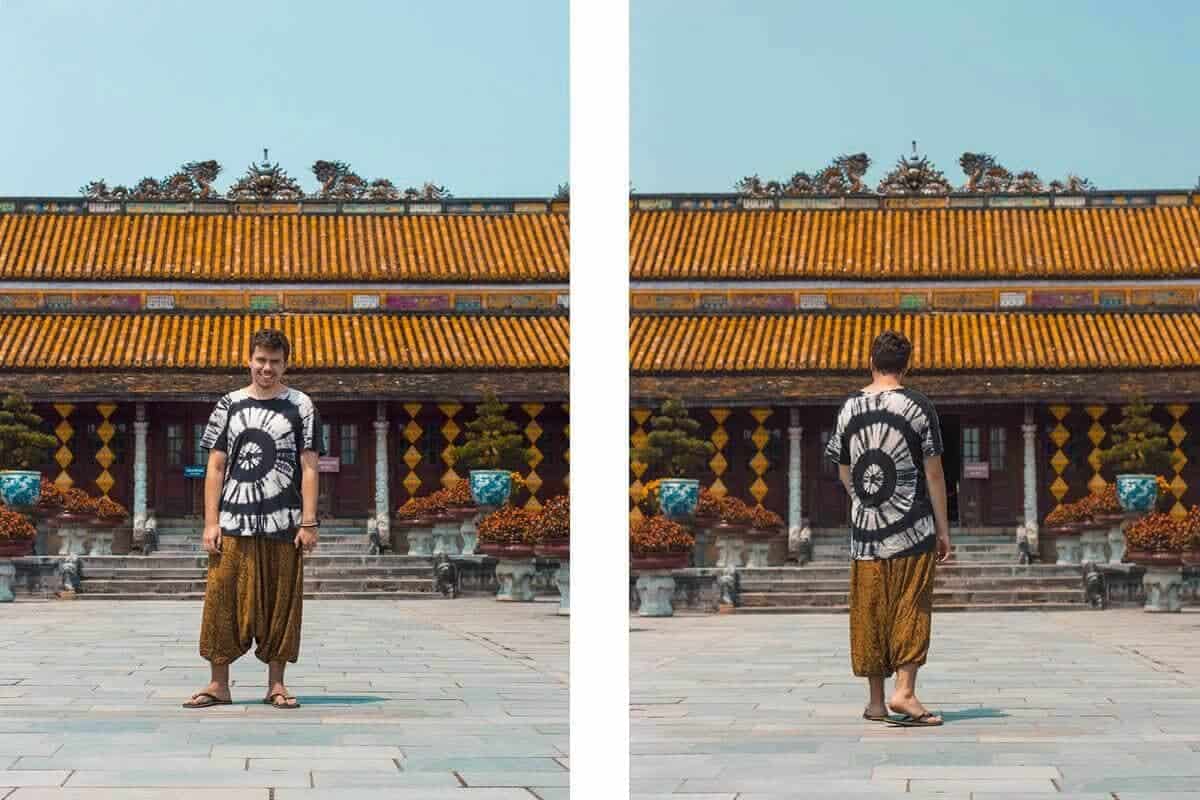 ---
What Berth To Book
There is an assortment of seating or berths you can book on the trains. Be aware that even though you may book the same class twice it doesn't necessarily mean they will be the same. Quite a few trains have been refurbished in recent years making them a lot more comfortable. Though this isn't the case with all of the trains.
Hard Seat Or Soft Seat: The seats are the cheapest you will find, with a hard seat being one of the cheapest options available. This is good for shorter journeys, though I would think twice before booking one for the long journey between Hanoi and Hue.
Hard Sleeper Or Soft Sleeper: The majority of traveling will choose a soft sleeper when taking long journeys in Vietnam. This is definitely the most comfortable way to travel. Also, it is the safest with a smaller amount of people around you. The only difference between the hard sleeper and soft sleeper berths is the number of people you will be sharing with. A hard sleeper sleeps 6 people whereas a soft sleeper sleeps, 4 people. So contrary to the name you won't be sleeping on a hard surface. You will just have less headroom if you are wanting to sit upright.
Lower or Upper Berth: The appeal of the lower berth is simply that it is a lot easier to get into. There is no climbing an awkward ladder, trying not to fall off while the train moves. The lower ones are also generally slightly bigger as they are permanent fixtures. The upper berth is a lot more private! Just be aware you may also have the air conditioning blowing straight onto you so bring an extra jacket on board to keep warm!
Top tip: If you book your train via Baolau you can pick in advance whether you want a lower or upper berth.
---
My Experience Taking The Train From Hanoi To Hue
The first leg of our journey would take us from Hanoi to Hue. A 14-hour ride, departing at 8pm and arriving at 10am. The Baolau website had a variety of options to choose from and you can even pick your seats on a lot of trains. We decided on a  four-berth soft sleeper, lower bunks, on train SE19 seeing as it would be a long journey which cost 720000 VND and a small booking fee.
The Hanoi Railway Station is located a twenty-minute or so walk away from the Old Quarter. So we strapped on our bags and began navigating our way. Soon enough we arrived and managed to figure our way to our train and carriage with no help whatsoever, super proud.
When arriving at the station on the lower level head straight through where there will be a sign displaying what gate the train is departing from. Once you have found that head up the escalator on the left to the second floor, then through the door on either side of the building. There should be electronic signs stating what carriages are in which direction and it is all quite easy to figure out.
Entering the carriage it was obvious it was not the most flash, but also it was not run down as all those horror stories I had previously read online made it sound. The four-berth cabin was simple, with basic wooden fixings, a small table, power sockets, and two lights. When we arrived our two cabinmates were already there.
The train departed at the exact minute and we soon fell asleep to the rocking movements. At approximately 10pm loud music started playing and a woman came over the loudspeaker stating we had arrived in Ninh Binh. It went quiet after that and we all fell back to sleep. Then, at 2am the noise started again having arrived in Vinh and our two cabinmates departed, leaving James and me by ourselves for the remaining 8 hours.
After that I fell asleep quickly, dreaming of trains and buses obviously caused by the rocking sensations. It was a really good sleep, likely the same amount I would have had at a hostel. I slept without earplugs or headphones and was only waken at the stations.
The bathrooms were kept clean throughout the trip, most visits were stocked with toilet paper. The only bathroom major was the smell once in there, but you will want to get out of there as quickly as possible anyway.
---
Hanoi Train Station
Hanoi has a few different train stations. Though don't stress about getting to the correct one as all trains to Hue depart from Hanoi Railway Station in Van Mieu. The is just an easy 20-minute walk or 10-minute taxi ride from the Old Quarter. I walked to catch the train and it is a pretty easy walk, even at night. Though I recommend using Google Maps or Maps.Me to avoid getting lost. If you do decide to taxi this will only set you back a couple of dollars.
Hanoi Railway Station is a huge building and can be a bit overwhelming. Just enter the main door and check the board for which platform your train departs. From there it is a mad and stressful run to ensure you don't get lost.
If you are traveling with Vietnam Railways on their SP1 or SP3 train then you don't need to check in on arrival. Just head straight to the train and show your e-ticket. If you are traveling on one of the luxury trains you will receive instructions when you receive your ticket.
---
Hue Train Station
The train station in Hue is luckily still within walking distance of the main town. It is located on Bui Thi Xuan street, only about 1 km from the city center. For us, it took maybe another 20 minutes to walk to your accommodation past all the busy streets and the hospital.
The train station here is pretty small. Though I guess that just means you cannot get lost. There will also be plenty of taxis waiting around if you are needing a ride and if you are not needing one you will get plenty of offers anyway.
---
Bus From Hanoi To Hue
If you are on a tighter budget or perhaps are not a fan of train travel then taking the bus from Hanoi to Hue may be the best option for you. This journey will take around 12 to 13 hours depending on how many stops are made and traffic. In all honesty, the journey isn't too bad especially if you book it overnight so you can sleeper the majority of the way. Just prepare yourself to get awoken every few hours for bathroom breaks.
As someone who has taken the sleeper buses in Vietnam, let me just say you pick your bus company carefully. Reputable companies on the Hanoi to Hue route include The Sinh Tourist and Hey Travel.
---
Bus vs Tourist Bus
Now let's get into the difference between the type of buses available, either a regular bus or a tourist bus. Your general regular bus is more to Vietnamese standards, which is fine if you know that is what you are booking. Though if not, you may be in for a sleepless surprise.
Anyway, I found your typical Vietnamese buses to just simply be a bit painful. The lay-flat seats were not tall enough for us westerners, it was far from clean, and if I was to spend more than a few hours in there my sanity would be questioned. The reason I ended up on such buses is that I let my accommodation book them. That means they just did whichever earned them a little bit of commission.
From there onwards we used The Sinh Tourist. Be aware there are plenty of fake websites and fake stores pretending to be this company. Luckily we didn't have a single issue with them. Their lay flat seats were even more comfortable being slightly longer for us tall foreigners. You do pay a premium to book with them.
Another good company is Hey Travel. Anyway just do your research in advance and book online through a platform like Baolau or 12.Go Asia where you can read reviews.
---
Sleeper vs Seater Bus
Now the unique thing about taking a bus in Vietnam is the impressive sleeper-style buses. These buses are honestly not like any I have seen elsewhere with three rows of chairs stacked two tall. Honestly, they looked super comfortable and I was excited. I thought this would be the easiest journey. Though I was wrong.
See I am tall. Sure I am not super tall, just reaching 180cm. Though I am tall enough where I need to awkwardly contort my body to fit my feet into those little boxes. Honestly, if you are less than 165cm you should be fine in the typical sleeper style bus, though any taller and it will be one uncomfortable journey. For the tourist style buses, 180cm is really how tall you should be to comfortably fit.
At the back of the buses is a huge lay flat area. Basically, imagine your large row on the back of the bus is converted into a huge bed. This is where they chucked the tall people.
---
Bus Schedule From Hanoi To Hue
Below is the bus schedule departing Hanoi and arriving in Hue. Be aware there are so many companies you can choose from and this is just a small selection of the best few.
Bus
Departure Times
Length
Price
Huang Thanh
18:30- 07:30
13h
from $13.00
The Sinh Tourist
18:00- 07:00
13h
from $14.00
Hoang Long
07:00- 19:30

13:00- 01:30

20:00- 08:30

21:30- 10:00

12h 30m
from $18.00
Queen Cafe
18:00- 07:30
13h 30m
from $13.00
Hey Travel
18:30- 06:50
12h 20m
from $16.00
As you can see the bus companies all cost a similar amount. Just because a bus company is more pricey doesn't necessarily mean the service will be good. My number one point when booking a bus company is to make sure you read reviews so you know what to expect!
---
How To Book Tickets
It is super easy to book the bus from Hanoi to Hue. Personally, I recommend booking it online via Baolau or 12.Go Asia. This is simply so you can read reviews rather than going through your accommodation or a travel agency. I had a bad experience doing the latter and would hate for you to do the same!
Anyway by booking with Baolau or 12.Go Asia you can see what other travelers have said about the journey with particular companies. Then you can just book your ticket through their website and they will email you a copy. It's super easy!
---
Where Does The Bus Drop You Off
Depending on which bus company you end up with booking will affect where you are dropped off in Hue. Though the majority do drop you off in the city center. Just be aware that depending on where your accommodation is located you may need to take a taxi or walk the rest of the distance.
Hey Travel: Arrives at 15 Duong Van An in the city center
The Sinh Tourist: Van An St in Hue City
---
Fly From Hanoi To Hue
If you aren't worried about traveling overland from Hanoi to Hue then perhaps taking a flight may be the best option for you. Flying is usually the more expensive way to travel between locations. Though thankfully Vietnam has plenty of budget airlines. Seriously flights can be found for as little as $30.00. There are also around 7 flights daily to Hue so you will be spoilt for choice. You will depart Noi Bai International Airport (HAN) in Hanoi for Phu Bai International Airport (HUI) in Hue.
Just remember you generally need to book flights further out to get a good price. This means less flexibility in your travels as you will through your entire itinerary off if you spend a few extra days somewhere. Vietjet Air is the cheapest and most suitable airline operating this route. Also, the taxi to the airport is generally around $20.00 so make sure to budget this into your flight tickets as well.
The major bonus of booking a flight is that it only takes 1 hour to travel from Hanoi to Hue. This means if you have limited time in Vietnam and want to make the most out of it then this may just be the best option for you.
Flights can be booked at 12.Go Asia or over on Skyscanner.
---
FAQ's About Traveling Hanoi To Hue
How many days to spend in Hue? Depending on what you plan to do in Hue will affect how long your want to spend there. Personally, I would stay 2 full days. The main thing to do here is visiting the Imperial City. Though after a big overland journey you will want to stay a little longer to recover.
How far in advance do I need to book tickets? It is recommended you book tickets in advance to ensure you can travel with a reputable, clean and safe company. You should try for at least a week in advance to be safe. Though if you are not worried about this then you can probably just book the day before.
Booking through Baolau or 12.Go Asia is perfect for over those busy periods as you can book when you haven't even arrived in the country yet! This means you can relax knowing all the planning is taken care of.
This advice isn't valid during the high season between November to January, weekends, and especially on the Vietnamese New Year (Tet). During these times you will want to book at least 4 weeks in advance and expect a very full bus, train, or flight.
---
Where To Stay In Hue?
When choosing where to stay in Hue you will be absolutely spoilt for choice. No matter your budget or the type of traveler you are there is something to fit all needs. Whether you want an affordable hostel, welcoming guesthouse or luxury hotel
A social hostel with a great vibe, and breakfast, it is well worth $5.00 per night.

BOOK NOW

A great and comfortable spot, from $6.00 per night including breakfast.

BOOK NOW

Beautiful private rooms from $15.00 per night and in the heart of the city.

BOOK NOW

Affordable rooms starting from $18.00 per night with breakfast.

BOOK NOW
---
Things To Do In Hue
Hue is a history lovers' paradise! There are so many things to do here that will keep you busy throughout your stay.
Imperial City of Hue:  The Imperial City of Hue is one of the most popular things to do in Hue. The Imperial was built in 1362 and in 1993 was recognized as a UNESCO World Heritage Site. Between these two periods of time, the walls of the city have witnessed a lot of history. It even served as the capital of Vietnam from 1802 to 1945 during the reign of the Nguyen dynasty.
Wander The Perfume River: A stroll along the Perfume River is the perfect way to relax after a busy day exploring Hue. There are many sights to see along the river and it is the perfect place to people watch. At night you will find local vendors opening stalls up to sell their goods.
Thien Mu Pagoda: Another popular thing to do while in Hue is checking out Thien Mu Pagoda. You can find it along the Perfume River approximately 4 kilometers from the main citadel in the city. This incredible 7 story pagoda is an icon of not only Hue but for Vietnam itself.
Hue Abonded Waterpark: One of the more popular and unusual tourist activities to do in Hue is visiting the Abandonded Waterpark. It was close to opening in 2004 after investors put around $3 million dollars into the project. Since then it has been left for nature to take over and is an incredible sight to see.
---
LIKE IT? PIN IT!
---
Want more Vietnam Inspiration? Check out….
---
Disclaimer: This post contains affiliate links. So, if you click on it and purchase something, I get a small percentage at no extra cost to you. As always all opinions are my own and your support is much appreciated.
Related Posts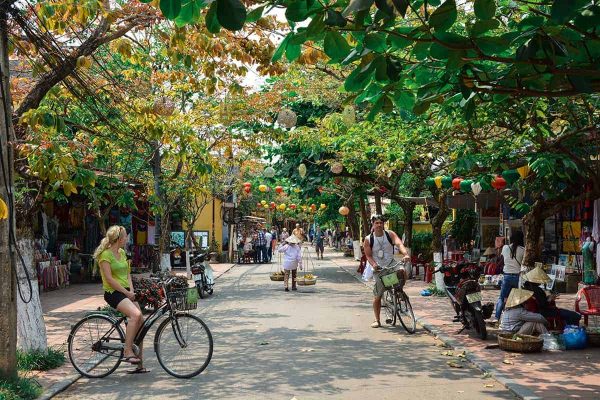 Come find out all you need to know about backpacking Hoi An to have the [...]
Find out all about taking a Vietnam sleeper train. Let's talk about whether it is [...]
16 Comments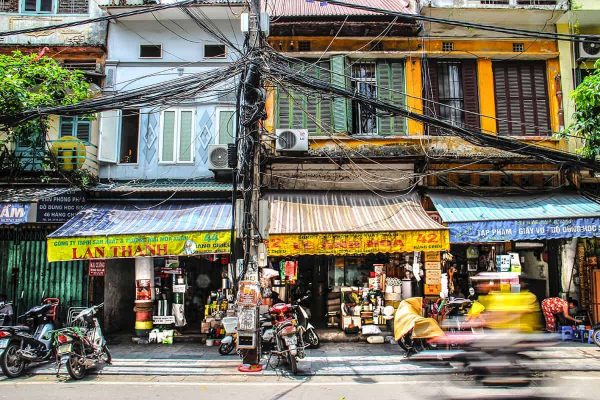 Planning on spending 3 days in Hanoi, but not sure what exactly to do, Come [...]