Exploring An Under Water  World With Vietnam Snorkeling…
Nha Trang no doubt is a tourist hub in Vietnam, with a lot more of a Western influence than other areas of the country. Most signs and menus are in Vietnamese or Russian, and unfortunately for me, I speak neither of these languages. This prompted me to jump online to search the generic 'what to do in Nha Trang', of course, the typical hire a beach chair, visit Vinpearl, came up. Though, what truly caught my eye was the chance to go snorkeling in Nha Trang.
A tour with Vietnam Snorkeling popped up, and after reading some reviews and seeing what my hostel said about it I decided to go ahead and book. Side note- book online as prices are generally cheaper than booking through your hostel as they will be earning a commission, this was the case for me anyway.
How I Book Cheap Transport In Vietnam: 12.Go Asia
---

Where To Go Snorkeling In Nha Trang?
Lucky for ocean lovers like me, Nha Trang has over 12,00 hectares of official marine reserve. This coral filled area is known as Hon Mun Marine Protected Area and is where you will visit if you are going snorkeling in Nha Trang.
It is the perfect place for both diving and snorkeling in Nha Trang as the water is not too deep meaning it is a great place for people of all expertise.
---
Where To Stay In Nha Trang?
Prices starting at $6.00 per night including breakfast in a four person dormitory room.

BOOK NOW

Vietnam Backpackers Hostel- Ninhvana

Beachfront and with a pool. Prices start at $10.00 per night in a dorm room.

BOOK NOW

Prices starting at $60.00 per night for a private double room including breakfast. The rooms at this property have an amazing city view!

BOOK NOW

Prices starting at $120.00 per night for a city view private room including breakfast, plus an amazing infinity pool overlooking the ocean.

BOOK NOW
What To Expect Snorkeling In Nha Trang?
The majority of diving and snorkeling in Nha Trang is done here in the Hon Mun Marine Protected Area. Its shallow waters are one of the best places for beginners in Vietnam. If you are visiting between April to October that is the best portion of the year for visibility and will have the largest variety of fish. Though, if you are looking at swimming with reef sharks, rays and turtles, you are unfortunately in the wrong place.
The underwater life of Nha Trang is limited to beautiful coral and equally beautiful small sea creatures. Get ready to see moray eels, butterfly fish, puffer fish and even lion fish!
My Experience With Vietnam Snorkeling
I choose to book my snorkeling in Nha Trang experience with Vietnam Snorkeling on the sole basis that there were not many options and they had an online booking system which made it super efficient to organize. We could have booked the tour through our hostel, but they were charging an extra $5.00+ per person for their commission, so make sure you do your research as it will change whether online prices or local prices are more affordable.

Hiccup In The Road
We were promptly picked up from our hostel by the staff of Vietnam Snorkeling and transferred to the port. We were the first van of tourist partaking in the Amazing Snorkeling tour to arrive, though after three vans pulled up and we jumped on board it was obvious it was going to be a squeeze. There was not enough seats for everyone and the staff seemed extremely apologetic. They told us that one of their boats had broken down and that they were trying to organize another boat to split the group into two.
Luckily, about half an hour into the trip we pull into a quiet bay lined with boats. The staff announce that half of the group would be heading onto the other boat. People volunteer and move on without any fuss. After that the while vibe on board gets a whole lot more relaxed and we are given the prep talks for the day.
Supposedly the weather today is a lot rougher than usual which is causing an unusual current. To keep everyone safe we would be visiting only certain sites while snorkeling in Nha Trang. This way nobody would be pulled to sea and no one will be smashed into the cliff sides.
The Lunch Provided By Vietnam Snorkeling
About half way through the snorkeling tour after the first stop we sat down while the crew at Vietnam Snorkel brought out lunch. Everyone was around one massive table and at least forty plates of food were placed in front of the fifteen of us. Everything from fresh seafood, rice, spring rolls, tofu and chicken. The Vietnamese know how to do food extremely well!
The Snorkeling Sites
We stopped off at three different spots when snorkeling in Nha Trang all varying in depth.
At the first site the boat anchored about 15 meters from the steep cliff side of an island while we geared up and jumped in. The visibility is excellent and I slowly doggy paddle away. A large assortment of fish and coral dot the seabed below me. The crew instruct us to follow the land around which is where the coral and underwater ecosystem is at its best.
The second snorkeling site we visit is quite choppy and is obviously being bashed by the wind. The water here is fairly deep as well so with less than okay visibility and a difficult current to swim against I head back to the boat pretty quickly.
The last snorkeling site for the day is in the most shallow waters. Here the current glides you between the rocks which the coral calls home. Its the perfect opportunity to get up and close with the many sea creatures. The sea urchins put me off a bit as I have a phobia of standing/ being stabbed in the ocean. Though, the clarity is some of the best here and I spend a decent amount of time playing with the GoPro.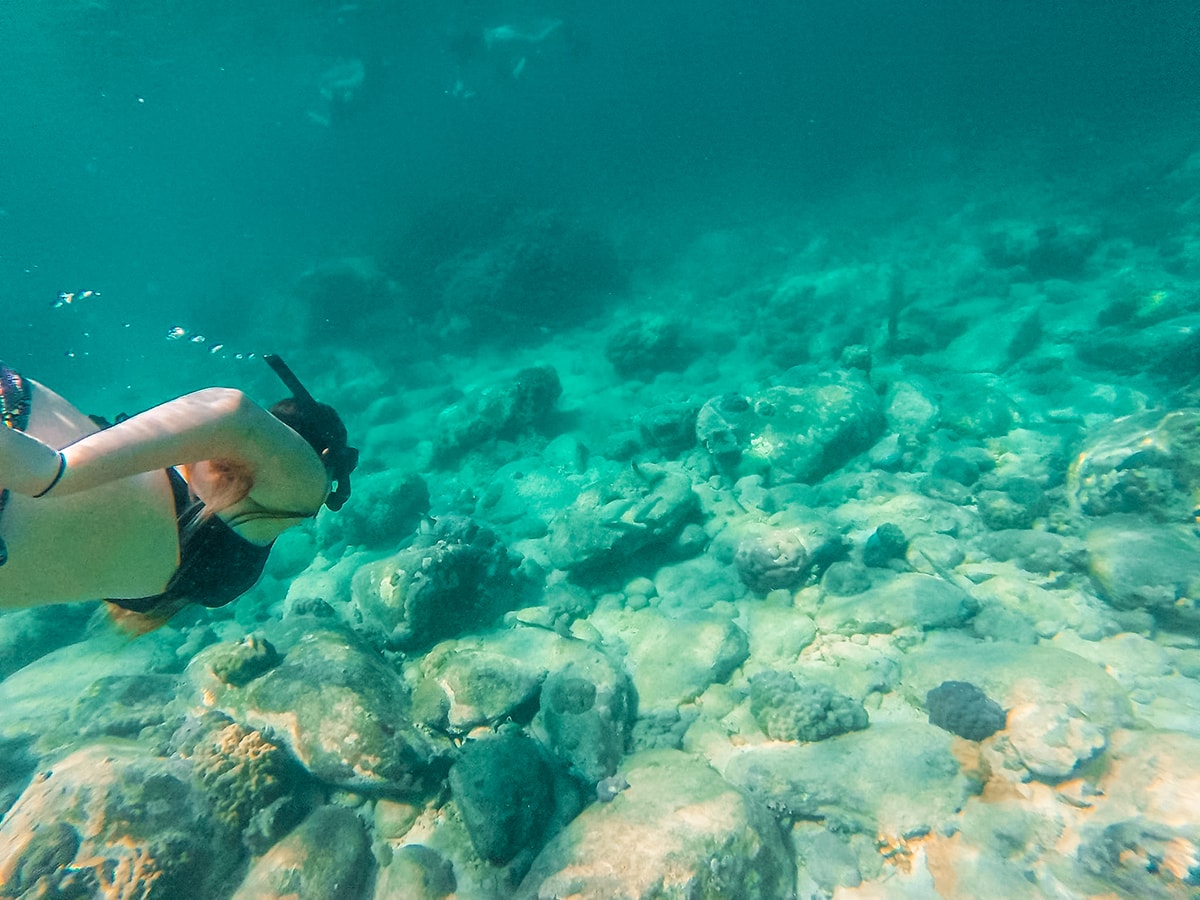 Overall Opinion Of The Amazing Snorkeling Tour
Apart from the uncontrollable mechanical and weather issues during my amazing snorkeling tour in Nha Trang with Vietnam Snorkeling I had a perfect day. There was such a wide variety of fish, both large and small, and coral at the sites we snorkeled at were beautiful. I was not expecting much as I never got the impression there was much of a snorkeling scene in Vietnam. This seems to be something more popular in Thailand and Malaysia. Though, I was super impressed by the amazing under water world at Hon Mun Marine Protected Area.
The crew on the boat were amazing! Even throughout the process of arranging a new boat and relocating some of the group. They were knowledgeable about the snorkeling sites. We received plenty of advice on where to swim to and what we can expect to see. The lunch we were served was absolutely amazing as well!
---
How I Book Cheap Transport In Vietnam: 12.Go Asia
---
LIKE IT? PIN IT!
Want more Vietnam inspiration? Check out….
Disclaimer:  This post contains affiliate links. So, if you click on it and purchase something, I get a small percentage at no extra cost to you.
This tour was not sponsored and I am not receiving anything in exchange for this review. As always all opinions are my own and your support is much appreciated.
---