Learn how exactly to travel from Da Nang to Hoi An. From the bus, taxis, private transfers, and more these are my top tips so you don't miss checking out the beautiful tourist hang out of Hoi An, this ultimate guide absolutely has you covered!
---
Hoi An is one of the most popular places in Vietnam for people to travel to. It is a gorgeous UNESCO World Heritage City famous for its old town. Though most longer transport options end in Da Nang, such as the train or flights. This means to travel to Hoi An you need to figure out how exactly to get from Da Nang to Hoi An.
Luckily because it is a popular tourist town this is an extremely common route and there are plenty of options to choose from. No matter what time of day or night you arrive there will always be some sort of option available. Whether that is a taxi, a private transfer, or bus there is something for all budgets, and below I will talk you through each option. This way you can make the best choice for your journey, whether you decide to take the quickest or cheapest option to travel from Da Nang to Hoi An.
| | | | |
| --- | --- | --- | --- |
| | Time | Cost | Highlight |
| Taxi | 45 minutes | from $13 | Fast and comfortable journey |
| Private Transfer | 45 minutes | from $25 | Prebooked and reliable transport |
| Public Bus | 1 hour 30 minutes | from $1.30 | Cheap journey |
| Hoi An Express Bus | 1 hour 30 minutes | from $8.40 | Airport transport |
| Sinh Tourist Bus | 1 hour 30 minutes | from $10.80 | Travelers favorite choice |
Note: Since Covid hit unfortunately the public bus between Da Nang and Hoi An has been out of service. Hopefully with increased tourism again this will restart again, but as of current, we are still waiting.
So, what is the best way to get from Da Nang to Hoi An? Taking a taxi can be expensive, though taking a local bus can be a bit daunting for the first time, plus how are you even meant to know which one to get on!
So let's go through all the options from a taxi, bus, and private transfer to the taxis and buses to find the right option for you.
---
Da Nang to Hoi An: The Best Ways To Travel
---
Taxi From Da Nang To Hoi An
A super easy and convenient way to travel from Da Nang to Hoi An is by taxi. This is the perfect choice if you are looking for something that is comfortable, private, and efficient. Whether you are already in Da Nang at a hostel or hotel, or perhaps you are wanting to travel to Hoi An from the airport or train station in Da Nang there will be plenty of taxis around who can take you the distance. I mean if you have either traveled to Vietnam or anywhere in Southeast Asia, you will know how easy taxis are to come by.
This option generally takes around 45 minutes to travel between the two cities depending on traffic.
---
How Much Is A Taxi
Depending on your exact location in Da Nang, time of day, the taxi company that you book with, and even the mood of the driver can and will affect the end price that you will pay. You can also find yourself spending more than necessary when finding a driver in popular locations such as Da Nang airport or train station. If possible, in such situations, you are best off walking a short distance away and then getting a taxi.
Nevertheless, you can expect to pay between 300,000 to 400,000 VND or $13.00 to $17.00 on the taxi journey from Da Nang to Hoi An.
---
Should You Prebook Your Taxi
To keep things stress-free you may decide you want to instead pre-book your taxi rather than just trying to find one on the side of the road. This is a good method when you are worried about getting ripped off, something which unfortunately is a common occurrence in Vietnam.
You can use 12.Go Asia to prebook your taxi from Da Nang to Hoi An. I have used this company throughout Vietnam as well as elsewhere in Southeast Asia with no issues. They offer instant confirmation, secure online payment, and price guarantees.
---
Booking a Grab Taxi
Grab is a mobile app similar to Uber. It is used widely in Southeast Asia and often will provide you with better rates than getting a taxi by the meter. It also takes away the stress of having to negotiate a rate or make sure you are using a reputable company. I have also used Grab all throughout Vietnam and it is an excellent way to travel. I also quite like that it predetermined your rate so you know what to expect and that you are receiving a fair price.
If you are not staying over in Hoi An, perhaps just wanting to do a day trip, you can also book a motorbike via the Grab app. This will be cheaper again than booking a vehicle.
To use Grab you will need a Vietnamese sim card or to download the app before you leave home so you can register your phone number. I always try to get a local sim card wherever I am traveling as it makes it easy to use apps like these when on the road and they are usually pretty affordable, especially in Southeast Asia.
---
Private Transfer From Da Nang To Hoi An
Next up is the option of taking a private transfer. These can be rebooked through your hotel in Da Nang prior to arriving. They will send out a special taxi driver, or just a general person, to collect you from your desired place in Da Nang and bring you to your hotel in Hoi An.
This option generally takes around 45 minutes to travel between the two cities depending on traffic and prices can start from around $20.00.
---
Public Bus From Da Nang To Hoi An
Note: Since Covid hit unfortunately the public bus between Da Nang and Hoi An has been out of service. Hopefully with increased tourism again this will restart again, but as of current, we are still waiting.
A budget-friendly option to travel from Da Nang to Hoi An, perfect for backpackers, is taking the public bus. This is also the option I choose, simply because it was the cheapest. Though that doesn't mean it is for everyone.
This is definitely the local way to travel. Expect plenty of stopping along the way, picking up and dropping off passengers. Also don't expect there to be air conditioning. Though if it's warm they will drive with the doors open, just make sure your bags don't fall out.
View this post on Instagram
---
Where To Catch The Bus From
You will want to take bus #1, also known as the yellow bus, to get from Da Nang to Hanoi. This is a local bus that just drives between Da Nang and Hoi An throughout the day. You can catch it from the museum, Cho Market, the Cathedral, and a few other stops in town as well. We caught it the block over from the train station, just head over to the next street away from the train station, and the bus drives through here. You can find the exact bus stop locations on Google Maps. Though the locals are friendly enough to point you in the correct location, at least they were with us.
The bus runs from 5.30am to 6pm, departing every 20 minutes in the high season and every 40 minutes in the low season.
In Hoi An the bus stops at Bến xe Hội An Nguyễn Tất Thành bus station, 1.5km north of the Ancient Town. Though it is a flat and pathed walk into the city center, which makes it a lot easier to navigate.
---
How Much Are Bus Tickets
It costs 18,000 VND / $0.80 per person to take the bus from Da Nang to Hoi An. Though be aware that it does cost extra if you are traveling with luggage. Instead, a ticket will cost 30,000 VND / $1.30 with luggage.
This is simply because you are taking up extra space with your luggage and they won't be able to fit as many people on the bus. Be aware this is the cost for one large suitcase or backpack. If you are traveling with multiple pieces of luggage by yourself you may want to look at a different option as you will need to be able to get your bags on and off quickly depending on where you are stopping and starting.
---
My Experience Taking The Public Bus
Note: Since Covid hit unfortunately the public bus between Da Nang and Hoi An has been out of service. Hopefully with increased tourism again this will restart again, but as of current, we are still waiting.
After taking the train from Hue to Da Nang we needed to take some sort of transport from Da Nang to Hoi An. Doing some prior research I decided against taking a taxi, simply because this would be too expensive for my Vietnam travel budget.
Since it was only midday we decided we would take the public bus. We had a semi idea where the bus stop was, and if the bus never came then we had plenty of time to come up with a plan B. Luckily there were a few groups from the train who all had the same idea and we all started to cross the road away from the train station entryway and head to the next street over.
We all kind of bunched together in a spot we thought was the stop by the traffic lights. But a local soon came over and pointed us in the correct direction about 50meters or so down the street.
Soon enough the bus came along and we all jumped on board. We paid the 30,000 VND which is the ticket price including bags and found a spot down the back of the bus with a few other travelers. Our bags were pilled up on a large space on the floor as the bus continued down the street.
I sat back and watched the sights go past. The pass stopped and started again a few times in the city of Da Nang, though as soon as we were out of there it was an easy drive alongside the coastline to Hoi An. Honestly, the drive itself is rather uneventful, there are not any spectacular landscapes along the way. Though soon enough the bus pulled into a small little depot seemingly in the middle of nowhere.
Looking at our phones it was only a short walk from here to our accommodation, so we headed on the way to our homestay. It was a super easy walk with wide footpaths and minimal obstructions.
---
Hoi An Express Bus From Da Nang To Hoi An
An awesome option for travelers between Da Nang Airport and Hoi An Old Town is by taking the Hoi An Express. They are a popular transfer company with travelers with buses departing every hour between 5am and 11pm daily. Though depending on what time your flight arrives you may find yourself waiting a little while for the next bus to depart. Nevertheless, if you are arriving from an international flight you may find yourself waiting a while to get your visa on arrival anyway.
The journey on the Hoi An Express Bus costs $8.40 per person making it a great option for solo travelers or those on a mid-range budget. When you prebook a representative will meet you at arrivals with your name on a place card and take you to the bus. If you are not overly confident about traveling and navigating airports this provides an excellent option.
The buses also have air conditioning and free wifi on board. Lastly, they will also drop you off right outside of your hotel in Hoi An. Just be aware that if it is outside of the main city center there may be an extra charge.
If you think the Hoi An Express shuttle bus is the perfect choice for you to get from Da Nang to Hoi An then you can book tickets over at Get Your Guide. You will see there are over a thousand reviews showing just how popular this method of transport is! You will see there are multiple options when you book including private minivan and sedan transfers that start at $28.00.
---
Sinh Tourist Bus From Da Nang To Hoi An
Last but not least is the option to take the Sinh Tourist bus from Da Nang to Hoi An. This is a great choice if you are already in the city of Da Nang or perhaps arrived at the train station. The bus departs from The Sinh Tourist office located at 16, 3 Thang 2, Thuan Phuoc in the north-western part of the city. It is 8 kilometers from the main bus terminal and 2 kilometers from Con Market in the center of the city.
The Sinh Tourist bus departs twice daily, in the morning at 10am and in the afternoon at 3.30pm. You can expect the journey to take around an hour and a half depending on traffic.
The cost of the ticket from Da Nang to Hoi An with the Sinh Tourist is 250,000 VND / $10.80 per person. You can either book online at 12.Go Asia or Baolau. Alternatively, if you'd like to book in person, you can do so at their office when you arrive in Da Nang.
They are a popular bus company with travelers and I have used them numerous times in my Vietnam travels. They are always professional, reputable, and reliable. Many times I have chosen to pay a little bit more to travel with them than a random company. There will be air conditioning, plenty of luggage space, and extra legroom.
For the Da Nang to Hoi An route, The Sinh Tourist uses sleeper buses with lie-down seats. I am not alw3ays the biggest fan of these, but it is a short distance, and this company has taken extra steps to make their buses as comfortable as possible.
The journey finishes at The Sinh Tourist office in Hoi An. This is located at 646 Hai Ba Trung, 1.5km north of the Night Market and 600m from the Ancient City.
---
Where To Stay In Hoi An?
You are spoiled for choices when it comes to choosing where to stay in Hoi An. There are countless 5-star resorts, locally run guesthouses, and hostels. No matter your budget or the type of traveler you are there is something to fit all needs.
There are also plenty of different landscapes to choose from whether that is something in the city, beachside, or in the fields. Personally, I choose to stay in a homestay near the old quarter in Hoi An. We were within walking distance to great shopping, restaurants and those incredible sights this place is known for. A common thing in Hoi An is that your accommodation will include bicycle use, so if possible try book somewhere that includes this.
---
Things To Do In Hoi An
Hoi An is a bustling city with plenty of attractions and there are so many things to do here that will keep you busy throughout your stay. This is just a small overview, so for more information on be sure to check out my guide on things to do in Hoi An.
Hoi An Old Town: No doubt exploring the Old Town is the number one thing to do in Hoi An. It was previously used as a trading port between the 15th and 19th centuries. Nowadays it is considered one of the most beautiful places in Vietnam. This fact is proven true by it being granted a UNESCO World Heritage Site. Walking through Hoi An Old town you will be in awe.
My Son Sanctuary: Located in a rainforest-like setting, the amazing complex of the My Son Sanctuary is certainly a highlight. It will transport you from the busy Vietnam city life to a Jurassic park setting rich in history. The grounds are a UNESCO world heritage site and it is marketed as the Angkor Wat of Vietnam.
Thanh Ha Pottery Village: Easy to reach on bicycle or motorbike is Thanh Ha Pottery Village. It is an integral place of Vietnamese history and the skilled craftsmen that live here even contributed pieces in the Imperial City of Hue when it was under the control of the Nguyen Dynasty.
Night Market: Located within the Hoi An Old Town in the Night Market where you could find any Vietnamese souvenir your heart requires. Held every night from 5pm to 11pm you will no doubt be spending your nights exploring the many stalls.
Beach Day: This coastal town is lucky enough to be close to some amazing beaches. The most popular beach is definitely An Bang. Due to its close proximity to the old town you can just bike there.
Tra Que Vegetable Village: Sometimes you just need to get out of the city and a visit to Tra Que Vegetable Village is the perfect way to do this! It is extremely accessible and soon enough you will find yourself in a slower pace of life surrounded by workers and delicious produce.
---
LIKE IT? PIN IT!
---
Want more Vietnam Inspiration? Check out….
---
Disclaimer: This post contains affiliate links. So, if you click on it and purchase something, I get a small percentage at no extra cost to you. As always all opinions are my own and your support is much appreciated.
Related Posts
Share Tweet Pin If you are exploring the length of Vietnam it is likely you [...]
1 Comment
Find out the ideal 3 days in Sapa itinerary to ensure you have the ultimate [...]
2 Comments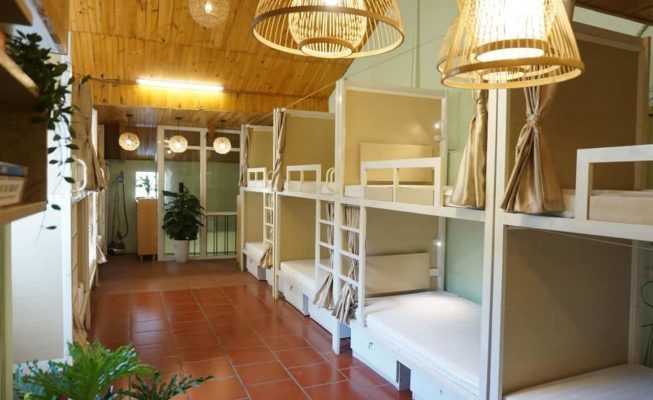 Come check out the best hostels in Hanoi for the perfect stay in Vietnam. I [...]