Come discover the incredible history, a short drive away from Hoi An, at My Son Sanctuary Vietnam. I will let you know all there is about visiting such as booking a tour, how to get there by yourself, entry fees, opening hours, and most importantly, is it really worth the early wake-up for the sunrise tour!?
---
Located in a rainforest-like setting, the amazing complex of the My Son Sanctuary is certainly a highlight when visiting Hoi An in Vietnam. Get ready to be transported from the busy Vietnam city life to a Jurassic park setting rich in history.
The grounds are a UNESCO world heritage site and it is marketed as the Angkor Wat of Vietnam. Though, having been to both it is certainly not as impressive as Angkor Wat in Cambodia.
This is largely due to the volatile history in the area which destroyed many of the temples. Nonetheless, it is certainly the most amazing religious site I visited in Vietnam and was a highlight of exploring Hoi An.
There are certainly some things worth knowing prior to venturing out to My Son Sanctuary, including how you are actually going to get there, if you are going to do a tour, entrance fees, opening hours, what to expect, and if it is even worth visiting!
---
Exploring My Son Sanctuary In Hoi An, Vietnam
---
🚗 How I Book Cheap Transport In Vietnam: Baolau & 12.Go Asia
---

Need A Quick Answer?
If you perhaps don't have time to read this entire guide on Mỹ Sơn Sanctuary, no worries, here are the top tips:
🔎 Easiest & Best Way to See My Son Sanctuary: I recommend booking a Small Group Tour of My Son Sanctuary Including a Lunch and a Boat Trip with Hoi An Food Tours. Book now with Viator.
🏠 Where to Stay in Hoi An: Top hostel choices for backpackers in Hoi An include Mad Monkey Hoi An (dorms start from $8.00) and Backhome Hostel Bar (dorms start from $6.50)
🍜 For Foodies: Take a Hoi An cooking class with a market tour and a basket boat trip. Book now with GetYourGuide.
🚗 Easiest & Best Way to Reach Hoi An From Da Nang: I recommend booking a private or shared shuttle transfer with Hoi An Express. Book now with GetYourGuide. Read my guide for more options.
---
---
Is My Son Sanctuary Worth It
No doubt My Son Sanctuary is a popular attraction here in Central Vietnam. However is it actually worth visiting? Especially if you have already seen numerous other temples throughout Southeast Asia.
Well, I think so! Especially if you are already in Hoi An or Da Nang it is an easy half-day trip where you can experience the following…
Historical Significance: My Son Sanctuary stands as an important remnant of the ancient Champa Kingdom. It served as a religious and cultural center for centuries and now offers a glimpse into Vietnam's past. 
Architectural Marvels: The temples at My Son Sanctuary showcase incredible craftsmanship. Despite facing destruction during multiple conflicts, many structures still stand tall today. They proudly display exquisite carvings, patterns, and unique styles influenced by both Indian and Southeast Asian cultures.
Natural Beauty: Surrounded by forests and scenic landscapes, you will be immersed in nature while exploring centuries-old ruins. It's a peaceful experience that you don't often come across in Vietnam. 
---
How To Get From Hoi An To My Son
Approximately an hour's drive outside of the busy tourist city of Hoi An is My Son Ruins. Located within the village of Duy Phu the complex stretches out two kilometers within a valley and is surrounded by mountain ranges.
There are basically three options to get to My Son from Hoi An.
motorbike
taxi
organized tour
---
Riding A Motorbike To My Son Sanctuary
This option is basically up to your discretion based on your driving skills. Obviously, this is the cheapest option, even after paying for fuel and parking. Though, depending on your skillset it might not be the safest option.
The roads within Hoi An may be okay to drive. However, venture out onto rural roads and be prepared for massive trucks, potholes, and questionable driving techniques.
Before deciding whether or not to ride a motorbike to My Son I recommend checking out Nomadasaurus post in which he drove with directions, as well as PsychoTravellers video on her not-so-pleasant experience riding there.
---
Hiring A Taxi To Visit My Son
Hiring a private taxi is definitely the most expensive option, especially as you will have to pay the driver to wait around while you explore the complex.
Though, if you have it in the budget this is probably the best option as it will give you the freedom to stay as long or as short as you wish.
Just with all taxis in Vietnam and Asia, make sure to agree on a price with the driver beforehand.
If you are not too worried about money, then why not take a private tour of My Son Sanctuary from Da Nang or Hoi An instead? You will still have transport, and a lot of freedom, but also a knowledgeable guide who can explain the incredible history.
If you think this could be a good choice for you why not check out this tour run by TC Travel Hoi An. From just $50.00 per person, you will have an excellent tour guide, and plenty of time to experience this place. 
You can book this tour on Viator.
---
Booking A Tour To My Son Sanctuary From Hoi An
Booking a My Son Sanctuary tour is probably the most popular option and is surprisingly affordable. Though, you will have the restraint of being with a large group. Ultimately, restricting the amount of time you can explore.
When I visited My Son I decided to do it with a tour I booked through the hostel I was staying at in Hoi An.
As it was a sunrise tour I certainly would not have wanted to drive there myself, especially in the dark. Also, my budget certainly did not stretch far enough to afford a taxi.
In all honesty, if you are a bit of a history buff I recommend taking a reputable tour as the guide will have a lot of knowledge, as ours did.
You can still walk around staring at the amazing structure. Though, when you gain important information about relevant attributes you certainly gain a wider understanding and a greater appreciation for the complex.
BOOK YOUR TOUR:
---
Map Of My Son Sanctuary Vietnam
---
Entry Fee For My Son Sanctuary
To get into My Son there is a an entry fee of $6.60 / 150000 VND, so it is a little on the pricey side. Though, it is unlike any other temple you will see in Vietnam and well worth the money. Included in this fee is the admission to the temple complex itself as well as a museum.
---
Opening Hours Of My Son Sanctuary
---
Best Time Of Day To Visit
The temperatures can get quite hot in this part of Vietnam, so the best time of day to explore the My Son complex is certainly early morning or late afternoon.
When I went on the sunrise tour there were only a couple large groups there, so if you are going solo you will have moments where you have certain temples to yourself. Though, many tours leave at around 10.30am from Hoi An so expect crazy crowds around those times as this truly is a must see attraction.
---
What To Wear To My Son Sanctuary?
I was honestly not sure what to wear when I was visiting My Son. Coming from Thailand where I am use to covering up when visiting religious and important buildings, I thought it would be necessary to cover up the shoulders and knees. Though, this proved irrelevant as people were wearing shorts and singlets with no worries. This was not a one off experience as well, if you search My Son Sanctuary on Instagram you can find people wearing everything from crop tops to mini shorts and tiny dresses.
So, you do not have to be like me, covered completely up, though in the mornings it can be chilly so does pay to bring a jacket.
---
My Experience At My Son Sanctuary
I booked my tour to My Son through my hostel in Hoi An. James and I did the sunrise tour which cost us $11.00 / 250000 VND. This price included a basic breakfast, a sunrise group tour to My Son, transport and a boat ride back. It did not include the entrance fee. In all honesty I would take the bus back next time instead of the boat.
That morning we were picked up early and dropped at a building where we had jam sandwiches. Then we drove the hour towards My Son in the pitch black morning. On arrival the sun had begun to rise. We jumped on a buggy which took us five or so minutes to the beginning of the complex from the entrance.
We walked the few minutes along the pathway, joined by multiple dogs to the first complex. It reminded me of the pagodas in Bagan, Myanmar, though the landscape was completely different. There was no the dry desert like surrounds. Instead rivers were flowing and the lush greenery was covered in morning mist.
Though, not all the temples are intact, thanks to the bombings which went on in the Vietnamese War. Crumbles of bricks are stacked up and cordoned off. It is easy to tell which temples had been restored thanks to the difference in bricks used. Though, hopefully overtime the the colors will lessen and they will become worn, matching in with the original materials.
I thoroughly enjoyed my visit to My Son Temples. Though, next time I would not do a group tour. I would have rather explored the complex at my own pace. Also, being a photographer it was near impossible to take photos without crowds. In all honesty, I was either having to rush in front of the group or lag way behind. I will say that taking a tour did mean I did not have to organize anything. This is helpful as I did not have to worry about driving there.
---
Highlights Of My Son Sanctuary Hoi An
Visit the Museum at the My Son Sanctuary
Visit the My Son Sanctuary Lake
Culture Dance Show
---
The History Of My Son Sanctuary In Hoi An
My Son is a complex of Hindu temples, which were the religious and political capital of the Champa Kingdom. It is the most significant Cham site within Vietnam, and one of the most important in South East Asia as well. The temples were built between the 4th and 14th century AD by the King Bhadravarman. They were constructed out of fired brick, sandstone bas-reliefs, and stone pillars. The purpose of building the complex known as My Son was to worship the Hindu god Shiva.
During the time that My Son was occupied, it was used for religious ceremonies by the kings of Champa. As well as this, it was also used as a burial place for those considered Cham royalty and national heroes.
In 1885, French architect, archaeologist, and historian, Henri Parmentier and his colleagues began work on the site. During this excavating and documentation period, they discovered 72 monuments within a two-kilometer-wide valley.
Though, unfortunately during the Vietnamese war the US began dropping carpet bombs in the area. Within a week the majority of My Son had been destroyed.
---
My Son Sanctuary and the war in Vietnam

---
---
Where To Stay In Hoi An
---
Other Things To Do In Hoi An
---
FAQs About My Son Vietnam
---
Should You Visit My Son: Wrap-Up
I think everyone should visit My Son if they are in Hoi An or Da Nang.
It is a great way to spend half a day learning about the Champa people and Hinduism. The My Son Cham Ruins provides a glimpse into the history of the area, and are well worth a visit.
Though, you should think about what is the best way to get to My Son and explore it. Whether that is going solo or taking a tour.
Depending on your travel style and your true intentions in visiting this amazing site will result in what is the best for you.
---
🚗 How I Book Cheap Transport In Vietnam: Baolau & 12.Go Asia
---
LIKE IT? PIN IT!
---
Want more Vietnam inspiration? Check out….
---
Disclaimer: This post contains affiliate links. So, if you click on it and purchase something, I get a small percentage at no extra cost to you. As always all opinions are my own and your support is much appreciated.
---
Related Posts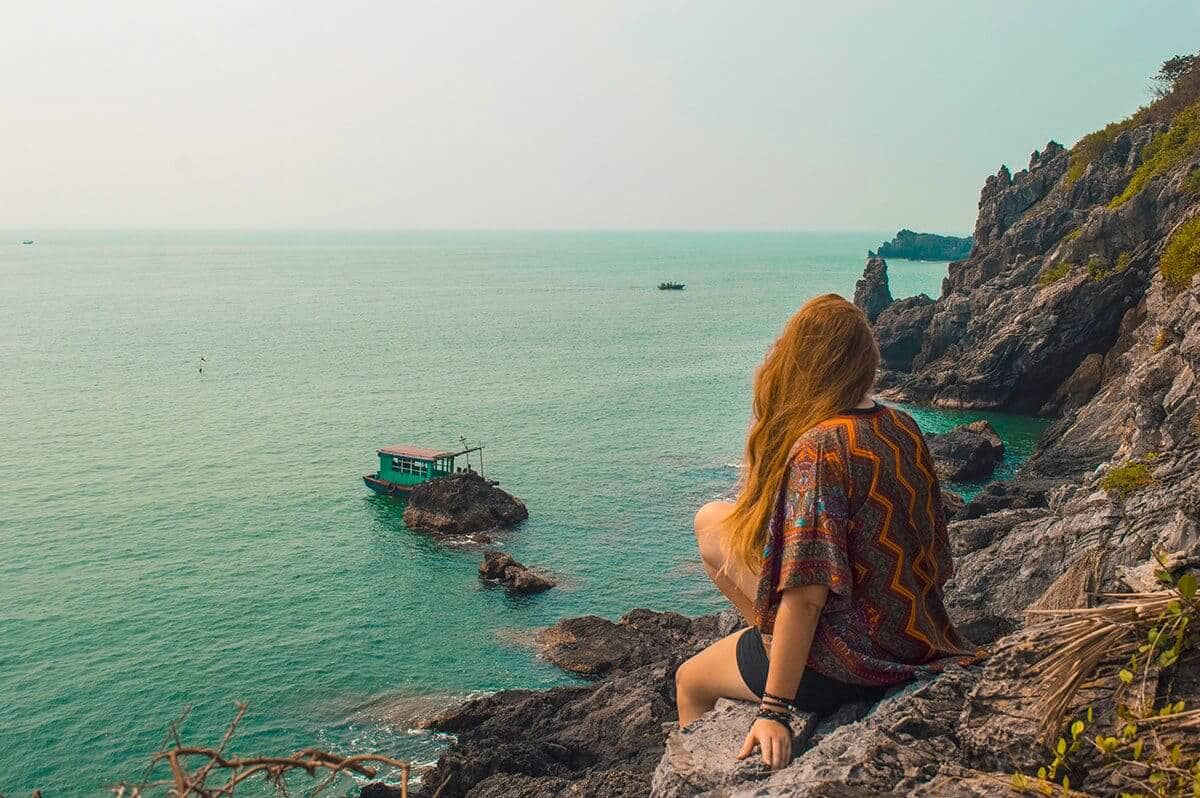 Find out the best things to do in Vietnam for backpackers and travelers! Listed from [...]
18 Comments
Top Things To Do In Hoi An & Attractions In Hoi An Hoi An is [...]
32 Comments
Come and check out my favorite 2 days in Mui Ne itinerary to see the [...]
4 Comments