Find out about all you need to know about backpacking Luang Prabang on a budget. I will be giving you all the information you need to know such as costs, getting around, accommodation, what to do and so much more!
---
Luang Prabang is honestly one of the most beautiful cities I have explored in Southeast Asia. It is a UNESCO World Heritage Site that brings in a constant flow of travelers looking to experience a new destination and take in some of its many highlights.
If you are coming to Laos it is extremely likely that you will be spending some time in this cool city.
In this backpacking Luang Prabang travel guide, I will let you in on all the top things to do, where to sleep, eat, and more!
Unlike many cities in Southeast Asia, Luang Prabang has a much more chill and relaxing way of life. Noone here ever seems to really be in a rush and it is all about appreciating the moments.
Enjoy the peace and quiet away from the constant horn honking and instead relax with a sunset over the Mekong River. Though, don't get too caught up as there are so many awesome things to do here in Luang Prabang you have got to make the most out of your time!
---
Everything You Need To Know About Backpacking Luang Prabang
---
How Many Days To Spend In Luang Prabang?
Over various trips, I have spent different periods of time in Luang Prabang. Whether you are taking the slow boat from Thailand or coming from the airport, it is usually the arrival point in Laos for many backpackers.
Therefore I highly recommend spending about 3 days in the Luang Prabang. That way it will allow you to gather your bearings and see some of the amazing sights, giving you a great introduction to Laos.
If you are thinking that is too much time to spend in one place, don't worry! There are plenty of amazing day trips which I will recommend further down in this backpacking Luang Prabang travel guide. This will allow you to get into the countryside and on the water to experience a different side of the city.
---
Cost Per Day To Travel Luang Prabang
Even though Laos is in Southeast Asia, a place that is usually considered cheap by travelers is not as cheap as neighboring Thailand or Vietnam. Nevertheless, prices here are still pretty affordable, especially for food and transport.
Though, in my opinion, accommodation in Luang Prabang can be a bit more pricey than many backpackers will be used to paying. This is especially so if you like to stay in private rooms. In my experience, I recommend budgeting around $20.00 for a private room ($10.00 per person).
However if you do not mind metal bunk beds you can stay in one of the best hostels in Luang Prabang for $5.00 per night.
If you stick to street food at the Luang Prabang night market it will definitely help keep the budget down. Also, if you manage to find a hostel or hotel that includes breakfast even better on the wallet.
Overall I would budget approximately $30.00 per day for a backpacking Luang Prabang to stay on the safe side. This will allow you to splurge on certain activities, have a somewhat decent bed to rest in, and delicious meals.
If you are interested in the real costs of traveling Laos I highly recommend checking out this post.
---
Where To Stay In Luang Prabang?
There are plenty of choices when it comes to choosing accommodation in Luang Prabang. From the impressive 5* resort, historic hotels, simple hostels, and locally owned guesthouses, you will find something to fit your budget and needs.
During our recent visit, we stayed on a quaint little side street minutes from the center and Mekong River. I fell in love with this little spot. There are a few budget guesthouses and nicer hotel-style accommodations available down this street.
Check out Mylaohome Hotel & Spa for comfortable rooms, awesome spa, and delicious cafe onsite from $23.00 per night. There is also Villa Pumalin which has an indoor pool and beautiful wooden rooms starting at $30.00 per night.
Here are my top picks for the backpacking Luang Prabang travel guide:
Little Friendlys Freedom Place

Plenty of common areas, a great vibe, and breakfast, it is well worth $6.00 per night.

BOOK NOW

A relaxing location near the party, from $7.00 per night including breakfast.

BOOK NOW

Beautiful private rooms from $23.00 per night and in the heart of the city.

BOOK NOW

A walk from the city attractions, starting from $26.00 per night with breakfast.

BOOK NOW
Getting Around Luang Prabang
---
Getting From Luang Prabang Airport To The City
Unfortunately, there are not too many options when it comes to traveling from Luang Prabang Airport to the city. There is no public transportation which can be annoying if you are a solo traveler.
Luckily the private transport options available are relatively cheap. If you can find someone else in the same position as you, you will able to split the price making it even cheaper!
The airport is 4 kilometers from the main city center, which is quite close compared to a lot of other cities but still too far to walk. So let's get into these transportation options to figure out what is best for you.
---
Prepaid Taxi
The prepaid taxi is the most common option for getting from Luang Prabang airport to the city center. You will need to visit one of the prepaid taxi counters in the arrivals hall. The price is fixed at $7.00, so even if you are traveling with one person or with three, you will still need to pay that price.
Prepaid Taxis are generally my go-to option when arriving in a new country.  It means I do not have to stress about arguing with a regular taxi driver to not get ripped off, making my first hour in somewhere a more enjoyable experience.
---
Pre-Arranged Hotel Transfer
No doubt one of the easiest options between getting from an airport to your hotel is to prebook a transfer from your accommodation prior to arriving. There will be someone waiting for you at the airport with a sign resulting in a hassle-free experience.
If you are arriving in Luang Prabang late at night or have never been in the country before this could be the perfect option for you. It will save you from worry about getting ripped off and ensure a smooth start to your Laos itinerary.
It is likely that your hotel will charge the same price as the prepaid taxis of $7.00, which is an excellent option if you are traveling in a group.
---
Tuk-Tuk
You will not find any tuk-tuks within the airport grounds itself so this means you will need to go outside the main gates to find one. This could be a bit problematic if you are lugging around a suitcase.
Though, if you are a budget traveler with a backpack this is an excellent alternative to travel from Luang Prabang airport to the city center.
For this journey, you should expect to pay about $3.00 for a tuk-tuk. Though just be aware you may need to haggle to receive a recent price, so be ready to negotiate.
---
Traveling Within Luang Prabang
I highly recommend downloading the offline map of Luang Prabang on the Maps.Me app for your cell phone. Though, traveling around the city itself is fairly easy as it is a rather small area, making it reasonably difficult to get lost.
Using an offline map on your phone will allow you to see your exact location and how to get to your destination. This is one thing I always make sure I have before arriving at a new destination.
---
Walking
It is relatively easy enough to travel around Luang Prabang on foot, though for far distances this is not a reasonable mode of transport, especially when tuk-tuks are quite cheap.
The roads are paved well and there are actually footpaths, something which is a rarity in Southeast Asia! The distances within the city center are quite flat so you will have no problem walking around. Though, prepare yourself for the heat and bring lots of water for the journey.
I will say you should be aware of walking around at night. We found there were not many street lights and we found ourselves on dark quiet streets quite often. Though luckily nothing happened, it is probably helpful to make sure your phone is fully charged so you can use the flashlight.
---
Tuk-Tuk
You will easily be able to find plenty of tuk-tuks around the tourist area of Luang Prabang. Ensure to negaotiate a decent rate before jumping in to ensure you do not get ripped off. If the driver is not willing to budge, just find a different tuk-tuk as there will be planty around.
---
Where To Eat & Drink In Luang Prabang
From local street stalls to bakeries and western restaurants, Luang Prabang has a wide variety of foodie options.  These are my top picks, all tested and tried, for the backpackers travel guide to Luang Prabang:
---
Cheap Food In Luang Prabang
My favorite spot to eat basically any meal in Luang Prabang is the night market! Here are the budget travelers' dreams with meals costing a couple of dollars. Whether you are craving something sweet, noodles, rice, or a simple baguette, you can get it all at the Luang Prabang Night Market.
A popular option for travelers is the vegetarian buffets which are down the side alleys (just look out for the big signs). You just pay a couple of dollars for a plate and can fill it up as much as you would like. Though, I personally chose not to eat here as it looked just full of flies which put me off.
One of my favorite budget restaurants in Luang Prabang quickly turned out to be Changkam Bakery & Cafe. They have a little bakery section with delicious cakes and pastries as well as a full menu offering Western and local dishes.
I am not going to lie, I definitely had a pizza from here on more than one occasion! They are super delicious.
---
Western Food In Luang Prabang
If you are looking for a good breakfast on the banks of the Mekong make sure to check out Saffron Coffee. They have a wide menu of delicious bites including a mind-blowing Mango and coconut French toast.
The number one tourist hangout in Luang Prabang is Utopia. Located on the banks of the Nam Kham River this is the perfect place to spend an evening. Grab a Lao beer and a meal while you wait for this place to get buzzing.
Delicious cocktails are served and if you are ready for a big night to make sure to go bowling!
---
Local Dishes You Must Try
Laos has plenty of delicious local dishes that you must try! I highly recommend trying out a different type of rice, sticky rice which can be found all over the country. To eat, take a small ball of sticky rice with your fingers and use it to pick up morsels of meat, vegetable or spicy dip.
Also make sure to try out laap (mincemeat salad), tam mak hoong (spicy green papaya salad), and the many delicious fish dishes on offer!
If you are looking for a slightly different experience, why not try out a food tour! Take your mouth on an adventure as you try new and exciting bites.
---
Safety In Luang Prabang
Luang Prabang is a relatively safe place to explore with the exception of the many scams you will find in Asian countries. At the night market try to pay with the exact amount. The vendors here are known to randomly change prices and give you the wrong change, insisting it is correct.
The giving of Alms ceremony is another, very controversial thing to do and common scam in Luang Prabang. This is one of the best things to do here, though you will need to keep your wits about you, even during this early hour of the morning.
A local lady will approach you to give food to the monks as they walk along the street receiving alms. When the ceremony is over, they will take you to a nearby temple and ask you to pay for the rice they gave you.
They can insist on receiving very large sums of money before letting you go. Even if this is something many tourists participate in, in reality, people who are not Buddhist should not be giving alms.
Lastly, I will quickly mention the motorbike rental scam, which doesn't just happen in Luang Prabang, but all around the country. When you rent a motorbike they will be stolen back by the company. It is best to bring your own lock and pay a deposit, rather than leaving your passport.
---
Things To Do In Luang Prabang
Luang Prabang is full of amazing activities and attractions which will keep you busy for days. Whether you enjoy a spot of shopping, experiencing a different religion, and want to see some epic scenery, Luang Prabang has something for everyone.
Though, it is not all located within the city center so be prepared for a couple of day trips to see some of the highlights this region has to offer.
For additional things to do check out my 3-day itinerary to Luang Prabang.
---
Kuang Si Falls
No doubt Kuang Si Falls is one of the best things to do in Luang Prabang. Nowadays the easiest way to get there is taking an organized minivan. These can be booked basically everywhere in the city. Prices start around $5.70 / 50,000LAK, though you will need to check how long how will actually be spending at the falls.
At the falls themselves, there is a bear sanctuary as well as quite a few waterfalls. These bears have been saved from people using them for medical trade and now call this place home. After that, you will reach the lower pools which are perfect for swimming.
Further up the path, you will find the magnificent main waterfall of Kuang Si Falls which is quite a sight. There are plenty of viewpoints to appreciate the beauty from and there is even a path from which you can climb to the top.
Be aware, there is nothing overly special at the top, so if you're limited on time just give the climb a miss.
---
Pak Ou Caves
A top day trip from Luang Prabang is the Pak Ou Caves, allowing you to experience this sacred site as well as life on the water. You can either organize your trip advance from a tour agency or just turn up at the dock opposite Saffron Coffee.
If you aren't traveling solo you might prefer to charter your own boat for privacy, costing $34.00 / 300,000LAK. Joining a shared boat at the dock in the morning will cost $7.50 / 65,000LAK. The entry to the cave is not included and is an extra $2.30 / 20,000LAK.
I highly recommend visiting Pak Ou Caves in the afternoon to escape the crowds. The lower cave is full of Buddhas with gorgeous views out to the Mekong River, and the whilst the upper cave is a literal cave (bring your phone light) with Buddhas in it as well.
You will need to climb up a couple of hundred steps to the upper cave so wear comfortable shoes.
---
Night Market
The Luang Prabang Night Market is not just for food. It is also great to do some souvenir shopping! There are so many items being sold here, although it can get a little repetitive. From toys, jewelry, clothing and so much more no doubt you will find something to bring home.
Just be aware that you are expected to barter for prices.
---
Mount Phousi
A top sunset watching spot is Mount Phousi. Though it is very popular so you will want to head up at least an hour before the sun goes down. There is an entry fee of $2.30 / 20,000LAK which you will need to pay.
The climb consists of over 300 stairs and there are two access points on each side of the mountain. Apart from the impressive view at the top, there is also a temple called Wat Chom Si.
Dont worry if you don't like crowds, you can always visit Mount Phousi for sunrise.
---
Local Experiences
Rice Farming Experience: This is what I personally did on my recent trip to Laos. We learned all the steps involved in the rice process, from planting, transplanting, drying, cooking and finally tasting. We even got to plow with a water buffalo!
Cooking Class: I really wanted to do one for vegetarians in Luang Prabang where it is a real local experience. Not only are you cooking local dishes, but you are also using traditional cooking techniques to create the dishes. Ever wanted to cook straight over a fire?
---
Where To After Luang Prabang?
After your adventures backpacking Luang Prabang has come to an end then you will need to travel onwards. A great option is to head to some of the best nature in a town called Vang Vieng. Here you will find river tubing, the most impressive viewpoints and crazy karst mountains.
Seriously the landscapes here are surreal and I highly recommend making your way from Luang Prabang to Vang Vieng.
Alternatively, you can take the slow boat to Northern Thailand. This adventure will take you a couple of days, but it is entirely worth it. I have done it multiple times and would go again in a heartbeat.
The views from the banks of the Mekong River and unlike anything else and it is a great way to see some of the countrysides.
---
Any Questions? Let me know in the comments!
---
LIKE IT? PIN IT!

---
Want more Laos inspiration? Check out….
---
Disclaimer: This post contains affiliate links. So, if you click on it and purchase something, I get a small percentage at no extra cost to you. As always all opinions are my own and your support is much appreciated.

Related Posts
Find out the best waterfalls in Laos that you need to visit at least once. [...]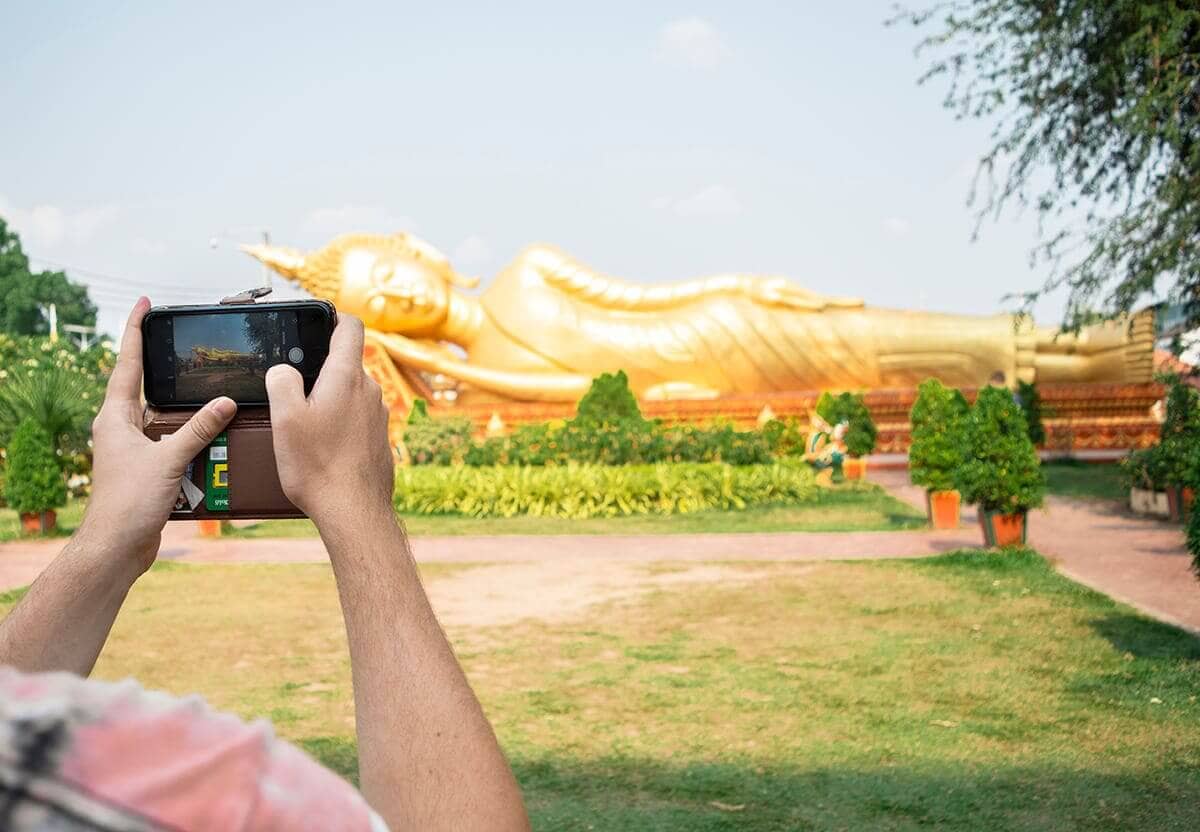 Find out the perfect one day in Vientiane itinerary to ensure you have the ultimate [...]
1 Comment
 Come find out everything you need to know about going river tubing in Vang Vieng, [...]
2 Comments