When I was heading to Lake Atitlan I was excited to swim, be surrounded by volcanos, and relax. Though the longer I was there the more stories I heard regarding cleanliness, pollution, and sewage resulting in sick travelers.
My thought process quickly changed from going for a morning dip to can you swim in Lake Atitlan, like will I get super sick?
---
If you are planning to travel around Guatemala you will see Lake Atitlan as a spot listed everywhere as a must-visit, and it is. Though not all is what it seems.
Pictures surrounding this place show colorful lakeside villages surrounded by volcanos, and a place for the weary traveler to relax and get back in touch with nature.
You will commonly see photos of people cliff-jumping from the famous point in San Macros la Laguna, or jumping straight in from a pier. The problem is, the closer you start traveling towards Lake Atitlan the more stories you start hearing, and you will quickly question whether or not can you swim in Lake Atitlan.
Nevertheless, these stories don't just involve Lake Atitlan in Guatemala, more often they also include Semuc Champey. Though what do these two places have in common? Water. Seriously the "don't put your head underwater" to the "you couldn't pay me to get in", all seem to circulate in the travel community.
Though how true are these stories really? Well, speaking from my not-so-fortunate experience, there is a bit of truth about them, but you should take what you hear with a grain of salt.
Did I get sick traveling in Guatemala? Yes. Was it from swimming in Lake Atitlan? No. Was it from swimming at Semuc Champey? Again, No. It was actually from a small McDonald's we had as a lunch stop when traveling from Flores to Semuc Champey.
By the time I arrived at my accommodation that night, I had committed multiple times on the side of the road and felt like my stomach was about to explode from intense cramps and soon-to-come diarrhea. Who said traveling was glamorous?
Well, let's get into it and find out if you can swim in Lake Atitlan or if am I just going to end up sick, and how to do so safely.
---
Can You Swim In Lake Atitlan And Not Get Sick? What You Need To Know…
---
How I Book Cheap Transport In Guatemala: GuateGo
---
Water Temperature In Lake Atitlan
Let's start off with the basics, is it even warm enough to swim when you are traveling Lake Atitlan? Well, the water does stay at a relatively consistent temperature all year round at 21°C / 70°F.
Perhaps this basically means nothing to you, because until I started diving I didn't think twice about the numerical water temperature, I would just dip my foot in. If it didn't send a cold shock through my body, we were good.
Well after diving in Honduras and Belize, where the waters were a lovely 28°C / 82°F, I can say the waters in Lake Atitlan are rather chilly. Nevertheless, you can certainly plunge yourself in, and enjoy a bit of a swim, but I wouldn't say you will happily frolic in the waters all day long.
---
Where Can You Swim In Lake Atitlan
Next up, where can you actually swim in Lake Atitlan? Well, this question can be broken down into two different parts.
The first is the physical as in the location or villages that are safe to swim at, and the second is the so-called rules that you should follow if you decide to swim in Lake Atitlan in order to keep safe.
---
What Villages Are Safe To Swim In Lake Atitlan
Unfortunately, some areas of Lake Atitlan are not safe to swim in. This is mainly around the larger villages where you get a lot of pollution and runoff from the nearby houses. Also near or around the piers is a big no-no for two reasons.
The first is because you don't want to get hit by a boat, seriously this is a possibility, and you will be able to see them, better than they can see your little bobbing head in the water, so best to be on the lookout. Secondly, because of the fumes and diesel lingering in the water.
The city's best avoiding include Panajachel, San Pedro la Laguna, and Santa Cruz la Laguna. This is just because these are the largest spots with the majority of traffic and pollution issues. However in saying this you will definitely still see people still swimming in all of these cities.
I stayed in Santa Cruz la Laguna at Free Cerveza during part of my adventure around the lake and they have a pier out the front. Most days you will find people swimming around the dock, and jumping off, but at the same time, we heard horror stories about people getting sick who had been swimming there.
Rather than swim a friend and I decided to take a kayak out and stumbled on a heap of dead fish just floating on the surface. We asked a staff member at the hostel and were told it was due to pollution from a nearby river.
For the same reason it is recommended to be cautious of fish caught on the lake for consumption.
Nevertheless, it is generally safest to swim at San Marcos la Laguna and the smaller villages around the lake. Obviously, you don't want to swim around the pier areas in San Marcos, or in any of the smaller towns. But there is Cerro Tzankujil nature reserve just outside of San Marcos with some excellent cliff jumping spots.
---
Rules For Swimming In Lake Atitlan
Well, there are no rules in regards to swimming in Lake Atitlan per se, though there are some more common sense things you ought to know in order to keep safe.
Basically, this was briefly mentioned above, but don't swim near the public piers, or in the mains lanes of boat traffic (you will quickly learn how close they generally come to the shore.
This is both for the safety of you, as well as the boat captain and those onboard. They don't want to be doing any sudden maneuvers to avoid a person swimming.
If you are swimming in the wrong place you will very quickly find this out.
---
How I Book Cheap Transport In Guatemala: GuateGo
---
Algae Bloom In Lake Atitlan
Next up, let's learn about some of the things to take into consideration when deciding can you swim in Lake Atitlan. The first one up is an algae bloom, also known as cyanobacteria. They first appeared in Lake Atitlan in 2009, during which time it covered over half of the lake.
Usually, you will find that the lake is a deep blue color, with water so clear you can see down to 50 feet in some places. Though in the presence of algae bloom you will notice a thin film of green algae covering the surface.
There have been many studies done regarding this, how it is occurring, and how it can be stopped.
This is due to nitrogen and phosphorus in the agricultural fertilizers, and untreated sewage running off down to the lake through heavy rains and landslides.
Though this isn't just common in Lake Atitlan, algae blooms are a worldwide problem when it comes to fresh water. It is something I have grown up hearing living in the lakeside town of Taupo in New Zealand.
On top of this, there is also the issue of people dumping their garbage directly into the lake. You commonly can walk around the shoreline and see washed-up piles, and it's not pretty. Because there are no regulations with this, and a lot of the community has grown up doing this, it is normal for them.
There has been quite an effort to correct this over the past 10 or so years, but it is a timely and pricey Initiative.
---
Sewage In Lake Atitlan
Now, this is a bit of a controversial subject, and that is whether or not raw sewage goes into Lake Atitlan, or if it is simply grey water.
Unfortunately, it is pretty normal to see grey water trickling down the streets of the lakeside towns towards the shoreline of Lake Atitlan, that one is obvious, and it's not good. Though our question is regarding raw sewage.
Jose who runs Amigos del Lago de Atitlan, a private NGO consisting of holiday homeowners, claims that raw sewage is running into the lake at a metric of 300 liters per second. Even though that is just an estimate by him, it is still a large claim to make.
There are wastewater treatment facilities at the Lake that treat the sewage and grey water that aren't diverted into the street. But even here the post-treated water isn't that great, still cloudy and foamy.
There are talks about funding more wastewater treatment plants, though unfortunately concerns over funds to build and charging to use them put those ideas at a halt.
---
What Kind Of Sick May I Get
The Global Press Journal made the following statement regarding Lake Atitlan.
"Experts confirmed the presence of cyanobacteria in Lake Atitlán in 2009. The toxic strains of the bacteria can affect the liver, kidneys, central nervous system, and skin of both humans and animals, and it has been linked to degenerative brain diseases."
This obviously doesn't sound very promising, but not everyone gets sick swimming in Lake Atitlan, some do and some don't. The best thing you can do is not put your head under the water and definitely don't swallow any.
Though one common illness that you honestly can't prevent except by not getting in the water at all is rashes. If you do end up swimming in Lake Atitlan and get a rash I recommend going to a local pharmacy for treatment.
---
What Is Being Done To Fix It?
So you can obviously see there are issues regarding pollution in Lake Atitlan and the algae blooms.
Unfortunately, there is quite a divide between the local community holding onto its roots, and the often out-of-town people who are trying to fix the issues. The indigenous people here really value the lake, and it is pivotal to their culture.
Though understandably, when people come in who were not raised there, point out issues, wanting to charge locals fees for water treatment plants they cannot afford. It is easy to see why they don't agree.
In the short term, the best things we can do is correctly dispose of trash, recycle, and make sure your accommodation partakes in sustainable practices.
---
Where to Stay In Lake Atitlan
There are plenty of lovely villages around Lake Atitlan where you can stay. I recommend choosing a couple you would like to visit and then checking out accommodation options.
Panajachel: Let's start with the main city around Lake Atitlan called Panajachel. There always seems to be a constant stream of shuttles arriving and departing, with travelers walking on down to the docks.
I would say it is worth spending a couple of days here. It is an easy place to book tours and organize transport. There is some awesome shopping to be done down the main street called Calla Santander.
San Pedro La Laguna: This is another popular town worth checking out. It is no doubt quite a backpacker hub with plenty of hostels and affordable cafes and restaurants.
This is the perfect town to position yourself in if you are planning to hike the San Pedro volcano or if you are perhaps looking for an easier hike you will also find plenty of tour agencies offering the popular Indian Nose Hike.
San Marcos la Laguna: Now if you are more of a free-spirited type of person or quite into the yoga scene you may want to think about basing yourself in San Marcos.
There are so many accommodation options here, and truly some are incredibly beautiful with amazing views out to the volcanos. This is also an excellent spot for some delicious vegan and vegetarian food.
San Juan La Laguna: Undoubtedly this is the place to experience the arts of the area and is also a great place to do some shopping and buy some authentic souvenirs.
There are definitely fewer tourists here than in other villages around the lake, so it can be nice to get away from all the crazy and come here for a breather.
Santa Cruz la Laguna: Another popular spot is Santa Cruz la Laguna. This has grown quickly in popularity with backpackers over the last couple of years thanks to the affordable hostels on offer.
You can find the popular Free Cerveza which gives summer camp vibes, and it is pretty cool you get to sleep in a teepee. Secondly, there is La Iguana Perdida which was the first hostel in the area and has a really homely feel.
One thing Santa Cruz is known for is its incredible views, from the lake, the volcanos, and the picturesque village, it is a feast for your eyes.
The perfect stay for backpackers and digital nomads. Dorm rooms start from $22.00 per night.

BOOK NOW

A party hostel perfect for those wanting to let loose and make friends. Prices start from $12.00 per night.

BOOK NOW

A lovely homely hostel right by the pier. Dorm rooms start from $11.00 per night.

BOOK NOW


Free Cerveza

Enjoy summer camp vibes and tipi dorm rooms. Prices start from $16.00 per night.
---
Things To Do In Lake Atitlan
Seeing as Lake Atitlan is such a popular spot to visit in Guatemala you can be sure there is plenty of things to do here. This is just a quick breakdown of some of the top options:
Study Spanish: Studying Spanish in Guatemala is a popular thing to do here, but even more so at Lake Atitlan. This is because of the relaxing atmosphere, beautiful scenery, and affordable living.
You can find an assortment of Spanish schools in a lot of the towns and they will even do outdoor learning where you can enjoy the incredible views.
Hike: There is an assortment of hikes available in Lake Atitlan, where you can capture the best views this area has to offer. Whether you decide to hike a Volcano, do the popular Indian Nose hike, or simply to a viewpoint. It'll be sure not to disappoint.
Yoga: Lake Atitlan is yogi heaven, and that's not just San Marcos. You will find yoga classes in nearly all the towns around the lake. One of the most popular is called Eagles Nest and it has one of the best views you could imagine from its studio.
---
How I Book Cheap Transport In Guatemala: GuateGo
---
LIKE IT? PIN IT!
---
Want more Guatemala Inspiration? Check out….
---
Disclaimer: This post contains affiliate links. So, if you click on it and purchase something, I get a small percentage at no extra cost to you. As always all opinions are my own and your support is much appreciated.
Photo credit: "DSCN0806" (CC BY 2.0) by Micah MacAllen . "On The Dock" (CC BY 2.0) by Jon Hurd . "Tyler Jumping Off of A Cliff" (CC BY 2.0) by Micah MacAllen . 
Related Posts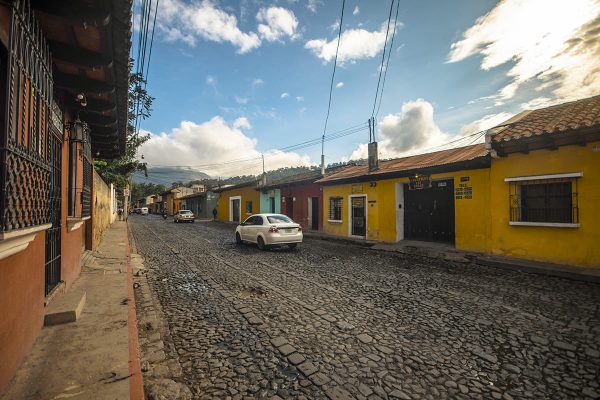 Find out exactly how to travel from Semuc Champey To Antigua in Guatemala. No doubt [...]
If you are planning on spending 4 days in Antigua, Guatemala make sure you check [...]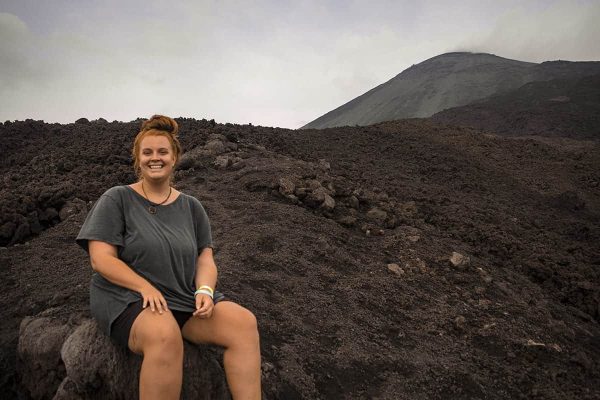 If you are looking for an easier Volcano trek in Guatemala then the Pacaya Volcano [...]