Let's find out is Flores Guatemala worth visiting. Depending on where you start your travels this could be a bit out of the way, though for some people this is a highlight.
In this travel guide, I will let you everything there is to know about this beautiful town such as prices, transport, where to stay, the best things to do and so much more!
---
Located in the North of the country, Flores is a picturesque town set on an island in the middle of Lago Peten Itza.
Unfortunately, it is quite the distance from the capital, and other popular tourist spots such as Lake Atitlan and Antigua, so it is completely understandable that you want to find out is Flores Guatemala worth visiting before you decide to venture all the way there.
Well, luckily for me, and you if you are doing the same route, Flores is the perfect first border town to visit if you have decided to travel overland from Belize. Though I do understand that not everyone has the time, or likes to rough it in order to be traveling all around Central America.
Of course, there is the famous Tikal Archeological Site to visit here, but is it worth traveling all that way, especially if you landed in Guatemala City, just to see that? Surely there must be other cool things to do in Flores as well.
In this backpacking Flores travel guide, I will let you in on all the top things to do, where to sleep, eat, and more!
My hope in letting you know what exactly this place is like is so you can make an informed decision based on your planned travel itinerary, travel style, and budget. I will be focusing more on a backpacking outlook in this post, as that is what I write about.
Though if you travel as a family or a luxe couple, you may have to pick through the information to what you feel is relevant for you.
So let's get into everything you need to know about backpacking Flores and finding out is Flores Guatemala worth visiting, so you can have the best trip. This includes finding out budgets, where to stay, top spots to eat, staying safe, things to do, and more!
---
Backpacking Flores: Is Flores Guatemala Worth Visiting?
---
How I Book Cheap Transport In Guatemala: GuateGo
---
How Many Days To Spend Backpacking Flores
Okay, there are not a whole lot of things to do in Flores, but it does make an excellent stop to relax and take in some beautiful sights.
Of course, you will need to dedicate a day to hitting up the nearby Tikal, and even if you have the afternoon free because you did a morning tour, you will be too tired to do anything. I am speaking from experience here.
Personally, I ended up staying 3 nights in Flores, Guatemala. As I said earlier it was my first stop in Guatemala after crossing the border from Belize and I used it as a spot to do some new country admin, such as getting a sim card, organizing more of my trip, and getting some currency.
With these 3 nights, I arrived around mid-day on my first day and left very early on my last day. This allowed me to put a full day aside to visit Tikal and on either side to just explore the town and what it has to offer.
Honestly, you will want to spend at least 2 full days in Flores. It is a super beautiful town, nearly like Antigua vibes, but actually quite warm. It is the perfect chance to go for a swim, eat at some of the delicious cafes, and check out some epic sunsets.
If you happen to be in Guatemala City or Antigua prior to visiting Flores there is an overnight bus that will take you between these destinations. This will allow you to optimize the time you have here, and save you a night on accommodation. Though more about this in the transport section.
---
Cost Per Day To Travel Flores
Now I will be honest, Guatemala as a whole was not as cheap as I had expected.
I started my travels in Mexico which was relatively affordable, Belize then put a huge bump in the budget, and went I went to Guatemala I expected it to be back at Mexico price levels, though in honesty it was somewhere between the two.
I spoke to many other travelers who had this exact same issue as well, so plan accordingly.
I stayed 3 nights in a hostel called Los Amigos during my time in Flores. The total price for this was Q450 / $57.30 or $19.10 per night. I know this is quite pricey, but it was in an air-conditioned dorm room.
I am a bit older nowadays and prefer to splash out on comfortable dorms. You can definitely save money by staying in one fan-cooled dorm room available.
Many hostels here in Flores will have an onsite restaurant where you can buy food and drinks. I had one meal here on my first night when I arrived after dark, which was Q75 / $9.50 for a vegan curry, though I must say the portion size was huge.
The following day I headed out to the local supermarket to buy some supplies so I could use the communal kitchen. I spent Q85 / $10.80 on snacks and enough food to cover lunch and dinner for the following 2 days.
The most expensive things for me that I purchased in Flores were my Guatemalan Sim card, as well as the entry fee to Tikal.
Overall I would recommend budgeting $50.00 to $60.00 per day when backpacking Flores. This will allow you to have a comfortable bed, decent meals, and a visit to Tikal.
---
Where To Stay In Flores
Honestly, Flores is a super small island, and as long as you are staying on the island itself you will be fine in terms of a good location. There is a bridge that connects it to the mainland, but basically, the tourist area is on the island of Flores itself.
I did end up on the other side a couple of times though, the first was arriving there at the bus station, and having to take a taxi the rest of the way, and the second was to visit the supermarket and buy some food for dinner since my hostel had a kitchen.
I had an excellent time staying at Los Amigos, though it did kind of lack a social atmosphere if you aren't into the party scene. There is a cute little hangout area with hammocks, but most people just seemed to sit there listening to music rather than talking to others.
Luckily for me, they have a few bunny rabbits hopping around and they became my friends. Personally, I found that booking my Tikal Tour through them allowed me to meet some friends who were staying there.
I stayed in the air-conditioned dorm, and this was freakin amazing, but the air conditioning is only turned on at night. They have an excellent onsite restaurant which was perfect for me after visiting Jorge's Rope Swing as, as a solo female traveler I don't go out after dark by myself.
The perfect stay for backpackers. Dorm rooms start from $25.00 per night.

BOOK NOW

Enjoy this modern hostel with incredible pool views. Dorms start from $20.00 per night.

BOOK NOW

A beautiful hotel with incredible rooftop views. Rooms start from $79.00 per night.

BOOK NOW


Hotel Casazul

Clean and modern blue-themed hotel. Rooms start from $70.00 per night.
---
How I Book Cheap Transport In Guatemala: GuateGo
---
Getting Around Flores
Now you know a little bit more about what you can expect when backpacking Flores let's get into the transport side of things. Now Flores is relatively small so it is super easy to get around by foot, tuk-tuk, or boat. Though how about getting to Flores in the first place? It's a super long journey.
---
Getting To Flores From Antigua
If you arrived in the capital or simply came from Antigua it is an easy, but long journey to travel to Flores.
| | | | |
| --- | --- | --- | --- |
| | Time | Cost | Highlight |
| Overnight Bus | 9 hours | from $60 | Comfortable journey |
| Chicken Bus | 12+ | from $12 | Not recommended |
| Fly | 1 hour | from $100 | Easy and stress-free |
Overnight Bus: This is the most popular way to travel from Antigua to Flores. The overnight bus departs at 7 p.m. and typically gets in around 8 a.m. It is a pricey journey, but it is a comfortable ride, and you will be saving on accommodation for the night.
You will have some lay-flat seats, snacks, wifi, air conditioning, and a bathroom onboard. Tickets can be booked over on GuateGo.
Chicken Bus: Now if you want to take the chicken bus around Guatemala, unfortunately, this is not the route I would recommend taking. Instead, choose shorter distances such as Antigua to El Paredon. You will find this journey will take over a day of travel, and you will have countless bus changes.
Fly: Now if you aren't on too much of a budget, or simply don't want to be stuck on a bus then flying is an excellent option when traveling from Antigua to Flores. Both these locations have airports and you can find flights starting at $100.00 if you book in advance.
---
Traveling Within Flores
Flores is a super small island, seriously you could probably walk the outside perimeter in 30 minutes or so. Nevertheless, there are plenty of transport options around and you may find yourself wanting to travel to the main supermarket or the beaches around the Lake.
Walk: Flores is a relatively flat island, though is it shaped as a mound so you will find yourself walking uphill and downhill occasionally, but nothing major. It is super easy to walk all around, even across the bridge back to the mainland.
One thing to be aware of is the roads are cobblestone, so can be easy to trip over, I also may have fallen down sloped smooth footpaths a couple of different times.
Tuk-tuk: If you want to travel a little bit further afield then there are tuk-tuks that can take you around. If you decide to do this option make sure to negotiate a price in advance.
Boat: Now if you are staying a little longer in Flores you may find yourself wanting to explore further afield, or simply check out the backpacker's paradise of Jorge's Rope Swing.
Nevertheless, it is super easy to find a boat driver to take you around, just head down to the shoreline and you will hear them calling out. It's the same as a tuk tuk where you should negotiate a rate in advance.
I highly recommend downloading the offline map of Flores on the Maps.Me app for your cell phone. It'll be super helpful in navigating your way around if you do not have data.  This is one thing I always make sure I have before arriving at a new destination.
---
ATM In Flores
Perhaps you are like me and traveled over from Belize and need local currency, or perhaps you are simply running low. Well, the best place to find an ATM in Flores is the Superfotomart.
This is a small air-conditioned minimart, though their prices are quite high. If you look up ATM on Google Maps it will show it as down the side street, but it is actually along Calle 30 de Junio INSIDE the Superfotomart.
There is supposedly a second ATM in Flores next to Hotel Petén, though I couldn't find it at all.
Now one important thing to note is there is only ONE ATM in Flores located in the Super 24. Do not at all rely upon it as an option to withdraw cash, it is notoriously out of order or has run out of money.
It was never working during my visit, and it seems it is more common that it is not working than it is. This means you will need to travel with enough cash to last the length of your stay.
Some accommodation providers will accept credit cards, though not all. Make sure you check with your hostel or hotel whether this is an option for you.
---
How I Book Cheap Transport In Guatemala: GuateGo
---
Where To Eat In Flores
There are some absolutely incredible restaurants in Flores, especially rooftop ones with crazy sunset views. Though as you read above eating out was a bit more expensive than I had budgeted, so I did cook in a hostel kitchen a bit.
Nevertheless, I would head out at least once a day for a cheeky meal out. Well, as they say, everything in balance.
I recommend checking out:
Los Amigos: It's kind of hidden in the back so you will have to walk past the hostel reception to enter. Though once at the restaurant you will be transported to the coolest hippie hangout covered in colors, beautiful materials, and an awesome vibe.
They also have an equally awesome menu with plenty of vegan and vegetarian options as well.
Maple & Tocino: Otherwise known as maple and bacon this is the perfect little brunch/breakfast spot in Flores, and I highly recommend a visit! From delicious waffles, coffees, fresh fruits, and dishes served with love.
This is no doubt my number 1 spot worth trying in Flores. I wish I could go back for that epic iced chai!
Delirio: This is a beautiful pink and extremely instagramable cafe and bakery. I found this the perfect place for a delicious slice of cake, or even to get a takeaway option for your Tikal visit the following day.
They specialize in cakes and pastries, and it was a great little find to stumble upon while exploring the beautiful streets of Flores.
---
Things To Do While Backpacking Flores
There are a few awesome things to do here in Flores, and personally, I think it is well worth checking out. This is just a quick breakdown of some of the top options:
---
Tikal
No doubt the top thing to do in Flores is to visit the famous Tikal Temple Complex. It is a bit of a drive away from the city center so unless you have your own transport, the majority of travelers visit on a tour.
I decided to do the morning tour, which allowed us slightly more sleep than the sunrise tour, but it was still too early for me. Honestly if you aren't a morning person, screw it and book the later tour so you can have the most enjoyable experience.
Honestly, it was pretty quiet during our visit, but I found myself walking around like a mindless zombie.
Nevertheless, it is still well worth doing and it is absolutely incredible to check out these impressive ruins.
---
Jorge's Rope Swing
This is the perfect place for backpackers and adventurous travelers to relax and get to know one another. With music playing, affordable drinks on offer, the hot Guatemalan sun beating down, and the inviting waters, you can't really say no.
Now you may need to speak a little bit of Spanish or bring along your Google translate as you will need to negotiate with a local boat driver to take you over to Jorge's Rope Swing.
There were three of us onboard the boat, and we did try to negotiate a better rate, especially because a lot of sources online seem to say 25Q / $3.20 one-way or 50Q / $6.40 return.
Though our driver was firmly stuck at 30Q / $3.80 one way and 60Q / $7.60 return. Who knows, the price of petrol has gone up a lot recently.
Now, if I have convinced you to visit Jorge's Rope Swing, you need to be aware there is an entry fee of 25Q / $3.20. This is on top of your transport cost, so that is something to be aware of.
---
Swim
There are lots of cool spots around the lake to go for a swim. You can either stick somewhere local, like at the dock on Flores which is a lovely spot to relax.
Alternatively, if you are looking for something different and away from the crowds head to one of the nearby beaches. Talk to any boat driver and they will be able to take you there.
---
Wander The Streets
Seriously this place is freaking beautiful and the perfect showcase of the gorgeous buildings in Guatemala. Cobblestone streets, colorful buildings, incredibly painted murals, and delicious eateries seem to be around every corner.
Go for a walk and simply get lost, this isn't a large town, so you can never go far.
---
Safety While Backpacking Flores
Flores is a pretty chill laid-back town and one of the safest in the north of Guatemala. Basically use common sense and you will be fine. If you are going for a little swim, don't leave your valuables right out visible to the public.
Stay cautious of the street dogs. Don't go swimming at night and keep yourself aware of the boats, you will be able to see them better than they can see you.
Don't drink the water out of the tap. It is easy to find bottled water here through the local corner store or hostels that will often do free refills.
I wandered around the town by myself a lot and felt entirely fine.
Even walking along the bridge into the mainland, which is considered a bit more dangerous I felt fine. When arriving at the bus station on the mainland (we took a collectivo from the border, not a tourist shuttle), it was a bit overwhelming with people trying to convince us to go with them.
Though luckily we met a young local on the collectivo who assisted us to the right spot, helped my friends exchange money, and organized a taxi at a decent price.
---
Where To After Backpacking Flores
When you have finished up your adventures in Flores it is super easy to continue your travels, or perhaps even pass into one of the neighboring countries. Whether you choose to go by plane or tourist shuttle you will find plenty of options available.
Just remember if you are booking through a tour agency to shop around as prices and quality of vehicles can differ.
Domestic: You may have already figured Flores is pretty damn far from everywhere else in Guatemala, so buckle in for a long day. You can head to Lake Atitlan, Semuc Champey, or Antigua, as well as plenty of other options.
Personally, I chose Semuc Champey, and luckily the long journey was broken up by plenty of stops and we didn't have any delays on the road so it was relatively painless. Well, apart from where I got food poisoning and vomited on the side of the road, welcome to Guatemala.
International: If you want to travel overland to international destinations I highly recommend heading to Belize. The border town on their side is called San Ignacio and you can find a handful of hostels.
There is a real Caribbean culture going on in Belize and it is quite different from Guatemala but equally as stunning. In terms of the international airport, you can find flights to Mexico to destinations such as Merida and Cancun.
---
Any Questions? Let me know in the comments!
---
LIKE IT? PIN IT!
---
Want more Guatemala Inspiration? Check out….
---
Disclaimer: This post contains affiliate links. So, if you click on it and purchase something, I get a small percentage at no extra cost to you. As always all opinions are my own and your support is much appreciated.
Related Posts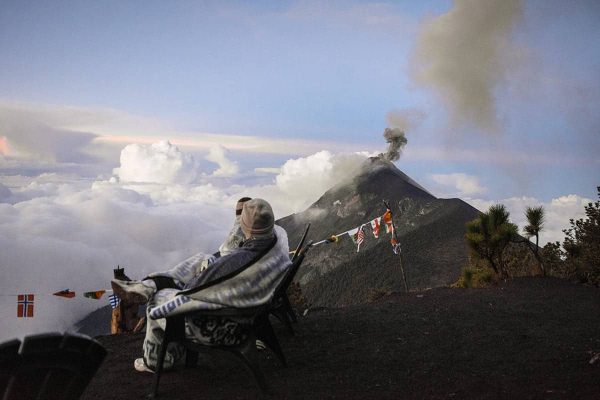 Come find out what you need to know about backpacking Guatemala on a budget! I [...]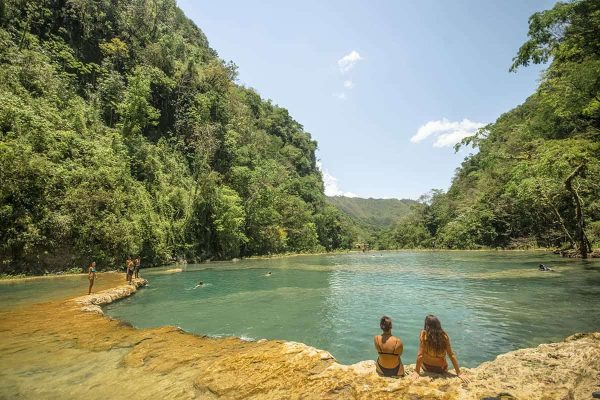 If you are keen to visit the popular Semuc Champey Mirador and Pools during your [...]
Come check out the best hostels in Antigua Guatemala for the ultimate stay. Being a [...]