Find out the absolute best hostels in Semuc Champey for the ultimate stay. No doubt this is backpackers' paradise, but you have a crazy amount of hostels to choose from. How do you know which one is going to be best for you?
Well no worries, I have compared the price, facilities, amenities, and location- so come find out the best hostels in Semuc Champey!
---
Welcome to Semuc Champey, this is a hidden oasis in the Guatemalan jungle, though for quite a good reason. Here you will find the incredible Semuc Champey National Park, with an incredible mirador, or viewpoint, and delightful pools to cool off in after a busy day of exploring.
Though this is certainly a reward after your long journey to get here, seriously whether you are coming from Flores to Semuc Champey, or traveling to Antigua it is a good 10+ hour travel day to arrive or depart.
Therefore no doubt you will want someone comfortable to rest your head at one of the best hostels in Semuc Champey.
Personally, I stayed at Greengo's which is one of the most popular hostels in Semuc Champey, though that is for a good reason which we will get into a bit further below. No doubt there are some great stays here, though also some questionable ones, and I am here to help separate them.
One thing to be aware of is that you will either stay closer to Semuc Champey or within the town of Lanquin itself (this is where the buses arrive). Each one has its own pros and cons, but they are quite a distance from each other. This is something that I will cover more extensively in the location section.
You will find all sorts of hostels in Semuc Champey for all types of travelers. Whether you are simply looking for the best spot, somewhere social, or simply a cheap bed, I will explain all these options and more in this guide to the best hostels in Semuc Champey.
---
The 8 Best Hostels In Semuc Champey, Guatemala
---
🚗 How I Book Cheap Transport In Guatemala: GuateGo
---
How To Choose The Best Hostels In Semuc Champey
Honestly, there is quite a large assortment of hostels here in Semuc Champey, though they do vary in a few things. So keep this in mind whether you are looking for somewhere social, cheap, or in a great location.
In all honesty, I travel in more of a glam-packer style and there aren't any hostels around Semuc Champey that fit my usual preferences. This usually includes a pod-style bed with curtains.
Traveling Central America there is an excellent hostel scene where owners have built the hostels as mini resorts that you never need to leave, especially as they can organize all activities for you at affordable prices.
Some hostels in Semuc Champey fit this description exactly, with activities available, restaurants on-site, and plenty of places to hang out. Though these are usually the hostels in literally the middle of nowhere, so the hostels do need to provide these things in order to entice travelers to visit.
I mean you can't go wrong with sturdy wooden bunk beds, and this is essentially your only choice in Semuc Champey. You can easily find cheaper options available that have a great social atmosphere, comfortable beds, and clean bathrooms. So you don't need to worry too much, nor do you have to look far.
So when choosing the best hostels in Semuc Champey, some things I took into account are:
---
Price
Now depending on what the hostels offer here in Semuc Champey you can find some surprisingly affordable options. Though the super nice places, often mentioned higher up in my best hostels in Semuc Champey list generally do seem to be a bit more pricey.
These certainly won't be the cheapest places in Guatemala, though if you are willing to stay somewhere a bit more basic in the town of Lanquin you will find some super affordable prices.
Now because I am a little older and will pay extra for comfort and good facilities I found myself budgeting, and in general, averaging $20.00 per night throughout my travels in Central America.
Though in Semuc Champey I found the options on more upscale hostels limited. In the end, I paid $17.00 per night for quite a basic dorm, but this was the best available. It was wooden beds, fan-cooled, and limited power.
---
Location
Now this is where you will need to make your first decision as to the best hostels for you in Semuc Champey, location. You will have two choices here, the first is the town of Lanquin.
This is where your shuttle bus or transport will arrive, where you can find an assortment of restaurants and cafes, as well as some more affordable options in terms of accommodation.
Secondly, you have in the jungle or Semuc Champey. A lot of hostels here will actually include transport from where the shuttles stop to their property because they are so off the beaten track.
It is awesome that this isn't an additional cost, though depending on where you are staying the roads can be quite bad, and can take up to another hour, on top of your full travel day to reach there.
You will also need to make sure you bring enough cash with you as a lot of these places do not accept cards, and there is not an ATM nearby (there is an ATM in the main town of Lanquin though it has been known to run out of cash).
Personally, I really enjoyed staying in a jungle setting, away from the hustle and bustle, and dirt roads of the city
---
Amenities
In terms of amenities, it can be a bit of a hit or miss when it comes to hostels in Semuc Champey. Though this again changes depending on whether you decide to stay in the jungle or in Lanquin.
You will have better mobile coverage and internet connectivity in town. Though staying at Greengos I did have a couple of bars available on my cell phone with my Claro SIM card I purchased back in Flores for $23.00 which includes 10G of data over 30 days as well as unlimited use of social media.
One thing I have mentioned previously is there is a bit of a lack of modern pod-style dorms in Semuc Champey. I am definitely the demographic for this type of room and happily spend a little extra for the luxury.
Unfortunately, I found all hostels here a little bit more basic in terms of styling and privacy, but nothing a towel hung up can't fix.
All hostels will allow you to book transport and activities through them. Some hostels in Semuc Champey will do family dinners, otherwise, there will be an onsite restaurant offering a variety of dishes.
Unless you are staying in Lanquin you will definitely want to make sure there is food available on-site and that it is affordable.
The majority of dorm rooms will be fan-cooled in Semuc Champey, which will at least make your stay more affordable. If you do decide to book somewhere with air conditioning be aware it is very likely it will be turned off during the day.
Many hostels in Semuc Champey also have swimming pools, some even with swim-up bars. This is the perfect way to cool off, especially if you are staying in a more secluded area with limited things to do.
---
🚗 How I Book Cheap Transport In Guatemala: GuateGo
---
Overall Best Hostel In Semuc Champey – Greengos Hostel
There are a handful of hostels in Semuc Champey known as the place to stay, though for me Greengos comes out top.
It is in a beautiful serene location less than a 10-minute walk from the entry of Semuc Champey, has an incredible pool where you can relax in the afternoons, a large open-concept communal area, and an assortment of dorm rooms and private rooms available.
They also have an onsite tour desk, meaning you can book your transport and tours in-house, knowing they are good quality having been recommended by one of the best hostels in Semuc Champey.
I highly recommend eating at the restaurant where you can find delicious options for breakfast, lunch, and dinner. They specialize in Mediterranean food, and have plenty of vegan and vegetarian options. I can recommend the hummus.
Greengos offers 2 different types of dorm rooms, a 9-bed dorm room, and a 7-bed dorm room. Both are rather on the basic side but have everything you need for a comfortable night's stay, as well as having lockers and fans in the rooms.
There are shared bathrooms that are kept super clean and are large so you are never having to wait. One thing to be aware of is that Greengo's is actually powered by a generator and has limited power. Therefore you will only find power here from 6 am to 12 pm, and from 4 pm until 12 am.
One of the awesome things about staying so close to Semuc Champey is that you don't need to visit as part of a tour. Instead, you can leisurely walk down and spend your entire day chilling out and enjoying life in the jungle.
However, be aware you still will need to book a tour to visit the cave as it is not safe to visit by yourself. Nevertheless, you will save money by doing the Mirador hike and pools by yourself.
The huge saltwater pool is an excellent place to relax after a busy day exploring. It is a great way to meet and mingle with other travelers, and your bed will be just a few seconds away if you have too many beers from the swim-up bar!
Greengos supports the local Chicanuz community by providing salaried jobs to those who would otherwise have to travel far from home to find work. Having interacted with these locals I must say they are absolutely lovely.
Though be aware some of them don't speak Spanish, let alone English. So the hostel uses a tab-like service where you pay the entire bill at the end of your stay.
The final thing to be aware of is because of the distance from Lanquin town they offer a free pick-up service from 3 pm to 9 pm for guests staying a minimum of 2 nights.
If you are booked on a tourist shuttle their truck will be there waiting to pick up guests when it arrives. Though if you are traveling by private transport or colectivo, you will need to contact them to organize pick-up.
If you decide Greengos isn't for you but perhaps want to visit for lunch or for a dip in the pool you can purchase a day pass for Q100 / $12.80 which is redeemable at the restaurant and bar.
$$
Onsite Restaurant & Bar
Pool & Swim Up Bar
Free Water
10 minutes from Semuc Champey
CHECK BEST PRICES
---
Runner Up Best Hostel In Semuc Champey – Vista Verde Lodge
Runner up for the best hostels in Semuc Champey is Vista Verde Lodge. This is a unique stay where it is all locally owned and run. You can learn about the Mayan stories that inspired this lodge as well as the roots, traditions, language, and customs.
This is truly a property that is run with love and that has travelers at its core.
You can enjoy incredible views of the mountains from every room, and some even look over the river as well. They have a mix of dorms (max 5 beds) and private rooms available, all at some of the cheapest prices you will find in Semuc Champey/ Lanquin.
The dorm rooms are single beds, no bunks here, on the top story so you have some epic views. The private rooms are quaint and colorful, just be aware all bathrooms are shared here.
Outside you will find an incredible pool that overlooks the town of Lanquin. This place actually has the same great views as the infamous/famous Zephyr Hostel mentioned below, though this place is about half the price.
If you are looking for an equally social vibe, but much more relaxing this is the perfect option.
Vista Verde has a restaurant and bar onsite as well as offers transfers from the drop-off spot for shuttles in Lanquin. Make sure you contact them after booking to organize this. Also just be aware they are cash only.
$
Onsite Restaurant & Bar
Pool
Tour Desk
5 minutes from Lanquin Town
CHECK BEST PRICES
---
Best Hostel in Semuc Champey for Solo Travelers – Zephyr Lodge
Welcome to the best hostel in Semuc Champey for solo travelers, Zephyr Lodge. This is a well-known spot on the backpacking trail in Guatemala and travelers seem to either love it or hate it. Though it is quite pricey, even for a dorm room, so set your expectations accordingly.
The thing that seemed to put this place on the map was the influencers coming here and showcasing the incredible infinity pool, with a swim-up bar, and the most gorgeous jungle views.
I know for sure I have seen this place all over Instagram and Youtube before visiting. This is certainly the place to be if you are staying here and you will have no issues making new friends while swimming about. They openly advertise being a party hostel, so don't expect to get a quiet night's sleep.
Nevertheless, sometimes you have to forfeit a relaxing evening, to instead go out and meet some awesome like-minded travelers. They also offer tours to Semuc Champey where you can explore the mirador, pools, and cave, as well as tubing tours.
Now I know I said this place is pricey, and it is, though if you are looking for a higher quality dorm room this is the best you will find in the best hostels of Semuc Champey. With pod-style beds and privacy curtains, this is a great option for a more luxe backpacker.
Though this will set you back around $30.00 per night. They also have more basic dorm rooms with just your standard bunk bed, but these still cost $24.00 per night. Nevertheless, all these dorms are fan cooled and have incredible jungle views, the only difference is the bunk bed style.
At Zephyr Lodge, they accept cash, as well as credit and debit cards, though there is a 10% surcharge on the latter.
$$$
Pool & Swim Up Bar With Amazing Views
Onsite Restaurant
Pod Style Dorms
5 Minute Drive From Lanquin
---
Best Cheap Hostel in Semuc Champey – Hostal El Nawal
Now if you are perhaps on more of a budget and not wanting to pay the crazy prices some of these hostels in Semuc Champey are asking then Hostal El Nawal is an excellent option. Here you will find dorm rooms starting from just $9.00 per night and private rooms from $22.00.
Hostal El Nawal is located halfway between the township of Lanquin and the incredible Semuc Champey. Here you will be surrounded by the sights and sounds of the jungle. It is the perfect place to simply relax and get in touch with nature.
There is a delicious onsite restaurant where you can buy your meals and a common chill-out area to meet other travelers. Of course, there is also a bar so you can finish the day with a cold beer.
The team at Hostal El Nawal will be more than happy to help organize your onward travel by booking shuttles, as well as booking tours to the nearby Semuc Champey, and hikes in the area.
They will also happily pick you up from your shuttle when you first arrive in Lanquin, just contact them in advance to organize this.
Here you can stay in their 8-bed dorm room which is rather basic mattresses on the ground kind of style. Though if you are simply looking for somewhere affordable to rest your head this is a great choice. Also, be aware that there is no hot water here, luckily the days are hot enough so you don't really need it.
Lastly, they only accept cash so make sure you bring enough with you. There is barely any cell phone reception or Wifi, so best to let your friends and family know you will be off the grid for a few days.
$
Super Affordable
Lovely Staff
Travel Desk
40 Minute Walk From Semuc Champey
CHECK BEST PRICES
---
Runner Up Best Cheap Hostel In Semuc Champey – El Retiro Lanquin
Another excellent choice for an affordable hostel in Semuc Champey is El Retiro Lanquin. Here you will also find dorm rooms starting at just $9.00 per night and private rooms starting from $30.00 per night.
They are located more in the town of Lanquin rather than towards Semuc Champey, though you still get an incredible jungle atmosphere, and a river right on the doorstep of the property. This means you can jump straight in to cool off, or even just relax on a tube basking in the sunshine.
Though if the river doesn't sound like you they have also built a deck around the river's edge with loungers to chill on.
Onsite you will find a restaurant serving up delicious and affordable meals, including vegan options, so you are plenty fueled for the day.
They have two different types of dorm rooms available, a 10-bed mixed dorm room, and a 4-bed female dorm room. There aren't actually many hostels in Semuc Champey that offer female-only dorm rooms, so if this is something that is important to you I would definitely book in here.
The Wifi only works from the reception and restaurant area and isn't available in the rooms. They also offer tours to Semuc Champey and can organize your onward transport to other parts of Guatemala at an affordable price.
$
Super Affordable
River Front Location
Free Drinking Water
Onsite Restaurant
5 Minute Drive From Lanquin
CHECK BEST PRICES
---
🚗 How I Book Cheap Transport In Guatemala: GuateGo
---
Best Cheap Private Room in Semuc Champey – Viñas Hotel
I get it sometimes you need a break from the dorm room life, or perhaps are traveling with a partner or friend where staying in a private room oftentimes works out the same price as having to buy two dorm beds. Therefore why not enjoy a bit of privacy Vinas Hotel offers exactly this.
Enjoy hanging out on one of the hammocks, chilling by the pool, or booking a tour to Semuc Champey, you will be spoilt for choice here. Located a short walk from the center of Lanquin you can easily head into town for meals or if you need to visit the ATM.
This is the perfect mix of being in the jungle, but also close enough to access all those creature comforts.
They offer a variety of private rooms here starting from $15.00 per night which still includes air conditioning. They are all brightly colored with rustic charm. Basically, everything you need for a comfortable stay, but without any of the frills.
$
Super Affordable
All Rooms Have Air Conditioning
8 Minute Walk From Lanquin Center
CHECK BEST PRICES
---
For another choice for a cheap private room in Semuc Champey, we have Guayaha. They are more of a boho option offering glamping-style tents for those travelers looking for more of a unique stay.
Prices for these tents start from just $22.00 per night so why not book something different that'll make your trip to Semuc Champey super memorable?
Even though these are tents you still get to enjoy the comfort of a fan, private seating area, deck, and a comfortable bed. They are also beautifully decorated radiating hippie vibes all around.
Mix that with the incredible jungle background and this is heaven. Onsite you will find that the property boasts 3 different swimming pools, an onsite restaurant as well as a bar.
$$
Unique Experience
3 Pools
Onsite Restaurant
5 Minute Drive From Lanquin
CHECK BEST PRICES
---
More Best Hostels In Semuc Champey
Now that we have touched on some of the best hostels in Semuc Champey for solo travelers and those on a budget let's get into some more good options.
---
Ch'i Bocól Community Hostel is another great choice when you are looking for somewhere to stay in Semuc Champey. Located deep in the jungle this spot may take some effort to reach, though it will be completely worth it.
Though don't worry after you book you can contact the owners to organize pick-up from your shuttle, just expect an hour-long drive after your already long journey to reach this secluded slice of paradise. From there it is a 30-minute hike in the jungle to the hostel on an ancient Mayan pathway.
They have both dorm rooms and private rooms available depending on your preference. Though as a result of its location, facilities here are a bit more on the basic side. Though all rooms do have power, including the 4-bed dorms, and they also have lockers as well.
Spend your days at Ch'i Bohol Community Hostel partaking in yoga classes, meeting fellow travelers, or going for a swim in the incredible river right on your doorstep. They also have an onsite restaurant and bar, as well as plenty of hammocks to hang out in.
This is the perfect choice for those looking to get in touch with nature and have a chill stay at one of the best hostels in Semuc Champey.
$$
In The Heart Of The Jungle
Sustainable Property
Riverfront Location
1 Hour Walk To Semuc Champey
CHECK BEST PRICES
---
Next up we have El Portal De Champey and you literally cannot get any closer to Semuc Champey than staying here. It is literally located right next to the gate which means you don't need to book a tour when visiting or only have to book a tour for the caving portion.
You will be able to relax as long as you wish enjoying the beautiful clear waters and enjoying this incredible landmark that people travel 10+ hours to see.
Enjoy the onsite restaurant, bar, and 24-hour reception where they are more than happy to organize tours and onward transport for their guests. There is also a pool onsite where you can cool off, relax, and mingle with other travelers.
They offer a mixture of private rooms as well as a 6-bed mixed dorm room for travelers on a budget. Be aware that due to its isolated location power is limited throughout the day from 1 pm to 2 pm and 6 pm to 10 pm, as well as they don't have hot water or wifi.
Make sure you bring cash with you as they don't accept card payments.
$
Awesome Location
Good Pool
1 Minute Walk From Semuc Champey
CHECK BEST PRICES
---
Hostal Oasis The Traveler is another excellent hostel in Semuc Champey worth considering when you are deciding where to book. They aim to be a luxury jungle resort on a backpacker's budget. Think everything you could ever need at one beautiful property.
Hang out at the mosaic pool right on the river's edge and watch the jungle surrounding you. They also have a bar nearby along you to hang out in the river or pool while enjoying the music.
You will also find a restaurant on-site with a dedicated dancing area for those who are interested. You can book your tour of Semuc Champey here with departures leaving daily.
Hostal Oasis offers a 6-bed mixed dorm room as well as private rooms. Just be aware the only power points in the dorm rooms are by the door, you don't have an individual one for each bed.
$
Pool Overlooking The River
Onsite Restaurant
5 Minute Drive From Lanquin
CHECK BEST PRICES
---
🚗 How I Book Cheap Transport In Guatemala: GuateGo
---
So Where To Stay in Semuc Champey?
Semuc Champey is an excellent place to visit on your Guatemala itinerary and is well worth checking out for a few days. Of course, you need to see the impressive Semuc Champey Mirador, Pools, and Cave, though one of the best parts of visiting here is simply experiencing nature and relaxing.
There is a little bit of everything in terms of the best hostels in Semuc Champey, whether you are looking to party or relax. So, with the help of this guide, I hope you have found the perfect place to stay.
Do you own or work for a hostel and want to be featured? Let us know over at [email protected]
---
Any Questions? Let me know in the comments!
---
LIKE IT? PIN IT!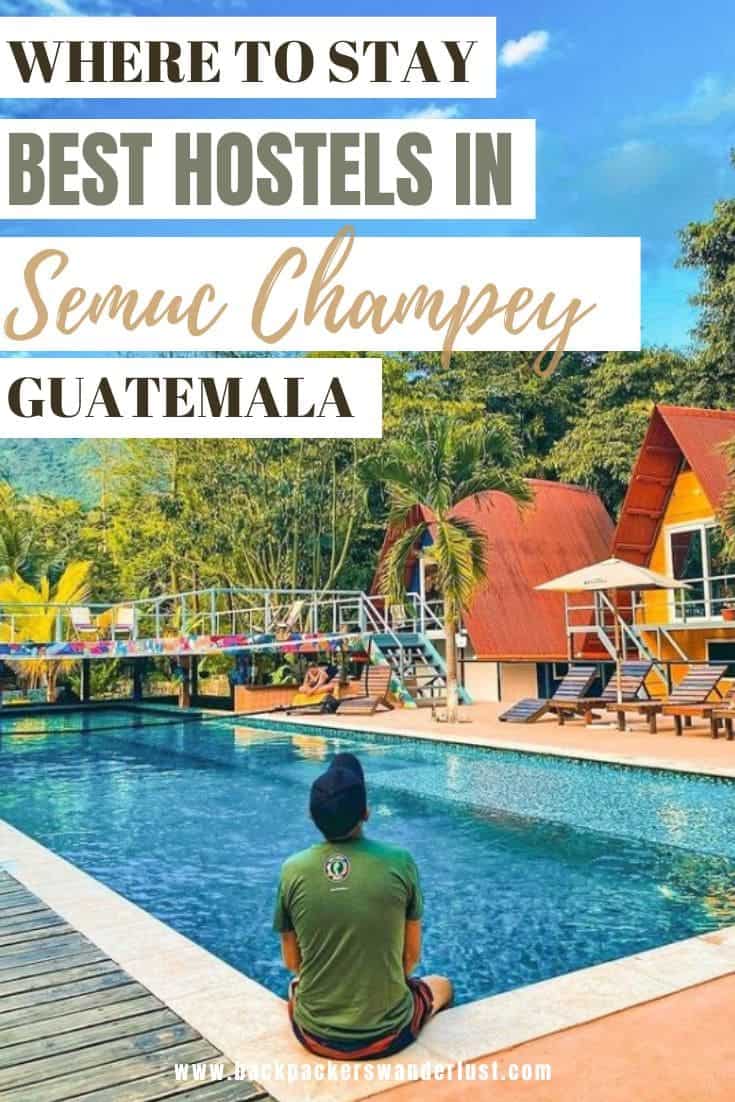 ---
Want more Guatemala Inspiration? Check out….
---
Disclaimer: This post contains affiliate links. So, if you click on it and purchase something, I get a small percentage at no extra cost to you. As always all opinions are my own and your support is much appreciated.
Related Posts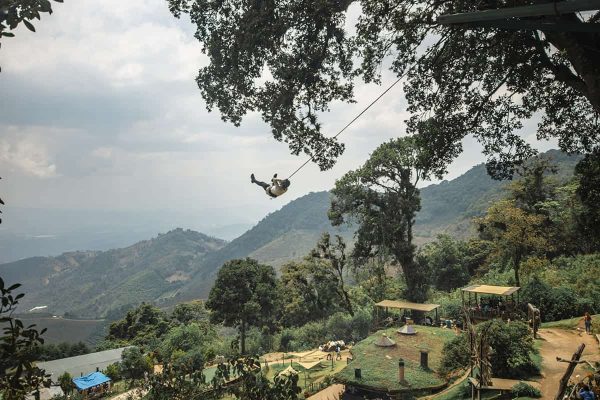 Whether you are a Lord Of The Rings and Hobbit fan, or not, visiting Hobbitenango [...]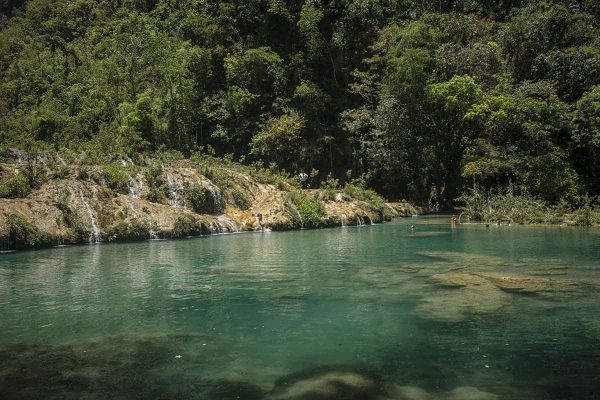 Come find out how to travel from Lanquin to Semuc Champey in Guatemala. These two [...]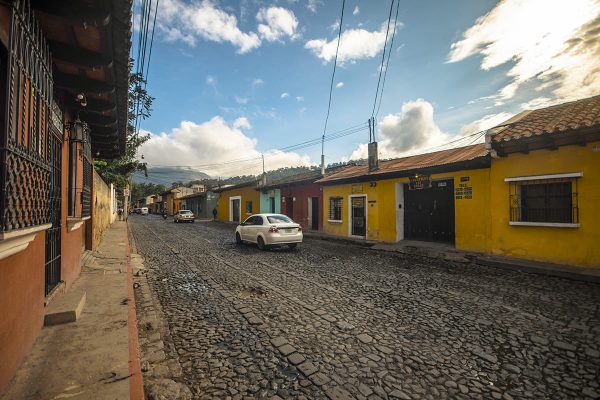 Find out exactly how to travel from Semuc Champey To Antigua in Guatemala. No doubt [...]