Come find out what you need to know about backpacking Guatemala on a budget! I fell in love with this Central American Gem and can't wait for you to do the same.
I will share with you my best travel tips, money, important information, top places to see, and more in this guide on one of my personal favorite destinations, Guatemala!
---
Guatemala is a country that offers a rich and diverse experience for travelers. Whether you are interested in exploring its ancient Mayan ruins, hiking its active volcanoes, learning Spanish in its colonial cities, or immersing yourself in its vibrant culture, this country has something for everyone.
And the best part is, you can do all this without breaking the bank, making backpacking Guatemala a rewarding experience!
Also thanks to the fact Guatemala is along the Gringo Trail you will find plenty of other travelers also visiting this scene. If you are like me and travel on a budget you will be happy to know there is an assortment of hostels and affordable foodie options.
Guatemala is not a huge country, though you will certainly find yourself having a few travel days if you are planning to explore the whole thing. There are numerous incredible destinations worth checking out, though I will get into this more down below.
Nevertheless, you will find the majority of travelers generally spend 2 to 3 weeks backpacking Guatemala.
I will cover for you everything you will never need to know about backpacking Guatemala on a budget travel guide. From money matters, visas, when to go, accommodation, getting around and so much more before finally getting into where exactly you should go and do during your adventure.
I will also share some of the best places to visit in Guatemala, from the stunning Lake Atitlan to the impressive Tikal. By the end of this guide, you will be ready to pack your bags and embark on an unforgettable adventure in Guatemala!
---
Backpacking Guatemala On A Budget: All You Need To Know
---
How I Book Cheap Transport In Guatemala: GuateGo
---
What Is The Currency In Guatemala
The local currency in Guatemala is the quetzal. The Quetzal is divided into 100 centavos and has the symbol Q.
Check online exchange rates.
The quetzal bills feature the national bird, the resplendent quetzal, and historical figures, while the coins carry the Guatemalan coat of arms. The quetzal was introduced in 1925 by President José María Orellana and was pegged to the U.S. dollar until 1987.
---
Entry Requirements For Backpacking Guatemala
Guatemala is a welcoming country that does not require a tourist visa for most visitors who want to stay up to 90 days. All you need is a passport that is valid for at least six months and a blank visa page.
You will receive a stamp on arrival that grants you access to Guatemala and the other Central American countries that are part of the CA-4 agreement (El Salvador, Honduras, and Nicaragua).
You can extend your stay for another 90 days at the immigration office in Guatemala City for a fee of 10 Quetzales ($1.30 USD).
If you are arriving by air, you will most likely land at La Aurora International Airport in Guatemala City, the capital. There is no entrance or exit fee for Guatemala, but some airlines may charge you a departure tax of $30 USD which is included in your ticket price.
Arriving by air it is likely you will be asked to show proof of departure when arriving at the airport. This is because many people travel here and end up overstaying. If you do not have proof of onward travel many travelers use such services as Onward Ticket.
The company books a legitimate ticket in your name and cancels it after a certain period. You just need to pay a small service charge. This provides you with an actual ticket for proof of onward travel.
If you are arriving by land, you can cross the border from Mexico, Belize, or Honduras by bus or car. The border crossings are usually straightforward and hassle-free, but you may encounter some delays or unofficial fees depending on the time and location.
Personally, I didn't experience this, though I did get asked what country I am really from when I presented my New Zealand passport and had to convince immigration it is a legit place.
View this post on Instagram
---
Travel Budget For Backpacking Guatemala
Before my life of travel took over I actually spent many years studying to become an accountant. Therefore don't be overly surprised to learn that I actually kept track of all my costs while backpacking Guatemala.
This includes transportation, food, accommodation, activities, and even some souvenir shopping. I tracked all my expenses to make sure I kept on budget and it has also allowed me to hold onto that information to share with you.
All in all, I ended up spending $57.00 per day and honestly it could have been done cheaper. I did all the activities on offer, booked transport through hostels rather than shop around for prices, stayed in nice and modern hostels as well as eating at cafes and restaurants at least once a day.
Also, there are some quite pricey activities in Guatemala such as a Tikal tour, Pacaya Volcano, and Acatenango Volcano. Though these are bucketlist experiences and something that is well worth splurging on!
For me, the most expensive part of my budget was actually accommodation, averaging $17.50 per night, closely followed by food at $16.00 per day, and activities at $12.90 per day.
Usually in the majority of travels food is my most expensive category, though I was able to save money by booking hostels with a communal kitchen and cooking.
Overall the cost of backpacking in Guatemala depends on your travel style, preferences, and activities. However, a general estimate is that you can travel comfortably on $45.00 – $70.00 per day as a backpacker. This will cover your accommodation, food, transportation, and some tours.
---
How I Book Cheap Transport In Guatemala: GuateGo
---
Best Time To Travel Guatemala
Guatemala is a country that can be visited year-round, thanks to its pleasant climate and diverse attractions. However, some months may be more suitable than others depending on what you want to see and do. Here are some factors to consider when planning your trip to Guatemala:
The dry season vs the rainy season: The dry season in Guatemala runs from November to April, and is generally considered the best time to visit. The weather is sunny and warm, with clear skies and mild evenings.
The rainy season lasts from May to October and brings afternoon showers and thunderstorms that can last for a couple of hours. The rain can make some roads muddy and slippery, especially in the highlands and the jungle regions.
Also, you will likely miss out on those incredible Volcano views in Antigua due to clouds. However, the rain also brings lush greenery and fewer crowds, so it's not a bad time to visit if you don't mind getting wet.
The festivals and events: Guatemala has a rich and colorful culture that is expressed through various festivals and events throughout the year.
Some of the most popular ones include…
Day of the Dead (November 1st), when people visit cemeteries and fly kites to honor their ancestors
Christmas (December 25th), when towns and cities are decorated with lights and nativity scenes
Holy Week (March or April), when Antigua hosts elaborate religious processions and ceremonies
Independence Day (September 15th), when people celebrate with parades, music, and fireworks.
Wildlife spotting: Guatemala is home to a variety of wildlife, from colorful birds and butterflies to monkeys and jaguars. The best time to spot them depends on their habits and habitats.
For example, if you want to see the resplendent quetzal, the national bird of Guatemala, you may have a better chance between March and June, when they are nesting in the cloud forests.
If you want to see sea turtles nesting on the Pacific coast, you may want to visit between July and December, when they lay their eggs on the beaches. If you want to see howler monkeys in the Peten jungle, you may want to go early in the morning or late in the afternoon, when they are most active.
Personally, I was in Guatemala from May until June which is considered the rainy season. Though we didn't have one day of rain at all, so my raincoat stayed dry in my backpack.
The only downside of visiting from this time that I found was you couldn't really see Fuego or Acatenango from Antigua, as well as sometimes the Acatenango tours would go up and not see anything the entire time making it risky.
Lastly, I missed out on experiencing the turtle release at Playa El Paredon.
---
Sleeping In Guatemala On A Budget
You can actually find such an assortment of accommodation options when backpacking Guatemala. It is a popular destination for travelers who want to experience Central America without breaking the bank.
However, finding a cheap and comfortable place to sleep can be challenging, especially in the high season. Here are some tips on how to sleep in Guatemala on a budget.
Hostels: Hostels are the most common and affordable option for backpackers and solo travelers. They offer dorm beds or private rooms, usually with /shared bathrooms and common areas.
Hostels are also great places to meet other travelers and get local tips. You can find hostels in most towns and cities, ranging from $7 to $20 per night.
This is what I stayed in during my travels in the country and you could easily find basic budget hostels for those looking to save money, as well as more luxe hostels for those happy to spend a bit more.
Guesthouses: Guesthouses are another option for budget travelers who want more privacy and comfort than hostels. They are usually family-run businesses that offer basic rooms with private or shared bathrooms. Some guesthouses also have kitchens, gardens, or terraces.
Guesthouses are more common in rural areas and smaller towns, where they can cost from $10 to $20 per night. This is a great option if you are friends or a couple traveling together.
Couchsurfing: Couchsurfing is a platform that connects travelers with locals who offer free accommodation in their homes. Couchsurfing is a great way to experience the local culture and make new friends in Guatemala.
However, Couchsurfing requires some planning and communication in advance, as well as respect and gratitude for your hosts. Couchsurfing is not very common in Guatemala, but you can still find some hosts in major cities and tourist areas.
---
Getting Around Guatemala On A Budget
Honestly, there are no super fancy ways to travel around Guatemala. There are no trains, and if you choose to fly you are limited on destinations. Nevertheless, there are always a couple of choices for how to travel from point A to point B.
Here is a little overview of the types of transport you may find yourself taking while backpacking Guatemala:
Fly: Flying is the most popular way to get to Guatemala from abroad, especially if you are coming from the US or Europe. There are regular deals for direct flights to Guatemala City, the capital and main airport of the country.
You can use Skyscanner to compare prices and find the best deals. In terms of domestic cities at this stage, on the tourist trail, you can take a domestic flight between Guatemala City and Flores, and unfortunately, that's it.
Shuttle: If you prefer to travel by land, shuttles are a great option for getting around Guatemala on a budget. Shuttles are shared vans that offer door-to-door service between popular tourist destinations, such as Antigua, Lake Atitlan, Semuc Champey, and Flores.
Shuttles are comfortable, convenient and affordable, ranging from $10 to $40 per person depending on the distance. You can book shuttles online at GuateGo or once you are in the country through your accommodation or local travel agencies.
Bus: Buses are another way to travel in Guatemala on a budget, but they are less comfortable and reliable than shuttles. There are two types of buses in Guatemala: chicken buses and Pullman buses. Chicken buses are old American school buses that have been painted and decorated in bright colors.
They are cheap and frequent, but also crowded, noisy, and sometimes unsafe. Pullman buses are modern coaches that offer more comfort and security, but also cost more and run less often.
Buses are a good option for short distances or if you want to experience the local culture, but not for long journeys or remote areas.
Train: Train is not a common mode of transport in Guatemala, as there are no passenger trains operating in the country. The only exception is the FEGUA train that runs between Guatemala City and Puerto Barrios on the Caribbean coast.
This train is mainly used for cargo, but it also offers a few seats for passengers who want to enjoy a scenic ride through the countryside. The train runs once a week on Saturdays and costs $3 per person.
---
How I Book Cheap Transport In Guatemala: GuateGo
---
Food & Drink In Guatemala
In Guatemala, you can easily find a wide assortment of food. This is even more true in the tourist hot spot of Antigua and Flores. From vegan, Italian, Mexican, and more. There is a variety of cuisines here for foodies.
Though wherever you find yourself in the country good food will not be far behind. I am a fussy eater and a vegetarian, luckily I had no issues whatsoever finding something suitable in Guatemala.
Some common local dishes include Tortillas, Tostadas, Tamales, Pepián, Kak'ik, Jocon, Platanos en mole, and the drink Pinol. These are some of the most delicious and representative dishes of Guatemalan cuisine. By trying them, you will discover the diversity and richness of this country's food culture.
Though being vegetarian I didn't eat too much street food simply because a lot of it contained meat. Being a vegetarian in Mexico was a lot easier when it came to street food. Though I was happy to find communal kitchens were common here so I could save money by cooking.
---
Internet Access In Guatemala
If you are planning to visit Guatemala, you may wonder about the availability and quality of internet access in the country. The answer is that it depends on where you go and what you need. Internet access in Guatemala is not very widespread or reliable, especially in rural and remote areas.
However, as a tourist, you will mainly be sticking to the main backpacker trail. In this area, the only place I had issues with internet access was in Semuc Champey, though we also had limited power throughout the day as well. Luckily I did have cell phone reception so I was able to use my mobile data to keep connected.
---
How I Book Cheap Transport In Guatemala: GuateGo
---
Buying A SIM Card In Guatemala
If you are a backpacker who wants to stay connected while traveling in Guatemala, you may want to buy a local SIM card for your phone. By buying a local SIM card, you can avoid expensive roaming charges and enjoy cheaper rates for calls, texts, and data. Though be aware you will need an unlocked phone to use a sim card abroad.
There are two main mobile providers in Guatemala: Claro and Tigo. Both of them offer prepaid SIM cards that you can buy and top up with different plans and packages.
I purchased a Claro SIM card for $23.00 which includes 10G of data over 30 days as well as unlimited use of social media during my stay. Though you can get this cheaper by going to an official Claro or Tigo store, I was lazy and just bought it from a random corner store.
---
Top Places To Visit While Backpacking Guatemala On A Budget
Guatemala is a country that offers a variety of places to visit, from natural wonders to cultural and historical sites. Whether you are interested in ancient Mayan ruins, volcanic landscapes, colonial towns, or indigenous villages, you will find something to suit your taste and budget.
Here are some of the best places to visit in Guatemala that you should not miss.
---
Guatemala City
Guatemala City is the capital and largest city of Guatemala, and a gateway to many attractions in the country. However, a lot of travelers just use it as an arrival point before exploring the rest of the country.
Most people may stay a night before or after a flight to rest before heading off on their adventures. Though Antigua is a quick 40-minute to 1-hour drive away so the majority of travelers head there straight for the airport.
A cheap and cheerful hostel option. Dorms start from $19.00 per night.

BOOK NOW

A relaxing and beautifully decorated hostel. Prices start from $11.00 per night.

BOOK NOW

A lovely hotel located close to the airport. Rooms start from $24.00 per night.

BOOK NOW

A hostel with affordable private rooms starting from $23.00 per night.

BOOK NOW
---
Antigua
Antigua is a charming city in the central highlands of Guatemala, known for its well-preserved colonial architecture, colorful houses, and cobblestone streets. It was the capital of Guatemala until 1773 when it was severely damaged by an earthquake and abandoned.
Today, it is a UNESCO World Heritage Site and a popular destination for travelers who want to experience the history, culture, and beauty of Guatemala.
Some popular things to do in Antigua include:
Learn Spanish: There are so many places in Guatemala you can learn Spanish, though I choose Antigua and found it was perfect. You could be studying in the morning and exploring in the afternoon. One day I even hiked a volcano after school!
Acatenango Volcano Hike: This is the longer and harder of the two volcano hikes you can do. It's an overnight adventure where you can watch Fuego Volcano erupt right opposite your camp. No doubt this is one of the most spectacular things I have ever done.
Pacaya Volcano Hike: The easier of the two volcano hikes just takes a couple of hours. Though this volcano is nowhere as active so don't expect rushing lava rivers. Though you can eat a pizza cooked on the hot rocks.
Shopping: I loved the handicrafts in Guatemala and Antigua is an excellent place to purchase them. If you don't like haggling and prefer to buy somewhere with fixed prices I can recommend Nim Po't. Seriously I could spend hours exploring this place.
Hobbitenango: Being from New Zealand I thought the idea of Hobbitenango was kind of strange, and it is, but still it's worth a visit. Here you still find Instagram spots, incredible views, and many games. Just best not to visit on a weekend.
Explore The Ruins: Now prior to visiting I never knew Antigua was full of incredible ruins. My favorites were Convento Capuchinas and Convento La Recoleccion. Though there are numerous spots dotted around the city worth checking out.
My favorite choice for a hostel. Clean and comfortable dorm rooms start from $22 per night.

BOOK NOW

A relaxing and beautifully decorated hostel. Prices start from $28.00 per night.

BOOK NOW

A lovely hotel located in the perfect location. Rooms start from $40.00 per night and they have awesome last-minute deals.

BOOK NOW

Whether you are wanting a dorm or a private room Selina has both. Prices start from $42 per night for a dorm and privates from $95.00.

BOOK NOW
---
Flores
Flores is a small island town in northern Guatemala, surrounded by Lake Petén Itzá. It is famous for being the gateway to the ancient Maya city of Tikal, one of the most impressive archaeological sites in Central America.
However, Flores itself is also a charming and colorful place to visit, with many things to see and do.
One of my favorites to do here was take a boat over to the nearby Jorges Rope Swing, which is like backpacker heaven. Grab a beer, enjoy the refreshing waters, and try out some of the jumps. It's a great way to spend an afternoon if you have a spare day in Flores while you are backpacking Guatemala.
The perfect stay for backpackers. Dorm rooms start from $25.00 per night.

BOOK NOW

Enjoy this modern hostel with incredible pool views. Dorms start from $20.00 per night.

BOOK NOW

A beautiful hotel with incredible rooftop views. Rooms start from $79.00 per night.

BOOK NOW

Clean and modern blue-themed hotel. Rooms start from $70.00 per night.

BOOK NOW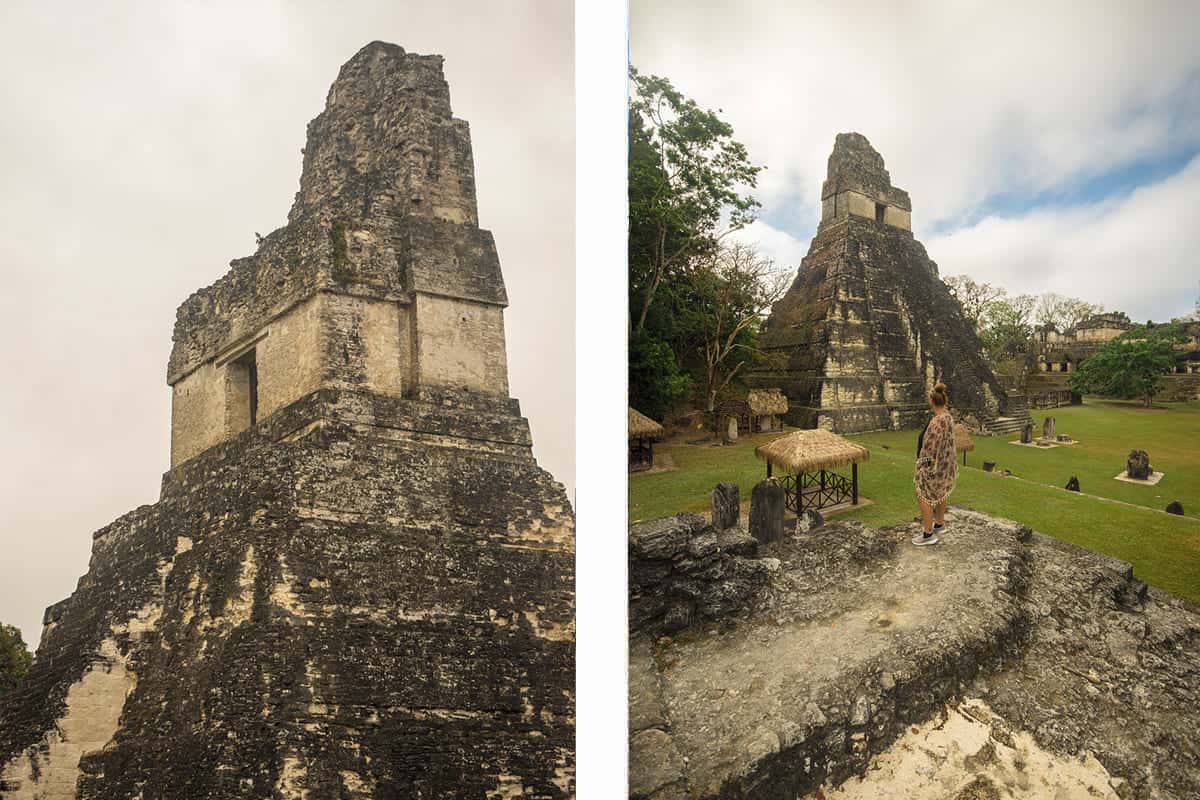 ---
Semuc Champey
Semuc Champey is a natural wonder in the Alta Verapaz region of Guatemala, near the town of Lanquín. It is a 300-meter-long limestone bridge that covers the Cahabón River, creating a series of turquoise pools on top of it.
It is a popular attraction for travelers who want to enjoy the beauty and adventure of this place.
Some of the things to do in Semuc Champey are:
Hike to the viewpoint: The best way to appreciate the stunning scenery of Semuc Champey is to hike to the viewpoint, called El Mirador. It is a 45-minute uphill walk through the jungle, but the reward is worth it.
You will see the entire limestone bridge and the pools from above, as well as the surrounding mountains and forest.
Swim and slide in the pools: The pools of Semuc Champey are inviting and refreshing, especially after the hike. You can swim, relax and slide from one pool to another, enjoying the clear water and the fish. Some pools are deeper than others, so be careful.
Explore the caves: Near the entrance of Semuc Champey, there is a cave system that you can explore with a guide and a candle. You will walk, swim and climb through the dark passages, seeing stalactites, stalagmites, and bats.
This must be booked as part of a tour and have a guide, it is not something you can do yourself.
Just be aware Semuc Champey is a full travel day from the nearest other towns on the backpacking Guatemala travel route. Therefore if you are short on time, or want to avoid long travel days, think twice about this one.
A short walk from the entry of Semuc Champey and the perfect backpacker resort. Prices start from $20.00 per night.

BOOK NOW

A party hostel perfect for those wanting to let loose and make friends. Prices start from $25.00 per night.

BOOK NOW

Walking distance from town and set right on the river, the best of both worlds. Prices start from $9.00 per night in a dorm or $36.00 for a private.

BOOK NOW

Enjoy resort-style living with a glamping stay in one of the beautiful tipi tents. The super affordable tents start at just $25.00 per night.

BOOK NOW
---
El Paredon
El Paredon is a small beach town on the Pacific coast of Guatemala, known for its surf, sand, and sun. It is a perfect place for travelers who want to enjoy a relaxing and laid-back atmosphere, away from the crowds and the noise of the city.
El Paredon has a lot to offer for backpackers who are looking for a seaside spot to relax.
El Paredon is one of the best surf spots in Guatemala, with consistent waves all year round. You can rent a board or take a lesson at one of the many surf camps or hostels that line the beach. Though if this doesn't sound like you, you can simply relax on the beach or by the pool.
There are some excellent hostels in El Paredon that are set up like mini resorts with a pool, bar, restaurant, and basically everything you could ever need.
Enjoy the beautiful beachside hostel and all its great amenities. Prices start at $15.00 per night.

BOOK NOW

Set a little bit back from the beach, this is more of a relaxed hostel starting at $15.00 per night.

BOOK NOW

Enjoy these cute thatch bungalows from just $35.00 per night.

BOOK NOW

Enjoy a bit of luxury between surf sessions. Rooms here start at $100.00 per night.

BOOK NOW
---
Lake Atitlan
Lake Atitlan is a stunning lake in the highlands of Guatemala, surrounded by three volcanoes and several Mayan villages. It is one of the most popular and beautiful destinations in the country, attracting travelers who want to enjoy the nature, culture, and adventure of this place.
Some of the things to do in Lake Atitlan are:
Visit the villages: Lake Atitlan has many villages that are accessible by boat, each with its own character and charm.
You can visit San Pedro La Laguna, a backpacker hub with many bars, restaurants, and hostels, San Marcos La Laguna, a hippie haven with many yoga and meditation centers, Panajachel, the largest and most developed town with many shops, markets, and hotels, Santiago Atitlan, a traditional town with a famous church and a shrine to Maximón, a folk saint, and many more.
Hike the volcanoes: Lake Atitlan is flanked by three volcanoes: San Pedro, Tolimán, and Atitlán. You can hike up one of them and enjoy the views of the lake and the landscape. You will need a guide and a good level of fitness to do this, as the hikes are challenging and long.
You can also hike to Indian Nose, a viewpoint that resembles a human profile and offers spectacular sunrise views.
Kayak or paddleboard on the lake: Lake Atitlan is a great place to kayak or paddleboard, as you can explore the lake at your own pace and see different perspectives of the volcanoes and the villages.
You can rent a kayak or a paddleboard at some of the hostels or hotels on the lake, or join a tour that will take you to different spots.
Learn about the Mayan culture: Lake Atitlan is home to many Mayan people who have preserved their traditions, languages, and customs. You can learn more about their culture by visiting their markets, museums, churches, and ceremonies.
You can also take a weaving or cooking class, or volunteer at one of the many projects that support the local communities.
Relax and enjoy the scenery: Lake Atitlan is a place where you can relax and enjoy the scenery, as it is one of the most beautiful lakes in the world. You can find many places to stay that offer stunning views of the lake and the volcanoes, from cozy cabins to luxury villas.
The perfect stay for backpackers and digital nomads. Dorm rooms start from $22.00 per night.

BOOK NOW

A party hostel perfect for those wanting to let loose and make friends. Prices start from $12.00 per night.

BOOK NOW

A lovely homely hostel right by the pier. Dorm rooms start from $11.00 per night.

BOOK NOW

Enjoy summer camp vibes and tipi dorm rooms. Prices start from $16.00 per night.

BOOK NOW
---
Xela
Xela, or Quetzaltenango, is the second-largest city in Guatemala and a cultural and historical hub in the western highlands. It is a great place to visit for travelers who want to experience a more authentic and traditional side of Guatemala, as well as enjoy the nature and adventure that surrounds it.
Xela is one of the best places in Guatemala to learn Spanish thanks to its affordability. You will find many language schools that offer affordable and quality courses. You can also stay with a local family and practice your Spanish with them.
Learning Spanish in Xela will help you communicate better with the locals and understand their culture better.
Also, Xela is close to several volcanoes that offer amazing hiking opportunities. The first is hiking up Santa Maria. This is a dormant volcano that offers stunning views of the city and the nearby active volcano Santiaguito.
Next up we have Chicabal, a sacred volcano that has a crater lake where the Maya people perform ceremonies. Lastly, there is Tajumulco which is the highest peak in Central America and a must-do for those interested in hiking.
A comfortable hostel offering private rooms from $14.00 per night.

BOOK NOW

The only hostel in Xela with dorms. A dorm bed starts from $7.00 per night.

BOOK NOW
---
Rio Dulce
Rio Dulce is a river and a national park in eastern Guatemala, connecting Lake Izabal with the Caribbean Sea. It is a place of natural beauty, wildlife, and culture, where you can enjoy the scenery, the adventure, and the history of this region. This is no doubt a must-do for any nature lovers backpacking Guatemala.
Some of the things to do in Rio Dulce are:
Take a boat tour: The best way to explore Rio Dulce is by boat, as you can see the impressive canyon, the mangroves, the islands, and the villages along the river. You can take a boat tour from Fronteras or Livingston, two towns that are located at opposite ends of the river.
You can also stop at some attractions along the way, such as Castillo de San Felipe, a colonial fort that defended the river from pirates, Finca El Paraiso, a hot spring waterfall that mixes with a cold river, or El Boqueron, a narrow gorge with rock formations and birds.
Visit Livingston: Livingston is a unique town in Guatemala, as it is home to the Garifuna people, an Afro-Caribbean community that has its own language, music and cuisine. You can learn more about their culture by visiting their museum, their church, and their festivals.
You can also enjoy their food, such as tapado, a seafood soup with coconut milk.
Hike to Quirigua: Quirigua is an ancient Maya city that is famous for its carved stone monuments, called stelae. You can hike to Quirigua from Rio Dulce through banana plantations and rural villages.
You can also visit the archaeological site and see the stelae that depict Maya rulers and gods. Quirigua is a UNESCO World Heritage Site and one of the most important Maya sites in Guatemala.
See the manatees and crocodiles: Rio Dulce is home to many animals, such as manatees, crocodiles, monkeys, turtles, and birds. You can see them in their natural habitat by taking a boat tour or kayaking on the river.
You can also visit a manatee rescue center that rehabilitates injured or orphaned manatees and releases them back into the wild.
The perfect stay for backpackers in a riverfront location. Dorm rooms start from $12.00 per night.

BOOK NOW

A hotel offering dorm rooms room $11 per night and affordable private rooms from $17.00 per night.

BOOK NOW

A beautiful hotel on the riverfront. Dorm rooms start from $22.00 per night.

BOOK NOW


Hotel Casa Perico

A lovely and affordable place to stay. Dorms start at $11.00 and privates $22.00 per night.

BOOK NOW
---
How I Book Cheap Transport In Guatemala: GuateGo
---
Work For Accommodation In Guatemala
Give working for your accommodation a try. Many hostels in Guatemala offer those who are staying a free place to rest their head. Though in exchange you must be willing to help with cleaning, front desk, and other general duties.
Another option is WWOOFing or Helpx.
---
LIKE IT? PIN IT!
---
Want more Guatemala Inspiration? Check out….
---
Disclaimer: This post contains affiliate links. So, if you click on it and purchase something, I get a small percentage at no extra cost to you. As always all opinions are my own and your support is much appreciated.
Related Posts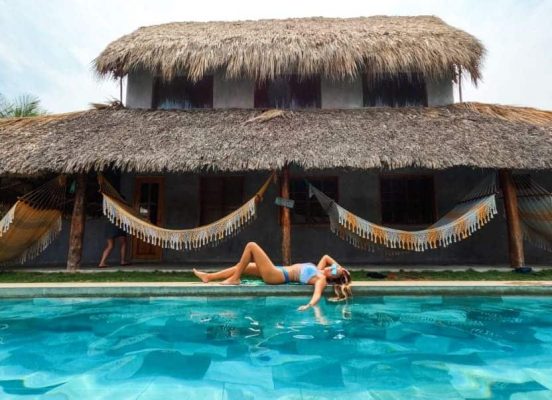 Come check out the best hostels in El Paredon so you can have the perfect [...]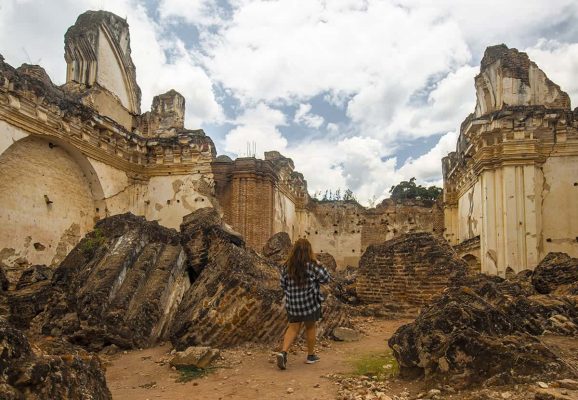 Come check out all you need to know about backpacking Antigua on a budget in [...]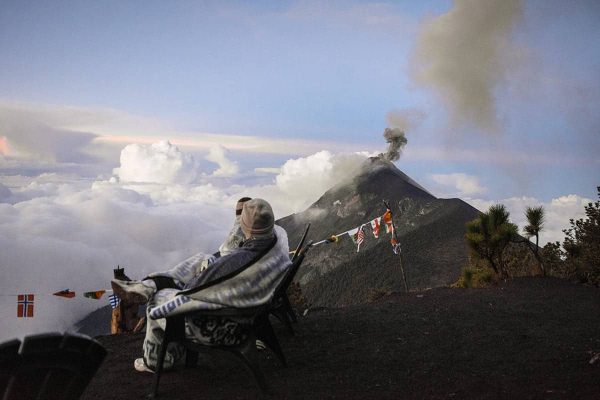 Come find out what you need to know about backpacking Guatemala on a budget! I [...]