Let's check out the absolute best hostels in Lake Atitlan for the perfect lakeside stay. This place is such as backpacker paradise, though surprisingly there aren't actually too many options in terms of dorms. 
I will break down all the best options, so whether you are a solo backpacker, a female traveler, or simply want somewhere cheap to rest your head you will be able to figure out what is best.
I have compared the price, facilities, amenities, and location- so come find out the top backpackers for all types of travelers in this ultimate guide!
---
Welcome to the backpacker haven of Lake Atitlan. Seriously this place is perfect for travelers looking to relax, get back in touch with nature, have a break from the hot climate of Central America, and experience one of the gems of Guatemala.
While here you can do some incredible hikes, enjoy the lake, take a water taxi around the villages, and enjoy a sense of community among tourists. Most of all you will be able to find some great hostels in Lake Atitlan where you can stay between adventures.
One thing to be aware of is that these hostels are not all created equally. This is simply because some of the villages around Lake Atitlan don't have the amenities you may be used to like when traveling in a city.
This includes consistent electricity, Wi-Fi, heating, water, and even flushing toilets. I know, but seriously it is definitely worth visiting, and hostels that are affected by these sorts of things have found ways to work around them.
You will find all sorts of hostels in Lake Atitlan. From glamping style, local homestays, modern digital nomad hangouts, and party spots. Seriously when traveling Guatemala, and even simply Central America you will quickly come to learn about the hostels on the lake and the crazy stories.
Though this doesn't mean drunken debauchery, well not all the time.
Personally, I ended up staying a week exploring the various towns around Lake Atitlan, but I easily could have stayed longer. The best towns set up for travelers are definitely Panajachel, San Pedro La Laguna, and Santa Cruz La Laguna.
These are where you will find the majority of hostels, and travelers on a budget. There is also San Marcos La Laguna as well though they are a bit more limited in terms of hostels and generally cater to a more upmarket yogi crowd.
Now enough about me, let's get into the best hostels in Lake Atitlan. With the help of this list, you'll be able to see what to look for when booking a hostel here! Ensuring you can book a bed confidently, in a decent location, and for a good price.
---
List Of The Best Hostels In Lake Atitlan, Guatemala
---
How I Book Cheap Transport In Guatemala: GuateGo
---
How To Choose The Best Hostels In Lake Atitlan
Even though there may not be a huge array of hostels to choose from in Lake Atitlan, they do vary in what they offer. Therefore I recommend planning out what exactly you want to get out of your trip to Lake Atitlan, then looking at what hostels may cater to this.
In all honesty, I travel in more of a glampacker style and there aren't any hostels around Lake Atitlan that fit my usual preferences. This usually includes a pod-style bed with curtains, a flushing toilet, WiFi in the room, and electricity which kind of goes without saying.
Traveling Central America there is an excellent hostel scene where owners have built the hostels as mini resorts that you never need to leave, especially as they can organize all activities for you at affordable prices. Lake Atitlan you can find a couple of these hostels as well.
I mean you can't go wrong with sturdy wooden bunk beds, and if you are happy to save money by booking this sort of accommodation you will be happy to know this is also an option here.
You can easily find cheaper options available that have a great social atmosphere, comfortable beds, and clean bathrooms. So you don't need to worry too much, nor do you have to look far.
So when choosing the best hostels in Lake Atitlan, some things I took into account are:
---
Price
Now depending on what the hostels offer here on Lake Atitlan you can find some surprisingly affordable options. Even though this is a tourist hotspot the prices of dorm beds aren't inflated. To be honest I found dorms more affordable here than they were in Antigua.
Throughout my travels around Central America, I would generally spend $20.00 per night in a decent dorm room. However in Lake Atitlan you will be paying around $15.00 a night.
Though for that drop in price, you are missing out on amenities you would usually expect, in saying that, hostels in Lake Atitlan know how to foster a social environment perfect for backpackers wanting to make some new friends.
---
Location
Okay, so when it comes to locations around Lake Atitlan this is where it gets tricky. Now unlike a regular city you would visit and stay in the tourist center, Lake Atitlan has numerous villages around the edges where you can stay or simply visit on a day trip.
Nevertheless, here are some of the best spots around Lake Atitlan in terms of hostels and a backpacker atmosphere:
Panajachel: Let's start with the main city around Lake Atitlan called Panajachel. This is the largest city in the area and often travelers' first stop. There always seems to be a constant stream of shuttles arriving and departing, with travelers walking on down to the docks.
I would say it is worth spending a couple of days here. It is an easy place to book tours and organize transport. There is some awesome shopping to be done down the main street called Calla Santander. You can find heaps of cute cafes and restaurants and a delicious ice cream spot I fell in love with.
San Pedro La Laguna: This is another popular town worth checking out. It is no doubt quite a backpacker hub with plenty of hostels and affordable cafes and restaurants.
You can also get direct shuttles to San Pedro La Laguna from Antigua if you do need to choose this as the first stop on your adventures around Lake Atitlan.
This is the perfect town to position yourself in if you are planning to hike the San Pedro volcano or if you are perhaps looking for an easier hike you will also find plenty of tour agencies offering the popular Indian Nose Hike.
Honestly, I still have no idea how I feel about San Pedro La Laguna. Did I fall in love? No, the tight compact streets surrounded by tall buildings in the center reminded me of Koh Phi Phi. Though, I had some of the best meals in Lake Atitlan there, maybe even Guatemala. I highly recommend Sababa Restaurant!
San Marcos la Laguna: Now if you are more of a free-spirited type of person or quite into the yoga scene you may want to think about basing yourself in San Marcos. There are so many accommodation options here, and truly some are incredibly beautiful with amazing views out to the volcanos.
This is also an excellent spot for some delicious vegan and vegetarian food. On the main street, you will find many great cafes, bakeries, jewelry stores, and shops.
San Juan La Laguna: Undoubtedly this is the place to experience the arts of the area, you can even learn about the traditional weaving and the techniques used at LEMA. This is also a great place to do some shopping and buy some authentic souvenirs.
There are definitely fewer tourists here than in other villages around the lake, so it can be nice to get away from all the crazy and come here for a breather.
Generally, this isn't a town people base themselves at, rather they visit here on a day trip and spend a couple of hours exploring. Nevertheless, there are still some excellent accommodation options here for people wanting more of a unique stay on Lake Atitlan.
Santa Cruz la Laguna: Another popular spot is Santa Cruz la Laguna. This has grown quickly in popularity with backpackers over the last couple of years thanks to the affordable hostels on offer.
You can find the popular Free Cerveza which gives summer camp vibes, and it is pretty cool you get to sleep in a teepee. Secondly, there is La Iguana Perdida which was the first hostel in the area and has a really homely feel.
One thing Santa Cruz is known for is its incredible views, from the lake, the volcanos, and the picturesque village, it is a feast for your eyes.
On clear days you can also see Volcan Fuego erupting near Antigua, though best to visit in the dry season for this as in the wet season the days quickly clouded over around 3 pm with thunderstorms rolling in around 7 pm.
---
Amenities
Now, this will be your make or break with hostels in Lake Atitlan as the amenities here and nowhere near as good as you will find in a city such as Antigua. Though the first one we will get into and perhaps the most obvious is powercuts. Honestly, there is nothing you can do about them, and you generally don't know where or when they are going to happen. Nevertheless, they occur all around the Lake, but luckily enough they generally only last a couple of hours.
Next up are flushing toilets, or more like the lack of them. This is simply because of the limited facilities at particular hostels around Lake Atitlan, having flushing toilets doesn't always exist. For example, Free Cerveza has composting toilets, which are always kept surprisingly clean.
If you are like me and need an internet connection to survive you may struggle. It does exist, but it is not the best. Many hostels will only have it available in common areas, and if you need to work on the road like me, this isn't always fun. I also had a Claro SIM card and had excellent reception at all times. I purchased this SIM card when I first entered Guatemala in Flores for $23.00 which includes 10G of data over 30 days as well as unlimited use of social media.
All hostels will allow you to book transport and activities through them. Many will also put on a family dinner which is something you will get to know all about when traveling Guatemala. It's the perfect chance to get to know other travelers, and have a 3-course meal.
It isn't common here to have air conditioning in your room, actually, it can get quite chilly. On a similar note, it is very rear that your hostel in Lake Atitlan will have a pool.
---
How I Book Cheap Transport In Guatemala: GuateGo
---
Overall Best Hostel In Lake Atitlan – Free Cerveza
Now when you are traveling Guatemala and Central America there are a handful of hostels' names that get thrown around as THE place to stay, and Free Cerveza is one of these. Though I can confidently say it is not overrated and well worth the hype.
It is located in Santa Cruz La Laguna which is one of the smaller villages around Lake Atitlan. As a result, there are limited things to do here in the evening, and even throughout the day unless you are planning to travel around Lake Atitlan.
Luckily Free Cerveza has solved this issue and more by providing anything and everything that a fellow traveler could ever want. A fellow traveler described it as a summer camp for adults and I could not agree more.
They offer plenty of activities like games throughout the day, group hikes, kayaking, and paddle boarding, and they have an epic dock down at the lakefront where you can tan or swim. The bonus is the use of kayaks and paddleboards is free!
Now when I booked this place I didn't really look into what I was actually booking and was pleasantly surprised to find the dorm rooms are actually in tipi tents. There are 4 mattresses on the floor for guests with plenty of warm blankets and decent pillows.
There is also electricity inside the tent if you need to charge your phone. There were big storms every evening when I stayed, to the point where the staircase leading to the common area became a literal waterfall and no one I heard of had any issues whatsoever with leaky tents.
They also offer a family dinner each evening. The price of dinner is $10.00 and includes three yummy courses, the first which is usually a soup, a main, and of course dessert, When you sign up for dinner you can participate in the free cerveza time from 5 pm to 7 pm, where you can have free beer.
Seriously. This and the dinner are no doubt the best opportunities to meet people while you are staying here as everyone is in good spirits and ready to socialize.
Now just a couple of things to be aware of if you are looking at staying here. The first is that they use composting toilets, but they were kept extremely clean throughout my stay and very rarely smelled. Next up is a mixed-sex shower area. This is something I wasn't prepared for and wasn't 100% comfortable with.
The aren't lockers in the tent, instead, they are against the shower building so you will be separated from your valuables. Lastly, I found their menu offerings for breakfast and lunch to be a bit average, so I would eat offsite, though their family dinner is the best around!
$$$
Private Dock
Hikes & Activities During The Week
Family Dinners
CHECK BEST PRICES
---
Best Hostel in Lake Atitlan for Solo Travelers – Mr. Mullets
Now, this is another hostel whose name always gets dropped in the backpacker community as THE party place in Central America. If you are traveling solo in Lake Atitlan then you won't be alone for long, though you will need to be prepared to get involved in the crazy.
Mr. Mullets has an awesome location just a couple minutes away from the main public dock in San Pedro. You can easily travel here from Antigua by tourist shuttle or simply jump on a water taxi from Panajachel to San Pedro.
You will be spoilt for choice in terms of nearby restaurants and bars. If you are into the foodie scene you will love San Pedro.
Onsite you will find 2 bars offering 2-for-1 drinks during happy hour each night from 4 pm to 6 pm. They also offer plenty of activities and hold themed parties, pool competitions, and of course beer pong tournaments. Make sure you do the Indian Nose hike for sunrise with these guys as well.
After a night of partying, you can rest up in their 4, 6, or 8-bed dorm rooms. They have lockers in the room, high-speed internet, decent mattresses, power sockets, and personal reading lights for each bed.
$
Super Social Atmosphere
Awesome Wifi
2 Onsite Bars
CHECK BEST PRICES
---
Best Hostel in Lake Atitlan for Female Travelers – Selina
Selina is well known throughout Central America for being a reliable option for digital nomads. You know when you book one what you will be getting which is super good Wi-Fi, a decent onsite restaurant, and a comfortable bed.
The same thing goes here with Selina Hostel in Lake Atitlan. It is located in Panajachel just a couple of minutes' walk from the main water taxi pier.
I stayed in Selina as a solo female traveler and met so many others who were doing the same thing as me. It is a clean and modern accommodation option and is ideal if you aren't really keen on roughing it.
You will have a good mattress, a decent pillow, flushing toilets, hot water, and high-speed Wi-Fi. There is also a nice pool area to hang out by and take a little dip.
Though I will say that it does miss a bit on the social atmosphere a lot of the other hostels around Lake Atitlan absolutely nail. There are no family dinners or activities run by the hostel.
However, I had no problem making friends here around the pool, in the dorm room, and cooking meals in the kitchen. Yup, Selina is one of the only hostels on the lake with a kitchen for guests to use. This is an excellent way to save money while traveling.
I stayed in the 8-bed female dorm here, though they also offer a mixed 8-bed dorm, as well as a 4-bed. They all have a nice spacious layout with plenty of room to lay out your luggage.
There are lockers in the room, personal reading lights and electrical sockets for each bed as well as a little shelf to put your personal items.
$$$
Female Only Dorms
Incredible Pool
Good Restaurant Onsite
CHECK BEST PRICES
---
Best Cheap Hostel in Lake Atitlan – La Iguana Perdida
Next up we have La Iguana Perida for the best cheap hostel in Lake Atitlan. This is the perfect choice for travelers on a budget wanting to experience the lake, and not stay in a big town.
Located in Santa Cruz La Laguna, literally right opposite the water taxi pier you will find the homely spot of La Iguana Perdida.
They were the first hostel to open in Santa Cruz La Laguna and have been operating for over twenty years. Onsite there is a beautiful open area with views out over the lake and you can find plenty of places to chill out and relax.
There are plenty of board games around, puzzles, and of course hammocks. You can also find an onsite restaurant with more awesome views over the lake open from 8 am to 4 pm. It is the perfect place to grab breakfast and lunch, and the food they serve up is freakin delicious.
Of course, they also offer up a family dinner as well in the evenings. Though I found their one to be more typical bulk food, rather than Free Cerveza which was more flavorsome. On Saturday make sure to check out their dress-up party and BBQ buffet.
They have 3 different dormitories available for budget travelers. Though the cheapest option is their tree house dorm, this is open-air style and with no electricity. Though you can charge your devices in common areas.
Alternatively, there is also a 7-bed mixed dorm or an 8-bed mixed dorm which only cost a couple of dollars more. If you prefer a private room you will find many options here for all budgets.
$
Super Affordable
Homely Vibes
Restaurant Onsite
CHECK BEST PRICES
---
How I Book Cheap Transport In Guatemala: GuateGo
---
If you are looking for a super cute but affordable private room in Lake Atitlan it is definitely worth checking out Hotel Y Restaurante Playa Linda.  This is a perfect choice if you are simply wanting to relax.
It is located in San Pedro, but about a 15-minute walk out of the main center. Though luckily it is easy enough to walk along the lake shore and you will soon enough find yourself among the action again.
They have basic rooms with a shared bathroom that won't put a dent in your budget, as well as single rooms available for solo travelers who aren't keen on a dorm.
$
Super Affordable
Set Away From The Noisy Hostels
Cute Bamboo Bungalows
CHECK BEST PRICES
---
Now for another affordable private room in Lake Atitlan Hotel Posada Don Carlos is an excellent option. You will find it in Panajachel just at the end of the main shopping street Calle Santander.
It is a super easy walk to get around, including to the water taxi pier so you can explore the villages further afield. The most affordable room here is the shared bathroom queen bedroom.
$
Great Location
Homely Feel
Close To Supermarket
CHECK BEST PRICES
---
More Best Hostels In Lake Atitlan
Another spot to check out for the best hostels in Lake Atitlan is called Casa Ahau. This is one of the few hostels located in San Marcos La Laguna, which is the yogi/hippie place around the lake. It is another popular spot for travelers who are a bit more spiritual and open-minded.
Casa Ahau is located in a gorgeous jungle-like location in an incredible building. They have a 10-bed dorm room available which only has single beds, and no bunk beds in sight, which will be very appreciated by some travelers.
$$
Located Among Nature
Affordable Option In San Marcos
CHECK BEST PRICES
---
Another excellent choice is Chirris Hostel which is located right in the center of San Juan La Laguna. They have a lovely homely atmosphere, and if you are looking for a hostel with a more relaxed vibe, and not so much of a party scene you will find in many of the other hostels, this is the choice for you.
They have an onsite kitchen that is fully equipped that guests can use. This can help you save money as in my opinion eating out at restaurants in Guatemala is actually quite pricey.
They have sturdy wooden bunk beds here and lockers where you can keep your valuables.
$
Only Hostel In San Juan
Communal Kitchen
CHECK BEST PRICES
---
Located in San Pedro La Laguna you will find Zoola San Pedro Atitlan. It is an absolutely gorgeous property surrounded by nature. You will be spoilt for choice as to where to hang out. They have a pool, plenty of hammocks, and a restaurant.
They offer a 6-bed mixed dormitory, which is all single beds, rather than bunks, as well as an assortment of private rooms.
$
Surrounded By Nature
Pool
CHECK BEST PRICES
---
Now, this is in no way a cheap option, but while we are talking about dorm rooms at least I do need to mention Eagle's Nest. It is located in San Marcos La Laguna and is a pretty famous place. They have incredible views over the lake and definitely cater to the more free-spirited crowd.
They have gorgeous common areas with no doubt the best views of any accommodation. They offer a 4-bed mixed dorm room, a 4-bed male dorm room, or a 6-bed female room. There is also an assortment of private rooms available. Even though this is definitely the most expensive option their rates are all-inclusive.
$$$
Instagramable Spot
Incredible Views
CHECK BEST PRICES
---
Last but nowhere least on this list of the best hostels in Lake Atitlan is Dreamboat Hostel. It is located in an excellent location in Panajachel right off the main shopping street. Though what people travel and stay here for is the social atmosphere. Yes, this is your main party hostel in Panajachel.
Hang out at the bar (claimed to be the cheapest hostel bar in the country), enjoy the views from the rooftop terrace, and grab a delicious meal at the affordable family dinners they hold. They hold daily activities giving travelers the chance to make friends, and create memories.
They offer 4-bed or 6-bed mixed dorm rooms. They have wooden bunk beds, each with an electrical socket to charge your devices.
$
Restaurant & Bar Onsite
Communal Kitchen
CHECK BEST PRICES
---
How I Book Cheap Transport In Guatemala: GuateGo
---
So Where To Stay in Lake Atitlan?
This is a location where travelers fall in love and never leave. Seriously the picturesque lake framed with incredible volcanoes is a sight to behold. This is certainly somewhere you don't want to miss on your adventures in Guatemala. With an excellent chilled-out vibe, great hostel scene, and great transport links it is definitely worth visiting.
There is a little bit of everything here, whether you are looking to party or relax. So, with the help of the best hostels in Lake Atitlan guide, I hope you have found the perfect place to stay.
Do you own or work for a hostel and want to be featured? Let us know over at [email protected]
---
Any Questions? Let me know in the comments!
---
LIKE IT? PIN IT!
---
Want more Guatemala Inspiration? Check out….
---
Disclaimer: This post contains affiliate links. So, if you click on it and purchase something, I get a small percentage at no extra cost to you. As always all opinions are my own and your support is much appreciated.
Related Posts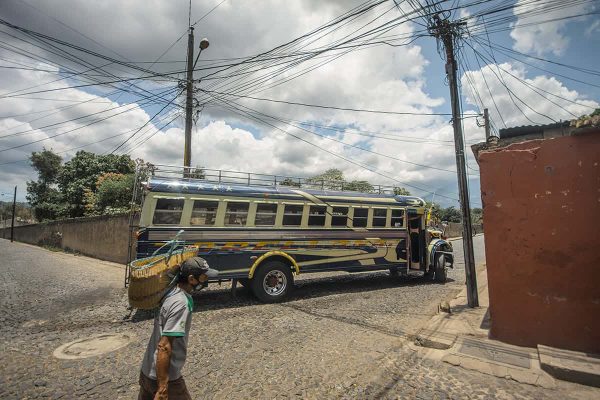 Get ready to escape the city and hit the beach by traveling from Antigua to [...]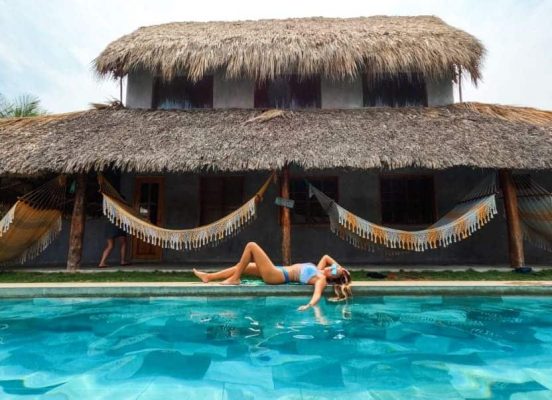 Come check out the best hostels in El Paredon so you can have the perfect [...]
If you are planning on spending 4 days in Antigua, Guatemala make sure you check [...]