If you are looking for an easier Volcano trek in Guatemala then the Pacaya Volcano hike is the perfect choice. With the help of this guide find out everything you need to know including Pacaya Volcano hike difficulty, costs, what tour to book, what to expect, weather, and so much more!
---
Now if you are in Antigua and looking to get into nature hiking Pacaya Volcano is a perfect option. The Pacyaya Volcano hike is a fun and adventurous activity for travelers who want to experience one of Guatemala's natural wonders.
You will trek up the side of the volcano, through forests, and over sandy trails until you reach the top and are welcomed by the steam vents and hot rocks.
Guatemala is a country with 37 volcanoes, three of which are still active. One of the most popular and accessible volcanoes to hike is Pacaya, located about an hour and a half drive from both Guatemala City and Antigua.
Pacaya is an active volcano that erupted in 2021 but don't expect to see any red-hot lava coming out of the peak. Instead, you will walk through the rocky lava fields and feel the heat of the volcanic rock. You can even toast marshmallows on the hot stones if you bring some graham crackers and chocolate.
Though there are also some other things, or limitations you should also consider before deciding whether hiking Pacaya Volcano is the right choice for you.
In this guide, we will tell you everything you need to know for the Pacaya volcano hike, including the difficulty level, the best time to go, the prices, the safety tips, what to pack, and more.
---
Pacaya Volcano Hike Difficulty & Travel Tips
---
How I Book Cheap Transport In Guatemala: GuateGo
---
The Basics Of Pacaya Volcano
Pacaya volcano is one of the most active volcanoes in Central America at a height of 2552 meters. It first erupted over 23,000 years ago and has been erupting frequently since 1965. The most recent eruption was in March 2021, when it spewed ash and lava up to 1,500 meters high.
These are those incredible photos you will often see online, but in reality, it isn't like that anymore.
The volcano has two main peaks: Cerro Chino and Cerro Grande. The former is an extinct cone that offers a panoramic view of the surroundings, while the latter is the active cone that emits steam and gas.
The hike usually takes you to the base of Cerro Grande, where you can see the lava flows and feel the heat of the rocks. Sometimes, depending on the volcanic activity and the weather conditions, you can also hike to Cerro Chino or to a viewpoint near the crater.
---
Pacaya Hike Difficulty: How Fit Do You Need To Be?
The Pacaya hike is considered a medium-difficulty hike, but it can be challenging due to the steepness, the altitude, and the soft sand terrain. You will need a good level of fitness and endurance to complete the hike without too much struggle. You will also need comfortable shoes, water, and sunscreen.
I actually decided to do this hike as a test of how I would cope with hiking Acatenango Volcano. Now honestly one of my first concerns with hiking full stop is the difficulty. I mean I have trekked the Annapurna Circuit in Nepal, but that was a couple of years ago.
I have always been a plus-size traveler, but nowadays I work from my laptop and fitness is a bit of an afterthought if I am honest. Also, prior to this adventure, I had spent a few days in Semuc Champey where I got terrible food poisoning thanks to Mcdonald's.
Seriously it's ironic that is what gets me sick. So after spending a couple of days in a private room semi-recovering, I made the journey to Antigua where my body and energy levels were quite depleted. Though about a week later I decided to test my luck with the Pacaya Volcano hike.
Luckily I didn't find it too bad, I simply went at my own pace and was about 5 or so minutes behind the rest of our group.
The hike starts with a gentle slope through a forested area, don't be fooled, this is the easy part. After about 20 minutes, you will reach a checkpoint where you have to show your bracelet that proves you paid the entrance fee. Then, the trail becomes steeper and more rocky as you enter the lava fields.
The last part of the hike is the most difficult, as you have to climb over large boulders and loose gravel. You will also feel the effects of the altitude more as you get closer to the top. The trail ends at a flat area where you can rest and enjoy the views of the volcano and its surroundings.
You can also toast some marshmallows on the hot rocks or explore some nearby caves.
If you find the hike too hard or too tiring, you have some options to make it easier. You can rent a horse at the park entrance or basically anywhere along the way as they will follow you up. You can also buy a walking stick for Q5 ($0.7) at the parking lot.
The stick will help you balance and support yourself on uneven terrain and is something I strongly recommend.
All in all, like any good hike it is more about determination and stamina. You just need to put on some good music, look down, and put one foot in front of the other. You will see people of all ages, and sizes, completing the Pacaya Volcano hike.
---
What Company To Book With & Prices
There are many companies that offer guided tours to Pacaya volcano from Antigua or Guatemala City. The tours usually include transportation, entrance fee, guide fee, and sometimes lunch or snacks. The prices vary depending on the company, but they range from Q150 / $20.00 to Q300 / $40.00 per person.
Now I would tell you what company I booked with if I could, but I honestly can't. See this isn't an overly dangerous trek, like Acatenango may be considered, I just booked the one on offer through my hostel, Maya Papaya.
This cost me Q150 / $19.20 and did not include the entry fee which is an additional Q50 / $6.40 per person.
Here is a little breakdown of what I found were the most popular companies travelers seem to book with, as well as their pros and cons:
Company
Price
Positives
Negatives
Old Town Outfitters
from $80.00

includes entry fee
picnic lunch/dinner served at the top
also offers overnight tours

the most expensive option

Ox Expeditions
from $59.00

includes entry fee
marshmallows and snacks at the top

N/A
As you can see there is a large price difference between these reputable companies and a cheap one I booked with a completely random tour operator. Depending on the company you book with the entry fee to the park will either be included or not.
It is an additional 50Q / $6.20 payable in quetzales at the registration office.
Overall the Companies should all include:
Transfers to and from Antigua to the start of the hike
Marshmallows to toast at the top
Local guides (though their English may not be the best so don't expect a huge speech about the scientific details of volcanos)
If you are interested in booking through Get Your Guide you can do so by clicking one of the activities below:
---
Best Time To Hike Pacaya Volcano
There are two distinct seasons that occur in Guatemala and you will either be doing the Pacaya Volcano in the dry season or the wet season. It is important to know you can do this hike all year round.
Dry Season (November to April): The dry season is no doubt the most popular time to do the Pacaya Volcano hike, though that is because this is the most popular time to travel the country as a whole. You can expect minimal clouds and excellent views. Though you will find large crowds as well as higher prices.
Wet Season (May to October): During the rainy season, there is more chance of rain and clouds, which means lower visibility and more slippery hiking conditions. However, the rainy season is also a low season for tourism, which means fewer crowds on the trail and lower prices for tours and accommodation.
The time of day also affects your hiking Pacaya Volcano experience in terms of temperature, visibility, and crowds.
There are two main options which are either a morning hike leaving Antigua at 6 am or the afternoon hike leaving at 2 pm.
A morning has some advantages such as cooler temperatures, better visibility, fewer crowds, and more wildlife. However, you do have to wake up early. An afternoon hike means starting late and reaching the top before sunset. Though you do risk lower visibility and have to deal with more crowds.
I did the afternoon tour and honestly, if I were to do it again I would do the morning. It was completely clouded during our entire hike and we had zero views. When I caught up with my friend who had done it in the morning she had beautiful clear views with the most stunning photos showing off the valley below.
---
How Long Does The Pacaya Volcano Hike Take
The hike itself is set over 5 kilometers return and typically takes around 3 hours return, though you will also get a 30-minute or so rest stop at the top. No matter what company you decide to book with they all sort of follow a similar itinerary which is as follows:
Driving time from Antigua: about 1 hour 30 minutes each way
Hiking time from San Francisco de Sales to Cerro Grande base: about 2 hours
Resting time at Cerro Grande base: about 30 minutes
Hiking time from Cerro Grande base to San Francisco de Sales: about 1 hour
Driving time from San Francisco de Sales back to Antigua: 1 hour 30 minutes
Overall it is best to set aside around 6 hours for the tour including your return transport to Antigua. Be aware depending on the time of day you can also hit traffic on the roads.
---
Hiring Horses & Porters For The Pacaya Volcano Hike
Now if you are a bit like me and doubting your abilities to complete the Pacaya Volcano hike you may want to pay for some extra assistance to increase the likelihood of finishing. Luckily this is certainly an option in the form of horses and porters.
---
Horses On The Pacaya Volcano Hike
Horses are available at the entrance of the park and can take you up and down the trail for about Q300 / $40.00. Even if you change your mind you can find horses pretty far up the hiking trail.
Now I researched all options, including taking a horse up, prior to booking my tour. Though as a plus size traveler, if I do not ethically feel comfortable riding a horse at sea level, on a flat surface, why would this be okay to do so at an altitude up the side of a volcano?
Nevertheless, the locals looking after the horse were determined I was going to cave in and hire one. They literally followed me for a full hour, which is crazy in itself!
There is nothing more annoying than the horses on the trail. From constantly having to dodge horse poo, getting stuck behind them, or having them follow you relentlessly.
In my opinion, this hike would be a lot better without horses on the trail, though I understand that is the livelihood of the local community, so it is up to you whether to support this or not.
---
Hiring A Porter On The Pacaya Volcano Hike
Now because this is simply a short day hike and you won't be carrying much there aren't really porters on the trail. This service is much more common in the nearby Acatenango Volcano hike especially because you are expected to bring everything for 2 days and water up with you.
---
Can You Do The Acatenango Volcano Hike Without A Tour Company
The answer is yes, but it is not recommended. You can reach the park on your own by renting a car or taking a few different local buses. Though once you arrive at the park, you will need to pay an entrance fee of Q50 / $6.40 and a guide fee of 200 / $26.00.
You cannot hike Pacaya volcano without a guide, as it is required by the park authorities for safety reasons.
If you are interested intaking a private shuttle from Antigua it costs about Q200 / $26.00 per person round trip. You can also take a public bus from Antigua to Escuintla for Q10 / $1.30 per person and then another bus from Escuintla to San Vicente Pacaya for Q15 / $2.00 per person.
From there, you can take a tuk-tuk to San Francisco de Sales for Q10 $1.30 per person.
---
Is Hiking Acatenango Volcano Safe
Hiking Pacaya volcano is generally safe as long as you follow some basic rules and precautions. The most common risks are:
Altitude sickness: This can affect anyone who is not used to high altitudes and can cause symptoms such as headache, nausea, dizziness, and fatigue. To prevent altitude sickness, drink plenty of water, avoid alcohol and caffeine, eat light but energizing food, and ascend slowly.
Dehydration: The hike can be hot, especially during the dry season (November to April). To prevent dehydration, drink at least 2 liters of water during the hike and bring electrolyte drinks or tablets if possible.
Sunburn: The sun can be very strong at high altitudes and can cause sunburn even on cloudy days. To prevent sunburn, wear sunscreen, sunglasses, a hat, and long sleeves.
Injuries: The trail can be rocky, slippery, and uneven in some parts. To prevent injuries, wear sturdy hiking shoes or boots with good grip, use a walking stick if needed, and watch your step.
Eruptions: Pacaya volcano is active and erupts frequently, but usually only emits small amounts of ash and gas that are not harmful. However, there is always a possibility of a larger eruption that could pose a danger to hikers. To prevent being caught off guard by an eruption, listen to your guide's instructions, stay on the marked trail, and avoid getting too close to the crater.
I have trekked at altitude before so I know how my body reacts to changes in oxygen levels, and I knew this trek would not be an issue for me. Though unfortunately for many people this will be their first experience hiking at altitude.
To prevent any side effects from happening to you, you should spend a few days in Antigua prior to doing this hike. This means no, don't travel to Antigua from the sea-level town of El Paredon, then decide to hike Pacaya the following day.
Hiking Pacaya volcano is safe as long as you are prepared, informed, and respectful of nature. If you have any doubts or concerns about your health or safety during the hike, consult your doctor or guide before going.
---
My Experience On The Pacaya Volcano Hike
Now to get into my experience hiking Pacaya Volcano, so you can learn from my mistake. No seriously, if I had seen what incredible views I was missing out on from all the clouds, I would've been quite bummed.
Though, those who don't know won't know, so I was happy enough scrunching my marshmallows into hot steam vents. Nevertheless, let's get into it.
As I previously mentioned I had booked my Pacaya Volcano tour through my hostel, so after a busy morning at Spanish School and a quick lunch I found myself patiently waiting for pick up.
Luckily it did not take too long until a large white minibus rumbled down the cobblestone streets stopping outside my hostel. I jumped onboard and chose a seat while we continued driving around town picking up more passengers.
Soon enough we were making our way out of the city, along backroads and towards the highway. Honestly, the drive was rather uneventful but did take a decent amount of time.
Luckily enough we soon pulled into a little muddy parking lot, and boys selling sticks seemed to appear from nowhere. From my very limited research I knew getting a walking stick would be beneficial, so I splashed out the Q10 / $1.30.
Sure I could have haggled for a cheaper price, but what's the point? After a quick bathroom break in some questionable-looking toilets, it was time to hit the trail as we trodded up a well-worn dirt road.
Luckily enough this part was flat for the most part and I easily kept up with the rest of the group. Walking past little homes, and fields we reach the checkpoint after about 20 minutes where we pay our entry fee.
Unfortunately, this is where the horses and their owners show up and literally walk with us for the next hour.
Seriously in our group of 15 or so people, there are 5 horses and their owners walking along beside us. Up and down all the hills, and every time we take a breather they stop as well, of course. Also being the only plus-size person in the group I am their ideal target, surely this girl can't make it up.
Though they don't know I am stubborn, and the constant dodging of horse poo, as well as horses has put me off the idea even more. Even if I wanted one I wouldn't out of spite.
Nevertheless, a few people in our group hire the horses and I hang back a little bit going at my own pace. Basically, when the group stops for a drink I catch up, they walk off and repeat the cycle. It is quite steep in sections and the sand-like terrain is soft, but there is minimal grip.
Eventually, I reach a large house where horses are tied up and the trail goes from being a dirt road to an extremely rocky path. This is where the walking sticks come in handy.
I traverse down the trail to the rest of the group where we grab some marshmallows and start cooking them on the extremely hot rocks. It's a weird feeling when the air around you is so cold, but the ground is warm.
After a snack and break we continue on a bit further where there is a view of the top of Pacaya, supposedly. Right now clouds cover absolutely everything around us.
We wait here for 15 minutes in hopes the clouds will clear, and thankfully they do so we can see the top of Pacaya. Of course, out comes the Guatemala flag for plenty of photos!
After everyone has taken their obligatory shots, and the sun is beginning to set, we start heading back the way we came just as it's getting darker. By the time we have reached the large building on the dirt road, we are surrounded by the night.
Luckily I had brought along my head torch, so I turned that on and began navigating my way down the side of the volcano.
Honestly downhill is a hell of a lot easier, though it can be super slippery in parts due to the loose sand. It's a mixture of let's go faster I'm not tired, and slow down I am going to fall.
Luckily it doesn't take too long to get back to the carpark where I leave my hiking sticks for the entrepreneurial boys to sell again, use the bathroom, buy some snacks, and jump back onboard for a sleepy drive back to Antigua.
---
What To Pack For Hiking Pacaya Volcano
Packing for hiking Pacaya volcano can be tricky because you need to be ready for different weather conditions and temperatures. The weather can change quickly from sunny and hot to cloudy and cold depending on the season and time of day.
The temperature can also vary from 25°C at the bottom to 0°C at the top.
Here is a list of essential items that you should pack for hiking Pacaya Volcano:
Backpack- A comfortable backpack that can fit all your belongings without being too heavy or bulky.
Water bottle- A reusable water bottle that can hold at least 2 liters of water.
Snacks- Some snacks that are light but energizing such as nuts, dried fruits, granola bars, or chocolate.
Sun protection- Sunscreen with SPF 30 or higher, sunglasses with UV protection, hat with a brim, and long sleeves.
Warm clothing- A fleece jacket or sweater, a windbreaker or rain jacket, gloves, and a beanie.
Hiking shoes- Sturdy hiking shoes or boots with good grip that are broken in before the hike.
Walking stick- A walking stick that can help you balance and reduce pressure on your knees. Though you can hire one when you first arrive.
Flashlight- A flashlight or headlamp that can help you see in the dark if you are on an afternoon hike.
Camera- A camera that can capture the stunning views of Pacaya volcano and Fuego volcano.
Marshmallows- Marshmallows that you can toast on the heat of the volcanic rock for a sweet treat.
Some tour companies may provide some of these items in their package price. Check with your tour company before packing to avoid bringing unnecessary items.
---
Other Things To Do In Antigua
Now in the few weeks, I spent in Antigua I absolutely fell in love with this gorgeous city. Apart from doing the Acatenango Volcano hike, there are also plenty of other things to do here:
Learn Spanish: There are so many places in Guatemala you can learn Spanish, though I choose Antigua and found it was perfect. You could be studying in the morning and exploring in the afternoon. One day I even hiked a volcano after school!
Acatenango Volcano Hike: This is the longer and harder of the two volcano hikes you can do. It's an overnight adventure where you can watch Fuego Volcano erupt right opposite your camp. No doubt this is one of the most spectacular things I have ever done.
Explore The Ruins: Now prior to visiting I never knew Antigua was full of incredible ruins. My favorites were Convento Capuchinas and Convento La Recoleccion. Though there are numerous spots dotted around the city worth checking out.
Shopping: I loved the handicrafts in Guatemala and Antigua is an excellent place to purchase them. If you don't like haggling and prefer to buy somewhere with fixed prices I can recommend Nim Po't. Seriously I could spend hours exploring this place.
Hobbitenango: Being from New Zealand I thought the idea of Hobbitenango was kind of strange, and it is, but still it's worth a visit. Here you still find Instagram spots, incredible views, and many games. Just best not to visit on a weekend.
---
Where To Stay In Antigua?
I absolutely love Antigua, no doubt it was one of my favorite spots in Guatemala, and I would happily move here to live among the Volcanos. You commonly will find hotels and restaurants with the most incredible views of the valley, where you can even see the Acatenago Volcano erupting on a clear night.
There is an excellent hostel scene here in Antigua, and they are very high-quality hostels as well. You will be able to find pod-style dorm rooms, cool common rooms playing Netflix, onsite bars, kitchens to cook in, and some even have pools.
Though I will say that it can be hard to find a dorm room here with air conditioning, and depending on the time of year you visit it can be quite warm.
Personally, I stayed at Maya Papaya hostel in Antigua, I even loved it so much that I booked 4 separate stays there over my month in the country. The staff are lovely, the beds are comfortable, and there's a super clean fully equipped kitchen, awesome location, and chill hangout areas.
Be aware that the nicer hostels here can be on the pricey side where you will easily be paying upwards of $20.00 per night.
My partner actually joined me partway through my adventures in Guatemala and we often found it was cheaper to book a nice guesthouse, rather than two hostel beds. This was even more so when booking last minute when you can often find good deals on booking.com.
Large and comfortable rooms in an awesome location. Prices start from $40.00 per night.

BOOK NOW

Cheap and cheerful accommodations in Antigua. You can find private rooms here with a shared bathroom from $25.00 per night.

BOOK NOW

My favorite hostel in Antigua. You can enjoy modern dorm rooms and a delicious breakfast from $20.00 per night.

BOOK NOW

A relatively new hostel to the Antigua backpacking scene. Enjoy a glampacker stay here from $25.00 per night.

BOOK NOW
---
How I Book Cheap Transport In Guatemala: GuateGo
---
LIKE IT? PIN IT!
---
Want more Guatemala Inspiration? Check out….
---
Disclaimer: This post contains affiliate links. So, if you click on it and purchase something, I get a small percentage at no extra cost to you. As always all opinions are my own and your support is much appreciated.
Related Posts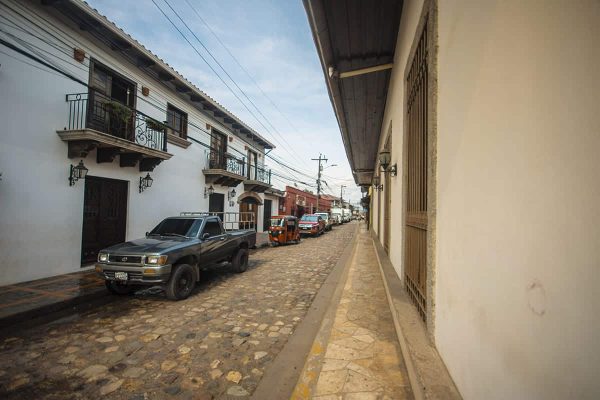 Wanting to travel from Guatemala to Honduras, then come find out exactly how to do [...]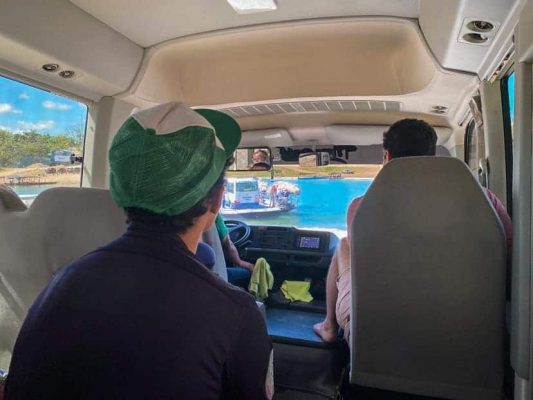 Come check out exactly how to travel from Flores to Semuc Champey in Guatemala. These [...]
2 Comments
Come check out the best hostels in Antigua Guatemala for the ultimate stay. Being a [...]