Find out exactly how to travel from Semuc Champey To Antigua in Guatemala. No doubt these two places are well worth visiting while you are in the country, though they are unfortunately quite a distance from each other.
So let's find out how exactly I and heaps of other travelers make this journey by shuttle, chicken bus, or taxi including how to book, prices, and more!
---
Once you have finished exploring the incredibly beautiful Semuc Champey, it's time to continue with your adventures and head elsewhere in Guatemala. Perhaps you are like me and ended up traveling from Semuc Champey to Antigua, no doubt one of the most popular routes from this destination.
Antigua is a rather small town located about an hour outside of Guatemala City and is a UNESCO heritage site. It is incredibly beautiful with colonial architecture, surrounded by volcanos, and has an excellent food scene.
Though before you get too excited about the journey you should know it is a full travel day. You will be lucky enough to get a takeaway breakfast, lunch on the road, and then dinner in Antigua well past nightfall.
Therefore best to keep things simple and don't make any morning or afternoon plans, things always seem to take a little bit longer than expected here in Guatemala, so just enjoy the journey.
Now there is no option here to fly between these two destinations. Therefore you will need to take the road and there is no shortcut. The overall journey is basically split into three sections.
The first is from Semuc Champey to Lanquin (1 hour), the second from Lanquin to Coban (1 – 2 hours), and lastly from Coban to Antigua (9+ hours).
Luckily enough you will have plenty of bathroom breaks and snack stops.
I will also say this was basically the only tourist transport I have ever been on where the drivers actually cared about everyone's comfort and organized a second van to split everyone into once we were in Coban. Though more on this later.
For now, let's get into everything you need to know so you are mentally and physically prepared for this super-long journey from Semuc Champey to Antigua.
Whether you decide to travel there by tourist shuttle, chicken bus, or private taxi I will let you know the costs, times, and more for each of these options. That way you can book the best option for your adventures!
Quick note: You are best off organizing with your hostel or hotel to drop you off at the tourist shuttle. Basically shuttles to everywhere in Guatemala leave at the exact same time from Semuc Champey, so most places will organize transport to take you to the shuttle pick-up spot.
I stayed at Greengo's and they have a massive open-back truck which is an adventure in itself.
| | | | |
| --- | --- | --- | --- |
| | Time | Cost | Highlight |
| Tourist Shuttle | 9 hours | from $20 | Comfortable journey |
| Chicken Bus | 12+ hours | from $12.60 | Adventurous and fun |
| Taxi | 7 hours | from $400+ | Easy and stress-free |
---
Semuc Champey To Antigua: All Transport Options Explained
---
🚗 How I Book Cheap Transport In Guatemala: GuateGo
---
Semuc Champey To Antigua Distance
Well yes, unfortunately, the distance from Semuc Champey is super long being between 314 kilometers to 269 kilometers depending on the roads you take, though the later route does take over an hour longer to travel.
Honestly, in a lot of other places, 314 kilometers would take 4 hours or so max, here it is double or triple that. Yes seriously.
If you decide to take the tourist shuttle or a private taxi they will use the main roads and take this route. However be aware if you want a bit more of an adventure and instead take the chicken bus, this is MUCH less of a direct route.
---
Semuc Champey To Antigua Travel Time
Now no matter what type of transport you decide to book you will need to know that this is going to be a painfully long journey. Seriously set your expectations low and a whole day aside to make the journey. Get comfortable as you will no doubt be here a while.
Depending on which method you use will affect how long it takes:
Tourist Shuttle: Your trip from Semuc Champey To Antigua will take a minimum of 9 hours including stops along the way.
Taxi: Enjoy a quick and direct journey in a taxi which takes 6 to 7 hours. Though the last part of the drive is quite scenic so you may want to pull over for a couple of photo stops.
Chicken Bus: Now taking the chicken bus is for those looking for an adventure, not a relaxing journey. This method will take at least one full day of travel, though you may end up splitting this across two different days.
---
Blockades In Guatemala
Now one thing I heard about when traveling in Guatemala is blockades. Basically, this is where the local community will block off access to roads, in both directions, completely stopping traffic for however long, in protest for something.
Be aware it is pretty likely you will also come across one of these when you are traveling Guatemala. Though in my case it affected me right on the Semuc Champey to Antigua route, about 40 minutes outside of Coban.
This is pretty normal in the country and the drivers knew well in advance before we actually left Semuc Champey that morning.
Basically, the roads were going to be shut until 12 pm or 1 pm-ish and because it wouldn't be a fun time being stuck on the side of a road in a van, we spent the morning at McDonalds. Though I will give a full breakdown of my experience below.
Nevertheless, this is why I say make sure you plan a full day for travel because honestly you never actually know when there is going to be a blockade, and you just need to put your trust in the drivers.
---
Tourist Shuttle From Semuc Champey To Antigua
Now, if you want to travel from Semuc Champey to Antigua, the easiest and most straightforward way, though still on a budget, then definitely look at booking a shuttle. Though this no way means this will be a quick or faster journey, there is no way of getting around the long drive!
Using a tourist shuttle all the hard work is done for you. There is no need to worry about transfers in different cities, and instead, you can just enjoy the pretty damn good views and sleep as much as you would like.
One thing to be aware of is that your driver may only speak a little bit of English, or literally nothing at all. Though don't worry as generally at least one person onboard will know enough Spanish to translate for everyone else.
As this is a long journey you will make at least three gas station/bathroom stops, which are usually at a gas station where you can also buy snacks. Though it is also a smart idea to bring some food with you onboard. Most hostels will happily make sandwiches etc. for guests taking the long journey.
Typically the journey will take around 9 hours. Though depending on your starting point in Semuc Champey, and your luck with traffic and blockades, you may find it taking longer than expected.
For example, we had to leave Greengos at 6.30 a.m. for the 40-minute drive to Lanquin. Though not before stopping at an ATM where half the bus got out and used it, adding even longer to our travel time.
Between this and the blockade it ended up adding 3+ hours extra to the total travel time. Yes, it turned into over a 12-hour day on the bus.
Nevertheless, this is definitely the best choice for travelers in Guatemala who simply just want to get from point A to point B.
---
How To Book Tickets
Luckily for travelers these tourist shuttles are crazy easy to book! Basically, you have two different options for doing this, either online in advance or in Semuc Champey through your accommodation.
Just be aware it is best to book your tickets a couple of days in advance as these shuttles do and can book out. I traveled Guatemala during the month of May which is considered the shoulder season, but these shuttles still got booked up.
If you have a set itinerary in Guatemala and know your dates it is best to book these tickets in advance online with GuateGo.
Just be aware that in a lot of other places, you will easily be able to book a shuttle through a travel agency once you are in the city, though in Semuc Champey things are a lot more secluded.
There is the main town of Lanquin where you can find travel agencies, though it's more than likely your hostel will be quite a distance and you won't find yourself visiting the town at all. This means you will need to book your tickets through your accommodation where you can't shop around for prices.
Alternatively, if you want to book your tickets online for peace of mind you can check out the travel route Lanquin / Semuc Champey to Antigua on GuateGo, buy your tickets through them, and then they will email you a copy! Super easy!
---
Where Does The Shuttle Drop You Off – Antigua
Now the shuttle won't drop you off at your accommodation in Antigua. I know it would be nice if they did, especially after such a long day of traveling. Though luckily enough they do drop you off in a pretty central location in the city at the main park called Parque Central.
Most hostels will be about a 10 or 15-minute walk away from here. Though if you don't feel like walking I highly recommend using Uber while in Antigua. I used this a couple of times for short distances when I had my luggage in the city and it was perfect.
---
My Experience Taking The Shuttle From Semuc Champey To Antigua
It was an early 6 am wake-up, shoving the last of my items into my bag and making my way back down to reception.
I pick up a sandwich I ordered takeaway the night prior as a little breakfast before getting on the road. 6.30 am rolls around and everyone from my hostel leaving Semuc Champey today loads up into the 4×4 vehicle to start the 40-minute drive into town.
It's a dusty drive packed into the back of the truck holding onto ropes to keep us from bouncing around. Eventually, we reach the town of Lanquin, though before stopping at the shuttles we stop at the ATM.
This is so everyone can pay the bills that they owe the hostel. About 80% of passengers jump out and line up, luckily enough it's still relatively early in the day so we aren't sweating too badly in the sun.
Eventually, we drive the final 5 minutes or so up to the gas station where the shuttle buses arrive and depart from. As soon as you jump off and grab your luggage a local guy will come up and direct you onto a shuttle bus.
Though I will say there was a bit of confusion and waiting around to actually make sure your luggage was loaded onto the roof and then jumping onboard.
Unfortunately by the time I actually made it on board seats were limited and it was time for those pull-down bad boys that block the aisle space. Trying to make the best of a bad situation I grab the one up the front in the seat behind the driver where I would still have some legroom.
Luckily enough the shuttle company advise they would be organizing another van to meet us in Coban so everyone can spread out more and no one would be stuck in the middle seats.
At the same time, they also let us know there are currently blockades and there may be some delays, they are just trying to get some more information at the moment.
After that, squeezed in like sardines, we hit the road and travel the hour or so to Coban through the mountains and surrounded by jungle. This is certainly a very picturesque part of the drive.
Once in Coban we arrive at McDonalds and are told we have 2 hours here so we don't get stuck waiting in the van for the roads to reopen. At least here we will have space, food, and a bathroom, especially important because we do have a couple of travelers who are super duper sick onboard.
I play it safe this time and just get a drink as no way I want to get sick like I did last time I was at the Coban McDonalds. Luckily time eventually passes fast enough and we all head back to the vans, where a new one has appeared.
The driver starts unloading luggage from the van, and reloading it on the other. If your bag is on the other one, that's where you go.
Soon enough we are back on the road and driving towards the blockade. Eventually, we catch up with the rest of the traffic, though since no cars are coming the other direction we drive on the left side of the road overtaking all the large trucks that have come to a stop.
We reach the front of the blockade and are luckily only stuck for about 20 minutes before the roads reopen.
Once we are back to traveling, and the drama is over, we all doze off. Honestly, the journey between this and arriving in Guatemala City was quite uneventful if I am to be honest.
We passed through towns, cities, and even parts of the country that looked like my home, New Zealand. Two toilet stops and snack stops were made, which honestly isn't enough if you ask me. Approximately one every 4 hours or so.
In Guatemala City, two chicks got off that had a flight to catch the following day, and that kind of signaled to everyone that we were close to Antigua and to start waking up. We all ended up having good yarns about our experiences traveling Guatemala and Central America.
This made the rest of the journey go super fast, and as it was coming up to the 13-hour mark we finally made it to Antigua.
I was so happy to get to my new hostel, unpack a little, and grab a simple dinner of Uber Eats. The journey from Semuc Champey to Antigua is a long one, just set your expectations low, take a sleeping pill if you can, and get comfortable. There is no other way than to travel by road.
---
Taxi From Semuc Champey To Antigua
This is no doubt your quickest way to travel from Semuc Champey To Antigua, though be aware it is pricey. If you can afford this I want to be your friend!
If you want to just do a taxi, make sure you go through a reliable company, and best to book once you are in Semuc Champey, or online if GuateGo is available.
It is a good option if you are traveling as part of a larger group where splitting the price would work out to be similar to the price for a tourist shuttle. Alternatively, if you are traveling at an awkward time of day when the shuttles aren't running this also makes for a good choice.
If you are keen on taking a taxi your best bet will be shopping around the travel agencies in Lanquin to see if they have a driver available. Though this isn't a common transport option for this route so you may have difficulty.
Most of the time, if you want to travel by car you will need to hire one in Guatemala City and drive yourself to Semuc Champey.
Honestly, I do not recommend taking a taxi from Semuc Champey To Antigua.
---
Chicken Bus From Semuc Champey To Antigua
Get ready for the chicken bus, for sure this is an adventure, and from my experience traveling Guatemala, it is a bit of a controversial transport option.
For the most part, it appears the locals understandably don't want tourists to take these chicken buses due to safety concerns, and being a foreigner you generally become a target. Though travelers think this mindset is an old school, not a realistic approach, and if you use common sense you will be fine.
You know best as to whether or not this will be an appropriate option for you. Nevertheless, it will for sure be an adventure for travelers looking to get off the beaten track and have meaningful experiences with locals.
Now to the chicken buses. If you have traveled Guatemala, at all, you would have become quite acquainted with these huge colorful buses. They are actually former American School buses that have been imported here to live out the remainder of their days.
No doubt this is the epitome of transport in Guatemala, so if you are looking for a true experience you know what you need to do.
Though what you need to know is that there are no direct chicken buses from Semuc Champey to Antigua or vice versa. Honestly, you will be best spreading this journey out over two days.
On the first try make it to Coban, and then on the second to Lanquin. Just be aware hostels typically only pick travelers up arriving on the shuttle buses so you may find yourself having to wait around for a ride to your accommodation.
---
How To Take The Chicken Bus To Semuc Champey
So now you know whether or not taking a chicken bus from Semuc Champey to Antigua, is the right choice for you. Let's get into how exactly to do it.
The price will come out around Q100 / $12.60 but be aware this can change depending on how long it takes to fill the bus as it doesn't leave until someone is in each seat. The total journey will be somewhere around 14+ hours. This basically depends on how long you need to wait for the bus to depart.
Starting from Semuc Champey you will need to head to the main town called Lanquin and make your way to the crossroads in the town center. Once here you will need to board a bus going to the town of Coban. This will cost Q30 / $3.85 and take around 3 hours.
When you have arrived in Coban you will need to go from the local bus station to the long-distance bus station. Once here you will easily be able to get a bus to Guatemala City. It's a pretty common route and buses typically leave on the hour throughout the day.
Once in Guatemala City, it is time for your final bus to Antigua. These typically take just over an hour and can be found at the bus terminal.
---
FAQs About Traveling From Semuc Champey To Antigua
How many days to spend in Antigua? Well I am probably the completely wrong person to ask because I absolutely fell in love with Antigua, I mean I would move here if I could! However, I did end up living here for a couple of weeks while I did Spanish School in Antigua.
Nevertheless, if you are just visiting as a tourist to see the main sights I would recommend spending a minimum of 4 nights in Antigua. There are some activities here that are overnight such as the Acatenango Volcano trek.
I actually came through Antigua 3 separate times on my travels in Guatemala, though that is unnecessary and causes doublebacks, I was just meeting friends.
How far in advance do I need to book tickets? It is recommended you book tickets in advance to ensure you can travel with a reputable, clean, and safe company. You should try for at least a week in advance to be safe. Though if you are not worried about this then book at least 48 hours in advance.
Booking through GuateGo is perfect for those busy periods as you can book when you haven't even arrived in the country yet! This means you can relax knowing all the planning is taken care of.
---
Where To Stay In Antigua
I absolutely love Antigua, no doubt it was one of my favorite spots in Guatemala, and I would happily move here to live among the Volcanos. You commonly will find hotels and restaurants with the most incredible views of the valley, where you can even see the Acatenago Volcano erupting on a clear night.
There is an excellent hostel scene here in Antigua, and they are very high-quality hostels as well. You will be able to find pod-style dorm rooms, cool common rooms playing Netflix, onsite bars, kitchens to cook in, and some even have pools.
Though I will say that it can be hard to find a dorm room here with air conditioning, and depending on the time of year you visit it can be quite warm.
Personally, I stayed at Maya Papaya hostel in Antigua, I even loved it so much that I booked 4 separate stays there over my month in the country. The staff are lovely, the beds are comfortable, and there's a super clean fully equipped kitchen, awesome location, and chill hangout areas.
Be aware that the nicer hostels here can be on the pricey side where you will easily be paying upwards of $20.00 per night.
My partner actually joined me partway through my adventures in Guatemala and we often found it was cheaper to book a nice guesthouse, rather than two hostel beds. This was even more so booking last minute when you can often find good deals on booking.com.
My favorite choice for a hostel. Clean and comfortable dorm rooms start from $22 per night.

BOOK NOW

A relaxing and beautifully decorated hostel. Prices start from $28.00 per night.

BOOK NOW

A lovely hotel located in the perfect location. Rooms start from $40.00 per night and they have awesome last-minute deals.

BOOK NOW

Whether you are wanting a dorm or a private room Selina has both. Prices start from $42 per night for a dorm and privates from $95.00.

BOOK NOW
---
Things To Do In Antigua
Being one of the most popular parts of Guatemala there are seriously so many things to do in Antigua. This is just a quick breakdown of some of the top options:
Learn Spanish: There are so many places in Guatemala you can learn Spanish, though I chose Antigua and found it was perfect. You could be studying in the morning and exploring in the afternoon. One day I even hiked a volcano after school!
Acatenango Volcano Hike: This is the longer and harder of the two volcano hikes you can do. It's an overnight adventure where you can watch Fuego Volcano erupt right opposite your camp. No doubt this is one of the most spectacular things I have ever done.
Pacaya Volcano Hike: The easier of the two volcano hikes just takes a couple of hours. Though this volcano is nowhere as active so don't expect rushing lava rivers. Though you can eat a pizza cooked on the hot rocks.
Shopping: I loved the handicrafts in Guatemala and Antigua is an excellent place to purchase them. If you don't like haggling and prefer to buy somewhere with fixed prices I can recommend Nim Po't. Seriously I could spend hours exploring this place.
Hobbitenango: Being from New Zealand I thought the idea of Hobbitenango was kind of strange, and it is, but still it's worth a visit. Here you still find Instagram spots, incredible views, and many games. Just best not to visit on a weekend.
Explore The Ruins: Now prior to visiting I never knew Antigua was full of incredible ruins. My favorites were Convento Capuchinas and Convento La Recoleccion. Though there are numerous spots dotted around the city worth checking out.
---
🚗 How I Book Cheap Transport In Guatemala: GuateGo
---
LIKE IT? PIN IT!
---
Want more Guatemala Inspiration? Check out….
---
Disclaimer: This post contains affiliate links. So, if you click on it and purchase something, I get a small percentage at no extra cost to you. As always all opinions are my own and your support is much appreciated.
Related Posts
If you are heading to Guatemala, more specifically Antigua, there is one thing you seriously [...]
2 Comments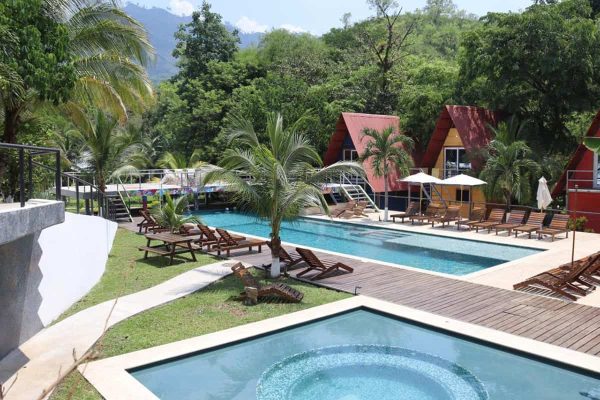 Find out the absolute best hostels in Semuc Champey for the ultimate stay. No doubt [...]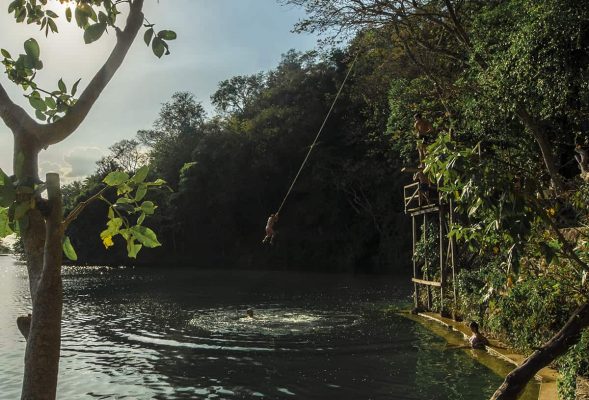 If you are looking for something to do while in Flores then definitely check out [...]