Come check out all you need to know about backpacking Antigua on a budget in Guatemala! I will let you know everything there is so you have an amazing time exploring this city such as prices, transport, where to stay, the best things to do and so much more!
---
Antigua in Guatemala is one of my favorite cities in Central America. It is the perfect mixture of modern and budget friendly which makes it perfect for a traveler like myself. You will find a rich blend of history, culture, and natural beauty.
If you are in Guatemala you need to make sure backpacking Antigua is on your itinerary!
It was once the capital of the Spanish colony, but after several earthquakes, it was abandoned and replaced by Guatemala City. Today, Antigua is a UNESCO World Heritage Site, with many restored colonial buildings, churches, and ruins.
It is also surrounded by three volcanoes, which provide stunning views and opportunities for hiking.
In this backpacking Antigua travel guide, I will let you in on all the top things to do, where to sleep, eat, and more!
I had an awesome few weeks exploring Antigua and absolutely fell in love with this place. I used it as a base to explore elsewhere in the country such as El Paredon and Lake Atitlan, as well as studying Spanish at one of the local schools.
It has a perfect climate, beautiful buildings, and is surrounded by nature. You can easily get around by foot or by Uber, there are some awesome hostels and an excellent cafe scene. I mean what more could you want?
So let's get into everything you need to know about backpacking Antigua so you can have the best trip. This includes finding out budgets, where to stay, top spots to eat, staying safe, things to do, and more!
---
Backpacking Antigua In Guatemala: All You Need To Know
---
How I Book Cheap Transport In Guatemala: GuateGo
---
How Many Days To Spend Backpacking Antigua
So let's get into how many days you should spend backpacking Antigua. Well honestly this depends on your personal preferences and travel goals, but we recommend spending at least three to four days in Antigua to explore the city and its surroundings.
During this time you will be able to do a few activities within the city, explore some ruins, and check out some amazing views.
Though if doing the Acatenango Volcano Hike is on your list I would add an extra day to your backpacking Antigua itinerary. Seriously it is a pretty full-on trek and you will be pretty sore the next day. Also if you happen to have bad weather and the hike is canceled you want to be there long enough so that you can reschedule it.
As you may have already read, I spent a lot longer here, though unless you want to study Spanish that is not necessary.
Even using it as a base to explore elsewhere in the country you will find yourself doubling back and it is possible to get shuttles between tourist destinations without actually having to go through Antigua.
---
Cost Per Day To Travel Antigua
Well if I am going to be completely honest Antigua, and Guatemala itself weren't as cheap as I expected them to be. Reading online a lot of travel guides list it as one of the cheapest countries in Central America, and compared to Panama, Costa Rica, or Belize, sure.
Though having had traveled Mexico prior I expected it to be cheaper again, though it was actually more pricey than Mexico. A lot of other travelers I met also had this same issue.
Nevertheless, I actually recorded my entire costs while traveling Guatemala so that other backpackers could use it for their future travels. The average came out to $58.00 per day.
Okay, so now let's get into the cost to travel Antigua in Guatemala. I ended up spending slightly less than my Guatemala average at $54.00 per day. Though I did work pretty hard at trying to minimize these costs as much as possible.
For example, I had free breakfast at my hostel and would cook for lunch or dinner, eating out once per day. I will stay in nicer dorm rooms these days as well, so I averaged $18.00 per night on a dorm bed, though you can certainly find cheaper options.
Of course, I also splurged on some activities such as the Pacaya Hike, Acatenango Hike, and studying Spanish in Antigua. Though having backpacked countries on a strict budget I often found myself missing out on activities, so nowadays I plan a slightly higher budget to cover this.
Overall I recommend budgeting between $45.00 to $70.00 per day when backpacking Antigua depending on your travel style. This will allow you a decent place to sleep, some delicious meals, and a daily activity to keep you entertained.
---
Where To Stay In Antigua Guatemala
I absolutely love Antigua, no doubt it was one of my favorite spots in Guatemala, and I would happily move here to live among the Volcanos. You commonly will find hotels and restaurants with the most incredible views of the valley, where you can even see the Acatenago Volcano erupting on a clear night.
There is an excellent hostel scene here in Antigua, and they are also very high-quality hostels. You will be able to find pod-style dorm rooms, cool common rooms playing Netflix, onsite bars, kitchens to cook in, and some even have pools.
Though I will say that it can be hard to find a dorm room here with air conditioning, and depending on the time of year you visit it can be quite warm.
Personally, I stayed at Maya Papaya hostel in Antigua, I even loved it so much that I booked 4 separate stays there over my month in the country. The staff are lovely, the beds are comfortable, and there's a super clean fully equipped kitchen, awesome location, and chill hangout areas.
Be aware that the nicer hostels here can be on the pricey side where you will easily be paying upwards of $20.00 per night.
My partner actually joined me partway through my adventures in Guatemala and we often found it was cheaper to book a nice guesthouse, rather than two hostel beds. This was even more so booking last minute when you can often find good deals on booking.com.
My favorite choice for a hostel. Clean and comfortable dorm rooms start from $22 per night.

BOOK NOW

A relaxing and beautifully decorated hostel. Prices start from $28.00 per night.

BOOK NOW

A lovely hotel located in the perfect location. Rooms start from $40.00 per night and they have awesome last-minute deals.

BOOK NOW

Whether you are wanting a dorm or a private room Selina has both. Prices start from $42 per night for a dorm and privates from $95.00.

BOOK NOW
---
Getting Around Antigua
Antigua is a small and walkable city so you don't need to spend much on transportation within the city. However, if you want to visit nearby places such as volcanoes or other towns you will need to take some sort of transport.
---
La Aurora International Airport To Antigua
The nearest airport to Antigua is La Aurora International Airport (GUA) located in Guatemala City about 40 km away from Antigua. There are several ways to get from the airport to Antigua:
Taxi: A quick and easy way to get from the airport to Antigua is by taking a taxi that you can find outside the airport terminal. The taxi costs around $30-$40 USD per ride and takes about 45 minutes to reach Antigua depending on the traffic.
You can negotiate the price with the driver before getting in and make sure they use the meter or agree on a fixed rate.
Uber: Unfortunately Uber isn't actually available in the airport. Though if you head outside of the airport grounds you are able to take an Uber from there all the way to Antigua.
Bus: The cheapest but least comfortable way to get from the airport to Antigua is by taking a chicken bus from the main bus terminal in Guatemala City to Antigua. The bus costs around $2 USD per person and takes about 90 minutes to reach Antigua depending on the traffic and stops.
It is often crowded, noisy, and bumpy, so it is not recommended for travelers with large luggage or low tolerance for discomfort.
Shuttle: If you are looking for a convenient and affordable way to travel from Guatemala City Airport to Antigua, you might want to consider booking a shared shuttle with GuateGo. The shuttle will pick you up at the airport and drop you off at your hotel or any other location in Antigua.
Taking a shuttle is a great option for travelers who want to save money and time while enjoying a scenic ride.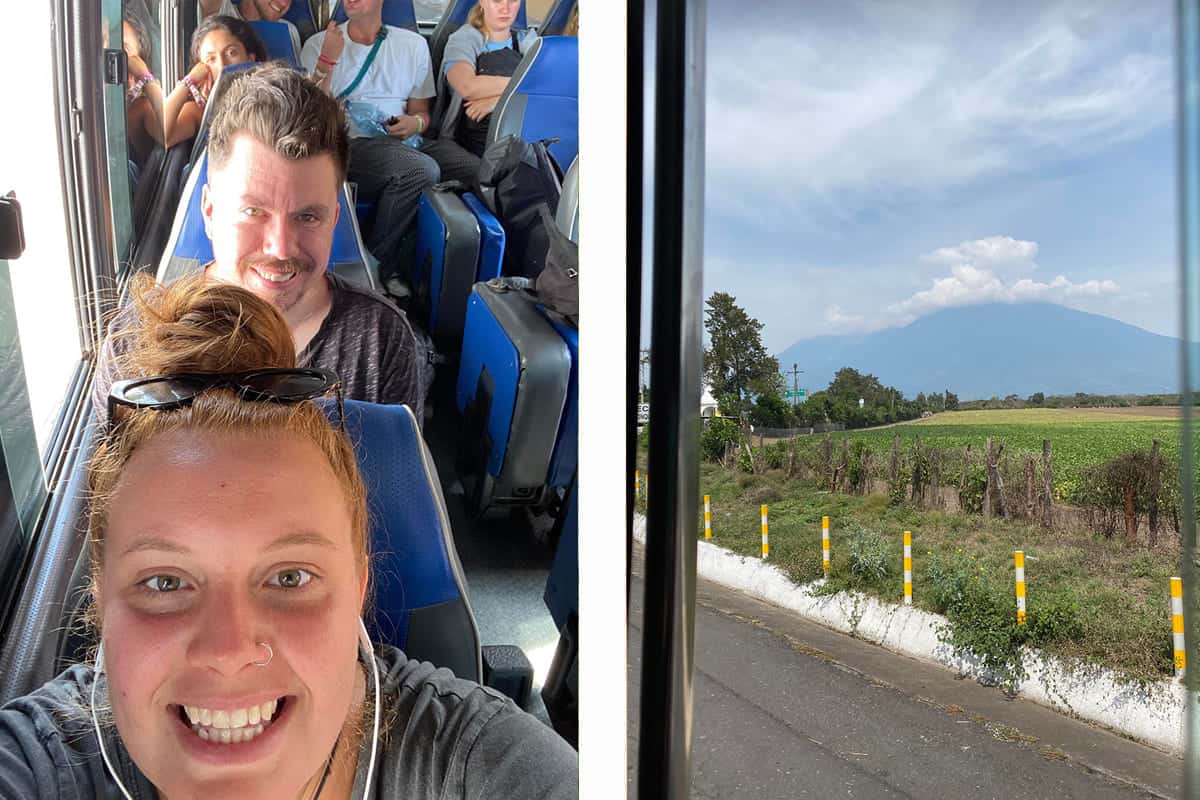 ---
Traveling Within Antigua
The main tourist area of Antiguap is super easy to travel around. This is thanks to the fact that it isn't too far spread out so you will be able to find numerous options for restaurants, cafes, and activities that are a short walk away from where you are staying.
Though be aware there will no doubt be some things you want to check out a bit further afield. Luckily enough taxi drivers are always around, and Uber is available with drivers arriving quickly.
I highly recommend downloading the offline map of Antigua on the Maps.Me app or Google Maps for your cell phone. It'll be super helpful in navigating your way around if you do not have data.  This is one thing I always make sure I have before arriving at a new destination.
---
Walking
Antigua is a relatively flat city in the center and easy to walk around. Though for exploring further afield this is not a reasonable mode of transport, especially when there are plenty of other affordable choices available.
My main note is the footpaths and roads are made out of cobblestone so you can easily trip. Make sure to watch your foot placement to avoid falling over or spraining an ankle.
Walking around Antigua is generally safe, as long as you use common sense and follow some basic precautions. Antigua is a popular tourist destination and has a lot of police presence and security cameras. However, it is still advisable to avoid walking alone at night, especially in dark or isolated areas.
You should also keep your valuables close to you and be aware of your surroundings. If you need help, you can always ask a local or a tourist guide. Antigua is a friendly and welcoming city that will make you feel at home.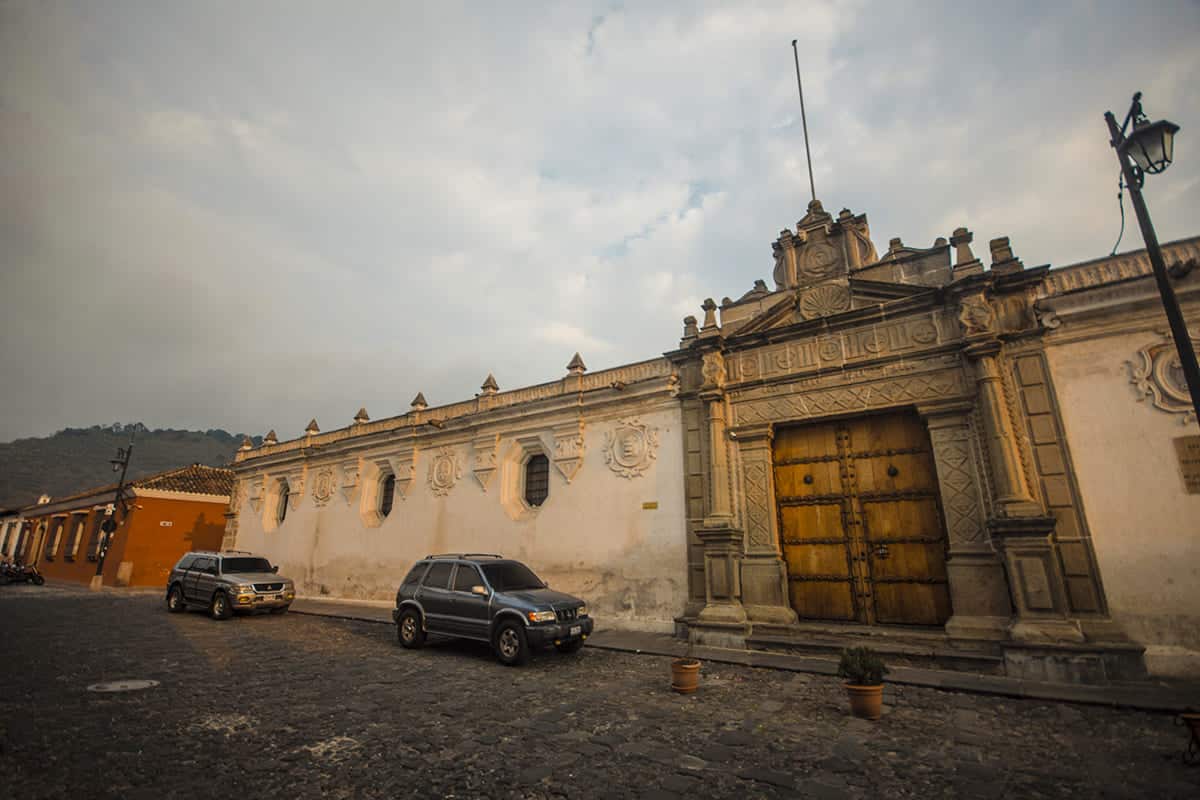 ---
Chicken Bus
Traveling around Antigua and other parts of Guatemala by chicken bus is a cheap and adventurous way to experience the local culture and scenery. Chicken buses are old American school buses that have been refurbished and decorated with bright colors, lights, and stickers.
 They are called chicken buses because they sometimes carry live animals or other goods on the roof or inside the bus. You can find chicken buses at the main bus terminal in Antigua or on the side of the road.
Just look for the name of your destination on the windshield or listen to the brocha (the driver's assistant) who shouts out the route.
Riding a chicken bus is not for the faint of heart. The buses are often crowded, noisy, and fast. You have to pay attention to your stop and be ready to get off quickly. You also have to watch your belongings and avoid traveling at night or in dangerous areas.
However, if you are up for a challenge, you can enjoy the views of the countryside, the music, and the conversations with the locals.
For the most part, it appears the locals understandably don't want tourists to take these chicken buses due to safety concerns, and being a foreigner you generally become a target. Though travelers think this mindset is an old school, not a realistic approach, and if you use common sense you will be fine.
---
Uber
This is my personal favorite way to travel around many cities, including Antigua. Download the Uber app on your phone and then you are all good to go. It provides the cost before you book which is a great tool to use to keep you on budget.
Because you also enter your location before the journey starts by dropping a pin, there are no communication issues, and you end up in the wrong place. The drivers are always super friendly, with a nice and clean car as well as having air conditioning.
Uber is usually cheaper and safer than regular taxis, especially at night or in busy areas. You can also avoid bargaining or getting ripped off by unscrupulous drivers, which is the reason I love to use it as it saves so much hassle.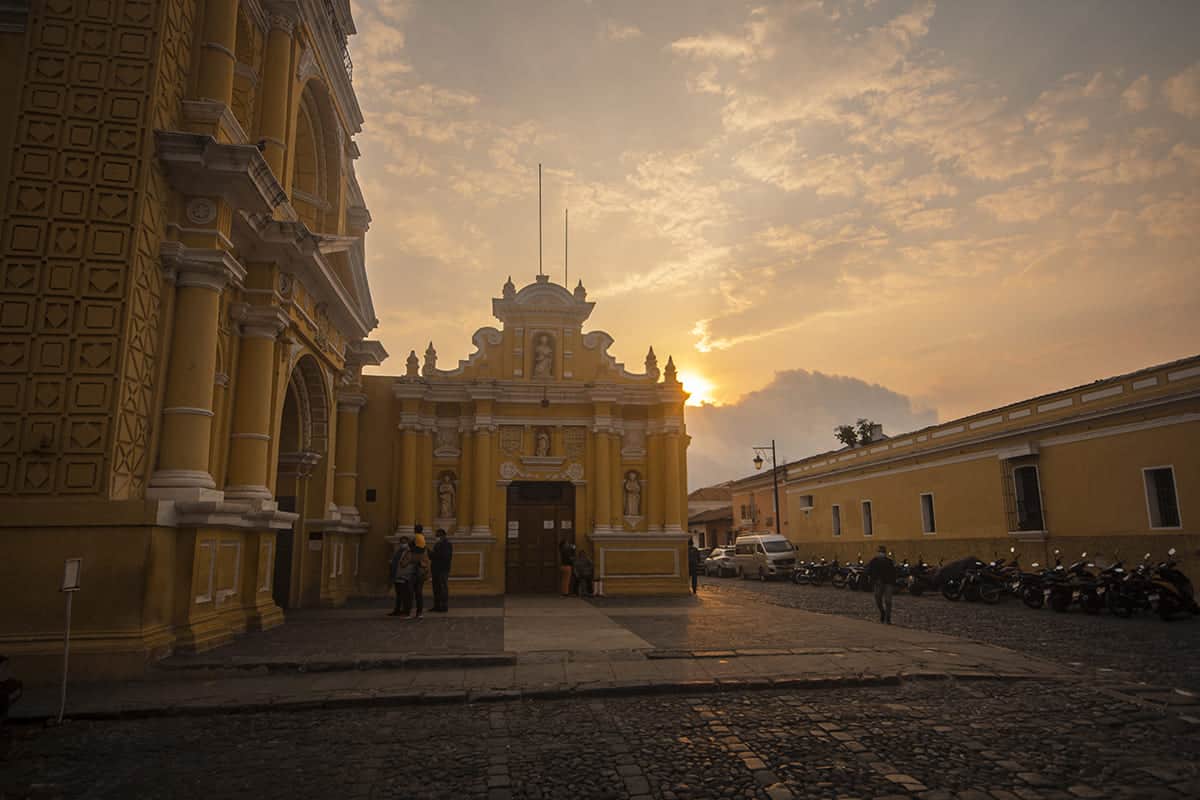 ---
How I Book Cheap Transport In Guatemala: GuateGo
---
Things To Do While Backpacking Antigua
Antigua has a lot of things to do for backpackers who want to experience the culture, history, nature, and adventure of Guatemala. Here are some of the best things to do while backpacking Antigua Guatemala:
---
Learn Spanish
There are so many places in Guatemala you can learn Spanish, though I chose Antigua and found it was perfect. You can choose from different types of courses such as intensive, regular, private, or group classes, and customize your schedule according to your needs and preferences.
A lot of schools also combine your Spanish lessons with cultural activities such as salsa dancing, cooking, or volunteering. Learning Spanish in Antigua will not only improve your language skills but also enrich your travel experience and help you connect with the locals and other travelers.
Plus, you could be studying in the morning and exploring in the afternoon. One day I even hiked a volcano after school!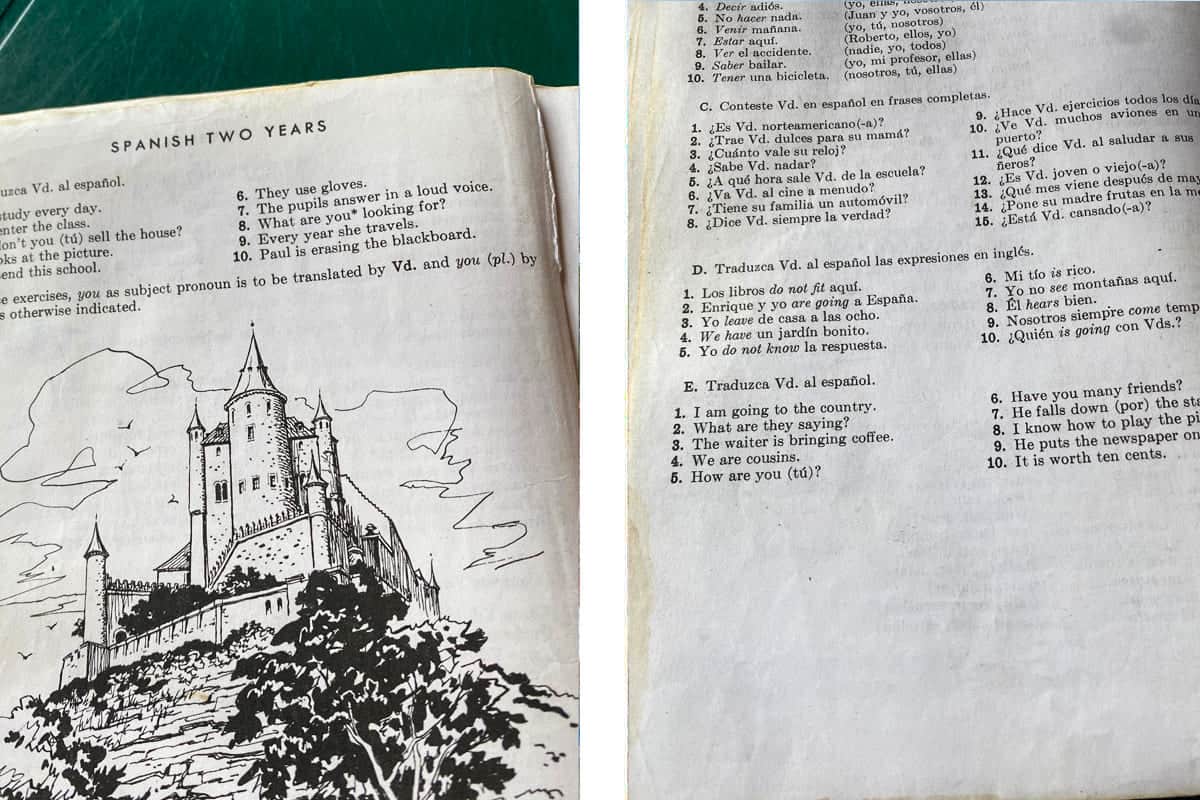 ---
Acatenango Volcano Hike
One of the most popular and rewarding activities in Antigua is hiking the Acatenango volcano, which is the third highest peak in Central America at 3976 meters above sea level.
The hike is challenging but rewarding, as it offers stunning views of the surrounding volcanoes, especially the active Fuego volcano that erupts frequently and creates an amazing spectacle of lava and smoke.
The hike takes about two days and one night and requires a good level of fitness and proper equipment. Many people decide to do it as a tour so you will travel with guides and stay at the permanent camp which means less gear to carry up.
Seriously this is one of the best things I have done in Central America, it's crazy watching Fuego Volcano erupt right opposite your camp.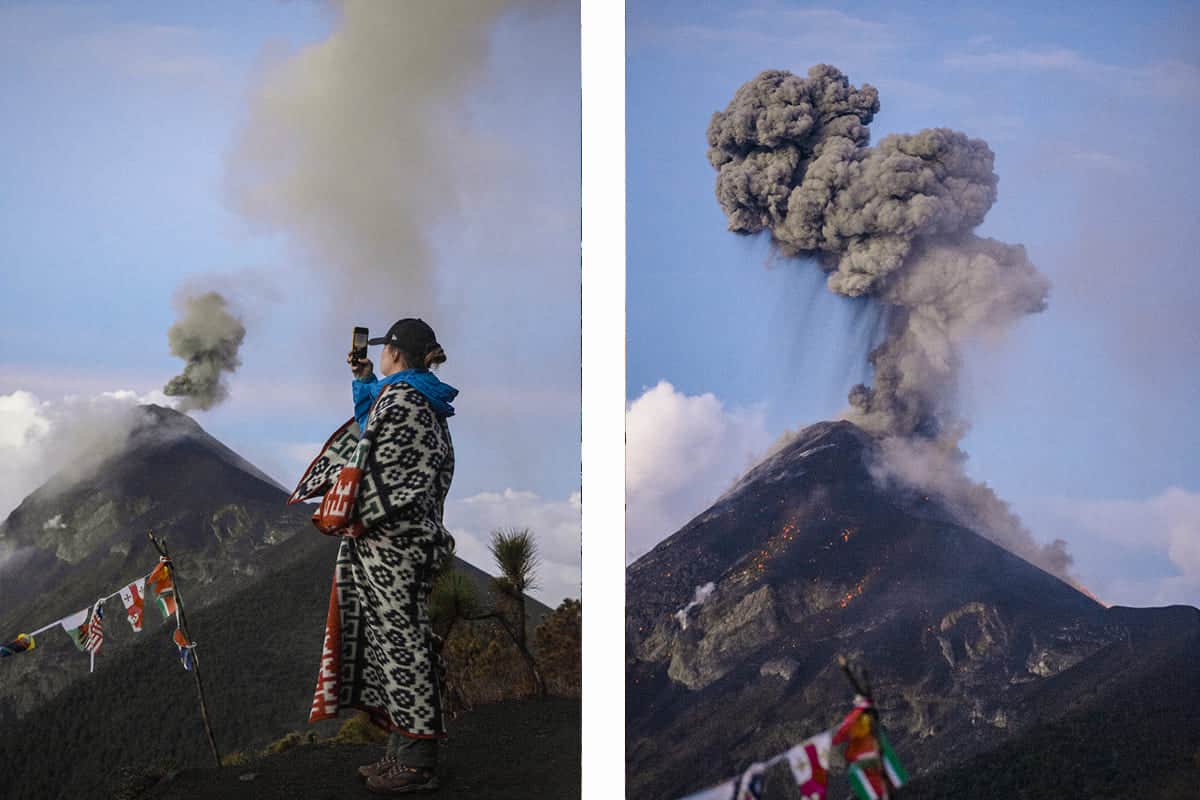 ---
Pacaya Volcano Hike
Another option for volcano lovers is hiking the Pacaya volcano. The hike is easier than Acatenango but still exciting, as you will feel the heat and smell of sulfur. Though this volcano is nowhere as active so don't expect rushing lava rivers.
Though you can eat a pizza cooked on the hot rocks or even roast marshmallows.
The Pacaya hike is considered a medium-difficulty hike, but it can be challenging due to the steepness, the altitude, and the soft sand terrain. You will need a good level of fitness and endurance to complete the hike without too much struggle.
You will also need comfortable shoes, water, and sunscreen. Again it is super easy to book a guided tour which includes transportation, a guide, food, water, and entrance fees.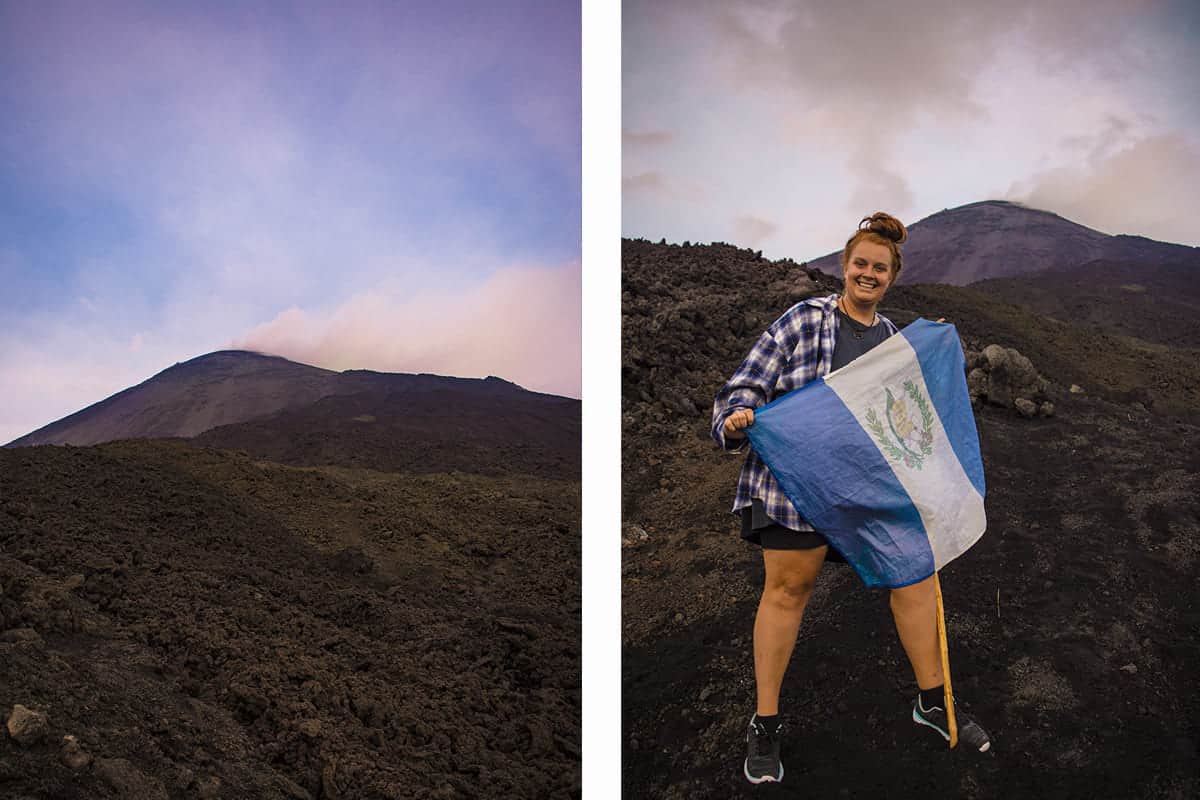 ---
Shopping
Antigua is a great place to shop for souvenirs, handicrafts, and local products that reflect the culture and diversity of Guatemala. You can find many shops, markets, and stalls that sell items such as textiles, jewelry, ceramics, wooden carvings, leather goods, coffee, chocolate, spices, and more.
Some of the best places to shop in Antigua are:
Nim Pot: This is a huge store that sells a variety of handicrafts from different regions of Guatemala at reasonable prices. You can find textiles, masks, dolls, bags, hats, scarves, blankets, and more.
Casa de Artes: This is a small but charming store that sells high-quality handicrafts made by local artisans. You can find jewelry, ceramics, paintings, sculptures, and more.
ChocoMuseo: This is a museum and shop that showcases the history and production of chocolate in Guatemala. You can learn about the cacao plant, the chocolate-making process, and taste different types of chocolate. You can also buy chocolate bars, truffles, spreads, and more.
Mercado de Artesanias: This is a large market that sells a variety of handicrafts at bargain prices. You can find textiles, jewelry, ceramics, wooden carvings, leather goods, and more.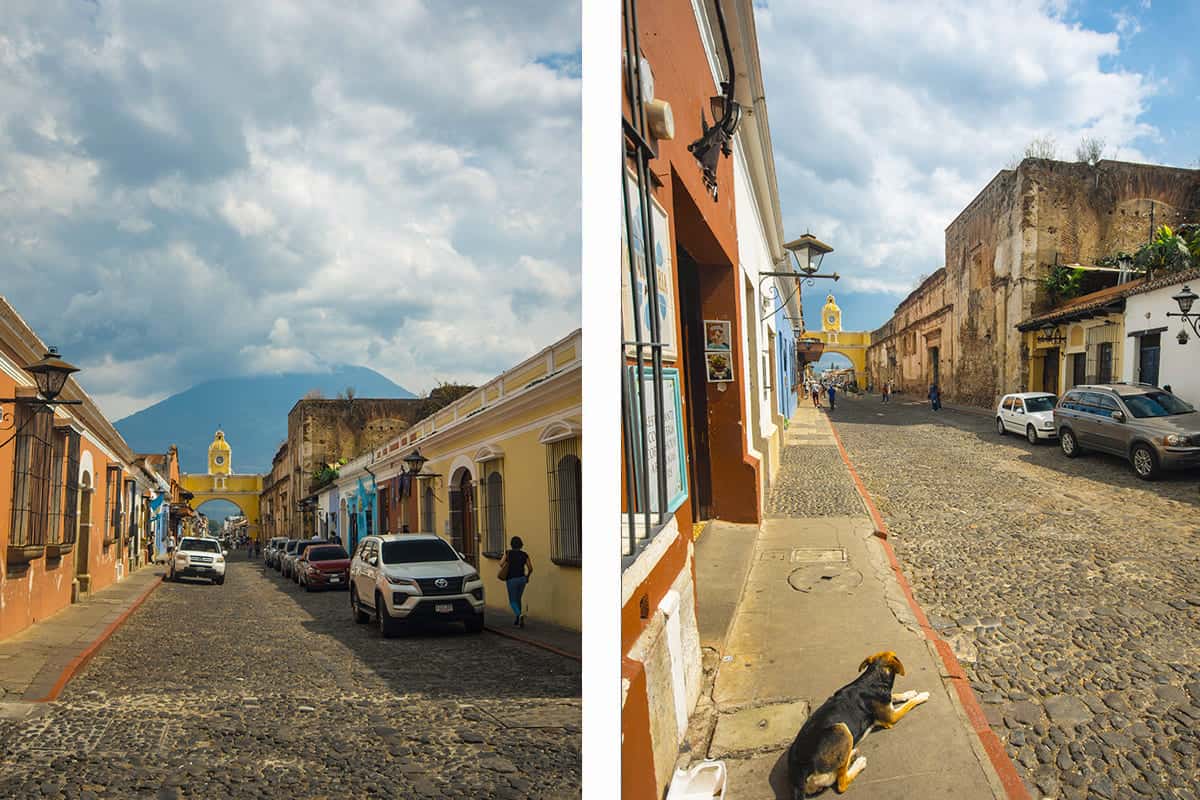 ---
Hobbitenango
Hobbitenango is a unique and fun attraction in Antigua that will make you feel like you are in Middle Earth. It is a hobbit-themed eco-park that features hobbit houses, gardens, trails, views, and activities such as archery, horseback riding, ziplining, and more.
Being from New Zealand I thought the idea of Hobbitenango was kind of strange, and it is, but still, it's worth a visit
To visit Hobbitenango, you need to take a shuttle (booked through Hobbitenango in the city) or an Uber to the entrance of the park, which is about 8 km away. It may be a short distance but the roads are windy so it can take a while.
There, you will pay an entrance fee of Q50 ($6.50) and take a 4×4 ride up the hill to the main area. The ride takes about 15 minutes and can be bumpy, but it is part of the adventure.
You can also hike up the hill if you are feeling adventurous, but it will take you about an hour and a half. If you want to hike it I recommend hiking it on the way back as it will be predominately downhill.
Once you arrive at Hobbitenango, you can explore the different areas of the park, such as visiting the restaurant for lunch, the bar, the mini-golf course, the archery range, the axe-throwing area, and the wizard's tower.
There are some epic viewpoints for those Instagram-perfect photos looking over the city and the nearby Volcanos.
One thing I will say is I would avoid visiting on the weekend as it is often overcrowded with long lines. This is an activity best done on a weekday to get the most out of your experience.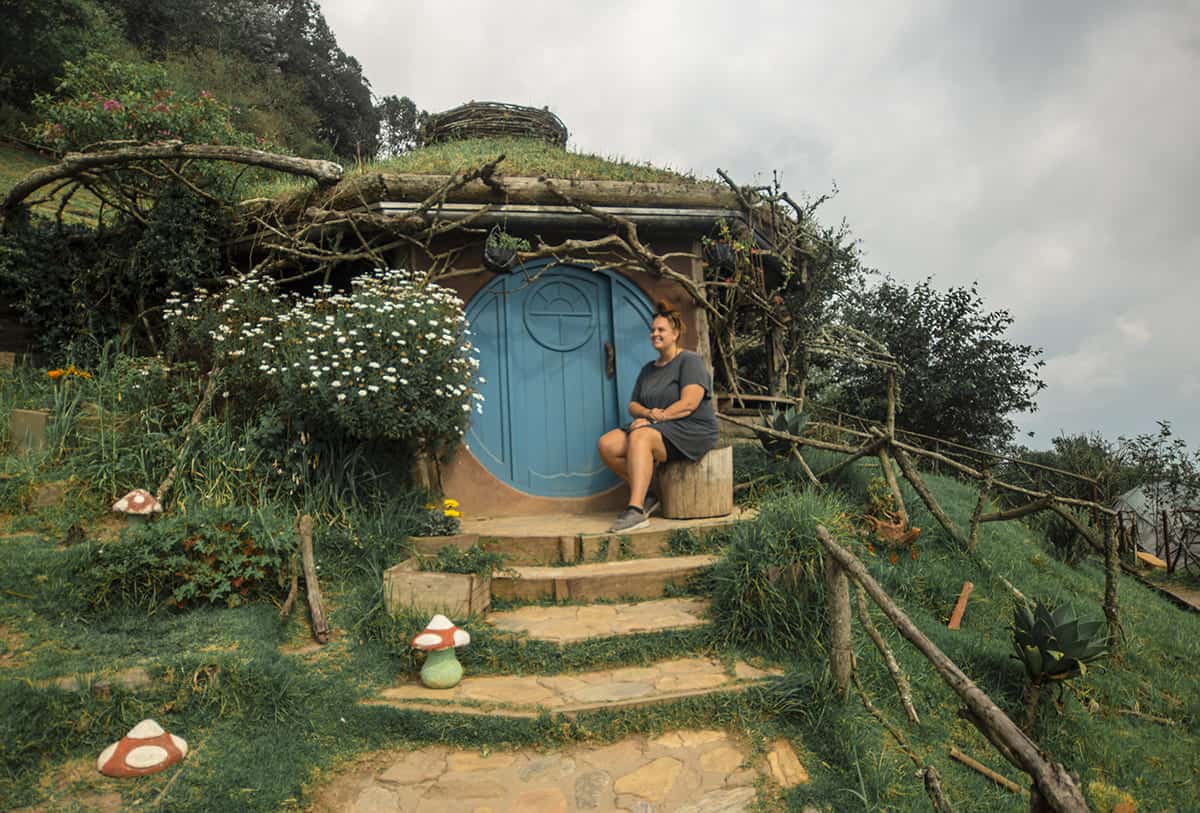 ---
Explore The Ruins
Antigua is a charming town that boasts some of the most impressive ruins in Central America. The city was once the capital of the Spanish Kingdom of Guatemala until a series of devastating earthquakes in 1773 left many of its churches and convents in ruins.
Today, these monuments offer a glimpse into the rich history and culture and a stunning contrast with the surrounding volcanoes.
Antigua Guatemala Cathedral: This cathedral was built in 1680 and was one of the most splendid buildings in Antigua. It had five naves, 16 chapels, and a huge organ. The cathedral was mostly destroyed by the 1773 earthquake, but you can still walk through its majestic ruins and admire its ornate facade.
El Carmen Church: This church was built in 1638 and features a beautiful baroque facade with intricate carvings. The church was partially destroyed by earthquakes, but you can still admire its elegant arches and columns.
Santa Clara Ruins: This convent was established in 1699 by a group of nuns who came from Mexico. It had a spacious courtyard, a fountain, and a bakery. The convent was severely damaged by earthquakes, but you can still see some of its original paintings and sculptures.
Church of Candelaria Ruins: This church was founded in 1548 and was one of the largest and most important in Antigua. It had a magnificent dome and a lavish interior, but it collapsed after the 1773 earthquake. You can explore the remains of the nave, the altar, and the cloister.
Church of San Francisco Ruins: This church was founded in 1542 and was the burial place of Saint Hermano Pedro, the first saint of Central America. The church was rebuilt several times, but it was finally abandoned after the 1976 earthquake.
You can visit the tomb of Saint Hermano Pedro, as well as a museum that displays his relics and artifacts.
Though if you are short on time my personal favorites are Convento la Recoleccion and Convento Capuchinas. At Convento la Recoleccion you will find the ruins still as is, it's a great place to explore in a beautiful garden, and it's like you are watching time stand still.
In contrast, Convento Capuchinas has been restored for the most part where you can see the beautiful architecture and check out the acoustic chamber.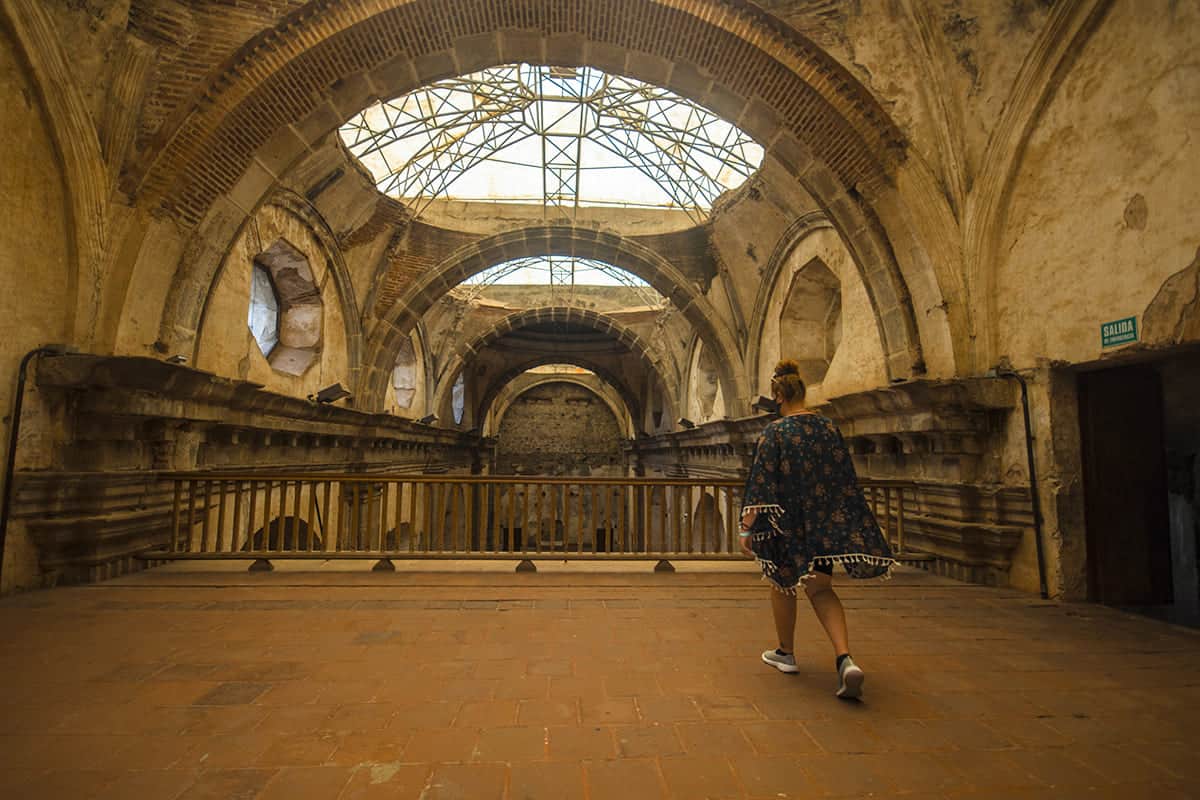 ---
Where To Eat In Antigua Guatemala
Antigua has a wide range of restaurants and cafes that offer local and international cuisine for all tastes and budgets. You can find traditional Guatemalan dishes, as well as international options such as pizza, burgers, sandwiches, pasta, sushi, falafel, or curry.
---
Western Food To Eat While Backpacking Antigua
Since Antigua is such a popular tourist destination you can find an assortment of Western Food here. There are so many options available and something which caters to everyone. Whether you are a meat-eater or vegan.
Antigua is a melting pot of cultures and the restaurants available really reflect this. Whether you are looking for something healthy, Italian, Indian, or a steakhouse there will be the perfect one not too far away from where you are staying.
Some top spots include:
Cafe Sky: This rooftop cafe offers stunning views of the volcanoes and the city, as well as a variety of dishes such as burgers, sandwiches, salads, nachos, and flautas. They also have early bird specials and cocktails.
Hector's Bistro: This cozy bistro serves pizza, pasta, burgers, and salads with fresh ingredients and homemade sauces. They also have a bakery and a deli with pastries, breads, and cheeses.
Pappy's BBQ Antigua: This American-style barbecue joint serves brisket, ribs, chicken, wings, and burgers with homemade sauces and sides. They also have craft beers and live music on weekends.
La Toscana: This Italian restaurant offers authentic pizza, pasta, lasagna, and salads with fresh cheese and herbs. They also have vegetarian and gluten-free options.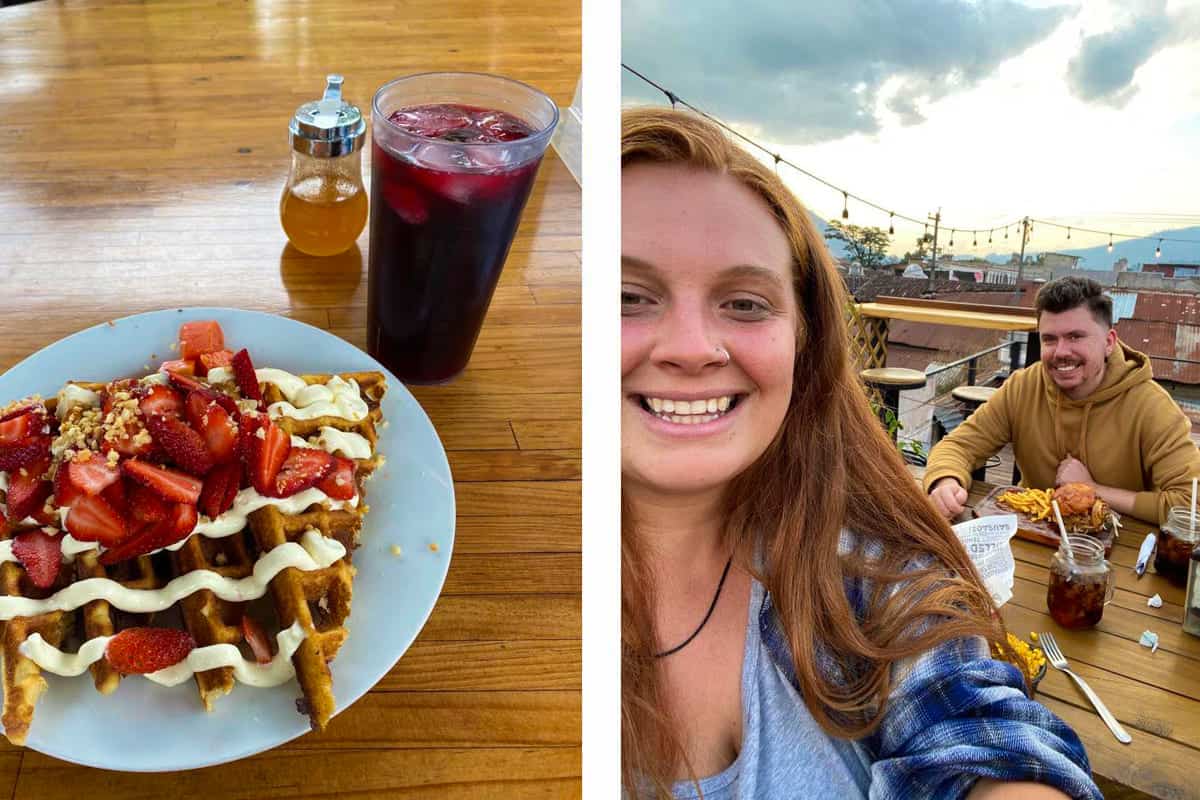 ---
Local Spots To Try While Backpacking Antigua Guatemala
If you want to eat like a local and save some money you can check out one of these places:
Rincon Tipico: This is a popular and cheap place to eat in Antigua that serves typical Guatemalan dishes such as pepian ((a spicy stew with meat and vegetables), kak'ik (a turkey soup with spices and herbs), fiambre (a cold salad with meat, cheese, vegetables, and eggs) or churrasco (grilled meat with rice beans salad and tortillas).
La Cuevita de los Urquizu: This is another great place to eat in Antigua that serves traditional Guatemalan dishes such as rellenitos tostadas (fried tortillas with toppings) enchiladas (not the Mexican ones but similar to tostadas) or chuchitos (corn dough stuffed with meat or cheese).
Doña Luisa Xicotencatl: This is a cozy and charming bakery and cafe that serves delicious bread, pastries, cakes, and pies. You can also get breakfast items such as eggs pancakes or granola or lunch items such as sandwiches salads or soups.
There aren't too many street food options here in Antigua, though if you head to Iglesia de la Merced there are a few ladies set up selling local dishes, including vegetarian options.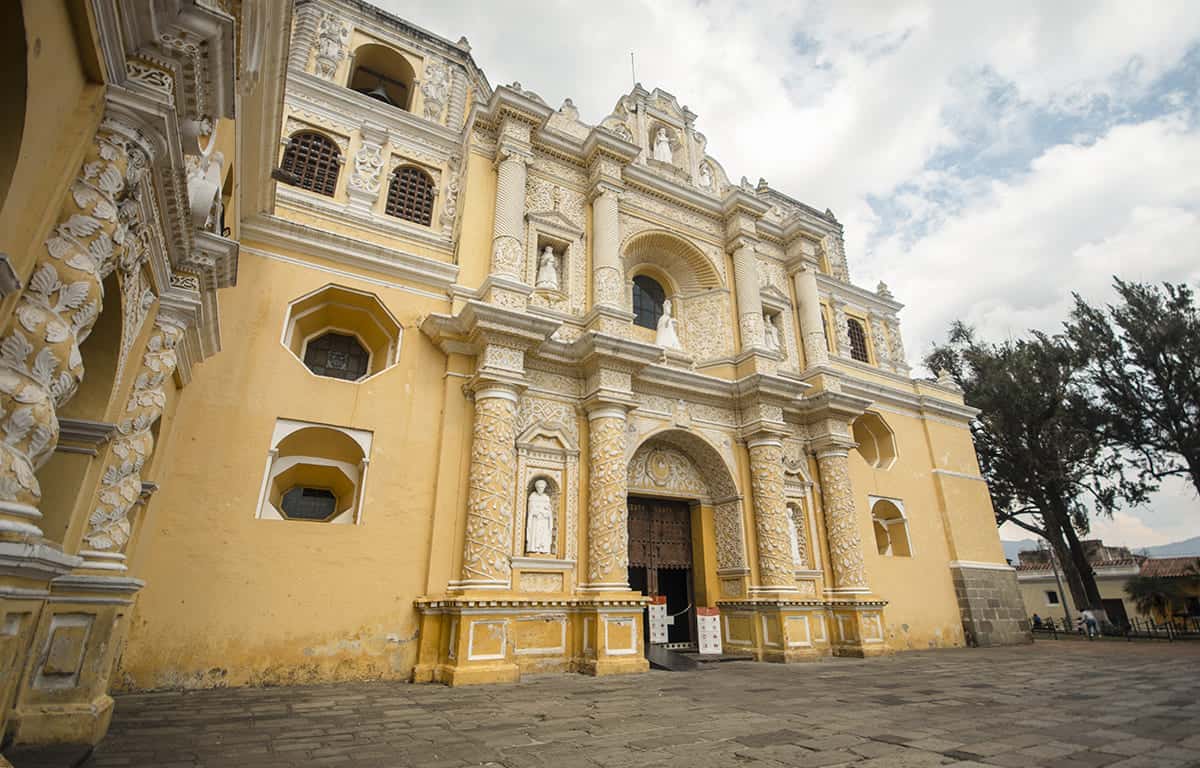 ---
How I Book Cheap Transport In Guatemala: GuateGo
---
Safety While Backpacking Antigua Guatemala
Antigua in Guatemala, is generally considered to be a safe destination for visitors. This UNESCO World Heritage site attracts thousands of tourists annually. Compared to other parts of Guatemala, Antigua is known for having a relatively low crime rate with more effective policing and tourist-oriented services.
The city is generally walkable and it is common for tourists to stroll at ease during the daytime. However, as with any destination, it is still essential for travelers to remain vigilant, pay attention to their surroundings, and avoid engaging in risky behavior to ensure their safety during their trip.
Although Antigua is generally safe, it is essential to be cautious of certain things that may pose a risk. Petty crimes such as pickpocketing and bag snatching can occur, especially in crowded areas or during the nighttime.
It is advisable to keep your valuables secure, avoid flashing expensive items in public, and refrain from walking alone in isolated areas, especially after dark.
Additionally, while Antigua is situated in a seismic zone and tourists should be aware of the possibility of earthquakes, it is important to note that both local authorities and the community are well-prepared for such events.
Don't drink the water out of the tap. It is easy to find bottled water here through the local corner store or hostels will do free refills.
Lastly, when traveling, it is always recommended to be informed about basic travel safety practices, such as keeping emergency contact numbers at hand, respecting local customs, and staying aware of current events that may affect your visit.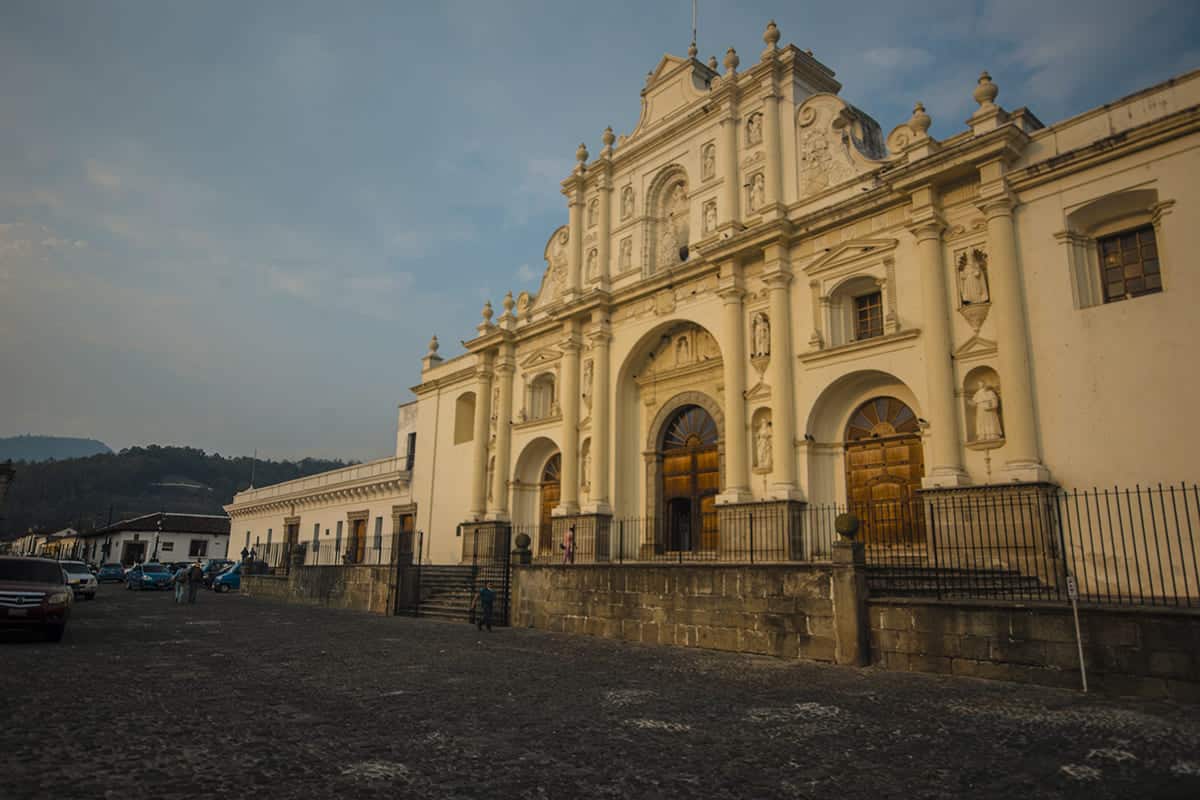 ---
How I Book Cheap Transport In Guatemala: GuateGo
---
Where To After Backpacking Antigua
When you have finished up your travels in Antigua it is super easy to continue your adventures here. Or perhaps even pass into one of the neighboring countries.
You can find an international airport about an hour's drive away over in Guatemala City with plenty of connections to other Central American countries, as well as those in South America and North America.
Domestic: You will be happy to know there are also plenty of domestic routes from Antigua. You can basically travel from here to wherever traveler hotspots in the country using a tourist shuttle which can be booked online at GuateGo, or once you are there from a travel agency or your hostel.
Personally, I visited Flores, Semuc Champey, Lake Atitlan, and El Paredon while traveling Guatemala, though I need to go back to experience Rio Dulce!
International: If you are wanting to get to other neighboring countries from Antigua by overland travel there are plenty of tourist shuttles available to book. The neighboring countries of Belize, Mexico, Honduras, and El Salvador are all popular connections available to book.
Some of these will be by bus companies whereas others will be with just tourist shuttles, like is the norm when traveling Guatemala. Personally, I actually traveled from Antigua to Copan Ruinas over in Honduras after my travels here. It was a super nice bus, and relatively straightforward.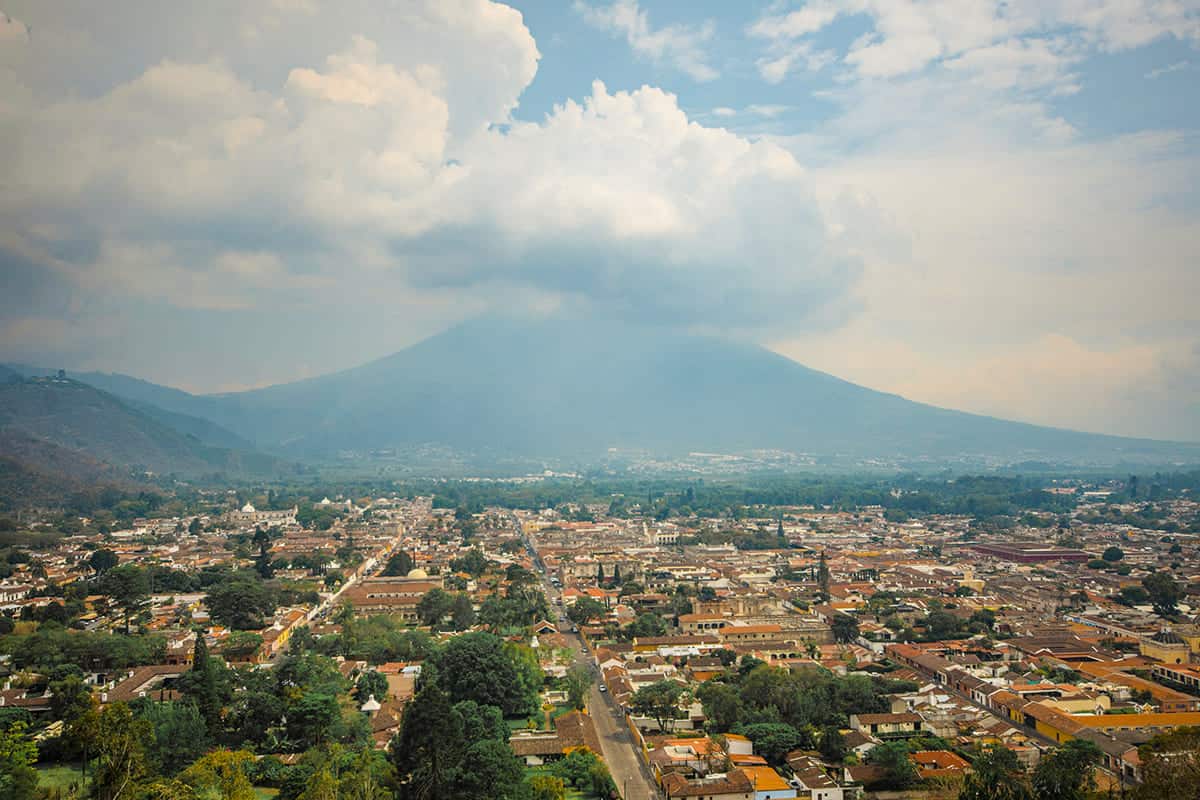 ---
Any Questions? Let me know in the comments!
---
LIKE IT? PIN IT!
---
Want more Guatemala Inspiration? Check out….
---
Disclaimer: This post contains affiliate links. So, if you click on it and purchase something, I get a small percentage at no extra cost to you. As always all opinions are my own and your support is much appreciated.
Related Posts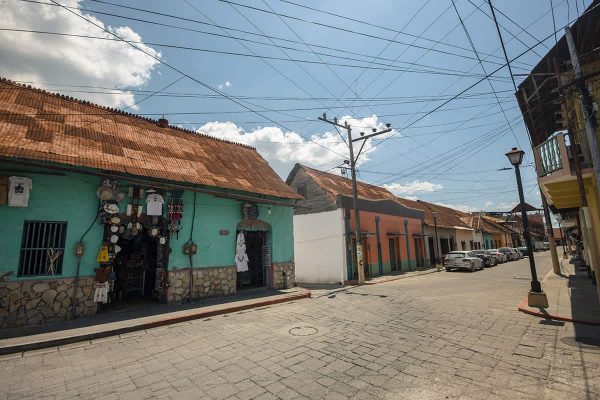 Let's find out is Flores Guatemala worth visiting. Depending on where you start your travels [...]
When I was heading to Lake Atitlan I was excited to swim, be surrounded by [...]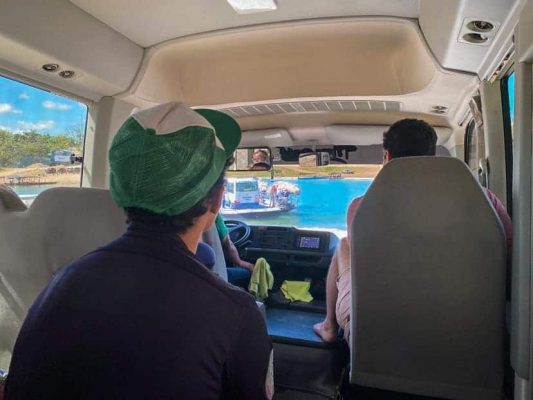 Come check out exactly how to travel from Flores to Semuc Champey in Guatemala. These [...]
2 Comments