Come check out the best hostels in El Paredon so you can have the perfect stay in this sleepy beachside town. I will break down all the best options, so whether you are a solo backpacker, a female traveler, or simply want somewhere cheap to rest your head you will be able to figure out what is best. 
---
Now if you are looking for a backpacker haven in Guatemala look no further than El Paredon. This gorgeous seaside spot is an absolute must on every traveler's itinerary in the country.
There is amazing surf, a beautiful beach, delicious places to eat, and an excellent social vibe among travelers. Most of all you will be able to find some great hostels in El Paredon where you can stay between adventures.
The hostels here all seem to have a Bali or Tulum-type style with a hatched roof and an open-style concept. Its Imstgramablity has no doubt helped it add to its popularity over the years and even though it may be a sleepy town by day, by night it comes to life at the beach and even later at the party hostels.
Something to be aware of is some hostels in El Paredon can be quite basic in terms of facilities on offer. For example, air conditioning is a rarity here and when you find it you will be paying a premium.
It is also pretty common to have power cuts and Wifi is limited. These are all things you have probably taken for granted if you've been cozied up in one of the plush hostels in Antigua. *sheepishly raises hand*. Also, there is generally a 2-night minimum stay at most hostels here.
I booked three nights in El Paredon, though I ended up leaving early and only staying for 2 nights. This is saying nothing negative at all, just that I had a complaining travel buddy, and it didn't really mesh well with my personal travel wants.
If I am on the road for a long time, then sure I would like to shack up on an isolated beach town for a few days. Though when I am limited on time I would rather be exploring daily rather than laying on the beach or in the pool. I had also just been living in Antigua for 3 weeks studying Spanish so I was ready to just get traveling again.
Lastly, just note you NEED to book your accommodation here in advance as it all generally sells out no matter what season, especially the more budget-friendly options. A couple of places have some overpriced tents set up for people who think they can just rock up. But please be aware that it isn't really an option here.
Now enough about me, let's get into the best hostels in El Paredon. With the help of this list, you'll be able to see what to look for when booking a hostel in Playa El Paredon! Ensuring you can book a bed confidently, in a decent location, and for a good price.
---
List Of The Best Hostels In El Paredon
---
How I Book Cheap Transport In Guatemala: GuateGo
---
How To Choose The Best Hostels In El Paredon
There is an assortment of hostels in El Paredon, most are pretty decent, but there are a couple worth staying away from. I am here to divide the two options so you don't end up booking somewhere horrible!
Though in all honesty, I travel in more of a glampacker style and there are a surprising number of hostels in Playa El Paredon which cater exactly to this travel style.
Traveling Central America there is an excellent hostel scene where owners have built the hostels as mini resorts that you never need to leave, especially as they can organize all activities for you at affordable prices.
I mean you can't go wrong with sturdy wooden bunk beds, and if you are happy to save money by booking this sort of accommodation you will be happy to know this is also an option here.
You can easily find cheaper options available that have a great social atmosphere, comfortable beds, and clean bathrooms. So you don't need to worry too much, nor do you have to look far.
So when choosing the best hostels in El Paredon, some things I took into account are:
---
Price
Now I will say that hostels in general are a bit pricier in Guatemala than what I am used to when traveling Southeast Asia, and El Paredon is no exception.
For your most basic hostels in El Paredon, you can expect to pay around $18.00 per night. These types of dorm rooms are open air meaning you have the sea breeze to cool you down at night. Don't worry you will also have a mosquito net over your bed to prevent you from being bitten.
The next tier up from this is the air-conditioned rooms. These generally start at $20.00 per night and there are only a handful of hostels that offer this in El Paredon. Two of my favorites are Cocori Lodge (in their female dorm only, so sorry guys), and Mellow Hostel.
---
Location
Now when it comes to location in El Paredon I will be honest, this place is so small there is basically no bad location. Seriously everything is a relatively short and easy walk away, and when it is the middle of the day it will be too hot to get out of the pool.
For the most part, you will need to decide whether or not you are bothered about staying somewhere oceanfront. This will give you access to the beach right outside of your doorstep.
I stayed in Mellow Hostel which is set a couple of blocks back from the beach and I would only venture down there during sunset. I do wish I stayed beachfront so I could watch the surfers and just chill out in front of the sea breeze.
---
Amenities
Now I absolutely loved the amenities available at hostels in El Paredon. Seriously hostels here are a true step up and really cater to the Guatemala backpacking scene perfectly.
The majority of hostels here actually have resort-style pools. They are somewhere you can easily spend all day, and I say this with confidence because I have done exactly this. You will also find hammocks around the pool to hang out on and work on your tan. If your accommodation doesn't have a pool not worry as many hostels offer day passes.
The hostel I stayed at Mellow Hostel, offers day passes to people who would like to come in and use their facilities. The price is Q150 / $19.12 which includes a Q100 / $12.75 bar tab that you can spend on drinks and food. They have a pretty awesome pool with shade cover, so you don't need to worry about getting burnt in the hot Guatemalan sun. Their WiFi is also some of the fastest in this small town.
Speaking of WiFi, if you are like me, and need an internet connection to survive you may struggle with it in El Paredon. It does exist, but it is not the best. Also, some hotels and hostels don't even have it available.
This is because there are no actual wired WiFi connections here due to the private land separating El Paredon from the main road. Instead, some hostels and hotels will have a special SIM card that shares their cell data through a router for their guests to use.
At Mellow Hostel the internet was a little bit slow, but it was definitely still usable. I also had a Claro SIM card and had excellent reception at all times. I purchased this SIM card when I first entered Guatemala in Flores for $23.00 which includes 10G of data over 30 days as well as unlimited use of social media.
All hostels will allow you to book transport and activities through them. Many will also put on a family dinner which is something you will get to know all about when traveling Guatemala. It's the perfect chance to get to know other travelers, especially if the hostel doesn't put on any other organized activities.
The last thing I think is important to note is quite a few hostels turn off the air conditioning during the day. I guess this forces you to go out and explore, though I will leave it up to you whether you book one of these hostels.
---
How I Book Cheap Transport In Guatemala: GuateGo
---
Overall Best Hostel In El Paredon – Mellow Hostel
Hmmm did you get the impression I loved my stay at Mellow Hostel because it was great! This is because it's suitable for all types of travelers, not just a particular type that you may find in some of the other hostel options in El Paredon Buena Vista.
This is a popular choice with travelers in the area and there is a good reason why. No matter whether you are traveling in a group, solo, or appreciating a little bit of luxe on a budget, this is a perfect choice.
Here you will find comfort in your new home away from home. Enjoy the delicious family dinners while meeting new friends, or sip on a tasty cocktail while taking a dip in their fantastic pool.
They put on yoga classes a few times a week up in the second story and give you plenty of opportunities to meet other travelers. There is an onsite restaurant that serves up some seriously delicious meals and tasty drinks.
You do need to know this is not a beachfront hostel, instead, it is a quick couple of minute walk and you will find yourself straight on the beach. The bonus of this is that if you are needing a decent night's sleep you can easily do this as it is set back from the party action.
They have a variety of rooms available. For privates, you have a basic tipi style with a shared bathroom or a luxe private with all the amenities including air conditioning.
There are a couple of cheaper 5 and 6 dorm rooms which are open-concept with a hatched roof. Mosquito nets are provided as well as a locker. There are also more luxe dorm rooms with air conditioning, just be aware it only is turned on between 7:30 pm and 7:30 am.
$$
Swimming Pool
Yoga & Activities During The Week
Air Conditioned Dorms
CHECK BEST PRICES
---
Best Hostel in El Paredon for Solo Travelers – Driftwood Surfer
Now if you are traveling solo and looking to make some friends you have no better place than the Driftwood Surfer. In all honesty, this place is kind of iconic in El Paredon, it's where you will find the party, the fun, and the crazy.
Honestly, I was booked in to stay here simply because I found out they have a hostel pig, and I thought what could be better than a hostel on the beachfront with a pig?
Well, when I was hiking Volcan de Acatenango I met a couple of chicks who had spent the past month volunteering there, and boyyyyy did they have some erm interesting stories to tell.
I think they were saying how awesome this place was for backpackers, and it is, but I am part of the small glampacker group who don't enjoy this. Nevertheless, I would have loved it when I was 18 during my first backpacking trip in Central America where I went the whole time basically drunk, high, or hungover.
I do really like that they do a baby turtle release during the months from September to December. Be aware that if you are wanting to partake in the turtle release it is an early start with it happening every morning at 5.45 a.m. while in season.
You will need to arrive about 15 minutes prior to this where the staff will show you where exactly the turtles are being released that day. You should know it can get super busy on the weekends, so if you happen to be staying in El Paredon over the weekdays, you are best to visit during this time.
They have plenty of activities available to be booked such as horseback riding, kayaking, salt farm tours, and more. There is a decent pool with a swim-up bar which is the perfect place to recover and meet some other travelers. They have an onsite restaurant, as well as family buffet dinners that are all-you-can-eat.
They have both private dorms and air-conditioned dorm rooms available.
Be aware you only seem to be able to book rooms here through Hostel World a month prior to your stay.
$
Super Social Atmosphere
Daily Activities
Beachfront
CHECK BEST PRICES
---
Best Hostel in El Paredon for Female Travelers – Cocori Lodge
I met so many female travelers who absolutely loved their stay at Cocori Lodge, and no doubt if I was traveling by myself this is where I would have stayed as well. This is a true glampacker hostel and the owners have built the most gorgeous Instagram-worthy property.
Seriously the photos here are incredible and it is equally as beautiful in person as well. Set right on the beach front you can walk from your bed to the waves in minutes.
They offer a crazy amount of private rooms which will suit as budget. Whether it is a converted bus, a mini cabana, or just your standard air-conditioned room.
There is also an assortment of dorm rooms available including a 14-bed mixed dorm, and the new 8-bed female dorm. The 14 bed is rather basic but has also you need such as a locker, personal reading light, and electrical socket. The 8-bed dorm is a new addition to the property and features air conditioning.
They have plenty of social activities giving you lots of chances to meet other travelers. You will find surf lessons, trivia night, ladies' night, beer pong, and yoga.
$$
Nightly Activities
Beachfront
Incredible Pool
CHECK BEST PRICES
---
For a cheap and cheerful option for travelers on a budget, you can't do better than Hostal Mi Casa En La Playa. This hostel is set right on Playa El Paredon with hammocks on the beach to relax on.
There is also a pool onsite but it is nowhere near as fancy as the ones in other hostels. Nevertheless, it holds water and will help you cool down on those hot days.
There is a restaurant and bar onsite where you can enjoy the view over the beach. They offer up an assortment of drinks and meals for all budgets.
If you are just looking for a place to rest your head and don't mind too much about what it looks like Hostal Mi Casa En La Playa is a perfect choice. Be aware the dorm rooms are a bit more on the basic side, though with such an affordable price can you really complain?
Just be aware there is no air conditioning, but there are fans in the rooms allowing you to still cool down. You can either stay in a private room, or they have a choice of 4, 5, and 12-bed mixed dorm rooms.
$
Beachfront Location
Super Cheap
Restaurant Onsite
CHECK BEST PRICES
---
How I Book Cheap Transport In Guatemala: GuateGo
---
Best Cheap Private Room in El Paredon – Calypso Cabanas
If you are looking for a super cute but affordable private room in El Paredon it is definitely worth checking out Calypso Cabanas.  This is the perfect choice if you aren't keen on a dorm but you still want somewhere affordable to stay.
This is an excellent option for travelers on a budget, or perhaps who are not comfortable staying in a hostel just yet but still want to save some money.
Here you can find cute little bamboo bungalows. This is perfect for those looking for a more unique stay. In your bungalow or cabana, you will find a bed, hammock, and mosquito net with shared bathroom facilities.
$
Super Affordable
Set Away From The Noisy Hostels
Cute Bamboo Bungalows
CHECK BEST PRICES
---
Now if you are looking for a private room that is a bit of a step up from the previous one mentioned, then come check out Pacifico El Paredon. Here you will be able to find a private room that is a little more luxurious than the above.
They have a mixture of fan-cooled and air-conditioned rooms. You will find a delicious restaurant on site serving both Western and local cuisine. It is also once again in an incredible beachside location.
$$
Awesome Pool And Hammock Area
beachside Location
Onsite Restaurant
CHECK BEST PRICES
---
More Best Hostels In El Paredon
Another spot to check out for the best hostels in El Paredon is called Bedrooms Where Charlie. This place is relatively new but perfect for travelers who don't need fancy-looking hostels and just want to get back to basics.
The family that owns this hostel really brings every guest in and makes them an honorary member of the family during their stay. It is quite different from the party hostels that seem to be around every corner in El Paredon and allows those who stay there to have the experience of being part of the community.
They have private rooms with either a shared or private bathroom. They have a fan as well as a mosquito net. There is also an 8-bed mixed dorm room. You will also have access to a kitchen as well as a swimming pool during your stay.
CHECK BEST PRICES
---
If you are keen on experiencing the true surfing life then there is no better place to book than Paredon Surf House. Construction started in 2008, and it opened its doors in 2010 as the perfect surf retreat in Playa El Paredon.
You can hire boards here as well as get private lessons. If you are a confident swimmer it is well worth taking a lesson with these guys if you have never surfed before. If you are experienced you will be glad to know you will be in the presence of like-minded people.
In total, the rooms can sleep 30 guests so the property never feels crowded. There is a mixture of private rooms, as well as a mixed dorm for females only.
Appreciate the beauty of the oversized thatched roofs in the group loft and beachfront bungalows offering superb ocean views. From the group loft, the North-facing skylight offers views of the volcanoes Agua, Acatenango, and Fuego.
$
In House Surf Board Rental & Lessons
Free Coffee In The Morning
Pool
CHECK BEST PRICES
---
How I Book Cheap Transport In Guatemala: GuateGo
---
So Where To Stay in El Paredon?
Make sure you don't miss out on this slice of paradise on your Guatemala adventures. With an excellent chilled-out vibe, great hostel scene, and awesome surf it is definitely worth visiting.
There is a little bit of everything here, whether you are looking to party or relax. So, with the help of the best hostels in El Paredon guide, I hope you have found the perfect place to stay in this lovely city.
Do you own or work for a hostel and want to be featured? Let us know over at [email protected]
---
Any Questions? Let me know in the comments!
---
LIKE IT? PIN IT!
---
Want more Guatemala Inspiration? Check out….
---
Disclaimer: This post contains affiliate links. So, if you click on it and purchase something, I get a small percentage at no extra cost to you. As always all opinions are my own and your support is much appreciated.
Related Posts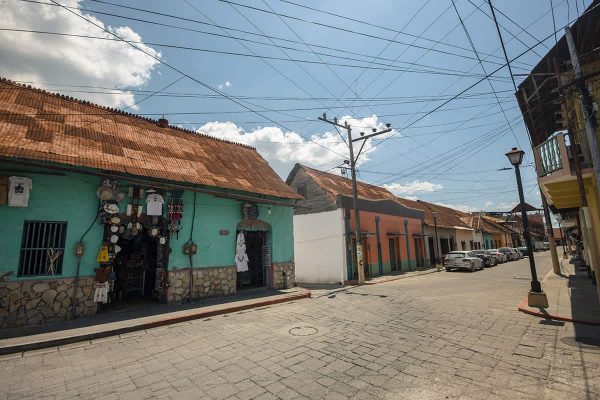 Let's find out is Flores Guatemala worth visiting. Depending on where you start your travels [...]
Come check out the best hostels in Antigua Guatemala for the ultimate stay. Being a [...]
If you are planning on spending 4 days in Antigua, Guatemala make sure you check [...]