Come find out all you need to know about backpacking El Paredon in Guatemala. In this travel guide, I will let you everything there is to know about this chill coastal town such as prices, transport, where to stay, the best things to do and so much more!
---
Once you have explored the other beautiful spots of Guatemala such as Antigua and Semuc Champey it is time to head back to sea level to the quaint coastal town of El Paredon. This is a slice of paradise seemingly in the middle of nowhere.
Though long gone are the days when El Paredon was a hidden secret in the surfer community. Nowadays you can find information easily on it by looking online and any decent Guatemala itinerary post will feature it in its itinerary.
Nevertheless, even though it is far from a secret spot, it is still relatively underdeveloped and has a real uniqueness about it making it worth visiting.
In this backpacking El Paredon travel guide, I will let you in on all the top things to do, where to sleep, eat, and more!
The amount of hostels available to book has skyrocketed over the years, though budget options may be a little bit harder to find. They all cater to the three things that travelers seem to love to do here, surf, party, and sleep.
El Paredon is certainly a traveler's paradise and a must-visit while you are in Guatemala, especially if you aren't traveling further in Central America to experience life on the Pacific Ocean.
So let's get into everything you need to know about backpacking El Paredon so you can have the best trip. This includes finding out budgets, where to stay, top spots to eat, staying safe, things to do, and more!
---
El Paredon Travel Guide: All You Need To Know
---
How I Book Cheap Transport In Guatemala: GuateGo
---
El Paredon Or Monterrico?
Okay so before we get into the details of El Paredon let's talk about the two most popular beach towns in Guatemala, El Paredon or Monterirco?
Essentially what you need to know is that generally, Monterrico is a beach destination for the locals of Guatemala whereas El Paredon is the coastal destination for foreign travelers.
In El Paredon you will find incredible hostels, delicious restaurants offering cuisines from around the world, and plenty of other travelers to hang out with.
In contrast, Monterrico has an assortment of affordable accommodations, but limited dorm options. You will find some delicious local foods, and it has a lot more soul to it, though it is a lot more developed and misses the boho beach vibe.
All in all, if you are looking for a place with a chill hostel scene, don't mind slow Wi-Fi, and don't mind if a place doesn't really feel Guatemalan then El Paredon is an awesome spot. Alternatively, if you want reliable WiFi and electricity, and a comfortable hotel then look into Monterricco.
---
How Many Days To Spend Backpacking El Paredon
Honestly, the amount of days you decide to spend in El Paredon is completely up to what you plan to do there. For example, partaking in surf lessons is a super popular activity, actually, the El Paredon Surf Camp really helped put this destination on the map.
You could also spend a month volunteering at one of the many hostels. Seriously I meet so many people doing this!
Though if neither of those sounds like a good option for you or perhaps you are just a good ol' regular traveler not looking to stay somewhere too long, then I would recommend a 2-night stay. This means it would make the perfect weekend trip from Antigua.
Staying 2 nights will allow you enough time to relax poolside, check out the beach, try some of the food, and even maybe do a tour. You can also make the most of your stay by booking your transport from Antigua to El Paredon in the morning so you nearly get a full day there to explore.
View this post on Instagram
---
Cost Per Day To Travel Playa El Paredon
Now I will be honest, Guatemala as a whole was not as cheap as I had expected.
I started my travels in Mexico which was relatively affordable, Belize then put a huge bump in the budget, and went I went to Guatemala I expected it to be back at Mexico price levels, though in honesty it was somewhere between the two.
I spoke to many other travelers who had this exact same issue as well, so plan accordingly.
I stayed 3 nights in a hostel called Mellow Hostel during my time in El Paredon. The total for this was q375 / $77.00 or $25.50 per night. I know this is quite pricey, but it was in an air-conditioned dorm room.
It gets freakin hot in El Paredon and I wanted a comfortable night's sleep so I decided to splurge on this. You can definitely save money by staying in one of the many open-air dorm rooms available and sleeping with a cool natural breeze.
Many hostels here in El Paredon will have an onsite restaurant where you can buy food and drinks. To be honest, there isn't a large number of restaurants or cafes here, so it is pretty normal to just eat at your accommodation.
Meals generally cost $10.00 to $15.00 each. Unfortunately, hostels here don't have kitchens and there is only a small mini-mart so buying food to cook isn't really an option.
Overall I would recommend budgeting $60.00 to $70.00 per day when backpacking El Paredon. This will allow you to have a comfortable bed, decent meals, a few beers, surfboard hire, and even a tour of the local area.
---
Where To Stay In El Paredon
El Paredon definitely surprised me with the large assortments of accommodation on offer. You can easily find gorgeous hostels, luxe hotels, and small bungalows.
Everything is actually really cute here, it reminds me of a mixture of old-school Sihanoukville in Cambodia, mixed with the aesthetic of Bali thanks to the bamboo used in the majority of buildings. Super aesthetic.
Whatever your budget or the type of traveler you are there is something to fit all your needs. Whether you want an affordable hostel, welcoming guesthouse, or luxury hotel.
Though I will talk about my experience with hostels here in El Paredon since this is a budget travel guide and that is what I stayed in during my visit. To be more precise I stayed in Mellow Hostel which is located at the very start of El Paredon.
It was an excellent place to stay, set slightly off the beach, and was the only accommodation that I could find at the time that offered air-conditioned dorm rooms (though seems like Cocori Lodge now have female air-conditioned dorms).
They have a huge pool with a nice shaded area so you don't get too burnt while hanging out. They also accept credit cards which is great as there is no ATM in El Paredon, so if you overspend you will be in a pretty awkward position.
Lastly, not just at hostels in El Paredon, but all over Guatemala, it is pretty normal to use a tab or pay on check out system to buy food and drinks. The plus side of this is you don't need to carry around money, the downside is that it can be very easy to overspend.
Enjoy the beautiful beachside hostel and all its great amenities. Prices start at $15.00 per night.

BOOK NOW

Set a little bit back from the beach, this is more of a relaxed hostel starting at $15.00 per night.

BOOK NOW

Enjoy these cute thatch bungalows from just $35.00 per night.

BOOK NOW

Enjoy a bit of luxury between surf sessions. Rooms here start at $100.00 per night.

BOOK NOW
---
How I Book Cheap Transport In Guatemala: GuateGo
---
Getting Around El Paredon
Now you know a little bit more about what you can expect when backpacking El Paredon let's get into the transport side of things. Luckily this is a pretty small coastal town and there isn't too much to do. Though you may want to visit further afield so what are your options?
---
Getting To El Paredon From Antigua
It is very likely you will be needing to get from Antigua to El Paredon or vice versa during your travels in Guatemala so let's look at our options.
| | | | |
| --- | --- | --- | --- |
| | Time | Cost | Highlight |
| Tourist Shuttle | 2 1/2 hours | from $28 | Comfortable journey |
| Chicken Bus | 6 hours | from $12 | Adventurous and fun |
| Taxi | 2 hours | from $5 | Easy and stress-free |
Tourist Shuttle: These tourist shuttles are super easy to book, you can either do so in advance online or instead wait until you are in Antigua. It is best to book your tickets a couple of days in advance as these shuttles do and can book out.
You can check out the travel route Antigua to El Paredon on Bookaway, buy your tickets through them, and then they will email you a copy! Super easy! They will also drop you off right at the door of your accommodation in El Paredon.
Chicken Bus: Starting from Antigua you will need to make your way to the Antigua bus stop behind the market. Take a chicken bus heading to Escuintla. This is a relatively short journey of just 36 kilometers. Next up you will need to get another chicken bus from Escuintla to Sipacate.
This is a 90-kilometer journey though sometimes there are no direct buses so you may find yourself needing to transfer again to get to Sipacate. Though once there you simply need to head to the tuk-tuk stand opposite the petrol station.
From here you can easily catch a ride to El Paredon which should cost you Q20 / $2.55.
Taxi: This is no doubt your quickest way to travel from Antigua to El Paredon, though be aware it is pricey. You can either choose to book a typical taxi or simply an Uber. If you want to just do a taxi, make sure you go through a reliable company such as Mariscal Taxis or Amarillo Taxis.
Nevertheless, rates should be around $80.00 to $100.00, and you must remember to negotiate a price beforehand.
---
Traveling Within El Paredon
El Paredon is a pretty small chilled-back place. It is also super flat making it walkable. Be aware there aren't any footpaths here, though that is part of the beachy appeal. The majority of roads are a mixture of sand and dirt, which can make things quite dusty.
During my time in El Paredon I didn't need any transport and instead just walked everywhere. The only downside of this is that it can get really hot mid-day and there isn't much shade.
I highly recommend downloading the offline map of El Paredon on the Maps.Me app for your cell phone. It'll be super helpful in navigating your way around if you do not have data.  This is one thing I always make sure I have before arriving at a new destination.
If you want to travel a little bit further afield then there are the occasional tuk-tuk that can take you around. If you decide to do this option make sure to negotiate a price in advance.
---
ATM In El Paredon
Now one important thing to note is there is only ONE ATM in El Paredon located in the Super 24. Do not at all rely upon it as an option to withdraw cash, it is notoriously out of order or has run out of money. It was never working during my visit, and it seems it is more common that it is not working than it is.
This means you will need to travel with enough cash to last the length of your stay.
Some accommodation providers will accept credit cards, though not all. Make sure you check with your hostel or hotel whether this is an option for you.
---
The WiFi Situation In El Paredon
Now if you are like me, and need an internet connection to survive you may struggle with it in El Paredon. It does exist, but it is not the best. Also, some hotels and hostels don't even have it available.
This is because there are no actual wired WiFi connections here due to the private land separating El Paredon from the main road. Instead, some hostels and hotels will have a special SIM card that shares their cell data through a router for their guests to use.
I stayed at Mellow Hostel during my time in El Paredon. The internet was a little bit slow, but it was definitely still usable. I also had a Claro SIM card and had excellent reception at all times.
I purchased this SIM card when I first entered Guatemala in Flores for $23.00 which includes 10G of data over 30 days as well as unlimited use of social media.
---
Things To Do While Backpacking El Paredon
Now I know this is a quaint little beach town, but there is a surprising number of things you can do here in El Paredon. Whether you want to explore the surrounding area, have meaningful experiences with locals, or hit the waves.
Here is my list of the best things to do in El Paredon:
---
Surfing Lessons
So if you haven't already heard, or been reading this article properly, then you may be surprised to find out surfing is one of the most popular things to do in El Paredon. No, but seriously, the surf culture here is crazy, but that is what makes this place so fantastic.
Though, you do need to be aware that this isn't really the best learning beach for trying to surf, especially so if you are just planning to go out by yourself and wing it. The waves here are a decent size ranging around 3 to 5 feet, but definitely get larger than this again.
Even if you are planning on learning how to surf here, you may feel a bit daunted when you first catch glimpse of the waves. Though this is where a lesson or hiring an instructor comes in. You can expect to pay around Q200 / $25.00 per hour for a lesson.
Speaking of safety it is also important to know that there are quite a lot of rip tides spread along the beach. Now growing up in New Zealand, we learned about riptides in primary school and how to spot them, but I know not all people have had this very specialized piece of education.
Essentially the deceivingly flat areas where there are minimal waves are where you find the rip tides. It may look like a nice place to swim, but it is the complete opposite.
If you are an experienced surfer you will find many places along the beach hiring out boards. Just be aware that these places don't hire people that aren't experienced, so you will need to book lessons instead.
---
La Choza Chula
Now if you want a bit more of a unique experience in El Paredon and want to support the local community then booking a tour through la Choza Chula is the perfect option.
They are a nonprofit that works on improving the education and environment in and around El Paredon Guatemala. They offer a wide range of tours which will make you feel good to know your money is going back to uplifting the local community.
Some of their tours include:
Mangrove Tour: Here you will head out with a local guide on a traditional lancha boat to check out the mangroves and local wildlife. The guide will also teach you how to fish on the edge of Sipacate El Naranjo National Park. It costs Q115 / $14.70 and lasts for 2 hours.
Turtle Tour: Visit one of the seven sea turtle feeding grounds in the world where you can find these turtles all year round. You will also visit one of the nearby salt farms and learn all about the processes used. It costs Q115 – Q185 / $14.70 – $23.70 depending on the number of people who are booked and lasts for 2 hours.
Cooking Class: Head to a local family's kitchen and discover how to make some traditional Guatemalan meals. Dishes include the likes of tortillas, empanadas, ticucas, and more. It costs Q90 / $11.50 and lasts for 2 hours.
Bracelet Making Class: Last but not least we have a bracelet-making class where you can take home a special souvenir to remember your experience here. One of the young makers will help you choose color, style, design, and create your bracelet. It costs Q90 / $11.50 and lasts for an hour and a half.
View this post on Instagram
---
Day Pass To Hostels & Hotels
Now if you are choosing to travel El Paredon on a budget you may find yourself staying in more basic accommodation. Though this may not be somewhere you would like to be cooped up during the day. Luckily a lot of hotels, and hostels, offer day passes to use their facilities.
The hostel I stayed at Mellow Hostel, which offers day passes to people who would like to come in and use their facilities. The price is Q150 / $19.12 which includes a Q100 / $12.75 bar tab that you can spend on drinks and food.
They have a pretty awesome pool with shade cover, so you don't need to worry about getting burnt in the hot Guatemalan sun. Their WiFi is also some of the fastest in this small town.
---
Check Out The Turtle Hatchery
Now unfortunately this activity isn't available year-round, though that is mother nature. If you happen to be in El Paredon from September to December it is definitely worth checking out the turtle hatchery and watching a release.
This is run by the Driftwood Conservation Project and the 3 owners of the hostel are extremely passionate about the conservation of turtles here in Playa El Paredon.
Be aware that if you want to partake in the turtle release it is an early start with it happening every morning at 5.45 a.m. while in season. You will need to arrive about 15 minutes prior to this where the staff will show you where exactly the turtles are being released that day.
You should know it can get super busy in the weekends, so if you happen to be staying in El Paredon over the weekdays, you are best to visit during this time.
Something to be aware of is that projects like this happen all along the Pacific coast of Central America. I volunteer at a turtle hatchery in Costa Rica for a few weeks and also participated in the turtle release at Playa Bacacho in Puerto Escondido.
Oftentimes locals will collect the turtle eggs to sell for consumption, though projects like these buy back the turtle eggs from the locals so they can hatch. It may sound counterproductive and encourage the consumption of turtle eggs, but while it is legal it is the best effort they can do.
View this post on Instagram
---
Sunset At The Beach
Now there is no better way to finish off your day in El Paredon than watching the sunset at the beach. Because the sand is black venturing onto the beach during the day is a risky venture, though once the temperature cools and the sun begins to drop the sand becomes a whole lot more bearable.
At sunset, you will find basically everyone in El Paredon heading to the beach to catch the last bit of daylight. This is truly a magical time of day with people walking their dogs, frolicking in the waves, and simply just hanging out.
---
How I Book Cheap Transport In Guatemala: GuateGo
---
Where To Eat In El Paredon Buena Vista
There is a small handful of restaurants in El Paredon Buena Vista that are well worth checking out during your stay. Even if you are planning on just visiting for a couple of days, you will still be able to smash out the majority over this time.
Though to be honest a lot of the time you will find yourself eating at your hostel or in your hotel. This is simply because it is the easiest option. We definitely spent our days in the pool until we were well past the point of looking like a prune.
It was just easy to jump out and walk a couple of meters to lunch, then jump straight back into the pool afterward. Our hostel called Mellow Hostel also offered a family dinner during our stay. If you are backpacking Guatemala you will become very well acquainted with these family dinners in the hostel scene.
Nevertheless, I recommend checking out:
Soulfood Kitchen: Come here for some delicious noodles and curry bowls made with love. There is an upstairs area to this restaurant which has the perfect sea breeze on a hot day. I can highly recommend ordering the Malaysian Noodle bowl.
Zicatela: This restaurant has a super cool vibe with beautiful serving dishes and glassware. Seriously I fell in love. They offer a variety of Mexican dishes and is undoubtedly the place to come for a delicious dinner.
---
Safety While Backpacking El Paredon
El Paredon is a super safe laid back beach town. Basically use common sense and you will be fine. If you are going for a little swim, don't leave your valuables right out on the beach. Stay cautious of the street dogs. Make sure to wear shoes on the black sand beach. Don't go swimming at night.
The main thing here to be aware of is there are a lot of rip tides spread along the beach. You will see warnings all over as well as information at hostels and hotels on how to spot them. Always double-check that it is safe before going for a swim.
Essentially the deceivingly flat areas where there are minimal waves are where you find the rip tides. It may look like a nice place to swim, but it is the complete opposite.
Don't drink the water out of the tap. It is easy to find bottled water here through the local corner store or hostels that will often do free refills.
---
Where To After Backpacking Playa El Paredon
When you have finished up your adventures in El Paredon it is super easy to continue your travels, or perhaps even pass into one of the neighboring countries. Unfortunately, there is no airport here, but you can find plenty of tourist shuttles available to be booked at the hostels to take you around.
Domestic: The best and easiest places to travel from El Paredon Buena Vista are either Lake Atitlan or Antigua. You will find at least 1 departure available per day to each of these destinations. Make sure to book your transfer at least one day in advance to ensure you get a seat.
International: Now the only really international destination you can get to is El Salvador. I, unfortunately, haven't been there yet, but it is definitely on the list for when I return to Central America. At the hostels, you will easily be able to book a tourist shuttle through to the El Salvador beach town of El Tunco.
---
Any Questions? Let me know in the comments!
---
LIKE IT? PIN IT!
---
Want more Guatemala Inspiration? Check out….
---
Disclaimer: This post contains affiliate links. So, if you click on it and purchase something, I get a small percentage at no extra cost to you. As always all opinions are my own and your support is much appreciated.
Related Posts
If you are heading to Guatemala, more specifically Antigua, there is one thing you seriously [...]
2 Comments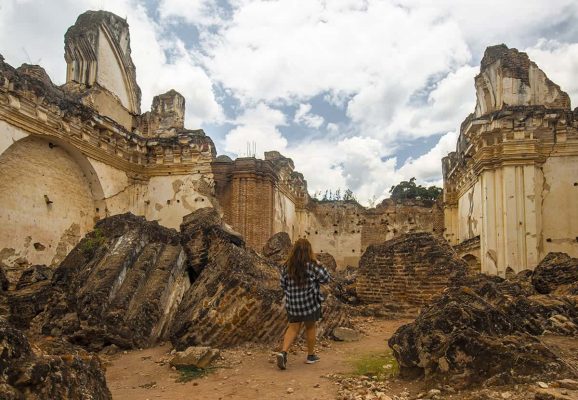 Come check out all you need to know about backpacking Antigua on a budget in [...]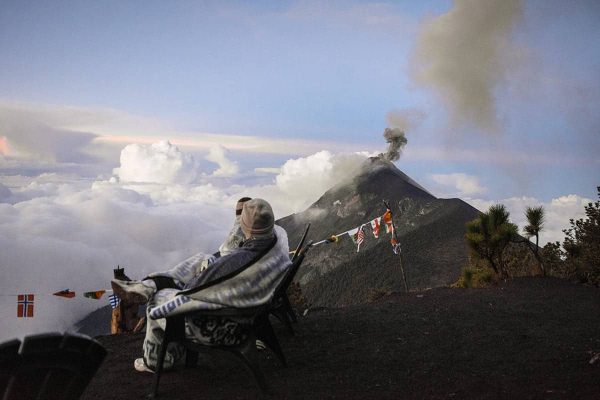 Come find out what you need to know about backpacking Guatemala on a budget! I [...]