No doubt if you are coming to Flores, one of the most popular things to do here is to visit Tikal. Though there is quite a distance between these two locations so the best way to experience it is to make a Tikal tour from Flores.
I will let you know what types of tours are available, costs, opening hours, what to expect, and more!
---
There are several different Mayan ruins around the town of Flores in Guatemala, though no doubt the most popular one is Tikal, and this is for good reason. The extensive grounds, wildlife, jungle location, impressive views, and complete restorations draw in hundreds of thousands of visitors each year.
The thing to be aware of is that it is a good hour's drive to get to Tikal from Flores, and the most popular way to venture there is by taking a Tikal tour from Flores.
However be aware that not all these tours are created equal, not at all. Honestly, some can feel like they are livestock being herded around, whereas others can seem like an overwhelming amount of information has been thrust upon them.
Though if you are also the type of traveler who would prefer to travel to Tikal from Flores on your own I will let you know how you can do this as well. Whether by shuttle, public bus, or by taxi. This way you will have a lot more freedom around the park and can explore at your own pace.
Nevertheless, let's get into this complete guide of what to expect on a Tikal tour from Flores or simply visiting by yourself. This includes why you should visit, how to get there, entry fees, opening hours, and whether it is even safe to swim in Flores. Let's be honest no one wants to get sick.
---
Tikal Tours From Flores: What To Expect During Your Visit
---
🚗 How I Book Cheap Transport In Guatemala: GuateGo
---
History Of Tikal
Now I know you will learn a bit about the history of Tikal on your tour, but let's get into some of the basics which will explain why it is worth visiting and why it has become such a popular temple site.
Tikal covers an area of 64 square kilometers, which is huge. It's said to be more than 400 stone structures built across the land, with plenty more to be discovered as well. This is pretty crazy to think about considering archeological records date Tikal to around 1000 BC.
However, keep in mind it wasn't until 300 BC that Tikal really started to grow are thrive as a city.
You can find Mayan ruins throughout Mexico, Belize, Guatemala, Honduras, and El Salvador, but none are considered as large and impressive as Tikal. While it is still a topic of discussion, many experts believe the population of Tikal was between 50,000 to 100,000 people during the Mayan Classic Period.
It also covered an area of 576 square kilometers, quite a lot larger than the small section of the park you will explore on your Tikal tour from Flores.
It was officially discovered in 1848, though when the Spanish came through during the 1500's they had no idea of its existence. Nature had taken over this incredible site, reclaiming it as its own.
Walking through certain parts of the park it is easy to see how it went undiscovered for so long, the large impressive temples simply looking like small hills.
I will get more into the importance of each individual temple you will come across a bit further below when I share my experience visiting Tikal from Flores. Tikal was declared a UNESCO World Heritage Site in 1979 in hopes of preserving the area and the history it holds.
---
Types Of Tikal Tours From Flores
Life would be easy if there was just one type of Tikal Tour you could book, but also thinking about it, no doubt it would be super crowded at that time of day. Luckily there are numerous different Tikal Tours you can choose to book.
That way you can find one that suits what you are looking to get out of this experience.
The bonus of booking on a tour is that you will have transportation sorted, and have a knowledgeable guide to take you around, just make sure you are booking with an English-speaking, or Spanish-speaking guide depending on what languages you speak.
Too many times I booked tours in Mexico and ended up on a Spanish-speaking tour understanding barely anything. Many tour agencies say they will pick you up from your hostel or hotel.
Though just be aware it is likely they will simply walk there and resort you down to where the bus will be waiting at the start of Flores.
Sunrise Tikal Tour: This sunrise tour is for those early risers who want to have one of the most spectacular sunrise views. You will have entry to the park before everyone else, though this does mean you need to pay slightly more for your entry ticket. Though more on the exact details of this are below.
Morning Tikal Tour: This is the tour I did, and I must say you still need to get up pretty damn early for it. Nevertheless, there was a lot of waiting around, but we were lucky enough to be on the first morning Tikal tour through the entry gates and exploring. As a result, we did see a lot of wildlife and they had been undisturbed.
Sunset Tikal Tour: For some more spectacular views you can do the sunset Tikal tour. This is perfect for people who aren't early risers, and looking back it is the tour I definitely should have done. You will still get to experience lots of wildlife as they start to venture back out after the midday sun.
Private Tikal Tour: A private tour will give you a more intimate experience exploring Tikal from Flores. It can be a bit underwhelming being ushered around with a relatively large group, so if you can afford it and you are genuinely interested in the history of Tikal I highly recommend doing a private tour.
---
Where To Book A Tikal Tour From Flores
It is super easy to book your Tikal Tour from Flores, and to do so you have either two different options.
The first is booking online in advance. You can do this through Get Your Guide or Viator. Be aware you will pay a premium booking through a third party, though the bonus of this is you can read other travelers' reviews and know what to expect.
The second option is to book your Tikal tour once you have arrived in Flores. There seem to be five travel agencies on each street around Flores, seriously there is a crazy amount. The problem with this though as it can be hard to know what you are actually getting, especially if your Spanish is limited.
I booked through my hostel called Los Amigos in Flores the day before the tour. I paid Q130 / $16.60 for return transport and an English-speaking guide. The actual entry fee to Tikal was not included in the price.
If you do decide to book a tour of Tikal, whether online or in person make sure to find out whether the entry fee is included or not, as this can greatly affect the price.
---
How To Visit Tikal By Yourself
If you prefer to do things alone, or just don't want to be stuck with a big crowd, fair play. Visiting Tikal by yourself from Flores not on a group tour is another excellent option.
This way you will have a lot more freedom to explore at your own pace without feeling rushed, or the opposite, and not be stuck waiting around for other people.
There are a few different ways you can visit Tikal by yourself:
Shuttle: Guatego offers a shuttle service picking you up at 8 am, and arriving at Tikal at 10 am. You will then be able to wander around the park at your own pace and meet back at the shuttle to be transferred back to Flores at a set time.
There is also an option to go on a guided tour for an extra $15.00. Just be aware this doesn't include hotel pick-up, instead, you will need to meet at the I Love Peten sign at the entrance of Flores.
Taxi: Another choice you have which will take you directly from your hotel in Flores to Tikal is by booking a taxi. They will drop you off at the park, wait around and then drop you back off at your hotel afterward.
This is certainly the most expensive option, though if you are traveling in a group of 4 so you have someone to split the fare with this could be a perfect choice.
Bus: Lastly there is also the choice of taking the bus from Tikal to Flores. If you are keen on this choice your best bet will be heading to the local bus station over in Santa Elena. It should cost you around $5.00 to travel to Tikal, though be aware this will no doubt take the longest, and it may not be a direct journey.
---
Tikal Entrance Fee
Okay, so next up is the Tikal Entrance Fee. This will be purchased at the Banrural Bank at the entry gate to Tikal National Park (yes there is a bank here). Though be aware they only accept cash, and there is no ATM there, yes, even though they are a bank.
The Tikal entrance fee is Q150 / $19.11, which is quite pricey for Guatemala, but this is a must-visit during your trip.
Though there is also an additional fee if you wish to do the sunrise tour or sunset tour of Q100 / $12.75 on top of the standard entry fee.
If the ticket office isn't open during your visit e.g. you arrive to do the sunrise tour you are able to buy your tickets in advance from Banrural or CHN Bank Agency.
These can be found at Flores Airport, Antigua, Guatemala City, Santa Elena, or Melchor de Mencos which is on the Guatemala side of the Belize border. Your ticket is valid 30 days after purchase as long as it hasn't been used yet.
---
Best Time Of Year To Visit Tikal
There are two distinct seasons in Guatemala, this is the dry season and the wet season. Though Tikal is located in northern Guatemala where you will find high humidity and high temperatures all year around.
Dry Season: This time of the year runs from November until April. Though the best months to visit are considered to be January, February, and March. I visited at the very end of April and the days were still perfectly clear, sunny, and pretty damn hot.
This is also the high season here in Guatemala so you will find more crowds and prices do tend to be a bit more expensive.
Wet Season: Secondly you have the wet season that runs from May to October. You may find long heavy showers resulting in a lot of humidity so it can be a bit uncomfortable.
These downpours do typically seem to occur in the afternoon, though up to you whether you want to take the risk as the paths around Tikal aren't paved so things can get quite muddy.
---
What To Pack On Your Tikal Tour From Flores
Now seriously, make sure you read this properly as if you forget something you will be too far away to pop pack to your accommodation to pick it up. Also, there are some things you will need to bring along with you otherwise you will be refused entry to the park, so be aware.
Passport: I hate taking my passport around when I am traveling as I am always scared I will lose it. Though it is a must in Tikal and you will be denied entry if you try to enter without it. Make sure you have a safe spot to keep it once you have purchased your ticket so it doesn't get misplaced.
Cash: Don't make the same mistake as many others on my tour made, and bring cash! Even though many places in Guatemala and around Central America accept cards, you aren't able to use them when purchasing your entry tickets, and they do not allow cash out.
Sunscreen & Hat: It is not and honestly there aren't too many shady areas you can hide under. Therefore make sure you bring some protection, I learned my lesson in Mexico when I didn't apply sunblock on my Sumidero Canyon tour and got super burnt, like blisters, and now I have scars on my chest and arms from it.
Camera: Seriously this is a once-in-a-lifetime spot, and even if you are visiting other temples in Central America, no two are the same so you will want to remember this moment. Drones are banned from Tikal so leave yours at the hotel.
Insect Repellent: You are in the jungle and no doubt don't want to leave with any bug bite souvenirs. Make sure to put on some decent insect repellent, and bring some more with you so you can top up throughout the day.
Good Walking Shoes: Trust me you don't want any blisters and you will do a fair bit of walking and climbing today so you will want to make sure you bring some sneakers.
Water: You will have opportunities to purchase water inside the park, though best to bring plenty with you as well. It can get super hot, so make sure to drink a lot so you don't get dehydrated.
Food: A snack is important to keep your energy levels up. If you don't want something basic like a packet of chips I can recommend stopping in at Delirio in Flores. They are a lovely little cafe/bakery on the island and have a cabinet full of delicious takeaway items!
I brought along a couple of pastries from there and people were a little jealous.
---
My Experience Booking A Tikal Tour From Flores
So I decided to book a tour through my hostel in Flores called Los Amigos. I definitely went with ease of availability over shopping around as I simply did not look anywhere else. Since I wasn't making friends at the hostel in common areas my second best option was to make friends on the Tikal tour from Flores.
I ended up booking the morning before and paid Q130 / $16.60 for return transport and an English-speaking guide.
---
Pick Up By Our Tour Company
Now it was an early 4 a.m. start, well technically earlier to get picked up for the Tikal tour from Flores. I set my alarm for 3.40 a.m. in my hostel dorm and quickly got ready with everything I had prepared the night prior.
I mean there is nothing worse than someone rustling around getting ready loudly at ungodly hours.
We were told to head to the hostel reception where we would be picked up at 4 am. This time comes and goes, 4.15 am, 4.25 am. I check my camera and realize the battery is empty, it's me and a few other sleepy people out in reception.
My room is a couple of seconds away, surely they can't disappear by the time I grab an extra battery. I speed off to my room, grab it, come back, and of course, everyone is gone. Typical.
Now, what better way to start the day than a 4:30 a.m. run through the streets of Flores? Luckily I had spent the last couple of days here and know all the little alleyway shortcuts. God if my mom knew I was running around in the dark she would not be happy.
Luckily enough I make it to the start of the island where the vans are parked, The next challenge finding my van.
---
Driving To Tikal From Flores
Luckily the English-speaking guides were there as well, and I was easily able to find the van I was meant to be in, whew. With darkness still filling the sky we start making our way toward Tikal and catching up to the other vans who had left prior to us.
Unbeknownst to me, we had the main tour guide in our van so about 20 minutes out of the city we met up with everyone else so we could all travel together. Our van leads the group while the majority of us drift in and out of sleep, occasionally being awoken by the lights of passing cars.
The sun is starting to rise in the distance as daylight takes over. I imagine those people who paid for the sunrise tour standing on top of one of the temples with the most incredible views across the jungle.
Eventually, we reach a barrier stopping traffic on the road, we have arrived at the entry point to Tikal.
---
Buying Tickets At Tikal
Tikal doesn't open until 6 a.m., so we had to wait around until this time for the Banrural ticket counter to open. Luckily enough we were the first tour group in front of the line, the only people in front of us were a couple of travelers who had driven themselves.
It was about 15 minutes of waiting around for the Banrural to open. Luckily enough I had read the night before, doing my minimal research, that I needed to take my passport and cash for the entry ticket.
Seriously unless I did this research I would have literally had no idea, especially about the cash. I luckily always travel and pay in cash, though because of the large American tourist numbers it is pretty common to also be able to pay for everything by card. Though not here.
Unfortunately not everyone, understandably, did this research in advance. One of the chicks from my hostel only brought her credit card, and even though you are technically buying your ticket at a bank, they don't accept cards.
Now I ended up lending her a bit of money, about half the ticket price. I know this isn't a scam, but seriously these days I am wary of fellow travelers after getting scammed by them quite a few times. Yes, she did buy me breakfast the following day to pay me back so all good.
After buying our tickets we headed back to our van and waited for the rest of the group to purchase theirs.
---
Arriving At Tikal
Arriving at Tikal we are led through a building and into a large restaurant. Here we are given the opportunity to have breakfast while we wait for the rest of the vans to catch up after buying their tickets. I am not going to lie, it was a lot of waiting around.
Though finally after about 40 or so minutes, all the bills are paid and our once small van load has increased in size a lot. All in all, there are around 20 to 25 of us today on the tour.
Now, I am not usually a fan of such large groups, and especially with an early wake-up call I am not always the most sociable. Nevertheless, we head into the park and show our tickets.
We take a wide path that leads past some very impressive trees while we all stay relatively quiet in hopes we will hear some howler monkeys, or witness some impressive wildlife.
---
The Great Jaguar
The first temple we come across is The Great Jaguar, well at least one side of it, as the rest opens up to the Grand Plaza, which we would be checking out next.
Though I would be lying if I said the reason we stopped here was in appreciation of its grandeur, instead it was because there was a cute coati stealing the spotlight.
One thing that is sure to catch everyone's attention is a sweet little foreign-to-us animal roaming around, and boy it got us good. While it modeled away in front of the Great Jaguar temple our guide spoke about the wildlife in this part of Guatemala.
There is also impressive birdlife around Flores, so we all started searching in the trees and finding beautiful colored birds and some very impressive nests. Though I must say the turkey plodding around was a little bit underwhelming.
Our guide basically needs to convince us to keep going as the majority was still entranced by the adorable coati. Luckily for us, we soon stumble upon another, and another, as we wander into the Grand Plaza.
---
Grand Plaza
Entering the Grand Plaza it's easy to see why this is such a popular spot in Tikal. Luckily on the morning tour, we essentially have It all to ourselves, though mid-day this place would be covered in travelers exploring its beauty. The Grand Plaza is home to Temple I, Temple II, Acropolis del Notre, and Acropolis Cental.
On arrival, we group together and are given some information from our tour guide, as well as where he recommends exploring. We are given 40 minutes to explore the Grand Plaza and all the temples surrounding it.
First off a smaller group of us headed to the Acropolis del Notre where we explored and took some photos of each other.
This is another bonus of a tour group as usually I would be traveling solo and having to struggle at taking photos of myself. It's usually the self-timer and run-to-the-spot technique, which is often less than graceful.
Afterward, I head over to Acropolis Central to explore a bit of that before finding somewhere with an incredible view over the Grand Plaza where I have a bite of the snacks I bought from a bakery back in Flores.
This is also perfect for bird watching as I snap some photos of the birds going in and out of their nests scattered in the large trees.
---
Climbing Temple II
Lastly, I head to Temple II and climb up the wooden stairs that are located at the back. It is a pretty short climb as it doesn't go all the way to the top of the temple, but instead about 3/4 of the way up where you can get a nice view over the Grand Plaza.
Be aware you don't get those impressive jungle views and the tops of temples, like you, would do at some of the other temples. Instead, this one focuses on looking over the Grand Plaza.
---
The Lost World
Next up we head towards the Lost World which is an impressive temple also known as the Great Temple. Surprisingly this temple is actually 400 years older than temples 1,2,3 and 4, though this is certainly a quieter area of the park where some structures have been restored, and others still clinging to nature.
To climb to the top you will go up a wooden staircase, Honestly, it isn't too difficult of a climb, though you may need a couple of water breaks if you are doing so under the hot sun.
This is also a popular spot to watch the sunrise or sunset at Tikal as you have excellent views over the landscapes and towards other temples in the area.
We stop at the top for 10 or so minutes to take in the impressive views, though it quickly starts to get busy as there has been a swarm of bees at Temple IV. That is the most popular temple to climb, so the majority of people have been redirected here as a plan B.
---
Climbing Temple IV
Of course, after hearing about the bee swarms we all were unsure about climbing Temple IV, but our guide decided to head over there to see what people were saying. On arrival, it had reopened again and people were advised to be cautious and just keep moving, not to stop.
As ummm someone of pretty average fitness level, I knew I wouldn't be able to climb Temple IV without stopping. Luckily enough there was a drinks seller in a hut down some shade down the bottom so I grabbed a cold coca cola while I waited for some of the others to do the climb.
---
Jungle Walk
Turns up our guide grew up in this area and knows the surrounding jungle pretty well so he decided to take us on a shortcut back to the starting point. This shortcut was via a jungle walk where we wandered along eyes up at the trees looking for monkeys and other animals.
Unfortunately being such a large group we heard them, but by the time we had all walked to where they were, they had been scared off.
Nevertheless, this was a fun way to end the day and top off our awesome Tikal tour from Flores.
---
Returning To Flores
We all headed back to the restaurant where we had breakfast and have a little bit of a relax. There is a little bit of shopping to be done in this area so we were kind of given free rein for a while to check out the souvenirs. I personally didn't purchase anything, though I did grab a cheeky ice cream to help cool down.
Once everyone was ready we jumped in the van ready to head back to Flores. We had the air conditioning blasting as it was now mid-day and it was pretty dam hot.
Luckily with the cool air blowing and plenty of tired travelers, we all ended up dozing off and catching up on the sleep we had missed thanks to the early morning wake-up call.
---
Where To Stay In Flores
Honestly, Flores is a super small island, and as long as you are staying on the island itself you will be fine in terms of a good location. There is a bridge that connects it to the mainland, but basically, the tourist area is on the island of Flores itself.
I did end up on the other side a couple of times though, the first was arriving there at the bus station, and having to take a taxi the rest of the way, and the second was to visit the supermarket and buy some food for dinner since my hostel had a kitchen.
I had an excellent time staying at Los Amigos, though it did kind of lack a social atmosphere if you aren't into the party scene. There is a cute little hangout area with hammocks, but most people just seemed to sit there listening to music rather than talking to others.
Luckily for me, they have a few bunny rabbits hopping around and they became my friends. I stayed in the air-conditioned dorm, and this was freakin amazing, but the air conditioning is only turned on at night.
They have an excellent onsite restaurant which was perfect for me after visiting Jorge's Rope Swing as, as a solo female traveler I don't go out after dark by myself.
The perfect stay for backpackers. Dorm rooms start from $25.00 per night.

BOOK NOW

Enjoy this modern hostel with incredible pool views. Dorms start from $20.00 per night.

BOOK NOW

A beautiful hotel with incredible rooftop views. Rooms start from $79.00 per night.

BOOK NOW

Hotel Casazul

Clean and modern blue-themed hotel. Rooms start from $70.00 per night.
---
Things To Do In Flores
There are a handful of awesome things to do here in Flores apart from the popular Jorge's Rope Swing. This is just a quick breakdown of some of the top options:
Jorge's Rope Swing: This is the perfect place for backpackers and adventurous travelers to relax and get to know one another. With music playing, affordable drinks on offer, the hot Guatemalan sun beating down, and the inviting waters, you can't really say no.
Now you may need to speak a little bit of Spanish or bring along your Google translate as you will need to negotiate with a local boat driver to take you over to Jorge's Rope Swing.
There were three of us onboard the boat, and we did try to negotiate a better rate, especially because a lot of sources online seem to say 25Q / $3.20 one-way or 50Q / $6.40 return. Though our driver was firmly stuck at 30Q / $3.80 one way and 60Q / $7.60 return.
Who knows, the price of petrol has gone up a lot recently. Now, if I have convinced you to visit Jorge's Rope Swing, you need to be aware there is an entry fee of 25Q / $3.20. This is on top of your transport cost, so that is something to be aware of.
Swim: There are lots of cool spots around the lake to go for a swim. You can either stick somewhere local, like at the dock on Flores or head to one of the nearby beaches. Talk to any boat driver and they will be able to take you there.
Wander The Streets: Seriously this place is freaking beautiful and the perfect showcase of the gorgeous buildings in Guatemala. Cobblestone streets, colorful buildings, incredibly painted murals, and delicious eateries seem to be around every corner.
Go for a walk and simply get lost, this isn't a large town, so you can never go far.
---
🚗 How I Book Cheap Transport In Guatemala: GuateGo
---
LIKE IT? PIN IT!
---
Want more Guatemala Inspiration? Check out….
---
Disclaimer: This post contains affiliate links. So, if you click on it and purchase something, I get a small percentage at no extra cost to you. As always all opinions are my own and your support is much appreciated.
Related Posts
If you are planning on spending 4 days in Antigua, Guatemala make sure you check [...]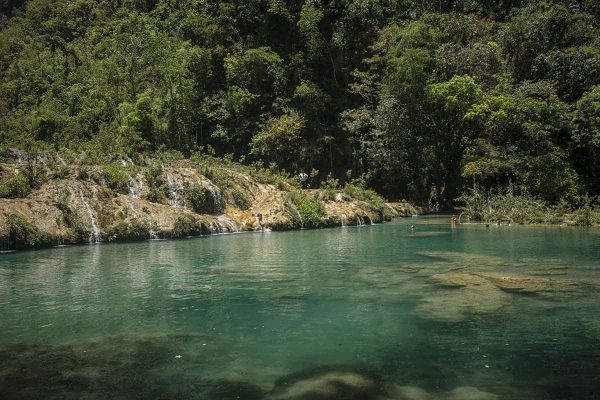 Come find out how to travel from Lanquin to Semuc Champey in Guatemala. These two [...]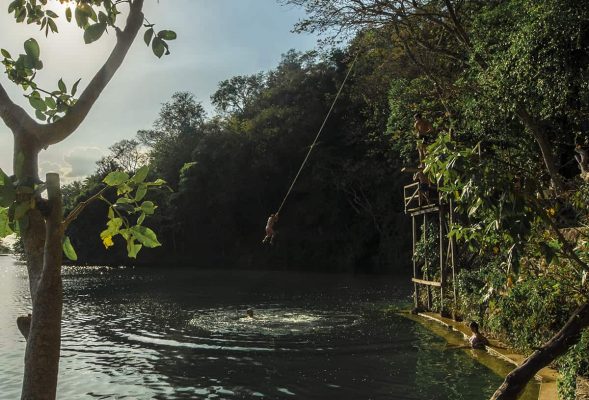 If you are looking for something to do while in Flores then definitely check out [...]