Get ready to escape the city and hit the beach by traveling from Antigua to El Paredon. Enjoy being at sea level, practice your surfing, or simply just hang out. Whether you want to get to El Paredon by shuttle, chicken bus, or taxi, I will let you know how to book, prices, and more!
---
After you are done exploring the incredible colonial buildings of Antigua it is time to hit the road to your next destination in Guatemala. If you were like me and looking to get back to the sun and find a nice beach to enjoy, there is no better place than El Paredon.
This is a quaint coastal town that has very quickly popped up on the backpacking Guatemala trail.
The reason this is such a popular spot nowadays is its close proximity to Antigua! You don't need to spend too long on the road getting from Antigua to El Paredon, and even if you only have a weekend to explore, then you will still have plenty of time free on your arrival and departure days.
Another popular choice for a beach spot in Guatemala is Montericco, though I did meet a few people in the Spanish school I was studying at who said it is extremely overrated. They said it was busy, dirty, and too built up. Instead, they regret not going to El Paredon, a little slice of traveler heaven.
Luckily for you, it is incredibly easy to travel from Antigua to El Paredon, though you will need to hit the road as flying is not an option. Instead, you will need to either book a tourist shuttle, navigate the chicken buses, or book a private taxi.
However don't worry because I will let you know the costs, times, and more for each of these options. That way you can book the best option for your adventures!
| | | | |
| --- | --- | --- | --- |
| | Time | Cost | Highlight |
| Tourist Shuttle | 2 1/2 hours | from $28 | Comfortable journey |
| Chicken Bus | 6 hours | from $12 | Adventurous and fun |
| Taxi | 2 hours | from $80 | Easy and stress-free |
---
Travel From Antigua To El Paredon: The Best Ways To Travel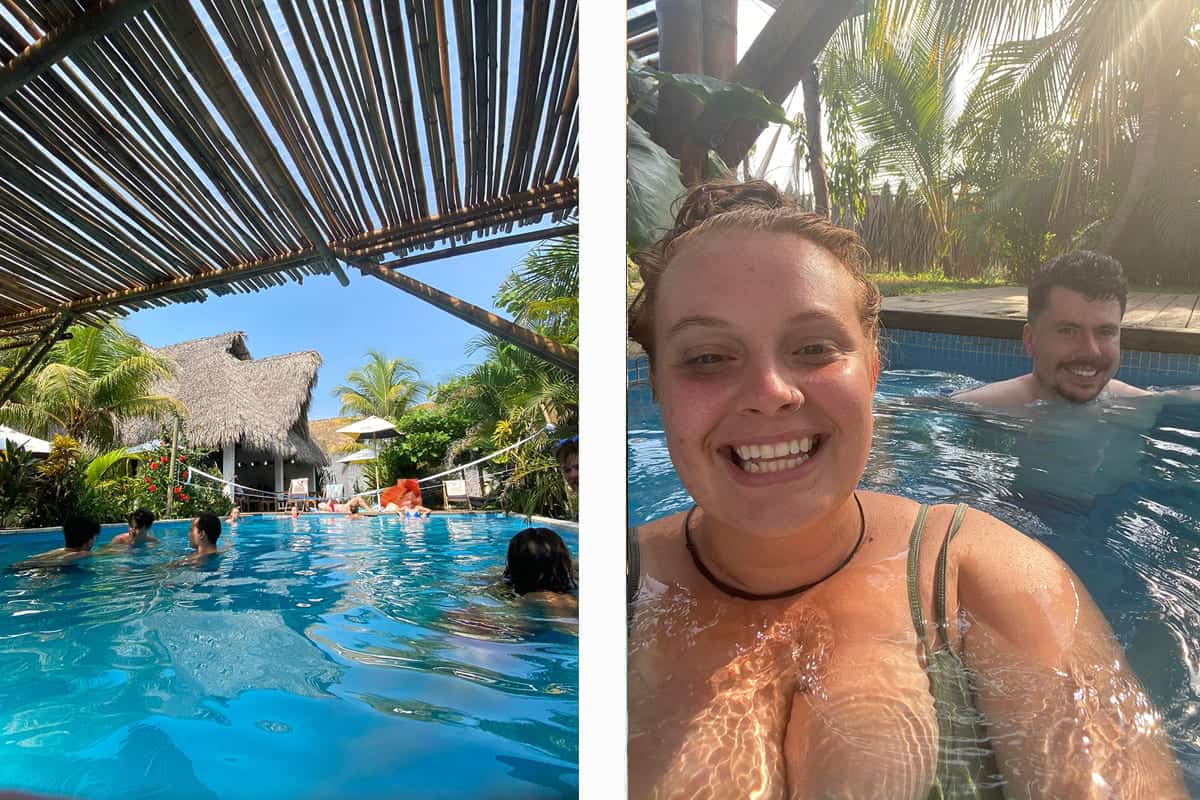 ---
🚗 How I Book Cheap Transport In Guatemala: GuateGo
---
Antigua To El Paredon Distance
If you are like me and can't imagine anything worse than being stuck in a hot bus all day, then don't worry! Antigua to El Paredon is a super short journey being just over 100 kilometers in distance.
If you decide to take the tourist shuttle or a private taxi they will use the main roads and take this route. Though be aware if you want a bit more of an adventure and instead take the chicken bus, this is MUCH less of a direct route.
---
Antigua To El Paredon Travel Time
Luckily this isn't like any long overnight journey, it is a quick and easy journey from Antigua to El Paredon, well depending on which method you use:
Tourist Shuttle: Your trip from Antigua to El Paredon will take between 2 to 2 and a half hours
Chicken Bus: Now taking the chicken bus is for those who are looking for an adventure, not a relaxing journey. This method will take around 6 hours and you will need to make multiple transfers
Taxi: Enjoy a quick and direct journey in a taxi which only takes 2 hours. Though it is quite scenic so you may want to pull over for a couple of photo stops.
View this post on Instagram
---
Tourist Shuttle From Antigua To El Paredon
Now no doubt the easiest option and most popular is simply to take the tourist shuttle from Antigua to El Paredon. Using this method all the hard work is done for you. There is no need to worry about transfers in different cities, and instead, you can just enjoy the pretty dam good views.
Drivers may speak limited English, but you will quickly learn enough Spanish to get by when traveling Central America or someone on the bus will be able to relay that information to everyone else.
You will likely make one toilet/snack stop on the journey from Antigua to El Paredon. No doubt the heat will be a bit of a surprise, especially if you are used to the cooler weather at altitude, but it makes for a nice change and gets you in the spirit to enjoy some time beachside.
Your journey will take between 2 to 2 and a half hours depending on how long the driver decides to stop for. On my return journey back to Antigua the driver didn't stop at all and the journey flew by.
The next minute we were back in the hilly area driving into Antigua, and thank god because that journey was a bit of an uncomfortable one.
Nevertheless, this is definitely the best choice for travelers in Guatemala who simply just want to get from point A to point B.
---
How To Book Tickets
These tourist shuttles are super easy to book, you can either do so in advance online or instead wait until you are in Antigua. It is best to book your tickets a couple of days in advance as these shuttles do and can be booked out.
I traveled Guatemala during the month of May which is considered the shoulder season and we still found if we tried to book the day before that many connections within the country were sold out. If you have a set itinerary in Guatemala and know your dates it is best to book these tickets in advance.
If you choose to wait until you are in the city then you will find plenty of travel agencies advertising tickets for this route. Feel free to shop around for prices as the majority of businesses will use the same shuttle company, just charge travelers more or less depending on their commission.
Alternatively, if you want to book your tickets online for peace of mind, or perhaps you are a bit nervous about testing out those Spanish skills then this is super easy to do.
You can check out the travel route Antigua to El Paredon on GuateGo, buy your tickets through them, and then they will email you a copy! Super easy!
---
Where Does The Shuttle Drop You Off
El Paredon is a relatively small place so it won't take you long to walk around. Though the issue you will quickly come to discover is the heat, it is so freakin hot air, especially if your body is used to the temperature of Antigua!
Seriously you don't want to be walking around on the sandy streets carrying or pulling your luggage along as you will quickly become absolutely drenched in sweat!
Luckily the majority of tourist shuttles should drop you off at your booked accommodation. This isn't something that is super common in Antigua, or elsewhere in Central America so enjoy the luxury while you have it.
The only issue you may have with this is if you have booked an Air BnB of sorts where it is not a popular drop-off point or proper accommodation. The drivers are using their previous knowledge of hotels and hostels, and if it isn't somewhere common you may need to communicate where exactly it is or walk.
---
🚗 How I Book Cheap Transport In Guatemala: GuateGo
---
My Experience Taking The Shuttle From Antigua To El Paredon
Waking up in my favorite Antigua hostel Maya Papaya, we had a quick nibble at the free breakfast, packed our bags, and waited by the door. A couple of days ago we booked the 9 am shuttle from Antigua to El Paredon.
Even though it is a short journey, the couple-hour journey would take up the majority of time at the awkward check out of one place and check in at another place waiting around time. As we only had a couple of days in El Paredon it would also allow us to make the most of the travel day.
Soon enough a large shuttle bus comes bumping down the cobblestone streets and stops across the road from the hostel. The driver shouts El Paredon and we jump in showing our tickets. It's a 1- 2 seater shuttle with air conditioning so we grab a seat while the driver straps our bags to the roof.
After picking up a couple of other travelers we start making our way out of the city, through tightly packed streets and around the surrounding Volcanos.
Once we were on the highway it was a surprisingly smooth and straightforward journey. We passed a couple of huge shopping malls with plenty of fast food outlets. Though after my experience traveling from Flores to Semuc Champey, I would not be interested in round two.
Soon enough we turn off the highway and back onto a basic two-lane street. We pull in at a petrol station that has an ice cream counter, plenty of snack foods, and of course a bathroom.
The heat hits us as we jump off the air-conditioned shuttle, it was now obvious we are on the coast. It is only a quick stop we make here and before we know it, it is back onboard for the second half of the journey.
As we start inching closer toward the coast the landscapes are flat and dry. With the beach out one side of the window, the road quickly goes from sealed to gravel to simply sand.
Not going to lie I was kind of concerned we might get stuck, but they make this journey every day so they must know what they are doing.
Turns out that this sandy part is private land so they cannot build a road on it, and is also the reason why there is no wired internet (accommodation providers offer internet via mobile data through a router so it can be a bit slow.
Soon enough have arrived in El Paredon according to my Google Maps. Though my accommodation Mellow Hostel was the first drop-off point of no doubt many around this town so we didn't get to see much of El Paredon just yet.
---
Chicken Bus From Antigua To El Paredon
Now time for the chicken bus, this is an adventure, and from my experience traveling Guatemala, it is a bit of a controversial transport option.
For the most part, it appears the locals understandably don't want tourists to take these chicken buses due to safety concerns, and being a foreigner you generally become a target. Though travelers think this mindset is quite old school, not a realistic approach, and if you use common sense you will be fine.
You know you best, and whether or not this will be an appropriate option. Nevertheless, it will for sure be an adventure for travelers looking to get off the beaten track and have meaningful experiences with locals.
Now to the chicken buses. If you have traveled Guatemala, at all, you would have become quite acquainted with these huge colorful buses. They are actually former American School buses that have been imported here to live out the remainder of their days.
No doubt this is the epitome of transport in Guatemala, so if you are looking for a true experience you know what you need to do.
---
How To Take The Chicken Bus To El Paredon
So now you know whether or not taking a chicken bus from Antigua to El Paredon is the right choice for you, let's get into how exactly to do it. The price will come out around Q100 / $12.00 but be aware this can change depending on how many transfers you need to take.
Well, starting from Antigua you will need to make your way to the Antigua bus stop. You can find this just behind the market and is pretty hard to miss thanks to the constant stream of buses entering and exiting. Take a chicken bus heading to Escuintla. This is a relatively short journey of just 36 kilometers.
Next up you will need to get another chicken bus from Escuintla to Sipacate. This is a 90-kilometer journey though sometimes there are no direct buses so you may find yourself needing to transfer again to get to Sipacate.
Though once there you simply need to head to the tuk-tuk stand opposite the petrol station. From here you can easily catch a ride to El Paredon which should cost you Q20 / $2.55.
---
Taxi From Antigua To El Paredon
This is no doubt your quickest way to travel from Antigua to El Paredon, though be aware it is pricey. You can either choose to book a typical taxi or simply an Uber.
If you want to just do a taxi, make sure you go through a reliable company such as Mariscal Taxis or Amarillo Taxis. Nevertheless, rates should be around $80.00 to $100.00, and you must remember to negotiate a price beforehand.
It is a good option if you are traveling as part of a larger group where splitting the price would work out to be similar to the price for a tourist shuttle. Alternatively, if you are traveling at an awkward time of day when the shuttles aren't running this also makes for a good choice.
The one thing to keep in mind is that even though you are able to easily take a taxi to El Paredon, it is going to be a lot harder to find one to take you back to Antigua. There is also no Uber in this area.
---
FAQs About Traveling from Antigua To El Paredon
How many days to spend in El Paredon? Depending on what you plan to do in El Paredon will affect how long your want to spend there. Personally, if you aren't into the surf scene you may find yourself getting a bit bored of El Paredon rather quickly.
Personally, I think 2 days is the perfect amount of time to spend here. Though if you are looking for somewhere to relax, work on your tan, and do some yoga you may want to book a few extra nights here to live your best life.
How far in advance do I need to book tickets? It is recommended you book tickets in advance to ensure you can travel with a reputable, clean, and safe company. You should try for at least a week in advance to be safe. Though if you are not worried about this then book at least 48 hours in advance.
Booking through GuateGo is perfect for those busy periods as you can book when you haven't even arrived in the country yet! This means you can relax knowing all the planning is taken care of.
---
🚗 How I Book Cheap Transport In Guatemala: GuateGo
---
Where To Stay In El Paredon?
El Paredon is definitely on the backpacking Guatemala itinerary so you will find it super easy to get an awesome hostel or hotel. Everything is actually really cute here, it reminds me of a mixture of old-school Sihanoukville in Cambodia, mixed with the aesthetic of Bali thanks to the bamboo bungalows.
Whatever your budget or the type of traveler you are there is something to fit all your needs. Whether you want an affordable hostel, welcoming guesthouse, or luxury hotel.
Enjoy the beautiful beachside hostel and all its great amenities. Prices start at $15.00 per night.

BOOK NOW

Set a little bit back from the beach, this is more of a relaxed hostel starting at $15.00 per night.

BOOK NOW

Enjoy these cute thatch bungalows from just $35.00 per night.

BOOK NOW

Enjoy a bit of luxury between surf sessions. Rooms here start at $100.00 per night.

BOOK NOW
---
Things To Do In El Paredon
Now I do not advertise El Paredon as an adventure lovers destination. Instead, this is a quaint little beach town with a bit more of a sleepy atmosphere. Well apart from the crazy hostel parties that seem to be happening every other night. Nevertheless here are some of the best things to do in El Paredon:
Learn To Surf: El Paredon is a surfer's paradise! No doubt the most popular, and one of the places that really put this destination on the traveler's itinerary is El Paredon Surf Camp.
Whether you want to hire a board or actually want to take some lessons, this is the perfect place as they offer both. Though over the last couple of years, plenty of other surf schools have also opened up so feel free to walk around, chat with the staff, and book with who you get a good vibe.
Relax At The Beach: Mmmm I know it kind of goes without saying, but there aren't a whole lot of adventurous things to do here, so the beach makes the list. Maybe best to avoid it at the peak of the day though as it has black sand which gets EXTREMELY hot.
If you do decide to head during the day set yourself up by the shoreline so you don't need to walk too far to reach the water.
Party: During the day El Paredon is quite chill, though at night this place comes alive, well at least the hostels do. If you are keen on a drink and to meet some other travelers head to The Driftwood Surfer Hostel.
This is a place that gets super crazy, they even have a pig that lives there. Though if you want a decent sleep best to book a different hostel and just head over for a drink.
La Choza Chula: This is a must during your stay in El Paredon. La Choza Chula is a social enterprise offering job opportunities to locals.
They have a variety of tours including the famous mangrove tour, a turtle tour, a cooking experience, a bracelet-making class, as well as homestay opportunities for those who are interested.
This is a great way to experience the true El Paredon away from the hostel parties and discover what truly makes this place magical.
Eat Good Food: I know El Paredon may be a small place, but there are some absolutely delicious restaurants here well worth checking out. Obviously, if you are by the ocean you need to have seafood and you will be spoilt for choice here.
My favorite spots were Zicatela which serves up delicious Mexican food on Instagramble plates and Soulfood Kitchen which is a cool spot where you can create your own noodle or curry bowls.
Sunset At The Beach: Now once the sun goes down join the rest of the visitors at El Paredon and head down to the beach. Lay back in the warm sand, go for a splash in the waves, or have a game of football.
Enjoy watching the sunset behind you after having an awesome day exploring the coastal town of El Paredon.
---
🚗 How I Book Cheap Transport In Guatemala: GuateGo
---
LIKE IT? PIN IT!
---
Want more Guatemala Inspiration? Check out….
---
Disclaimer: This post contains affiliate links. So, if you click on it and purchase something, I get a small percentage at no extra cost to you. As always all opinions are my own and your support is much appreciated.
Related Posts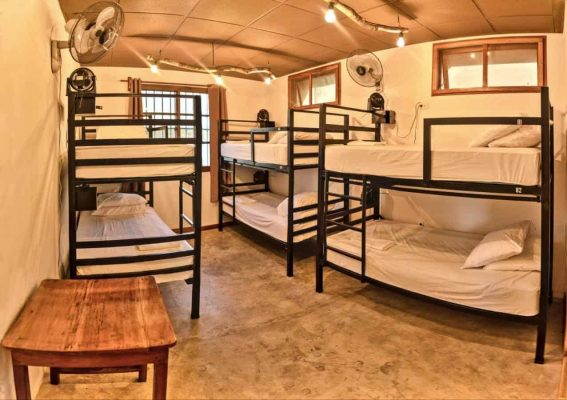 Come find out the best hostels in Flores for the best stay. No matter if [...]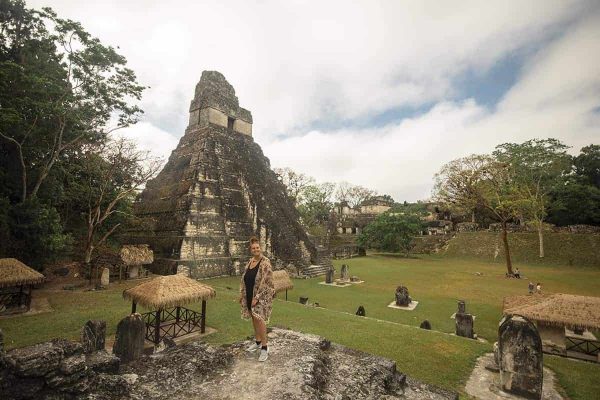 No doubt if you are coming to Flores, one of the most popular things to [...]
2 Comments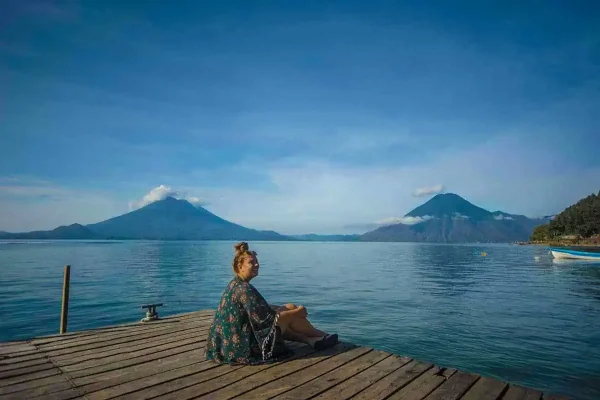 When I was heading to Lake Atitlan I was excited to swim, be surrounded by [...]