Come check out exactly how to travel from Flores to Semuc Champey in Guatemala. These are two tourist hot spots, though they happen to be a crazy long distance away from each other.
So let's find out how exactly I and heaps of other travelers make this journey by shuttle, chicken bus, or taxi including how to book, prices, and more!
---
Now once you are done exploring the highlights in the North of Guatemala such as Tikal it is time to make your way from Flores to Semuc Champey. Though honestly, this journey is not for the faint-hearted.
Luckily it is worth it thanks to the beauty to be found around every corner at Semuc Champey. From incredible cascading waterfalls, dark caves, and impressive viewpoints. It may be a long journey, but you will for sure be rewarded!
Now prepare to spend an entire day traveling from Flores to Semuc Champey. Keep things simple and don't make any morning or afternoon plans, things always seem to take a little bit longer than expected here in Guatemala, so just enjoy the journey.
Now there is no option here to fly between these two destinations. Therefore you will need to take the road and there is no shortcut. The overall journey is basically split into three sections.
The first is from Flores to Coban, and second from Coban to Lanquin, and lastly from Lanquin to Semuc Champey which is usually organized directly with your accommodation.
Nevertheless, let's get into it so you are mentally and physically prepared for this super-long journey from Flores to Semuc Champey. Whether you decide to travel there by tourist shuttle, chicken bus, or private taxi I will let you know the costs, times, and more for each of these options.
That way you can book the best option for your adventures!
Quick note: All transport actually finishes in Lanquin, not Semuc Champey. Your accommodation should organize transport for the rest of the way which should be included in your hostel price, or you will need to take a taxi.
You are best to contact your accommodation provider directly to see what they recommend depending on their location. I stayed at Greengo's and you can see my unfortunate experience getting there below.
| | | | |
| --- | --- | --- | --- |
| | Time | Cost | Highlight |
| Tourist Shuttle | 9 hours | from $20 | Comfortable journey |
| Chicken Bus | 12+ hours | from $12.60 | Adventurous and fun |
| Taxi | 7.5 hours | from $300+ | Easy and stress-free |
---
Travel From Flores To Semuc Champey: All Transport Options Explained
---
🚗 How I Book Cheap Transport In Guatemala: GuateGo
---
Flores To Semuc Champey Distance
Now there is no nice way to say this, the distance from Flores to Semuc Champey is long, super long. In total, it is around 250 kilometers, and even though in many other countries this journey would take 3 to 4 hours, here it is double or triple that. Yes seriously.
If you decide to take the tourist shuttle or a private taxi they will use the main roads and take this route. However be aware if you want a bit more of an adventure and instead take the chicken bus, this is MUCH less of a direct route.
---
Flores To Semuc Champey Travel Time
Now belt in and sit down because the travel times from Flores to Semuc Champey are crazy long. Like no doubt the longest day trip I did on my travel in Central America, the only longer ones were my night buses in Mexico.
Depending on which method you use will affect how long it takes:
Tourist Shuttle: Your trip from Flores to Semuc Champey will take a minimum of 9 hours including stops along the way.
Chicken Bus: Now taking the chicken bus is for those looking for an adventure, not a relaxing journey. This method will take at least one full day of travel, though you may end up splitting this across two different days.
Taxi: Enjoy a quick and direct journey in a taxi which takes 6 to 7 hours. Though the last part of the drive is quite scenic so you may want to pull over for a couple of photo stops.
---
Tourist Shuttle From Flores To Semuc Champey
Now let's start with the easiest option when traveling from Flores to Semuc Champey. Though this no way means this will be a quick or faster journey, there is no way to get around the long journey, which can make a lot of travelers wonder if Semuc Champey is worth it. Though don't worry it is!
Using a tourist shuttle all the hard work is done for you. There is no need to worry about transfers in different cities, and instead, you can just enjoy the pretty damn good views and sleep as much as you would like.
One thing to be aware of is that your driver may only speak a little bit of English, or literally nothing at all. Though don't worry as generally at least one person onboard will know enough Spanish to translate for everyone else.
As this is a long journey you will make at least two gas station/bathroom stops, and one stop for lunch in Coban, which is likely to be more like afternoon tea by the time you get there so bring extra snacks.
Your journey will take around 9 hours to Lanquin where you will then be transferred to your accommodation, which can add another 40 minutes to an hour to the total journey time.
Also, blockades are also a common occurrence in Guatemala where locals close the roads and you are stuck in the middle of nowhere. This didn't happen to me on the way to Semuc Champey from Flores, but instead from Semuc Champey to Antigua.
In total, it ended up adding 2 to 3 hours extra to the total travel time. Yes, it turned into over a 12-hour day on the bus.
Nevertheless, this is definitely the best choice for travelers in Guatemala who simply just want to get from point A to point B.
---
How To Book Tickets
These tourist shuttles are super easy to book! You can either do so in advance online or instead wait until you are in Flores. It is best to book your tickets a couple of days in advance as these shuttles do and can be booked out.
I traveled Guatemala during the month of May which is considered the shoulder season, but these shuttles still got booked up. If you have a set itinerary in Guatemala and know your dates it is best to book these tickets in advance online with GuateGo.
If you choose to wait until you are in the city then you will find plenty of travel agencies advertising tickets for this route. Feel free to shop around for prices as the majority of businesses will use the same shuttle company, just charge travelers more or less depending on their commission.
Personally, I purchased my tickets simply through my hostel in Flores called Los Amigos just because it was the easy option. I also had friends who shopped around the travel agencies for the best prices and ended up paying less than me. They ended up in a van, whereas I was in a minibus which had a bit more room.
Alternatively, if you want to book your tickets online for peace of mind, or perhaps you are a bit nervous about testing out those Spanish skills then this is super easy to do.
You can check out the travel route Flores to Lanquin (Semuc Champey) on GuateGo, buy your tickets through them, and then they will email you a copy! Super easy!
Top tip: if you don't have a set itinerary and are just winging your trip you can actually just show up to where the buses depart at the Love Peten sign at the entry of Flores and speak with the drivers directly for the cheapest price.
Some guys on our bus did this as there were a few extra seats, though as a result, they had to board last and ended up with the worst seats on the bus. Though undoubtedly worth it to those on a tight budget.
---
Where Does The Shuttle Drop You Off – Lanquin
Okay so I know you are trying to get to Semuc Champey, but you do need to know the tourist shuttles will only take you as far as Lanquin. This is the main town before Semuc Champey.
Basically, all the tourist shuttles from around the country will arrive in Lanquin around the same time. Then all accommodation will come with their private transport to collect everyone. If you are staying in Lanquin town this may be a bit easier.
Though the majority of travelers stay in Semuc Champey close to the famous waterfalls and in the middle of nowhere.
Now your accommodation should be there to pick you up if you are staying in one of the main places, though best to double-check anyway. Just contact your accommodation to let them know what date you are arriving and from where and see if they provide transport from Lanquin to your accommodation.
When I was there, there were about 10 or 12 different four-wheel drive vehicles transferring people to different places.
---
My Experience Taking The Shuttle From Flores To Semuc Champey
Today I would be traveling from my Hostel in Flores called Los Amigos all the way to Semuc Champey to check into my accommodation called Greengo's. Unfortunately at the time, I didn't realize just how bad this journey was going to become. No doubt this is still my worse travel day to date.
Nevertheless, I purchased my tickets through the hostel a couple of days prior for Q200 / $25.50 and became excited to experience the incredible sights of Semuc Champey.
It was a relatively early start, with a pickup time of 8 am. I have breakfast with one of my friends from the hostel then we both grab our bags and wait by the door.
Now if you have ever traveled Guatemala then you know if someone is going to pick you up at X hour, it is typically 40 minutes to an hour later, though surprisingly enough it was just 15 minutes in this case.
We were then all walking towards where the minivans and vans are at the Love Peten sign at the entry of Flores. There are already a couple of people on the bus who have spread out along the back.
Since this is definitely going to be a long day I want a decent seat so I get my bags loaded up and jump onboard. Luckily my favorite seat is empty which is the one right by the door. Simply due to the fact you can stretch your legs out in front.
Soon enough more and more travelers enter the bus and things begin to get quite full and let's be honest no one wants to sit in the middle fold-down seats that have minimal back support.
Next up the last group jump on board and awkwardly look around as only middle seats are left. The driver ushers the guys down the back to get up and hop off, and the last group would get their seats.
It's a bit confusing as to why, though turns out they had just rocked up to the minivan and paid the driver under the table, so they didn't actually have tickets. As a result, they would have to be in the worst seats.
Honestly, the drive out of Flores and towards Coban is quite uneventful par one river crossing in a wooden ferry, but we weren't able to leave the bus for this. Shortly after that, we have our first break stop so I grab an ice cream and a packet of chips, as well as make use of the bathroom which is surprisingly clean.
A couple of hours later we pull in at another gas station and are told if we are hungry best to get some snacks here as the next stop will be a proper lunch break at around 2.30 pm.
I drift in and out of sleep and we arrive at Coban, more preciously at McDonald's in Coban. We are told we will have a 45-minute break here, enough time for a stretch and a semi-decent meal at McDonald's.
Being Vegetarian options are limited but I grab some chips and a mango smoothie, which will keep me going for the last couple of hours. I chat with some other travelers, though soon enough my stomach starts cramping.
That's weird, the bus is leaving in ten more minutes so I head to the bathroom again, chuck my day pack on my seat and once again go back in to use the bathroom. Things are not looking good, but it should only be another hour or so until Lanquin.
As we leave the McDonald's carpark my stomach starts cramping again, I try to fall asleep but I am sweating and things just aren't feeling good. I contemplate asking the driver to stop at the next bathroom, but we are literally in the middle of nowhere, on windy little mountain roads.
I try and concentrate on the music playing and watching the GPS on my phone slowly get closer to the town of Lanquin. Luckily enough I arrive without disaster and there is a toilet where the bus pulls in. I jump out and straight to the bathroom, leaving my fellow travelers and bags behind.
Resurfacing shortly after a local asks me where I am staying and points me to a ridiculously large four-wheel drive vehicle, which would be taking us the rest of the distance to our accommodation in Semuc Champey.
There are already a handful of travelers aboard and we are waiting for one more bus to arrive. I decide to hold back on jumping in and run off to the bathroom a couple of more times before departing.
Now I was not mentally prepared for what the road from Lanquin to Semuc Champey is like, nor in this state was I physically prepared. Nevertheless, I grab my seat, halfway sticking out the back, about a meter and a bit off the ground, and hold on for dear life, in more than one way if you get what I am saying.
Now a dirt road is one thing, but a dirt road in the middle of the Guatemalan jungle is another. With every bump, every turn, and every jump, my sweaty hands hold onto the metal bars, and my stomach churns and cramps worse than it had at any point so far.
Seriously this part of the journey felt longer than the whole ride from Flores to Lanquin.
Luckily enough we soon pull up to our accommodation Greengo's and are met with a large metal gate and a barbed wire fence, from the outside this doesn't look like what was advertised online.
Though this thought lasts less than a millisecond as I suddenly start feeling my McDonald's come up, and not the way I expected. I jump straight off and run to the side of the road where I lovingly projectile vomit my lunch across the dirt.
After putting on a not-so-appetizing show for my fellow travelers we are told to carry our bags for 5 minutes to our accommodation. Everyone wanders off and I am still trying to figure out what the hell just happened.
Luckily enough a fellow traveler helps and he carries my bag to reception, while I try not to explode out both ends.
I find a toilet while everyone else checks in until I am eventually the only person left. 12-person dorm room for tonight. I quickly it regretted as there is no way I can do a shared bathroom tonight.
I head back to reception and ask if they have any private rooms available, they do $100.00 per night. I sigh and say I will take it, as I don't really have any options at this point.
I will say the room, and the staff here at Grengo's were absolutely great and really made a difference when I was feeling so sick.
---
Chicken Bus From Flores To Semuc Champey
Now time for the chicken bus, sure this is an adventure, and from my experience traveling Guatemala, it is a bit of a controversial transport option.
For the most part, it appears the locals understandably don't want tourists to take these chicken buses due to safety concerns, and being a foreigner you generally become a target. Though travelers think this mindset is an old school, not a realistic approach, and if you use common sense you will be fine.
You know you best, and whether or not this will be an appropriate option. Nevertheless, it will for sure be an adventure for travelers looking to get off the beaten track and have meaningful experiences with locals.
Now to the chicken buses. If you have traveled Guatemala, at all, you would have become quite acquainted with these huge colorful buses. They are actually former American School buses that have been imported here to live out the remainder of their days.
No doubt this is the epidemy of transport in Guatemala, so if you are looking for a true experience you know what you need to do.
Though what you need to know is that there are no direct chicken buses from Flores to Semuc Champey or vice versa. Though, unlike a lot of other chicken bus journeys in Guatemala, you only need to do one bus change.
---
How To Take The Chicken Bus To Semuc Champey
So now you know whether or not taking a chicken bus from Flores to Semuc Champey, is the right choice for you, let's get into how exactly to do it.
The price will come out around Q100 / $12.60 but be aware this can change depending on how long it takes to fill the bus as it doesn't; leave until someone is in each seat. The total journey will be somewhere around 12+ hours. This basically depends on how long you need to wait for the bus to depart.
Well, starting from Flores you will need to head to the bus station on the mainland. This is located on the same road as the bridge if you continue following it, otherwise, any tuk-tuk driver will be able to take you there.
Once here you will need to board a bus going to the town of Coban. This will be the longest part of the journey so get comfortable as you will be here for a while.
When you arrive in Coban you will need to go from the long-distance bus station to the local bus station. From here you will easily be able to get a bus to Lanquin.
Though once arriving in Lanquin you will need to get a taxi to take you the remaining distance to Semuc Champey if you are staying close to the waterfalls.
---
Taxi From Flores To Semuc Champey
This is no doubt your quickest way to travel from Flores to Semuc Champey, though be aware it is pricey. If you can afford this I want to be your friend! If you want to just do a taxi, make sure you go through a reliable company, and best to book once you are in Flores, or online if GuateGo is available.
It is a good option if you are traveling as part of a larger group where splitting the price would work out to be similar to the price for a tourist shuttle. Alternatively, if you are traveling at an awkward time of day when the shuttles aren't running this also makes for a good choice.
The one thing to keep in mind is that even though you can take a taxi to Lanquin if you are staying at one of the hostels further out in Semuc Champey you may have difficulty getting there.
The roads here are crazy, dusty, and bumpy. It's unlikely your taxi driver will take them, and instead, you will have to jump into a local taxi willing to risk their vehicle to drop you the remaining distance.
Honestly, just due to the factor of needing to organize your own transport to your accommodation once reaching Lanquin, I do not recommend taking a taxi from Flores to Semuc Champey.
---
FAQs About Traveling from Flores To Semuc Champey
How many days to spend in Semuc Champey? Well if you haven't already figured out the journey from Flores to Semuc Champey, then Semuc Champey to anywhere is pretty damn long. Therefore you will want to spend a decent amount of time here to recover.
Personally, I only spent 2 nights in Semuc Champey before heading off to Antigua, and this definitely wasn't enough time. I was pressured to do as much as I could, even though I was super sick. Honestly, I would say to spend a minimum of 3 nights here, though 4 nights would be ideal if you have the time.
How far in advance do I need to book tickets? It is recommended you book tickets in advance to ensure you can travel with a reputable, clean, and safe company. You should try for at least a week in advance to be safe. Though if you are not worried about this then book at least 48 hours in advance.
Booking through GuateGo is perfect for those busy periods as you can book when you haven't even arrived in the country yet! This means you can relax knowing all the planning is taken care of.
---
Where To Stay In Semuc Champey
Basically, when you stay here you have two different options, in the town of Lanquin or close to Semuc Champey.
If you want to experience more of the local side of life 100% it is recommended you stay in Lanquin. Here you will be able to try an assortment of restaurants and have a bit more freedom.
In Semuc Champey a lot of the accommodations are set up like resorts, even hostels. Basically, there is minimal reason to leave the grounds except for tours, which you no doubt booked through your accommodation.
I know this can sound a bit daunting, especially if you are a chill backpacker who likes to explore and plan things last minute. Though I loved staying closer to Semuc Champey as you were right in nature and it honestly felt so peaceful.
A short walk from the entry of Semuc Champey and the perfect backpacker resort. Prices start from $20.00 per night.

BOOK NOW

A party hostel perfect for those wanting to let loose and make friends. Prices start from $25.00 per night.

BOOK NOW

Walking distance from town and set right on the river, the best of both worlds. Prices start from $9.00 per night in a dorm or $36.00 for a private.

BOOK NOW

Guayaha

Enjoy resort-style living with a glamping stay in one of the beautiful tipi tents. The super affordable tents start at just $25.00 per night.
---
Things To Do In Semuc Champey
Seeing as Semuc Champey is such a popular spot to visit in Guatemala you can be sure there is plenty of things to do here. This is just a quick breakdown of some of the top options:
Swim In The Pools: Of course, if you are visiting Semuc Champey you need to take a dip in the pools. It is a quick 5-minute walk from the entry to the main pools at the top, where there are some small cascades that you can jump off.
There are also some less busy pools lower down, though you do miss that famous infinity pool that looks over the jungle that this place is known for.
Hike To The Mirador: Now this is not for the faint-hearted, but if I can do it the morning after vomiting on the side of the road, and spending the evening prior stuck on the toilet, you can do it too.
Along the way up there are heaps of points to stop to take a breather, as well as locals selling refreshing drinks. Definitely take your time climbing, but expect it to take about 45 minutes to an hour to complete. You will finish right by the main pools of Semuc Champey so you can take a refreshing swim.
Cave Tour: Now I have heard both positive and negative reviews about the cave tour, let's just say it is for the adventurous. Essentially think tight squeezes, trying to keep a candle alight while swimming, and holding it while also climbing a ladder.
I didn't do it myself, as I spent my only afternoon in Semuc Champey recovering, though I do question the safety precautions taken on this one.
Tubing: You can either do this organized through your hostel or simply with a group of friends when you are at Semuc Champey. This is certainly one of the cheaper activities to do here in Semuc Champey.
---
🚗 How I Book Cheap Transport In Guatemala: GuateGo
---
LIKE IT? PIN IT!
---
Want more Guatemala Inspiration? Check out….
---
Disclaimer: This post contains affiliate links. So, if you click on it and purchase something, I get a small percentage at no extra cost to you. As always all opinions are my own and your support is much appreciated.
Related Posts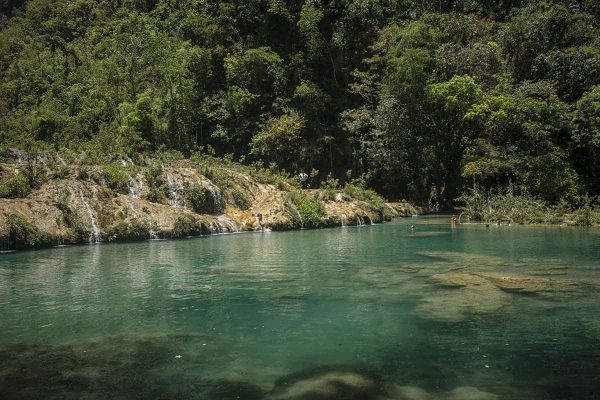 Come find out how to travel from Lanquin to Semuc Champey in Guatemala. These two [...]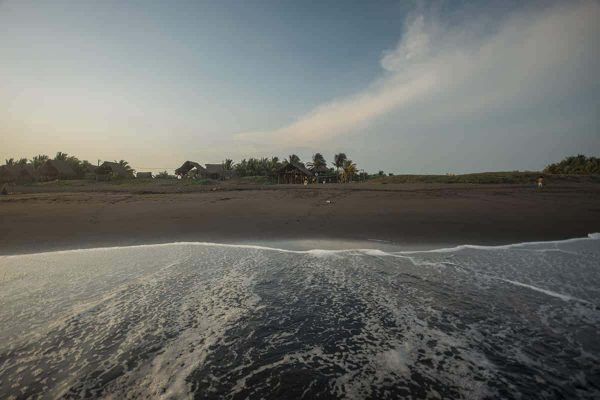 Come find out all you need to know about backpacking El Paredon in Guatemala. In [...]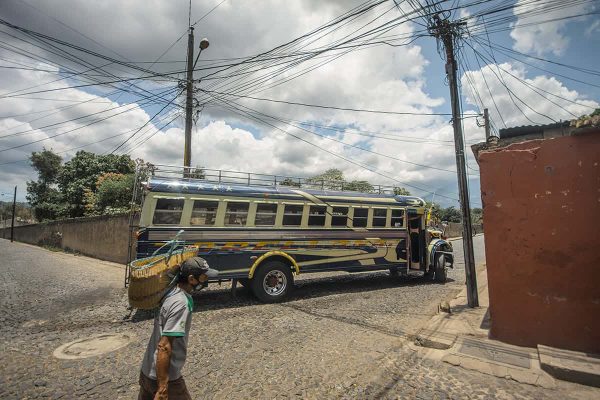 Get ready to escape the city and hit the beach by traveling from Antigua to [...]