If you are planning on spending 4 days in Antigua, Guatemala make sure you check out this post! I will share my Antigua itinerary for everything you need to know about staying in my favorite Central American spot. So, let's chat about the top things to do, where to stay, accommodation, and more!
---
Welcome to the incredible Antigua. This amazing spot is close enough to the capital Guatemala City, so you can head straight over if you are flying in or out. Surrounded by volcanos the views are incredible, and on a cloudless night you can even watch them erupting above you – yes, it's as magical as it sounds.
\Covered in colonial architecture this is a busy town, but it feels super quaint and relaxed. It is certainly worth spending 4 days in Antigua on your itinerary.
If you haven't figured from my other blog posts, or even so far from reading this one, I absolutely love Antigua in Guatemala. It is actually one of my favorite towns I have visited and is definitely somewhere I could see myself living.
It has the perfect mix of nature and city bustle, local foodie spots and hipster joints, as well as plenty of homely favorites. It's awesome that you are choosing to visit this gorgeous place, and I am excited to share everything I have learned from staying there for 3 weeks over my travels.
In this blog post, we will explore the best Antigua Guatemala itinerary, giving you a taste of the town's highlights over the course of four amazing days.
We will discuss how many days to spend in Antigua, the top sites and experiences for each day of your visit, some essential travel tips to ensure your vacation is everything you hoped for, and more.
---
An Antigua Itinerary For First-Time Visitors: 4 Days In Antigua, Guatemala
---
How Many Days To Spend In Antigua, Guatemala
I have actually spent quite a few weeks in Antigua during my travels in Guatemala and Central America. Though, that is because I simply love it here, and decided to study Spanish in Antigua, as well as use it as a base to travel to other parts of the country.
Nevertheless, unless you are interested in learning Spanish or super slow (and perhaps inconvenient travel), I understand that you likely don't want nor need to spend so much time in Antigua.
While you can certainly explore in a shorter or longer period, I recommend spending at least four days in Antigua to truly experience all it has to offer – without feeling rushed.
This will give you time to delve into Antigua's rich history, explore the colorful streets, and absorb the unique atmosphere that makes this place so special.
---
How I Book Cheap Transport In Guatemala: GuateGo
---
Day One Of Your Four Days In Antigua
On the first day of the 4 days in Antigua itinerary, we will start off slow by discovering some of the beautiful colonial buildings that have contributed to the town being recognized as a UNESCO World Heritage site.
In the afternoon check out some of the ruins scattered around the city before grabbing a delicious rooftop dinner with some incredible views.
---
Morning- Self-Walking Tour
Now to start our time on the Antigua Guatemala itinerary we will go on a little self-walking tour of the city. Here you will discover what makes this place so special as well as get your bearings on a new place. Feel free to grab breakfast anywhere along the way, as you will be passing plenty of lovely cafes.
1. Start your day at the Central Park (Parque Central)
– Begin your tour at Antigua Guatemala's main square, surrounded by stunning colonial buildings and a lively atmosphere. Take some time to explore the park, people-watch, or grab a coffee at a nearby café.
2. Visit the Antigua Guatemala Cathedral
– Next to Central Park, you'll find the Antigua Guatemala Cathedral. This 16th-century church was devastated by various earthquakes but still retains its beauty through the ruins.
3. Palace of the Captains General (Palacio de los Capitanes Generales)
– Continue to the Palace of the Captains General, which is located on the south side of Central Park. This colonial architecture served as the headquarters of the Spanish authorities in Guatemala during the colonial period.
4. Arco de Santa Catalina
– Next, explore the Arco de Santa Catalina, an iconic yellow arch that serves as one of Antigua's most recognizable landmarks. Built-in the 17th century as a passageway for nuns, the arch now connects two parts of the Santa Catalina convent, offering a perfect photo opportunity against the backdrop of the Volcano de Agua.
5. Church of La Merced
– Afterward, wander along the cobblestone streets to the Church of La Merced, another stunning example of Antigua's colonial architecture. This gleaming white church with intricate, baroque-style carvings is well worth the visit, and its peaceful courtyard provides a serene haven for quiet contemplation.
6. The Church of San Francisco
– Lastly, we have The Church of San Francisco. This is the oldest church in Antigua and the burial place of Santo Hermano Pedro, Guatemala's first saint.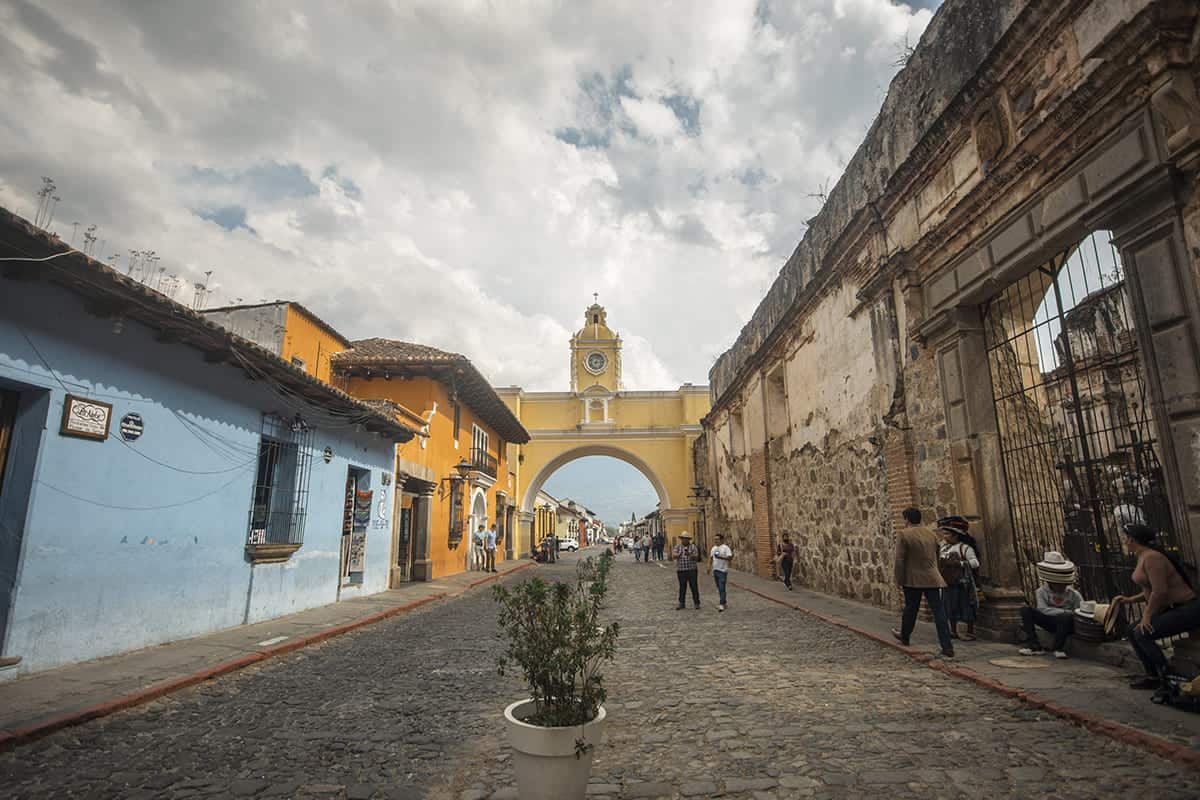 ---
Afternoon- Ruins
Antigua is a charming town that boasts some of the most impressive ruins in Central America. The city was once the capital of the Spanish Kingdom of Guatemala until a series of devastating earthquakes in 1773 left many of its churches and convents in ruins.
Today, these monuments offer a glimpse into the rich history and culture and a stunning contrast with the surrounding volcanoes.
Some of the popular ruins to visit in Antigua are:
El Carmen Church: This church was built in 1638 and features a beautiful baroque facade with intricate carvings. The church was partially destroyed by earthquakes, but you can still admire its elegant arches and columns.
Church of Candelaria Ruins: This church was founded in 1548 and was one of the largest and most important in Antigua. It had a magnificent dome and a lavish interior, but it collapsed after the 1773 earthquake. You can explore the remains of the nave, the altar, and the cloister.
Santa Clara Ruins: This convent was established in 1699 by a group of nuns who came from Mexico. It had a spacious courtyard, a fountain, and a bakery. The convent was severely damaged by earthquakes, but you can still see some of its original paintings and sculptures.
Church of San Francisco Ruins: This church was founded in 1542 and was the burial place of Saint Hermano Pedro, the first saint of Central America. The church was rebuilt several times, but it was finally abandoned after the 1976 earthquake. You can visit the tomb of Saint Hermano Pedro, as well as a museum that displays his relics and artifacts.
Antigua Guatemala Cathedral: This cathedral was built in 1680 and was one of the most splendid buildings in Antigua. It had five naves, 16 chapels, and a huge organ. The cathedral was mostly destroyed by the 1773 earthquake, but you can still walk through its majestic ruins and admire its ornate facade.
Though if you are short on time my personal favorites are Convento la Recoleccion and Convento Capuchinas. At Convento la Recoleccion you will find the ruins still as is, it's a great place to explore in a beautiful garden, and it's like you are watching time stand still.
In contrast, Convento Capuchinas has been restored for the most part where you can see the beautiful architecture and check out the acoustic chamber.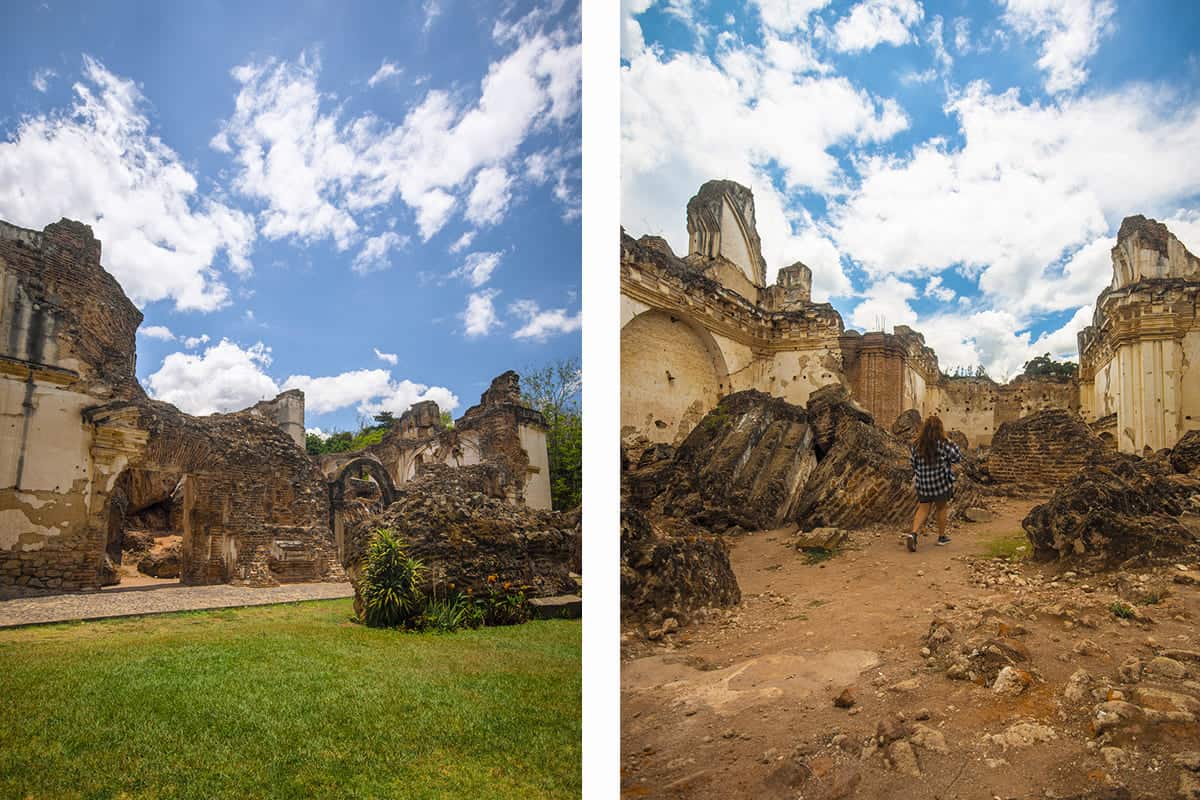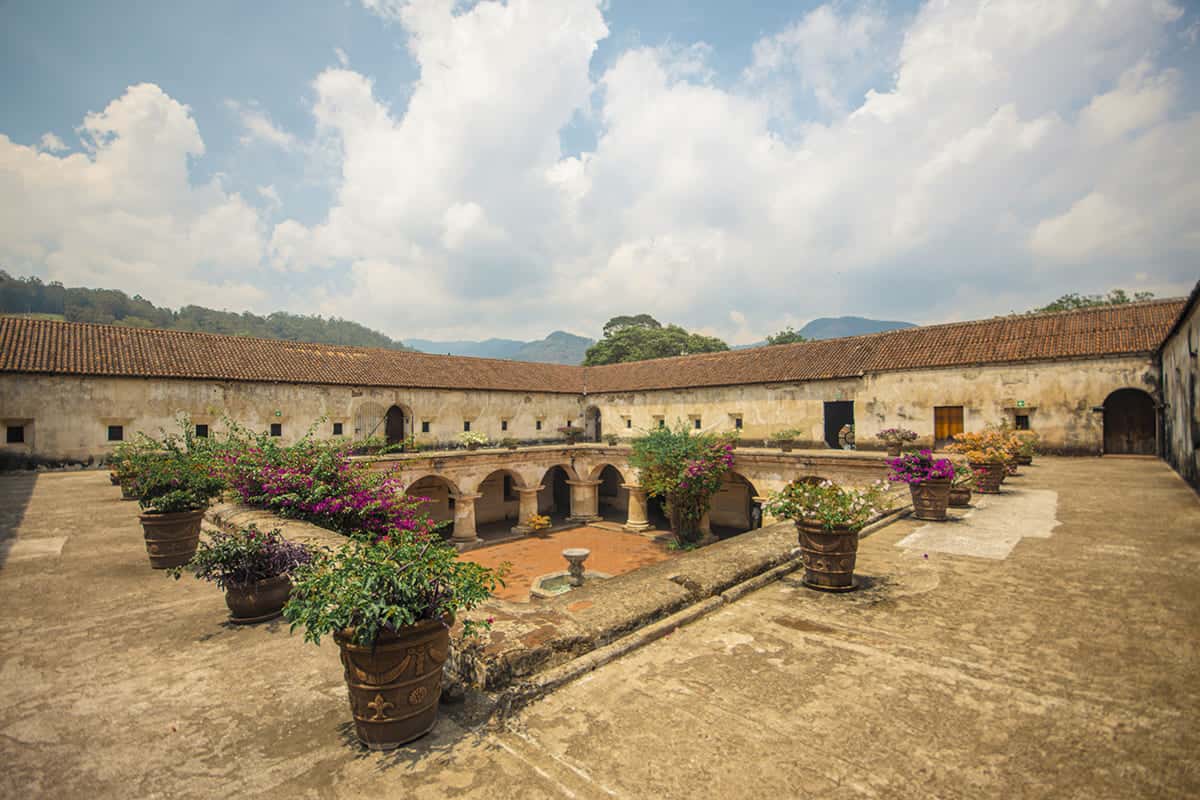 ---
Evening – Rooftop Dinner
There is no better way to finish off your first day of four days in Antigua, Guatemala, than heading to a rooftop restaurant for an excellent dinner. If it happens to be a clear night you can often sit on the terrace and watch Volcan Fuego erupt in the distance.
For fine dining head to Tartines Antigua where you can get equally amazing views of the volcanos surrounding the town, as well as the neighboring ruins. Though for more of a budget-friendly, relaxed vibe you can check out The Snug Antigua.
This spot is the town's only Irish Pub and serves up homely favorites.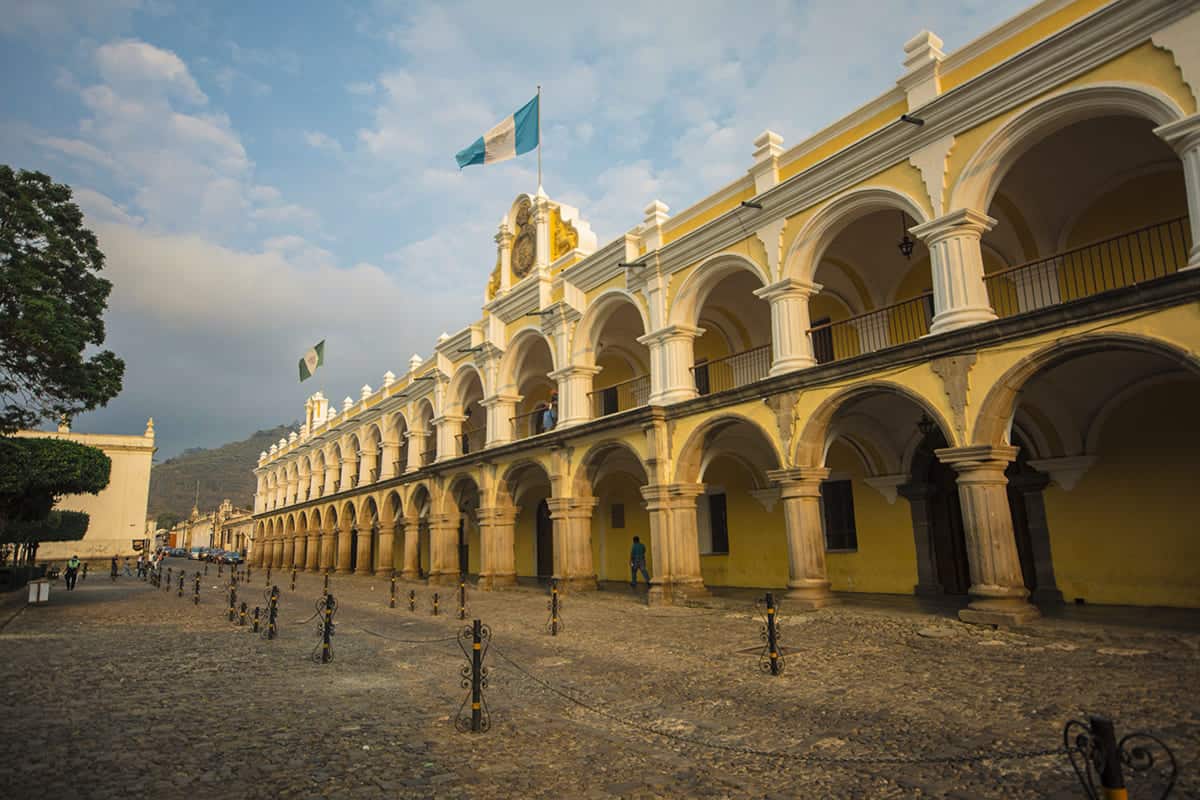 ---
How I Book Cheap Transport In Guatemala: GuateGo
---
Day Two Of The Four Days In Antigua Itinerary
It's our second day on the Antigua itinerary, and this morning we will get a bit closer to nature to check out a volcano, something which this town is famous for.
After a decent hike rest those legs by getting a massage at one of the city's top hotels, as well as checking out their onsite museum, then finish off the day with dinner and some live music.
---
Morning- Pacaya Volcano Hike
Hiking Pacaya volcano is a popular and adventurous activity for travelers who want to experience one of Guatemala's 37 volcanoes. This is a great alternative to Acatenango if you are short on time and only have 4 days in Antigua Guatemala.
Pacaya is an active volcano that erupted in 2021 but don't expect to see any red-hot lava coming out of the peak. Instead, you will walk through the rocky lava fields and feel the heat of the volcanic rock.
You can even toast marshmallows on the hot stones if you bring some graham crackers and chocolate. Oh and sometimes there's someone cooking pizzas!
The hike is about 5 km long and has an elevation gain of around 457 meters. It is considered a medium-difficulty hike, but it can be challenging for some people due to the steepness, the altitude, and the soft earth and sand terrain.
There are horses you can hire to take you up, though this isn't something I recommend due to questionable ethical reasons.
You are best to book a guided tour. This will include transportation, a guide, and sometimes your entrance fee. The park is located about an hour and a half drive from both Guatemala City and Antigua.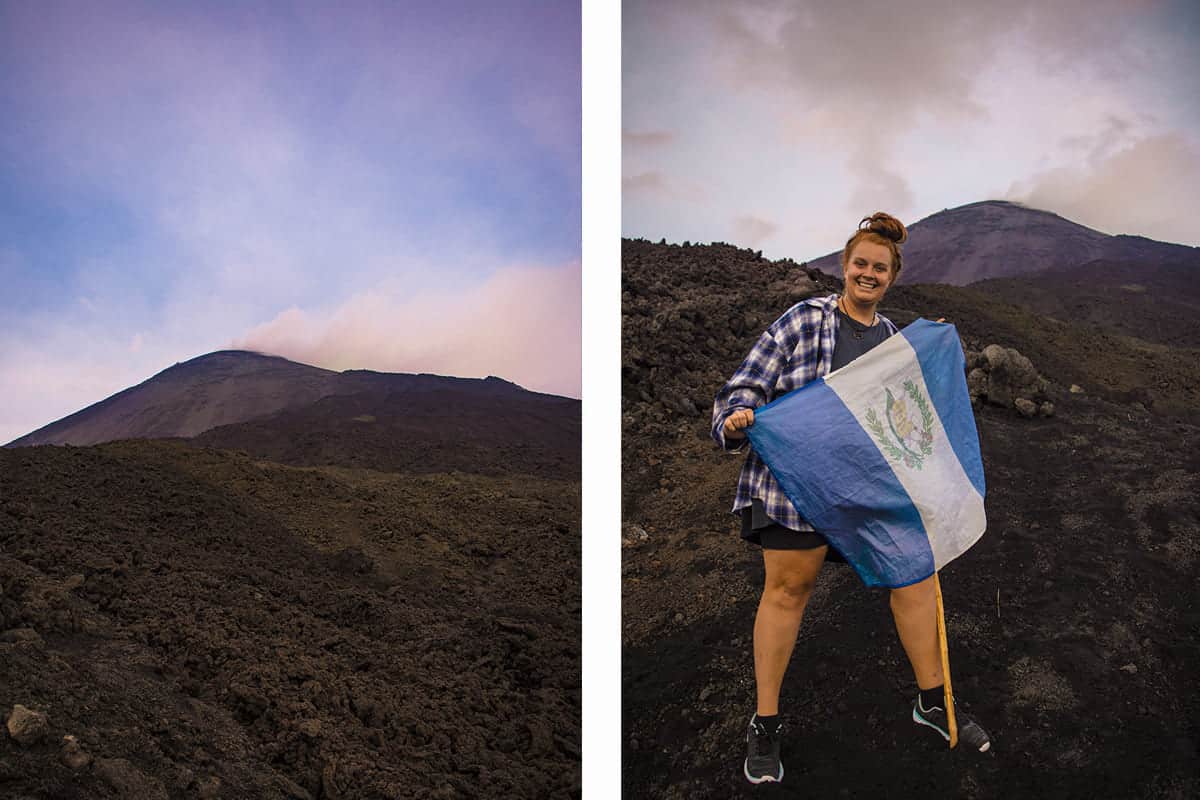 ---
Afternoon- Massage
After a long hike, there is no better way to relax than with a massage. Well at Casa Santo Domingo Hotel you can have a luxurious experience for a fraction of the price you would pay at home.
This hotel is a former convent that has been converted into a museum and spa, with beautiful gardens and colonial architecture. You can choose from different types of massages, such as honey-sesame seeds-milk, algae, chocolate, or hot stones.
After your massage, you can enjoy the hotel's amenities, such as the pool, the sauna, the jacuzzi, and the gym. You can also explore the hotel's museum, which displays artifacts from the colonial era and the Mayan culture.
---
Evening- Live Music
Here in Antigua, you can find a lively nightlife scene with live music venues for every taste. Whether you prefer blues, rock, jazz or folk, you can find a bar or a café that suits your mood. Some of the best places to watch live music are:
Café No Se: a cozy dive bar that has live music every night of the week
El Atico: a small venue above Frida's restaurant that hosts high-quality musicians from Guatemala City or abroad
The Snug: a tiny bar that gets rowdy with musicians playing in a tight space
---
How I Book Cheap Transport In Guatemala: GuateGo
---
Day Three Of Four Days In Antigua, Guatemala
Time for day three of our Antigua itinerary. Here we will go on a short walk to an impressive viewpoint over the city where on a clear day you will get the perfect view of Volcan Agua.
In the afternoon check out Hobbitenango which is a short drive away from the city for more great views, some fun activities, and get in touch with your inner hobbit. Of course, in the evening its time to experience the nightlight on offer in Antigua, so get those dancing shoes on!
---
Morning- Hike Cerro de la Cruz
Cerro de la Cruz is a small hill that offers a panoramic view of Antigua Guatemala and the nearby Volcan de Agua and is a must-do on your Antigua itinerary. It is one of the most popular attractions in the city, as it allows visitors to admire the colonial architecture and the natural beauty around it.
The hill is also home to a large cross that overlooks the city and symbolizes its protection.
To visit Cerro de la Cruz, you can either hike up from the city center or take a tuk-tuk or a shuttle bus. The hike is about 1.5 km long and takes about 20 minutes. It starts at the end of 1A Avenida Norte and follows a paved trail with stairs and signs.
The hike is not very difficult, but it can be challenging for some people due to the altitude and the heat. I just took it slow and made plenty of rest stops for a drink. You will need comfortable shoes, water, and sunscreen.
Once you reach the top of Cerro de la Cruz, you will be rewarded with a stunning view of Antigua and its surroundings. You can see the colorful houses, the churches, the plazas, and the markets of the city, as well as the majestic Volcan de Agua in the background.
You can also explore the cross and its history, as well as enjoy the fresh air and the greenery. Cerro de la Cruz is a great place to take photos, relax, people-watch, and appreciate the beauty of the town.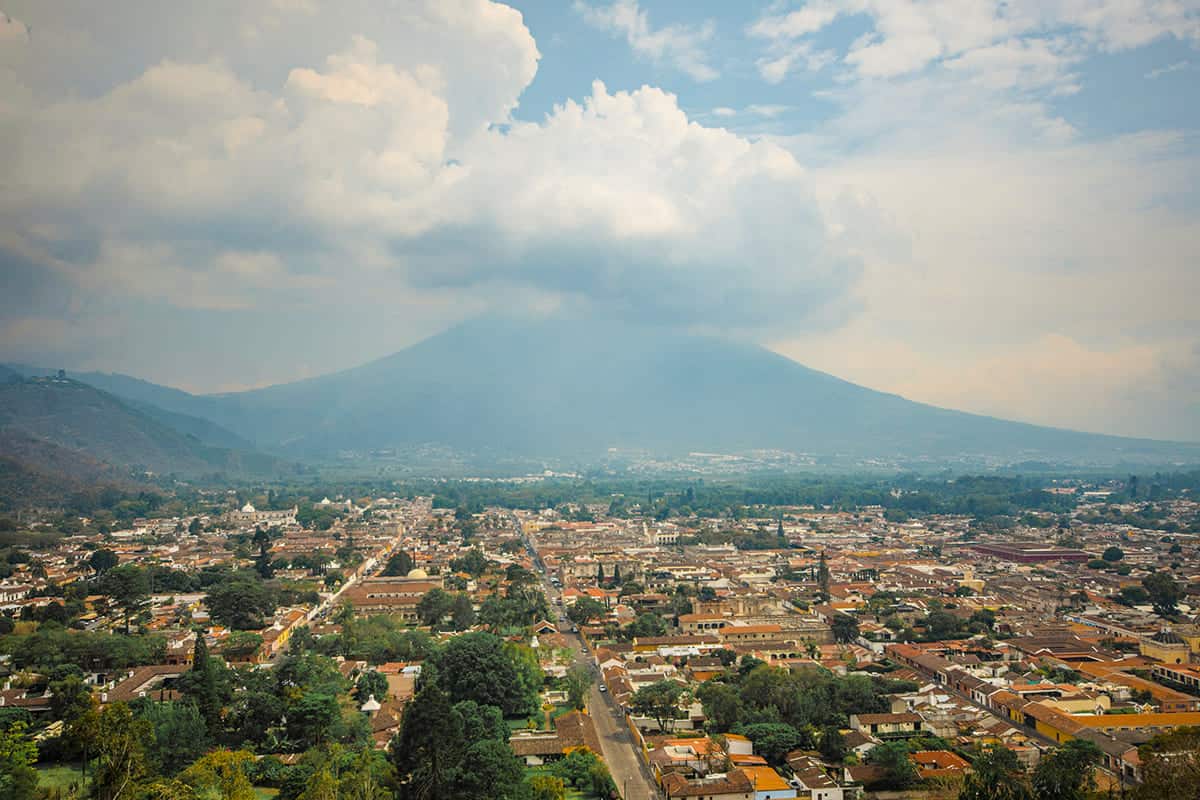 ---
Afternoon- Hobbitenango
Okay, this may sound a little strange, but trust me it's worth it when spending 4 days in Antigua. Hobbitenango is a unique and whimsical attraction that will make you feel like you have entered the world of The Lord of the Rings.
It is a park, a restaurant, and a hotel that features hobbit-style houses, gardens, and activities. You can enjoy the views of the mountains and the volcanoes, eat delicious food, and play games.
To visit Hobbitenango, you need to take a shuttle (booked through Hobbitenango in the city) or an Uber to the entrance of the park, which is about 8 km away. It may be a short distance but the roads are windy so it can take a while.
There, you will pay an entrance fee of Q50 ($6.50) and take a 4×4 ride up the hill to the main area. The ride takes about 15 minutes and can be bumpy, but it is part of the adventure. You can also hike up the hill if you are feeling adventurous, but it will take you about an hour and a half.
If you want to hike it I recommend hiking it on the way back as it will be predominately downhill.
Once you arrive at Hobbitenango, you can explore the different areas of the park, such as visiting the restaurant for lunch, the bar, the mini-golf course, the archery range, the axe-throwing area, and the wizard's tower.
There are some epic viewpoints for those Instagram-perfect photos looking over the city and the nearby Volcanos.
One thing I will say is I would avoid visiting on the weekend as it is often overcrowded with long lines. This is an activity best done on a weekday to get the most out of your experience.
---
Evening- Relax
Tonight is a night to chill and take things easy. Feel free to visit another rooftop restaurant for a delicious meal or visit Salsa Dreams for a fun night of dance lessons.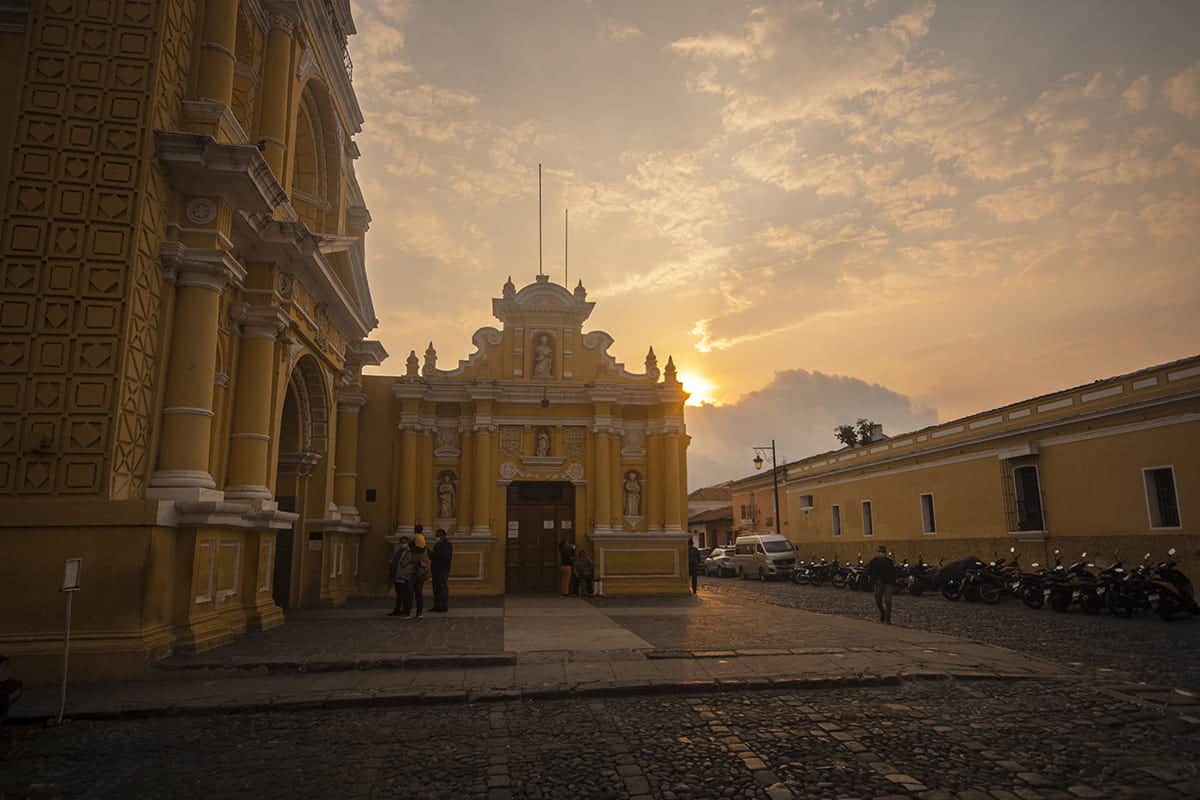 ---
How I Book Cheap Transport In Guatemala: GuateGo
---
Day Four Of Four Days In Antigua, Guatemala
Now, for our last day of the 4 days in Antigua, Guatemala it's time to explore the foodie scene in this city.
Enjoy a bit of shopping in the morning, and grab your souvenirs. In the afternoon participate in a chocolate-making class at the ChocoMueso, and then in the evening participate in a cooking class, oh did we mention unlimited wine? Get excited!
---
Morning- Shopping
Now for the last day of the 4 days in Antigua itinerary you for sure need to do a bit of souvenir shopping. There are so many amazing things to buy in this city, perfect to take home as a reminder of your epic adventures.
Personally, my favorite shop in Antigua is called Nim Po't and it's located just by the famous Archway. Here you will find fixed prices, so you know what you will pay before you get to the counter.
There are so many different types of souvenirs here from clothing, masks, food, chocolate, coffee, books, and basically everything you can think of. I could easily spend hours wandering around this place.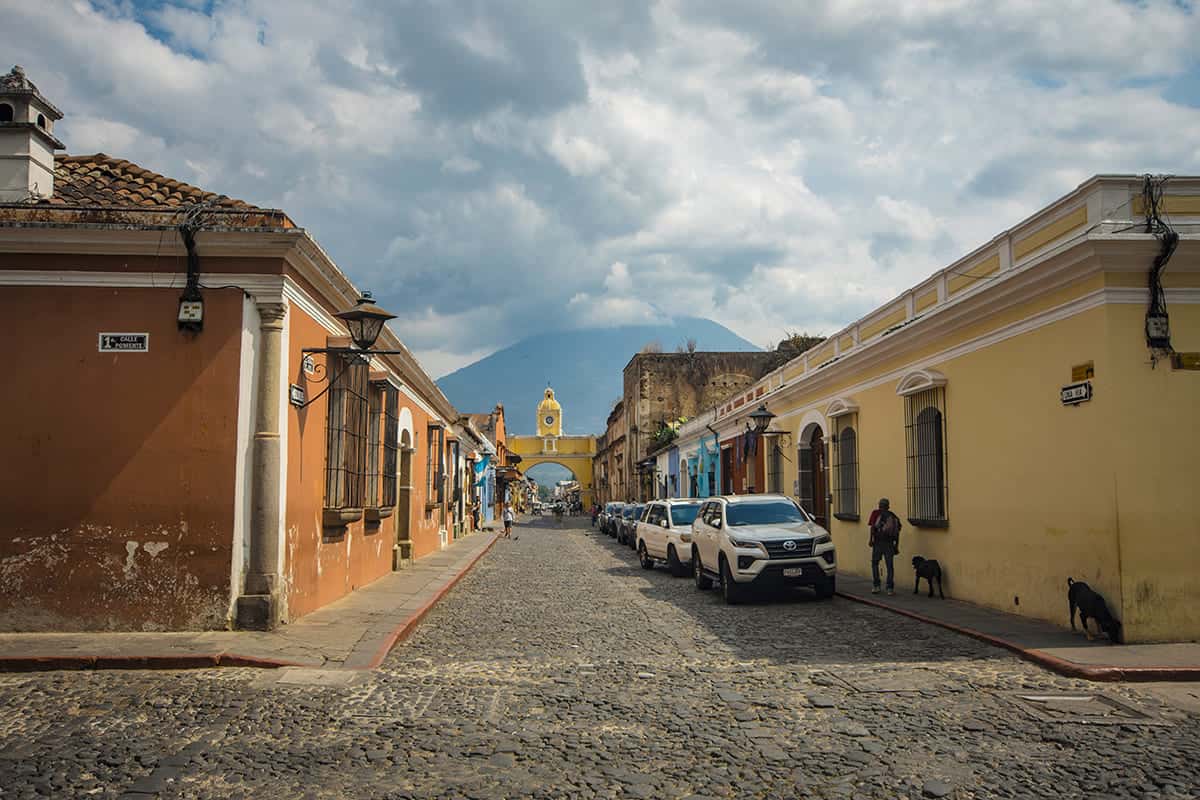 ---
Daytime- ChocoMuseo
The ChocoMuseo is a museum, a factory, and a workshop that celebrates the history and culture of cacao and chocolate in Guatemala. This is the perfect excuse to grab some sweet treats on your Antigua itinerary. It is a must-visit attraction for chocolate lovers and anyone who wants to learn more about this delicious treat.
Here you can discover the origins of cacao, the process of making chocolate, and the different types and flavors of chocolate.
They also have more interactive experiences where you can also participate in fun and interactive chocolate workshops where you can make your own chocolate from organic Guatemalan cacao beans.
You can choose from different options, such as the bean-to-bar workshop, where you roast, peel, grind, and mold your own chocolate bars; or the truffle workshop, where you make your own chocolate truffles with different fillings and toppings.
After your workshop, you can visit the ChocoMuseo shop, where you can buy a variety of chocolate products, such as bars, bonbons, spreads, drinks, and souvenirs.
---
Evening- Cooking Class
For the final night of our 4 days in Antigua Guatemala, we are going to learn how to cook some authentic Guatemalan dishes at La Tortilla Cooking School.
You can choose from different options, such as the basic class, where you make five dishes; the full class, where you make six dishes; or the short class, where you make two dishes. All the classes include wine and a certificate.
---
Antigua Travel Tips
Now you have your 4 days in Antigua itinerary it is time to give you my top travel tips. These will help you have a fantastic time in the city and know what to expect when you are there.
---
Safety While In Antigua
Antigua in Guatemala, is generally considered to be a safe destination for visitors. This UNESCO World Heritage site attracts thousands of tourists annually. Compared to other parts of Guatemala, Antigua is known for having a relatively low crime rate with more effective policing and tourist-oriented services.
The city is generally walkable and it is common for tourists to stroll at ease during the daytime. However, as with any destination, it is still essential for travelers to remain vigilant, pay attention to their surroundings, and avoid engaging in risky behavior to ensure their safety during their trip.
Although Antigua is generally safe, it is essential to be cautious of certain things that may pose a risk. Petty crimes such as pickpocketing and bag snatching can occur, especially in crowded areas or during the nighttime.
It is advisable to keep your valuables secure, avoid flashing expensive items in public, and refrain from walking alone in isolated areas, especially after dark.
Additionally, while Antigua is situated in a seismic zone and tourists should be aware of the possibility of earthquakes, it is important to note that both local authorities and the community are well-prepared for such events.
Don't drink the water out of the tap. It is easy to find bottled water here through the local corner store or hostels will do free refills.
Lastly, when traveling, it is always recommended to be informed about basic travel safety practices, such as keeping emergency contact numbers at hand, respecting local customs, and staying aware of current events that may affect your visit.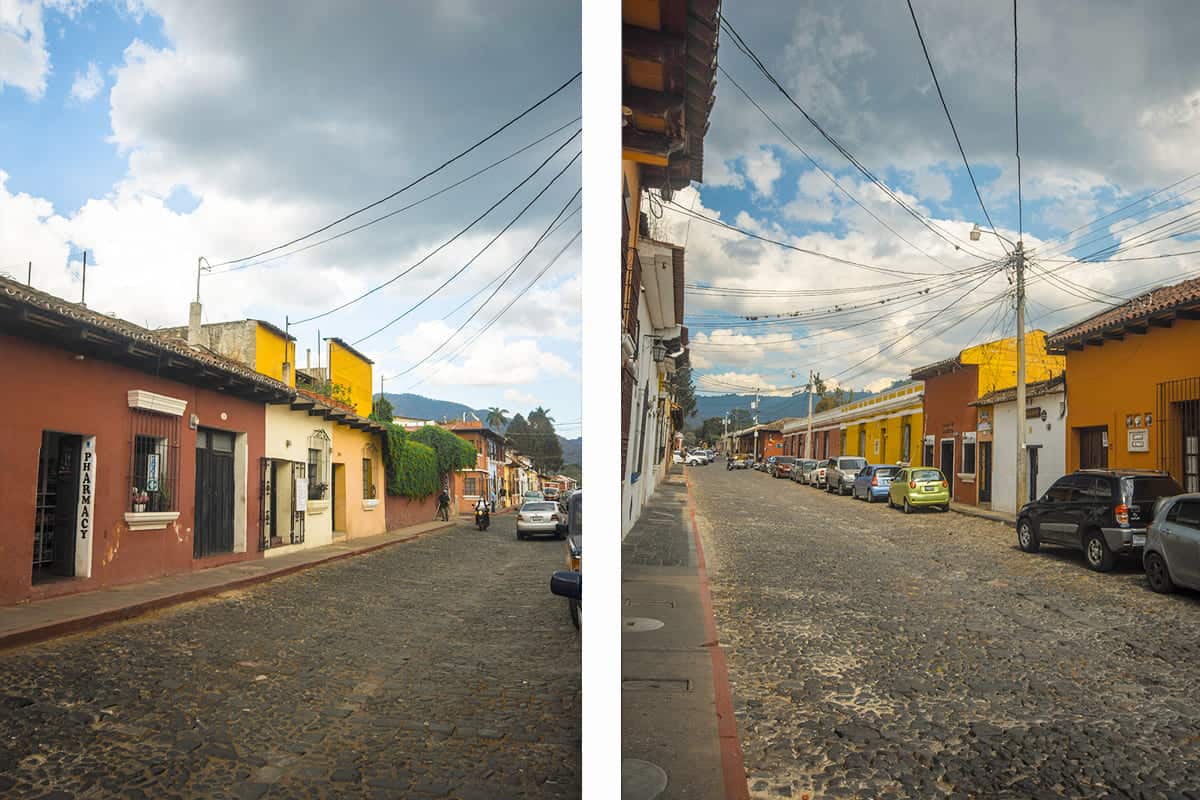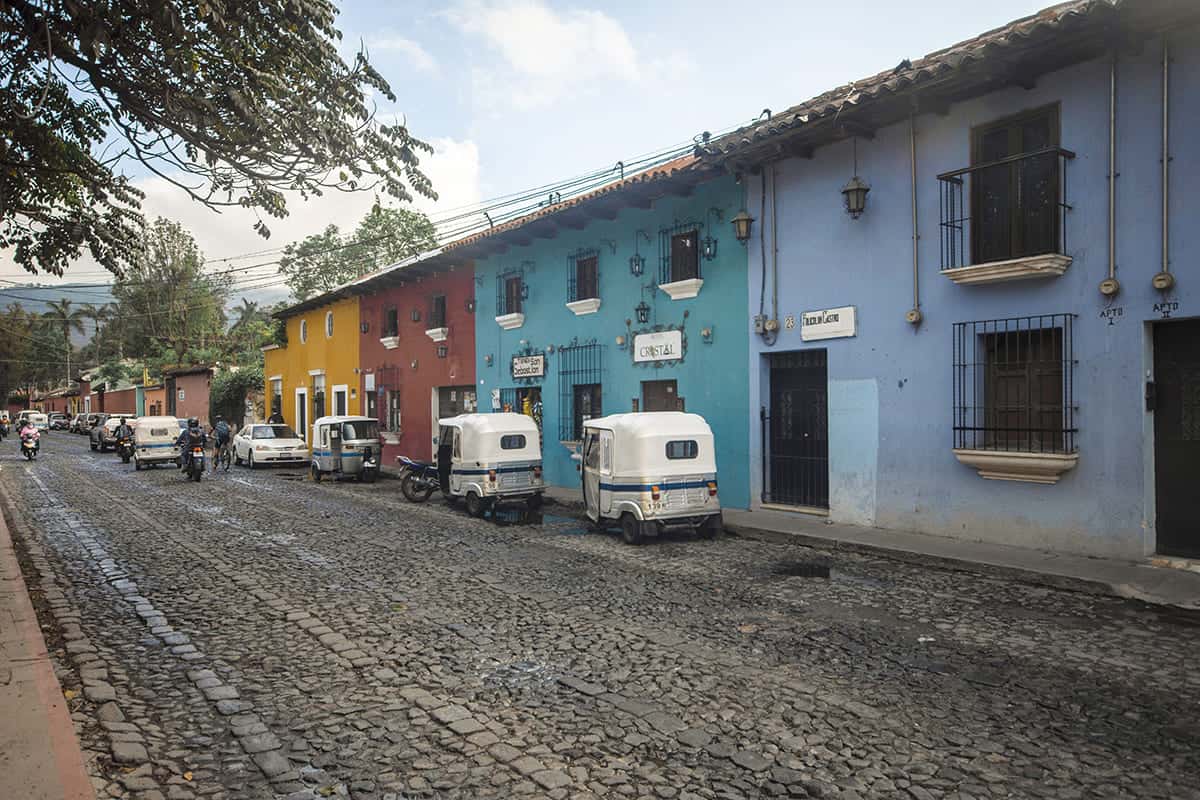 ---
Where To Stay In Antigua, Guatemala
I absolutely love Antigua, no doubt it was one of my favorite spots in Guatemala, and I would happily move here to live among the Volcanos. You commonly will find hotels and restaurants with the most incredible views of the valley, where you can even see the Acatenago Volcano erupting on a clear night.
There is an excellent hostel scene here in Antigua, and they are also very high-quality hostels. You will be able to find pod-style dorm rooms, cool common rooms playing Netflix, onsite bars, kitchens to cook in, and some even have pools.
Though I will say that it can be hard to find a dorm room here with air conditioning, and depending on the time of year you visit it can be quite warm.
Personally, I stayed at Maya Papaya hostel in Antigua, I even loved it so much that I booked 4 separate stays there over my month in the country. The staff are lovely, the beds are comfortable, and there's a super clean fully equipped kitchen, awesome location, and chill hangout areas.
Be aware that the nicer hostels here can be on the pricey side where you will easily be paying upwards of $20.00 per night.
My partner actually joined me partway through my adventures in Guatemala and we often found it was cheaper to book a nice guesthouse, rather than two hostel beds. This was even more so booking last minute when you can often find good deals on booking.com.
My favorite choice for a hostel. Clean and comfortable dorm rooms start from $22 per night.

BOOK NOW

A relaxing and beautifully decorated hostel. Prices start from $28.00 per night.

BOOK NOW

A lovely hotel located in the perfect location. Rooms start from $40.00 per night and they have awesome last-minute deals.

BOOK NOW

Whether you are wanting a dorm or a private room Selina has both. Prices start from $42 per night for a dorm and privates from $95.00.

BOOK NOW
---
How I Book Cheap Transport In Guatemala: GuateGo
---
Where To After Your Antigua Itinerary
When you have finished up your adventures in Antigua it is super easy to continue your adventures here. Or perhaps even pass into one of the neighboring countries.
You can find an international airport about an hour's drive away over in Guatemala City with plenty of connections to other Central American countries, as well as those in South America and North America.
International: If you want to get to other neighboring countries from Antigua by overland travel there are plenty of tourist shuttles available to book. The neighboring countries of Belize, Mexico, Honduras, and El Salvador are all popular connections available to book.
Some of these will be by bus companies whereas others will be with just tourist shuttles, like is the norm when traveling Guatemala. Personally, I actually traveled from Antigua to Copan Ruinas over in Honduras after my travels here. It was a super nice bus, and relatively straightforward.
Domestic: You will be happy to know there are also plenty of domestic routes from Antigua. You can basically travel from here to wherever traveler hotspots in the country using a tourist shuttle which can be booked online at GuateGo, or once you are there from a travel agency or your hostel.
Personally, I visited Flores, Semuc Champey, Lake Atitlan, and El Paredon while traveling Guatemala, though I need to go back to experience Rio Dulce!
---
Any Questions? Let me know in the comments!
---
LIKE IT? PIN IT!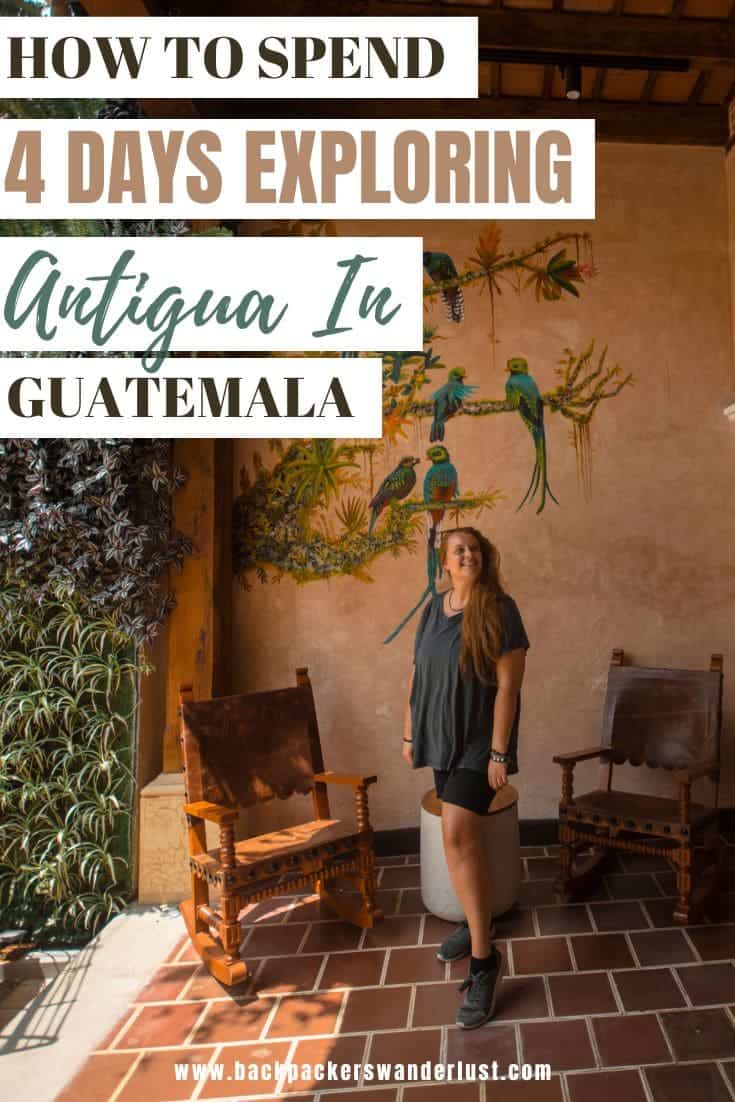 ---
Want more Guatemala Inspiration? Check out….
---
Disclaimer: This post contains affiliate links. So, if you click on it and purchase something, I get a small percentage at no extra cost to you. As always all opinions are my own and your support is much appreciated.
Related Posts
If you are planning on spending 4 days in Antigua, Guatemala make sure you check [...]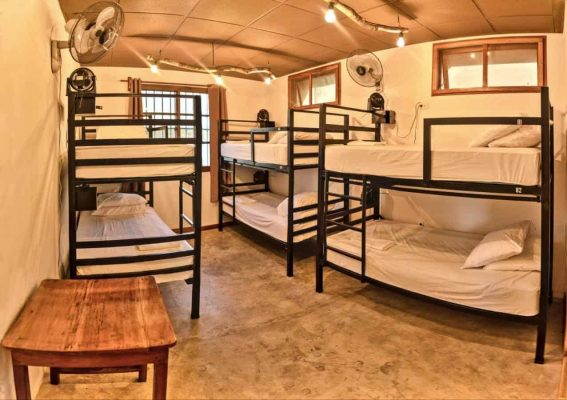 Come find out the best hostels in Flores for the best stay. No matter if [...]
Wondering is Semuc Champey worth it? Well, I am here to answer all that and [...]