If you are looking for something to do while in Flores then definitely check out Jorge's Rope Swing! This is the perfect hangout spot for adventurous travelers. I will let you know how to get here, costs, opening hours, and more!
---
Now if you have some extra time on the beautiful island of Flores, apart from of course exploring the incredible Tikal Temple complex, then you may find yourself wondering what else is there to do in Flores. Well, I actually did this the opposite way, arriving in Flores as my first stop in Guatemala, and had an afternoon to spare. So after sorting out those new country admin jobs such as grabbing a sim card, and getting some cashout, I then ventured to Jorge's Rope Swing with two fellow backpackers I met at the Belize border town of San Ignacio.
Now, I will say, before we get too far into this guide, Jorge's Rope Swing is definitely a hangout for young travelers. Therefore if this isn't your vibe, or perhaps you are traveling as a family I personally wouldn't recommend it. Some people were focused on zero tan lines during my visit, so they were not wearing much at all, and many people were drinking quite a bit.
As you could imagine the above wouldn't phase too many backpackers, and that is exactly who Jorge's Rope Swing is aimed at. It's a little oasis, away from the main city, where you can simply relax and meet people from all other the world.
So let's get into everything you need to know about visiting Jorge's Rope Swing. This includes why you should visit, how to get there, entry fees, opening hours, and whether it is even safe to swim in Flores. Let's be honest no one wants to be getting sick.
---
Visiting Jorge's Rope Swing In Flores: Is It Worth It
---
How I Book Cheap Transport In Guatemala: GuateGo
---
Why Visit Jorge's Rope Swing
Now I know, how did a silly little rope swing even get this popular. Well to be honest it is more than this. There are multiple rope swings, and awesome spots to relax in a hammock, drink a cold beer and simply relax.
This is the perfect place for backpackers and adventurous travelers to relax and get to know one another. With music playing, affordable drinks on offer, the hot Guatemalan sun beating down, and the inviting waters, you can't really say no.
If you aren't brave enough for one of the rope swings, I am always scared I will forget to let go! Then they also have diving boards to jump off, or you can simply jump in from the steps and swim around watching everybody else. Be careful though as the stairs can get quite slippery.
After you have had a bit of a frolic in the water head up to the chill area, grab yourself a hammock and a good book, and simply relax. Seriously it seems like you're a lifetime away from the beautiful cobblestone streets of Flores, now immersed in the Guatemalan jungle.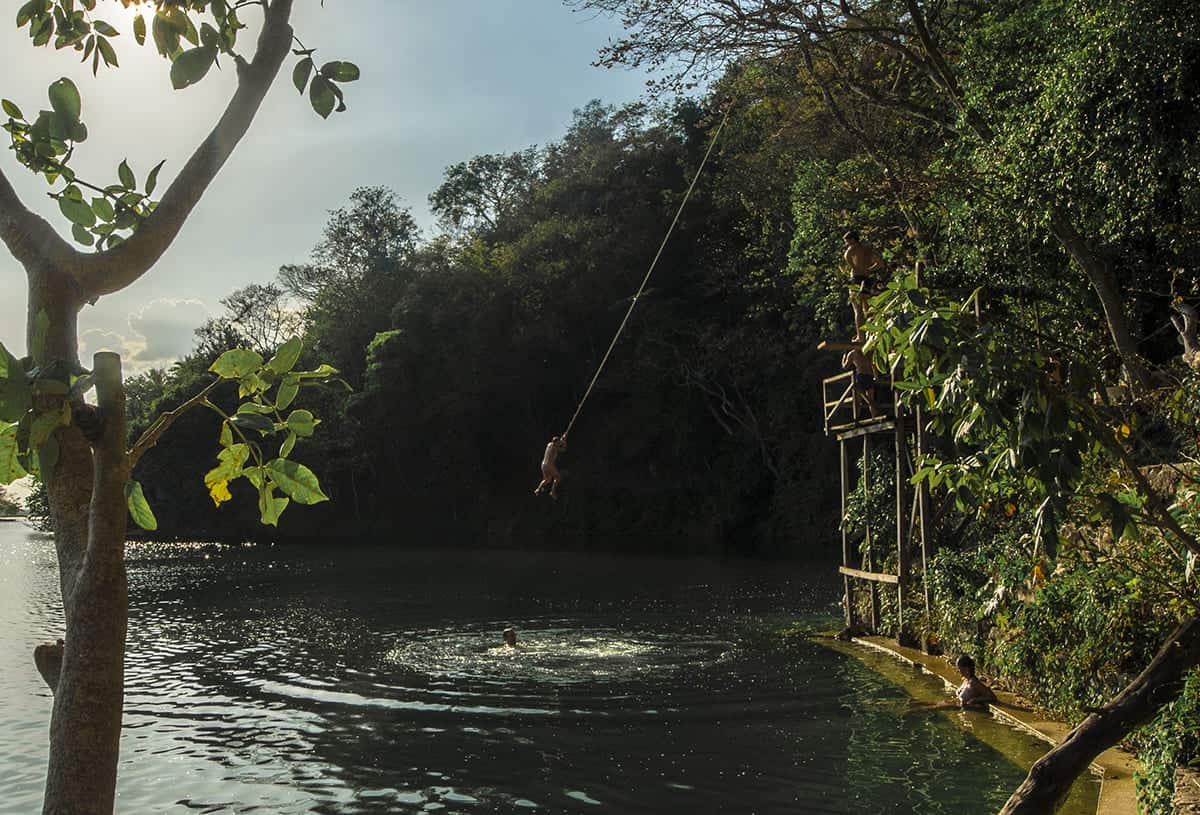 ---
How To Get To Jorge's Rope Swing
Now you may need to speak a little bit of Spanish or bring along your Google translate as you will need to negotiate with a local boat driver to take you over to Jorge's Rope Swing.
I know this can be a bit daunting, especially if you have just arrived in Guatemala as I had from Belize, but don't worry, this is a super popular thing to do here in Flores, and the drivers are used to it.
We headed down to the outskirts of the island of Flores, closest to our accommodation, and simply walked for about 30 seconds until we found a boat driver chilling out. He was more than happy to take us over, and pick us up in a couple of hours' time, so we could watch the sunset while driving back to Flores.
There were three of us onboard the boat, and we did try to negotiate a better rate, especially because a lot of sources online seem to say 25Q / $3.20 one-way or 50Q / $6.40 return. Though our driver was firmly stuck at 30Q / $3.80 one way and 60Q / $7.60 return. Who knows, the price of petrol has gone up a lot recently.
---
Entry Fee To Jorge's Rope Swing
Now, if I have convinced you to visit Jorge's Rope Swing, you need to be aware there is an entry fee of 25Q / $3.20. This is on top of your transport cost, so that is something to be aware of.
Nevertheless, it is an affordable price for entrance to a backpackers paradise where you can relax, drink, and swim.
---
Opening Hours Of Jorge's Rope Swing
Jorge's Rope Swing is open every day from 9 am to 7 pm. Though most travelers seem to head there from early afternoon until sunset in my experience.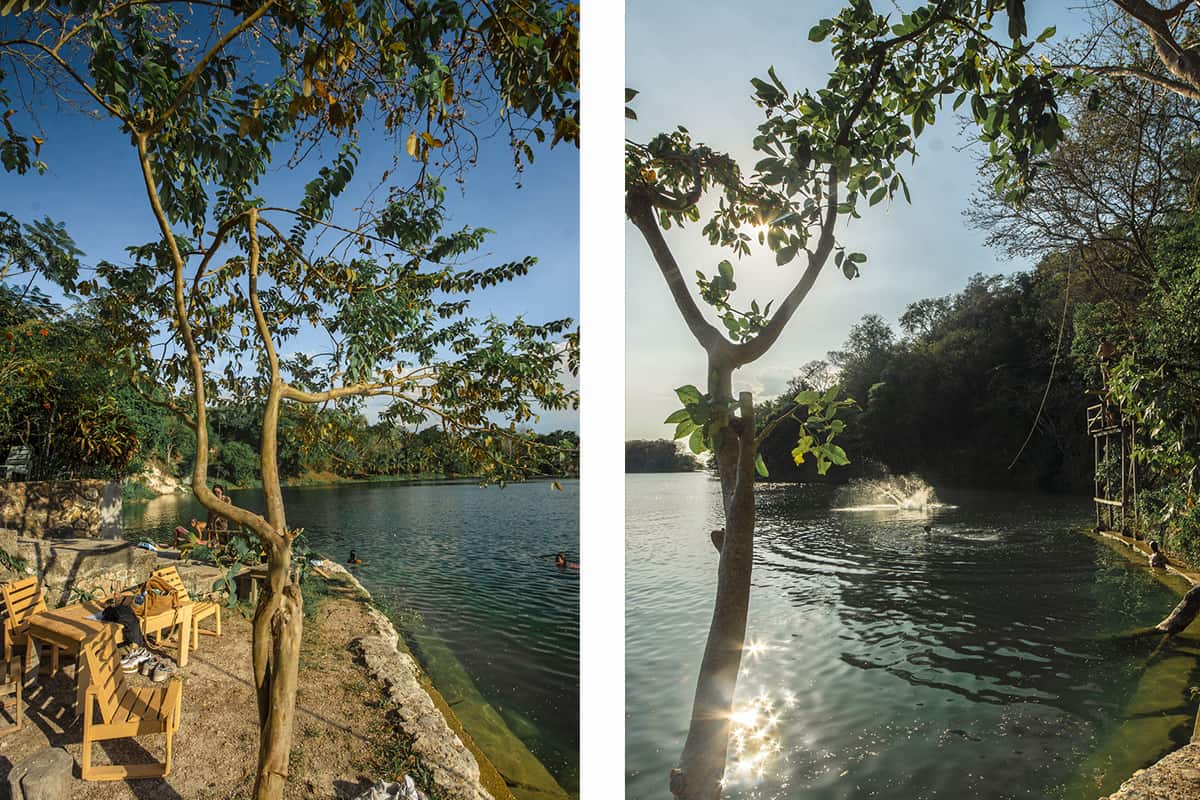 ---
Is It Safe To Swim In Flores
The water surrounding the island of Flores is called Lake Peten Itza. If you have backpacked in Guatemala for any period of time you would've heard the horror stories about travelers getting sick, and yes I got sick here as well. Though luckily enough this didn't happen in Flores and wasn't something people really spoke about happening here.
I swam in two different spots around the area of Flores. The first was of course Jorge's Rope Swing. The water here was mostly clear, but certainly not crystal clear. You couldn't see the bottom in the deeper water. Though obviously many people put their heads under the water when jumping off the various swings and platforms. Personally, I did as well, though made sure not to swallow any water.
Now I thought things may have been different closer to the city of Flores. Though there is a popular swimming spot there that I decided to check out as well. This is an area on the left-hand side of the island where you can find a dock and lots of travelers hanging out. I saw many people here jumping in, swimming laps to buoy, and sunbathing. Of course, I did the same and again was completely fine.
---
Is Jorge's Rope Swing Safe?
Now swinging off a rope and landing in murky waters where you can't see the bottom isn't for everyone, and fair enough. Though these are the things it pays to be aware of so you can have both a fun and safe time at Jorge's Rope Swing:
Be careful of the slippery rocks when climbing back up onto the shore, and off the boat when you arrive. Usually, it's just the top ones closest to the surface that is covered in algae since they have been baking in the sun.
Know your limits, start at one of the smaller swings and work your way up
Make sure to let go of the rope, seriously no one wants to see you go back into the cliff or concrete staircase. Let go in one sharp movement otherwise, you will get rope burn
If you don't feel comfortable not jumping into no biggy, just jump into the water from the shore and enjoy!
---
Food & Drink Available
Now keep in mind this isn't a beach club. I have seen quite a few negative reviews online stating that no one came around to order food, or ask if we wanted a drink. Well, Jorge's Rope Swing is run by a local family, and it is definitely a bit more of a basic experience, which is why it's the perfect hideout for backpackers.
If you are wanting food and drink you can either buy it when you arrive or if you walk back up to the same place where you paid your entry fee you should be able to find someone who will be able to help.
They serve up cold beers, soft drinks, water, and some food options, the most popular being nachos. Be aware as nice as it would be to bring your own picnic, this is not allowed. Instead grab a couple of things from the family who run it, and enjoy your afternoon chilling in and out of the water. I mean the entry fee is a pretty small amount, so why not.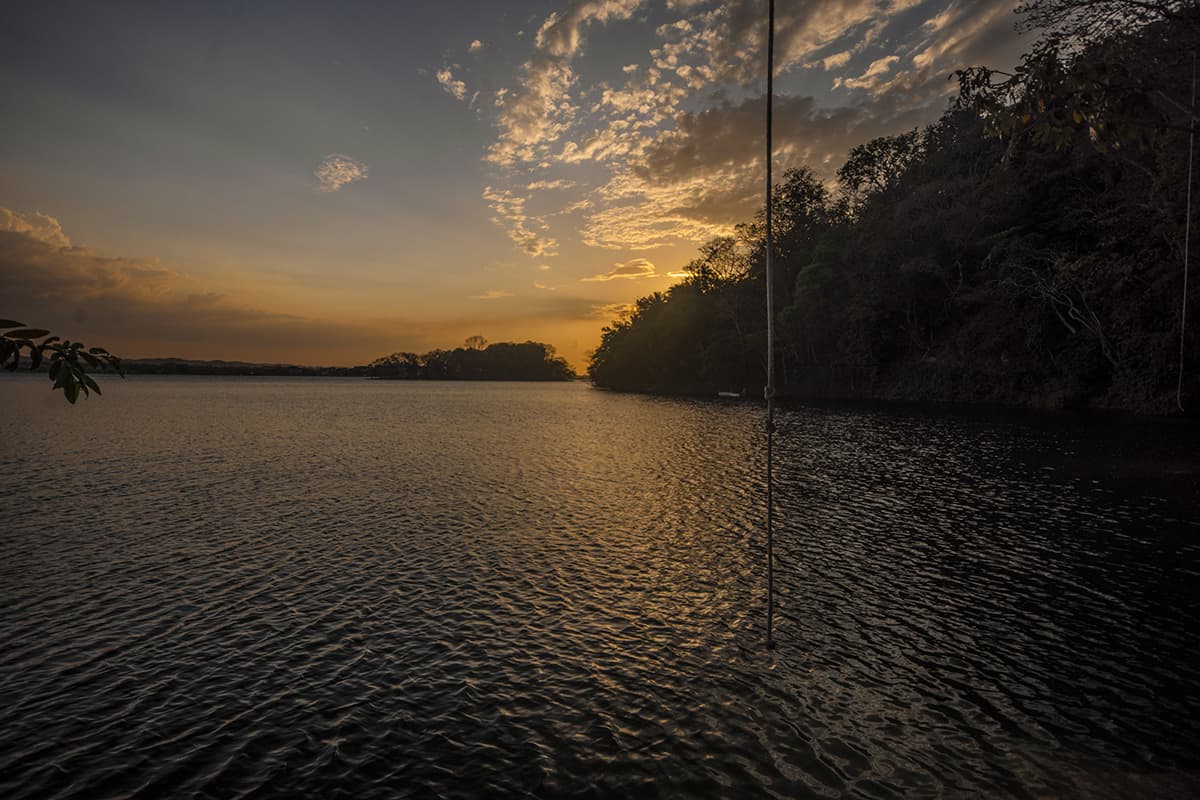 ---
My Experience At Jorge's Rope Swing
We arrived in Flores having crossed the border from Belize and taken a collective with some locals. I had met a couple who was one of the few people staying at my hostel in San Ignacio and we decide to make the venture over together. I mean when you aren't confident about doing a border crossing alone it is always best to do so in a group. Well, it was that or a $20.00 shuttle organized by my local contact who arranged my other shuttles and a few ferries in Mexico and Belize.
We were staying at separate hostels, mine the very popular Los Amigos, known as THE hostel to stay at in Flores, and theirs somewhere booked the night prior. After checking in and settling into our new dorm rooms, we decided to meet back up for lunch and make some plans for the afternoon. We both had decided to wait until another day to explore the famous Tikal temple complex that this area is known for, so what else is there to do? After a quick scour of the internet, we came across Jorge's Rope Swing.
It was back to the hostel for a quick change into some swimwear and then met back up at the shoreline where we made it our mission to find a boat to take us over. Luckily we honestly did not need to look far, and soon a boat captain happily answered our calls to Jorge's Rope Swing. The price was 30Q / $3.80 one way and 60Q / $7.60 return, slightly more than other travelers had paid online, but these people all seemed to travel their pre covid times so it was probably outdated.
It was a short quick trip over the Lake where we soon arrived at Jorge's Rope Swing. Before jumping out of the boat I got our boat driver's Whatsapp details so I could message him when we are ready to be picked up, and he then drove on back to Flores.
We stumbled up to the small house where a table sat out front with prices listed. We each paid the entry fee and grabbed a cold drink to enjoy while we relaxed. There were about 10 or so other travelers there, so we of course all got chatting. If you happen to be traveling solo and looking to make friends I highly recommend coming here.
We watched as people jumped from the rope swings and boards until my friends were brave enough to also give it a go. Instead, I just chilled in the water, happy to enjoy some fresh water after spending the last week or so snorkeling in the salty ocean.
We had thought to spend sunset here as well, though as 5.30 pm started rolling around boats started showing up and travelers jumped on board. Quite a few people didn't have organized rides back to the island so they just shared a ride with other people.
Soon enough we were the last people there and decided to flick our boat driver a message, and about 10 minutes later the sound of his motor is heard speeding across the lake to come and pick us up. We enjoy watching the sunset across the lake as the lights of Flores slowly begin to light up the night sky.
---
Where To Stay In Flores
Honestly, Flores is a super small island, and as long as you are staying on the island itself you will be fine in terms of a good location. There is a bridge that connects it to the mainland, but basically, the tourist area is on the island of Flores itself. I did end up on the other side a couple of times though, the first was arriving there at the bus station, and having to take a taxi the rest of the way, and the second was to visit the supermarket and buy some food for dinner since my hostel had a kitchen.
I had an excellent time staying at Los Amigos, though it did kind of lack a social atmosphere if you aren't into the party scene. There is a cute little hangout area with hammocks, but most people just seemed to sit there listening to music than talking to others. Luckily for me, they have a few bunny rabbits hopping around and they became my friends. I stayed in the air-conditioned dorm, and this was freakin amazing, but the air conditioning is only turned on at night. They have an excellent onsite restaurant which was perfect for me after visiting Jorge's Rope Swing as, as a solo female traveler I don't go out after dark by myself.
The perfect stay for backpackers. Dorm rooms start from $25.00 per night.

BOOK NOW

Enjoy this modern hostel with incredible pool views. Dorms start from $20.00 per night.

BOOK NOW

A beautiful hotel with incredible rooftop views. Rooms start from $79.00 per night.

BOOK NOW

Clean and modern blue-themed hotel. Rooms start from $70.00 per night.

BOOK NOW
---
Things To Do In Flores
There are a handful of awesome things to do here in Flores apart from the popular Jorge's Rope Swing. This is just a quick breakdown of some of the top options:
Tikal: No doubt the top thing to do in Flores is visit the famous Tikal Temple Complex. It is a bit of a drive away from the city center so unless you have your own transport, the majority of travelers visit on a tour. I decided to do the morning tour, which allowed us slightly more sleep than the sunrise tour, but it was still too early for me. Honestly if you aren't a morning person, screw it and book the later tour so you can have the most enjoyable experience. Honestly, it was pretty quiet during our visit, but I found myself walking around like a mindless zombie.
Swim: There are lots of cool spots around the lake to go for a swim. You can either stick somewhere local, like at the dock on Flores or head to one of the nearby beaches. Talk to any boat driver and they will be able to take you there.
Wander The Streets: Seriously this place is freaking beautiful and the perfect showcase of the gorgeous buildings in Guatemala. Cobblestone streets, colorful buildings, incredibly painted murals, and delicious eateries seem to be around every corner. Go for a walk and simply get lost, this isn't a large town, so you can never go far.
---
How I Book Cheap Transport In Guatemala: GuateGo
---
LIKE IT? PIN IT!
---
Want more Guatemala Inspiration? Check out….
---
Disclaimer: This post contains affiliate links. So, if you click on it and purchase something, I get a small percentage at no extra cost to you. As always all opinions are my own and your support is much appreciated.
Related Posts