Wondering is Semuc Champey worth it? Well, I am here to answer all that and more. No matter where you are coming from Semuc Champey will be a full day of travel, though for some people this is a highlight.
In this travel guide, I will let you everything there is to know about this jungle escape such as prices, transport, where to stay, the best things to do and so much more!
---
Now if there is any place in Guatemala you may consider skipping no doubt it is Semuc Champey. No doubt this place is gorgeous, though no matter where exactly on the tourist trail you decide to begin your adventures, it is going to be a full day of travel, a minimum of 10 hours from my experience.
As you can see this no doubt leaves many backpackers wondering is Semuc Champey worth it?
Luckily enough once you are here backpacking Semuc Champey is super easy and well set up for travelers. It's simply just the getting here that is the issue.
A problem that was made even worse for me because I happened to get horrible food poisoning halfway through the journey from Flores to Semuc Champey.
Though luckily my onward journey from Semuc Champey to Antigua was just as long at 12 hours, but no food poisoning occurred so all in all it was pretty smooth sailing. Nevertheless, if you are on a tight itinerary or only have a couple of days to spare is Semuc Champey worth it?
In this backpacking Semuc Champey travel guide, I will let you in on all the top things to do, where to sleep, eat, and more
My hope in letting you know what exactly this place is like is so you can make an informed decision based on your planned travel itinerary, travel style, and budget. I will be focusing more on a backpacking outlook in this post, as that is what I write about.
Though if you travel as a family or a luxe couple, you may have to pick through the information to what you feel is relevant for you.
So let's get into everything you need to know about backpacking Semuc Champey and find out is Semuc Champey in Guatemala worth visiting, so you can have the best trip. This includes finding out budgets, where to stay, top spots to eat, staying safe, things to do, and more!
---
Is Flores Guatemala Worth Visiting? Backpacking Semuc Champey
---
🚗 How I Book Cheap Transport In Guatemala: GuateGo
---
How Many Days To Spend Backpacking Semuc Champey
So in all honesty there isn't a whole heap of things to do in Semuc Champey, though you will have to spend an entire day traveling there, as well as traveling to your next destination.
Keep this in mind when deciding how many days to spend backpacking Semuc Champey and don't make the same mistake that I did.
Personally, I only spent two nights in Semuc Champey, god knows why. This is in no way long enough, especially after being stuck on a shuttle bus traveling there.
No matter where you are coming from you will likely arrive between 5 pm to 7 pm. Then when you leave you will need to head off super early around 7 am. This means however many days in between are literally how much time you will actually have to explore.
I was stuck with just one full day to do everything, which meant in the end I couldn't do it all. Especially as I was super sick. Therefore I missed out on participating in the caving and tubing.
If I were to visit Semuc Champey again I would spend 4 days there so you can relax and really appreciate being in nature without being rushed. On the first day, I would head to Semuc Champey by myself, chill there, hike to the mirador, and swim in the pools.
On the second day, I would book a tour to do the caving, and then on the third-day book some river tubing.
Even if you don't want to do all of these activities you can simply relax, enjoy the sounds of nature, and just breathe some fresh air.
---
Cost Per Day To Travel Semuc Champey
Now I will be honest, Guatemala as a whole was not as cheap as I had expected.
I started my travels in Mexico which was relatively affordable, Belize then put a huge bump in the budget, and went I went to Guatemala I expected it to be back at Mexico price levels, though in honesty it was somewhere between the two.
I spoke to many other travelers who had this exact same issue as well, so plan accordingly.
I stayed 3 nights in a hostel called Greengos during my time in Semuc Champey. The total price for this was Q240 / $30.74 or $15.40 per night. This is pretty affordable compared to a lot of other dorms I have been staying at in Guatemala, though it was quite basic.
The room was a basic mixed dorm with a couple of fans, there is also only power at certain times of the day, but that is pretty normal out here in Semuc Champey.
Many hostels in Semuc Champey will have an onsite restaurant where you can buy food and drinks. I had all my meals here simply because it was the only option around. Seriously it is located in the middle of the jungle.
I also got super sick during my shuttle to Semuc Champey so I didn't eat too much during my stay. I spent Q297 / $38.26 on food and drink during my stay.
Overall I would recommend budgeting $40.00 to $50.00 per day when backpacking Semuc Champey This will allow you to have a comfortable bed, decent meals, a visit to Semuc Champey, and some tours.
---
Where To Stay In Semuc Champey
Next up we have where to stay in Semuc Champey, and you will be spoilt for choice here. Though the first decision you need to make is whether you want to stay in the town of Lanquin or close to Semuc Champey.
If you want to experience more of the local side of life 100% it is recommended you stay in Lanquin. Here you will be able to try an assortment of restaurants and have a bit more freedom. You are more likely to be able to find rooms with air conditioning, 24/7 power, and wifi.
In Semuc Champey a lot of the accommodations are set up like resorts, even hostels. Basically, there is minimal reason to leave the grounds except for tours, which you no doubt booked through your accommodation.
I know this can sound a bit daunting, especially if you are a chill backpacker who likes to explore and plan things last minute. Though I loved staying closer to Semuc Champey as you were right in nature and it honestly felt so peaceful.
However air conditioning was nonexistent, and we only had power and wifi for certain times of the day.
Personally, I stayed at Greengos Hostel and had an incredible stay. It is an excellent choice for budget travelers with an included transfer from the shuttle drop off, two pools, onsite restaurant, tours, and in the most beautiful location just a 10-minute walk from the entry of Semuc Champey.
A short walk from the entry of Semuc Champey and the perfect backpacker resort. Prices start from $20.00 per night.

BOOK NOW

A party hostel perfect for those wanting to let loose and make friends. Prices start from $25.00 per night.

BOOK NOW

Walking distance from town and set right on the river, the best of both worlds. Prices start from $9.00 per night in a dorm or $36.00 for a private.

BOOK NOW

Enjoy resort-style living with a glamping stay in one of the beautiful tipi tents. The super affordable tents start at just $25.00 per night.

BOOK NOW
---
---
🚗 How I Book Cheap Transport In Guatemala: GuateGo
---
Transport In Semuc Champey
Now you know more about what to expect when backpacking Semuc Champey and perhaps you are slowly coming towards a decision with is Semuc Champey worth it, so let's get into transport. This includes how exactly to get to Semuc Champey, as well as traveling around internally.
---
Getting To Semuc Champey From Flores
Now I personally traveled from Flores to Semuc Champey and these were my options when it came to this particular journey:
| | | | |
| --- | --- | --- | --- |
| | Time | Cost | Highlight |
| Tourist Shuttle | 9 hours | from $20 | Comfortable journey |
| Chicken Bus | 12+ hours | from $12.60 | Adventurous and fun |
| Taxi | 7.5 hours | from $300+ | Easy and stress-free |
Tourist Shuttle: Now let's start with the easiest option when traveling from Flores to Semuc Champey. Using a tourist shuttle all the hard work is done for you.
There is no need to worry about transfers in different cities, and instead, you can just enjoy the pretty damn good views and sleep as much as you would like.
As this is a long journey you will make at least two gas station/bathroom stops, and one stop for lunch in Coban, which is likely to be more like afternoon tea by the time you get there so bring extra snacks.
Your journey will take around 9 hours to Lanquin where you will then be transferred to your accommodation, which can add another 40 minutes to an hour to the total journey time. Tickets can be booked over on GuateGo.
Chicken Bus: Now if you want to take the chicken bus around Guatemala, unfortunately, this is not the route I would recommend taking. Instead, choose shorter distances such as Antigua to El Paredon. You will find this journey will take over a day of travel, and you will have countless bus changes.
Taxi: This is no doubt your quickest way to travel from Flores to Semuc Champey, though be aware it is pricey. If you can afford this I want to be your friend! If you want to just do a taxi, make sure you go through a reliable company, and best to book once you are in Flores, or online if GuateGo is available.
---
Traveling Within Semuc Champey
Now you like won't actually be traveling around much by yourself while here, the only instance would be if you are staying in Lanquin and want to get to Semuc Champey. Though a lot of people book this in a tour, which will also include other nearby activities such as caving.
Also, most hostels and hotels in the area will pick you up straight from the shuttle drop-off as long as you book a minimum 2-night stay. Basically, as soon as you jump off the shuttle someone will be waiting at the stop, ask you where you are staying, and point you to the correct car to jump into.
If you want to take public transport you can catch a jeep from the crossroads in the town center. They don't run on a set schedule, but they do depart rather frequently. It's a 45-minute journey which will cost you at least $1.00, but it's pretty normal that tourists pay more, so expect to pay up to $4.00.
I highly recommend downloading the offline map of Semuc Champey on the Maps.Me app for your cell phone. It'll be super helpful in navigating your way around if you do not have data or cell phone reception. This is one thing I always make sure I have before arriving at a new destination.
---
ATM In Semuc Champey
Okay, so in all honesty you are best to come to Semuc Champey with all the cash you will need for accommodation, food, and activities. Many accommodation providers here are cash only so don't arrive expecting to put your hostel on that credit card.
A small handful of places will accept them, but they will also charge crazy fees.
Worse comes to worst there is ONE ATM in Lanquin and oftentimes it can be out of order. Staying at Greengos when I was in the jeep to meet up with my shuttle bus to Antigua it did stop at the local ATM in town so people could pay their bills.
Though if the ATM was out of order that day who knows what would have happened?
Lesson: Bring enough cash to last you your entire stay in Semuc Champey.
---
🚗 How I Book Cheap Transport In Guatemala: GuateGo
---
Things To Do While Backpacking Semuc Champey
There are some super awesome things to do in Semuc Champey, I mean this is the reason a lot of people travel here. This is just a quick breakdown of some of the top options:
---
Semuc Champey Mirador
To get the most impressive view of the pools you will need to hike the Semuc Champey Mirador. This is included in your entry to Semuc Champey, though it isn't something everyone completes.
The total hike time for the Semuc Champey Mirador is approximately 45 minutes. Just remember to go at your own pace and not to rush, some people will take longer, and others will take less.
Honestly, the first half of the climb-up is the worst part where you are just hiking steep switchbacks. Though eventually, it flattens out leading to the viewpoint, and then it's all downhill from there straight to the entry of the pools.
---
Tubing
You can either do this organized through your hostel or simply with a group of friends when you are at Semuc Champey. This is certainly one of the cheaper activities to do here in Semuc Champey.
---
Caving
Now I have heard both positive and negative reviews about the cave tour, let's just say it is for the adventurous. Essentially think tight squeezes, trying to keep a candle alight while swimming, and holding it while also climbing a ladder.
I didn't do it myself, as I spent my only afternoon in Semuc Champey recovering, though I questioned the safety precautions taken.
---
Swim In The Semuc Champey Pools
Of course, if you are visiting Semuc Champey you need to take a dip in the pools. It is a quick 5-minute walk from the entry to the main pools at the top, where there are some small cascades that you can jump off.
There are also some less busy pools lower down, though you do miss that famous infinity pool that looks over the jungle that this place is known for.
---
Hiking
A lot of hostels and hotels will offer hiking tours to their guests. They will organize a guide to take you through the jungle in the surrounding area. This will give you the perfect chance to see wildlife, as well as interact with some locals.
---
Safety While Backpacking Semuc Champey
Personally, I felt 100% safe while backpacking Semuc Champey, though I always like to do a bit further research so you are getting all the information, not just my personal experience. I did find on Trip Advisor someone mentioning:
"The U.S. Embassy has learned that Guatemalan police officers and security personnel once again do not have access to the Semuc Champey/Lanquin Alta Verapaz National Park. This stems from an ongoing local dispute over park management.
Due to the lack of local security personnel, the U.S. Embassy has restricted personal travel to the area for its own employees and advises U.S. citizens that visiting the Semuc Champey/Lanquin Alta Verapaz National Park at this time may carry a higher-than-usual security risk."
This was published in 2022, so doesn't apply anymore. Though probably best to check your government's advice before traveling for the most up-to-date information.
A lot of people also get sick here in Semuc Champey. It's hard to know whether this is from swallowing the river water, food poisoning, or perhaps like me, getting sick from McDonald's hours before arriving.
Nevertheless, Semuc Champey is one of those places where if you don't get sick there is a surprise and you'll receive a nice pat on the back from fellow travelers.
I mentioned it briefly before, but there are also some safety concerns by travelers regarding the safety of the caving tours. Essentially this is a super adventurous activity, so if you aren't comfortable in dark, confined spaces, climbing rickety ladders, and getting hot wax dripped down your arms, maybe skip this one.
Apart from those, basically use common sense and you will be fine. If you are going for a little swim, don't leave your valuables right out visible to the public. Stay cautious of the street dogs.
Don't drink the water out of the tap. It is easy to find bottled water here through the local corner store or hostels that will often do free refills.
---
Where To After Backpacking Semuc Champey
When you have finished up your adventures in Semuc Champey it is super easy to continue your travels, just be prepared for another long travel day.
Domestic: You may have already figured Semuc Champey is pretty damn far from everywhere else in Guatemala, so buckle in for a long day. You can head to Antigua, Guatemala City, Flores, Panajachel in Lake Atitlan, Rio Dulce, or Coban.
Though Coban is a bit of a town you can skip unless you want to break up such a long travel day.
International: Unfortaunelty international connections are limited from Semuc Champey. If you wish to visit neighboring Belize your best bet will be heading to Flores first, and if you are keen on Mexico, Honduras, or El Salvador you are best to head to Antigua or Guatemala City.
At Guatemala City, you will also find an international airport with plenty of flight connections.
---
Any Questions? Let me know in the comments!
---
LIKE IT? PIN IT!
---
Want more Guatemala Inspiration? Check out….
---
Disclaimer: This post contains affiliate links. So, if you click on it and purchase something, I get a small percentage at no extra cost to you. As always all opinions are my own and your support is much appreciated.
Related Posts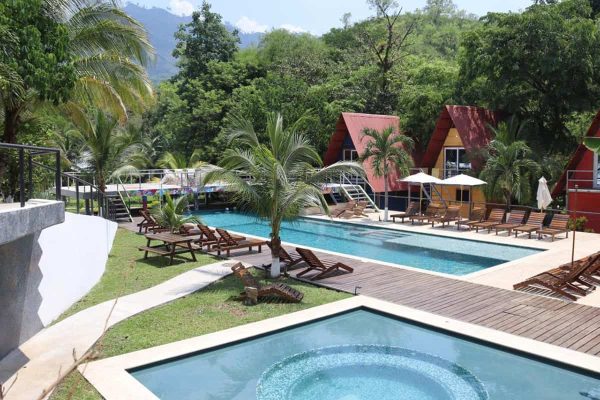 Find out the absolute best hostels in Semuc Champey for the ultimate stay. No doubt [...]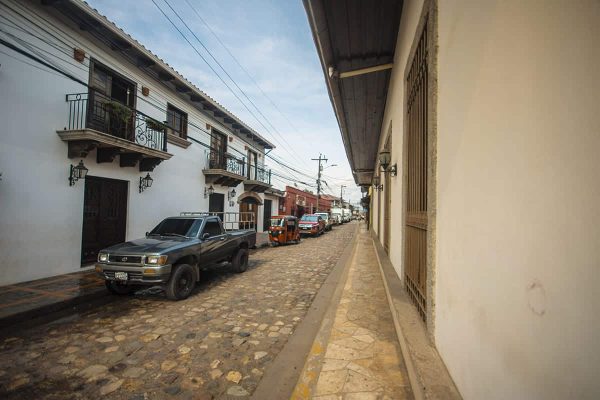 Wanting to travel from Guatemala to Honduras, then come find out exactly how to do [...]
Come find out the best Spanish schools in Antigua, Guatemala, and what you know before [...]