Find out how to travel from Antigua to Lake Atitlan in Guatemala. These are both two popular tourist destinations, but each offers something completely different. Whether you want to get to Lake Atitlan by shuttle, chicken bus, or taxi, I will let you know how to book, prices, and more!
---
Once you are done exploring one of my favorite cities in Central America of Antigua, it is time to head to the next spot on your Guatemala itinerary which is Lake Atitlan. Here you will find a beautiful lake, surrounded by 3 incredible volcanos, plenty of culture, and an excellent backpacker scene.
Seriously if you are simply wanting to get back in touch with nature, Lake Atitlan is a perfect choice. Luckily enough there are also plenty of transport options when it comes to traveling Antigua to Lake Atitlan.
Apart from simply being freakin amazing, another reason this is such a popular spot nowadays is its close proximity to Antigua! You don't need to spend too long on the road getting from Antigua to Lake Atitlan, as you may do if you are exploring further afield to other nature spots in Guatemala such as Rio Dulce.
Be aware that Lake Atitlan kind of talks about the area as a whole, and instead you will want to travel from Antigua to your accommodation at the lake. There are villages spread all the way around, some large, some small, and some accessible by road, and others simply by boat.
I recommend finding the township you want to travel to such as Antigua to Panajachel, Antigua to San Marcos, or Antigua to San Pedro. These are the three main transportation towns around the lake with plenty of connections to the city.
Once you are here you can easily catch a water taxi around Lake Atitlan to get to your desired spot, which I have written an article all about. 
Luckily for you, it is incredibly easy to travel from Antigua to Lake Atitlan, though you will need to hit the road as flying is not an option. Instead, you will need to either book a tourist shuttle, navigate the chicken buses, or book a private taxi.
However don't worry because I will let you know the costs, times, and more for each of these options. That way you can book the best option for your adventures!
| | | | |
| --- | --- | --- | --- |
| | Time | Cost | Highlight |
| Tourist Shuttle | 2 1/2 hours | from $20 | Comfortable journey |
| Chicken Bus | 2.5 – 3.5 hours | from $6 | Adventurous and fun |
| Taxi | 2 hours | from $100 | Easy and stress-free |
---
Travel From Antigua To Lake Atitlan: All Transport Options Explained
---
How I Book Cheap Transport In Guatemala: GuateGo
---
Antigua To Lake Atitlan Distance
Now you don't need to worry about any full days on the road when traveling from Antigua to Lake Atitlan, and thank god that is because if you are like me you have already spent too long traveling to and from Semuc Champey. Thankfully the journey from Antigua to Lake Atitlan is a super short journey being around 80 kilometers in distance.
Though be aware there are numerous roads your transport of choice could take. For example, on the way there we quickly turned off the highway and spent the majority of the way on small windy roads. Though on the way back to Antigua we stuck to the highway as much as possible.
Also, Lake Atitlan is a very broad term and you will actually be traveling to one of the towns around the Lake, likely Panajachel, San Marcos or San Pedro la Laguna.
---
Antigua To Lake Atitlan Travel Time
Thankfully you don't need to worry about any long journeys here, it is a quick and easy ride from Antigua to Lake Atitlan. Depending on which method you use will affect how long it takes:
Tourist Shuttle: Your trip from Antigua to Lake Atitlan will take between 2 to 2 and a half hours
Chicken Bus: Now taking the chicken bus is for those who are looking for an adventure, not a relaxing journey. This method will take around 3 to 4 hours.
Taxi: Enjoy a quick and direct journey in a taxi which only takes 2 hours. Though it is quite scenic so you may want to pull over for a couple of photo stops.
---
Tourist Shuttle From Antigua To Lake Atitlan
Now we will start with the most straightforward and simply easiest way to travel from Antigua to Lake Atitlan. Using this method all the hard work is done for you. There is no need to worry about transfers in different cities, and instead, you can just enjoy the pretty dam good views.
Drivers may speak limited English, but you will quickly learn enough Spanish to get by when traveling Central America, or one of your fellow travelers onboard will, and they will be able to relay that information to everyone else. You will likely make one toilet/snack stop on the journey from Antigua to Lake Atitlan, for us this was a gas station.
You have the choice here to book your tourist shuttle from Antigua to either Panajachel or San Pedro la Laguna. These both have multiple departures each day, and these are separate services, you won't all be in one van and need to stop at the other town along the way.
Your journey will take between 2 to 2 and a half hours depending on how long the driver decides to stop for. My journey from Lake Atitlan back to Antigua was definitely a lot quicker than the journey there, and like I said for some reason the first driver choose a random route through the mountains.
Nevertheless, this is definitely the best choice for travelers in Guatemala who simply just want to get from point A to point B.
---
How To Book Tickets
These tourist shuttles are super easy to book! You can either do so in advance online or instead wait until you are in Antigua. It is best to book your tickets a couple of days in advance as these shuttles do and can be booked out.
I traveled Guatemala during the month of May which is considered the shoulder season and when my friend tried to book on the same shuttle as me the day prior, it was sold out. If you have a set itinerary in Guatemala and know your dates it is best to book these tickets in advance.
If you choose to wait until you are in the city then you will find plenty of travel agencies advertising tickets for this route. Feel free to shop around for prices as the majority of businesses will use the same shuttle company, just charge travelers more or less depending on their commission.
We literally drove around the city before departing picking people up from hotels, hostels, and travel agencies. Though no doubt we all paid different rates.
Alternatively, if you are wanting to book your tickets online for peace of mind, or perhaps you are a bit nervous about testing out those Spanish skills then this is super easy to do. You can check out the travel route Antigua to Lake Atitlan on GuateGo, buy your tickets through them, and then they will email you a copy! Super easy!
---
Where Does The Shuttle Drop You Off
Depending on where exactly your shuttle is to will depend on what spot exactly it will drop you off. Luckily no matter who or where you book your shuttle with it will drop you off in a relatively central location.
Panajachel: Our shuttle to Panajachel dropped people at their hotels, which was only a couple, and then dropped the rest of us down at the pier where we could take the water taxi to other villages around the lake.
San Pedro la Laguana: Here the exact company you use will depend on where they drop you off. Because people booking are likely staying here the shuttle buses won't drive you around. Rather they will stop in a central location in the city center.
If you are booking a shuttle to San Pedro online make sure it actually concludes in San Pedro la Laguna, as I have seen companies say you are booking this route, but they actually finish in Panajachel where you then need to take a water taxi to San Pedro.
San Marcos la Laguna: Same as above depending on the company you book will affect where you get dropped off. Also, if you are booking a shuttle online make sure it actually ends in San Marcos, not Panajachel where you then need to take a water taxi.
---
My Experience Taking The Shuttle From Antigua To Lake Atitlan
Time to head from my favorite hostel in Antigua, Maya Papaya, to Lake Atitlan. After a quick included breakfast I check out and wait by the door for the shuttle to turn up. It does take quite some time, about 30 minutes, but this is pretty common in Antigua.
Everyone is basically given the same pick-up time, but since the bus picks everyone up from different accommodations, you can be waiting up to an hour. Seriously, if it has been over an hour I would question things, but otherwise, just wait and be patient.
I am not going to lie, it isn't the most comfortable minivan in the world, well actually it is a simple van, with seats in the back, but nevertheless, it would do. After collecting a few more passengers it is time to hit the road.
We followed the main roads out of town and after about an hour, stopped at a petrol station where we could use the bathroom. Unfortunately, one of my van mates jumped out and was extremely sick, right in front of the petrol pumps.
Turns out she had only arrived from Semuc Champey to Antigua last night after getting extremely sick there, she felt better this morning when she got on the van but was no longer this way.
Now I am the kind of person who likes to follow the van on google maps, and I noticed we turned off the main highway and started going down windy mountain roads relatively early on in our journey.
I presumed there were toll roads along the way, all goods, I respect the hustle of the driver for not wanting to pay. Though for the chick who was already sick, this was not a good move. The windy roads just made things worse and we were pulling over every 10 to 15 minutes for here.
What I will say is no one onboard was upset about this whatsoever, instead, we all wanted to help her. It's Guatemala and everyone gets sick, this is normal. Though if you have a weak stomach, it may not be the funniest experience being stuck in a van with a chick vomiting into a plastic bag.
Nevertheless, I had been in this exact same situation a week ago when I made the journey from Flores to Semuc Champey, so I get what she was going through.
Luckily enough we started descending down towards the lake soon enough. Going around sharp hairpin turns, and towards civilization. Once in Panajachel, the van maneuvered the tight streets dropping a couple of people off at their accommodations.
The final stop is where I got off, at the water taxi pier. From here you can easily travel to all the other villages around the lake, including the one I was staying at Santa Cruz la Laguna.
---
Chicken Bus From Antigua To Lake Atitlan
Now time for the chicken bus, sure this is an adventure, and from my experience traveling Guatemala, it is a bit of a controversial transport option.
For the most part, it appears the locals understandably don't want tourists to take these chicken buses due to safety concerns, and being a foreigner you generally become a target. Though travelers think this mindset is an old school, not a realistic approach, and if you use common sense you will be fine.
You know you best, and whether or not this will be an appropriate option. Nevertheless, it will for sure be an adventure for travelers looking to get off the beaten track and have meaningful experiences with locals.
Now to the chicken buses. If you have traveled Guatemala, at all, you would have become quite acquainted with these huge colorful buses. They are actually former American School buses that have been imported here to live out the remainder of their days.
No doubt this is the epitome of transport in Guatemala, so if you are looking for a true experience you know what you need to do.
However what you need to know is that contrary to what many blogs say, there are no direct chicken buses from Antigua to Panajachel or vice versa. This is all pre-COVID information, perhaps as time goes on life gets back to normal this will restart, but for now, the only option is taking 3 separate buses.
---
How To Take The Chicken Bus To Lake Atitlan
So now you know whether or not taking a chicken bus from Antigua to Lake Atitlan, or more preciously Panajachel, is the right choice for you, let's get into how exactly to do it. The price will come out around Q50 / $6.00 but be aware this can change depending on how many transfers you need to take.
The total journey will be somewhere between two and a half to three and a half hours. This basically depends on how long you need to wait for a bus at each stop.
Well, starting from Antigua you will need to make your way to the Antigua bus stop. You can find this just behind the market and is pretty hard to miss thanks to the constant stream of buses entering and exiting.
Take a chicken bus heading to Chimaltenango. This is a relatively short journey and should take around 35 minutes, though you may need to wait for the bus to leave.
Next up you will need to get another chicken bus from Chimaltenango to Los Encuentros. This is the longest part of the journey taking around 1 hour to travel this distance. Once you have arrived in Los Encuentros you will need to take another chicken bus 25 minutes to Solalà.
Finally, once in Solalà, you will take your last chicken bus to Panajachel which typically is a 25-minute or so drive.
---
Taxi From Antigua To Lake Atitlan
This is no doubt your quickest way to travel from Antigua to Lake Atitlan, though be aware it is pricey. You can either choose to book a typical taxi or simply an Uber. If you want to just do a taxi, make sure you go through a reliable company such as Mariscal Taxis or Amarillo Taxis.
Nevertheless, rates should be around $100.00 to $125.00, and you must remember to negotiate a price beforehand. Though GuateGo offers private taxis that can be booked online, so you don't need to stress about getting a decent price.
It is a good option if you are traveling as part of a larger group where splitting the price would work out to be similar to the price for a tourist shuttle. Alternatively, if you are traveling at an awkward time of day when the shuttles aren't running this also makes for a good choice.
The one thing to keep in mind is that even though you are able to easily take a taxi to Lake Atitlan, it is going to be a lot harder to find one to take you back to Antigua. There is also no Uber in this area.
---
FAQs About Traveling from Antigua To Lake Atitlan
How many days to spend in Lake Atitlan? Depending on what you plan to do in Lake Atitlan will affect how long your want to spend there. Seriously some people come here and never leave, and it's easy to see why.
Though if you are like me and exploring Guatemala for a set period of time, then I recommend spending a minimum of 5 days here in Lake Atitlan. This will allow you to stay in a couple of different towns around the Lake, relax, and enjoy nature,
How far in advance do I need to book tickets? It is recommended you book tickets in advance to ensure you can travel with a reputable, clean and safe company. You should try for at least a week in advance to be safe. Though if you are not worried about this then book at least 48 hours in advance.
Booking through GuateGo is perfect for those busy periods as you can book when you haven't even arrived in the country yet! This means you can relax knowing all the planning is taken care of.
---
Where To Stay In Lake Atitlan
There are plenty of lovely villages around Lake Atitlan where you can stay. I recommend choosing a couple you would like to visit and then checking out accommodation options.
Panajachel: Let's start with the main city around Lake Atitlan called Panajachel. There always seems to be a constant stream of shuttles arriving and departing, with travelers walking on down to the docks.
I would say it is worth spending a couple of days here. It is an easy place to book tours and organize transport. There is some awesome shopping to be done down the main street called Calla Santander.
Santa Cruz la Laguna: Another popular spot is Santa Cruz la Laguna. This has grown quickly in popularity with backpackers over the last couple of years thanks to the affordable hostels on offer.
You can find the popular Free Cerveza which gives summer camp vibes, and it is pretty cool you get to sleep in a teepee. Secondly, there is La Iguana Perdida which was the first hostel in the area and has a really homely feel.
One thing Santa Cruz is known for is its incredible views, from the lake, the volcanos, and the picturesque village, it is a feast for your eyes.
San Pedro La Laguna: This is another popular town worth checking out. It is no doubt quite a backpacker hub with plenty of hostels and affordable cafes and restaurants.
This is the perfect town to position yourself in if you are planning to hike the San Pedro volcano or if you are perhaps looking for an easier hike you will also find plenty of tour agencies offering the popular Indian Nose Hike.
San Juan La Laguna: Undoubtedly this is the place to experience the arts of the area and is also a great place to do some shopping and buy some authentic souvenirs.
There are definitely fewer tourists here than in other villages around the lake, so it can be nice to get away from all the crazy and come here for a breather.
San Marcos la Laguna: Now if you are more of a free-spirited type of person or quite into the yoga scene you may want to think about basing yourself in San Marcos. There are so many accommodation options here, and truly some are incredibly beautiful with amazing views out to the volcanos.
This is also an excellent spot for some delicious vegan and vegetarian food.
The perfect stay for backpackers and digital nomads. Dorm rooms start from $22.00 per night.

BOOK NOW

A party hostel perfect for those wanting to let loose and make friends. Prices start from $12.00 per night.

BOOK NOW

A lovely homely hostel right by the pier. Dorm rooms start from $11.00 per night.

BOOK NOW


Free Cerveza

Enjoy summer camp vibes and tipi dorm rooms. Prices start from $16.00 per night.
---
Things To Do In Lake Atitlan
Seeing as Lake Atitlan is such a popular spot to visit in Guatemala you can be sure there is plenty of things to do here. This is just a quick breakdown of some of the top options:
Study Spanish: Studying Spanish in Guatemala is a popular thing to do here, but even more so at Lake Atitlan. This is because of the relaxing atmosphere, beautiful scenery, and affordable living. You can find an assortment of Spanish schools in a lot of the towns and they will even do outdoor learning where you can enjoy the incredible views.
Hike: There is an assortment of hikes available in Lake Atitlan, where you can capture the best views this area has to offer. Whether you decide to hike a Volcano, do the popular Indian Nose hike, or simply to a viewpoint. It'll be sure not to disappoint.
Yoga: Lake Atitlan is yogi heaven, and that's not just San Marcos. You will find yoga classes in nearly all the towns around the lake. One of the most popular is called Eagles Nest and it has one of the best views you could imagine from its studio.
---
How I Book Cheap Transport In Guatemala: GuateGo
---
LIKE IT? PIN IT!
---
Want more Guatemala Inspiration? Check out….
---
Disclaimer: This post contains affiliate links. So, if you click on it and purchase something, I get a small percentage at no extra cost to you. As always all opinions are my own and your support is much appreciated.
Related Posts
If you are heading to Guatemala, more specifically Antigua, there is one thing you seriously [...]
2 Comments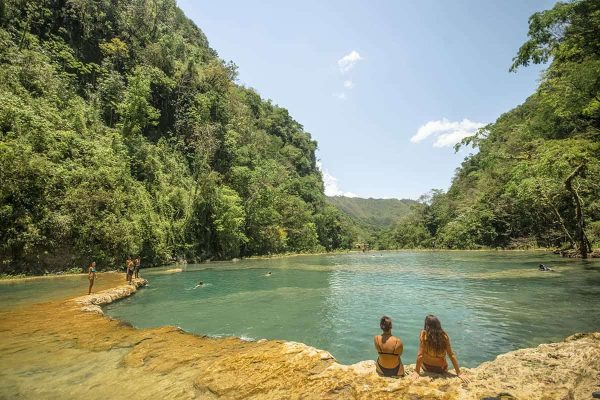 If you are keen to visit the popular Semuc Champey Mirador and Pools during your [...]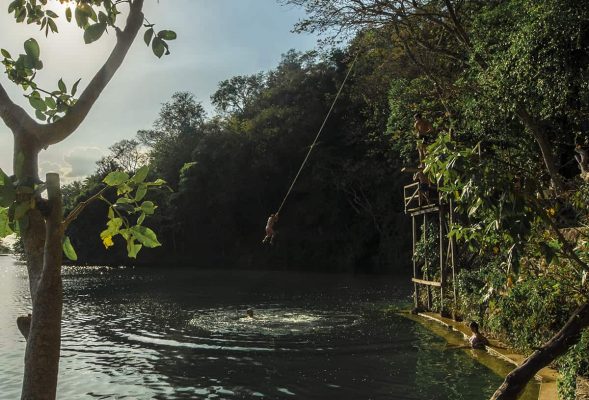 If you are looking for something to do while in Flores then definitely check out [...]