Wanting to travel from Guatemala to Honduras, then come find out exactly how to do so between the popular towns of Antigua to Copan Ruinas. No doubt these two places are well worth visiting while you are in Central America, though they do involve half a day's travel and a border crossing.
So let's find out how exactly I and heaps of other travelers make this journey by shuttle, Hedman Alas bus, chicken bus, or taxi including how to book, prices, and more!
---
Once you have finished exploring the amazing country of Guatemala it is time to continue your adventures through Central America. Why not choose Copan Ruinas as your perfect introduction to the country?
It's a quaint town with plenty of things to do for a couple of days, and it makes sense as your first stop in Honduras as it is relatively easy to travel from Antigua to Copan Ruians.
Whether you are into history, nature, or culture, you will find something to delight your senses and spark your curiosity in Copan Ruinas. It is actually home to one of the most impressive and important Maya archaeological sites in Central America.
It is known for its intricate sculptures, hieroglyphs, and tunnels that reveal the secrets of ancient civilization.
Luckily it is pretty easy to travel from Antigua to Copan Ruinas, though there are definitely some mistakes I made which I will help you to avoid. Also, there is no option here to fly between these two destinations so going overland is your only choice.
In this post, I will show you how to travel from Guatemala to Honduras in the best and easiest way possible whether that is by tourist shuttle, bus, chicken bus, or private taxi.
This includes what you need to know about the entry requirements and border crossings, what you can see and do in Copan Ruinas, and some tips and recommendations to make your trip a success.
| | | | |
| --- | --- | --- | --- |
| | Time | Cost | Highlight |
| Tourist Shuttle | 7 hours | from $42 | Direct Journey |
| Chicken Bus | 10+ hours | from $12.00 | Adventurous and fun |
| Hedman Alas Bus |  7 hours | from $50 | Comfortable and spacious |
| Taxi |  6 hours | from $300+ | Easy and stress-free |
---
Antigua To Copan Ruinas: Tips, Costs & My Experience Crossing From Guatemala To Honduras
---
How I Book Cheap Transport In Guatemala: GuateGo
---
Antigua To Copan Ruinas Distance
The journey from Antigua to Copan Ruinas is 174 kilometers in length, though this is the most direct route, and depending on the roads you take it can take a decent amount of time to travel.
Honestly, in a lot of other places, 174 kilometers would take a couple of hours or so max, here it is at least double or triple that. Yes seriously.
If you decide to take a private taxi they will use the main roads and take this route. Though booking with a bus company they will stop in Guatemala City where you will transfer from a taxi to a bus and have a check-in process, which in my case includes my baggage going through an xray.
---
Antigua To Copan Ruinas Travel Time
Okay so no matter what you decide to book, it will be a rather long journey from Antigua To Copan Ruinas. This is even more so if you decide to use some sort of public transport as Copan Ruinas is not the final destination for the majority in Guatemala.
Therefore buses generally set off very early in order to make it to destinations such as San Pedro Sula at a decent time.
Nevertheless, depending on which method you use will affect how long it takes:
Tourist Shuttle: Taking a tourist shuttle is more of a direct route and typically takes 7 hours.
Hedman Alas Bus: The majority of tourists, and locals will take the bus from Antigua to Copan Ruinas. For us, this journey took 10 hours including check-in at Guatemala City and the time for everyone to cross the border.
Taxi: Enjoy a quick and direct journey in a taxi which takes around 5 hours. Though you will need to change taxis at the border, and depending on your negotiating skills this may end up quite pricey.
Chicken Bus: This is the slowest method and involves multiple transfers. You can expect the journey to take approximately 10 hours with a chicken bus.
---
Entry Requirements For Honduras
I am not the most organised traveler as you will find out further below. Though do as I say not as I do!
Because I royally screwed up not looking into the entry requirements for Honduras prior to beginning to journey from Antigua to Copan Ruinas and easily could have been denied. Luckily everything worked out, though preparation is key.
Here are what the Honruas entry requirements are and what you need to know:
Six-month passport validity: As with the majority of countries its always good to have a minimum of six months of passport validity and at least two empty passport pages before you cross any international border.  Be aware that some countries may turn you away without this.
Days remaining on CA-4 visa: Since you have just been in Guatemala you need to be aware of the amount of days left on your CA-4 Visa. With this you have 90 day stay across Honduras, Guatemala, El Salvador, and Nicaragua).
Honduras pre-check form: Before entering Honduras, you will need to fill out their online pre-check form.  Ideally, this should be completed a few days prior to travel as it can take a while for the confirmation to come through.
Though as the underprepared traveler that I am I of course had no idea this existed until I was literally about to board my bus. The company made us submit it and screenshot everything in case it hadn't been approved by the time we arrived at the border. Luckily we received confirmation an hour before arriving.
---
Tourist Shuttle From Antigua To Copan Ruinas
If you are looking for a convenient and comfortable way to travel from Antigua Guatemala to Copan Ruinas, you might want to consider taking a tourist shuttle bus.
Shuttles are the fastest and easiest way to travel in Central America, and if you have been traveling Guatemala no doubt you have already taken quite a few of these.
Using a tourist shuttle all the hard work is done for you. There is no need to worry about transfers in different cities, and there will be a shorter wait at the border crossing as you only need to wait for 8 or so other passengers, not an entire bus load.
One thing to be aware of is that your driver may only speak a little bit of English, or literally nothing at all. Though don't worry as generally at least one person onboard will know enough Spanish to translate for everyone else. 
As this is a longer journey you will make at least one bathroom stop before crossing the border. Though it is generally an early start it is also a smart idea to bring some food with you onboard for breakfast.
Typically the journey will take around 7 hours. Though be aware that blockades are pretty common in Guatemala, and completely random, though the drivers are used to this and always come up with a plan B, but there still can be delays.
Also if it is quite busy at the border you may find yourself waiting around. Luckily it is not too much further from the border to Copan Ruinas.
Nevertheless, this is definitely the best choice for travelers wanting to get from Antigua to Copan Ruinas.
---
How To Book Tickets
Luckily for travelers these tourist shuttles are crazy easy to book! Basically, you have two different options for doing this, either online in advance or in Antigua through your accommodation.
Just be aware it is best to book your tickets a couple of days in advance as these shuttles do and can be booked out. I traveled Guatemala during the month of May which is considered the shoulder season, but these shuttles still got booked up.
The following is a list of what companies currently run the Antigua to Copan Ruinas with a tourist shuttle.
Shuttles from Antigua to Copan Ruinas:
Adrenalina Tours:  Departs at 4 a.m. from Antigua, Guatemala on Tuesdays, Thursdays, and Saturdays. The price is $50.00 per person.
Guatemala Transportation: Departs at 4 a.m. from Antigua, Guatemala on Tuesdays, Thursdays, and Saturdays. The price is $50.00 per person.
Gekko Trails Explorer: Departs at 4 a.m. from Antigua, Guatemala on Tuesdays, Thursdays, and Saturdays. The price is $42.00 per person.
Marvelus Bookings: Departs at 4 am from Antigua, Guatemala on Tuesdays, Thursdays, and Saturdays. The price is $50.00 per person.
I actually booked my transport directly through my hostel in Antigua and presumed I would also be on a tourist shuttle since that is what I had always traveled around Guatemala in.
Though I was surprised to be transferred onto a bus in Guatemala City, more on this experience is below. Just be aware if you want to book an actual tourist shuttle make sure to do so directly through the operators.
---
Where Does The Shuttle Drop You Off In Copan Ruinas
Now the majority of shuttles won't drop you off at your accommodation in Copan Ruinas. I know it would be nice if they did, especially after such a long day of traveling.
Though in all honestly I would much rather be dropped off in a central location rather than drive around for an extra hour dropping everyone else off at their accommodation.
Luckily enough the shuttle drivers do drop you off in a pretty central location at the main square. Most hostels will be about a 5 or 10-minute walk away from here. Though if you don't feel like walking there are plenty of tuk-tuks around.
You will also be able to find a few different ATMs around the main square where you can withdraw lempira and begin your adventures in Honduras!
---
Taxi From Antigua To Copan Ruinas
Now taking a taxi isn't too common on this route, unfortunately. The distance from Antigua in Guatemala to the border is approximately 260 kilometers where you will then go through immigration and need to jump into another taxi for the remainder of the journey to Copan Ruinas.
However, I crossed this border around 1 p.m. and didn't see any taxis whatsoever waiting to give people rides.
With an expensive journey and difficulty catching a taxi at another end, it is easy to see why this isn't a common choice with travelers. Plus getting the bus or booking a tourist shuttle is so easy and affordable.
Honestly, I do not recommend taking a taxi from Antigua to Copan Ruinas.
---
Hedman Alas Bus From Antigua To Copan Ruinas
Now this is different from taking a chicken bus and different from the tourist shuttles as well. This is a great option for someone wanting to book direct transport at a relatively affordable price.
You will find locals and travelers alike choosing to book with a private bus company to travel from Antigua to Copan Ruinas.
Now one thing to be aware of is that a lot of these companies actually closed down or stopped running this route as a result of covid 19 and not being able to fill the buses.
I can confirm that Hedman Alas Bus has resumed its route from Antigua to Copan Ruinas, as this is actually who I traveled with. Though a lot of publications online claim that this route closed down in 2020 and is yet to reopen, even the Hedman Alas website shows no information available.
I am not sure whether they used to actually operate a bus from Antigua and perhaps this has stopped as we had to take a taxi (which was included in our fare) to their bus terminal in Guatemala City where we then checked in and jumped onboard the bus. Though more on my exact experience down below.
The bus has air conditioning blasting (a bit too cold if I am to be honest), as well as a toilet onboard. The seats also recline and it was quite a roomy and comfortable journey.
---
How To Book Tickets
Now I actually booked my tickets through my hostel in Antigua called Maya Papaya, though I know they don't sell their tours and transport to guests who aren't staying there. Therefore I would recommend contacting your accommodation in Antigua and seeing if they are able to book this for you.
Alternatively, you can wait until you are on the ground in Antigua and talk to a few travel agencies as there are plenty around. I ended up paying 450Q / $57.00 which is a bit more than the standard tourist shuttle, though you do have more onboard.
If you know and understand a little bit of Spanish you can book it online on the Hedman Alas website. Though it is a bit glitchy and confusing, the prices are cheaper. Honestly, I would recommend waiting until you have arrived in Antigua and talking with your accommodation or a local travel agency.
Also, there are two different seat types available on the Hedman Alas bus service. The first is ejecutivo / executive which is basically your standard seat. The other option is plus which is lazy boy style seats with plenty of legroom, though this is about double the price.
---
Where Does The Shuttle Drop You Off In Copan Ruinas
Hedsman Alas does have quite a nice and fancy office in Copan Ruinas. They use this as their first bathroom/rest break once they have crossed over to Honduras.
It is located a short walk out of the main center of Copan Ruinas and it is completely safe to walk. Though I will say, Copan Ruinas is located up a steep hill, it isn't massive in size, but it is crazy steep, especially up some streets.
Therefore you may want to book a tuk-tuk to take you to your accommodation which you can find plenty of along the main road outside the office.
---
My Experience Taking The Hedman Alas Bus From Antigua To Copan Ruinas
Now to get into my experience taking the bus from Antigua to Copan Ruinas. Though let's rewind a few days to when I purchased my tickets which honestly was rather eventful.
My hostel had a booklet with all transport and tours they offered and to Copan Ruinas, it stated air conditioning, bathroom, and semi-reclining seats 3 am departure 450Q / $57.00.
Now this is a bit pricey, though honestly shuttles in Central America and generally more on the expensive side so I didn't think twice.
Okay now let's fastward a few days. It's a 2.30 am wake-up, scrabbling to pack our bags under our phone torch so as not to wake our fellow travelers in the dorm. Venturing out into the night
I wait just inside the door to my hostel until a small car eventfully rolls up and stops. I confirm this is my ride, and this certainly isn't a shuttle, or have a bathroom onboard as I expected, but oh well it is pretty comfortable and there are only 3 of us.
Driving into the night I dose in and out of sleep but we are soon in Guatemala City, at a bus station with signage of Hedman Alas. I guess we will be jumping on a proper bus. We grab our bags and head inside where there is a large queue of people checking in.
Joining in the back of this queue the staff check our documents and confirm we have submitted everything, which we of course had not. Luckily we were able to do it at their offices and the staff double-checked everything including the pre-check form.
Once everyone was sorted which did take approximately an hour or so we lined up for the bus where our bags and belongings were chucked through an x-ray machine.
Finally, we are onboard just in time to watch the sunrise over Guatemala City and I try to sleep even though the air conditioning is blasting extremely cold.
Drifting in and out we slowly make our way to the Guatemala-Honduras border. There is only one rest stop made for snacks though because there is a toilet onboard it's no big deal.
I am for sure the type of person who watches my Google Maps location and it heading closer and closer. Eventually, we finally make it to the border where I jump off in excitement to some warm air.
First off we all head inside to the Guatemala immigration to exit the country. This is a super easy procedure, though there is also a lady who speaks both Spanish and English who works for the bus company who is assisting everyone and telling you where to go.
Next up we head over to the neighboring building which is the Honduras immigration. Again this is a super easy process and the last-minute documents I submitted must have gone through as I wasn't questioned about them.
We were actually in the front portion of bus passengers so once we had finished the whole immigration process we had to wait another 40 minutes or so to wait for everyone else.
Also because this is a border crossing we couldn't jump back onboard the bus until we were all together as a dog would sniff everyone's luggage. Finally, this happens with no drama and we all get back on the bus.
Luckily from immigration, it is a super easy drive through to Copan Ruinas only taking around 30 minutes. Just as we are getting comfortable again, it is time to jump back off, grab our luggage and get to our accommodation.
The Hedman Alas bus terminal in Copan Ruinas was a short walk away from the main town so we strap on our bags and start our new adventures here in incredible Honduras!
All in all the bus was an enjoyable way to travel from Antigua to Copan Ruinas and was super comfortable, especially compared to some of those minivans and shuttles where they squish everyone in.
Also having someone to assist passengers through the immigration process at both Guatemala and Honduras was a huge bonus. However the downside is that it is quite a confusing check-in process in Guatemala, mainly because only a couple of staff spoke English so it took a while to get our questions answered.
Also for me, I ended up getting on this bus service simply by luck, that is who my hostel had as their transport provider, though if you want to book them yourself without a local contact this may be more difficult.
---
Chicken Bus From Antigua To Copan Ruinas
Honestly, the chicken bus is a bit of a controversial transport option. For the most part, it appears the locals understandably don't want tourists to take these chicken buses due to safety concerns, and being a foreigner you generally become a target.
Though travelers think this mindset is an old school, not a realistic approach, and if you use common sense you will be fine.
You know best as to whether or not this will be an appropriate option for you. Nevertheless, it will for sure be an adventure for travelers looking to get off the beaten track and have meaningful experiences with locals.
Now to the chicken buses. If you have traveled Guatemala, at all, you would have become quite acquainted with these huge colorful buses. They are actually former American School buses that have been imported here to live out the remainder of their days.
No doubt this is the epitome of transport in Guatemala, so if you are looking for a true experience you know what you need to do.
Though what you need to know is that there are no direct chicken buses from Antigua to Copan Ruinas.
---
How To Take The Chicken Bus From Antigua To Copan Ruinas
So now you know whether or not taking a chicken bus from Antigua to Copan Ruinas, is the right choice for you. Let's get into how exactly to do it.
The price will come out around Q80 – 120 / $10.00 – $15.00 but be aware this can change depending on how long it takes to fill the bus as it doesn't leave until someone is in each seat. The total journey will be somewhere around 10 hours.
This basically depends on how long you need to wait for the bus to depart.
The first bus you need to take is from Antigua to Chiquimula, a city in eastern Guatemala. You can find chicken buses at the main bus terminal in Antigua or along the road outside the city. The fare is about $1 to $2 and the journey takes about 3 hours.
The second bus you need to take is from Chiquimula to El Florido, a border town in Guatemala. You can find chicken buses at the main bus terminal in Chiquimula or along the road outside the city. The fare is about $1 to $2 and the journey takes about 2 hours.
At El Florido, you will need to cross the border into Honduras. You will need your passport and some cash (US dollars or Honduran lempiras) to pay the exit fee (around $3) in Guatemala and the entry fee (around $5) in Honduras.
The border crossing may take up to an hour depending on the traffic and the immigration procedures.
The third bus you need to take is from El Florido to Copan Ruinas, a town in western Honduras. You can find chicken buses at the main bus terminal in El Florido or along the road outside the town. The fare is a couple of dollars and the journey takes about 1 hour.
Once you have arrived at the bus station in Copan Ruinas, which is about 1 km from the town center and the archaeological site.
---
FAQs About Traveling From Antigua To Copan Ruinas
How many days to spend in Copan Ruinas? Copan Ruinas is a cute and quaint town that has a couple of main attractions that can be smashed out in a day or two. Nevertheless, we ended up staying 3 nights simply due to set shuttle days for our next journey from Copan Ruinas to La Cieba in Honduras.
If you are wanting to travel slowly and relax a bit then stay 3 nights, otherwise 2 nights are perfect.
How far in advance do I need to book tickets? It is recommended you book tickets in advance to ensure you can travel with a reputable, clean, and safe company. You should try for at least a few days in advance to be safe. Though if you are not worried about this then book at least 24 hours in advance.
---
Where To Stay In Copan Ruinas
Copan Ruinas is a super quaint and just chill town. There are a few accommodation options here, but you won't find a lot compared to Guatemala.
Honestly, I think of it being because travelers have two options to take, either El Salvador, or Honduras, and because of safety concerns they tend to choose the other option. Though you will be glad you chose Honduras because it's an absolutely incredible country.
One thing to be aware of is Copan Ruinas does lack hostel options, though this doesn't mean you won't find other backpackers here. This is a super popular spot with budget travelers and you will find plenty of affordable guesthouse and accommodation options.
Personally, I stayed at Hostel Iguana Azul which is the only hostel option with a dorm room, but I did book in the private rooms which are equally as affordable. We had a shared bathroom and it was fan cooled. Facilities were on the basic side, but for the price point, this was an excellent choice.
My favorite choice for an affordable option. Dorm rooms start from $12.00 per night and private $22.00 per night.

BOOK NOW

Another affordable choice close to the town center. Private rooms start from $21.00 per night with a shared bathroom.

BOOK NOW

La Casa de Cafe Bed And Breakfast

This is the fancy sister property of Iguana Azul. It's super nice and rooms start from $70.00 per night.

BOOK NOW

A little bit more pricey but there is a small pool. Dorms start at $18.00 per night and privates $30.00

BOOK NOW
---
Things To Do In Copan Ruinas
Copan Ruinas is a charming town in Honduras, famous for its proximity to the ancient Mayan ruins of Copan. But there is more to this place than just the archaeological site.
Copan Ruinas offers a variety of activities and attractions for visitors who want to experience the culture, nature, and history of this region. Here are some of the best things to do in Copan Ruinas:
Marvel At The Copan Ruins: One of the most fascinating sights in Honduras is the Copan Ruins, a UNESCO World Heritage Site that showcases the ancient Mayan civilization. You can explore the impressive temples, plazas, altars, and sculptures that reveal the history, culture, and art of the Maya.
One highlight is the Hieroglyphic Stairway, which has more than 1,800 glyphs that form the longest known Mayan inscription.
Explore Macaw Mountain: This is a bird park and nature reserve that rescues and rehabilitates macaws, toucans, parrots, and other exotic birds. You can walk through the lush forest, interact with the friendly birds, and learn about their conservation.
Visit the Copan Sculpture Museum: This museum showcases the impressive art and architecture of the Mayan civilization that flourished in Copan. You can see original sculptures, stelae, altars, and hieroglyphs that depict the rulers, gods, and rituals of the ancient city.
Relax at the Luna Jaguar Spa Hot Springs: This is a natural spa that offers thermal pools, massages, mud baths, and sauna. You can enjoy the soothing waters surrounded by tropical vegetation and volcanic rocks. Just be aware this is a little bit of a drive away, but there are plenty of tours on offer that you can book.
Shop for souvenirs and explore the town: Copan Ruinas has a charming colonial atmosphere with cobblestone streets, colorful houses, and friendly locals. You can shop for handicrafts, jewelry, textiles, and pottery that reflect the Mayan heritage of the area.
You can also check out the weekend market, where you can find fresh fruits, vegetables, cheese, and tortillas.
---
How I Book Cheap Transport In Guatemala: GuateGo
---
LIKE IT? PIN IT!
---
Want more Guatemala Inspiration? Check out….
---
Disclaimer: This post contains affiliate links. So, if you click on it and purchase something, I get a small percentage at no extra cost to you. As always all opinions are my own and your support is much appreciated.
Related Posts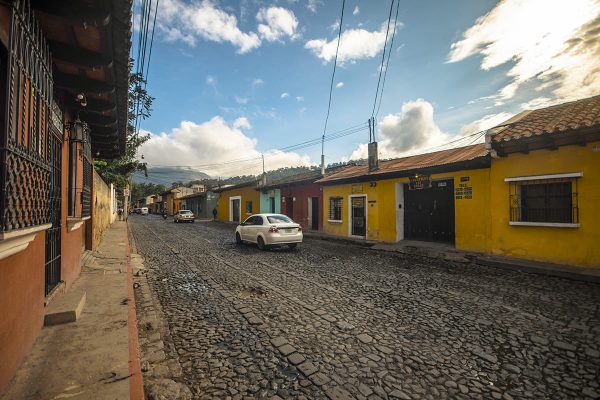 Find out exactly how to travel from Semuc Champey To Antigua in Guatemala. No doubt [...]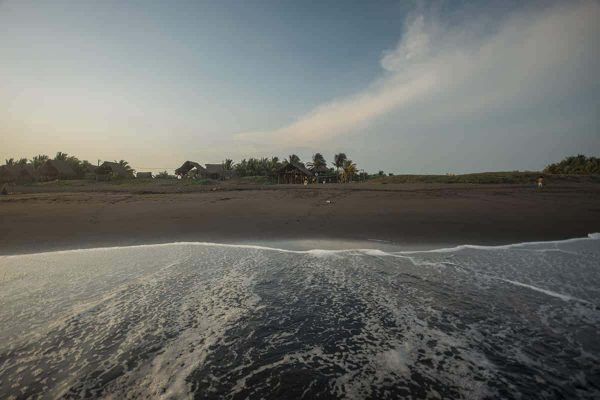 Come find out all you need to know about backpacking El Paredon in Guatemala. In [...]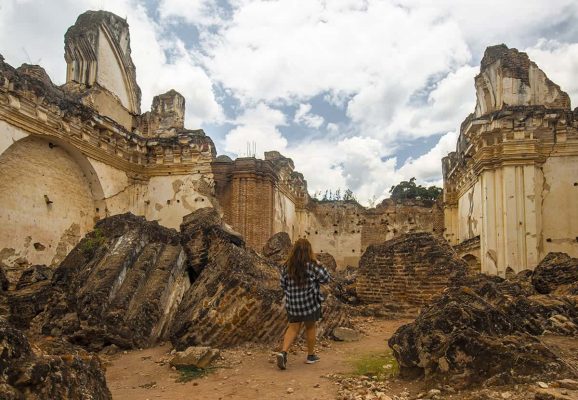 Come check out all you need to know about backpacking Antigua on a budget in [...]