Whether you are a Lord Of The Rings and Hobbit fan, or not, visiting Hobbitenango is well worth the trip when you are in Antigua. I will let you know everything you may need to know for your visit including transport, costs, things to do and more!
---
Now maybe you are a fan of the Lord of the Rings or The Hobbit movies, you might have dreamed of visiting the Shire, the idyllic home of the Hobbits in New Zealand.
Or perhaps you are like me and honestly couldn't care less about the movies, but want something different to do in Antigua, Guatemala. Regardless of your reasoning Hobbitenango is well worth a visit from Antigua.
Come embrace your inner hobbit by visiting Hobbitenango. It is surprisingly easy to get to and is fun no matter your age or interests. I mean I am a New Zealander who has never visited Hobbiton (yet) in my home country, even when I have been in the same town.
Though Hobbitenango is a bit of an eco-park where there is so much more than photo opportunities, which is what interested me in visiting.
You can enjoy stunning views of the Panchoy Valley and the surrounding volcanoes while exploring the whimsical hobbit houses, playing mini-golf, throwing axes, swinging on a giant swing, and eating delicious food at the restaurant.
It's a perfect day trip from Antigua for families, couples, or solo travelers who want to have some fun and adventure in a magical setting.
In this post I will tell you everything you need to know about visiting Hobbitenango, including how to get there from Antigua (both by yourself, or in their shuttle), entry fees, the best time to visit, things to do there, staying the night, and eating at their onsite restaurant.
Ultimately allowing you to make the most out of your trip to Hobbitenango and have the perfect day.
---
Visiting Hobbitenango From Antigua: All You Need To Know
---
How I Book Cheap Transport In Guatemala: GuateGo
---
Why Visit Hobbitenango
Hobbitenango is a place where you can reconnect with nature and yourself while having fun and learning about the Hobbit culture. You can admire the breathtaking scenery, breathe the fresh mountain air, listen to the birds and the wind, and feel like you are in another world.
You can also learn about the history and philosophy of the hobbits, who value simplicity, harmony, friendship, and adventure. Seriously I had so much fun just wandering and getting lost here.
Hobbitenango is also a place where you can unleash your inner child and have a blast with your friends or family. You can play games, take photos, enjoy delicious food and drinks, and make unforgettable memories.
Whether you are a fan of the Lord of the Rings or not, you will find something to love at Hobbitenango.
Though it is not just a theme park, it's also an eco-friendly project that aims to preserve the natural environment and support the local community. The park was built with recycled materials and local labor, and it uses solar panels and rainwater harvesting to minimize its ecological footprint.
The park also employs local people and supports social projects in the nearby villages.
You can visit and have an incredible time, knowing you are getting some awesome photos and making some crazy memories, but also supporting the local community.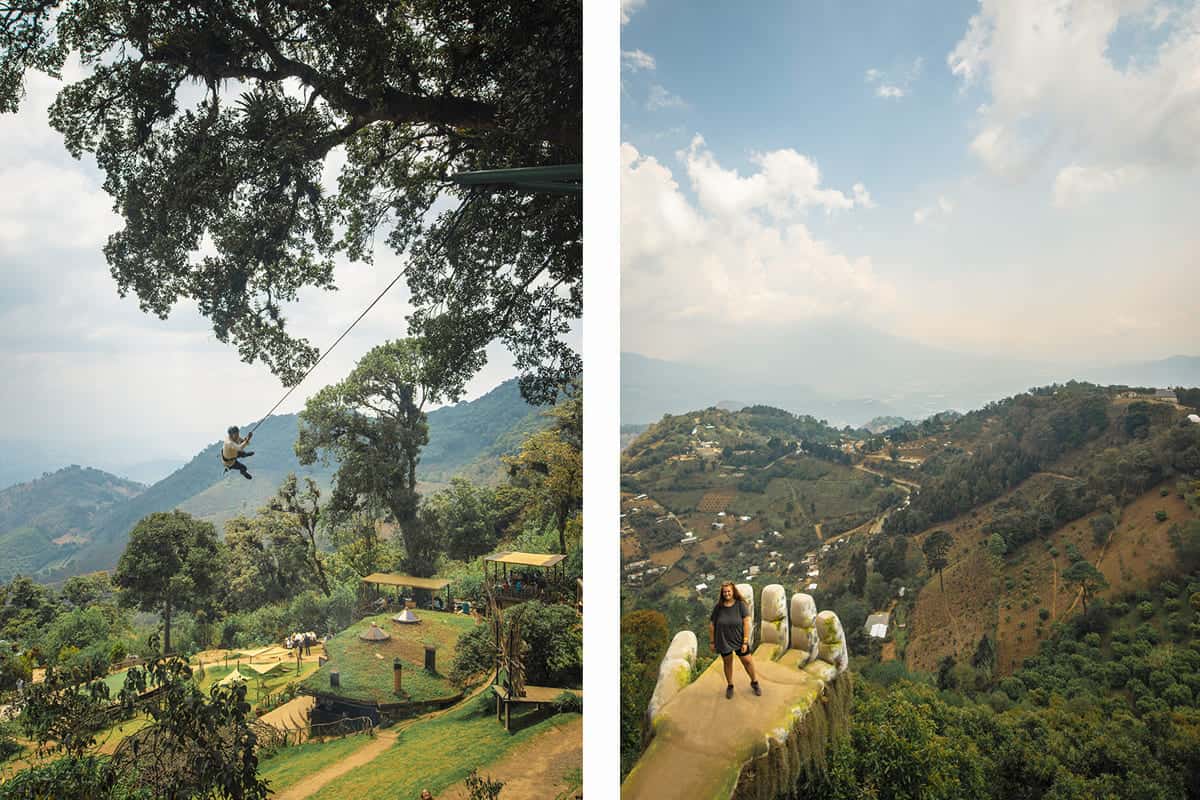 ---
What If I Don't Like Lord Of The Rings – Should I Go?
If you are not a fan of the Lord of the Rings or The Hobbit movies, you might be wondering if Hobbitenango is worth visiting. The answer is yes! Even if you don't know anything about hobbits or Middle-earth, you can still enjoy Hobbitenango as a beautiful and fun eco-park.
Honestly, I had this exact same issue prior to going. I think I watched the first 10 minutes of one of the Lord Of The Rings movies before I got bored and turned it off.
Being from New Zealand I had seen hundreds of photos of Hobbiton, but I have never gone out of my way to visit. Though having some extra time in Antigua, and wanting to check out those awesome views, I decided to give Hobbitenango a go, and I was pleasantly surprised.
Hobbitenango is not a replica of the movie set in New Zealand, but rather an original interpretation of the hobbit lifestyle and culture. The park is designed to blend in with the natural landscape and create a cozy and charming atmosphere.
The hobbit houses are not exact copies of those in the movies, but rather unique creations that reflect the personality and hobbies of their owners.
Hobbitenango is also more than just hobbit houses. It's a place where you can do many activities that are not related to the movies, such as mini golf, axe throwing, swing with a view, and more.
You can also enjoy the stunning views of Antigua and its volcanoes from different viewpoints around the park. This is what enticed me going as someone who isn't interested in the movies and the hype around them.
So even if you are not a fan of the Lord of the Rings or The Hobbit movies, you should still visit Hobbitenango if you are looking for a fun and relaxing day trip from Antigua.
---
Entry Fee To Hobbitenango
The entry fee to Hobbitenango is Q50 / $6.40 per adult and children aged 4 to 11 pay Q30 / $4.00.
The entry fee includes access to all areas of the park, though be aware that some activities have an extra cost. Also included is round-trip transportation by 4×4 jeep from the bottom of the hill where the carpark is located to the park entrance.
You can pay your entry fee at the Hobbitenango office in Antigua, which I will provide more details on further below, or at the park entrance. You can pay with cash, both USD and Quetzales or by credit card.
---
Opening Hours Of Hobbitenango
Hobbitenango is open Monday to Sunday from 8:00 am to 6:00 pm.
Though I will say that if you are spending a few days in Antigua, try and plan your visit to Hobbitenango on a weekday rather than a weekend to avoid the crowds. This is also a popular spot with locals so there can be a lot of lines for the activities.
If you want to stay overnight at one of their cabins, which I will touch on further below, you can check in from 3:00 p.m. and check out by 11:00 a.m.
The restaurant at Hobbitenango is open from 8:00 a.m. to 5:00 p.m. on weekdays and from 8:00 a.m. to 6:00 p.m. on weekends and holidays. The bar is open from 11:00 am to 6:00 pm on weekdays and from 11:00 am to 7:00 pm on weekends and holidays.
---
How I Book Cheap Transport In Guatemala: GuateGo
---
The Hobbitenango Office In Antigua
The office is open every day from 7:30 a.m. to 5:30 p.m. You can visit it if you want to buy your entry ticket in advance, book your shuttle service, reserve your cabin, or get more information about Hobbitenango. I actually decided to book a shuttle through them as well as my tickets and it was a seamless process.
The Hobbitenango office in Antigua is located near Cerro de la Cruz (the hill with a cross that overlooks Antigua), on Calle de los Pasos #20A. You can find it on Google Maps by searching for "Hobbitenango Oficina".
---
How To Get To Hobbitenango From Antigua
Okay, let's get into how exactly to get to Hobbitenango since it is a little bit of a drive out of the center of Antigua.
Shuttle service: This is probably the easiest and most convenient way to get to Hobbitenango. You can book your shuttle service at the Hobbitenango office in Antigua for Q85 / $11.00 per person round-trip.
The shuttle departs every hour from 8:00 am to 3:00 pm from Monday to Friday, and every half hour from 8:00 am to 4:00 pm on weekends and holidays. The shuttle takes about 20 minutes to get to Hobbitenango.
The return shuttle departs every hour from 9:30 a.m. to 5:30 p.m. from Monday to Friday, and every half hour from 9:30 a.m. to 6:30 p.m. on weekends and holidays.
Uber: Taking an Uber is an excellent way to travel around Antigua and I highly recommend this transport method. You will know what fare you will be paying in advance, and there is no language barrier as the spot you are wanting to head to is pinpointed on the map.
Be aware that the Uber fare will depend on the availability and demand, but it should be around Q30-60 / $4-8 one way. Though from my experience, due to the mountainous unpaved roads Uber drivers will typically ask for more than the app states Q100 / $13.00.
This isn't a scam, it's just the drivers ensuring the cost of taking you so far out of town is covered.
Be aware that Uber drivers don't usually hang in the Hobbitenango carpark so you may have difficulty getting one back to Antigua, though there will be plenty of other drivers who will take you for a pretty reasonable price.
Driving yourself: If you have your own car or rental car, you can drive yourself to Hobbitenango. However, be aware that the road is steep and unpaved for some parts, so you will need a high-clearance vehicle with good traction.
There is free parking at the car park of Hobbitenango and from there you can take the 4×4 jeep to the park entrance.
ATV Mountain Adventure Tour: If you are feeling adventurous and want to add some thrill to your trip, you can book an ATV Mountain Adventure Tour with Simoon Rentals & Tours.
This tour includes a 1-and-a-half-hour visit to Hobbitenango, as well as a 3-hour ride on an ATV through the mountains and villages around Antigua. The tour costs $75 USD per person and includes transportation, equipment, a guide, an entrance fee, and lunch.
---
How Long To Spend At Hobbitenango
The amount of time you spend at Hobbitenango will depend on how much you want to do and see there. However, I would recommend spending at least 3 hours at the park to enjoy all the activities and attractions.
If you are visiting Hobbitenango on a day trip from Antigua, you can plan to arrive around 10:00 a.m. and leave around 3:00 p.m. This will give you enough time to explore the park, play some games, have lunch at the restaurant, and take some photos.
If you are staying overnight at Hobbitenango, you can arrive anytime after 3:00 p.m. and check out by 11:00 a.m. This will give you more time to relax and enjoy the park at your own pace. You can also watch the sunset and sunrise from the park, which are spectacular.
---
Things To Do At Hobbitenango
Hobbitenango is not just a place to look at hobbit houses, it's also a place where you can have fun and adventure with many activities. Here are some of the things you can do at Hobbitenango:
---
The Hobbitenango Hand Photo Point
One of the most iconic attractions at Hobbitenango is the giant stone hand that emerges from the ground near the entrance of the park. This hand is called "El Coloso" (The Colossus) and it's a tribute to the hobbits' courage and strength.
It's also a great spot to take photos with the stunning backdrop of Antigua and its volcanoes.
You can climb on top of the hand or pose next to it for some epic shots. Just be careful not to slip or fall, as the hand is quite high and steep. You can also use props like hats, cloaks, or pipes to make your photos more hobbit-like.
It seems most people get a photo from standing a few meters away, though I made my partner wait up the top while I lined up for my turn. By having him shoot from up there I was able to capture a lot more of the valley views.
No doubt if it was a cloudless day the views would have been even more epic as well.
---
Axe Throwing
If you want to test your aim and release some stress, you can try axe throwing at Hobbitenango. It's a fun and challenging activity that anyone can do, regardless of age or skill level.
At Hobbitenango, you can find two axe-throwing areas: one near the entrance of the park and one near the restaurant. You can rent an axe for Q10 / $1.00 for 10 throws or Q25 / $3.00 for unlimited throws.
---
Swing With A View
Another thrilling activity at Hobbitenango is swinging on a giant swing that hangs from a tree over a cliff. This swing is not for the faint-hearted, as it will make you feel like you are flying over the valley below. You can enjoy the adrenaline rush and the amazing views as you swing back and forth.
The swing is located near El Coloso (the hand) and it's free to use. However, you will need to sign a waiver before using it. You will also need to wear a helmet and a harness for safety reasons. You can swing alone or with a partner, depending on your preference.
The swing had the biggest ques during my visit, especially because each person takes a few minutes on the swing, so the line moves slowly. Because of this we didn't go on it. Though it was fun to stand around watching everyone screaming their heads off.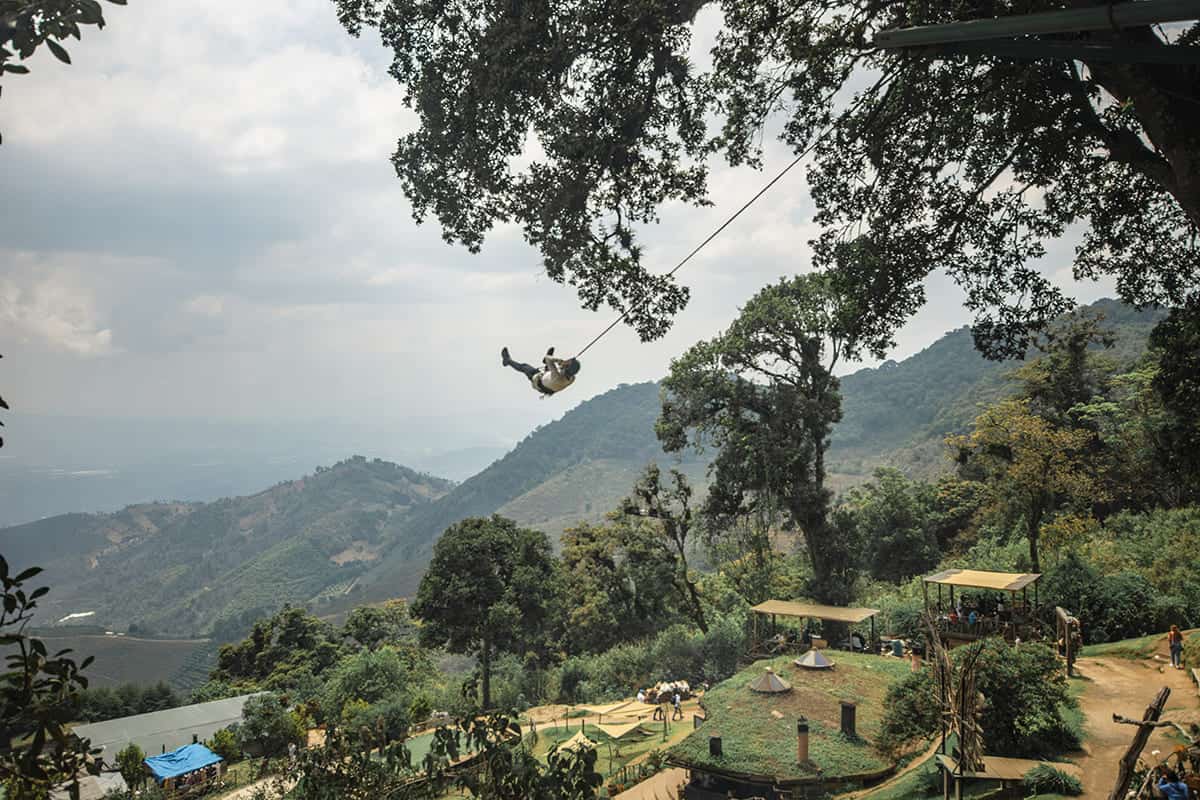 ---
The Nest
If you are looking for a cozy and romantic spot to relax and enjoy the views, you can head to "El Nido" (The Nest), a wooden platform that resembles a bird's nest. This platform is located near El Coloso and it's surrounded by trees and flowers. It's a perfect place to cuddle up with your partner or read a book.
The nest is free to use, but it's subject to availability. You might have to wait for your turn if there are other people using it. You can also bring your own snacks or drinks to enjoy at the nest, but please be respectful of the environment and don't leave any trash behind.
---
Mini Golf
One of the most popular activities at Hobbitenango is playing mini golf on their seven-hole course that winds through the mountain. This course is not your typical mini golf course, as it has many obstacles and challenges that make it more fun and interesting. You can find bridges, tunnels, ramps, waterfalls, and even a dragon on this course.
You can rent a golf club and ball for Q25 / $3.00 per person for unlimited playtime. You can also get a scorecard if you want to keep track of your score. The mini golf course is open from 8:00 a.m. to 5:00 p.m. every day.
---
Archery
If you want to channel your inner Legolas or Katniss, you can try archery at Hobbitenango. There are two archery areas: one near the entrance of the park and one near the mini golf course. You can rent a bow and arrows for Q10 / $1.00 for 10 shots or Q25 / $3.00 for unlimited shots.
You can also get tips and instructions from the staff on how to shoot a bow safely and accurately.
---
How I Book Cheap Transport In Guatemala: GuateGo
---
Staying At Hobbitenango
If you want to extend your hobbit experience beyond a day trip, you can stay overnight at one of their cabins at Hobbitenango. There are four different types of cabins available and they are all designed in hobbit style, with round doors, windows, fireplaces, and cozy furniture.
They are also equipped with modern amenities such as private bathrooms, hot water, electricity, wifi, and heaters.
---
Food At Hobbitenango
No hobbit adventure would be complete without some delicious food and drinks. Luckily, Hobbitenango has two restaurants where you can feast like a hobbit and enjoy the views.
The main restaurant is located near the entrance of the park and it offers a buffet service on weekends and holidays. The buffet costs Q129 / $17.00 per person for breakfast (from 8:00 a.m. to 12:00 p.m.) and Q169 / $22 USD.00 per person for lunch (from 12:30 p.m. to 5:00 p.m.).
The buffet includes a variety of dishes, such as eggs, pancakes, sausages, beans, salads, soups, pasta, meat, vegetables, desserts, and more. You can also order drinks, such as coffee, tea, juice, soda, beer, wine, or cocktails.
The other restaurant is located near the mini golf course and it offers an à la carte service every day. The menu includes dishes such as sandwiches, burgers, pizzas, salads, nachos, tacos, burritos, quesadillas, and more.
The prices range from Q25 to Q75 / $3.00 to $10.00 per dish and from Q10 to Q45 / $1.00 to $6.00 per drink. I tried the pizza from the restaurant for lunch and I can highly recommend it! Plus there are lovely little huts with waitstaff where you can relax and enjoy your meal.
---
My Experience At Hobbitenango
So having a few extra days in Antigua before heading over to Honduras I decided why not go see what all the hype of Hobbitenango is about. I mean I am a Kiwi who hasn't been to Hobbiton in her own country, so how ironic would it be to go to one in Guatemala?
We decided the easiest way to get there would be using the shuttle provided by the company, so we headed to the Antigua office to book our tickets.
Though we found out the return shuttle back into the city only left every couple of hours, and not wanting to be stuck waiting around we decided to just book the shuttle one way. Soon enough a large 4×4 jeep pulls up and we jump in, ready to begin our journey to Hobbitenango.
Up the windy hill roads, we pass villages, through road works, and finally arrived at the carpark. From there we jumped onboard another jeep that would take us the rest of the distance, up the rather large hill, to Hobbitenango.
Finally arriving, we showed our tickets and were left free to roam the park. We decide to skip the buffet lunch as it was quite busy, and instead check out the restaurant further up the park, but we have to get there first.
Past little Hobbit houses, and little market stalls, where we of course buy some sweet goodies, we find one of the little huts to enjoy the great weather with an awesome view of the valley. We order a couple of pizzas which are absolutely delicious then continue our way exploring the eco-park.
Climbing up the path a bit further we pass some cute lookout points where to find the incredible swing going right over the hillside. As this was a weekend day we decided to visit there were quite long lines, so we skip this one.
Though of course, we have got to watch everyone give it a go as their screams echo. By the way, if this is something you want to do, we met some other travelers who visited on a weekday when there were zero lines, and they were able to do the swing multiple times, as well as plenty of the other games.
We stop for some barista coffees before heading down to the popular photo spot with the hand reaching out over the hillside. of course, again, the lines here are huge, and though determined to get the photo, I patiently wait and eventually get there.
After taking some photos we head to other areas of the park as well such as the archery and the axe throwing. Though of course being a weekend there are massive lines as well. Instead, we choose to take some photos in front of the cute little hobbit houses and head back down to the exit.
The problem is, there are massive lines to catch the jeeps down to the carpark. It seems like everyone wants to leave at the same time and there is no way we are going to be in the next 3 or 4 jeeps with the number of people in front of us.
Instead, we decide to walk down to the carpark which allows us to check out some of the other views around. Just be aware that the road is super steep, and only fits a car in some areas, so you will need decent shoes.
At the bottom we find 2 other travelers and negotiate with a taxi driver to drop us back off in the main plaza for Q100 / $13.00 which is split four ways is pretty affordable.
Honestly, I wish I visited on a weekday when we could've participated in more activities without waiting in crazy lines. Though it is a pretty affordable day out, especially compared with the one in New Zealand you can visit. I will say it is completely worth visiting, though if you can go on a weekday.
---
Other Things To Do Near Hobbitenango
If you want to explore more of the area around Hobbitenango, you can find some other attractions and activities nearby.
Earth Lodge: This is another eco-lodge and avocado farm that offers stunning views of Antigua and its volcanoes. You can stay overnight at one of their treehouses or cabins, or just visit for the day and enjoy their restaurant, bar, yoga classes, hiking trails, and hammocks.
Earth Lodge is located on the same road as Hobbitenango, about 10 minutes before reaching the parking lot.
Cerro de la Cruz: This is a hill with a cross that overlooks Antigua and offers panoramic views of the city and its surroundings. You can hike up to the top of the hill from the Antigua City Center, which takes about 30 minutes, or take a tuk-tuk or a taxi.
---
Where To Stay In Antigua, Guatemala
I absolutely love Antigua, no doubt it was one of my favorite spots in Guatemala, and I would happily move here to live among the Volcanos. You commonly will find hotels and restaurants with the most incredible views of the valley, where you can even see the Acatenago Volcano erupting on a clear night.
There is an excellent hostel scene here in Antigua, and they are also very high-quality hostels. You will be able to find pod-style dorm rooms, cool common rooms playing Netflix, onsite bars, kitchens to cook in, and some even have pools.
Though I will say that it can be hard to find a dorm room here with air conditioning, and depending on the time of year you visit it can be quite warm.
Personally, I stayed at Maya Papaya hostel in Antigua, I even loved it so much that I booked 4 separate stays there over my month in the country. The staff are lovely, the beds are comfortable, and there's a super clean fully equipped kitchen, awesome location, and chill hangout areas.
Be aware that the nicer hostels here can be on the pricey side where you will easily be paying upwards of $20.00 per night.
My partner actually joined me partway through my adventures in Guatemala and we often found it was cheaper to book a nice guesthouse, rather than two hostel beds. This was even more so booking last minute when you can often find good deals on booking.com.
My favorite choice for a hostel. Clean and comfortable dorm rooms start from $22 per night.

BOOK NOW

A relaxing and beautifully decorated hostel. Prices start from $28.00 per night.

BOOK NOW

A lovely hotel located in the perfect location. Rooms start from $40.00 per night and they have awesome last-minute deals.

BOOK NOW

Whether you are wanting a dorm or a private room Selina has both. Prices start from $42 per night for a dorm and privates from $95.00.

BOOK NOW
---
Other Things To Do In Antigua
Being one of the most popular parts of Guatemala there are seriously so many things to do in Antigua. This is just a quick breakdown of some of the top options:
Learn Spanish: There are so many places in Guatemala you can learn Spanish, though I choose Antigua and found it was perfect. You could be studying in the morning and exploring in the afternoon. One day I even hiked a volcano after school!
Acatenango Volcano Hike: This is the longer and harder of the two volcano hikes you can do. It's an overnight adventure where you can watch Fuego Volcano erupt right opposite your camp. No doubt this is one of the most spectacular things I have ever done.
Pacaya Volcano Hike: The easier of the two volcano hikes just takes a couple of hours. Though this volcano is nowhere as active so don't expect rushing lava rivers. Though you can eat a pizza cooked on the hot rocks.
Shopping: I loved the handicrafts in Guatemala and Antigua is an excellent place to purchase them. If you don't like haggling and prefer to buy somewhere with fixed prices I can recommend Nim Po't. Seriously I could spend hours exploring this place.
Explore The Ruins: Now prior to visiting I never knew Antigua was full of incredible ruins. My favorites were Convento Capuchinas and Convento La Recoleccion. Though there are numerous spots dotted around the city worth checking out.
---
How I Book Cheap Transport In Guatemala: GuateGo
---
LIKE IT? PIN IT!
---
Want more Guatemala Inspiration? Check out….
---
Disclaimer: This post contains affiliate links. So, if you click on it and purchase something, I get a small percentage at no extra cost to you. As always all opinions are my own and your support is much appreciated.
Related Posts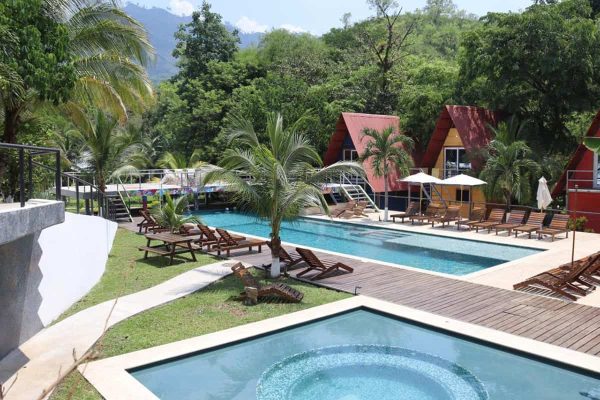 Find out the absolute best hostels in Semuc Champey for the ultimate stay. No doubt [...]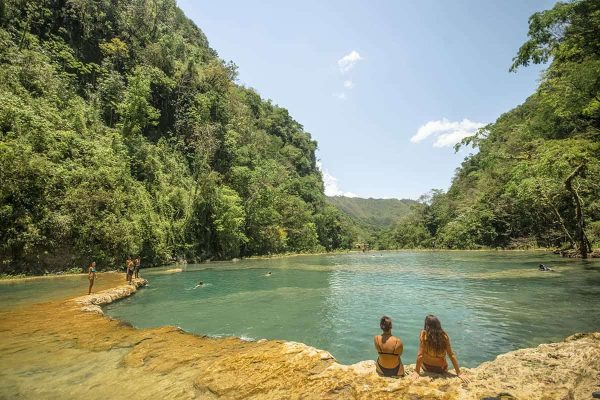 If you are keen to visit the popular Semuc Champey Mirador and Pools during your [...]
Wondering is Semuc Champey worth it? Well, I am here to answer all that and [...]