If you are keen to visit the popular Semuc Champey Mirador and Pools during your visit then read on. This is an absolutely gorgeous spot and the reason so many travelers visit here.
I will let you know how to get to Semuc Champey, all you need to know about climbing the mirador, swimming in the pools, costs, opening hours, and more!
---
No doubt if you have managed to travel all the way here you are keen to visit the Semuc Champey Mirador and Pools. Well, depending on a few different factors it is not the easiest to reach.
It is likely you aren't a nice easy stroll away and will need to organize some sort of transport. Though there are also tours available are they really necessary?
As you can see there can be a whole lot of questions about visiting Semuc Champey which is worth knowing prior to visiting. Especially because this is such a beautiful destination surrounded by nature you don't want anything to damper that experience or leave you with any regrets.
This is a great activity for couples, backpackers, families, and really all types of travelers. It was one of my favorite destinations in Guatemala where you really felt at one with the jungle, and a different vibe than your typical cities.
For an even more amazing time, I highly recommend booking your accommodation outside of the main town of Lanquin so you can truly immerse yourself.
So let's get into everything you need to know about visiting the Semuc Champey Mirador pools. This includes why you should visit, how to get there, entry fees, opening hours, and whether it is even safe to swim. Let's be honest no one wants to get sick.
---
Visiting Jorge's Rope Swing In Flores: Is It Worth It
---
🚗 How I Book Cheap Transport In Guatemala: GuateGo
---
Why Visit Semuc Champey
Now Semuc Champey has been on my bucketlist for a long time, though I will be honest I didn't realize at the time how long it actually takes to get there. Luckily enough I am happy to say it is 100% worth it to visit Semuc Champey.
The town of Lanquin may not be the most picturesque so I highly recommend booking accommodation in the jungle to get the true experience.
Semuc Champey, also known as Semuc Champey Natural Monument, is a natural formation in which the Cahabon River flows underneath. This limestone bridge is 300 meters in length and is a series of stepped, blue pools, making it the perfect swimming spot for visitors.
The turquoise waters contrasted with the lush green jungle is certainly a site to behold. Surprisingly for some reason, it isn't listed as a UNESCO site, though it is honestly one of the most beautiful river spots I have experienced, certainly on par with the impressive Kuang Si Falls.
You can do a grab of activities here including the Semuc Champey Mirador hike, swimming in the pools, and caving. All of which I will get into a bit further below.
---
How To Get To Semuc Champey
Now you can essentially travel to Semuc Champey from anywhere in Guatemala, though there are a couple of things you need to know. The first is that you will need to travel overland, which means no flights.
Secondly is that it is not close to any other tourist hotspots. For example, I traveled to Semuc Champey from Flores, and then onwards to Antigua afterward. Both of these trips were 10+ hours on a tourist shuttle.
If you are interested in booking a tourist shuttle over a chicken bus for this journey I highly recommend you check out GuateGo to see the latest schedules, departures from your desired city, and prices.
Now, something to be aware of is that these tourist shuttles and the chicken bus will only take you as far as Lanquin. This is the main town before Semuc Champey.
Basically, all the tourist shuttles from around the country will arrive in Lanquin around the same time. Then all accommodation will come with their private transport to collect everyone if it is not in an easily accessible spot.
Now your accommodation should be there to pick you up if you are staying in one of the main places, though best to double-check anyway. Just contact your accommodation to let them know what date you are arriving and from where and see if they provide transport from Lanquin to your accommodation.
When I was there, there were about 10 or 12 different four-wheel drive vehicles transferring people to different places.
---
Lanquin To Semuc Champey
Now unless you are staying close to Semuc Champey you will need to somehow get from Lanquin to here. Here is a brief breakdown of these options:
Book A Tour: Booking a tour will include transport, the Semuc Champey Mirador hike, swimming in the pools, lunch, and caving. I actually booked a tour myself through the hostel, though not including the caving part as I was not feeling too well.
Honestly, I felt like this wasn't needed, especially as I was staying within walking distance from the entry. Though I did see travelers with other guides who were doing cliff jumping which looked like so much fun!
Pick-Up Truck: This way is certainly for travelers who enjoy a bit more freedom and who are on a budget. You will find these pickup trucks at the crossroads of Lanquin town center. The price is around $4.00 for foreigners, yes tourist tax is for sure a thing in Guatemala.
Private Taxi: Honestly I personally don't think it is worth taking a private taxi for the $20.00 cost unless you have a group of people to split it with. The road between Lanquin and Semuc Champey is super bumpy and unmaintained, so it isn't a comfortable journey, no matter what type of vehicle you are in.
Hike: Again not recommended as it is a 10-kilometer hike, up and down the hilly Guatemala jungle in the heat. There isn't a footpath, the vehicles travel with a bit of speed, and there is always a dust cloud blurring any decent views.
Basically, hiking is not a safe option, and if you want to live to see Semuc Champey you are best off traveling in some sort of vehicle.
---
Booking A Semuc Champey Tour
Usually, I am quite a fan of tours, though, in the case of Semuc Champey, it was honestly a little underwhelming. Basically, the attraction is the pools and viewpoint, there was nothing our guide did that added to this experience, essentially he just pointed at signs as to where to go.
I will say that I did not do the caving portion of the tour as I was quite sick from food poisoning so I needed to take the afternoon off to recover. Obviously, you need a guide for the caving, and perhaps that is where his services really shined.
Though booking a tour if you are interested in solely the pools and mirador is completely unnecessary. I also stayed at Greengo's which is about a 5-minute walk from the entry of Semuc Champey Natural Monument so I didn't require any transportation either.
Honestly, I thought transport would have been included as it was pricey Q90/ $11.30. I know I sound lazy since it was a 5-minute walk, but I was seriously so sick!
---
Semuc Champey Entrance Fee
The Semuc Champey Entrance Fee is Q50 / $6.30 which gives you entry to the entire park including the pools, mirador hike, and caving.
If you need transport to Semuc Champey then you will need to add this to the entry fee.
Also if you happen to decide to book a tour of Semuc Champey the entrance fee should be included in the price. Though best to double-check with the tour provider or your accommodation if you book it through them.
You will pay this entry fee as soon as you arrive at the park at the ticket office at the start of the trail. From this trail, you can head to the pools, or up to the Mirador hike.
---
Opening Hours Of Semuc Champey
Semuc Champey is open from 8 a.m. to 4 p.m. 7 days a week. This includes access to the mirador, pools, and caving.
---
Hiking The Semuc Champey Mirador
To get the most impressive view of the pools you will need to hike the Semuc Champey Mirador. This is included in your entry to Semuc Champey, though it isn't something everyone completes.
The total hike time for the Semuc Champey Mirador is approximately 45 minutes. Just remember to go at your own pace and not to rush, some people will take longer, and others will take less.
Honestly, the first half of the climb-up is the worst part where you are just hiking steep switchbacks. Though eventually, it flattens out leading to the viewpoint, and then it's all downhill from there straight to the entry of the pools.
Tip: You will often see photos online of people sitting up on the railing with the incredible pools below. There is now a security guard situated up the top to prevent people from doing this.
It is pretty easy to see how it would be a safety concern, though it certainly wouldn't be the craziest thing you do in Guatemala.
---
How Hard Is The Semuc Champey Mirador
Okay, if I can make it up to the Semuc Champey Mirador hike, you can as well. Seriously and I am not just saying that!
I spent the whole evening the night prior vomiting and with horrible diarrhea thanks to food poisoning. I only day one full day in Semuc Champey before I needed to start Spanish School in Antigua otherwise I would have stayed longer.
Nevertheless, I was determined to make the most of it, including hiking the Semuc Champey Mirador without having eaten anything in about 16 hours.
I am also not the fittest of humans. Prior to this, I hadn't done any uphill hiking in my travels in Belize and Mexico, just the casual walk along the street to get to a tourist site or a cafe for lunch.
Luckily enough with plenty of breaks and water consumed, I was able to make it to the top. Did I get overtaken by plenty of other travelers? Yes. Was I a hot and sweaty mess by the time I finished? Yes. Was it all worth it? Hell Yes.
---
My Experience Climbing The Semuc Champey Mirador
Now if you haven't already figured, I wasn't having the best day when I decided to visit the Semuc Champey Mirador and Pools. After getting food poisoning the day before I had spent the prior evening head first in the toilet, and my body was drained.
Having only been able to stomach a cup of ginger tea I packed me things together and headed to the start of Greengo's Hostel where I was staying to meet some of the other travelers and our guide.
There happened to be just four of us, and our guide, we wandered up the trail from the hostel to the main road. From there it was about a 10-minute walk to the entry point of Semuc Champey.
We paid for our entry fee which was not included in the tour price, then continued up the trail for a couple of minutes. Soon enough there was a sign for the Semuc Champey Mirador hike, taking a right in the path I let the rest of the group go ahead saying ill meet them back down at the pools.
Even though it is a relatively short hike, it is steep, and I was in no condition to do it. Therefore I am not going to slow the others down. Seemingly every couple of minutes I take a breather looking over the treetops to try to catch a view, or perhaps simply just find an excuse to stand still a little longer.
A few other groups catch up and I happily let them overtake me, and hike on, I mean the fewer people to see me puffing away the better, right? Every now and again I pass small stalls set up by entrepreneurial locals, gosh I hate to think how they got those drinks and snacks up here.
Luckily, soon enough I hear people talking, and the track opens up onto a platform showcasing the most beautiful turquoise-colored pools below. I chill out here for a bit, take some photos, and chat with some fellow travelers.
Though there is no way I am getting a photo of myself, considering the absolutely sweaty, spent the last 12 hours vomiting, state I am in.
Before heading down I stop at a father and son selling coconuts, all the way up on the side of a cliff. I happily pay a bit more than normal considering they have obviously trekked this pile of coconuts up here, plus I feel like some coconut water would be quite a good way to hydrate.
Luckily enough the walk down was pretty damn easy, it was more a matter of trying not to slip. Though the track was pretty dry the day I decided to visit.
Eventually, after about 20 minutes of hiking down the noise of the waterfalls rushing breaks through the constant sounds of the jungle insects chirping away. Finally, it's time to cool down and simply relax.
---
Is It Safe To Swim In Semuc Champey
So Semuc Champey is actually a river running under the limestone rock, and where you swim is on top of this limestone rock where there are minimal currents and slow cascading waters. As a result, you don't want to swim at either end of the pools where the underground river starts/ends.
Don't overthink this, instead, I simply recommend swimming in the sign-posted areas. These are super obvious with well-trodden entry points into the beautiful river.
The best spot to swim in the Semuc Champey is no doubt at the top end of the pools. If you follow my advice and do the Mirador hike first, you will come out of the track right at the upper pools.
This is where you have the picture-perfect infinity pool view over the jungle. Just be aware that some areas are quite shallow but very definitely drop off quite deep. If you are not comfortable in the water I recommend staying in areas where you can touch the bottom.
There is no lifeguard on duty, so make sure to use your common sense and be aware of your abilities.
If you are looking to do some diving and jumping off the rocks, make sure to book a tour that includes this. Don't try and do it yourself, or even try to copy other groups you see doing it.
Some areas are shallow and others are quite deep, and you pay the guide to know the difference and keep you safe. Not all tours include this, so if it is something you are interested in, make sure you ask.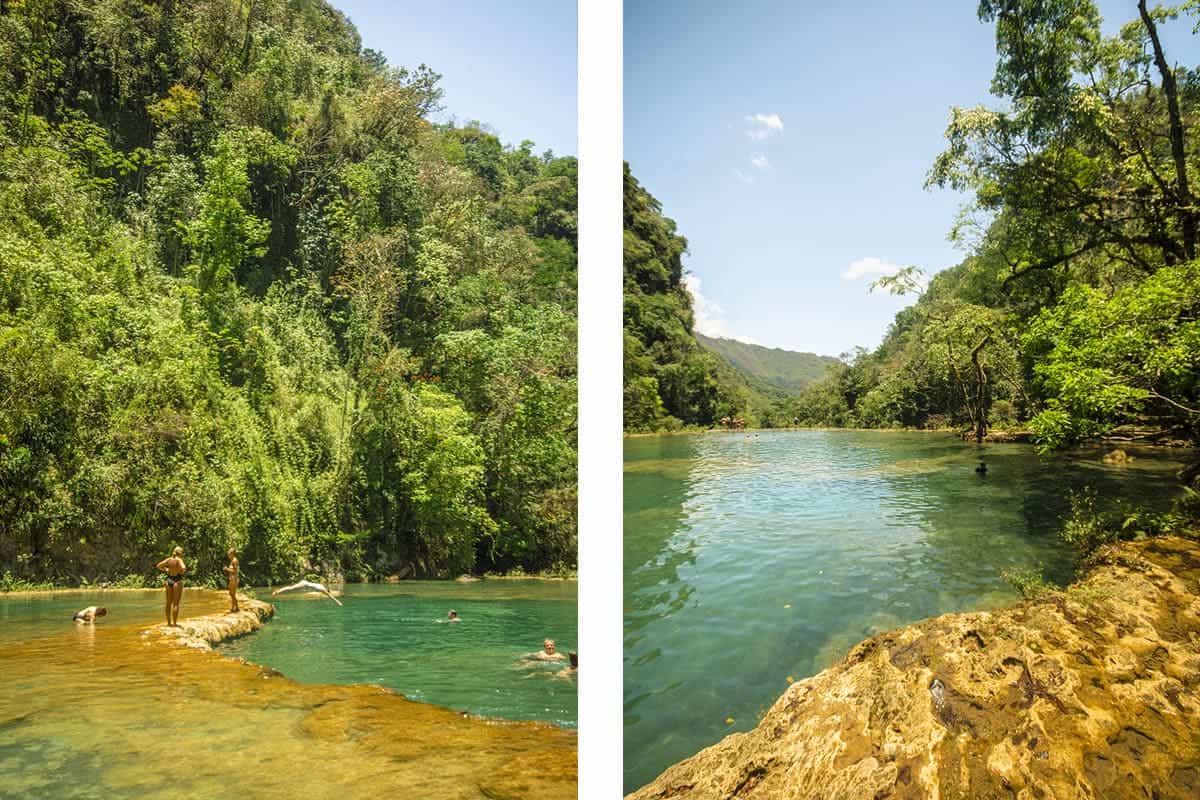 ---
What To Pack For Semuc Champey
There are some things it's best to take along with you while visiting Semuc Champey Mirador and Falls to make the most out of your visit:
Sneakers: Definitely wear proper shoes for the Semuc Champey Mirador hike. It can be super slippery and muddy on the trail.
Go Pro: For sure bring along your Go Pro if you have one. You won't be able to see much under the water, but you will be able to get some epic shots of yourself swimming and relaxing!
Swimmers: The best thing is to wear a pair of swimmers underneath your hiking gear, that way you can quickly jump into the pools after a sweaty walk up to the mirador.
Snacks: It's definitely worth spending as long as you can relaxing at the Semuc Champey pools so it is best to bring some snacks with you. This way you can enjoy a picnic lunch without having to leave the park.
Lock: There are lockers so you can store your belongings while you go for a swim. They are free to use though you need to bring your own lock with you.
Towel: Bring along your towel to dry off after you have had a refreshing swim.
Sunblock: Let's avoid looking like a lobster and bring a reef-safe sunblock along with you!
Sunglasses: It'll definitely be worth bringing sunglasses along with you. The sun shining off the water can be super bright so protect your eyes by bringing along a pair of sunglasses.
---
Where To Stay In Semuc Champey
Basically, when you stay here you have two different options, in the town of Lanquin or close to Semuc Champey.
If you want to experience more of the local side of life 100% it is recommended you stay in Lanquin. Here you will be able to try an assortment of restaurants and have a bit more freedom.
In Semuc Champey a lot of the accommodations are set up like resorts, even hostels. Basically, there is minimal reason to leave the grounds except for tours, which you no doubt booked through your accommodation.
I know this can sound a bit daunting, especially if you are a chill backpacker who likes to explore and plan things last minute. Though I loved staying closer to Semuc Champey as you were right in nature and it honestly felt so peaceful.
A short walk from the entry of Semuc Champey and the perfect backpacker resort. Prices start from $20.00 per night.

BOOK NOW

A party hostel perfect for those wanting to let loose and make friends. Prices start from $25.00 per night.

BOOK NOW

Walking distance from town and set right on the river, the best of both worlds. Prices start from $9.00 per night in a dorm or $36.00 for a private.

BOOK NOW

Guayaha

Enjoy resort-style living with a glamping stay in one of the beautiful tipi tents. The super affordable tents start at just $25.00 per night.
---
Things To Do In Semuc Champey
Seeing as Semuc Champey is such a popular spot to visit in Guatemala you can be sure there is plenty of things to do here. This is just a quick breakdown of some of the top options:
Swim In The Pools: Of course, if you are visiting Semuc Champey you need to take a dip in the pools. It is a quick 5-minute walk from the entry to the main pools at the top, where there are some small cascades that you can jump off.
There are also some less busy pools lower down, though you do miss that famous infinity pool that looks over the jungle that this place is known for.
Cave Tour: Now I have heard both positive and negative reviews about the cave tour, let's just say it is for the adventurous. Essentially think tight squeezes, trying to keep a candle alight while swimming, and holding it while also climbing a ladder.
I didn't do it myself, as I spent my only afternoon in Semuc Champey recovering, though I questioned the safety precautions taken.
Tubing: You can either do this organized through your hostel or simply with a group of friends when you are at Semuc Champey. This is certainly one of the cheaper activities to do here in Semuc Champey.
---
🚗 How I Book Cheap Transport In Guatemala: GuateGo
---
LIKE IT? PIN IT!
---
Want more Guatemala Inspiration? Check out….
---
Disclaimer: This post contains affiliate links. So, if you click on it and purchase something, I get a small percentage at no extra cost to you. As always all opinions are my own and your support is much appreciated.
Related Posts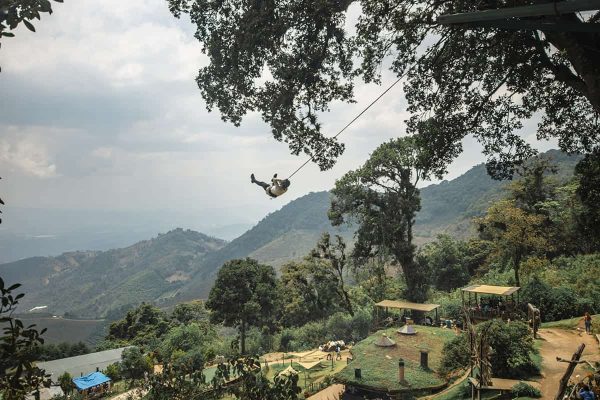 Whether you are a Lord Of The Rings and Hobbit fan, or not, visiting Hobbitenango [...]
Come find out the best Spanish schools in Antigua, Guatemala, and what you know before [...]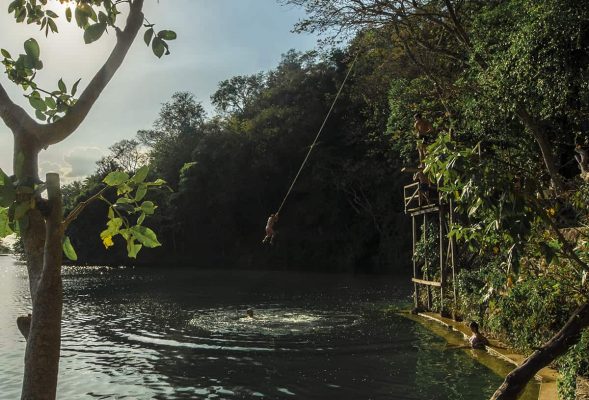 If you are looking for something to do while in Flores then definitely check out [...]