Come find out the best Spanish schools in Antigua, Guatemala, and what you know before signing up. As someone who has studied Spanish in Antigua, there are some important decisions you will need to make.
I will walk you through everything from top schools, whether Antigua is a good place to study, what school is like, accommodation options, and more. 
---
Thinking of studying Spanish in Antigua? I mean it is a gorgeous city so why not! You will find yourself studying at one of the best Spanish schools in Antigua Guatemala in the morning, then hiking a surrounding volcano in the afternoon.
Yes, I am speaking from experience here. Whether you are a complete beginner, have been practicing for the past year on Duolingo, or perhaps just want to brush up, you will find the perfect choice here.
Personally, I had been learning Spanish on good ol' Duolingo for the past year in preparation for my backpacking trip around Central America. Sure, this allowed me to ask for the bill at a restaurant, or a table for one since I am traveling solo.
However, I lacked the conversational skills to build relationships with Spanish speakers and simply ask questions. This is why I decided to continue learning Spanish in Antigua, and seriously it made such a difference for the rest of my trip.
So if you are thinking should I bother with learning Spanish in Antigua, Guatemala? The answer is hell yeah.
Before I get too in-depth or passionate about the subject, brace yourself because I think this will be a big post, and we are only in the introduction. I will let you know literally everything you could want to know about the best Spanish schools in Antigua, and studying Spanish in Antigua Guatemala.
This includes why you should do it, prices, accommodation options, what is a typical day like, my experience, and more.
---
Studying Spanish In Antigua Guatemala & What You Need To Know Before Signing Up
---
How I Book Cheap Transport In Guatemala: GuateGo
---
Why Learn Spanish In Guatemala
Now if you are like me planning your travels in Guatemala, and perhaps further over Central America, heading to a country where you don't speak the language can be quite daunting.
Sure you are able to travel around with Google translate, and other travelers speak English so you will still be able to make friends.
Though there are times when you are stuck on a Spanish-speaking tour, your shuttle driver stops for lunch and you don't know how long you have, or you simply need help on the street.
I have traveled all around Asia, Europe, Oceania, and parts of Africa, and here in Central America I found the language barrier the hardest to overcome.
Luckily enough choosing to study Spanish in Guatemala is an excellent choice for many reasons. The first is that the accent here is pretty easy to understand for non-native Spanish speakers, and they speak a bit slower than their neighbors.
Secondly, doing a Spanish course is actually super affordable here and there are some gorgeous locations where you can study such as Antigua or Lake Atitlan. Lastly, courses here are perfect for travelers where you can do morning or afternoon classes and have the other part of the day to explore.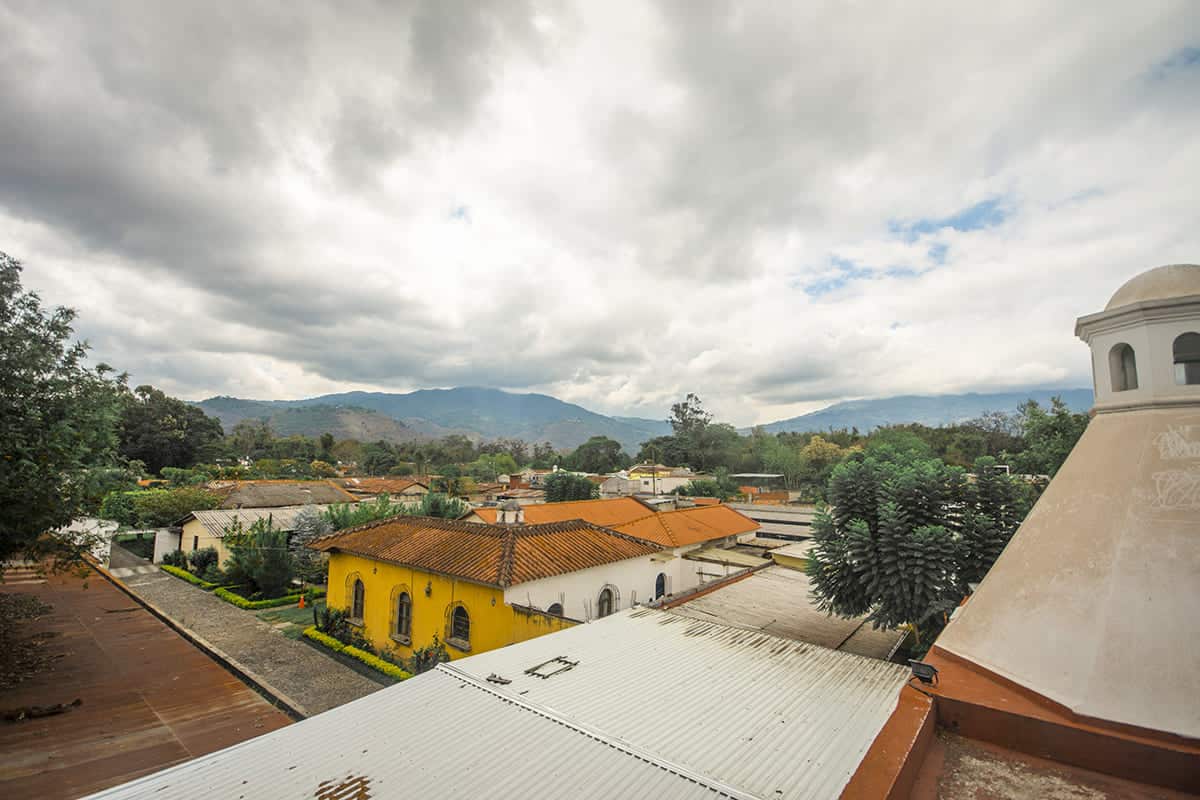 ---
Why Should I Study Spanish In Antigua
Okay, so now you know why you should study Spanish in Guatemala, let's get into why it's worth learning Spanish in Antigua. There are a few different popular locations in Guatemala to study Spanish, though Antigua had my heart.
Here you will find numerous options for Spanish schools, though I will touch more on them and what each one offers below. Though you will find yourself in one of Central America's most beautiful cities, studying the local language, and honestly being completely inspired.
I actually stayed in a hostel while studying and there were so many of us learning Spanish in Antigua we would all hang out and hold study sessions together in the afternoon.
Though if study sessions don't sound anything like you, then there are also plenty of other things to do in the afternoon such as volcano hiking, free walking tours, ruins to explore, and many incredible cafes and restaurants to check out.
On the weekends you can even head a little bit further afield to the beaches on the coast, the gorgeous Lake Atitlan, or even go overnight camping on one of the nearby volcanos. Seriously you get the best of both worlds in Antigua, city living in a quaint location.
---
Best Spanish Schools In Antigua Guatemala
Now if you are thinking of studying Spanish in Antigua then it's a pretty good bet you want to do so at a reputable and popular school. You will want to make sure you are getting the best bang for your buck, with passionate and understanding teachers.
Some things to think about include:
Whether you want to work one-on-one with a teacher or instead learn in a classroom with a group of people
If you would like to do a full immersion experience by staying in a homestay with a local family
Cost, how much do you want to spend as Antigua isn't the cheapest place in Guatemala to learn Spanish
---
Spanish Academy Antiguena
No doubt Spanish Academy Antiguena is one of the most popular choices for travelers when it comes to choosing where to study at the best Spanish schools in Antigua.
They have been operating since 1985 and pride themselves on their teaching techniques and qualified teachers (all have university degrees specializing in teaching Spanish).
Spanish Academy Antiguena prioritizes what the student hopes to get out of the program and will focus their studies around this. This is perfect for travelers who may only be interested in learning Spanish which you would need in a travel setting.
For example, where is this hotel, and when does the bus come? There isn't a set learning plan prior to the teacher meeting you, so you are able to mold the course content to your needs.
I actually chose to study at the Spanish Academy Antiguena, simply because looking online it was the best reviewed. Though I can promise that it does live up to the hype.
I partook in the one-on-one teaching program where I had the loveliest teacher so was super passionate about improving my Spanish schools. Though I will get into what my day-to-day looked like a bit further below.
One-on-one Teaching: Yes
Group Teaching: Yes, but you must form your own group ( 2 to 5 students), suitable for friends traveling together or families
Immersion Program: Yes, Homestay is available from between $100.00 – $135.00 per week, including 3 meals a day excluding Sundays
Study Without Homestay: Yes, you can study and organize your own accommodation, though classes do cost slightly more.
Cost: $115 for one week of classes 4 hours 5 days from 8 am to 12 pm for those also doing a Homestay, otherwise $125 for one week of classes 4 hours a day from 8 am to 12 pm.
Office Location: 1a Calle Poniente #10 Antigua Guatemala, Sacatepequez 03001, Guatemala
School Location: Calle de Los Nazarenos 28b, Antigua Guatemala, Guatemala
View this post on Instagram
---
Ixchel Spanish School
Another excellent choice for the best Spanish schools in Antigua Guatemala is Ixchel Spanish School. Founded in 1999, they had to work hard to stand out in an already oversaturated industry.
They did this by handpicking the top teachers, and host families and perfecting their class material. You can study here knowing you will be in good hands.
Here at Ixchel Spanish School, they offer on-the-ground courses as well as Skype sessions. They have a variety of courses, from the standard immersion program, to a conversational-based course, as well as specialized courses in Spanish for Children, Travelers, and Flight Attendants.
If you are on a tight budget they even offer heavily discounted classes in exchange for social media content, blog posts, organizing events, and workshops.
What I like about Ixchel Spanish School is they offer a variety of tours, providing the perfect opportunities to make friends and explore Guatemala.
This is something I got heavily involved in when I was studying Spanish in Costa Rica, and it was so much fun doing overnight and day tours to surrounding parts of the country. Unfortunately, this was not something that was offered to me at Spanish Academy Antiguena.
One-on-one Teaching: Yes
Group Teaching: No
Immersion Program: Yes, Homestay is available for $150.00 per week, excluding meals. If you would like meals included and a private bathroom it is $199.00 per week.
Study Without Homestay: Yes, you can study and organize your own accommodation, or they will provide rooms at the school.
Cost: $210 for one week of classes 4 hours 5 days. $145.00 for one week of classes 2 hours a day, or $16.00 per hour if you would just like to book hourly.
Office / School Location: 9 Calle Oriente 5, Antigua Guatemala, Guatemala
View this post on Instagram
---
Spanish School Don Pedro de Alvarado.
Lastly, for our best Spanish schools in Antigua, we have Spanish School Don Pedro de Alvarado. This is actually one of the oldest schools in Antigua with over 40 years of teaching experience.
They also put a limit on how many people are taught at once to 30, this means they are not stretching their resources, and you can ensure you get the most personalized experience.
What is unique here at Spanish School Don Pedro de Alvarado is the language immersion program they offer where you actually work alongside two different teachers each day.
The first 4 hours will be working with one teacher working on grammar and correct usage, and then the final two hours spent with another teacher working on improving conversational skills.
Honestly, Spanish School Don Pedro de Alvarado is the perfect option for someone who really wants to take their Spanish classes seriously and really improve their skills.
Though it is not all work and no play here they also offer afternoon activities where you can get to know other students and explore the beautiful city that is Antigua.
One-on-one Teaching: Yes
Group Teaching: No
Immersion Program: Yes, Homestay is available.
Study Without Homestay: Yes, you can study and organize your own accommodation
Cost: $195.00 for one week of classes 4 hours  5 days, or $235.00 for one week of classes 6 hours a day
Office / School Location: 6a Avenida Norte 39, Antigua Guatemala 03001, Guatemala
View this post on Instagram
---
How I Book Cheap Transport In Guatemala: GuateGo
---
How Much Is Spanish School In Antigua Guatemala
As you can see above Spanish schools in Antigua Guatemala will typically set you back between $115.00 to $210.00 for a one-week class with 4 hours of teaching per day. This works out to between $5.75 – $10.50 per hour of teaching.
No matter which way you look at it, learning Spanish in Antigua is a super affordable thing to do and it will honestly change how you travel around Central America.
Now this is quite a large difference in pricing between the Spanish schools in Antigua Guatemala, well it's nearly double. Though some schools will push students through in large quantities, and even with one-on-one teaching, the large volume of students helps keep prices low.
Unfortunately, this can affect your experience as you may find it overwhelming at first, plus teachers can be a hit or miss. In contrast, the smaller schools provide more of a personal experience, and often provide free after-school activities, giving you the chance to meet other students.
There is nothing better than finally being able to communicate with your bus driver and locals on the street, and haggling in the markets in the language of the country you are visiting. You may still look like a gringo, but at least you don't sound like one.
Plus from my experience, speaking the local language gives you a lot more respect from the locals, plus they can ask you where you are from, and how did you learn Spanish, and for once you will actually be able to respond, confidentially.
---
Do I Need To Already Know Spanish?
Honestly, it doesn't matter your level of Spanish, whether you speak none, or perhaps quite a bit, but want to develop your skills further. I mean we all need to start somewhere right?
I spoke to quite a lot of people who had zero knowledge of Spanish prior to signing up for studying Spanish in Antigua. If this is you, you may want to think about staying for 2+ weeks so that you can get a decent understanding of the language before you venture out yourself.
Though the schools and teachers are quite good at creating lessons around what you hope to get out of the classes. For example, ordering at a restaurant, paying a bill, or like me, where I asked to simply focus on conversational Spanish.
The main thing is that you are committed to learning the language so that you, and your teacher both find this a worthwhile experience.
You will have homework to complete so you need to be determined to finish this daily and be able to prioritise your studies. Something that if you are traveling and constantly meeting new people and doing new things can quickly end up on the back burner.
Plus, I don't know about you, but for me, it had been many years since I had been in school so it felt strange having these deadlines to meet, and oftentimes I would find myself quickly doing my homework while having breakfast before walking to school.
---
Accommodation Options
Now no matter how long you are planning on studying Spanish in Antigua you are going to need somewhere to stay. Now I have done a few different Spanish schools in different countries throughout the years and I have stayed in essentially all the accommodation options provided over this time.
Homestay: The first one we have is homestay. This is where you will be staying with a local family and it is a fully immersive way to learn Spanish as you will be encouraged to use it to communicate throughout your stay.
A lot of the time meals will be included in the price, and when you are traveling it is so refreshing to have some home-cooked meals made with love. If you are an introvert like me this type of experience can be quite daunting, especially if you are quite socially awkward in your native language.
However a lot of the time you will actually be in a homestay with another traveler from the same school. If this is something you are interested in it is best to contact the school in advance to see if they can group you with another traveler.
Apartment: Alternatively an excellent way to make some new friends is by staying in an apartment organized through your chosen Spanish school in Antigua. Be aware these will be more pricey than a homestay, though the facilities will be quite nice.
You will be provided with a furnished bedroom, a private or shared bathroom, and communal spaces such as a lounge and kitchen.
Self-organized: Now as you may have figured self-organized literally means just sorting accommodations for yourself. I actually did this when I was at Spanish Academy Antiguena simply because I was on a budget, and wasn't comfortable with doing a homestay again (not because I had a negative experience last time, I am just awkward).
I decided to stay in a shared dorm at Maya Papaya in Antigua, which was a great choice as I met other travelers also studying Spanish staying there, it wasn't party so I could study, and it was near to the school.
Though by organizing it yourself you have the freedom to stay wherever you would like, whether that is a hostel, guesthouse, Air BnB, or hotel. One downside of this is that school was school and I wasn't given too many opportunities to interact with fellow students except at lunchtime.
Whereas everyone who was staying at homestays had become friends.
---
What Is a Typical Day Like
If you decide to learn Spanish in Antigua then it is likely your classes will occur in the morning. Generally, they start around 8 am, and then depending on how long you have booked will determine when they will finish.
Personally, I did 4 hours a day, which is a pretty common choice. In this we would do 2 hours of learning, a 30-minute break, and then another 2 hours. During the break, local sellers would come to serve food, and there was tea and coffee available, as well as clean bathrooms to use.
I would often use this time to try to make some friends and learn about others' experiences doing the homestay and studying here.
Nevertheless doing 4 hours per day studying Spanish in Antigua was the perfect amount of time as towards the end my brain would start blanking and I hit my limit for the day.
If you are thinking of booking longer classes think carefully, or perhaps book a smaller amount and up it after a week if you can handle it. Because it is a lot of one on one learning you are getting a lot out of a small amount of time.
Even you can nail an 8-hour day at school, which is group learning, where questions are answered among the class. This is a lot more mentally exhausting than that, plus you will have at least 30 minutes of homework to do each day as well.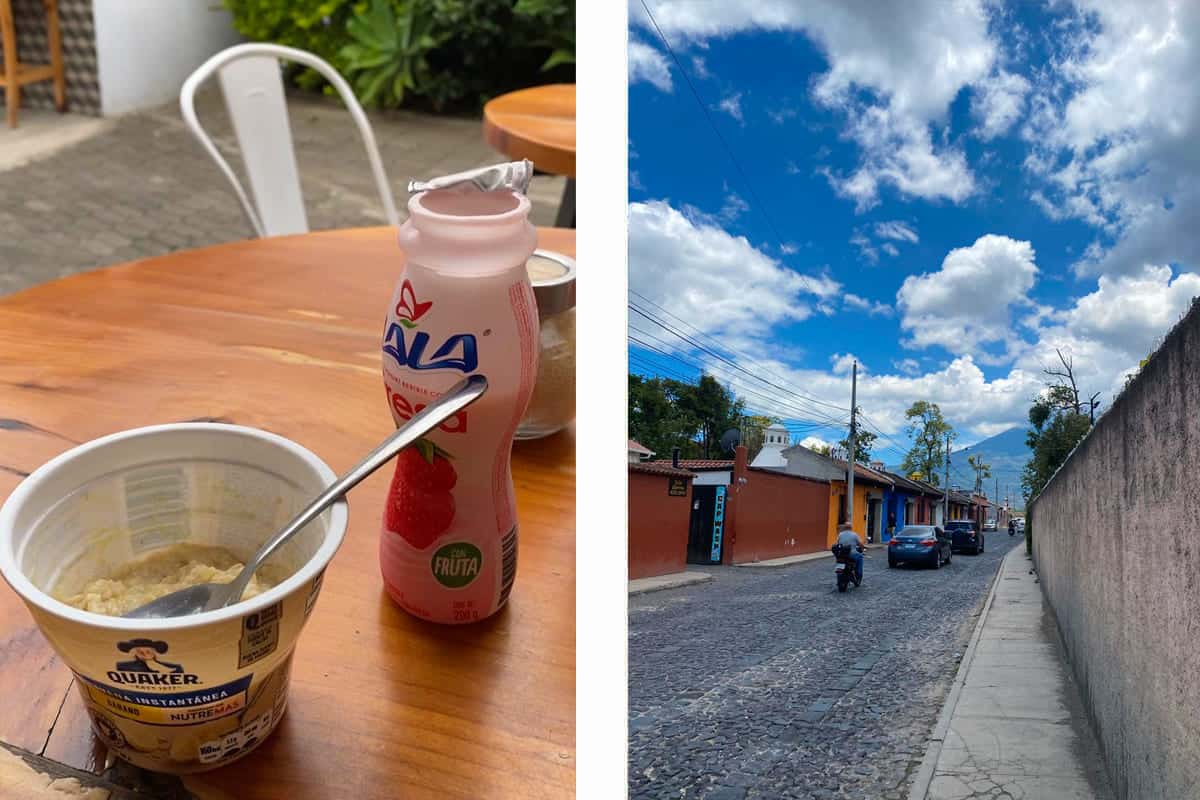 ---
What Happens If I Don't Like My Teacher
Now this is a legitimate concern, and it does happen. You will know pretty quickly whether you and your teacher don't vibe. Whether there is a lack of passion, your styles don't match, or you are simply getting strange vibes.
Don't be afraid to bring it up to one of the staff in the offices as you are paying for these courses and want to get the most out of the experience.
Who you get as a teacher is a bit of luck of the draw. I happened to be super duper lucky and got an incredible teacher who was passionate about his country, had some excellent stories, he wasn't afraid to talk about more taboo subjects (crime, drugs, cartels) which always kept me engaged.
He was interested in learning about me, and basically everything you could have wanted as someone building confidence in their conversational skills. Though I could easily imagine he may talk too much for learners just trying to understand the basics.
You need to put your faith in the school they will pair you with the right person, and have the confidence to stay something if things don't feel right.
Your teacher can truly make or break your experience studying Spanish in Antigua.
---
My Experience Studying Spanish In Antigua
So I studied at Spanish Academy Antiguena for a couple of weeks while I based myself in this city. First of all, I am so glad I chose Antigua, I absolutely fell in love with this city, and would happily move there long term.
In terms of why I chose Spanish Academy Antigua, it was simply due to price, and I didn't want to do a homestay, and they had certain prices that catered for this on their website.
Honestly, I didn't have too much of an idea what I was getting myself into, having signed up for it just a week before arriving.
I sent them a simple email and they let me know they had availability and asked if I required a homestay, how many hours I would like to do per day if I needed an airport transfer from Guatemala City, and my current level of Spanish.
With a quick reply from me, it was all organized and I was provided my starting details.
Rolling up at 8 am, having just had time to join the hostel breakfast, I headed to the office of Spanish Academy Antiguena where I paid my fee in cash and met my teacher for the first time.
From there we wandered through the streets of Antigua for about 15 minutes, he tested my proficiency in Spanish by making introductions and asking what I have done in the country so far.
Soon enough we headed off the main road and through a small door in a gate that opened up to a large, lush courtyard, my new school.
We make our way to the far building, up a set of stairs, and find a free table in a quiet spot. This would be my classroom for the next couple of weeks.
I won't go through my complete day-to-day, though my lessons would often consist of 3 hours of general conversational Spanish, which is something I really wanted to improve, as well as about 1 hour of past tense Spanish. Obviously, you do use a lot of past tense in conversation so there was quite an overlap.
We would do 2 hours of learning, break for 30 minutes, and then another 2 hours. This was the perfect time, as towards the end my brain would start turning to mush, I don't think I could've done any longer.
Pros Of Studying With Spanish Academy Antiguena:
My teacher was amazing and he had a great sense of humor
The location was in a beautiful garden with views of the surrounding volcanos
It was an affordable option
Con's Of Studying With Spanish Academy Antiguena:
Not enough social events – not sure if this was due to covid. It seems like those staying in homestays did things, but the rest of us were left out
---
Other Locations To Study Spanish In Guatemala
Guatemala is a culturally rich and diverse country that offers many opportunities for those interested in studying Spanish. The stunning landscape, friendly locals, and immersive environment make it the perfect destination for language learners to hone their skills.
Some other popular places to study Spanish in Guatemala include:
Lake Atitlan: Lake Atitlán presents a more tranquil and soothing environment for those looking to study Spanish away from the hustle and bustle of urban life.
Surrounded by towering volcanoes and small indigenous villages, the area offers numerous language schools which provide an intimate and immersive learning experience.
The unique thing about studying here is the rich local Mayan culture and it definitely would have been my second choice for where to study Spanish in Guatemala.
Xela: Xela, also known as Quetzaltenango, is another destination for studying Spanish in Guatemala. As the country's second-largest city, Xela offers a more authentic and immersive experience due to its fewer tourists and a stronger sense of local culture.
The city provides a perfect blend of urban amenities and picturesque landscapes, with an astonishing backdrop of volcanoes and close proximity to indigenous villages. This is also one of the cheapest places to learn Spanish in Guatemala.
---
How I Book Cheap Transport In Guatemala: GuateGo
---
Where To Stay In Antigua
I absolutely love Antigua, no doubt it was one of my favorite spots in Guatemala, and I would happily move here to live among the Volcanos. You commonly will find hotels and restaurants with the most incredible views of the valley, where you can even see the Acatenago Volcano erupting on a clear night.
There is an excellent hostel scene here in Antigua, and they are very high-quality hostels as well. You will be able to find pod-style dorm rooms, cool common rooms playing Netflix, onsite bars, kitchens to cook in, and some even have pools.
Though I will say that it can be hard to find a dorm room here with air conditioning, and depending on the time of year you visit it can be quite warm.
Personally, I stayed at Maya Papaya hostel in Antigua, I even loved it so much that I booked 4 separate stays there over my month in the country. The staff are lovely, the beds are comfortable, and there's a super clean fully equipped kitchen, awesome location, and chill hangout areas.
Be aware that the nicer hostels here can be on the pricey side where you will easily be paying upwards of $20.00 per night. My partner actually joined me partway through my adventures in Guatemala and we often found it was cheaper to book a nice guesthouse, rather than two hostel beds.
This was even more so booking last minute where you can often find good deals on booking.com.
My favorite choice for a hostel. Clean and comfortable dorm rooms start from $22 per night.

BOOK NOW

A relaxing and beautifully decorated hostel. Prices start from $28.00 per night.

BOOK NOW

A lovely hotel located in the perfect location. Rooms start from $40.00 per night and they have awesome last-minute deals.

BOOK NOW

Whether you are wanting a dorm or a private room Selina has both. Prices start from $42 per night for a dorm and privates from $95.00.

BOOK NOW
---
Things To Do In Antigua
Being one of the most popular parts of Guatemala there are seriously so many things to do in Antigua. This is just a quick breakdown of some of the top options:
Pacaya Volcano Hike: The easier of the two volcano hikes just takes a couple of hours. Though this volcano is nowhere as active so don't expect rushing lava rivers. Though you can eat a pizza cooked on the hot rocks.
Acatenango Volcano Hike: This is the longer and harder of the two volcano hikes you can do. It's an overnight adventure where you can watch Fuego Volcano erupt right opposite your camp. No doubt this is one of the most spectacular things I have ever done.
Explore The Ruins: Now prior to visiting I never knew Antigua was full of incredible ruins. My favorites were Convento Capuchinas and Convento La Recoleccion. Though there are numerous spots dotted around the city worth checking out.
Shopping: I loved the handicrafts in Guatemala and Antigua is an excellent place to purchase them. If you don't like haggling and prefer to buy somewhere with fixed prices I can recommend Nim Po't. Seriously I could spend hours exploring this place.
Hobbitenango: Being from New Zealand I thought the idea of Hobbitenango was kind of strange, and it is, but still it's worth a visit. Here you still find Instagram spots, incredible views, and many games. Just best not to visit on a weekend.
---
How I Book Cheap Transport In Guatemala: GuateGo
---
LIKE IT? PIN IT!
---
Want more Guatemala Inspiration? Check out….
---
Disclaimer: This post contains affiliate links. So, if you click on it and purchase something, I get a small percentage at no extra cost to you. As always all opinions are my own and your support is much appreciated.
Related Posts
If you are heading to Guatemala, more specifically Antigua, there is one thing you seriously [...]
2 Comments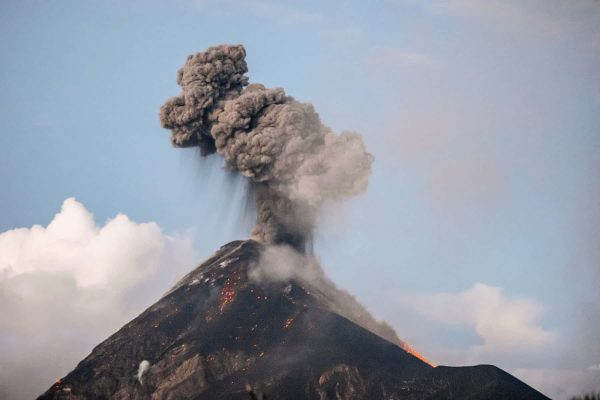 Planning a trip to the incredible country of Guatemala, but not sure where to go? [...]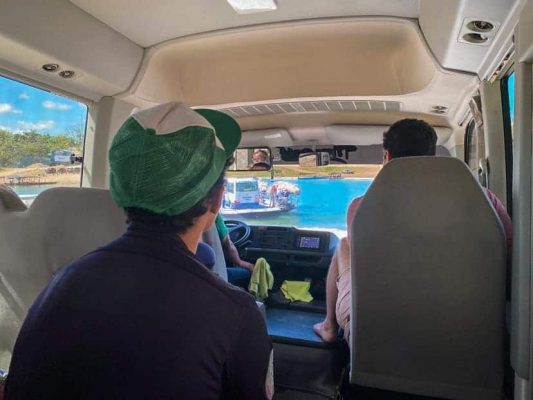 Come check out exactly how to travel from Flores to Semuc Champey in Guatemala. These [...]
2 Comments