If you are heading to Guatemala, more specifically Antigua, there is one thing you seriously need to do, and that is the Acatenango Volcano Hike. Sure this is not for the faint-hearted, but trust me it is possible!
With the help of this guide find out everything you need to know including Acatenango hike difficulty, costs, what tour to book, what to expect, weather, and so much more!
---
Seriously this isn't just one for your Guatemala bucketlist, this is one to chuck on your worldwide bucketlist. Even though you are hiking Acatenango Volcano, the main drawcard is watching the incredible Fuego Volcano erupt directly opposite your camp.
During the day you will watch the smoke, rocks flying and ash clouds rising upwards towards the sky. Then once night falls a completely different show starts as lava lights up the darkness forming rivers down the sides of Fuego. Feel the ground rumble and the roars echoing through the landscapes.
Though in saying that nothing comes easy, and for such an impressive show you do need to work relatively hard to get to camp. I won't lie, when arriving in Antigua, this was not on my itinerary, I mean, I simply like to think I know my limitations as a plus-size traveler.
Every backpacker who was encouraging me to take the leap and do it seemed to be fit yoga buffs who had been hiking all around Central America. This was not me. So how exactly did I figure out that it would be possible for me to achieve this? Well, I will get into this in the 'difficultly' section below.
Though there are also some other things, or limitations you should also consider before deciding whether hiking Acatenango Volcano is the right choice for you.
This includes your travel budget as it is not a cheap experience, whether you can deal with a lack of toilets, sleeping in a tent and zero degrees celsius weather at the top with no electricity. So with expectations in check let's get into everything you need to know about hiking Acatenango Volcano.
---
Acatenango Volcano Hike Difficulty & Travel Tips
---
🚗 How I Book Cheap Transport In Guatemala: GuateGo
---
Acatenango Hike Difficulty: How Fit Do You Need To Be?
Now honestly one of my first concerns with hiking Acatenango was the difficulty. I mean I have trekked the Annapurna Circuit in Nepal, but that was a couple of years ago.
I have always been a plus-size traveler, but nowadays I work from my laptop and fitness is a bit of an afterthought if I am honest. Heading to Guatemala I was of course keen to do this hike, but I was a little unsure about the Acatenango volcano hike difficulty.
Prior to this adventure, I had spent a few days in Semuc Champey where I got terrible food poisoning thanks to Mcdonald's. Seriously it's ironic that is what gets me sick.
So after spending a couple of days in a private room semi-recovering, I made the journey to Antigua where my body and energy levels were quite depleted. I spoke to many travelers in the hostel and was doing lots of research, and I was still unsure.
Luckily I was spending a few weeks in the city so was in no rush. In the meantime, I decided to see how I would cope with the other volcano trek, Volcan Pacaya. I came out with blistered feet but successfully completed it, giving me more confidence.
I decided I would do everything I could to increase my efforts of successfully completing the Volcano Acatenango hike. This meant hiring a porter to carry my luggage both up and down. This is something I would highly recommend and there is no way I would've been able to complete the hike without him.
I was always about 10 – 20 minutes behind the rest of our group and the porter acted as my guide during this time, pointing the way, and answering my constant requests of "how long".
I found out at the stop that a group on our tour pulled out because everyone was too fast, though they definitely could have continued with me.
All in all, I think the Acatenango hike is more about determination and stamina. You just need to put on some good music, look down, and put one foot in front of the other.
As I started this trek there were older couples in their 60's finishing, as well as children younger than 10. This gave me the extra boost to know it would be possible for a plus-size, non hiking, traveler like myself to complete it.
---
Fuego VS Acatenango Volcano
So what can be a little bit difficult to understand is that even though you are doing the Acatenango Volcano hike, this volcano isn't actually the one that everyone marvels at.
Instead, Acatenango Volcano is the one you climb, and Fuego Volcano is the one you watch erupt through the day and night, putting on a truly impressive show you won't ever forget.
Acatenango is a dormant volcano that hasn't erupted since 1972, so it is definitely the safer out of the two volcanos to sleep on! 2.5 kilometers away, directly opposite you will find impressive views of the Fuego volcano standing tall.
---
What Company To Book With & Prices
Now, this is the hard part when doing the research for your Acatenango Volcano trek. While exploring Antigua you will see countless signs advertising the Acatenango Volcano trek, and numerous travelers talking about it.
Rather than just booking through your hostel or some random tour agency, this is one activity it pays to do your research about. Each company offers something slightly different, e.g. sleeping facilities, and food provided.
It is recommended you book with a tour agency as opposed to doing it alone due to the safety risks involved, this is especially true if you are also planning to do the evening hike to the Fuego ridgeline.
In all honesty, I had my heart set on Wicho & Charlies from the start. They provide vegetarian meals, as well as a comfortable shelter to sleep under.
Being a Kiwi and seeing the White Island eruption play out, somewhere I had visited not long before, I knew the dangers of activities such as this one, and even though I partake in them to my mom's disappointment, I try to do so in the safest manner.
Here is a little breakdown of what I found were the most popular companies travelers seemed to book with. Wicho & Charlies, as well as OX Expeditions, seemed to cater to a little bit more upmarket 'glampacker' crowd, whereas Tropicana and CA Travelers seemed to attract a more true backpacker stereotype.
Not saying you will experience the same, but that was just my perspective. Nevertheless, here is a little breakdown of the pros and cons of some of these popular companies:
| | | | |
| --- | --- | --- | --- |
| Company | Price | Positives | Negatives |
| Wicho & Charlies | from $97.00 | actual cabins to help keep warm awesome view high up on base camp vegetarian meals socially conscious company private cabins available entry fee included | no bathroom facilities (pop a squat time) generally attracts a young and athletic crowd need to book a couple of weeks in advance don't allow hikers to use horses (but for good reason which I will explain further down) |
| Ox Expeditions | from $89.00 | proper wooden cabins long drop style toilet (this is the best you will find) quality gear for hire socially conscious company | no private cabins entry fee not included in price (additional 110Q / $14.00) |
| Tropicana | from $67.00 prices can be cheaper booking in person* | cabins to help keep warm discounts at the hostel for trekkers entry fee included | generally caters to the more 'drunken' backpacker crowd |
| CA Travelers | from $60.00 | one of the cheaper options many people I met in Antigua used them and had excellent experiences basic long drop/ outhouse style toilet entry fee included | use tents rather than cabins (though they are in the process of being built!) |
Now we have done a quick little overview of the main companies offering the Acatenango Volcano hike hopefully you have a bit more of an idea of which will be the most suitable for you.
Overall they mostly all provide the same things which include:
Transfers to and from Antigua to the start of the hike
Storage for the belongings you aren't taking
Warm clothes & additional items for rent (trekking poles, gloves, headlights, drink bottles, bags, etc)
Lunch, Dinner & Breakfast, and most even breakfast at the office before departing
Local guides (though their English may not be the best so don't expect a huge speech about the scientific details of volcanos)
Coffee/ Tea and marshmallows
Depending on the company you book with the entry fee to the park will either be included or not. It is an additional 110Q / $14.00 payable in quetzales at the registration office, about a 1-hour walk into the hike.
The more reputable companies will offer these things, though the random cheap ones you may find at that corner side travel agency may not. Even if you decide to book online make sure you choose a decent company, with plenty of reviews so you know what to expect and that their offerings are up to par.
Seriously hiking at altitude, in the vicinity of multiple volcanos, and in cold temperatures (even below freezing at certain points of the year) mean your safety is important and you will want to book with a company that puts this first.
If you are interested in booking through Get Your Guide you can do so by clicking one of the activities below:
---
Best Time To Hike Acatenango Volcano
There are two distinct seasons that occur in Guatemala and you will either be doing the Acatenango Volcano in the dry season or the wet season. It is important to know you can do this hike all year round.
---
Dry Season (November to April)
The dry season is no doubt the most popular time to do the Acatenango Volcano hike, though that is because this is the most popular time to travel the country as a whole.
You can expect minimal clouds and excellent views. Even from Antigua you can look up and see Acatenango and Fuego on a clear day. During this time it is less likely to also rain.
The downside of hiking during the dry season is that temperatures are a heck of a lot colder and it is pretty typical that it will drop below freezing during the night.
Luckily most companies you book with will provide you with extra warm clothes. Though you may want to book your trip with a company that provides a cabin, rather than just a tent, to help keep you warm as well.
---
Wet Season (May to October)
Now for some reason, a lot of online blogs recommend that it is not worth doing this hike in the wet season, and that is so untrue! I did it at the beginning of the wet season in May and it was as incredible.
Did we get wet? Yes, though this was only at lower elevations, once we trekked through the clouds in the valley it was a beautiful sunny day. The clouds remained under us until we trekked back down the following day.
Though in saying this I did hear a couple of stories from fellow travelers I met along the way who did this hike and saw absolutely nothing thanks to the clouds. This isn't a common occurrence, so it is unlikely to happen to you and happens a couple of times per month.
If you are worried about this happening you can always take some extra cash as most agencies will allow you to stay up longer if they have a permanent base camp crew, and join the following night's tour group, rather than trek back down with your group.
We were not able to do the sunrise hike in the morning due to clouds blocking any chance of a view. Though I wasn't bothered by this in the slightest and was just happy to have made it to base camp.
Be aware you will need some sort of rainproof gear, I didn't have anything, but I was able to buy a sheet of plastic at the bottom of the trek to cover my bag. It was super cheap, and very well-needed until we were able to hike above the clouds.
If the weather reports stating quite a bit of rain, then make sure to bring an extra pair of dry clothes to get changed into when you reach base camp.
---
How Long Does The Acatenango Volcano Hike Take
The hike itself is set over two days and you will climb 14 kilometers return. No matter what company you decide to book with they all sort of follow a similar itinerary which is as follows:
DAY 1
8.00 – 9:00 am Hotel pick-up or meet at the office location. Organize gear and transfer to the beginning of the hike approximately a 1 hour drive away
10:30 am The hike begins up through farmland and into the forest where you register for the trek. You will take a short drink break every 20 minutes or so
1:00 pm Half an hour stop to have lunch
2:00 to 3:00 pm Arrive at base camp and settle into your tent/cabin
5:00 pm If you have decided to do the Fuego hike you will depart and not get back until 9 pm or 10 pm. Those who stay behind will get to relax and marvel at the impressive views as they get to know their campmates
7:00 pm Dinner time and you will also get a hot drink
Bedtime What time you go to bed is up to you. Feel free to stay out all night if you can survive the cold
DAY 2
4:00 am It's an early start for the 1-hour hike to Acatenango summit
5:00 am Watch the sunrise and Volcan Fuego erupting
6:00 am Head back to camp for breakfast
8:00 am Begin the hike back down to the start
10:00 – 11:00 am Arrive at the trailhead and begin the transfer back to Antigua
12:00 pm Arrive back at the company office or your hotel and put your feet up, you deserve a relax
Depending on how fast you are, and how many breaks you take will depend on how quickly you make it to base camp. Overall it generally takes most people 4 to 7 hours to climb from the trailhead to camp.
Personally, I am in no way fit, though I am quite a determined person. Doing this hike was one of the biggest back-and-forth decisions I have ever made. I didn't stop for any breaks when climbing, apart from a 5 minute lunch when I caught back up with the rest of the group.
I took it slow and just concentrated on putting one foot in front of the other. We started the hike at 10:15 am and I arrived at base camp at 3.15 pm, so in total it took me 5 hours.
If you choose to do the Fuego saddle hike on top of the Acatenango Volcano hike you will typically depart base camp at 5:00 pm and be gone for 3 to 5 hours. This means you will be having a late dinner so would pay to bring some extra snacks.
---
Hiring Horses & Porters For The Acatenango Volcano Hike
Now if you are a bit like me and doubting your abilities to complete the Acatenango Volcano hike you may want to pay for some extra assistance to increase the likelihood of finishing. Luckily this is certainly an option in the form of horses and porters.
---
Horses On The Acatenango Volcano Hike
In 2021 a weight limit was introduced on what the horses are able to carry. This is 80lb / 36kg, essentially meaning they are not able to carry up any people. This is due to an accident where some local guides were exploring horses and it ended up going viral.
Some companies, such as Wicho and Charlie, who I booked with, do not allow their guests to use horses simply because they don't know whether they are being properly looked after.
Now I researched all options, including taking a horse up, prior to booking my tour. Though as a plus size traveler, if I do not ethically feel comfortable riding a horse at sea level, on a flat surface, why would this be okay to do so at an altitude up the side of a volcano?
If you really don't think completing the Acatenango volcano hike by foot is an option for you, and now you see a horse isn't either, luckily you do have another option. Adventure Guatemala offers an Acatenango volcano experience by jeep.
The majority of the trail can actually be driven cutting about 3 and a half hours off the total hike time. The last portion you need to hike is lovingly known as the Guatemala flats, and is exactly that, a nice flat track compared to what was previously.
This is a bit more of a pricey option with prices between $295.00 to $495.00. Though trust me this is truly a once-in-a-lifetime experience and well worth every dollar.
---
Hiring A Porter On The Acatenango Volcano Hike
Now apart from just hiking to base camp, you will also need to carry your belongings, as well as water to sustain yourself, and some communal water which you will give to the crew at camp.
This means you will actually be carrying quite a bit of weight, especially with all the water, and if you are traveling with any photography gear such as myself.
Luckily companies will provide porters to you at an extra cost. Though this cost does depend on how heavy your luggage is, makes sense. Typically you can expect to pay Q150 / $20.00 one way for a 10-kilogram size bag, and Q200 / $25.00 if it is overweight.
The guides will weigh your bag at the trailhead and set you up with a porter. Be aware these porters are not employed by the companies, so you need to pay them directly- make sure to carry some extra cash!
Of course, my bag was overweight, as I was worried about water, though I ended up coming down with still 1 full bottle. Nevertheless, my porter was great and acted as my personal guide (albeit only Spanish-speaking, but we managed) once I fell behind the group.
I never could have done it without him and ended up tipping 100% as I was so appreciative.
If you have bad knees like yours truly you may also hire a porter for the way down. It costs Q150 / $20.00 for the way down, as presumably all your water weight will be gone.
---
Can You Do The Acatenango Volcano Hike Without A Tour Company
Technically, yes you can do the Acatenango Volcano hike without a guide or using a tour company. Though the downside of this is that you will need to organize your own food, tent, transport, and permits. You will also need to carry all your gear up to one of the camping areas open to the public.
Even though you may be saving money it is good to know that this isn't all it's cracked out to be. Some of the public campsites are actually on the opposite side of Acatenango, meaning you will miss out on watching all the eruptions.
Secondly, you will be traveling without the knowledge of locals, and this is a volcano, if something goes wrong you want to put yourself in the best position to get out safely, and doing it alone is the complete opposite.
---
Is Hiking Acatenango Volcano Safe
Following on from the above, is it safe to hike Acatenango Volcano at all? Well, Acatenango is a dormant volcano, so it is in a state of rest. Could it erupt? Sure. Is it likely? No, the last time it erupted was in 1972.
Volcan Fuego on the other hand is a different story. It erupts on average every 15 to 30 minutes, though the last major eruption was in 2018. Unfortunately, hundreds of people were killed in nearby villages due to minimal warning to evacuate.
Occasionally throughout the year, they will need to evacuate the volcano as well due to heightened unrest. The following post is from their most recent experience on December 10th, 2022:
Overall the majority of eruptions are small, with the volcano expressing a mixture of lava, gas, and ash. It is normal that the volcano goes quiet for an hour or more, but when it starts again you know there is going to be a great show.
Another thing regarding safety on the Acatenango Volcano hike is altitude sickness. The average altitude of the base camps is 2600 meters.
It is just over a 1000-meter increase from Antigua, and since it is below 3500 meters, you may feel some effects of altitude sickness, but for the majority of people, it shouldn't be noticeable.
If you decide to do the morning summit this is where symptoms will set in if they are going to, but once you start heading back down to the base camp you should start feeling better again.
I have trekked at altitude before so I know how my body reacts to changes in oxygen levels, and I knew this trek would not be an issue for me. Though unfortunately for many people this will be their first experience hiking at altitude.
A friend who I bumped into quite a few times backpacking Guatemala struggled quite badly with bad headaches and vomiting.
To prevent such a thing from happening to you, you should spend a few days in Antigua prior to doing this hike. This means no, don't travel to Antigua from the sea-level town of El Paredon, then decide to hike Acatenango the following day.
You should also drink plenty of water, even if your body isn't feeling thirsty and you don't want to use the gross toilets.
---
It Is Worth It Hiking Fuego?
Now this one is up for debate, though from what I can figure, the people that have hiked Fuego said it is worth it, whereas the ones who stayed back at base camp were happy with their choice. Ultimately it is impossible to know whether it is worth hiking an additional 4 hours return until you are there.
From base camp, the clouds may be directly in front of Acatenango blocking any view of Fuego, whereas you'll have a great view of the eruptions from the Fuego saddle.
Alternatively, you may hike all the way to the Fuego saddle and find the clouds sitting right on top of you blocking any view, whereas sitting across from base camp you are higher than the clouds so have a perfect view.
Nevertheless, if you are fit enough and have the energy it is well worth hiking the Fuego saddle. The views from here are epic, you'll be able to watch the lava rivers flow down the sides of the volcano up close, and hear all the rumbles.
---
My Experience With Wicho & Charlies
So as you may have figured I decided to book my Acatenango Volcano trek with Wicho and Charlies. It was an early 7 a.m. meeting time at their offices, so I checked out of the lovely Maya Papaya hostel, and jumped in an Uber for the short drive.
I rolled up at 7 a.m. with a couple of other people waiting around, though the majority of people didn't actually arrive until 7.15 a.m. to 7.30 a.m.
Once inside it was time for the roll call, I unpacked my backpack of everything I wouldn't need and stored it in one of the available lockers. A small breakfast was provided of toast, though I did expect a bit more considering the amount of energy we would be using today.
Nevertheless, I spoke to the team about the availability of plus-size warm clothing and they confirmed they had larger sizes. Luckily enough I was part of the first group to grab their rental times, meaning I got the first dibs on sizes.
I found a basic long sleeve pull over, and two jackets that could be layered on top of one another.
Next up I found a beanie, scarf, gloves, hiking poles, and a drink bottle pouch. The hiking poles and drink bottle pouch did cost extra to hire but were 100% worth it. I also had to leave my passport as a deposit, if any of the items were missing when we returned, I would need to pay a replacement fee.
There was a tap onsite with filtered water where we could fill up our drink bottles, as well as extra snacks such as scroggin, chocolate, and pretzels, that we could pack into a brown paper bag for extra nibbles.
We had the chance for one last toilet break before jumping on the bus and heading away from beautiful Antigua. There were about 20 or so people in our tour group and we chit-chatted and got to know each other during the hour-long drive.
There was a good mixture of backpackers, couples on holiday, and yogi people in our group. All of us were quite young and in the 20 to 40 age bracket.
---
Start Of The Trail
We pulled over to the side of the road where a handful of huts were located. I few exhausted hikers took cover from the misty rain slowly falling around us. We were told if we had waterproof covers for our bags, to put them on now.
Unfortunately, I didn't, but the guides showed me to a local lady selling plastic sheets that you could wrap around your bag. I purchased one and then my bag was weighed and a porter allocated to me.
While my porter wrapped my bag in the plastic sheet using a technique he had obviously mastered after plenty of practice, I and a couple of other girls snuck down the valley on the side of the road for a nervous pee.
Reuniting with our group we walked across the road and took our first step on the wide dirt track. Other hikers were just coming down, people of all shapes and ages. This gave me a boost of confidence that I would be able to make it.
This dirt track seemed to go on for quite a while and in some sections, it was quite steep. We took a couple of short breaks going up to keep hydrated, and soon enough we reached the small coffee shop I had read about online.
Now we were on a real track as the dirt road disappeared and was replaced by a single-file path and step stairs.
This is where I slowly began falling away from my group. Though with my porter we took a few short breathers along the way and just kept a slow but steady pace.
---
Into The Forest
Soon enough the staircases stopped and we entered a cloud forest. The air was damp and the trees were covered in moss. I heard voices that we soon caught up to, we had arrived at the registration office. Finally, I had caught back up with the group, though they were just getting ready to start hiking again.
As they headed further up the trail I sat down and filled out my registration form. After a quick drink, I continued the hike, I didn't want to fall too far behind the others because I stopped for too long.
We continued zig-zagging up the steep track, and another group from a different company overtook me which was an excellent confidence boost. The once-damp forest started becoming drier and the sun started to burn off the clouds. We passed a couple of local entrepreneurs selling drinks and snacks.
I use the opportunity for a quick break, before continuing on the way. It seems endless, but luckily soon enough I caught up to the rest of the group while they were on their 30-minute lunch break. I collapse into the ground and pull out the prepared vegan meatballs and mashed potatoes.
I definitely needed this to give me the energy to keep going. As I finish the group starts back on the track, I quickly have a drink, then let my porter know I am ready to continue.
The climb continues up, up and up, but soon enough the small track opens up onto a large dirt road. It is steep and seems to go on forever, I start missing the short forest zig zags as my slow pace seems a lot more noticeable when each turn is so far away.
The views are pretty decent, but the sun is beating down and we are now above the forest line. I started a back and forth with my porter asking in Spanish "how much longer", then to his answer saying "but how much longer for a slow person".
Thankfully the exposed dirt road ends and we start on the famous Guatemala flats. As the name suggests this is flat by Guatemala standards, though in reality, it is small up and down hills.
Nevertheless, it is a great respite from the last 4 or so hours of constant climbing, it's nice to finally be using some different muscles and giving the others a bit of a break. No doubt this is the easiest part and gives the perfect motivation to complete the climb on a high.
Soon enough my questions of how much longer started receiving single-digit answers. With 8 minutes to go, we take a small trail off the right-hand side of the path, this is the way to our campsite.
I was so excited the 8-minute walk suddenly felt like 2 minutes, and before I knew it I was climbing a small hill to the view of our cabins a short 20 meters away.
---
Overnight On Acatenango Volcano
It was a big welcome by my fellow campmates, though I was surprised to learn I was only 10 minutes behind everyone else. The guides showed me to my cabin and I grabbed the last free bed, setting down my bags and layering up so my body wouldn't get the opportunity to get cold.
Suddenly a big bang is heard outside and I look out to see a large grey cloud erupting from Volcan Fuego in the distance.
I sit down with the others in the perfect view of the volcano. We hang out there for quite a few hours telling stories of our travels and learning about each other's backgrounds.
With the sun no longer hitting base camp the temperature starts quickly dropping, luckily enough the guides start building a small fire that we all huddle around on our camp chairs.
It is our job to keep it going, which is fine, we are warm and there is a show going down right in front of us, what more could you want?
A call out for anyone wanting to hike to the Fuego saddle is made and I remain happily sat in my chair. It is about 50% of our crew decided to make the hike over.
Though from where we are we can't even see the Fuego saddle, only the top of the volcano is visible, and the rest is covered in clouds. After hearing one too many stories from other backpackers in hostels that had done this and saw nothing it was an easy choice for me.
As night falls the volcano grows quiet and we are served up some hot drinks. We watch the clouds roll in front of and behind the volcano and soon enough start catching glimpses of people on the saddle. They seriously look like ants compared to this huge volcanic creation.
I duck away in the bushes for a quick pee and suddenly the ground shakes and a large boom is heard in the valley. I look up to see Fuego spewing lava everywhere. This is no doubt a night to remember.
A group, including myself, huddles around the fire determined to get a decent photo which is actually a lot harder than you would expect. A tripod is definitely helpful, but you also need a decent knowledge of your camera settings to set that perfect shot.
I tried to balance my camera up on the fence, but each time the volcano would erupt the ground shook and the photo came out a hot mess.
Dinner of a lentil curry was served and it was the hot meal we all needed. About an hour or so later the Fuego team started slowly returning to camp. They are exhausted have dinner and head straight to bed while we stay up a bit later.
Unfortunately, around 10 pm we are told we can't put any more logs on the fire so it starts going out, and the cold sets in. As much as it would've been nice to stay up all night, we needed to get under our sleeping bags and get warm.
---
Sunrise On Acatenango Volcano
Alarms start going off in the morning and we are given the choice to sumit Acatenango Volcano for sunrise. This is included in the price and you have some epic views from the top. It is a decent climb taking between an hour to an hour and a half.
Though personally I was happy enough to simply have made it to base camp and I had experienced what I wanted to see. Shortly the small group that decided to do sunrise was back, having had to turn around halfway due to clouds.
We all sat together at base camp watching the sunrise over Acatenango. In my opinion, this is actually the best time to photograph the volcano erupting and the easiest. Just before the sun rises you can still see the lava glowing red, but it is light enough that your camera can easily focus.
---
Hiking Down Acatenango
The last part of this crazy adventure is hiking back down Acatenango. After a breakfast burrito, a small group of us of about 8 people and a guide set off 30 minutes before everyone else.
We had a good pace, stopping every 20 minutes or so for a quick drink. Some people had knee problems so the hike down would actually be harder than the hike up.
The most difficult part though was the steepness of the track, I was amazed I was able to make it up yesterday. The trekking poles were a godsend as each carefully placed step had the risk of slipping.
About halfway down the volcano the rest of the group caught up to us in a massive dust cloud. THEY WERE RUNNING. Now I'm not that old, but I know my knees could not.
We are led down some small shortcuts by the guides and about 10 minutes from the registration office we stop for a 20-minute break to have a snack and a drink.
The next part is truly dodgy, seriously the loose dirt tracks provide the perfect opportunity to slip. Maybe running would have been easier but I am not wearing the right bra for that right now.
I slip quite a few times on the last part of the trail, and with sore knees, I soon fall back behind the group, at least this time it is just by a couple of minutes.
So turns out we were all crazy fast getting down… and that is including me strangely enough. We had made it at 9.30 a.m., whereas the bus of new trekkers that we were waiting on was only halfway to the trailhead.
We ended up waiting around for about 45 minutes before they came and we were able to jump on those buses back. All I am saying is don't feel rushed to get down, especially if everyone else is running around you.
---
What To Pack For Hiking Acatenango Volcano
One of the most important things for hiking Acatenango Volcano is making sure you pack properly and smartly. You will be carrying it all on your back or need to hire a porter, so you just need to take what is absolutely necessary.
It also gets freakin cold so layering up is important, this is especially so in the dry season or if you are planning to hike Volcan Fuego!
Also, everything will be covered in dust and dirt, including yourself, and it is not a pretty sight. So don't take any decent clothing. I basically had to throw out my socks and get the rest of my things completely laundered.
You will want to take with you the following:
Water – a minimum of 4 liters is recommended and most companies will ask each hiker to take 1 liter of water for communal use for cooking and such
Head Torch – most companies should have these for hire and they are necessary for getting around after nightfall
Comfortable backpack – most companies will hire backpacks so don't worry if you are only traveling with a suitcase
Camera – whether this is a fancy DSLR or simply your iPhone, you need something to capture those magical moments
Toiletries – just take the basics such as a toothbrush, toothpaste, and any medication
Wet wipes – the toilet situation is erm questionable, and depending on what company you use you may be doing your business in the bushes
Hiking poles – its unlikely you are traveling with these so most tour companies will have them for rent. You can also buy basic wooden sticks at the trailhead from locals
Small bag – this is to collect up your rubbish and wet wipes so they can be properly disposed of
Snacks – some companies feed you plenty, others not so much, either way, its good to have some extra snacks
Warm clothing – think layering! You will want at least three layers, though a minimum of four is needed in the dry season
Shoes – something you can hike in and will get pretty destroyed. Most companies will have hiking boots available to hire, but it's best not to do this as you will end up with blisters. One chick in my group managed to do the hike in sandals, but this is not recommended.
Socks – wool socks will be best, once again you should be able to hire them, just double-check for holes
Most tour companies will also have lockers so there is a secure place to store the gear you are not taking with you.
---
Other Things To Do In Antigua
Now in the few weeks, I spent in Antigua I absolutely fell in love with this gorgeous city. Apart from doing the Acatenango Volcano hike, there are also plenty of other things to do here:
Pacaya Volcano Hike: I know, just one more volcano hike. This one is nowhere near as difficult and can be done in just a couple of hours. This is a popular tour to do from the city and you can enjoy marshmallows cooked over the hot steam at the top.
Free Walking Tour: After traveling Central America I am now a massive fan of free walking tours. These are the perfect way to discover a new location and get awesome recommendations for the locals.
Hobbitenango: I am a kiwi, so home of Lord Of The Rings, so being in Antigua I know I had to check out the popular Hobbitenango. This is set up on the hills of the city with awesome views on a clear day. Head on a weekday to avoid the crowds, and spend some time planning games or going for a swing.
---
Where To Stay In Antigua?
Trust me, when you are done with your Acatenango Volcano Hike you will want a clean and comfortable place to rest your head, and put up those sore feet! Luckily enough the city of Antigua is relatively small and there are some beautiful hostels, as well as affordable guesthouses that you can stay at here.
I ended up spending about 3 weeks in Antigua thanks to attending Spanish school and using it as a base to explore further afield to places like Lake Atitlan, and the coastal town of El Paredon. I chose to stay at Maya Papaya for my visit.
The team there is absolutely incredible and there are plenty of beautiful relaxing places to simply chill out. I also needed a couple of nights in a private room and managed to book Hotel Maya Ik' at an affordable last-minute deal. This place is an absolutely incredible location, right amongst the action.
Large and comfortable rooms in an awesome location. Prices start from $40.00 per night.

BOOK NOW

Cheap and cheerful accommodations in Antigua. You can find private rooms here with a shared bathroom from $25.00 per night.

BOOK NOW

My favorite hostel in Antigua. You can enjoy modern dorm rooms and a delicious breakfast from $20.00 per night.

BOOK NOW

A relatively new hostel to the Antigua backpacking scene. Enjoy a glampacker stay here from $25.00 per night.

BOOK NOW
---
🚗 How I Book Cheap Transport In Guatemala: GuateGo
---
LIKE IT? PIN IT!
---
Want more Guatemala Inspiration? Check out….
---
Disclaimer: This post contains affiliate links. So, if you click on it and purchase something, I get a small percentage at no extra cost to you. As always all opinions are my own and your support is much appreciated.
Related Posts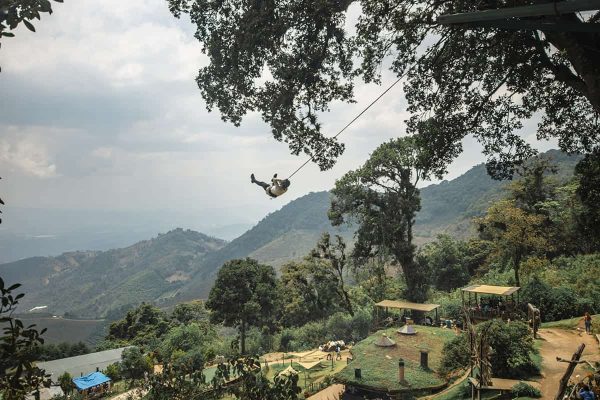 Whether you are a Lord Of The Rings and Hobbit fan, or not, visiting Hobbitenango [...]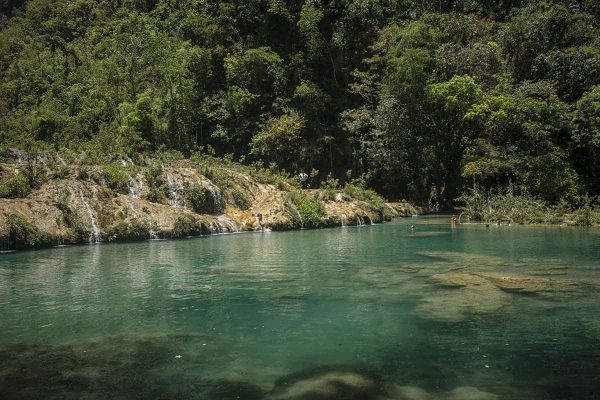 Come find out how to travel from Lanquin to Semuc Champey in Guatemala. These two [...]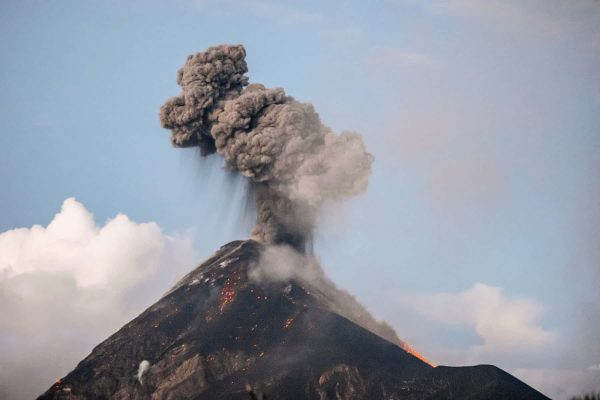 Planning a trip to the incredible country of Guatemala, but not sure where to go? [...]