Thinking of planning a trip to the incredibly underrated country of Honduras? Well then come check out my 2 weeks in Honduras itinerary, where we will not only visit the islands but plenty of spots on the mainland as well. Let's talk about the best route, things to do, transportation, accommodation, and more during your trip to Honduras!
---
Now if you are wanting to explore somewhere in Central America which is a little further off the normal tourist route, but still has plenty of natural beauty, incredible culture, and is safe, then I cannot recommend Honduras enough!
This gem is crazily underrated, and a place that a lot of travelers actually end up skipping. Though spending 2 weeks in Honduras was a highlight of my travels in Central America.
Honduras is a hidden oasis, where you can explore the rich history and culture of the Maya civilization, enjoy the natural beauty and wildlife of the tropical forests and mountains, and relax on the white-sand beaches and turquoise waters of the Caribbean Sea.
Whether you want to dive into the world's second-largest barrier reef in the Bay Islands, marvel at the hieroglyphic staircase and sculptures of Copán Ruinas, hike to the stunning waterfalls and hot springs in the western highlands, or dance to the rhythms of the Garífuna people on the northern coast, Honduras has something for everyone.
In this Honduras itinerary, you will discover the best of the country over 2 weeks.
You will check out the Mayan ruins in Copan Ruinas and marvel at the impressive architecture. Relax on the incredible beaches in the Bay Islands, enjoy living in the jungle in Pico Bonito National Park, and discover the beauty in nature at Lago de Yojoa.
This is the perfect 2 weeks in Honduras itinerary for those who are wanting to explore the real side of the country away from the expat-filled islands.
Now I will say if you are a solo traveler expecting the same backpacker vibe as you find elsewhere in Central America you may be surprised. Oftentimes there will be a handful of people staying in hostels, or you may even find you have an entire room for yourself!
We did meet a few other backpackers traveling Honduras, but it certainly was a different vibe than what we had experienced elsewhere. At one stage it was me, my partner, and another guy staying in the entire hostel!
If you are worried about traveling alone I highly recommend meeting some other travelers in Guatemala and coming over with a group.
This 2 weeks in Honduras itinerary is designed for first-time visitors who want to experience the essence of the country in a comprehensive and enjoyable way. Come discover what the much less trodden mainland has to offer and be amazed at how underrated this country truly is!
Now, let's get into this 2 weeks in Honduras itinerary with all the information you need to know to have the ultimate adventure.
---
2 Weeks In Honduras: The BEST Honduras Itinerary To Explore The Country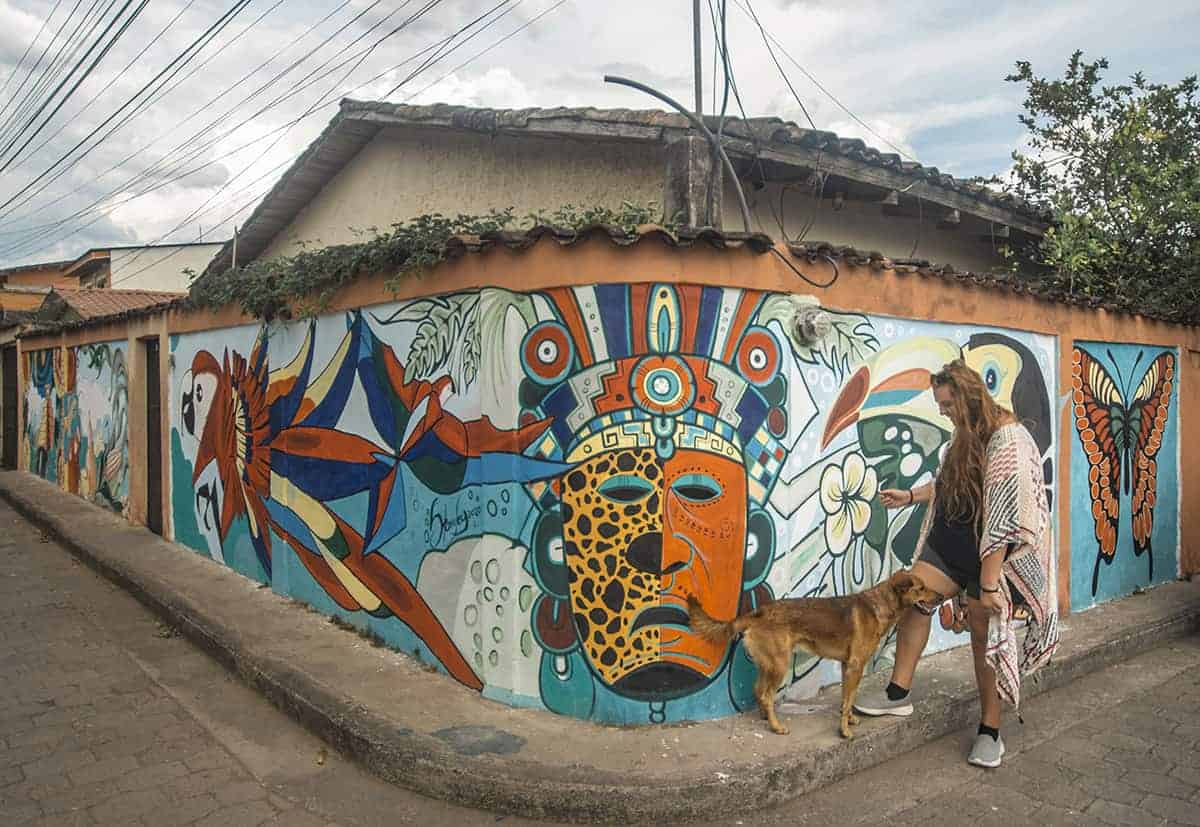 ---
Copan Ruinas (Day 1 – 3)
Copan Ruinas is located in western Honduras that is famous for its nearby archaeological site of the Maya civilization. The site was the capital of a major kingdom that flourished from the 5th to the 9th centuries AD and is known for its remarkable sculptures, hieroglyphs, and monuments.
It was declared a UNESCO World Heritage Site in 1980 and a cultural monument by the Honduran government in 1982.
No doubt this site is a huge draw for tourists visiting this small town and is certainly a highlight of their visits, therefore a must on the 2 weeks in Honduras itinerary. I checked out multiple ruins while traveling Mexico, Belize, Guatemala, and Honduras, and this was my favorite.
The Copan Mayan Ruins cover an area of about 15 hectares and consist of several complexes of temples, plazas, altars, and ball courts.
Apart from the Mayan Ruins, you can still find plenty of other things to do in Copan Ruinas including:
Explore Macaw Mountain: This is a bird park and nature reserve that rescues and rehabilitates macaws, toucans, parrots, and other exotic birds. You can walk through the lush forest, interact with the friendly birds, and learn about their conservation.
Relax at the Luna Jaguar Spa Hot Springs: This is a natural spa that offers thermal pools, massages, mud baths, and sauna. You can enjoy the soothing waters surrounded by tropical vegetation and volcanic rocks. Just be aware this is a little bit of a drive away, but there are plenty of tours on offer that you can book.
Visit the Copan Sculpture Museum: This museum showcases the impressive art and architecture of the Mayan civilization that flourished in Copan. You can see original sculptures, stelae, altars, and hieroglyphs that depict the rulers, gods, and rituals of the ancient city.
Shop for souvenirs and explore the town: Copan Ruinas has a charming colonial atmosphere with cobblestone streets, colorful houses, and friendly locals. You can shop for handicrafts, jewelry, textiles, and pottery that reflect the Mayan heritage of the area. You can also check out the weekend market, where you can find fresh fruits, vegetables, cheese, and tortillas.
Why start in Copan? I choose to start the 2 weeks in Honduras in Copan Ruinas as it is close to the border of Guatemala, which is a common route that travelers will take. It is also only a couple hours from San Pedro Sula where you can find many international flights.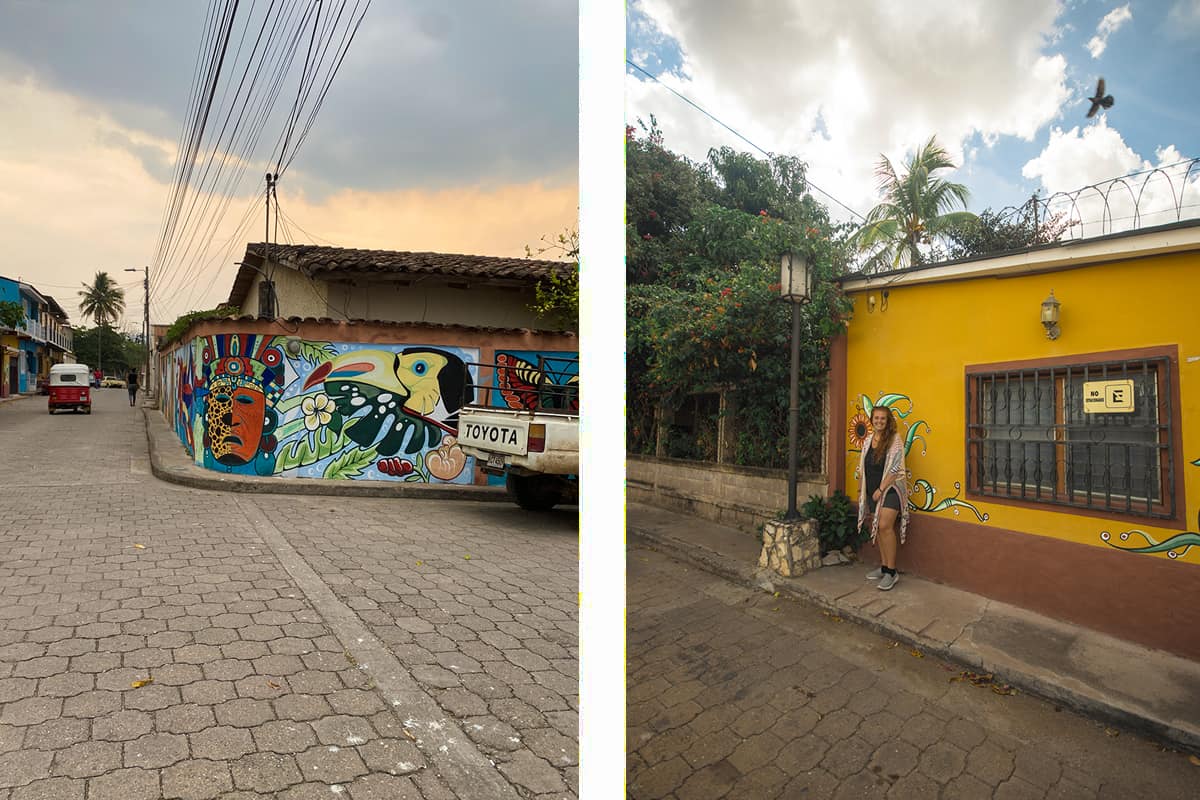 ---
Where To Stay In Copan Ruinas
Copan Ruinas is a super quaint and just chill town, but at the same time pretty touristy in terms of the mainland. There are a few accommodation options here, but you won't find a lot if you have been traveling Guatemala like I had.
Honestly, I think of it being because travelers have two options to take, either El Salvador, or Honduras, and because of safety concerns they tend to choose the other option. Though you will be glad you chose Honduras because it's an absolutely incredible country.
One thing to be aware of is Copan Ruinas does lack hostel options, though this doesn't mean you won't find other backpackers here. Honestly, this is probably the most touristy town in mainland Honduras.
This is a super popular spot with budget travelers and you will find plenty of affordable guesthouse and accommodation options.
Personally, I stayed at Hostel Iguana Azul which is the only hostel option with a dorm room, but I did book in the private rooms which are equally as affordable. We had a shared bathroom and it was fan cooled. Facilities were on the basic side, but for the price point, this was an excellent choice. It's pretty common here that if you do have a dorm room you may only be sharing with a couple of other people.
My favorite choice for an affordable option. Dorm rooms start from $12.00 per night and private $22.00 per night.

BOOK NOW

Another affordable choice close to the town center. Private rooms start from $21.00 per night with a shared bathroom.

BOOK NOW

La Casa de Cafe Bed And Breakfast

This is the fancy sister property of Iguana Azul. It's super nice and rooms start from $70.00 per night.

BOOK NOW

A little bit more pricey but there is a small pool. Dorms start at $18.00 per night and privates $30.00

BOOK NOW
---
How To Get To Copan Ruinas
If you are traveling from your home country straight to Honduras one of your best options will likely be to catch a flight to San Pedro Sula. This is an international airport connecting many regions around the world.
From San Pedro Sula you will then need to catch a bus to Copan Ruinas, from the bus terminal which is about 20 minutes from the airport. There are plenty of bus services with the most luxurious being Hedman Alas, though they only depart once a day at 10:45 am.
Alternatively, you may do what I did and be traveling from Guatemala. Luckily this is pretty easy as Copan Ruinas is the border town between the two countries, making it super easy to begin your 2 weeks in Honduras itinerary.
You can easily get a bus from Antigua or Guatemala City which typically leaves in the morning. This means you will be at Copan Ruinas by the afternoon ready to explore!
---
La Ceiba (Day 3 – 6)
La Ceiba is a coastal city in the northern region of Honduras, known as the "Bride of the Caribbean" for its lively culture and friendly people. It is also the gateway to Pico Bonito National Park, one of the most famous parks in Honduras.
La Ceiba is also the main port for ferries to the Bay Islands of Utila and Roatan, which are popular destinations for diving and snorkeling.
A Biodiversity Hotspot Pico Bonito National Park is a national park that covers an area of 564.30 km2 and is named after Pico Bonito, a mountain that rises to 2,435 meters above sea level dominating the landscape.
Pico Bonito National Park is part of the Mesoamerican Biological Corridor, which is a network of protected areas that aims to conserve the biodiversity and ecosystem services of Central America.
The park is home to more than 800 species of plants, 400 species of birds, and 100 species of mammals, including jaguars, pumas, monkeys, tapirs, and anteaters.
There are plenty of things to do in Pico Bonito National Park for nature lovers and adventure seekers. Here are some of the most popular activities:
Hiking: There are several trails that lead to different attractions in the park, such as waterfalls, rivers, viewpoints, and wildlife observation areas. Some of the most popular trails are El Bejuco Waterfall Trail, which takes you to a 60-meter-high waterfall; El Mapache Trail, which takes you to a natural pool where you can swim; and El Cangrejal Trail, which takes you along the Cangrejal River, one of the best rafting spots in Central America.
Birdwatching: Pico Bonito National Park is a paradise for birdwatchers, as it hosts more than 400 species of birds, including toucans, macaws, hummingbirds, trogons, motmots, woodpeckers, tanagers, and many more. You can join guided tours or go on your own with binoculars and a field guide.
Rafting: If you are looking for some adrenaline rush, you can try rafting on the Cangrejal River, which offers class III-IV rapids in a scenic setting. You can join organized tours that provide all the equipment and safety measures, or rent your own raft or kayak if you have experience. The river runs through the park for about 20 kilometers, offering plenty of opportunities to enjoy the scenery, spot wildlife, and have fun.
Zip-lining: Another way to experience the park from a different perspective is to zip-line through the canopy. There are several zip-line tours that operate in the area, offering different lengths, heights, and speeds. You can glide over the forest, the river, and the waterfalls, feeling the wind in your face and the thrill in your heart.
---
Where To Stay In La Ceiba
La Ceiba is definitely on the backpacking Honduras itinerary, though most people decide to simply stay here one night on the way to the islands. This means the majority of accommodation in the city center does leave a lot to be desired, even the hotels are quite on the basic side.
The gem of Pico Bonito National Park is not far away and the perfect stay if you are wanting to discover more of mainland Honduras. I decided to stay at Jungle River Lodge here which is an excellent hostel located right in the middle of the jungle alongside the river.
It was surprisingly budget-friendly with some of the cheapest white water rafting I have ever seen. There are also some hikes you can do around the area to nearby waterfalls. They have dorm rooms available, as well as privates.
A hostel stay right on the river in Pico Bonito National Park. Dorms start at $19.00 per night.

BOOK NOW

More of a luxury stay in Pico Bonito National Park. Rooms here start at $80.00 per night for a private room.

BOOK NOW

A basic hostel in the city center of La Ceiba. Dorms here start for around $13.00 per night.

BOOK NOW

A basic and affordable hotel in the town of La Ceiba. Private rooms here start at $26.00 per night.

BOOK NOW
---
How To Get To La Ceiba From Copan Ruinas
Now once you are done exploring the highlights of the incredible Copan Ruinas it's time to make your way to the coastal city of La Ceiba. Unfortunately, the distance from Copan Ruinas to La Ceiba is a pretty long one around 360 kilometers.
If this were Guatemala that would be a multiple-day journey, though luckily this is Honduras, and I have to be honest. The roads here are pretty damn good.
| | | | |
| --- | --- | --- | --- |
| | Time | Cost | Highlight |
| Tourist Shuttle | 7 hours | from $50 | Comfortable journey |
| Bus | 8 hours | from $25 | Adventurous |
| Taxi | 5 hours | from $200 | Easy and stress-free |
| Fly | 4 hours | from $53 | Fastest Option |
Tourist Shuttle: Using a tourist shuttle all the hard work is done for you. There is no need to worry about transfers in different cities, and instead, you can just enjoy the pretty damn good views and sleep as much as you would like.
Once in Copan Ruinas, it is pretty easy to book shuttle tickets through your accommodation as they will know which operators are currently going. This is exactly what I did, and we found out once there that these shuttles only operate on Wednesdays and Sundays.
As we were planning to leave on a Tuesday we did have to stay an extra day.
Bus: Just be aware there are no direct buses from Copan Ruinas to La Ceiba so either way you will need to transfer at least once, and depending on how busy it is you could be waiting around for a little while for your next bus.
You will need to take a bus from Copan Ruinas to San Pedro Sula, then another bus from San Pedro Sula to La Ceiba. The buses are operated by companies such as Hedman Alas and EMTRAIOL. They are comfortable and air-conditioned, and some of them have wifi and snacks. It will take around 8 hours and the cost is around $30.00 to $40.00 per person. You can buy your bus tickets online, at the bus stations, or through your hotel.
Taxi:  If you are looking for a fast and direct way to travel from the historical town of Copan Ruinas to the lively city of La Ceiba, you might want to consider hiring a taxi.
A taxi will save you the hassle of changing buses or waiting for a shuttle and will take you straight to your destination. However, this option will also cost you more than other modes of transportation at around $200.00.
Fly: There is no direct flight from Copan Ruinas to La Ceiba, and instead, you will need to fly from San Pedro Sula Airport (SAP) to La Ceiba Airport (LCE). San Pedro Sula Airport is about 180 km away from Copan Ruinas. The flight time is about 30 minutes and the cost is between $53 and $366 per person depending on how far in advance you book.
You will need to take a bus from Copan Ruinas to San Pedro Sula Airport, which will take about 3.5 hours and cost between $15 and $20 per person. Once in San Pedro Sula, you can then take a taxi or a shuttle from San Pedro Sula to the airport.
---
Utila / Roatan (Day 6 – 11)
If you are looking for a tropical getaway with stunning beaches, world-class diving, and a laid-back vibe, you might want to consider visiting Roatan and Utila, two of the Bay Islands of Honduras. These islands are a must on your 2 weeks in Honduras itinerary and are not far from La Ceiba.
Roatan: Roatan is the biggest and most popular island of the Bay Islands, and it has something for everyone. Whether you are looking for luxury resorts, budget hostels, fine dining, local cuisine, adventure sports, wildlife encounters or cultural immersion, you will find it on Roatan.
One of the main attractions of Roatan is its spectacular coral reef system, which is part of the Mesoamerican Barrier Reef, the second largest in the world. You can dive or snorkel in the warm and clear waters and see a variety of marine life, including turtles, rays, sharks, dolphins, and colorful fish.
Some of the best dive sites are on the west side of the island, where you can also enjoy some of the most beautiful beaches, such as West Bay and West End.
Utila: Utila is the smallest and least developed island of the Bay Islands, but it has its own charm and appeal. If you are looking for a quieter and more relaxed atmosphere, with fewer crowds and more nature, Utila might be your ideal destination.
Utila is famous for being one of the best places in the world to see whale sharks, the largest fish in the ocean. These gentle giants migrate past Utila's shore several times a year, and you can join a boat tour or a dive trip to try to spot them. It is an unforgettable experience to swim alongside these majestic creatures.
Utila also has excellent diving and snorkeling opportunities, with over 60 dive sites around the island. You can see coral reefs, caves, wrecks and walls teeming with marine life. Some of the most popular dive sites are on the north side of the island, where you can also find some secluded beaches and coves.
Whether you wish to split your time between each island or perhaps just concentrate on one. The choice is up to you, though nevertheless, the Bay Islands are a must on your Honduras itinerary!
---
Where To Stay In Roatan & Utila
First off if you are looking for backpackers type accommodation in Roatan that is decent I personally had trouble finding anything which is why I didn't stay there. However, if you are looking at taking a diving course then Utila is the place to do this. It's affordable, and you will receive free accommodation with your chosen diving school!
There is excellent luxury accommodation in Roatan, though in all honesty, it doesn't really fit into my budget. Luckily there are a handful, of budget stays that are worth your money. We actually stayed in three different properties during our nearly 2 weeks in Roatan.
Roatan Backpackers Hostel: Honestly this place was a bit of a miss for us, simply due to the location. The beach area nearby was very average, though they did have a kitchen onsite and a grocery store down the road. There is also a lovely pool you can relax in.
Hotel Chillies: This is an excellent budget choice right on Half Moon Bay. They have an assortment of budget-friendly and more lux rooms, in a beautiful jungle setting. Though in the jungle comes the bugs so just be prepared for that. They also have dorm rooms but these need to be booked directly on their website.
Sea Breeze Inn: Again located in Half Moon Bay, though in a busier area of it, this was our favorite stay in Roatan. Even the budget rooms have air conditioning and after a busy day of diving, this was all we wanted. The property is clean and tidy, and we had proper windows to keep those cheeky bugs out.
The only real proper hostel on the island. Rooms start from $14.00 for a dorm and $20.00 for a private.

BOOK NOW

Across the road from the beach in more of a quiet location. Single and double rooms start at $30.00.

BOOK NOW

A lovely affordable hotel in Half Moon Bay. Private rooms here start at $50.00 per night.

BOOK NOW

A slightly dated resort in a good location. Prices start from $80.00 per night.

BOOK NOW
---
How To Get To The Bay Islands From La Ceiba
There are two main ways to get to Utila and Roatan from La Ceiba: by ferry or by plane.
By ferry: You can take the Utila Dream Ferry from La Ceiba to Utila once daily. The ferry takes 45 minutes and costs 750 lempiras one-way or 1,500 lempiras round-trip.
You can also take the Galaxy Wave Ferry from La Ceiba to Roatan four times a day. The ferry takes 1 hour and 15 minutes and costs 45 dollars one way. On weekends, you can take the Utila Dream Ferry from Roatan to Utila or vice versa. The ferry takes 1 hour and costs 750 lempiras one-way or 1,500 lempiras round-trip.
By plane: You can take a domestic flight from La Ceiba to Roatan with CM Airlines or SOSA Airlines. The flight takes 15 minutes and costs around 100 dollars. You can also take a charter flight from Roatan to Utila with Island Air.
---
Lago de Yojoa (Day 11 – 14)
If you are looking for a natural paradise in Honduras, you might want to visit Lago de Yojoa, the largest and only natural lake in the country. This lake is located in a volcanic depression surrounded by mountains and cloud forests, and it is home to a rich biodiversity of plants and animals.
Lago de Yojoa is a gem in the heart of Honduras, offering a refreshing and tranquil escape from the hustle and bustle of the cities. There are plenty of things to do here including:
Birdwatching: You can join a guided tour or go on your own to spot different species of birds. Some of the best places to go are Los Naranjos Ecological Park, where you can walk on a boardwalk over the wetlands; Santa Barbara National Park, where you can hike to waterfalls and viewpoints; Cerro Azul Meambar National Park, where you can explore trails in the cloud forest; and Panacam Lodge, where you can stay in a cozy cabin surrounded by nature.
Kayaking: Kayaking is a great way to enjoy the lake and its scenery. You can rent a kayak or join a kayak tour and paddle along the shore, through the wetlands, or to the islands. You can also combine kayaking with birdwatching or fishing. Kayaking is suitable for all ages and levels of experience, and it is available all year round.
Zip-lining: Zip-lining is a fun and exciting way to experience the forest canopy. You can zip-line at Pulhapanzak Waterfall, the largest waterfall in Honduras, or at Panacam Lodge, where you can also rappel down a waterfall. You can zip-line alone or with a guide, and you can choose from different lengths and heights of cables. Zip-lining is open to anyone over 5 years old and under 250 pounds, and it is available all year round.
Coffee tasting: Coffee tasting is a must-do for coffee lovers. You can some of the coffee farms around Lago de Yojoa and learn about the coffee production process, from planting to roasting. You can also taste different varieties of coffee and buy some to take home. Some of the coffee farms that offer tours and tastings are Finca Santa Isabel, Finca El Cisne, Finca San Lucas, and Finca Las Glorias.
---
Where To Stay In Lago de Yojoa
Lago de Yojoa is a beautiful and natural destination in Honduras, where you can enjoy the lake, the mountains, the wildlife, and the coffee. But where should you stay when you visit this hidden oasis?
D&D Brewery is located in the village of Los Naranjos, on the shore of Lago de Yojoa, and it is surrounded by nature and tranquility. Here you will find different types of accommodation for all needs and tastes. You can choose from private cabins, private rooms, dorms, or Overlanding spots.
All of them have access to hot showers, Wi-Fi, and a common area with books and games. D&D Brewery also has a restaurant that serves breakfast, lunch, and dinner every day. You can enjoy a variety of dishes, from burgers and pizzas to salads and soups. This is a great choice for backpackers and travelers looking to make the most out of their 2 weeks in Honduras.
View this post on Instagram
---
How To Get To Lago de Yojoa from La Ceiba
The best way to travel from La Ceiba to Lago de Yojoa is by tourist shuttle with Rooney Shuttles. This is a convenient and comfortable option that offers the following advantages:
It picks you up at La Ceiba ferry port when the morning ferry from Utila arrives, and drops you off at La Guama, the entrance to D&D Brewery.
It has air-conditioned and spacious shuttles with Wi-Fi and USB ports.
It has friendly and professional drivers who can assist you with your luggage and provide information about the area.
It has a flexible schedule that runs three days a week: Monday, Wednesday, and Friday. It costs $45 per person, which includes taxes and fees.
This is a great option for travelers and you will quickly find that shuttles are the norm when traveling around Central America.
---
Extend Your 2 Weeks In Honduras Itinerary
Why not stay a little longer while you are here in the country? Make the most out of that CA-4 agreement where you have 90 days in Guatemala, El Salvador, Honduras, and Nicaragua, and do some more exploring!
Domestic Options:
Unfortunately, domestic options are a bit limited when it comes to expanding your 2 weeks in Honduras itinerary. There are the cities of San Pedro Sula and Tegucigalpa though these are generally used as transport stops, rather than overnight trips. They are both busy cities with safety concerns that put off many travelers from visiting.
International Options Include:
El Salvador: If this is your choice then it's easy enough to continue your adventures to the Pacific from San Pedro Sula where you can find direct buses to the country's capital of San Salvador. El Salvador is quickly becoming more popular with travelers and it is well worth checking out if you are in the region.
Belize: This is actually the route I choose, and perhaps this would be a good choice for you if you only have 10 days in Honduras. You can actually get a direct flight from Roatan to Belize City, and from there easily get a ferry transfer to one of the islands to continue your adventures in paradise. This flight was incredible and was one of the highlights of my whole Central America trip.
Nicaragua: Nicaragua is a land of lakes and volcanoes, where you can witness the power of nature at the Masaya Volcano National Park. Another highlight is Isla Ometepe, an island formed by two volcanoes in the middle of Lake Nicaragua, the largest lake in Central America. Why not continue your scuba diving adventures by hitting up Big Corn or Little Corn, paradise islands off the Carribean Coast? Or you can surf on the Pacific coast, where you can find some of the best waves in the region. For a dose of history and culture, you can visit the colonial towns of Granada and León, where you can admire the architecture, museums, art, and cuisine.
Guatemala: Ahhhh Guatemala, this is no doubt one of my favorite countries hands down. By doing the 2 weeks in Honduras itinerary in reverse you could very easily make your way to Antigua after exploring Copan Ruinas. This country has so much to offer from the calming waters of Lake Atitlan, the surfer vibes of El Paredon, learning Spanish in Antigua, or climbing one of the impressive volcanos.
---
Any Questions? Let me know in the comments!
---
LIKE IT? PIN IT!
---
Want more Honduras Inspiration? Check out….
---
Disclaimer: This post contains affiliate links. So, if you click on it and purchase something, I get a small percentage at no extra cost to you. As always all opinions are my own and your support is much appreciated.
Related Posts
Planning on a visit to La Ceiba? Whether you are planning an overnight stay before [...]
Interested in visiting Honduras on a budget? Well, come find out all you need to [...]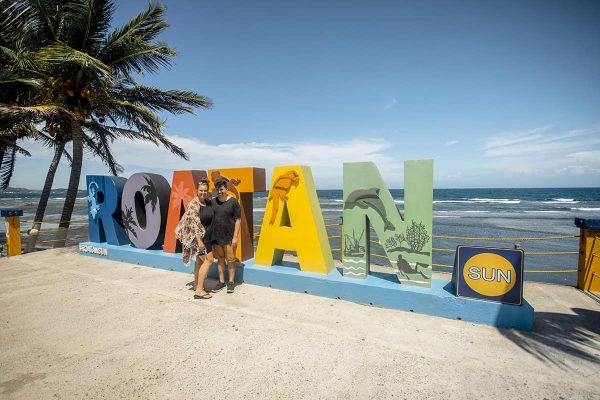 Come find out the best hostels in Roatan as I share the best budget-friendly places [...]