If you are an underwater lover who loves a spot of snorkeling and discovering ocean life you need to snorkel the Blue Channel in Roatan! This is a snorkeler's dream spot on the island, though there are some things you will need to know prior to visiting. 
---
Now as someone who is an absolute underwater fanatic, I knew I had to take a tour out to snorkel the Blue Channel in Roatan while I was in Honduras. This is one of the best snorkeling spots on the island and for good reason.
Roatan has a stunning coral reef that surrounds the island and forms part of the Mesoamerican Barrier Reef System. This is actually the second largest in the world after the Great Barrier Reef. The reef is home to over 500 species of fish, 65 species of coral, and countless other creatures like turtles, rays, sharks, dolphins, and whales.
Though I have to say I personally did not have the best experience while snorkeling the Blue Channel. Honestly, the marine life was excellent, and the visibility was great, but just the company, or rather, the random locals I went with really tainted this adventure for me.
Well, this is actually the reason I decided to write this post, so I could tell you exactly what not to do. Ultimately allowing you to have a great time while you snorkel the Blue Channel in Roatan. On top of this I will also let you know why you should visit, what is the best season to go, what to pack, tour operators, and more!
---
Snorkel The Blue Channel In Roatan: All You Need To Know
---
Why Snorkel The Blue Channel In Roatan
The Blue Channel In Roatan is one of the best spots to see the amazing diversity of marine life that inhabits the coral reefs of the island.  This is a popular spot for both divers and snorkelers who visit to appreciate the marine life.
The Blue Channel is home to a wide variety of fish, such as angelfish, parrotfish, butterflyfish, damselfish, and wrasse. You might also spot larger creatures like turtles, rays, barracudas, and triggerfish. It is also known for its starfish, which can be seen in different colors and sizes.
Located inside a protected marine park you can rest assured that efforts are being made to conserve the natural beauty and health of the reef. By snorkeling in the Blue Channel, you are supporting the efforts of the local community and organizations to preserve this precious ecosystem.
The Blue Channel in Roatan is a snorkeling paradise that will leave you amazed and inspired by the wonders of nature. Don't miss this opportunity to experience one of the best snorkeling sites in Roatan.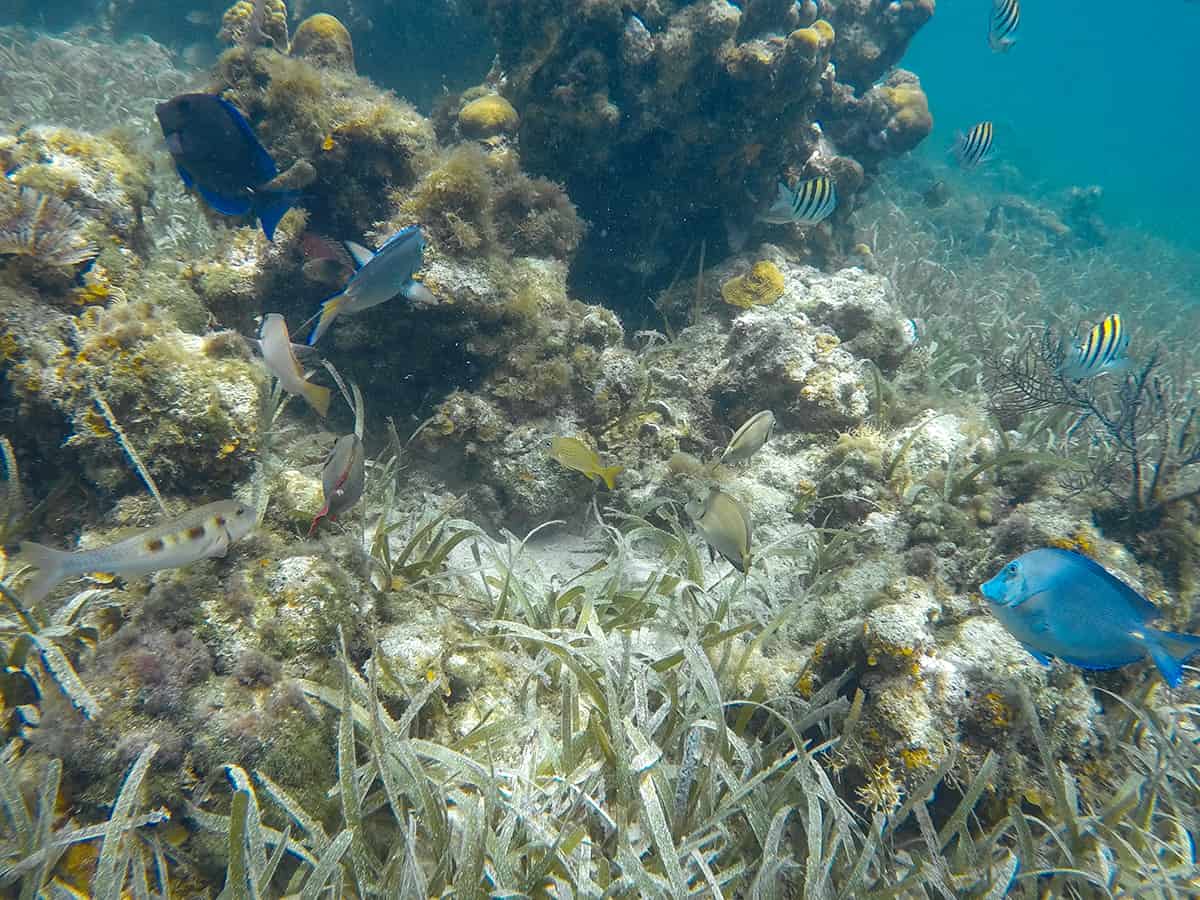 ---
Best Season To Snorkel The Blue Channel
Snorkeling in the Blue Channel in Roatan is a wonderful experience that you can enjoy all year round. Though you should be aware that some months are better than others depending on the weather and the water conditions.
The dry season in Roatan runs from November to April, and this is generally considered the best time to visit the island for snorkeling. During this time, the weather is sunny and dry, and the water is warm and clear.
The visibility can reach up to 45 meters, which is ideal for seeing the colorful corals and fish in the Blue Channel. The water temperature ranges from 26°C to 29°C, so you don't need a wetsuit to snorkel here.
The wet season in Roatan runs from May to October, and this is when the island receives most of its rainfall. This can affect the water conditions and reduce visibility, especially near the shore.
The wind can also create waves and currents that make snorkeling more challenging. However, the rain is usually sporadic and short-lived, and there are still many sunny days during this time.
The water temperature is slightly warmer than in the dry season, averaging around 28°C. If you decide to snorkel in the Blue Channel during the wet season, make sure to check the weather forecast and the sea conditions before you go.
The peak tourist season in Roatan is from December to March when many cruise ships and holidaymakers visit the island. This means that the Blue Channel and other popular snorkeling spots can get crowded and noisy.
If you want to avoid crowds, you can try to snorkel early in the morning or late in the afternoon or choose a less busy day of the week. You can also book a boat tour that will take you to more secluded areas of the reef.
Personally, I visited Roatan during the month of June which is considered the rainy season. We had a couple of evening showers, but that was the majority of it. I think we had one day in the two weeks we stayed there where it actually rained during the daytime.
I was in the water every day during this time, as a snorkeler there were a couple of days where you wouldn't want to go too far out due to large waves. Though as I was also diving we could still head out as the surge under the water wasn't too bad.
---
Booking A Tour
 If you want to snorkel the Blue Channel in Roatan, there are several tours that you can choose from, depending on your preferences and budget. Here are some of the best tours to snorkel the Blue Channel in Roatan:
Roatan 3 Stop Snorkeling Adventure, Shipwreck, Starfish & Blue Channel: This tour is perfect for those who want to see the best of Roatan's underwater world in one day.
You will visit three different snorkeling sites: the Starfish Alley, where you can see hundreds of starfish in different colors and sizes; the Blue Channel, where you can explore the coral wall and see a variety of fish; and the Shipwreck, where you can swim around an old sunken boat and spot more marine life.
The tour includes hotel or cruise port pickup and drop-off, boat transport, snorkeling equipment, water, juice, and fruit. The tour lasts for around 5 hours and costs $85.00 per person.
Boat and Snorkeling in West End (Blue Channel, The Aquarium, Turtle Crossing): This tour is great for those who want to snorkel in multiple locations in West End.
You will board a boat and visit three snorkeling sites: the Blue Channel, where you can see corals and fish; the Aquarium, where you can see more fish and sometimes turtles; and the Turtle Crossing, where you can see more turtles and rays.
The tour includes hotel or cruise port pickup and drop-off, boat transport, snorkeling equipment, water, juice, and fruit. The tour lasts for 2 hours and costs $65 per person.
There are also some other tours that combine snorkeling the Blue Channel with some 'zoo' experiences on the island. I personally have concerns about the treatment of animals at some of these places which is why I am not mentioning those tours. Though feel free to look on Viator or Get Your Guide for more tour options.
Snorkeling the Blue Channel in Roatan is an amazing experience that you should not miss. Whether you want to see starfish, shipwrecks, or wildlife, there is a tour that suits your needs and budget. Book your tour today and get ready for an unforgettable snorkeling adventure!
---
What To Pack To Snorkel The Blue Channel In Roatan
Snorkeling the blue channel in Roatan is an amazing experience that requires some preparation and packing. You want to make sure that you have everything you need to enjoy the underwater beauty and stay safe and comfortable.
Snorkeling gear: Most snorkeling tours will provide you with snorkeling equipment, such as a mask, snorkel, life jacket, and sometimes fins. However, if you have your own gear that fits you well and that you are comfortable with, you may want to bring it with you. You can also bring a rash guard or a wetsuit for extra protection from the sun and the cold.
Waterproof Bag: Don't forget to pack a waterproof bag or case for your valuables, such as your phone, camera, or wallet.
Sun protection: The sun in Roatan can be very strong, especially during the dry season from November to April. You don't want to get sunburned while snorkeling or relaxing on the beach. Therefore, you should pack a hat, sunglasses, sunscreen, and lip balm with SPF. You should also reapply sunscreen frequently and drink plenty of water to stay hydrated.
Clothing and accessories: Depending on the season and the length of your tour, you may need different types of clothing and accessories for snorkeling in the blue channel in Roatan. You should generally pack light clothing such as shorts, t-shirts, tank tops, and sundresses for the warm weather. You should also pack a swimsuit cover-up, a towel, and a change of clothes for snorkeling.
Underwater Camera:  Another thing that you may want to bring when snorkeling the blue channel in Roatan is an underwater camera. This way, you can capture the amazing sights and memories.
Snorkeling the blue channel in Roatan is a wonderful activity that you should not miss. By packing smartly and following these tips, you can make sure that you have a smooth and enjoyable snorkeling adventure.
---
What You Can See
The blue channel is home to a stunning array of corals, such as brain coral, elkhorn coral, fire coral, and sea fans. They form a colorful wall that drops off into deeper water, creating a dramatic contrast with the blue sea. The corals provide shelter and food for many fish and are essential for the health of the reef ecosystem.
You will also find that the blue channel is teeming with fish, such as angelfish, parrotfish, butterflyfish, damselfish, and wrasse. You can see them swimming around the corals, feeding, and hiding from predators.
You might also spot larger creatures like turtles, rays, barracudas, and triggerfish. The fish add life and movement to the snorkeling scene and are a delight to watch.
Another thing that you can see snorkeling the blue channel in Roatan is eagle rays. These are graceful and elegant creatures that glide through the water with their long, pointed wings.
Eagle rays are usually shy and solitary, but sometimes they can be seen in groups or pairs. They are not dangerous to humans, but you should keep a respectful distance and avoid touching them.
Snorkeling the blue channel in Roatan is an amazing experience that will leave you in awe of the wonders of nature. It is one of the best snorkeling spots in Roatan, and you should not miss it if you love snorkeling.
---
My Experience Snorkeling The Blue Chanel
Now I knew prior to visiting Roatan I definitely wanted to do some snorkeling and the Blue Channel was the best place to do this. Though honestly, tour operators online were kind of pricey, especially when I was wanting to backpack Honduras on a budget.
After contacting a local operator they offered us a tour around the island plus a snorkeling tour for $55.00 per person. The tour around the island would take us to some of the on-land highlights and cost $30.00, and the snorkeling tour the following day would take us to the Blue Channel and cost $25.00.
After having a great time on the tour, we confirmed our booking for the snorkeling and were ready to explore one of the best underwater spots in Roatan, The Blue Channel.
We packed our gear and walked to the beachfront of Chilies. This is a super affordable option in a great location if you are looking for accommodation on the island.
Once on the shoreline, a wooden boat awaited us captained by a local man who only spoke Spanish and his teenage son who spoke a handful of English phrases.
No worries, I had traveled all around Central America at this point and was used to the language barrier, plus I had spent some time in Antigua studying Spanish and was ready to put it into action.
Heading out to sea it is a pretty quick drive to the Blue Channel from Half Moon Bay, about 10 minutes. As we arrive another boat of snorkelers departs and we gear up. Each of us is provided with a snorkel set, so I spit in mine to try to stop it from fogging up. Jumping in the water it is pretty obvious the mask and snorkel both have leaks in them.
I try to readjust but it is pretty obvious this equipment is not of good quality. My snorkel quickly fills up with water without me even ducking under the water, there must be a hole in it somewhere.
I swim back to the boat to see if they have any extra equipment I could swap it with, but unfortunately not. Luckily the son who is trying to show us around the water offers me this which is a bit better. The mask at least does fit and the snorkel is slightly better.
Now I can actually see what is going on without getting a face full of water. I watch as scuba divers explore the bottom of the channel and some beautiful eagle rays pass beneath us. Though I do prefer snorkeling along the walls on each side as there is a lot of coral and fish life.
I do feel a little sorry for our 'guide' who is now struggling with the mask I swapped him for. It is pretty obvious this just is a local family taking the opportunity to earn a little extra cash, rather than a proper company. Though having paid basically a quarter of what was being advertised elsewhere I can't be angry, I mean what was I really expecting?
We swim around a little more, spending about an hour in the water before jumping back on board the boat. Honestly, the Blue Channel was great, though the experience with who I booked definitely put a damper on the day.
I headed back to shore feeling a little disappointed, even though I still had some budget left for the day was it truly worth it? Nevertheless, this experience did make us want to learn how to scuba dive in Roatan so I would get a second chance to explore the reef system here.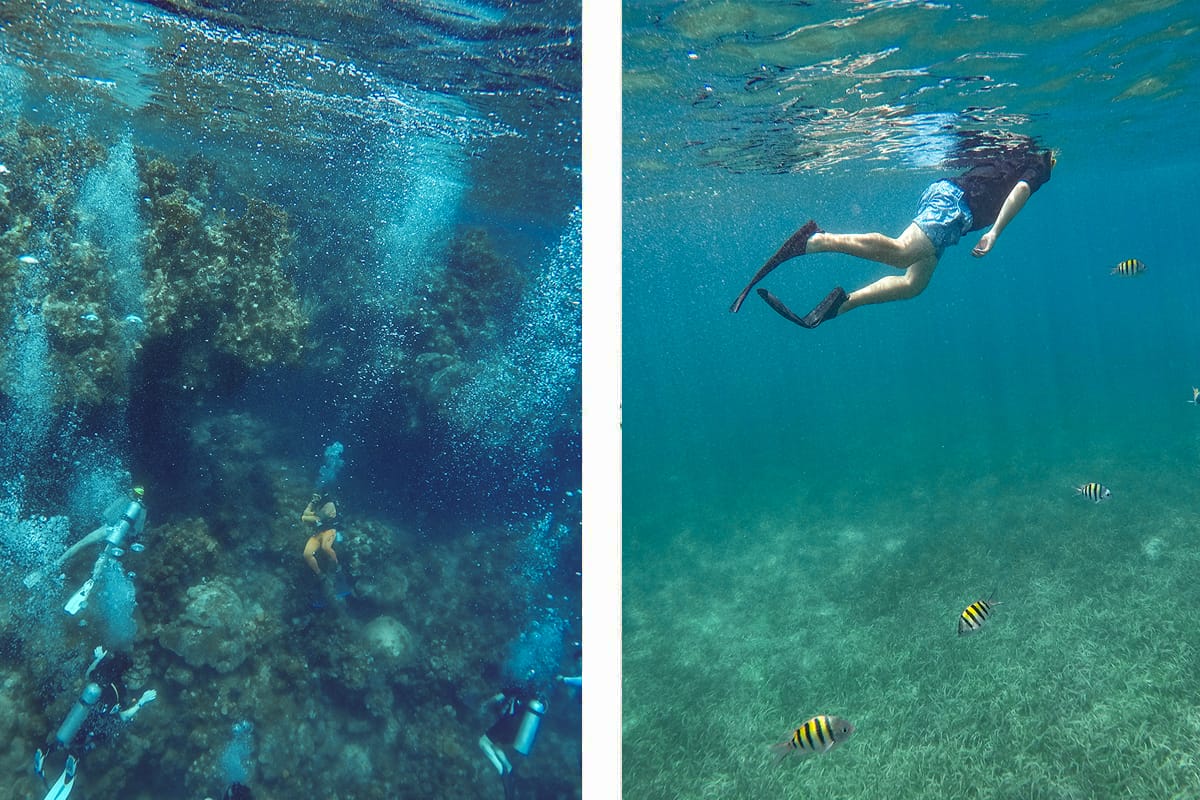 ---
Where To Stay In Roatan?
There is excellent luxury accommodation in Roatan, though in all honesty, it doesn't really fit into my budget. Luckily there are a handful, of budget stays that are worth your money. We actually stayed in three different properties during our nearly 2 weeks in Roatan.
Roatan Backpackers Hostel: Honestly this place was a bit of a miss for us, simply due to the location. The beach area nearby was very average, though they did have a kitchen onsite and a grocery store down the road. There is also a lovely pool you can relax in.
Hotel Chillies: This is an excellent budget choice right on Half Moon Bay. They have an assortment of budget-friendly and more lux rooms, in a beautiful jungle setting. Though in the jungle comes the bugs so just be prepared for that. They also have dorm rooms but these need to be booked directly on their website.
Sea Breeze Inn: Again located in Half Moon Bay, though in a busier area of it, this was our favorite stay in Roatan. Even the budget rooms have air conditioning and after a busy day of diving, this was all we wanted. The property is clean and tidy, and we had proper windows to keep those cheeky bugs out.
The only real proper hostel on the island. Rooms start from $14.00 for a dorm and $20.00 for a private.

BOOK NOW

Across the road from the beach in more of a quiet location. Single and double rooms start at $30.00.

BOOK NOW

A lovely affordable hotel in Half Moon Bay. Private rooms here start at $50.00 per night.

BOOK NOW

A slightly dated resort in a good location. Prices start from $80.00 per night.

BOOK NOW
---
Things To Do In Roatan
Roatan is the perfect place to relax and is surrounded by the most incredible ocean. Therefore you will find a lot of water-based activities here. It also caters to cruise ships so you will find a large assortment of tours available, and if you were like me, may actually have a cruise ship at the port when you arrive.
Before I get into this list I do need to point out that Roatan has A LOT, like HEAPS of animal tourism activities. Personally, I do not support this in the slightest so won't be mentioning this here. Though if you partake in animal tourism of any sort it is important you book ethical experiences and do your research.
I didn't support any of the activities involving animals on Roatan, whether that was because dolphins were captive, sloths were used as photo props, etc.
Ride an ATV: This is a fun way to explore the island and see some of the hidden gems. You can ride an ATV through the dirt roads, hills, and beaches of Roatan. You can also stop at some of the attractions along the way, such as the chocolate factory.
SCUBA Diving: Roatan is one of the best diving destinations in the world, with over 100 dive sites to choose from. You can see a variety of marine life, such as turtles, rays, sharks, dolphins, and whale sharks. You can also explore shipwrecks, caves, and walls. Whether you are a beginner or an expert diver, you can find a dive site that suits your level and interest. I learned to dive here, and it is popular so if you make a last-minute reason to learn to dive in Roatan you may find yourself waiting a couple of days for availability.
Roatan Rum Company: This is a great place to come for souvenirs, though no promises they will make it off the island because we consumed ours. This is a specialty store that offers complimentary rum and rum cake treats while overlooking the crystal blue waters of the Caribbean from high atop "Rum Point" at The Rum Runners Bar and Patio. You can visit their gift shop and sample their products, such as the Roatan Infusions, which are handcrafted Caribbean rum infusions with natural fruits and spices. I also recommend trying their original Roatan rum cake, which is moist, delicious, and soaked in rum.
Parasail above the Bay of Roatan: This is an exhilarating activity that lets you fly high above the water and enjoy the stunning views of Roatan. You can parasail solo or tandem with a friend or partner. You can also choose from different heights and durations.
Swim at Half Moon Bay Beach: This is a beautiful beach in West End that has clear water, white sand, and a relaxed vibe. You can swim, snorkel, or just enjoy the sun. There are also some restaurants and bars nearby if you get hungry or thirsty.
Eat Baleadas at Calelulus: This is a local grocery store that serves the best baleadas in Roatan. Baleadas are fresh tortillas filled with cheese and beans, and sometimes meat, eggs, or avocado. They are cheap, delicious, and filling.
Roatan Brewing Co: If you are a beer lover and want to try some local brews in Roatan, you should definitely visit the Roatan Island Brewing Co. This is an artisanal brewery that is located in the lush Palmetto Valley of Roatan. They brew a variety of easy-drinking ales and lagers, many with a tropical twist.
---
Any Questions? Let me know in the comments!
---
LIKE IT? PIN IT!
---
Want more Honduras Inspiration? Check out….
---
Disclaimer: This post contains affiliate links. So, if you click on it and purchase something, I get a small percentage at no extra cost to you. As always all opinions are my own and your support is much appreciated.
Related Posts
Keen to travel Honduras, but don't know exactly how much to save? Well then come [...]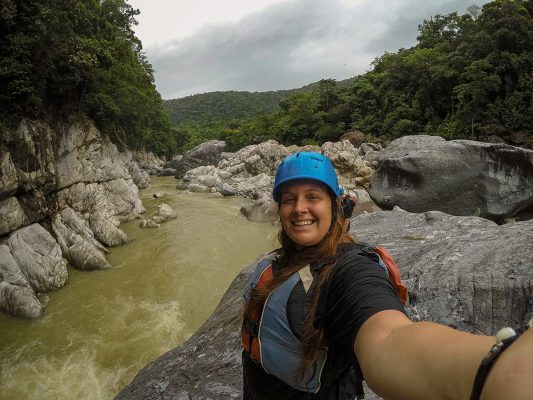 Looking for an exhilarating experience while traveling Honduras? Then I highly recommend white water rafting [...]
 Want to explore the best beaches in Roatan? Come check out my favorite beaches, the [...]