Planning on a visit to La Ceiba? Whether you are planning an overnight stay before checking out the islands, or want to experience more of mainland Honduras. I have compared the price, facilities, amenities, and location- so come find out the best hostels in La Ceiba!
---
If you are planning on backpacking Honduras no doubt you will find yourself in La Ceiba for at least one night.
This was the case for me traveling to and from the islands. Though in all honesty, this was one of the places that didn't seem to have that backpacker vibe you'll commonly find in towns when traveling the Gringo Trail down Central America.
Nevertheless, after visiting Copan Ruinas I knew I wanted to spend a little longer on the mainland. Unfortunately looking online at my options in La Ceiba it looked a little bit average.
There was one hostel in the city, but reviews were a bit average and it was missing any wow factor. Luckily with a little bit more research, I stumbled upon my personal favorite Hostel in La Ceiba.
It may have only had a handful of reviews at the time so I contacted the owner to figure out the logistics of getting there as it's not in the city center but the incredible Pico Bonito National Park. As a nature lover I was sold, and thankfully it lived up to all I thought it would be and more.
Though before we get into the best hostel in La Ceiba we also found a couple of other options which I will get into below. I compared them against each other including prices, amenities, and locations to figure out our top option.
Now let's find out all these and more as we go through the best hostels in La Ceiba for backpackers.
---
The Best Hostels In La Ceiba, Honduras
---
How To Choose The Best Hostels In La Ceiba
Honestly, there isn't a whole heap of hostels in La Ceiba so it wasn't too hard at all to narrow down options. If I am, to be frank, this is probably the easiest, and shortest hostel guide I have written to date.
Nevertheless, I still had to consider each hostel's price, location, and amenities to figure out which would be best for different types of travelers. So keep this in mind whether you are looking for somewhere social, cheap, or in a great location.
In all honesty, I travel in more of a glam-packer style and I will be more than happy to stay in a hostel that fits my needs. This usually includes a pod-style bed with curtains.
Traveling Central America there is an excellent hostel scene where owners have built the hostels as mini resorts that you never need to leave, especially as they can organize all activities for you at affordable prices.
Well, I would say the hostels in La Ceiba aren't so much like this at all. If you have traveled over from Guatemala you may be in store for a bit of a surprise. Think basic bunk beds, fan-cooled rooms, and honestly not too many other travelers around.
Unfortunately, a lot of people skip Honduras, or just head straight to the islands, rather than checking out the mainland.
Anyway, you can't go wrong with sturdy wooden bunk beds, and if you are happy to save money by booking this sort of accommodation you will be stoked to know this is also an option here.
Luckily enough the beds are comfy, there will be lists of things to do nearby and clean bathrooms are common because there isn't anyone around to use them.
So when choosing the best hostels in La Ceiba, some things I took into account are:
---
Price
Now depending on what the hostels offer here in La Ceiba you can find some surprisingly affordable options. Well considering there honestly is nothing overall fancy on offer, the only way you will spend over $20.00 per night is if you decide to book a private room.
Now because I am a little older and will pay extra for comfort and good facilities I found myself budgeting, and in general, averaging $20.00 per night throughout my travels in Central America.
Though in La Ceiba I was traveling with my partner who isn't really into the hostel scene. Nevertheless, I convinced him to stay in private rooms in hostels.
I found that the hostels which meet my preference were actually quite pricey. In the end, we paid $16.50 per night each, for our private room in an incredible location.
---
Location
Well, basically when it comes to the best hostels in La Ceiba you have two different options here.
The first is the city of La Ceiba. It is a vibrant city on the northern coast of Honduras, facing the Caribbean Sea. La Ceiba is known for its rich culture, its lively nightlife, and its natural attractions.
It is the gateway to the Bay Islands, a group of islands that offer some of the best snorkeling and diving in the world. The city's economy was based on the banana industry for many years, attracting immigrants from different countries and regions.
Today, La Ceiba is a modern and cosmopolitan city that celebrates its heritage and diversity with an annual carnival in May.
Secondly, you have Pico Bonito National Park. This is one of the most diverse and beautiful natural areas in Honduras. It covers an area of more than 500 square kilometers and ranges in altitude from 60 to 2,480 meters.
The park is part of the Mesoamerican Biological Corridor, a network of protected areas that aims to conserve the biodiversity and cultural heritage of Central America. Pico Bonito National Park is home to more than 800 species of plants, 400 species of birds, and 100 species of mammals, including jaguars, pumas, tapirs, and monkeys.
Here you can enjoy the stunning scenery, with waterfalls, rivers, canyons, and forests. There are also activities in the park, such as hiking, rafting, zip-lining, and birdwatching.
Now really deciding on what the best hostel in La Ceiba is for you it really comes down to location. Do you have enough time to venture inland a little bit further to explore the jungle? If so, 100% do it.
Though if you are short on time and just have one night before catching an early ferry or shuttle out it is probably best you stay in the city center.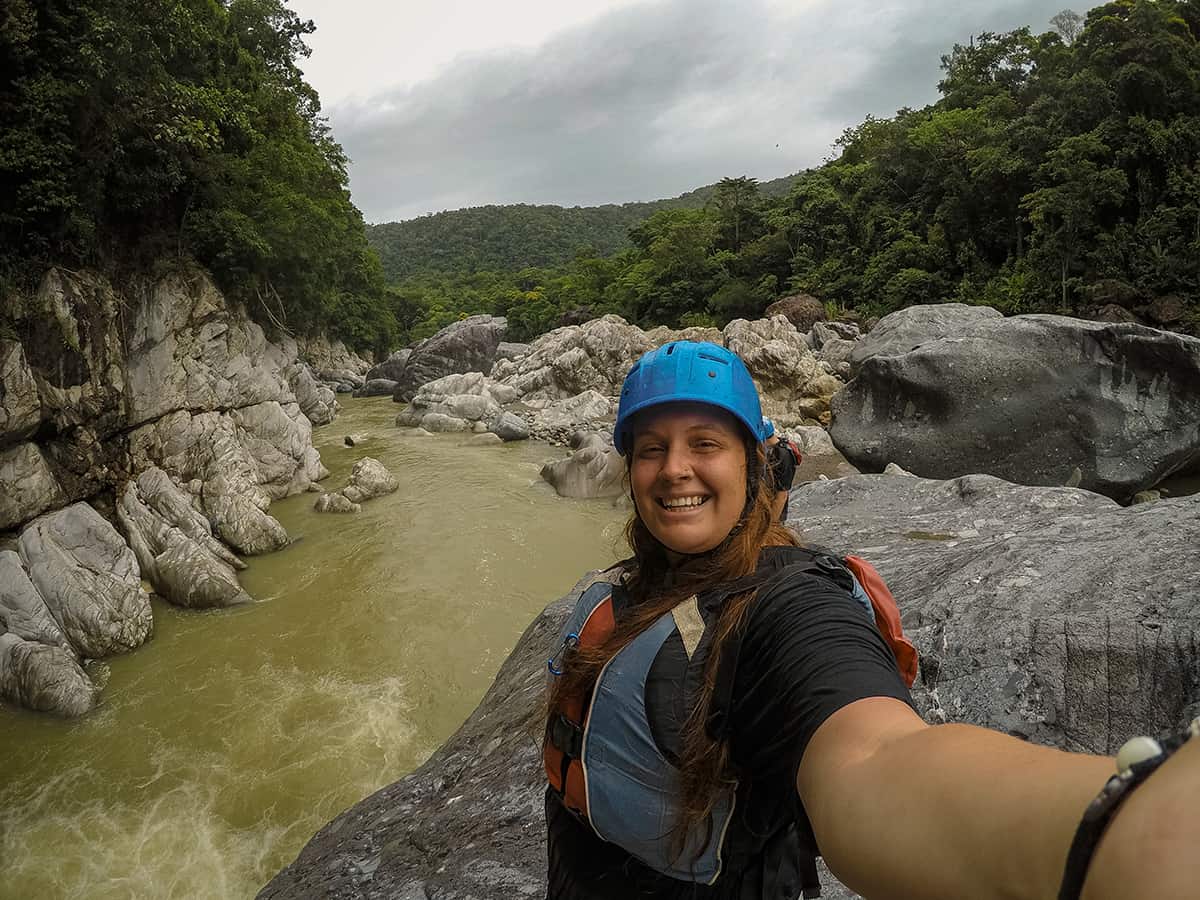 ---
Amenities
In terms of amenities, you may find the hostels in La Ceiba to be a bit more on the basic side. This is especially so if you have previously been backpacking Guatemala.
Nevertheless, you will have WiFi in at least the common areas, phone reception to use your data if required, electricity for the majority of the day, and at least a fan to keep you cool.
All hostels will allow you to book transport through them and this is a great way to meet other travelers. Public transport isn't too popular of an option to travel on through the country due to safety concerns so hostels here are used to, and more than happy to book travelers onto shuttles.
They also may put on their own activities, such as white water rafting or hiking. This was especially so if you are staying out of the way in Pico Bonito National Park. The experiences the hostels here offer are also super affordable.
Unfortunately, many hostels in La Ceiba will not include a free breakfast. Though depending on how accessible the location you are staying at you may find there is an onsite restaurant available and family-style meals in the evening.
So now we know what we are looking for let's get into the best hostels in La Ceiba.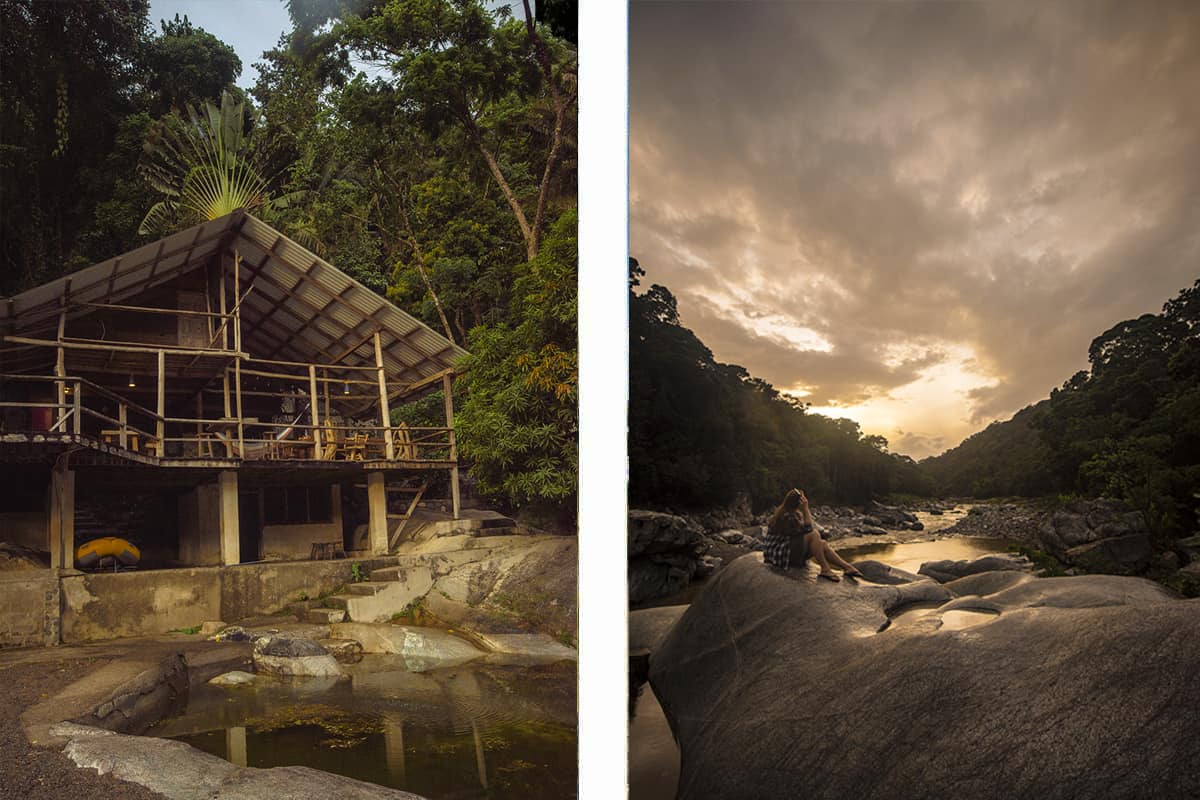 ---
The Best Hostel In La Ceiba: Jungle River Lodge
If you are looking for an adventure in the heart of the Honduran rainforest, look no further than Jungle River Lodge. This place is a natural escape from the city, where you can enjoy the stunning views of the Rio Cangrejal and Pico Bonito National Park which is why it is our best hostel in La Ceiba.
Whether you want to relax by the rock pools, hike through the jungle, or raft down the rapids, Jungle River Lodge has something for everyone.
I stayed here for three nights and had an incredible time. The lodge is cozy and comfortable, with different options for accommodation. I chose one of the more basic private rooms and it was perfect for our stay.
Though you are only able to find dorm rooms here, and a huge plus is there aren't any bunk beds! This means no one will turn over in the middle of the night and you will jolt awake thinking there is an earthquake.
There are two separate types of dorm rooms available. The first is the budget dorm option. With this one, you will get the full juggle breeze with windows open to the environment. Don't worry there is a mosquito net covering it so you won't get any creepy crawly visitors during the night!
There is also a cold water bathroom in the dorm. Secondly, we have the comfort dorm, for those who enjoy a bit more of a luxe stay in the jungle on a budget. This room is a bit more spread out and you have two separate cold-water bathrooms so you don't have to wait in line.
Cathy who runs Jungle River Lodge is so friendly and helpful. She has certainly assisted in the property being one of the best hostels in La Ceiba. They also have an onsite restaurant offering breakfast, lunch, dinner, and snacks, with options for vegetarian and vegan dishes.
They also have a bar with cold beers, cocktails, and natural juices.
The best part of staying at Jungle River Lodge is the activities they offer and the affordable prices. They are one of the original rafting and hiking tour outfitters in the area, and they have experienced bilingual guides who will make sure you have a safe and fun time.
I did the rafting tour, and I loved it. The rafting was exhilarating, with class III and IV rapids and beautiful scenery along the way. One of the highlights though was definitely boulder jumping from crazy huge rocks. Our guide was amazing!
Jungle River Lodge is also a great base to explore Pico Bonito National Park, one of the largest and most diverse protected areas in Honduras. You can hike to different trails, visit butterfly farms and botanical gardens, or go zip-lining or horseback riding.
You can also take a shuttle to Leon or Guatemala from the lodge, or catch a ferry to Utila or Roatan islands, as we did after our 3-night stay.
No doubt if you have some extra time to spend exploring mainland Honduras I highly recommend booking a stay at Jungle River Lodge, our best hostel in La Ceiba.
If you are thinking of visiting I highly recommend reading my Pico Bonito National Park guide which includes how to get there (I paid for a taxi costing L400 / $16.00, but there is also public transport for those on a budget)  and what to expect.
$
Beautiful Communal Area Overlooking The River
Restaurant Serving Breakfast, Lunch & Dinner
Rafting & Hiking Tours Available
CHECK BEST PRICES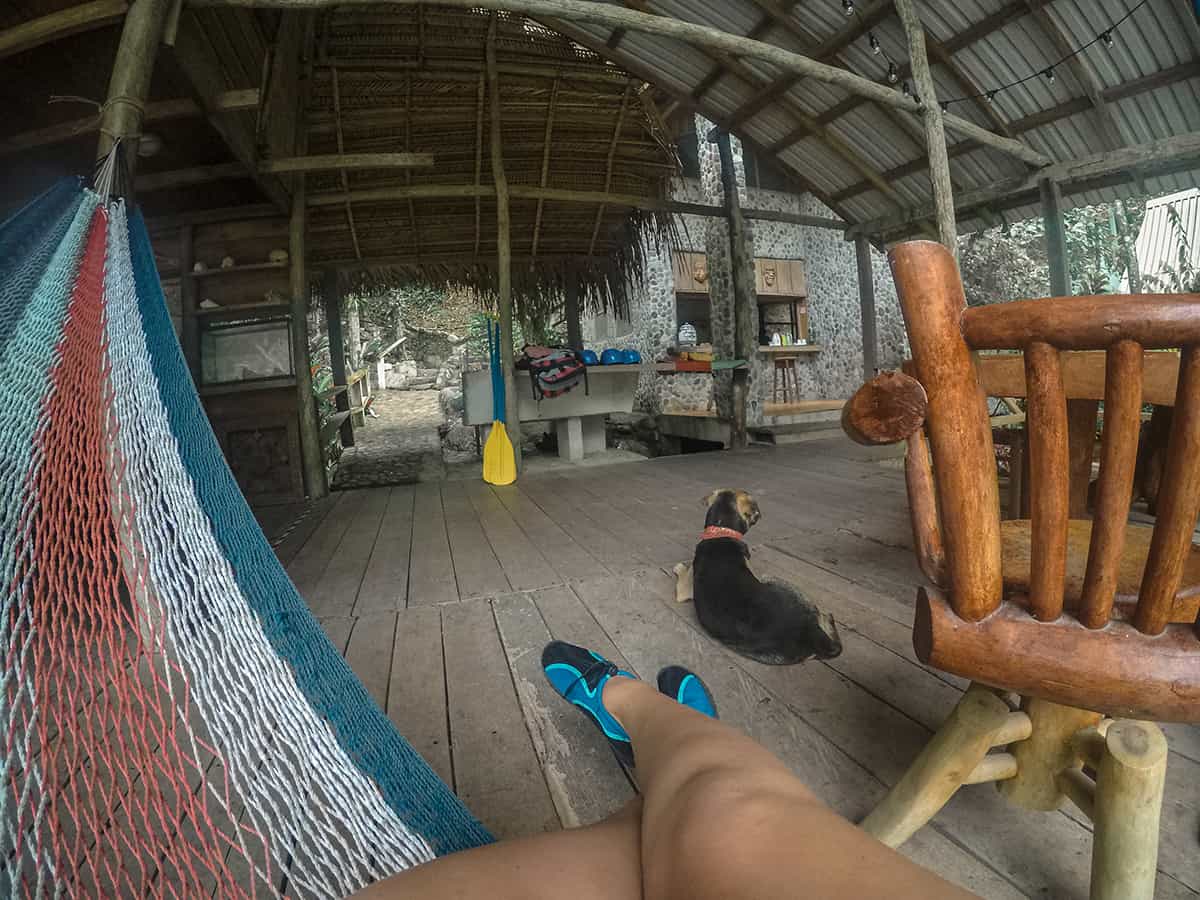 ---
Best Hostel In The City: Hotel La Guacamayos
If you are looking for a budget-friendly and convenient place to stay in La Ceiba, you might want to check out Hotel La Guacamayos. This is actually our best hostel in La Ceiba in a city center location.
You will be close to the beach, the ferry terminal, and the bus station. It offers comfortable rooms, friendly staff, and a good communal space where you can relax and meet other travelers.
Hotel La Guacamayos is the perfect stay for someone wanting one night in the city before catching a ferry to Utila or Roatan. The hotel is easy to find, and the staff were very helpful and welcoming.
They offer tours such as white water rafting, though there are minimum numbers that can be hard to reach as La Ceiba city isn't somewhere all travelers decide to stay.
They offer dorm rooms, and private rooms, including a single room for solo travelers who want a little more privacy. The rooms are more on the simple side but clean and cozy, with a private bathroom, a flat-screen TV, and a balcony.
The beds are comfortable and there is even air conditioning which is perfect on a hot day. The wifi here is also fast and reliable.
There are plenty of nearby restaurants where you can grab breakfast lunch or dinner. These are all within walking distance, from local dishes to international cuisine. You can also enjoy walking along the Malecon Ceiba, a waterfront promenade with a nice view of the sea.
Hotel La Guacamayos is a great option for travelers who want to save money and stay close to the main attractions of La Ceiba. It is also a great place to meet other travelers and get tips on what to do and see in the area.
$
Tour Desk
Affordable Stay
Close To The Ferry Terminal & Bus Station
CHECK BEST PRICES
---
Best Affordable Private Room: Hotel El Dorado
Lastly in this list of the best hostels in La Ceiba, we have our favorite affordable private room at Hotel El Dorado. This is the perfect choice if you are looking for a comfortable and convenient place.
It is located on 15 September Ave El Dorado, just a short walk away from the beautiful West Bay beach and the lively nightlife plaza. It also has a mall across the street, where you can find shops, restaurants, and entertainment options.
Hotel El Dorado has 10 air-conditioned rooms with private bathrooms and LED TVs. The rooms are spacious, clean, and cozy, with comfortable beds and good water pressure.
Some rooms can accommodate up to 8 people, making them ideal for families or groups of friends. The hotel also offers free WiFi, free private parking, room service, a 24-hour front desk, a business center, and vending machines.
At Hotel El Dorado there is also an onsite restaurant where you can enjoy your breakfast, lunch, or dinner. The staff are friendly and helpful and can assist you with any requests or inquiries you might have.
$$
Onsite Restaurant
Air Conditioning
Close To Bus Station & Ferry Terminal
CHECK BEST PRICES
---
So Where To Stay In La Ceiba?
Now you should know your options when it comes to the best hostels in La Ceiba you have some decisions to make. Do you want to experience the incredible jungle of the mainland or head straight to the islands? If you have a few extra nights on your itinerary I highly recommend staying in Pico Bonito National Park if you haven't already figured.
You may not have too many choices for hostels in La Ceiba, though each one comes with the basics and all you need for a comfortable stay. So, with the help of this guide, I hope you have found the perfect place to stay.
Do you own or work for a hostel and want to be featured? Let us know over at [email protected]
---
Any Questions? Let me know in the comments!
---
LIKE IT? PIN IT!
---
Want more Honduras Inspiration? Check out….
---
Disclaimer: This post contains affiliate links. So, if you click on it and purchase something, I get a small percentage at no extra cost to you. As always all opinions are my own and your support is much appreciated.
Related Posts
Come find out the absolute best things to do in Roatan. Whether you are staying [...]
If you are visiting Copan Ruinas, it may seem like there are only a few [...]
If you are planning a visit to Copan Ruinas no doubt you are coming here [...]