Ready to explore a different part of Honduras by discovering the Bay Islands? Find out how exactly to travel from La Ceiba to Roatan so you can experience this slice of paradise. I will discuss flying or ferrying there, prices, how to book, and more!
---
If you are looking for a tropical getaway in Honduras, you might want to consider visiting Roatan. This is the largest and most developed of the Bay Islands, and a paradise for snorkelers, divers, beach lovers, and nature enthusiasts, with its stunning coral reefs, sandy shores, and lush forests.
But how do you get there from La Ceiba to Roatan?
Well honestly, it is not an overly difficult journey to make, and it's one hundreds of people do daily. Though what if you are traveling the country and coming from Copan Ruinas or San Pedro Sula? Can you travel right through to Roatan after your shuttle? That is a difficult decision to make, and one I will touch on a bit further below.
Even though it doesn't fit the usual backpacker vibe I actually choose to travel from La Ceiba to Roatan over Utila. Roatan is known for its white sand beaches, turquoise waters, and diverse marine life. My partner's family actually grew up here as his uncle owned a dive shop, so we had to come back.
There are two main ways to travel from La Ceiba to Roatan: by plane or by ferry. Both of these options have their pros and cons, depending on your budget, time, and preferences. Though you may actually find yourself with minimal choices, especially like me, and are someone who gets seasick.
In this article, I will compare the costs, schedules, duration, my experience, and more! of flying or taking the ferry from La Ceiba to Roatan.Ultimately allowing you to have a smooth journey and avoid making the same mistakes as me.
| | | | |
| --- | --- | --- | --- |
| | Time | Cost | Highlight |
| Ferry | 1 hour and 15 minutes | from $32.00 | Cheaper option |
| Fly | 20 minutes | from $82.00 | Great views and comfortable |
---
How To Travel From La Ceiba To Roatan: Fly Or Ferry
---
La Ceiba To Roatan Distance
The distance from La Ceiba to Roatan is approximately 65 kilometers. Luckily you can make this journey in multiple different ways depending on how fast you want to travel. Though all in all, it is a pretty fast journey to make with all options taking less than 2 hours.
---
La Ceiba To Roatan Travel Time
As I said it is a relatively quick journey from La Ceiba To Roatan, and this is expected considering they are just 65 kilometers from each other. Even better you can travel between these points in just a couple of hours, meaning the rest of the day you can chill out or make some plans.
One thing I got used to in Central America was setting aside entire days for travel days. Though thankfully this isn't the case from La Ceiba to Roatan.
Nevertheless depending on the transport method you decide to affect how long it takes to travel:
Ferry: This is the most popular way to travel from La Ceiba to Roatan for both tourists and locals taking around 1 hour and 15 minutes.
Plane: Now no doubt the quickest way to travel from La Ceiba to Roatan is by flying which will take you around 20 minutes. The views are also mind-blowing flying into this island paradise. Though be aware that it can be quite pricey, even by booking in advance.
---
Ferry From La Ceiba To Roatan
Honestly, the easiest and most popular way to travel from La Ceiba to Roatan is by taking the ferry. It's cheaper and more adventurous than flying, and it allows you to enjoy the beauty of the Caribbean Sea and the islands.
Though I will say the sea can be pretty bad out here so if you do get seasick, at all, I would say book a flight. The ferries are equipped with stabilizers to reduce motion sickness, but it was still pretty bad on the beautiful clear day we did this journey.
If you are prone to seasickness and want to save money, you might want to take some medication before boarding or buy some pills from the shop. Nevertheless for those with a stronger stomach, this is the perfect choice.
The ferry ride from La Ceiba to Roatan takes about 1 hour and 15 minutes. The ferries are modern, comfortable, and safe, with spacious seating areas, restrooms, TVs, and music.
You can enjoy the stunning views of the Caribbean Sea and the islands from the windows or the deck. You can also buy snacks, drinks, and souvenirs from the onboard shop.
---
How To Book Tickets
There are two ferry operators that run daily services between La Ceiba and Roatan. These are Galaxy Wave Ferry and Utila Dream Ferry. You can book your tickets online on their websites or at their offices in La Ceiba.
Another option is that you can also buy your tickets at the terminal on the day of departure, but it's better to book in advance to secure your seat and avoid long lines. I booked my tickets at the ferry terminal the day of and it was super easy. Though I also traveled in the wet season, which isn't so busy.
A one-way ticket costs between $25 and $45, depending on the operator and the class of service. There are also tickets available for senior citizens, children aged 3 to 10, and those under 2 are generally free to travel.
Galaxy Wave Ferry offers two classes: economy and first class. Economy class costs $32.00 and is just your standard seat onboard. This is what we booked and ended up sitting outside under some shade for the journey.
First-class costs $45.00 and includes access to a VIP lounge with air conditioning, TV, and WiFi, as well as a better seat onboard.
Utila Dream Ferry offers one class of service for $21.00.
The ferry departs from La Ceiba to Roatan daily at 9.30 am and 4.30 pm with Galaxy Wave Ferry and at 10.30 am with Utila Dream Ferry.
---
The Ferry Terminal In La Ceiba
The ferry companies that operate the route are Galaxy Wave Ferry and Utila Dream Ferry. The ferry terminal is located at the same spot at Muelle de Cabotaje. Again, you should arrive at least 30 minutes before departure to buy your tickets and pay the port tax.
We found the staff here super helpful pointing us in the right direction and answering any questions.
---
Paying Your Port Tax
One thing to be aware of is that you do need to pay a port tax when taking the ferry from La Ceiba to Roatan or Utila, and you won't be able to enter the waiting area until you have shown your receipt.
The port tax is a fee that goes to the municipal authorities of La Ceiba and Roatan for the maintenance and security of the ports. It's a mandatory fee that applies to all passengers who use the ferry service, regardless of their nationality or age.
The port tax is $3 per person for each way. That means you need to pay $6 for a round trip or $3 for a one-way trip. You can pay the port tax in cash (US dollars or Honduran lempiras) or by credit card (Visa or Mastercard) at the terminal.
This isn't paid for in the same building you book your tickets. Instead, it is located next to a couple of snack shops and coffee stores in a small shack. Though there will be signage directing you where to go.
---
Roatan Ferry Terminal
The ferry terminal in Roatan is located in Coxen Hole, the main town and port of the island. From there, you can get around Roatan by taxi, bus, or rental car. The taxi fare is around $5-$20 depending on the distance and destination.
The bus fare is around $1-$3 depending on the route and company. The rental car rate is around $40-$60 per day depending on the type and availability.
If you need money, as we did, there are a couple of ATMs located inside the ferry terminal in Roatan. Unfortunately, we struggled to use them with both our Mastercard and Visa cards. Instead, we had to wait until we were in Half Moon Bay to withdraw money.
We found it easiest and surprisingly affordable to go by taxi directly from the terminal, even though we had been told by our hostel to wait on the main road because the drivers inside the terminal would rip us off.
Instead, we received the standard rate with zero haggling and they buddied us up with another couple heading in the same direction.
Roatan is a small island with a single main road that runs along its length. You can easily explore its attractions, such as beaches, snorkeling spots, zip lines, wildlife parks, and more by any means of transportation.
You can also take a water taxi or a boat tour to visit other nearby islands or cayes, such as Utila or Guanaja.
---
My Experience Taking The Ferry From La Ceiba To Roatan
After being picked up from our accommodation, Jungle River Lodge, in Pico Bonito National Park, we made our way back to the city to continue our adventures in Honduras. Next stop Roatan, though first, we had to get there. After being dropped off at the ferry terminal we purchased our tickets which was easy enough.
We were also able to pay by card which was perfect as we were running low on cash having had issues with numerous ATMs. With our tickets in hand, we dropped off our luggage and went to make our way to the waiting area. Though we were promptly refused.
Now I had read briefly online about a port tax. Though no one mentioned anything to us when we purchased the ticket or dropped off the bags, so it skipped my mind. Luckily one of the security guards pointed us in the direction of the counter to pay the port tax, a short walk away from the main building.
After passing a couple of good-looking coffee shops we arrived at the counter and paid the port tax. Receiving a receipt we returned to the main ferry building and showed it to the staff who happily let us in.
The waiting area was rather large with industrial fans blasting to keep the room cool. There is a few little shops here so I grab a cheap baleada for my breakfast. I always find taking transport, be it a car, bus, or boat, on an empty stomach always makes my motion sickness worse.
We wait around here for 30 minutes listening to a Spanish movie playing on tv. Eventually, they start boarding in groups, and of course, it's the first-class passengers first. Eventually, after a crazy amount of groups, it is our turn.
Walking along the pier we board the ship and make our way to the back of the second story where we find a couple of empty seats. These are completely exposed so luckily it is a nice day, and the breeze helps make it not so hot.
Soon enough we are pulling off the mainland and out to the sea. Though about 15 minutes in when we are in more open water the boat starts rocking and plastic bags are quickly passed around by the crew. I spend the next hour in a state of crying into my lap, refusing to use the bags as I try to keep my stomach happy.
As soon as we anchor in Roatan I am straight headed to land whilst my partner stays behind impressed by the nearby carnival ship and beautiful island views. No doubt it is incredible, but I need to touch the stable flat ground.
After a short wait, our bags are brought, so we grab them and begin to figure out the next stage of our journey. Getting to our hostel, on the opposite side of the island. They recommended heading out to the main road and grabbing a cheaper taxi from there which makes sense.
Though after walking past the taxis they soon flag us down, offer us a decent rate at $5.00 per person, and laugh over the fact we were told to go to the main road. We load up our bags ready to explore this island paradise which turned out to be one of our most memorable places in Central America.
---
Can I Catch A Ferry On The Same Day As My Shuttle
Now can you take a ferry to Utila or Roatan from La Ceiba on the same day you take a bus or shuttle from Copan Ruinas? Technically yes. Do I recommend it? Not really.
If there is one thing I have learned from my years of backpacking it's not to cut things too close with timing. Especially if it is going to cause you unnecessary stress.
Though you can easily book tickets at the ferry terminal, and the shuttle driver won't ask you where you want to be dropped off until you are pretty close to La Ceiba. This way you will know what approximate time you will arrive, and see how that is in relation to the ferry timings.
The ferry departs from La Ceiba to Roatan daily at 9.30 am and 4.30 pm with Galaxy Wave Ferry and at 10.30 am with Utila Dream Ferry. If you are planning to do this journey straight after getting off your transport from Copan Ruinas to La Ceiba you will need to take the Galaxy Wave Ferry departing at 4.30 pm.
I actually was looking for a hostel in La Ceiba to stay overnight and Jungle River Lodge popped up, even though it is a decent 10 kilometers away on an unpaved road in Pico Bonito National Park.
There were only a handful of reviews online at this stage, so I reached out to find out some more logistics, such as how to get there, and booked a 3-night stay keen to explore some more of the mainland.
Luckily this was certainly one of my highlights in Honduras as it is a truly magical place, and well worth visiting. I can highly recommend doing this if you are second-guessing trying to catch the ferry on the same day and have some spare time to explore a new place.
---
Flying From La Ceiba To Roatan
Another one of the options you have to travel from La Ceiba to Roatan is to fly, which is faster and more convenient than taking a ferry. There are several airlines that offer daily flights between La Ceiba and Roatan, such as LANHSA, APG Airlines, Aerolineas, and CM Airlines.
You can book your tickets online on their websites. The price of a one-way ticket is between $82 and $105, depending on the airline and the season, and flight time is only about 20 minutes,
The airport in La Ceiba is called Golosón International Airport (LCE) and it's located about 6 km from the city center. You can get there by taxi which should cost around $5-$10 depending on the distance and traffic.
You should arrive at the airport at least one hour before departure to check in your luggage and go through security.
The flight from La Ceiba to Roatan is short and smooth with stunning views of the Caribbean Sea. I actually flew out of Roatan after my stay here as I wasn't brave enough to do the ferry crossing again, and it was worth the price.
The views were so good I felt as if we were on a scenic flight where you could see the reef systems around the island and channels.
---
FAQs About Traveling from La Ceiba To Roatan
How many days to spend in Roatan? Depending on what you plan to do in Roatan will affect how long your want to spend there. Honestly, we originally planned 3 nights there. though after seeing this slice of paradise all plans were then thrown out the window.
All in all, we ended up spending around 12 days on Roatan. Though I would recommend this only if you are diving, otherwise 4 nights would suffice.
How far in advance do I need to book tickets?
Unless you are flying I wouldn't say it is necessary to book tickets for the ferry in advance. Though if you are traveling in the high season this may be the opposite story as seats can sell out. If you are doing this in the high season I would say just book 48 hours to 24 hours prior.
I was seriously surprised by how few tourists were in Honduras during my visit. Though there were heaps in Roatan, most fly here as it is an international airport.
---
Where To Stay In Roatan?
There is excellent luxury accommodation in Roatan, though in all honesty, it doesn't really fit into my budget. Luckily there are a handful, of budget stays that are worth your money. We actually stayed in three different properties during our nearly 2 weeks in Roatan.
Roatan Backpackers Hostel: Honestly this place was a bit of a miss for us, simply due to the location. The beach area nearby was very average, though they did have a kitchen onsite and a grocery store down the road. There is also a lovely pool you can relax in.
Hotel Chillies: This is an excellent budget choice right on Half Moon Bay. They have an assortment of budget-friendly and more lux rooms, in a beautiful jungle setting. Though in the jungle comes the bugs so just be prepared for that. They also have dorm rooms but these need to be booked directly on their website.
Sea Breeze Inn: Again located in Half Moon Bay, though in a busier area of it, this was our favorite stay in Roatan. Even the budget rooms have air conditioning and after a busy day of diving, this was all we wanted. The property is clean and tidy, and we had proper windows to keep those cheeky bugs out.
The only real proper hostel on the island. Rooms start from $14.00 for a dorm and $20.00 for a private.

BOOK NOW

Across the road from the beach in more of a quiet location. Single and double rooms start at $30.00.

BOOK NOW

A lovely affordable hotel in Half Moon Bay. Private rooms here start at $50.00 per night.

BOOK NOW

A slightly dated resort in a good location. Prices start from $80.00 per night.

BOOK NOW
---
Things To Do In Roatan
Roatan is the perfect place to relax and is surrounded by the most incredible ocean. Therefore you will find a lot of water-based activities here. It also caters to cruise ships so you will find a large assortment of tours available, and if you were like me, may actually have a cruise ship at the port when you arrive.
Before I get into this list I do need to point out that Roatan has A LOT, like HEAPS of animal tourism activities. Personally, I do not support this in the slightest so won't be mentioning this here.
Though if you partake in animal tourism of any sort it is important you book ethical experiences and do your research. I didn't support any of the activities involving animals on Roatan, whether that was because dolphins were captive, sloths were used as photo props, etc.
SCUBA Diving: Roatan is one of the best diving destinations in the world, with over 100 dive sites to choose from. You can see a variety of marine life, such as turtles, rays, sharks, dolphins, and whale sharks. You can also explore shipwrecks, caves, and walls.
Whether you are a beginner or an expert diver, you can find a dive site that suits your level and interest. I learned to dive here, and it is popular so if you make a last-minute reason to learn to dive in Roatan you may find yourself waiting a couple of days for availability.
Parasail above the Bay of Roatan: This is an exhilarating activity that lets you fly high above the water and enjoy the stunning views of Roatan. You can parasail solo or tandem with a friend or partner. You can also choose from different heights and durations.
Ride an ATV: This is a fun way to explore the island and see some of the hidden gems. You can ride an ATV through the dirt roads, hills, and beaches of Roatan. You can also stop at some of the attractions along the way, such as the chocolate factory.
Swim at Half Moon Bay Beach: This is a beautiful beach in West End that has clear water, white sand, and a relaxed vibe. You can swim, snorkel, or just enjoy the sun. There are also some restaurants and bars nearby if you get hungry or thirsty.
Eat Baleadas at Calelulus: This is a local grocery store that serves the best baleadas in Roatan. Baleadas are fresh tortillas filled with cheese and beans, and sometimes meat, eggs, or avocado. They are cheap, delicious, and filling.
Roatan Brewing Co: If you are a beer lover and want to try some local brews in Roatan, you should definitely visit the Roatan Island Brewing Co. This is an artisanal brewery that is located in the lush Palmetto Valley of Roatan. They brew a variety of easy-drinking ales and lagers, many with a tropical twist.
Roatan Rum Company: This is a great place to come for souvenirs, though no promises they will make it off the island because we consumed ours. This is a specialty store that offers complimentary rum and rum cake treats from high atop "Rum Point" at The Rum Runners Bar and Patio.
You can visit their gift shop and sample their products, such as the Roatan Infusions, which are handcrafted Caribbean rum infusions with natural fruits and spices. I also recommend trying their original Roatan rum cake, which is moist, delicious, and soaked in rum.
---
LIKE IT? PIN IT!
---
Want more Honduras Inspiration? Check out….
---
Disclaimer: This post contains affiliate links. So, if you click on it and purchase something, I get a small percentage at no extra cost to you. As always all opinions are my own and your support is much appreciated.
Related Posts
It's time to discover a different part of Honduras as you travel from Copan Ruinas [...]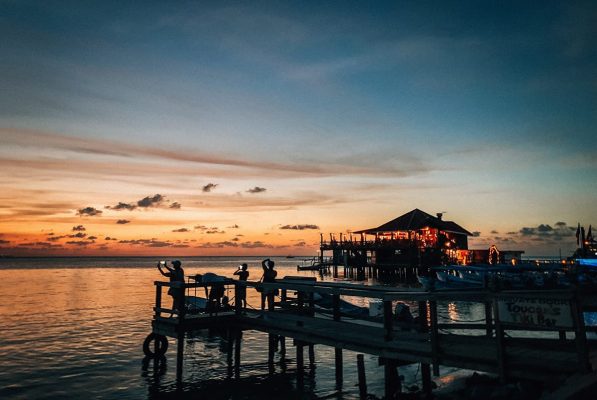 Thinking of planning a trip to the incredibly underrated country of Honduras? Well then come [...]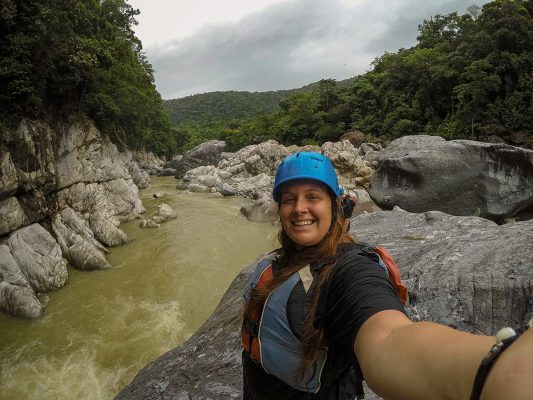 Looking for an exhilarating experience while traveling Honduras? Then I highly recommend white water rafting [...]