Interested in visiting Honduras on a budget? Well, come find out all you need to know about backpacking Copan Ruinas. I will let you know everything there is so you have an amazing time exploring this quaint town such as prices, transport, the things to do, the best hostels in Copan Ruinas and so much more!
---
If you are looking for a destination that combines history, culture, nature, and adventure, then Copan Ruinas is the place for you. This charming town in western Honduras is the gateway to one of the most impressive and important archaeological sites of the Maya civilization: the ruins of Copan.
But there is much more to Copan Ruinas than ancient temples and sculptures. If you are in Honduras you need to make sure backpacking Copan Ruinas is on your itinerary!
The Maya city of Copan was founded around 250 AD and reached its peak between 400 and 800 AD when it was ruled by a dynasty of 16 kings who built beautiful and complex structures and monuments.
The city declined and was abandoned by the 9th century AD and was rediscovered by a Spanish explorer in 1570. Today, Copan Ruinas is a charming and lively town that keeps its colonial style and cultural diversity.
It is also a place where history and nature are combined, offering visitors a wonderful and memorable experience.
In this backpacking Copan Ruinas travel guide, I will let you in on all the top things to do, where to sleep, eat, and more!
I had a lovely few days in Copan Ruinas, and actually ended up having to extend my stay due to shuttle buses only operating a couple of days per week. Though honestly this was an excellent little town to be 'stuck', with delicious food, friendly locals, beautiful street art, and honestly just perfect small-town vibes.
So let's get into everything you need to know about backpacking Copan Ruinas so you can have the best trip. This includes finding out budgets, where to stay, top spots to eat, staying safe, things to do, and more!
---
Backpacking Copan Ruinas: Top Travel Tips & Best Hostels In Copan Ruinas
---
How Many Days To Spend Backpacking Copan Ruinas
Okay, let's get into exactly how many days you should spend backpacking Copan Ruinas. To be honest this does depend on your personal preferences and what you hope to do there, but personally, I recommend two days in Copan Ruinas to get the most out of your trip here.
This will allow you to check out a couple of the main activities such as visiting the ruins and Macaw Mountain.
To be honest you could spend just one day here and smash everything out. Though this would be a very full-on day, and mixed with the heat, you will be left absolutely exhausted. In saying that, Copan Ruinas is a lovely town that is full of charm, I personally wouldn't be rushing my stay here.
Personally, I actually ended up spending 3 nights in Copan Ruinas, and luckily this is a pretty quiet town so I could easily extend my accommodation last minute as this wasn't planned.
Something important to be aware of is in Honduras a lot of the shuttle services don't operate daily. Honestly, I am used to traveling super touristy places so the thought of this didn't even cross my mind until I tried to book my onward transport.
Nevertheless, unless you are like me and are having to wait around longer for a shuttle, spending two days in Copan Ruinas is the perfect amount of time to explore this gateway to Honduras.
---
Cost Per Day To Travel Copan Ruinas
After spending the prior month traveling around Guatemala, where it was a hell of a lot more expensive than I expected it to be, arriving in Copan Ruinas was great. Accommodation was super affordable, transport was pretty cheap, and baleadas became my new best friend.
Though we did eat at cafes and restaurants a bit that increased our overall budget.
Overall I ended up spending $54.00 per day while backpacking Copan Ruinas. Though this definitely could be done cheaper if you wanted to. I stayed in a private room here with my partner which worked out to be $8.48 per night each.
Activities were also pretty cheap with the entry fee to Copan Ruins costing $14.50, and Macaw Mountain being $9.65. Though I did include my transport to get from Antigua to Copan Ruinas which was quite pricey at $58.55.
Excluding my transport to get to Copan Ruinas, my budget for backpacking here worked out to be $35.20, one of the cheapest spots I visited in Central America.
Though a lot of people list Honduras as just below Belize, Costa Rica, and Panama, it terms of costs, though I found the mainland affordable, it was as soon as you went to the islands that the prices skyrocketed.
Overall I recommend budgeting between $45.00 to $60.00 per day when backpacking Copan Ruinas depending on your travel style. This will allow you a decent place to sleep, some delicious meals, and a daily activity to keep you entertained.
---
Best Hostels In Copan Ruinas
Copan Ruinas is a super quaint and just chill town. There are a few accommodation options here, but you won't find a lot compared to other places in Central America. Sure the town is relatively touristy, though isn't overrun with travelers, which in my opinion adds to the charm.
Honestly, I think of it being because travelers have two options to take from Guatemala, either El Salvador, or Honduras, and because of safety concerns they tend to choose the other option.
So in terms of deciding the best hostels in Copan Ruinas, this is a pretty easy decision as there are not a whole lot of options. Though this doesn't mean you won't find other backpackers here. This is a super popular spot with budget travelers and you will find plenty of affordable guesthouses and hostels.
For me, the best hostel in Copan Ruinas is Hostel Iguana Azul. This is also one of the only hostel options with dorm rooms, but I did book a private room to stay in which are equally as affordable. We had a shared bathroom and it was fan cooled.
Facilities were on the basic side, but for the price point, this was an excellent choice. There is also a communal kitchen and plenty of tours and travelers tips advertised. The one thing to be aware of is there isn't a reception here so check-in/booking tours is done at the sister hotel next door.
Hostel Iguana Azul is actually Copan Ruinas first hostel having opened in 1995.
My favorite choice for an affordable option. Dorm rooms start from $12.00 per night and private $22.00 per night.

BOOK NOW

Another affordable choice close to the town center. Private rooms start from $21.00 per night with a shared bathroom.

BOOK NOW

La Casa de Cafe Bed And Breakfast

This is the fancy sister property of Iguana Azul. It's super nice and rooms start from $70.00 per night.

BOOK NOW

A little bit more pricey but there is a small pool. Dorms start at $18.00 per night and privates $30.00

BOOK NOW
---
Getting Around Copan Ruinas
Copan Ruinas is a small and walkable town so you don't need to spend much on transportation within the city. However, if you want to visit nearby places such as Macaw Mountain, or perhaps its just too hot, you may want to book some sort of transport to get around.
---
How To Get To Copan Ruinas
Now if you are wanting to get to Copan Ruinas the easiest places to do this are either in Honduras, Guatemala City, or Antigua in Guatemala. These have the best connections for travelers to this town and will allow you to have a stress-free journey.
From Antigua, Guatemala: I actually traveled from Antigua to Copan Ruinas in my travels simply because this a main spot on the Gringo trail where most people either head to Honduras or El Salvador.
I found it pretty easy to travel to Copan Ruinas any day of the week with shuttles and buses leaving in the early morning. I did write a post on traveling from Antigua to Copan Ruinas that goes into more detail.
From Guatemala City, Guatemala: From Guatemala City I recommend taking a bus service to Copan Ruinas. I used Hedman Alas which provided a taxi from Antigua to Guatemala City, then we transferred to the bus for the rest of the journey.
Though you can read more about this on the above link. Overall it was a comfortable and straightforward trip.
From La Ceiba, Honduras: Now if you are planning on traveling from La Ceiba to Copan Ruinas you need to know this shuttle service doesn't run every day of the week. From what I can see the shuttles only run on a Wednesday and a Saturday.
Unfortunately since Honduras, especially the mainland isn't super touristy there isn't enough demand to run these shuttles every day.
From San Pedro Sula: Lastly, if you are wanting to travel from San Pedro Sula to Copan Ruinas this is also a super popular route. The easiest way to travel is via bus by Hedman Alas, Transportes Congolón, or Transporte Casasola Express.
The buses depart from different terminals in San Pedro Sula and arrive at different locations in Copan Ruinas, so you will need to check the schedules beforehand.
---
Traveling Within Copan Ruinas
Now Copan Ruinas is actually quite small and crazy easy to get around. This is thanks to the fact that it isn't too far spread out so you will be able to find numerous options for restaurants, cafes, and activities that are a short walk away from where you are staying.
Though be aware there will no doubt be some things you want to check out a bit further afield, or up a hill such as Macaw Mountain. Luckily there are plenty of tuk-tuk drivers around every corner who will be more than happy to give you a ride.
I highly recommend downloading the offline map of Copan Ruinas on the Maps.Me app or Google Maps for your cell phone. It'll be super helpful in navigating your way around if you do not have data.  This is one thing I always make sure I do before arriving at a new destination.
---
Walking
It is easy to walk around Copan Ruinas. The town is small and compact, with most of the attractions, restaurants, and shops within walking distance. The streets are paved and well-lit, and the locals are friendly and helpful. You can also enjoy the views of the mountains and the colorful buildings along the way.
Though you may want to take a taxi or a tuk-tuk to venture further afield such as to the ruins or Macaw Mountain. It also gets pretty damn hot here depending on the time of year you visit, so even though normally it may be an easy walk, in the heat it likely is not.
Walking around Copan Ruinas is generally safe, as long as you use common sense and follow some basic precautions. It is still advisable to avoid walking alone at night, especially in dark or isolated areas.
You should also keep your valuables close to you and be aware of your surroundings. If you need help, you can always ask a local.
---
Tuk Tuk
You will find plenty of tuk-tuks lining the streets of Copan Ruinas ready and waiting to take you to your destination. They won't hassle you at all like I am used to from traveling parts of Asia, but instead, life is a lot more tranquilo here.
Tuk-tuks are cheap and fast, but they can also be noisy and bumpy. The fare depends on the distance and the number of passengers, but it should not be more than 20 lempiras (about $0.80) per person for a short ride within the town.
You can negotiate the price before you get in, and pay at the end of the ride. You can also tip the driver if you are satisfied with their service.
Tuk-tuks are a fun and easy way to explore Copan Ruinas and its surroundings. You can use them to visit the ruins, the museums, the Macaw Mountain Bird Park and Nature Reserve, or other nearby attractions. Just make sure you agree on the fare and the destination before you hop on.
---
Taxi
Taxis are another option to get around Copan Ruinas and its surroundings. They are usually white cars with yellow plates and a sign with their number on the roof. You can find them near the main plaza, the bus terminal, or the entrance to the ruins.
You can also call them by phone or ask your hotel to arrange one for you.
Taxis are more comfortable and spacious than tuk-tuks, but they are also more expensive and less available. The fare depends on the distance and the number of passengers, but it should not be more than 50 lempiras (about $2) per person for a short ride within the town.
You can negotiate the price before you get in, and pay at the end of the ride. Taxis are a good way to visit places that are farther away from Copan Ruinas, such as Finca El Cisne, a coffee plantation, or Luna Jaguar Spa.
---
Things To Do While Backpacking Copan Ruinas
Copan Ruinas offers a variety of activities and attractions for visitors who want to experience the culture, nature, and history of this region. Here are some of the best things to do in Copan Ruinas:
---
The Copan Ruins
One of the most fascinating sights in Honduras is the Copan Ruins, a UNESCO World Heritage Site that showcases the ancient Mayan civilization. The park contains the remains of temples, palaces, plazas, altars, stelae, ball courts, and hieroglyphic stairways that testify to the artistic and intellectual achievements of the Maya.
One of the highlights is the Acropolis, a massive complex of buildings that served as the royal residence and administrative center of Copan. The Acropolis consists of two main plazas: the West Court and the East Court.
Another highlight of the park is the Great Plaza, a large open space that was used for ceremonies and public events.
Copan Ruins also contains other interesting areas, such as the Ball Court, where the Maya played a ritual game with a rubber ball; the Cemetery, where many burials and offerings were found; and the Sculpture Museum, where visitors can admire replicas of some of the most exquisite sculptures.
---
Macaw Mountain
Macaw Mountain is a bird park and nature reserve located near Copan Ruinas, Honduras. It is a place where visitors can admire and interact with more than 330 species of native birds, many of which are rescued, endangered, or rehabilitated.
The park covers an area of 10 acres, surrounded by a lush tropical forest and a coffee plantation. They offer guided tours, trails, a natural pool, a café, and a gift shop. Visitors can learn about the history, culture, and conservation of the birds, as well as enjoy their beauty and diversity.
One of the most exciting features of Macaw Mountain is the Scarlet Macaw Project, which aims to reintroduce this iconic bird into its natural habitat in the Copan Valley. The project is a collaboration between the park, the Copan Association, and the World Parrot Trust.
The project has successfully released several groups of scarlet macaws into the archaeological site of Copan, where they can be seen flying freely among the ancient ruins.
---
Luna Jaguar Spa Hot Springs
Luna Jaguar Spa Hot Springs is a natural eco spa located in the community of Agua Caliente, about 22 km north of Copan Ruinas. It is a place where visitors can relax and enjoy the therapeutic benefits of hot springs in a beautiful and serene environment.
The spa is built with Maya-inspired architecture, blending harmoniously with the surrounding forest and mountains. They offer various services, such as massages, facial masks, body wraps, and aromatherapy.
The main attraction of the spa is the Hot Springs Area, where visitors can soak in different pools of mineral-rich water that vary in temperature and size. The pools are arranged in descending order, from the hottest to the coolest, along a stream that flows from the source of the hot springs.
The pools are surrounded by lush vegetation and stone sculptures, creating a relaxing and mystical atmosphere.
Visiting Luna Jaguar Spa Hot Springs from Copan Ruinas is a great way to unwind and rejuvenate after exploring the ancient Maya ruins and culture.
The spa is open every day from 8:00 a.m. to 9:00 p.m., and visitors can book a transportation service from Copan Ruinas or take a public bus to Agua Caliente and then a taxi to the spa.
---
Shop For Souvenirs
Copan Ruinas is a charming and colorful town that offers a variety of souvenirs for visitors who want to take home a piece of the Maya culture and history. From handicrafts to coffee, there is something for everyone.
One of the best places to buy souvenirs in Copan Ruinas is the Central Market, located near the main square. Here, visitors can find stalls selling traditional items such as pottery, textiles, wood carvings, jewelry, masks, and hammocks. The prices are reasonable and the vendors are friendly and willing to bargain.
Another option is to visit the Copan Card store, located on Avenida Copan. This store sells high-quality products made by local artisans and cooperatives, such as coffee, chocolate, honey, candles, soaps, and cosmetics.
---
The Tea & Chocolate Place
One of the most unique and enjoyable experiences in Copan Ruinas is the Tea & Chocolate Place, also known as Mayan Harvest. This is a small family-run business that offers a hands-on workshop where you can learn how to make your own chocolate and tea from organic cacao and herbs grown in their own garden.
You can also taste their products and buy some to take home.
The tea & chocolate place is a fun and educational activity for all ages and tastes. It is also a great way to support a local family that is passionate about preserving and sharing their ancestral knowledge and traditions.
You can book your workshop online or by phone, or just walk in if they have availability. The workshop lasts about two hours and costs 15 USD per person.
Though you can also head there to visit the giftshop and grab a cold drink. It is a lovely setting overlooking the jungle and a beautiful place to spend an hour.
---
Where To Eat In Copan Ruinas
Copan Ruinas has a wide range of restaurants and cafes that offer local and international cuisine for all tastes and budgets. You can find traditional Honduran dishes, as well as international options such as pizza, burgers, sandwiches, or pasta.
---
Western Food To Eat While Backpacking Copan Ruinas
Since Copan Ruinas is such a popular tourist destination you can find an assortment of Western Food here. There are so many options available and something which caters to everyone. Whether you are a meat-eater or vegan.
Some top spots include:
Cafe San Rafael: This is my personal favorite spot in Copan Ruinas and somewhere I ended up once a day. It is a family-owned business that produces coffee, cheese, and other products from their own farm.
They offer a variety of coffee drinks, French dishes, wine, and cheese platters in a cozy and elegant setting with excellent air conditioning. They also have a gift shop where you can buy their products and souvenirs. They are open from 8 am to 9 pm on weekdays and 8 am to 6 pm on Sundays.
Sol de Copan: This is a German pub that brews its own craft beer and serves German and European food. They have a terrace with a panoramic view of the Copan Valley and a cozy indoor area with a fireplace. You will also find that they have live music and karaoke nights. They are open from 4 pm to 10 pm every day except Tuesdays.
Jim's Pizza Copan: A must for pizza lovers is a visit to this popular restaurant in Copan Ruinas that serves delicious pizza and other Italian dishes. You can choose from a variety of toppings and sizes, or create your own pizza with the ingredients you like. They also have pasta, salads, sandwiches, and desserts.
The restaurant has a cozy and friendly atmosphere, with colorful murals and a wood-fired oven. You can enjoy your meal indoors or on the terrace, with a view of the main plaza and the cathedral. Pizza Copan is open every day from 11 am to 10 pm, and they also offer delivery service.
---
Local Spots To Try While Backpacking Copan Ruinas
Copan Ruinas is a great place to enjoy local dishes that reflect the diversity and richness of Honduran cuisine. You can find a variety of flavors, ingredients, and influences from indigenous, Spanish, African, and Caribbean cultures.
Here are some of the local dishes you can eat in Copan Ruinas and where to have them:
Baleada: This is a typical Honduran street food that consists of a thick flour tortilla folded over a filling of refried beans, cheese, cream, and sometimes eggs, meat, or avocado.
It is a cheap and filling snack that you can find in many places, but one of the best is Buena Baleada, a small and cozy restaurant that offers different types of baleadas with fresh ingredients and homemade tortillas. This was a regular breakfast spot for us and helped keep our budget on the lower side.
Sopa de caracol: This is a traditional soup made with conch, coconut milk, yuca, plantain, cilantro, and spices. It is a creamy and flavorful dish that is popular along the Caribbean coast of Honduras.
You can try it at Restaurante La Casa de Todo, a contemporary restaurant that serves local and international dishes with organic and fresh products.
Plato típico: This is a common dish that consists of grilled beef or chicken, rice, beans, fried plantains, cheese, salad, and tortillas. It is a hearty and satisfying meal that represents the staple foods of Honduras.
You can find it at many restaurants in Copan Ruinas, but one of the best is Los Asados, a steakhouse that specializes in grilled meats and offers a variety of sauces and sides.
Tamales: These are corn dough parcels stuffed with meat, cheese, vegetables, or fruits and wrapped in banana leaves or corn husks. They are steamed or boiled and served with salsa or cream. They are a festive dish that is usually eaten during Christmas or other special occasions.
You can try them at Tipicos la Pintada, a simple and authentic restaurant that serves traditional Honduran food.
---
Safety While Backpacking Copan Ruinas
Copan Ruinas is a peaceful and friendly town that attracts many visitors who want to explore the ancient Maya ruins and culture. Despite being located in Honduras, a country that has a reputation for being dangerous, Copan Ruinas is quite safe for tourists.
The town is small and easy to navigate, and most of the attractions are within walking distance or a short taxi ride. Locals here are welcoming and helpful, and there is a police station near the main square. The town is also well-lit at night, and there are many restaurants and bars that offer a lively atmosphere.
However, as with any destination, it is always advisable to take some basic precautions to avoid any problems or inconveniences. Some of the safety tips for Copan Ruinas are:
Do not carry large amounts of cash or valuables with you. Use the safe deposit box at your hotel or hostel, and only take what you need for the day.
Do not walk alone at night, especially in dark or isolated areas. Take a taxi or a tuk-tuk if you need to go somewhere after dark, and ask your hotel or hostel to recommend a reliable driver.
Do not buy or accept any items that claim to be authentic Maya artifacts. They are either fake or illegal, and you could get in trouble with the authorities if you try to take them out of the country.
Do not drink tap water. Drink bottled water or purified water, and avoid salads or fruits that may have been washed with tap water.
Do not swim in the river near the ruins. The water is polluted and may contain parasites or bacteria that can cause infections or illnesses.
By following these simple tips, you can enjoy your stay in Copan Ruinas without any worries.
---
Where To After Backpacking Copan Ruinas
When you have finished up your travels in Copan Ruinas it is super easy to continue your adventures. Or perhaps even pass into one of the neighboring countries.
Domestic: You will be happy to know there are also plenty of domestic routes from Copan Ruinas. If you are backpacking Honduras and this is your first stop you will likely head to the coast to La Ceiba, just keep in mind that shuttles don't run daily.
Personally, I actually traveled from Copan Ruinas to La Ceiba after my travels here. It was by a tourist shuttle that was shared with one other couple. Otherwise, you may want to fly from San Pedro Sula which is the closest international airport. Buses run from Copan Ruinas to San Pedro Sula daily.
International: If you are wanting to get to other neighboring countries from Copan Ruinas by overland travel the most popular way to do this is by tourist shuttle. You can quite easily travel to Antigua in Guatemala from Copan Ruinas.
Though other countries such as San Salvador and Nicaragua will require a multi-day journey with a stop in San Pedro Sula or Tegucigalpa.
---
Any Questions? Let me know in the comments!
---
LIKE IT? PIN IT!
---
Want more Honduras Inspiration? Check out….
---
Disclaimer: This post contains affiliate links. So, if you click on it and purchase something, I get a small percentage at no extra cost to you. As always all opinions are my own and your support is much appreciated.
Related Posts
Thinking you may want to learn to dive in Roatan during your visit! Well, I [...]
If you are visiting Copan Ruinas, it may seem like there are only a few [...]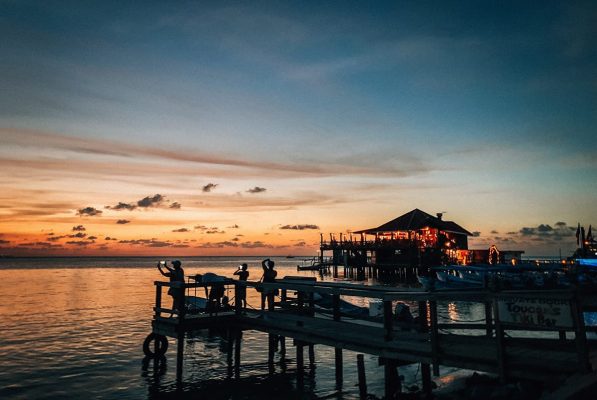 Thinking of planning a trip to the incredibly underrated country of Honduras? Well then come [...]