Want to explore the best beaches in Roatan? Come check out my favorite beaches, the best snorkeling beaches in Roatan, how to get there, where to stay, and more, with this guide you'll be covered!
---
No doubt there are some awesome beaches in Roatan, Honduras. I mean this island paradise is located in the second largest reef system in the world. If you look up the definition of paradise you may see a picture of Roatan right there. Though, there are certainly some parts that are better to swim in than others.
Also, snorkeling is better in certain areas as well, especially those which are protected. On the opposite side, there are actually some factors before you go swimming in Roatan to be aware of so you can keep safe. I mean you are here in paradise to relax and appreciate the beauty of nature, nobody wants to end up in a hospital.
I fell in love with Roatan over the couple weeks I spent here, and no doubt every day you could find me on the beach and swimming in the ocean. Whether that was relaxing on the sandy shores, taking a dip in the shallows, going snorkeling or even doing some diving.
I was lucky enough to check out some of the best beaches in Roatan during my stay and I am here to share them with you!
Some of these beaches are a little isolated or spread apart. So you may need some sort of transport to get around. Though luckily you can also find some awesome accommodations right on the beautiful beaches.
Get ready for blue seas, white sand, and gorgeous views as I list the best beaches in Roatan that you need to see on your visit!
---
The 9 Best Beaches In Roatan You Need To Visit
---
1. Half Moon Bay
Half Moon Bay Beach is a beautiful beach in the West End of Roatan, Honduras. It is named after its crescent shape and has white sand, turquoise water, and stunning sunsets. It is one of the most popular beaches on the island and offers many activities and attractions for visitors.
Half Moon Bay is my personal favorite beach, and I discovered it by chance when simply booking the area since there is an affordable hotel there called Chillies.
This hotel is set a bit further back in the jungle, though literally a few meters from the entrance you will be able to sink your feet into the sand and jump into the incredible water. There are plenty more restaurants, cafes, and hotels in the area so you can enjoy the beach while being just a stone's throw away from some excellent lunch options.
One of the main attractions of Half Moon Bay Beach is the coral reef that lies just offshore. You can snorkel or dive to explore the colorful marine life and see why Roatan is known as one of the best diving destinations in the world.
You can also take a glass-bottomed boat trip to admire the reef without getting wet. You will see many people snorkeling straight off the shore. The best spots are around the rocks at either end of the beach.
Half Moon Bay Beach is also a great place to relax and enjoy the sun. You can rent a beach chair or a hammock and watch the sunset over the water. Half Moon Bay Beach is a must-see for anyone who visits Roatan. It has something for everyone, whether you are looking for adventure, culture, or tranquility. You can easily get there by taxi or bus from the airport or Coxen Hole, the main city on the island. No doubt this is one of the best beaches in Roatan and is a must-visit!
---
2. West Bay Beach
West Bay Beach is a paradise for anyone who loves the sun, the sand, and the sea. It is one of the most beautiful and popular beaches in Roatan, Honduras, and offers a variety of activities and attractions for visitors of all ages and interests.
West Bay Beach is located on the western side of Roatan, facing the Caribbean Sea.
West Bay Beach is a place where you can admire the beauty of nature and feel the warmth of the sun. The beach has soft and powdery white sand that feels like silk under your feet. The water is crystal clear and turquoise blue, reflecting the sky and the clouds. It is fringed by palm trees and tropical plants that provide shade and color.
You will also find plenty of colorful umbrellas, chairs, and cabanas that invite you to relax and enjoy the view. The beach is clean and well-maintained, and there are showers, restrooms, and changing rooms available for your convenience. The beach is never too crowded or noisy, but always lively and fun.
The reef is home to diverse and colorful marine life, including tropical fish, turtles, rays, eels, lobsters, and more.
Snorkeling and scuba diving are among the best ways to explore the underwater world of West Bay Beach. There are several dive shops and operators that offer equipment rental, courses, tours, and excursions for all levels of experience.
West Bay Beach is also a great place to enjoy other water activities, such as parasailing, jet skiing, kayaking, paddle boarding, sailing, fishing, and more.
You can also take a ride on the glass bottom boat, which allows you to see the reef without getting wet. Or you can try the sub-wing, which lets you glide through the water like a dolphin. If you are feeling adventurous, you can also try flyboarding, which propels you into the air with water jets.
---
3. Marbella Beach
One of the most secluded and pristine beaches in Roatan was Marbella Beach, located on the north shore of the island near Palmetto Plantation.
To get there, you had to rent a 4×4 and drive along a bumpy dirt road that crossed a landfill and some houses. The reward was a long stretch of white sand and turquoise water, where you could enjoy nature and solitude.
However, in January 2023, Marbella Beach was closed to the public for unknown reasons. A sign that read "No Trespassing" blocked the access road and discouraged any visitors.
The fate of Marbella Beach remained a mystery, as well as the impact of its closure on the environment and the local community. Those who wanted to experience a similar beach had to look for other options in Roatan, such as Camp Bay Beach or Pangea Beach, which were still open and less crowded than the popular West Bay Beach or Half Moon Bay.
Note: Some visitors have reported it is possible to access Marbella Beach via Palmetto Resort by saying you are using the restaurant called the Cove. From here it is about a 1 km walk to Marbella beach. Though other visitors trying this method have been met by guards welding machetes who abruptly escorted them off the property. 
View this post on Instagram
---
4. Camp Bay Beach
Camp Bay Beach is the longest natural beach on Roatan Island, stretching for about 2.5 miles along the northeast coast. It is a pristine and peaceful beach, with soft white sand, clear blue water, and gentle waves. This is a great spot for those looking to beat the crowds and who want that deserted island vibe.
The beach is surrounded by lush greenery and palm trees, creating a tropical paradise atmosphere. It is also home to a coral reef, which attracts a variety of marine life and offers excellent snorkeling opportunities.
If you are renting a car the drive takes about an hour and a half, and you can enjoy the scenic views of the island along the way.
Alternatively, you can take a boat tour from West End or West Bay, which will take you to Camp Bay Beach and other nearby attractions, such as Pigeon Cay and Flamingo Cultural Center. You can also rent a scooter or a bike and explore the island at your own pace.
---
5. Tabyana Beach
If you are looking for a tropical paradise with stunning views, crystal-clear waters, and a variety of activities, then you should visit Tabyana Beach in Roatan. This is rated one of the best beaches in the Western Caribbean and offers a perfect blend of relaxation and adventure.
Here you can enjoy the white sand, coconut and almond trees, and Caribbean music while lounging on a private sun lounger or hammock. Only 70 feet from the shore and see colorful fish, coral, and other marine life making this an excellent spot to snorkel.
Though for a bit of above-the-water fun you can rent kayaks, banana boats, or jet skis and explore the turquoise waters or join a glass-bottom boat tour and see the underwater world without getting wet.
Nearby you can savor a delicious barbecue lunch or try some local delicacies at the restaurants and bars. If you are looking for a great beach to relax and also be near plenty of delicious eateries.
---
6. West End Beach
West End Beach is another slice of paradise on the island of Roatan, Honduras. You can stroll along the sandy shore, admire the colorful water houses, and watch the sunset.
Personally, I will say I do prefer swimming at Half Moon Bay over West End Beach, Even though it is just around the corner, there aren't as many buildings on this side making it easy to access.
Nevertheless, it is a perfect place to relax, swim, snorkel, dive, and enjoy the Caribbean vibe. You can also explore the many shops, restaurants, and bars that line the main street, offering local and international cuisine, souvenirs, and entertainment.
West End Beach is a great destination for travelers who want to experience the authentic charm of Roatan without sacrificing comfort and convenience.
---
7. Paya Bay Beach
Paya Bay Beach is a hidden gem on the east end of Roatan, Honduras. It is a place where you can enjoy the beauty of nature, the tranquility of the sea, and the warmth of the sun.
This Beach is part of Paya Bay Resort, a boutique hotel that offers a variety of amenities and activities for its guests, though you can also buy day passes as well.
You can stay in one of the 10 uniquely designed rooms, each with a stunning view of the Caribbean Sea. Enjoy dining at the seaside restaurant, where you can savor delicious dishes made with fresh local ingredients. Relax by the pool, or on one of the three private beaches, where you can swim, snorkel, or sunbathe.
Paya Bay Beach is a half-moon shape, with soft white sand and clear turquoise water. The water is calm and shallow, perfect for swimming and snorkeling. You can see colorful fish, coral, and even turtles and rays if you are lucky.
The beach is surrounded by a lush green jungle, where you can hear the sounds of birds and monkeys. You can also walk along the cliffs and coves that offer stunning views of the Caribbean Sea.
View this post on Instagram
---
8. Sandy Bay Beach
Sandy Bay Beach is a tranquil and scenic spot on the north coast of Roatan, Honduras. It offers a relaxing escape from the hustle and bustle of the island's more touristy areas. The beach has soft white sand, clear turquoise water, and lush green vegetation.
I found this spot a bit more local than a lot of the other beaches in Roatan where there were a lot of houses along the shoreline. This definitely wasn't my favorite beach in Roatan. Though we did visit during low tide which greatly affects this spot. The tide was super low exposing a less than beautiful shoreline.
To get to Sandy Bay Beach, you can take a taxi or join an organized tour from the West End or other parts of the island.
View this post on Instagram
---
9. Mahogany Bay Beach
Mahogany Bay Beach is a beautiful and relaxing destination for cruise ship passengers who dock at the Mahogany Bay Port in Roatan, Honduras.
The beach is a short walk or a chair lift ride away from the port, where visitors can find duty-free shops, restaurants, and a welcome center. Just be aware Mahogany Bay Beach is for cruise passengers only.
This beach offers soft white sand, clear blue water, and stunning views of the Caribbean Sea. Visitors can enjoy swimming, snorkeling, kayaking, paddle boarding or simply lounging on the beach chairs or cabanas. Mahogany Bay Beach is a perfect place to experience the tropical charm and natural beauty of Roatan.
---
How To Keep Safe On The Beaches In Roatan
Even though Roatan is a beautiful place and there are some incredible beaches, it still has some dangers and warnings that you should be aware of before you visit.
Strong currents: Some beaches may have strong currents that can pull you out to sea or into rocks or coral. You should always swim with caution and follow the advice of lifeguards or locals. Some beaches that may have strong currents are Camp Bay Beach, Paya Bay Beach, and Sandy Bay Beach.
Sea urchins: These spiny creatures can sting you if you step on them or touch them. They are usually found in rocky areas or near coral reefs. You should wear water shoes or fins when swimming or snorkeling, and avoid touching anything underwater. If you get stung, you should seek medical attention as soon as possible.
Jellyfish: These gelatinous animals can also sting you if you come into contact with them. They are usually more common during certain seasons or weather conditions. You should avoid swimming in areas where jellyfish are present, and wear protective clothing or sunscreen to prevent stings. If you get stung, you should rinse the area with vinegar or salt water and apply ice or aloe vera gel to soothe the pain.
---
Where To Stay In Roatan?
There is excellent luxury accommodation in Roatan, though in all honesty, it doesn't really fit into my budget. Luckily there are a handful, of budget stays that are worth your money. We actually stayed in three different properties during our nearly 2 weeks in Roatan.
Roatan Backpackers Hostel: Honestly this place was a bit of a miss for us, simply due to the location. The beach area nearby was very average, though they did have a kitchen onsite and a grocery store down the road. There is also a lovely pool you can relax in.
Hotel Chillies: This is an excellent budget choice right on Half Moon Bay. They have an assortment of budget-friendly and more lux rooms, in a beautiful jungle setting. Though in the jungle comes the bugs so just be prepared for that. They also have dorm rooms but these need to be booked directly on their website.
Sea Breeze Inn: Again located in Half Moon Bay, though in a busier area of it, this was our favorite stay in Roatan. Even the budget rooms have air conditioning and after a busy day of diving, this was all we wanted. The property is clean and tidy, and we had proper windows to keep those cheeky bugs out.
The only real proper hostel on the island. Rooms start from $14.00 for a dorm and $20.00 for a private.

BOOK NOW

Across the road from the beach in more of a quiet location. Single and double rooms start at $30.00.

BOOK NOW

A lovely affordable hotel in Half Moon Bay. Private rooms here start at $50.00 per night.

BOOK NOW

A slightly dated resort in a good location. Prices start from $80.00 per night.

BOOK NOW
---
Things To Do In Roatan
Roatan is the perfect place to relax and is surrounded by the most incredible ocean. Therefore you will find a lot of water-based activities here. It also caters to cruise ships so you will find a large assortment of tours available, and if you were like me, may actually have a cruise ship at the port when you arrive.
Before I get into this list I do need to point out that Roatan has A LOT, like HEAPS of animal tourism activities.
Personally, I do not support this in the slightest so won't be mentioning this here. Though if you partake in animal tourism of any sort it is important you book ethical experiences and do your research. I didn't support any of the activities involving animals on Roatan, whether that was because dolphins were captive, sloths were used as photo props, etc.
SCUBA Diving: Roatan is one of the best diving destinations in the world, with over 100 dive sites to choose from. You can see a variety of marine life, such as turtles, rays, sharks, dolphins, and whale sharks.
You can also explore shipwrecks, caves, and walls. Whether you are a beginner or an expert diver, you can find a dive site that suits your level and interest. I learned to dive here, and it is popular so if you make a last-minute reason to learn to dive in Roatan you may find yourself waiting a couple of days for availability.
Parasail above the Bay of Roatan: This is an exhilarating activity that lets you fly high above the water and enjoy the stunning views of Roatan. You can parasail solo or tandem with a friend or partner. You can also choose from different heights and durations.
Ride an ATV: This is a fun way to explore the island and see some of the hidden gems. You can ride an ATV through the dirt roads, hills, and beaches of Roatan. You can also stop at some of the attractions along the way, such as the chocolate factory.
Swim at Half Moon Bay Beach: This is a beautiful beach in West End that has clear water, white sand, and a relaxed vibe. You can swim, snorkel, or just enjoy the sun. There are also some restaurants and bars nearby if you get hungry or thirsty.
Eat Baleadas at Calelulus: This is a local grocery store that serves the best baleadas in Roatan. Baleadas are fresh tortillas filled with cheese and beans, and sometimes meat, eggs, or avocado. They are cheap, delicious, and filling.
Roatan Brewing Co: If you are a beer lover and want to try some local brews in Roatan, you should definitely visit the Roatan Island Brewing Co. This is an artisanal brewery that is located in the lush Palmetto Valley of Roatan. They brew a variety of easy-drinking ales and lagers, many with a tropical twist.
Roatan Rum Company: This is a great place to come for souvenirs, though no promises they will make it off the island because we consumed ours. This is a specialty store that offers complimentary rum and rum cake treats while overlooking the crystal blue waters of the Caribbean from high atop "Rum Point" at The Rum Runners Bar and Patio. You can visit their gift shop and sample their products, such as the Roatan Infusions, which are handcrafted Caribbean rum infusions with natural fruits and spices. I also recommend trying their original Roatan rum cake, which is moist, delicious, and soaked in rum.
---
Any Questions? Let me know in the comments!
---
LIKE IT? PIN IT!
---
Want more Honduras Inspiration? Check out….
---
Disclaimer: This post contains affiliate links. So, if you click on it and purchase something, I get a small percentage at no extra cost to you. As always all opinions are my own and your support is much appreciated.
Photo credit: "Roatan, Mahogany Bay" (CC BY 2.0) by Allan Watt."tabyana beach" (CC BY 2.0) by Jenni Konrad. "Camp Bay Roatan" (CC BY 2.0) by Charlieprops. 
Related Posts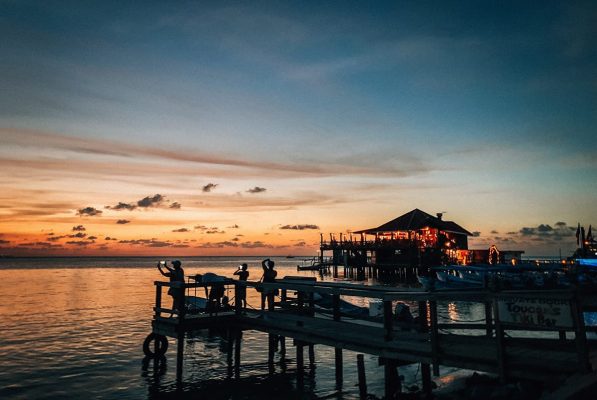 Thinking of planning a trip to the incredibly underrated country of Honduras? Well then come [...]
If you are planning a visit to Copan Ruinas no doubt you are coming here [...]
If you are visiting La Ceiba in Honduras, I highly recommend traveling that little bit [...]