Keen to travel Honduras, but don't know exactly how much to save? Well then come check this out as I did all the hard work and I am going to share the cost to travel Honduras. This includes the price of accommodation, transportation, food, and more to work out your Honduras travel budget!
---
Of course, when I travel I always write up a budget and of course, this included a Honduras travel budget as well. I knew how much I wanted to spend per day, and after researching other travelers' averages online I was able to work out a planned cost to travel Honduras. Though how correct was this actually?
When you check out Honduras travel budgets online you will generally see it in the upper portion of Central American countries, likely underneath Belize, Costa Rica, and Panama. Though this isn't necessarily correct.
Sure you can spend quite a bit backpacking Honduras, especially if you plan to splash out by visiting the Bay Islands and doing some scuba diving. But the mainland in Honduras is surprisingly affordable.
Most people seem to recommend around $50.00 to $ 60.00 per day. Though how realistic is this really, and can you actually go cheaper? For me, this post is for the budget-conscious traveler, who will book accommodation on the cheaper side, but not the cheapest, and eat at restaurants over street food.
Part of the appeal of exploring Honduras is that it isn't as touristy as a lot of other Central American countries which has helped keep prices low.
Even seeing some of the country's best ruins is less than half of what you would pay in Mexico. While in Honduras you will meet some great people, taste delicious food and discover the beauty of the jungle.
Now, let's get into my Honduras travel budget and find out how much it cost to travel Honduras!
---
Honduras Travel Budget: How Much Does It Really Cost To Travel Honduras
---
Accommodation Costs In Honduras
Now to be honest accommodation costs in Honduras can vary quite a bit. Whether that is depending on the type and location, season of the country demand, and amenities offered. Though compared to other countries like Belize, Costa Rica, and Panama accommodation is on the cheaper side here.
Personally, I like using Booking.com to book accommodation everywhere I travel. This is due to the fact that they offer free cancellation allowing me to change my plan relatively last minute, just like when I decided to stay in Roatan for 2 weeks rather than a few nights.
Honesty a lot of places in Central America and Mexico I found myself having to book a couple of weeks in advance to ensure I had a decent place to stay. Though because Honduras isn't so popular compared to other countries in the region I had no issue booking last minute.
---
Cost of Hostels In Honduras
Honduras is a great destination for backpackers who love off-the-beaten-path travel experiences. Hostels are a great option for travelers who want to save money, meet other travelers, and enjoy a friendly and social atmosphere.
Though unfortunately, hostels aren't super popular in Honduras, you will find at least one in tourist spots such as Copan Ruinas, La Ceiba, Roatan, or Utila.
The answer depends on where you go and what kind of hostel you choose. Honduras has a variety of hostels, from basic dorms to cozy cottages, catering to different budgets and preferences. Here are some examples of hostel costs in Honduras for backpackers:
Roatan Backpackers' Hostel: This is one of the most popular hostels in Honduras, located on the island of Roatan, a paradise for scuba diving and snorkeling. The hostel offers dorm beds for $10-$12 per night, or private rooms for $25-$35 per night. The hostel has a pool, a kitchen, a common area, and free wifi.
Palmira Hostel: This is a safe and comfortable hostel in the capital city of Tegucigalpa, in an embassy area near the United Nations building and the USA Embassy. The hostel offers dorm beds for $12-$15 per night, and private rooms for $25-$40 per night. The hostel has a kitchen, a lounge, a terrace, and free wifi.
Iguana Azul Hostel: This is a funky and charming hostel in Copan Ruinas. The hostel offers dorm beds for $9 per night, and private rooms for $17-$19 per night. The hostel has great hot showers, free purified water, fast wifi, lockers in bunk rooms, laundry facilities, and a tropical garden.
It is also in an excellent location on a quaint street with plenty of street art and a short couple minutes walk into the city center.
As you can see, hostel costs in Honduras for backpackers vary depending on the location and the facilities. However, you can expect to pay around $10-$15 per night for a dorm bed, and around $25-$40 per night for a private room in most places.
Of course, prices may change depending on the season and availability, so it is always advisable to book in advance or compare different options online.
Personally, I stayed about 50% of my time in hostels throughout my travels in Honduras, but this was in private rooms since I was with my partner. One thing to note is that there is definitely less of a social vibe in the hostels in Honduras, though this is simply due to the lack of travelers.
---
Cost of Guesthouses In Honduras
If you are looking for a more private and cozy accommodation than a hostel, you might want to consider staying in a guesthouse in Honduras.
Guesthouses are a type of accommodation that offers a more personal and homely experience than hotels. In my opinion, they are the perfect mid-budget option, a little bit nicer than a hostel since you have privacy, but you aren't paying the price tag of a hotel.
Just be aware that even though you will get your own private room, this is to more local standards than Western standards.
The cost of guesthouses in Honduras varies depending on the location, the quality, and the season. However, you can expect to pay around $20-$40 per night for a private room in most places.
---
Cost of Hotels In Honduras
Hotels are the most common type of accommodation that offers a more professional and standardized experience than guesthouses. They are usually run by companies or chains that rent out rooms or suites to travelers.
Hotels are generally more expensive than guesthouses but will provide more facilities and services, such as restaurants, bars, pools, gyms, spas, business centers, or concierges. Hotels may also offer loyalty programs or discounts for frequent guests.
I didn't stay in any hotels on the mainland of Honduras, though when extending our stay in Roatan we decided to stay in a couple of different affordable hotels. Generally, we found budgeting $50 to $80 per night appropriate.
Just be aware that the cheaper side doesn't include air conditioning in your room, which is a necessity depending on the time of year you travel.
---
Food Prices in Honduras
Honduras offers a variety of cuisines, from traditional dishes like baleadas, pupusas, and sopa de caracol, to international options like pizza, burgers, and sushi. If you are planning to visit Honduras, you might be wondering how much you should budget for your food expenses.
You can find a mixture of Western and local cuisines spread right throughout the tourist spots in the country. I would rarely spend more than $10.00 on a meal out with a drink. You will find street food more affordable than that again!
All in all, I would spend between $7.00 to $10.00 for a meal and drink at a restaurant.
Though I did find that some of the hostels in Honduras did have fully equipped communal kitchens. This would be perfect for budget travelers looking to keep down their overall spending by cooking something that would last a couple of days.
Unfortunately, I didn't stay in any places that offered free breakfast, though we did find some lovely cafes, and baleadas were always a delicious and affordable breakfast option.
---
Streetfood in Honduras
If you are looking for cheap food options in Honduras, you can find some that cost less than L100 / $4 per meal. For example, you can try some of the local street food or snacks, such as:
Baleadas: A thick flour tortilla filled with refried beans, cheese, sour cream, and sometimes eggs, meat, or avocado. These were a personal favorite of mine and a great option for vegetarians. A simple baleada can cost around L20 / $0.80.
Pupusas: A thick corn tortilla stuffed with cheese, beans, pork, or other ingredients. A pupusa can cost around L15 / $0.60.
Pastelitos: Fried pastry pockets filled with meat, cheese, potatoes, or vegetables. A pastelito can cost around L10 / $0.40.
Tacos: Corn tortillas rolled with meat, cheese, lettuce, tomato, and salsa. A taco can cost around L25 / $1.00.
Sopa de caracol: A soup made with conch, coconut milk, yuca, plantains, and spices. A bowl of sopa de caracol can cost around L80 / $3.20.
You can also find some cheap local restaurants or comedores that serve typical dishes like pollo con tajadas (fried chicken with plantain chips), carne asada (grilled beef), arroz con pollo (rice with chicken), or plato tipico (a plate with beans, cheese, tortillas, eggs, and meat). These dishes can cost around L50-L100 / $2.00 – $4.00 per plate.
---
Restaurants in Honduras
In Honduras, you will find cafes and restaurants that offer a variety of cuisines and restaurants for travelers and locals alike. From restaurants that serve traditional Honduran dishes, as well as restaurants that offer international flavors, such as Italian, French, or Japanese.
You can also find restaurants that cater to different budgets, preferences, and occasions, from cheap and cheerful street food stalls to elegant and sophisticated fine dining establishments.
If you are looking for splurge food options in Honduras, you can find some that cost more than L200 /$8 per meal at most restaurants. For example, you can try some of the international cuisines or restaurants that offer more variety and quality. Some examples are:
Pizza: You can find pizza places that serve different toppings and sizes of pizza. A medium pizza can cost around L250 / $10.00.
Burgers: You can find burger joints that serve juicy burgers with fries and drinks. A burger combo can cost around L200 /$8.00.
Sushi: You can find sushi places that serve fresh and tasty sushi rolls and sashimi. A sushi platter can cost around L300 /$12.00.
Seafood: You can find seafood restaurants that serve grilled fish, lobster, shrimp, calamari, and other delicacies from the sea. A seafood dish can cost around L400 / $16.00.
Personally, I found the best assortment of restaurants in Roatan. Though this is because it is a popular island with tourists and attracts hundreds of thousands each year. Here I could easily find Thai, Italian, typical American, and more!
There is plenty of places that cater to vegetarians and vegans, so it was so easy for me to find a delicious spot to eat. I was always able to eat at a restaurant for whatever I was craving and even splurged on fancier options a couple of times.
---
Transportation Costs in Honduras
Honduras is a beautiful country with plenty of destinations to explore so you will be needing some sort of transport to get around. There are a handful of options here, though I will say Honduras was probably one of the most expensive in Central America when it came to transport costs for me.
Though this is simply because I decided to take shuttles as this was the easy option.
You can definitely save money by booking buses. Just be aware you may find yourself having to do multiple transfers to get to your final destination.
---
Buses In Honduras
Bus services in Honduras are fairly well organized, with frequent departures from the main transport hubs of Tegucigalpa, San Pedro Sula, and La Ceiba, as well as a network of local services. These local, or "chicken" buses are the cheapest, but also get packed and stop frequently, so they can be quite slow.
Rapiditos also serve local routes. Usually minibusses, they are much quicker but a little more expensive than chicken buses.
On the longer intercity routes, there is usually a choice of services, with an increasing number of luxurious air-conditioned express buses (ejecutivos or lujos), plus comfortable services with a few scheduled stops (directors).
Fares are extremely low on most routes, at around US$1–2 an hour or less, though they can triple on some of the really smart services – traveling between Tegucigalpa and La Ceiba can cost as much as US$37.
For the express buses (notably Hedman Alas, the smartest operator), you should buy tickets in advance when possible; if you are getting on at smaller destinations the conductor will come through and collect the fare.
The frequency of buses slows down considerably after lunch, so you should try to be at your final destination by 4 pm to avoid getting stranded.
---
Shuttle Buses In Honduras
A tourist shuttle is a private or shared minivan that offers transportation between popular destinations in Honduras. They are more comfortable, faster, and safer than public buses, but also more expensive and less frequent.
They usually operate from hotels, hostels, travel agencies, or designated pick-up points. Also, one thing to note is because the mainland isn't super touristy a lot of these minivans don't operate daily, so you will need to plan your itinerary around this.
The prices of tourist shuttles vary depending on the distance, the demand, and the company. They are usually quoted in US dollars or lempira. A typical price for a tourist shuttle from Copan Ruinas to La Ceiba is $50 per person. These prices are for one-way trips and may include luggage.
Unfortunately, there aren't any online booking companies in Honduras I can really recommend, therefore, in my opinion, you are best off booking them once you arrive, or organizing it through your accommodation.
---
Flying in Honduras
Domestic flights in Honduras are also relatively inexpensive. This is the best way to get to the Mosquito Coast or to Guanaja Island. Flights from San Pedro Sula and La Ceiba run regularly to Roatán, Utila, and Guanaja. The main domestic airlines are CM Airlines, Aerolíneas Sosa, and Lanhsa Airlines.
| Route | One-way fare |
| --- | --- |
| San Pedro Sula – Roatán | US$70 |
| San Pedro Sula – Utila | US$60 |
| San Pedro Sula – Guanaja | US$80 |
| La Ceiba – Roatán | US$40 |
| La Ceiba – Utila | US$30 |
| La Ceiba – Guanaja | US$50 |
---
Ferries In Honduras
Roatan and Utila are two of the most popular destinations in the Bay Islands of Honduras, known for their stunning beaches, coral reefs, and diving opportunities.  The Utila Dream Ferry is the only ferry service that connects Roatan and Utila, as well as La Ceiba on the mainland.
The cost of the ferry depends on the class of service you choose. There are two options: standard and VIP. The standard fare includes a seat in the main cabin with air conditioning, TV screens, and a snack bar.
The VIP fare includes a seat on the upper deck with panoramic views, leather seats, complimentary drinks and snacks, and priority boarding and disembarking. Prices start from $24.00 up to $33.00 for a one-way journey.
---
Budgeted VS Actual Honduras Travel Budget
So I budgeted $440 in total or $48.90 per day for my travels in Honduras. Though if I am to be completely honest this budget, and my plans went straight out the window essentially as soon as I arrived in the country.
Having just traveled to Mexico, Belize, and Guatemala I had found myself in a nice little rhythm sticking to my itinerary, and pretty well my budget. Though quickly after arriving in Copan Ruinas from Guatemala I realized shuttles in the country don't run every day.
Basically, this meant having to rework my entire itinerary and extend my stay.
All in all, I ended up spending around 3 weeks in Honduras, This also included 2 weeks in Roatan where my life revolved around the ocean and getting PADI certified. Yup, that took a pretty damn decent chunk out of the budget.
The course alone was around $300.00 and we did numerous fun dives after this as well. If you are thinking about scuba diving, or it is a remote possibility for you, just set the money aside, rather than working it into your daily budget.
If you decide not to do it when you're there, no biggie, you have some extra funds for a different activity.
After our plans went off the rails I stopped calculating my budget in Honduras simply due to the fact I was too scared to see the number and I was having way too much fun. I don't have any regrets, and I thankfully had a job waiting for me back home, though this seriously isn't a technique I would recommend doing.
If I were to guesstimate my total cost in Honduras, including scuba diving, I would say it would have been around $1000.00 to $1200.00 for my cost to travel Honduras, essentially triple what I originally budgeted.
---
Money Saving Tips To Decrease Your Cost To Travel Honduras
Book hostels with free breakfast
Check out whether your accommodation also includes free water / coffee / tea
Honduras has a rich and diverse cuisine, influenced by Spanish, African, and indigenous cultures. You can find delicious and cheap meals at local eateries, street stalls, and markets. Try baleadas, tortillas stuffed with beans, cheese, eggs, and meat; or sopa de caracol, a conch soup with coconut milk and spices.
Share transport with other people, waiting ten minutes to see if anyone else is going to the airport/bus station could save you money.
Travel during the low season or shoulder season instead of the high season
Haggle at the markets to ensure you get a decent price
Book hostels with a communal kitchen to save you from eating at cafes or restaurants for every meal
The tap water in Honduras is not safe to drink so make sure you have a reusable bottle with a built-in filter. This will save you money and reduce plastic waste.
Honduras is a cash-driven society. Many places don't accept credit cards or charge high fees for using them. You'll also get a better exchange rate if you pay with cash.
If you're spending money early in the morning, a lot of businesses won't have change for you. This applies especially to taxi and water taxi drivers. Keep a good amount of $1 and $5 bills with you to avoid the hassle of finding change.
If you want to dive in the Bay Islands, Utila is the cheapest option. You can find dive packages for as low as $30 per dive, including equipment rental. Most PADI certifications here will also include free accommodation!
---
Any Questions? Let me know in the comments!
---
LIKE IT? PIN IT!
---
Want more Honduras Inspiration? Check out….
---
Disclaimer: This post contains affiliate links. So, if you click on it and purchase something, I get a small percentage at no extra cost to you. As always all opinions are my own and your support is much appreciated.
Related Posts
Interested in visiting Honduras on a budget? Well, come find out all you need to [...]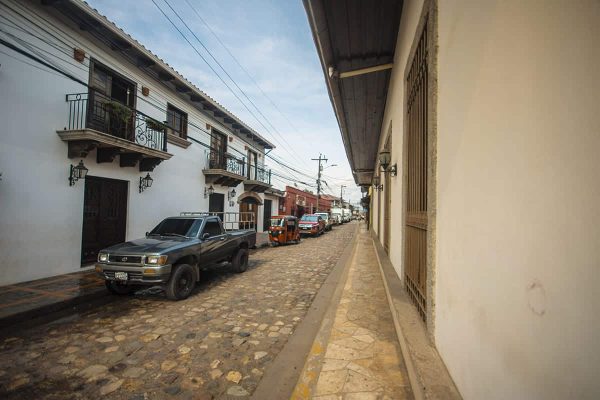 Wanting to travel from Guatemala to Honduras, then come find out exactly how to do [...]
Planning on a visit to La Ceiba? Whether you are planning an overnight stay before [...]