Come find out the absolute best things to do in Roatan. Whether you are staying here a week, or perhaps are on a cruise and only have a day to spare. I will cover the ultimate sights and activities, for those who are water lovers, and those who prefer to stay on land. 
---
Located in the incredible Bay Islands, Roatan is well worth checking out when you are traveling to Honduras. Think palm tree-laden beaches, crystal clear water, and a beautiful reef system.
On the island, you can also find delicious foodie spots, an incredible jungle, and interesting wildlife. Though how exactly do you narrow down all these choices to find the best things to do in Roatan worth spending your hard earnt money and time on?
Before I get into this list I do need to point out that Roatan has A LOT, like HEAPS of animal tourism activities. Personally, I do not support this in the slightest so won't be mentioning these options on this list of the best things to do in Roatan. Though if you partake in animal tourism of any sort it is important you book ethical experiences and do your research.
I didn't support any of the activities involving animals on Roatan, whether that was because dolphins were captive, or sloths were used as photo props, I couldn't find anything that seemed like an ethical experience and wouldn't make me question my morals.
Be aware that the above does limit some of the most popular things to do in Roatan which is visiting the nearby Cayes. These are set up like mini resorts, though a lot of them do use animal encounters to encourage tourists to visit. I highly recommend you do a bit of research before checking out Little French Caye or French Caye.
Nevertheless, let's find out the absolute best things to do in Roatan.
---
The 20 BEST Things To Do In Roatan
---
SCUBA Diving
Roatan is one of the best diving destinations, with over 100 dive sites to choose from. It is also part of the Mesoamerican Barrier Reef, the second-largest coral reef system in the world. You can see a variety of marine life, such as turtles, rays, sharks, dolphins, and whale sharks. You can also explore shipwrecks, caves, and walls.
The water temperature is warm year-round, averaging 26°C in winter and 29°C in summer. The visibility is excellent, ranging from 15 to 30 meters, and the currents are mild to moderate, depending on the location and tide. The best time to dive is from March to September when the weather is dry and calm.
Whether you are a beginner or an expert diver, you can find a dive site that suits your level and interest. I learned to dive here, and it is popular so if you make a last-minute reason to learn to dive in Roatan you may find yourself waiting a couple of days for availability.
Personally, I actually did my PADI Open Water certification here on Roatan and had the most incredible time. This was with Sun Divers and even though learning to dive on Roatan is more expensive than on Utila we really enjoyed the homely comforts provided with Roatan being a big expat destination.
---
Visit West Bay Beach
This is one of the most popular and beautiful beaches in Roatan, with white sand, clear water, and palm trees. You can relax on the beach, swim, snorkel, or enjoy some water sports. There are also many restaurants, bars, and hotels nearby.
You will also find plenty of colorful umbrellas, chairs, and cabanas that invite you to relax and enjoy the view. The beach is clean and well-maintained, and there are showers, restrooms, and changing rooms available for your convenience. West Bay is never too crowded or noisy, but always lively and fun.
You can easily get here by water taxi or car. You can take a water taxi from the West End or other parts of the island for a scenic and convenient ride. The water taxis operate 24 hours a day and cost around $3 per person. You can also take a car or bus from Coxen Hole or other towns.
---
Ride An ATV
This is a fun way to explore the island and see some of the hidden gems. You can ride an ATV through the dirt roads, hills, and beaches of Roatan. You can also stop at some of the attractions along the way, such as the chocolate factory.
There are many ATV tour companies on the island that offer different packages and routes. You can choose from half-day or full-day tours, east or west island tours, jungle or beach tours, or customize your own tour. The best ATV tour operator on the island is Roatan ATV Buggy Jungle Adventure Tours.
Depending on your preference and budget, you can drive your own ATV or share it with a partner. You will need a valid driver's license and be at least 18 years old to drive an ATV. You will also need to sign a waiver and follow the safety instructions of your guide. You will be provided with a helmet, goggles, and gloves for your protection.
An ATV tour will take you through Roatan's scenic landscapes, such as hills, valleys, forests, farms, villages, and beaches. You will experience the thrill of driving on dirt roads, mud pits, rocky trails, and steep slopes. You will also see amazing sights along the way, such as wildlife, plants, waterfalls, caves, ruins, and more.
View this post on Instagram
---
Explore The Island
Roatan has a lot of natural beauty and cultural diversity to offer. You can rent a car, scooter, or bike and drive around the island, stopping at different places along the way. Roatan has a paved road that runs along its length, as well as some dirt roads that lead to more remote areas.
You can rent a vehicle from one of the many rental agencies on the island, or book a tour with a guide.
You can visit some of the island's towns and villages, each with its own charm and vibe. Roatan has many towns and villages that reflect its history and culture. Some of the places you can visit are:
Coxen Hole: The capital of the Bay Islands and the largest city on Roatan. It is where the airport and the cruise ship dock are located. It is also the center of politics and commerce on the island. You can find banks, supermarkets, pharmacies, souvenir shops, and restaurants here.
Sandy Bay: A quiet beach community that has some of the island's cultural attractions, such as the Carambola Botanical Gardens (where you can see tropical plants and animals), and the Roatan Museum (where you can learn about the island's history).
West End: A lively town that has a bohemian vibe and vibrant nightlife. It is where many backpackers, divers, and ex-pats hang out.
West Bay: One of the most popular and beautiful beaches on Roatan, with white sand, clear water, and palm trees. It is where many resorts, hotels, restaurants, and water sports are located.
---
Relax At Camp Bay
Camp Bay Beach is the longest natural beach on the island, stretching for about 2.5 miles along the northeast coast, and is one of the best things to do in Roatan. It is a pristine and peaceful beach, with soft white sand, clear blue water, and gentle waves.
This is a great spot for those looking to beat the crowds and who want that deserted island vibe.
The beach is surrounded by lush greenery and palm trees, creating a tropical paradise atmosphere. It is also home to a coral reef, which attracts a variety of marine life and offers excellent snorkeling opportunities.
Be aware that if you are renting a car the drive takes about an hour and a half, and you can enjoy the scenic views of the island along the way.
Alternatively, you can take a boat tour from West End or West Bay, which will take you to Camp Bay Beach and other nearby attractions. You can also rent a scooter or a bike and explore the island at your own pace.
---
Visit A Museum
Roatan has some interesting museums that showcase its history and culture.
The Roatan Museum at Anthony's Key Resort: This museum displays artifacts and exhibits about the island's indigenous people, pirates, settlers, and natural environment. You can learn about the ancient civilizations, the Carib Indians, the African slaves, the Spanish and English conquests, the sunken treasures, and the tradition of living off the sea. The museum was created in 1992 by Cheryl Galindo, with the guidance and expertise of the Honduran Institute of Anthropology
The Flamingo Cultural Center in Punta Gorda: This center celebrates the Garifuna culture and language that has remained largely unchanged since the late 1700s. You can see displays of traditional clothing, instruments, crafts, and photos. You can also participate in workshops, classes, or events that teach you about Garifuna music, dance, food, and history.
---
Visit The Chocolate Factory
The Roatan Chocolate Factory is a local, small-scale chocolate company that makes organic chocolate from locally grown cacao beans. It was founded in 2010 with the mission to create the finest chocolate in Central America while also giving back to the local indigenous communities and protecting the rainforest where the cacao comes from.
The chocolate factory uses 100% pure ingredients and does not add any oils, fillers, additives, preservatives, or colorants to its products.
It is located in the West End, where you can see the chocolate-making process and sample some of its products. You can visit their factory, bakery, and coffee shop and learn more about their rare cacao beans, the health benefits of cacao, and the history of chocolate.
You can also try some of their delicious products such as chocolate bars, truffles, brownies, or hot chocolate.
I definitely visited the cafe multiple times during my visit. This was actually an excellent breakfast option, which I found difficult to find a decent place in West End. I can highly recommend their paninis.
Lastly, I will just mention this is a socially and environmentally responsible chocolate company that supports jaguar conservation and rainforest protection. The cacao beans that they use come from the Rio Platano Biosphere Reserve in La Mosquitia, a rainforest area in Honduras where the highest quality cacao comes from.
This area is also home to many endangered species such as jaguars, tapirs, macaws, and more. The chocolate factory works with the Wildlife Conservation Society and Yale University to promote wildlife-friendly farming practices and prevent deforestation.
---
Parasail Above The Bay Of Roatan
Parasailing is a thrilling and scenic way to enjoy the island's beauty from above and no doubt one of the best things to do in Roatan. Generally, parasailing costs between $70 and $80 per person for a 10 to 15-minute flight.
Some companies may offer discounts for groups or packages with other activities. The price usually includes equipment, instruction, safety briefing, and transportation to and from the boat.
Be prepared as it will take you up to 800 feet above the water, where you can enjoy panoramic views of the island, the bay, the reef, and the mountains. You can also see dolphins, turtles, rays, and other marine life from the air.
Decide whether you would like to fly solo or tandem or with a friend. Also, you can choose to stay dry or get dipped in the water for some extra fun.
This is a safe and fun activity for anyone who is not afraid of heights and who meets the weight and health requirements. You don't need any previous experience or skills to parasail, as you will be guided by a professional and certified crew.
Just wear a harness and a life jacket, and you will be attached to a parachute and a tow rope that connects you to the boat.
---
Roatan Rum Company
The Roatan Rum Company is located between West End and West Bay, on a high point that offers stunning views of the Caribbean Sea from high atop "Rum Point" at The Rum Runners Bar and Patio.
You can visit their gift shop and sample their products, such as the Roatan Infusions, which are handcrafted Caribbean rum infusions with natural fruits and spices. I also recommend trying their original Roatan rum cake, which is moist, delicious, and soaked in rum.
The Roatan Rum Company makes organic rum from locally grown sugar cane and natural fruits and spices. They have a variety of flavors, such as coconut, mango, pineapple, vanilla, coffee, chocolate, and more.
They also make rum cakes, rum sauces, rum chocolates, and other rum-inspired treats. This is a great place to come for souvenirs, though no promises they will make it off the island because we consumed ours.
The Roatan Rum Company is a socially and environmentally responsible company that supports local communities and charities.
They source their ingredients from local farmers and cooperatives, and they donate part of their profits to various causes, such as education, health, animal welfare, and environmental protection. They also participate in events and initiatives that promote the island's culture and tourism.
---
Swim at Half Moon Bay
If you are looking for a relaxing beach getaway with stunning views, crystal clear water, and plenty of activities, look no further than Half Moon Bay. This beautiful bay is located on the West End of the island, one of the most popular tourist destinations in Roatan.
It is named after its crescent shape that curves around the turquoise Caribbean Sea. The beach is soft and white, perfect for sunbathing, swimming or snorkeling.
The bay is part of a marine reserve, so you can expect to see a variety of colorful fish and coral reefs just a few steps from the shore. You can also rent kayaks and paddleboards.
Half Moon Bay is not only a paradise for water lovers, but also for foodies, shoppers, and nightlife enthusiasts. The West End village is lined with restaurants, bars, cafes, and shops that cater to every taste and budget.
Here you can enjoy local specialties like baleadas, fried plantains, or seafood, or try international cuisines like Italian, Thai, or Mexican. You can also find souvenirs, handicrafts, and art at the many stalls and galleries along the road.
---
Eat Baleadas
Baleadas are one of the most typical and delicious dishes of Honduras. They consist of a thick flour tortilla filled with refried beans, cheese, sour cream, and sometimes eggs, meat, or avocado. They are cheap, filling, and easy to find all over the country, especially in Roatan.
If you are visiting Roatan and want to taste the best baleadas on the island, here are some of the places you should check out.
Yahongreh: This small and cozy spot in West End is my favorite place to have breakfast baleadas. They have a variety of options, from the classic bean and cheese to the more elaborate chicken and avocado. The portions are generous, the prices are reasonable and the service is friendly. You can also enjoy a fresh fruit smoothie or a cup of coffee while you watch the locals go by.
Calelu's: Another great place in West End to enjoy baleadas is Calelu's, a supermarket with a restaurant upstairs. The baleadas here are huge and fresh, with homemade tortillas and sauces. You can also order smoothies, juices, or sodas to go with your meal. The best part is that you can enjoy the view of the ocean from the balcony while you eat.
Celeste's Island Cuisine: If you are staying in West Bay, you should definitely visit Celeste's Island Cuisine, a restaurant located at the West Bay Lodge & Spa. Celeste's offers a variety of dishes, but their baleadas are among the best on the island. They use organic ingredients and local cheese, and they have vegetarian and vegan options as well. You can also try their famous key lime pie for dessert.
Kismet at the Meridian: For a more upscale and romantic experience, you can head to Kismet at the Meridian, a restaurant located at Lighthouse Point in West Bay. Kismet offers a fusion of Mediterranean and Caribbean cuisine, and their baleadas are no exception. They use fresh seafood, homemade sauces, and gourmet cheese to create mouthwatering baleadas that will make you want more. You can also enjoy a glass of wine or a cocktail while you admire the sunset over the bay.
---
Spare Lionfish
If you're looking for an adventure that combines diving, conservation, and gastronomy, you might want to try spearing lionfish in Roatan. Lionfish are beautiful but invasive fish that threaten the health and diversity of the coral reefs in the Caribbean.
They have no natural predators in this region, and they can eat up to 30 times their stomach volume in a day, devouring juvenile fish and crustaceans. They also reproduce rapidly, releasing up to 30,000 eggs every four days.
Fortunately, there is a way to help control their population and protect the reef: hunting them with spears. In Roatan, spearfishing is normally illegal, as it is a marine reserve, but lionfish are the exception.
You can obtain a Bay Islands Lionfish License from the Roatan Marine Park, which allows you to hunt and harvest lionfish with a registered spear.
The license costs $50 and includes a workshop, a spear, and a two-year validity. The workshop teaches you about the biology and ecology of lionfish, the proper spear usage and safety, and the hunting regulations and best practices.
You also get to practice your skills in the water using coconuts as targets. You need to demonstrate good buoyancy and spatial awareness, as well as respect for the reef and other marine life.
The workshop usually takes place twice a week at the Roatan Marine Park office in West End, but you can also request a special session for larger groups. Once you have your license and spear, you can join any dive center that offers lionfish hunting trips.
---
Roatan Brewing Co
If you're thirsty for some craft beer and some fun activities, you might want to visit Roatan Island Brewing Co, the only artisanal brewery on the island. Located in the Palmetto Bay area, this brewery offers a variety of easy-drinking ales and lagers, many with a tropical twist.
You can sample their beers in their cozy taproom, or take a tour of their brewing facilities and learn about their process and ingredients. But Roatan Island Brewing Co is not just about beer.
It's also a place where you can enjoy nature, games, and entertainment. The brewery is nestled into the lush tropical hillside of the Palmetto Valley, and it has nature trails that you can explore.
You can also play foosball, ping pong, horseshoes, or relax by the fire pit. If you're a sports fan, you can catch up on some football on their TV. And if you're hungry, you can order some food from their restaurant. Roatan Island Brewing Co is open from Wednesday to Sunday, from 11 am to 5 pm.
---
Zipline Over The Canopy
If you are looking for an adrenaline rush in a tropical setting, then you should definitely try ziplining, one of the best things to do in Roatan. You can soar above the lush rainforest, enjoy stunning views of the ocean, and experience the thrill of flying like a bird.
There are several zipline operators in Roatan, each offering a different level of challenge and excitement.
South Shore Zipline Adventure: This is one of the most popular ziplines in Roatan, located in the West Bay area. It has 13 cables, 16 platforms, and a total length of 2 miles. The longest cable is 1300 feet, and the highest point is over 100 feet.
You can also try the Zuperman Zipline, which lets you fly horizontally like a superhero for 1500 feet. There is also an eco-walk tour with 8 suspension bridges through the canopy. This zipline is great for families and beginners, as well as experienced zippers.
King Kong Extreme Zipline Adventure: This is the newest and most extreme zipline in Roatan, located in Coxen Hole. It has 14 cables, 23 platforms, and a total length of 3 miles. The longest cable is 2210 feet, and the highest point is 380 feet. You can expect high speeds, steep angles, and breathtaking views.
This zipline is not for the faint of heart, but for those who love a challenge and a thrill. There is also a restaurant on-site, where you can enjoy local food and views of the Port of Roatan.
Pirates of The Caribbean Zipline: This zipline offers two courses: the extreme zip-line tour and the extremely zip-line tour. The extreme zip-line tour has 18 cables, 23 platforms, and a total length of 2 miles.
The extremely zip-line tour has 12 cables, 16 platforms, and a total length of 1 mile. Both courses offer 360-degree views of the north and south shores of Roatan. The extreme zip-line tour is more strenuous and requires more physical endurance, while the extremely zip-line tour is less demanding and suitable for all ages.
---
Snorkel The Blue Chanel
Roatan is a paradise for snorkelers, with its clear turquoise water, vibrant coral reefs, and abundant marine life. There are many amazing snorkeling spots to explore on this island, but one of my favorites is the Blue Channel.
It is a great place to see a variety of fish, corals, sponges, and other creatures. One of the best ways to experience the Blue Channel is to go snorkeling there on a sunny morning, when the water is warm and calm, and the visibility is excellent. Located inside a protected marine park you can rest assured that efforts are being made to conserve the natural beauty and health of the reef.
Just be aware you do need to book a tour or a private boat to get to the snorkeling spot.
---
Go On A Tiki Boat Sunset Cruise
There are many ways to enjoy this island paradise, but one of the most unique and enjoyable ones is to do a Tiki Boat Sunset Cruise. This is a four-hour cruise on a floating tiki bar, where you can sip drinks, eat delicious food, snorkel, dance, and watch the sunset over the water.
The Tiki Boat Sunset Cruise is operated by Mono Loco Tours, the only sunset dinner cruise boat in Roatan. They offer a comfortable and spacious boat, with a full open bar, a DJ, karaoke, and a friendly crew.
The cruise starts from West Bay Beach, where you can board the boat and get ready for an unforgettable evening. The first stop of the cruise is at a snorkeling spot, where you can jump into the water and explore the colorful coral reef and marine life.
You can see fish, turtles, rays, and maybe even dolphins. The boat provides snorkeling equipment and guides for your safety and convenience.
After snorkeling, you can enjoy a delicious dinner on board, prepared by a local chef. The menu includes lobster, chicken, rice, beans, salad, bread, and dessert. You can also choose from a variety of drinks, such as beer, wine, rum punch, soda, or water.
The last part of the cruise is the best part: watching the sunset over the ocean. You can relax on the deck, listen to music, sing karaoke, or dance with your friends. The sunset in Roatan is spectacular, with shades of orange, pink, purple, and blue.
---
Roatan Local Market
Another one of the best things to do in Roatan which will allow you to experience the culture and spirit of this island is to visit the Roatan Local Market. This is a space created as a platform of promotion and sales for the local artisans and businesses of Roatan. Here you can find unique and handmade products, such as jewelry, clothing, accessories, art, food, and more.
The Roatan Local Market is held periodically at different locations around the island, such as the Roatan Island Brewing Co., the Sandy Bay Beach Club, or the West End Village. You can check their Facebook page for the upcoming dates and venues.
The market usually runs from 11 am to 4 pm, and it is free to enter. It is a great opportunity to meet the local people who make and sell their products with passion and creativity. You can chat with them, learn about their stories and inspirations, and support their work. You can also find some amazing deals and bargains.
View this post on Instagram
---
Night Snorkeling Tour
If you are looking for a unique and unforgettable adventure in Roatan, you should definitely try a night snorkeling tour. It is a completely different experience from snorkeling during the day, as you get to see the underwater world in a new light (literally).
Night snorkeling is not only fun but also educational. You will learn about the nocturnal creatures that inhabit the coral reef, such as octopuses, lobsters, crabs, eels, and bioluminescent plankton.
The best part of night snorkeling is the feeling of wonder and awe that you get when you immerse yourself in the dark water and see the colors and shapes of the marine life illuminated by your flashlight. It is like entering a fairy tale or a sci-fi movie. You will be amazed by the beauty and diversity of the reef and its inhabitants.
Night snorkeling is suitable for anyone who can swim and has basic snorkeling skills. You don't need any special equipment, just a mask, snorkel, fins, and a waterproof flashlight. You can rent them from any dive shop or tour operator in Roatan. You can also join a guided tour that will take you to the best spots and provide you with safety instructions and tips.
---
Day Trip To Utila
A day trip to Utila from Roatan is a great way to enjoy the Caribbean. Utila is a small island with amazing coral reefs, whale sharks, and friendly locals. It can be reached by plane or by boat from Roatan. The boat option is cheaper and more scenic and runs on Fridays, Saturdays, and Sundays. The ferry takes an hour and costs 750 lempiras one way.
Some of the activities to do in Utila are whale shark watching, snorkeling, kayaking, eating, and shopping. Whale shark watching is the highlight of the trip, as it allows visitors to swim next to the gentle giants of the ocean.
Snorkeling and kayaking are also fun ways to explore the marine life and the scenery. Eating and shopping are good ways to taste the local cuisine and buy some souvenirs.
After a wonderful day in Utila, visitors can take the ferry back to Roatan at 4 p.m. The ferry arrives in Roatan at 5 p.m. This is the perfect thing to do in Roatan if you have a bit of spare time and want to check out the other Bay Islands.
---
Spend A Weekend At Pico Bonito National Park
Now perhaps you are staying on Roatan a little bit longer and actually have a weekend to spare, then I highly recommend a visit to Pico Bonito National Park. This park is one of the largest and most biodiverse in Honduras and offers a variety of activities for nature lovers and adventure seekers
The easiest way to get to Pico Bonito National Park from Roatan is by taking the ferry, which has two daily departures. The passage between Roatan and La Ceiba, the nearest coastal town to the park, is just under two hours. From La Ceiba, you can take a taxi or a shuttle to your accommodation near the park, which should be around 25 minutes.
There is no shortage of things to do in Pico Bonito National Park, whether you want to relax or get your adrenaline pumping. Here are some of the highlights:
Go white water rafting on the Cangrejal River. This river offers energetic grade II, III, and IV rapids down the steep slope between the two national parks. The large boulders give you the white water effect you need for your adrenaline fix.
Hike to Cascada El Bejuco. This is a 15 km hike through the jungle that leads you to an impressive 80 m high waterfall. The trail starts at the visitor's center and crosses a suspension bridge over the Cangrejal River. Along the way, you can enjoy the flora and fauna of the park, such as orchids, bromeliads, monkeys, toucans, and hummingbirds. The hike takes about 4 hours one way, so make sure you bring enough water and snacks.
Swim and boulder jump in the Cangrejal River. After a day of hiking or rafting, you can cool off in the clear waters of the river. There are several spots where you can swim or jump from rocks into deep pools. Just be careful and follow the advice of your guides or locals.
---
Where To Stay In Roatan?
There is excellent luxury accommodation in Roatan, though in all honesty, it doesn't really fit into my budget. Luckily there are a handful, of budget stays that are worth your money. We actually stayed in three different properties during our nearly 2 weeks in Roatan.
Roatan Backpackers Hostel: Honestly this place was a bit of a miss for us, simply due to the location. The beach area nearby was very average, though they did have a kitchen onsite and a grocery store down the road. There is also a lovely pool you can relax in.
Hotel Chillies: This is an excellent budget choice right on Half Moon Bay. They have an assortment of budget-friendly and more lux rooms, in a beautiful jungle setting. Though in the jungle comes the bugs so just be prepared for that. They also have dorm rooms but these need to be booked directly on their website.
Sea Breeze Inn: Again located in Half Moon Bay, though in a busier area of it, this was our favorite stay in Roatan. Even the budget rooms have air conditioning and after a busy day of diving, this was all we wanted. The property is clean and tidy, and we had proper windows to keep those cheeky bugs out.
The only real proper hostel on the island. Rooms start from $14.00 for a dorm and $20.00 for a private.

BOOK NOW

Across the road from the beach in more of a quiet location. Single and double rooms start at $30.00.

BOOK NOW

A lovely affordable hotel in Half Moon Bay. Private rooms here start at $50.00 per night.

BOOK NOW

A slightly dated resort in a good location. Prices start from $80.00 per night.

BOOK NOW
---
Ultimate List Of The Best Things To Do In Roatan
SCUBA Diving
Visit West Bay Beach
Ride An ATV
Explore The Island
Relax At Camp Bay
Visit A Museum
Visit The Chocolate Factory
Parasail Above The Bay Of Roatan
Roatan Rum Company
Swim at Half Moon Bay
Eat Baleadas
Spare Lionfish
Roatan Brewing Co
Zipline Over The Canopy
Snorkel The Blue Chanel
Go On A Tiki Boat Sunset Cruise
Roatan Local Market
Night Snorkeling Tour
Day Trip To Utila
Spend A Weekend At Pico Bonito National Park
---
Any Questions? Let me know in the comments!
---
LIKE IT? PIN IT!
---
Want more Honduras Inspiration? Check out….
---
Disclaimer: This post contains affiliate links. So, if you click on it and purchase something, I get a small percentage at no extra cost to you. As always all opinions are my own and your support is much appreciated.
Related Posts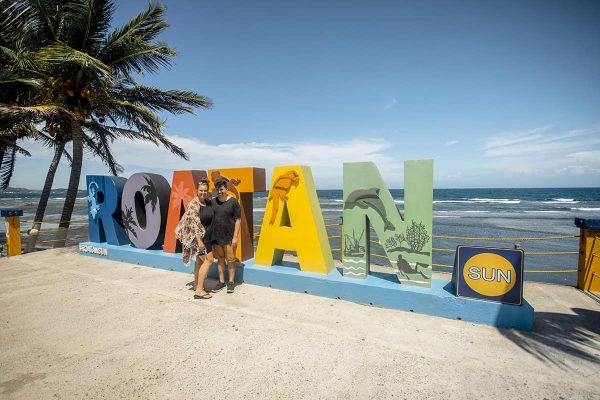 Come find out the best hostels in Roatan as I share the best budget-friendly places [...]
It's time to discover a different part of Honduras as you travel from Copan Ruinas [...]
Interested in visiting Honduras on a budget? Well, come find out all you need to [...]