If you are a keen scuba diver and are traveling Belize then you need to try diving in Ambergris Caye. This incredible spot on the Mesoamerican Reef is full of marine life waiting to be discovered by you!
---
Diving in Ambergris Caye in Belize is a wonderful way to explore the rich and diverse marine life of the Mesoamerican Barrier Reef, the second-largest coral reef system in the world.
Depending on which dive site you choose, you can see different types of fish, sharks, rays, turtles, eels, lobsters, crabs, octopuses, corals, sponges, sea fans, and more.
Ambergris Caye is located in the northern part of Belize and offers easy access to some of the most spectacular dive sites in the country. Whether you are a beginner or an experienced diver, you will find something to suit your interests and skill level.
Personally diving in Ambergris Caye I was a recently qualified open water diver. I had spent the past couple of weeks living and breathing scuba in Roatan and falling in love with this new world.
Having explored Belize a few months prior and seeing how incredible the snorkeling is here, I knew I had to come back to go diving in Ambergris Caye.
I will say that I didn't particularly enjoy the company I dived with, thought the dive sites themselves were amazing. Though diving in the wet season meant crazy choppy waters and a lot of currents when trying to get to the dive sites.
Nevertheless, I will let you know all you need to know about diving in Ambergris Caye. This includes why it is worth it, the best time of year to visit, the top dive sites you should check out, the best dive centers on the island, my experiences, and more!
---
Diving In Ambergris Caye: All You Need To Know
---
How I Book Cheap Transport In Belize: GuateGo
---
What Makes Diving In Ambergris Caye So Special?
Diving in Ambergris Caye is a rewarding experience for divers of all levels. As an open-water certified diver, we were placed in a boat with fellow divers of a similar level, whereas a second boat would go out with those who were advanced. Here are some reasons why it is worth diving in Ambergris Caye:
You can explore a variety of dive sites, from shallow coral gardens to deep walls and canyons. Ambergris Caye has over 80 dive sites to choose from, each with its own unique features and marine life. Some of the most popular dive sites are Hol Chan Marine Reserve, Mexico Rocks, Tackle Box Canyon, Esmeralda, and Cypress Gardens.
You can encounter diverse and abundant marine life, from colorful reef fish to majestic sharks and rays. Ambergris Caye is home to over 500 species of fish, as well as turtles, dolphins, manatees, eels, lobsters, crabs, and more. In one of my favorite dives, we were surrounded by Carribean Reef sharks from the moment we descended the whole time until we ascended again (In typical fashion this was the only dive I didn't bring my camera on).
You can also see the famous Great Blue Hole, a circular sinkhole that plunges to over 120 meters deep and hosts stalactites, stalagmites, and sharks. Though for the sake of this guide, I will be excluding the Blue Hole and instead concentrating on the dive sites around Ambergris Caye.
You can enjoy a comfortable and convenient diving experience with professional and friendly dive operators. Ambergris Caye has many PADI 5-Star Dive Centers that offer quality service, equipment, and instruction. You can also find a range of accommodation options, from budget hostels to luxury resorts, as well as restaurants, bars, shops, and other amenities.
---
The Best Time For Diving In Ambergris Caye, Belize
Ambergris Caye has a tropical climate with two main seasons: dry and wet. The dry season runs from December to May, and the wet season from June to November. Both seasons have their advantages and disadvantages for diving.
The dry season is generally more popular with tourists and divers, as the weather is mostly sunny and warm, and the visibility is excellent. However, this also means that the dive sites can be more crowded, and the prices can be higher.
The water temperature is slightly cooler, ranging from 26°C to 28°C, so you may need a shorty wetsuit for comfort.
The wet season is less busy and more affordable, but also more unpredictable. The weather can be rainy and windy, especially during the hurricane season from August to October. The visibility can be reduced by runoff and plankton blooms, but this also attracts more marine life.
The water temperature is warmer, around 29°C to 30°C, so you can dive in a swimsuit or rash guard. I went during the wet season and we definitely had some rough waters getting to dive sites, but once we had descended it was worth it.
There are also some seasonal events that may influence your decision. For example, October and November is grouper mating season, when thousands of these fish gather at the cayes to spawn. This is a spectacular sight for divers, as well as a chance to see other predators like sharks and barracuda.
Another event is the whale shark migration, which occurs from March to June around the full moon. These gentle giants can be seen near Gladden Spit, about 40 km south of Ambergris Caye.
---
The Best Ambergris Caye Dive Sites
Of course, you can find some stunning coral reefs, diverse marine life, and world-class diving sites here in Ambergris Caye. Though if you are looking for some of the best places to dive in Ambergris Caye, here are some of my favorites:
---
Hol Chan Marine Reserve
This is one of the most popular and accessible dive sites in Ambergris Caye, located just south of San Pedro Town. Hol Chan means "little channel" in Maya, and it refers to a natural cut in the reef that attracts a variety of fish, sharks, rays, turtles, and more.
There you can explore the different zones of the reserve, such as the reef, the seagrass beds, the mangroves, and the famous Shark Ray Alley. I thought this would have been my favorite dive site since it was so great to snorkel, but honestly, it was my least favorite.
If you are keen to read why I did a comparison article about diving vs snorkeling Hol Chan Marine Reserve.
---
Mayan Princess
Mayan Princess Dive Site is a popular destination for divers who want to explore the rich and diverse marine life of Ambergris Caye, Belize. The dive site is located opposite the Mayan Princess Hotel. The dive site is named after the hotel, which is decorated with Mayan motifs and artifacts.
This dive site is suitable for divers of all levels, as it offers a variety of depths and terrains. You will find that the dive site consists of a coral reef that drops off into a wall, where divers can see large sponges, sea fans, gorgonians, and other colorful corals.
The reef is home to many fish species, such as angelfish, damselfish, wrasses, gobies, groupers, parrotfish, and snappers. Divers can also encounter larger marine animals, such as sea turtles, eagle rays, stingrays, nurse sharks, and reef sharks.
We had a nurse shark follow us the entire time on this dive like a puppy dog, as well as Carribean Reef Shark silhouettes hanging out in the deep.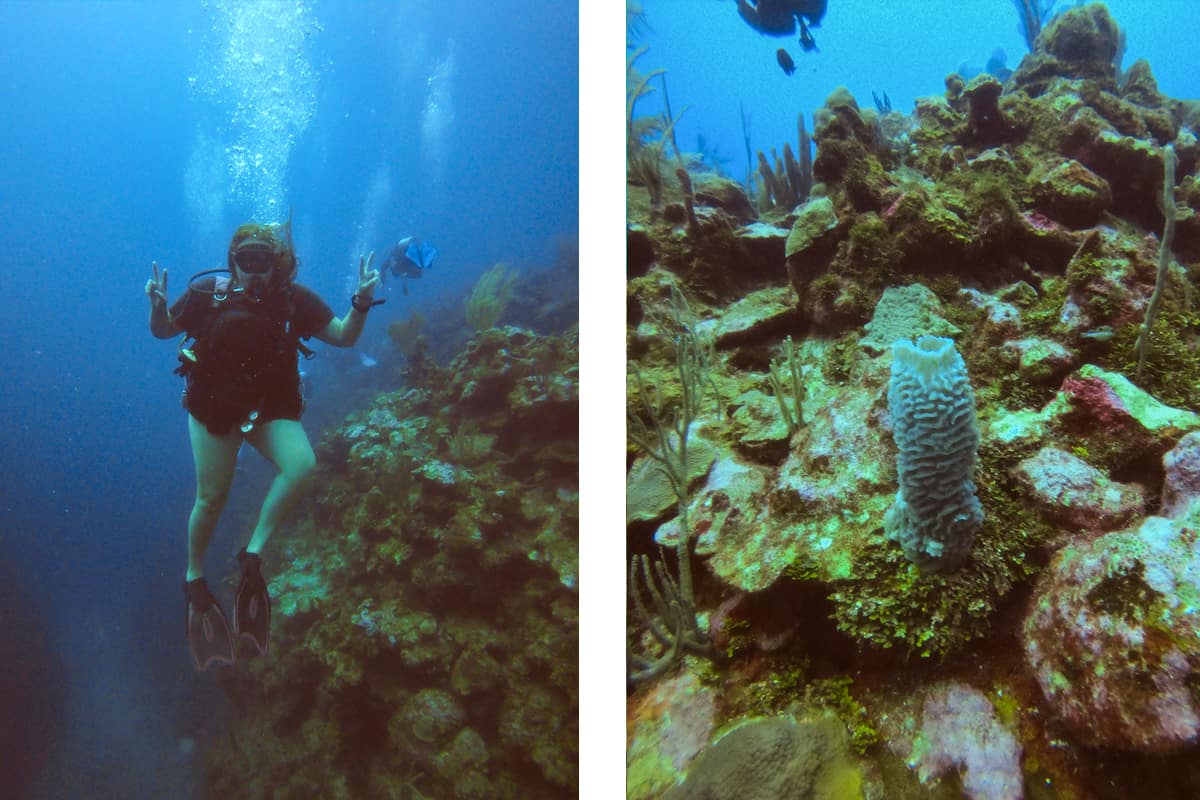 ---
Esmeralda Canyons
This is a dive site for more experienced divers, as it involves navigating through deep canyons and swim-throughs in the reef. You can see large groupers, snappers, barracudas, moray eels, nurse sharks, and even hammerhead sharks if you are lucky.
The visibility is usually good, and the coral formations are impressive.
---
Mermaids Lair
Mermaid's Lair is named after a large cavern that resembles a mermaid's home, with colorful corals, sponges, and fish decorating the walls and ceiling. The dive site is suitable for divers of all levels, as the depth ranges from 6 to 18 meters.
The visibility is usually good, around 18 to 24 meters. The water temperature is warm, over 29°C year-round.
The site is home to a variety of marine life, such as green moray eels, lionfish, nurse sharks, parrotfish, angelfish, and barracuda.
This was one of my personal favorites where we were surrounded with Carribean Reef Sharks from the moment we descended right up to when we ascended back to the surface.
---
Tackle Box Canyon
This is another dive site for advanced divers, located north of San Pedro Town. It is named after an old fishing boat that sank here and became a habitat for many fish.
You can also see coral gardens, sponges, sea fans, and a variety of reef fish. The highlight of this site is a large cave that you can enter and exit through different openings.
---
Tuffy Canyon & Cut
Tuffy Canyon & Cut is a dive site consisting of two main features: a canyon and a cut. The canyon is a deep groove in the reef that runs parallel to the shore, with walls covered in colorful sponges, corals, and sea fans.
The cut is a narrow opening in the reef that leads to the open sea, where divers can encounter large pelagic fish, sharks, rays, and turtles. The dive site is suitable for intermediate to advanced divers, as the depth ranges from 15 to 60 meters and there can be strong currents. The visibility is usually good, up to 45 meters.
Tuffy Canyon & Cut is a popular dive site for divers who want to explore the diversity and beauty of the Belize Barrier Reef. It offers a variety of marine life, from tiny shrimps and nudibranchs to huge groupers and barracudas.
Some of the common species that can be seen at this dive site are angelfish, butterflyfish, parrotfish, snapper, lobster, stone crab, moray eel, nurse shark, eagle ray, and green turtle. The dive site also has some interesting swim-throughs and caverns that add to the thrill and adventure of diving.
---
Mexico Rocks
This is a shallow dive site that is suitable for beginners and snorkelers. It is located north of San Pedro Town, near the Mexico border. It consists of patch reefs with many coral heads, sponges, anemones, and sea stars. You can also see lobsters, crabs, octopuses, eels, and colorful fish.
The water is calm and clear, making it a great spot for underwater photography.
---
Best Dive Centers In Ambergris Caye
Whether you are a beginner or an expert diving in Ambergris Caye, you can find a dive center that suits your needs and preferences.
One thing worth noting about all dive centers in Belize is you won't find foreigners really working in the industry which you commonly find elsewhere in Central America and the Caribbean. This is simply because the government here wants the jobs, understandably to go to locals.
Luckily local Belizans are incredible people with a lot of good jokes and are always done for a fun time.
Personally, I do enjoy diving with dive masters who are also travelers like me so I wasn't able to find a dive center that catered for this. Nevertheless here are some of the best dive centers in Ambergris Caye:
Scuba School And Family Dive Center: This dive shop is a PADI 5 Star dive training facility with highly trained dive instructors that provide the best training. Safety is their number one priority while still having fun on all dives.
They offer courses from beginner to professional level, as well as daily dive trips to the Hol Chan Marine Reserve, Shark Ray Alley, Mexico Rocks, and the Great Blue Hole.
They are who I went diving in Ambergris Caye with and I did have a great time. They were a lot of help when I was having equalizing issues, though a couple of days later I unfortunately tested positive for covid so that explains that issue.
Even though we were diving in the wet season with quite choppy waters outside of the reef they made sure things were safe and we had sea sickness medication if needed.
There were even times were we surfaced buddy group by buddy group while the rest stayed at the 5-meter stop as the waves and currents were that strong on the surface it would have been unsafe if we all were to ascend at the same time.
Amigos Del Mar Dive Shop: This dive shop is a family-owned business established in 1984 on the island of Ambergris Caye. Amigos Del Mar is an SSI Diamond Dive Center and SDI resort facility which specializes in full-service diving, instruction, snorkeling, and boat charters and is ideally situated in the heart of San Pedro Town.
Amigos offers a variety of dive packages, including the famous Turneffe Atoll and Lighthouse Reef dives, where you can see the Great Blue Hole, Half Moon Caye, and Long Caye.
They also have a friendly and professional staff, a well-maintained fleet of boats, and a cozy dive shop with a bar and lounge area.
---
How To Get To Ambergris Caye
The capital of Ambergris Caye is San Pedro and it can be reached by air or by sea.
If you want to fly to San Pedro, you have two options: you can take a domestic flight from Belize City or from other destinations in Belize, or you can take an international flight from nearby countries like Mexico, Guatemala, or Honduras.
The domestic flights are operated by two local airlines: Tropic Air and Maya Island Air. They offer frequent flights from Belize City's Philip S. W. Goldson International Airport (BZE) or from the municipal airport (TZA).
The flight time from Belize City to San Pedro is about 15 minutes, costing around $80 USD round trip. Personally, I took an incredible flight from Roatan to Belize City with mind-blowing views over the reef.
The international flights are operated by regional airlines like Aeromexico, Avianca, Copa Airlines, and TAG Airlines. These companies offer direct flights from Cancun, Mexico City, Guatemala City, San Salvador, and Roatan to San Pedro's John Greif II Airport (SPR).
The flight time varies depending on the origin but is usually less than an hour. The cost ranges from $100 to $300 USD round trip. I actually flew from Roatan to Belize and it was such an incredible flight with the most amazing views.
If you prefer to travel by sea, you can take a water taxi or a private boat from Belize City or from other coastal towns in Belize. The water taxis are operated by two companies: San Pedro Belize Express and Ocean Ferry Belize.
They depart from the Marine Terminal in Belize City and arrive at the San Pedro Water Taxi Terminal in downtown San Pedro. The journey takes about 90 minutes and costs $28 USD round trip. The water taxis run several times a day, from 6:00 am to 5:30 pm.
---
Useful Tips For Your Ambergris Caye Dive Trip
To make the most out of your diving in Ambergris Caye experience there are certainly some things worth knowing. Apart from the diving tips above here are some of my top tips for visiting San Pedro in Ambergris Caye:
It isn't as common to go backpacking in Ambergris Caye as in Caye Caulker, though there are still hostels available
If the beaches are covered in sargassum head to the pier at Paradise Villas, this is a great swimming spot for tourists and locals alike
Little China Fast Food had the cheapest meals I could find on the island and the dishes were huge
---
Where To Stay In San Pedro, Ambergris Caye
San Pedro is a popular destination for tourists who want to enjoy the beauty and diversity of Belize and is the best location to explore Hol Chan Marine Park from.  It is the main town on Ambergris Caye, the largest island in the country.
Personally, I stayed at Sandbar Beachfront Hostel and had a great time. They have a comfortable air-conditioned dorm room, a decent-sized pool to relax in, a good restaurant downstairs, awesome location.
In a place with limited options, this was the best choice for me, though one thing to be aware of there isn't much of a social aspect here. There aren't any organized activities, and the only common area is the pool which limits your interactions with other people.
---
Other Things To Do In San Pedro
After you have had an amazing time taking one of the snorkeling tours from San Pedro, it's time to explore more of this paradise island. Here are some other things you can do during your stay in San Pero Belize:
Explore the Mayan Ruins: Belize is home to many ancient Mayan sites, some of which are accessible from San Pedro. You can take a day trip to visit some of the most impressive ruins, such as Lamanai, Xunantunich, or Altun Ha.
You can learn about the history and culture of the Maya civilization, admire the architecture and art of the temples and pyramids, and see some wildlife along the way. Some tours also include activities like cave tubing or zip lining for an extra dose of adventure.
Dive in the Great Blue Hole: The Great Blue Hole is a world-famous diving site that lies about 43 miles from San Pedro. It is a circular sinkhole that measures about 1,000 feet across and 400 feet deep and is surrounded by coral reefs and marine life.
Diving in the Great Blue Hole is an unforgettable experience, as you can see stalactites, stalagmites, and various species of sharks, such as bull sharks, reef sharks, and hammerheads.
Visit Caye Caulker: This is a small island near San Pedro, where you can enjoy a laid-back atmosphere, sandy beaches, and turquoise waters. You can also go snorkeling, kayaking, sailing, or fishing.
Visit the Secret Beach: The Secret Beach is a secluded spot on the west coast of Ambergris Caye, where you can enjoy the calm and clear waters of the Caribbean Sea. The beach is not so secret anymore, as it has become a popular destination for locals and tourists alike, but it still retains its charm and beauty.
You can relax on the white sand, swim in the shallow water, or rent a paddleboard or kayak to explore the area. There are also some bars and restaurants nearby, where you can grab a drink or a bite.
---
Any Questions? Let me know in the comments!
---
LIKE IT? PIN IT!
---
Want more Belize Inspiration? Check out….
---
Disclaimer: This post contains affiliate links. So, if you click on it and purchase something, I get a small percentage at no extra cost to you. As always all opinions are my own and your support is much appreciated.
Related Posts
Come find out the best hostels in Caye Caulker so you can have the perfect [...]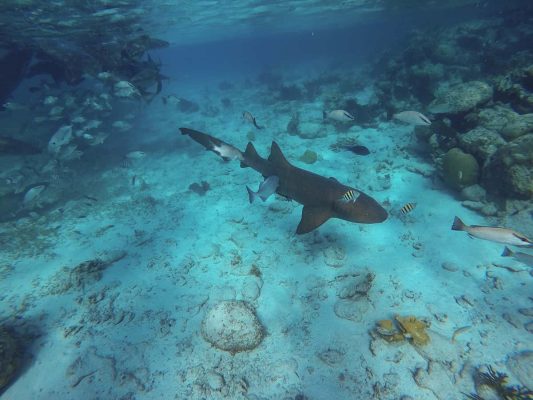 One of my favorite snorkeling spots can be found right in Belize, so of course [...]
Now if you are exploring the country of Belize no doubt you need to hit [...]